How to Choose a Storage Unit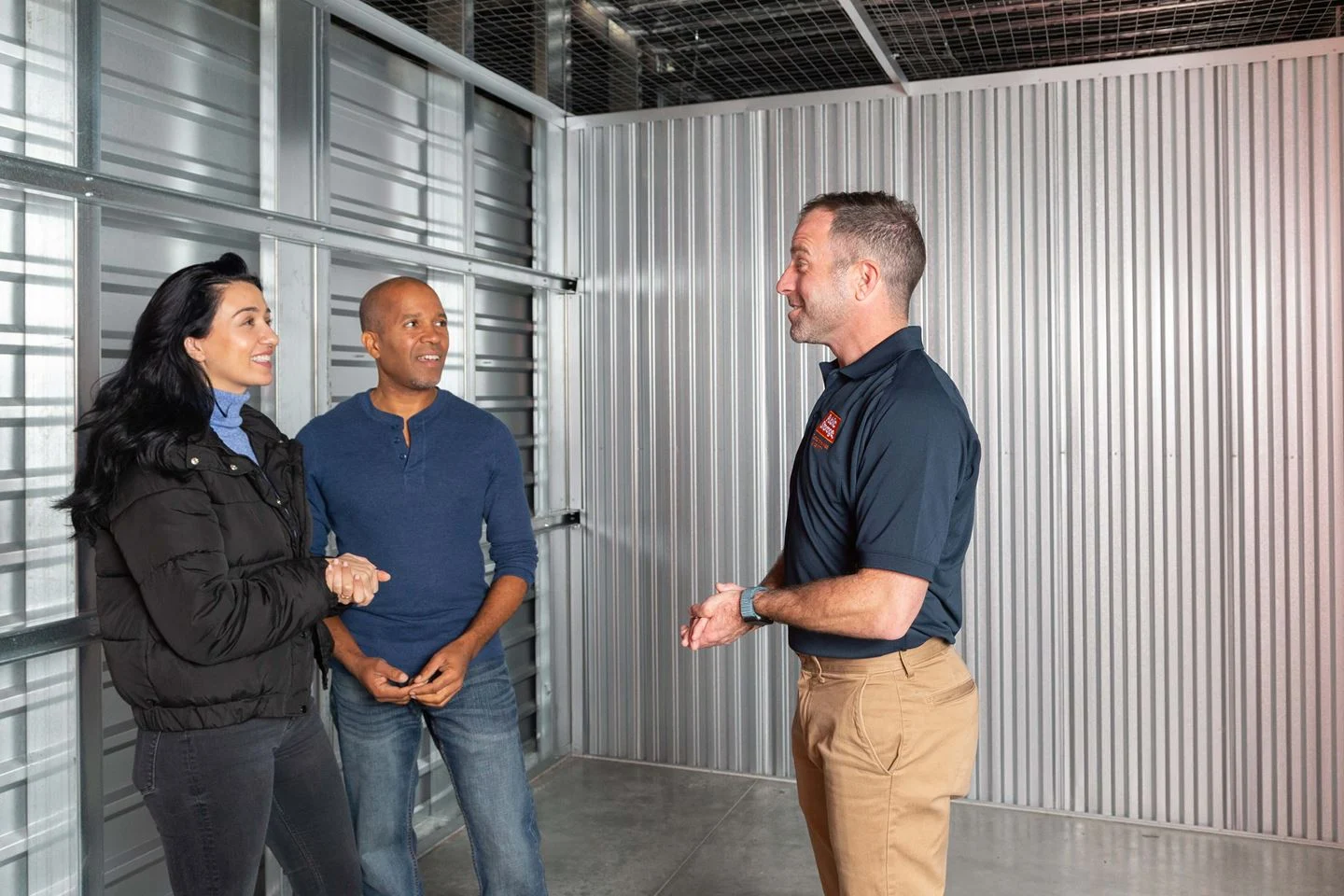 Picking the right storage space for your stuff isn't exactly an easy task. Visualizing how much space your storage boxes, furniture, electronics and appliances all need can feel like piecing together a puzzle.
Luckily, the packing pros at Public Storage have assembled a quick step-by-step guide to help you decide if you need a small 5x10 outdoor storage unit, a large 10x20 climate-controlled storage unit or something different altogether.
Step 1: Make a List & Gather Your Stuff for Storage
Seems obvious, we know, but first things first: making a list of everything you need to store. After your list is written, it's time to actually get your things together and in order. Pack and prep your belongings for storage so you know how many boxes and bins you need to accommodate. Measure large furniture, mattresses and appliances you plan to store. Depending on what's on your list, our size guide can give you early insight on what size storage unit you might ultimately need.
Don't have boxes or the packing supplies you need? Stop by your local Public Storage location, and we'll help you get squared away.
Step 2: Grab Some Tape & Get Ready to Measure
Get yourself some easily removable tape (this will prevent unsightly residue from sticking to your floor). Next, try to size up your stuff by eye. Not exactly easy, we know, but this can help you decide if you need to start with a 5x10 size space or a 10x20 size or something in between.
After sizing things up, tape out the anticipated area size, like 10x10 for example. Remember what you learned from our size guide to help you decide how big of an area to tape out.
Step 3: "Pack" All Your Items
Move all your boxes and belongings into the taped area. For the best results, really try to pack the space as if it was an actual storage unit. For large, heavy items, you can leave an empty space or use something lighter but of similar size to avoid moving them around multiple times.
Not sure how to best pack a storage unit? Check out this helpful how-to guide. Don't forget, many of our self storage unit ceilings are about 8 feet high. So, you can certainly stack items, just not too high.
Step 4: Measure It Again to See if You Have the Right Storage Unit Size
If after you get going you discover you don't have the right amount of storage space, simply measure and tape a different size and try again. You'll know you've measured the right storage size when all your items fit with just a little extra room around the edges and at the top.
A second measure is always a good idea even if your initial estimate looks good. It's better to get it right the first time to avoid packing issues on move-in day.
Step 5: Try Accessing Your Stored Items
Walk into your mock storage unit to grab a box or two. Can you fit in easily? Do you have room to carry items out?
If you need regular access to your stuff or plan on storing for a long duration, you may want to go a size or two up for extra space, comfort and easy access. When storing stuff for only short periods, it can be okay to keep things tightly packed. Ideally, you want to keep the items you need most at the front of your storage unit.
Step 6: Visit Your Nearest Public Storage Location
An easy way to visually double-check all your work thus far is to visit your local Public Storage facility. Choose a storage facility near you and talk to the onsite location manager. They'll be happy to walk you through a storage space so you can see if it's the right size. This will also give you an idea of ceiling height, as that may vary by location.
Step 7: Reserve a Storage Unit
Once you know how much space you need and you've got a visual for what that storage space looks like, make a reservation. You can get an inventory of the available units from the Public Storage facility you visited and search other Public Storage locations near you.
You can find the size you need and lock in the cheapest storage rates when you make a free reservation online.
Frequently Asked Questions About Storage Units
What storage unit sizes are available?
Availability depends on your local Public Storage facility. You can easily find units online or contact storage facilities near you to determine what is currently available.
Our detailed Size Guide will give you a good idea of how many boxes and items can fit in our standard storage unit sizes.
What is climate controlled storage?
Where available, climate controlled storage units may help take the edge off and keep your stuff in a more comfortable environment. This is a great option for those who need to visit their storage units often, in either hot or cold weather.
What is the advantage of indoor storage units?
Indoor units are just what they sound like, your storage door is down a hall, and the entry is under a roof, so you load and unload away from the elements. Some indoor storage units also offer climate control, elevator access and wider than normal hallways.
What is the advantage of drive-up units?
Outdoor, drive-up units provide easy access to your things. They usually come with spacious loading areas and large roll-up doors. You can often drive your car right up to the orange door.
How much do storage units cost?
The exact price for storage units depends on your selected unit size and features. Price can also fluctuate according to local market conditions. Search storage unit prices online or contact your local Public Storage facility for the most up-to-date pricing information.