Lockers FAQ
Our storage lockers offer space in a variety of sizes for a great value.
Having trouble finding the information you're looking for? Check out our Help Center, or Contact Us, and we'll be happy to answer any further questions.
Friendly Reminder: As with all our spaces, sizes are approximate-please check your Rental Agreement for what can be stored.
Lockers
Looking for a bargain? Not picky about the size or shape?
Lockers are suitable for strong small boxes, clothing and similar items that do not require tall ceilings, as locker sizes and shapes vary, and some may have lower ceiling height than a typical self-storage unit. When you need some extra room in your home or garage, our locker spaces have you covered for both temporary and long-term storage needs.
Look for this feature under any space size.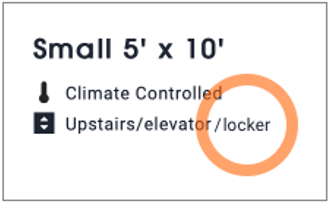 Storage Tips & Advice
From cabinets to containers, find the perfect place for all your stuff.
What is Climate Controlled Storage?
Peace of mind and comfortable access to the things you cherish...
How to Pack for a Move: 3 Ways to Get Started
Packing doesn't have to be stressful. Save time and energy with 3 simple steps.