When you have a bigger vehicle, you have bigger concerns about where you keep it. Find answers to the most common questions boat and RV owners have about storage to get peace of mind about keeping your vehicle away from home.
Having trouble finding the information you're looking for? Check out our Help Center, or Contact Us, and we'll be happy to answer any further questions.
Friendly Reminder: As with all our spaces, sizes are approximate-please check your Rental Agreement for what can be stored.
5'x5' Storage Units Near Me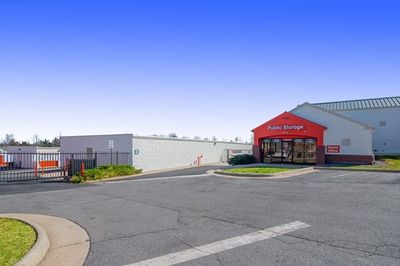 Self Storage Near
21360 Gentry Dr
Sterling 20166-6598
4.817 miles away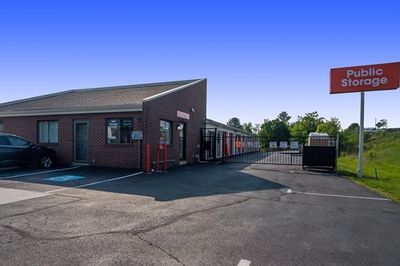 Self Storage Near
11 Lawson Road SE
Leesburg 20175-4460
4.835 miles away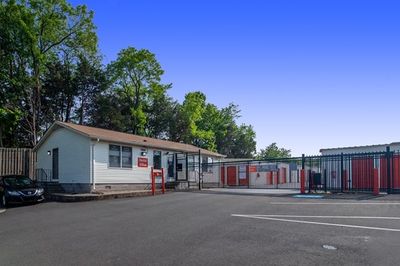 Self Storage Near
1800 South Sterling Blvd
Sterling 20166-9403
5.186 miles away
See Unit Prices Near Me
RV & Boat Storage Size
How big are the RV and boat storage spaces?
Our boat and RV storage spaces vary in size. They run as big as 10 feet wide by 35 feet long, providing up 350 square feet of parking space. Your average boat trailer and large, class A motorhome is 8 feet and 6 inches wide, so you have space on each side to carefully back in your boat or drive in your RV.
Our RV and boat storage is outdoors. So you don't have to worry about squeezing your vehicle through a door or whether it's too tall to fit inside an enclosed RV or boat storage unit.
RV and boat storage varies in size by location, so you should check with your local Public Storage for exact dimensions. For the biggest RVs and boats, we also have storage spaces up to 50 feet long for oversized vehicles.
What types of recreational vehicles fit in a 35-foot RV and boat storage space?
These parking spaces are designed specifically for storing RVs, motor homes, campers and boats when you're not off hitting the open road or exploring the high seas. A 35-foot parking space can fit any vehicle that doesn't exceed the dimensions, including:
Class A motorhomes – These are the biggest RVs and are comparable in size to a bus. On average, they are 33 feet long, which would fit comfortably in a 35-foot RV storage parking space.
Camper vans – Classified as Class B motorhomes, camper vans are 20 to 25 feet long, which measures in between a standard van and a large RV. Our covered RV storage can easily accommodate a camper van.
Towable campers – Most tow-behind campers are small enough to snugly fit inside the lines and under the canopy of a covered RV storage parking space, including teardrop campers, pop-up campers, tiny trailers and small fifth wheel trailers.
Truck campers – A camper that sits on top of your pickup, such as a camper shell or slide-in camper, ranges from 5 to 21 feet in length. Since RV storage spaces are designed for even larger vehicles, this type of camper will fit — no problem.
Class A and Class 1 boats – Both of these boat types measure less than 26 feet, so you can store them on your boat trailer with room to spare. Class 2 boats can be up to 40 feet long, so even our largest 35-foot boat storage parking spaces would only fit a smaller Class 2 boat.
Can I park multiple vehicles in RV and boat storage?
No, our uncovered and covered parking spaces are designed for a single vehicle. So you can't park multiple vehicles in one RV or boat storage space. With the size of most boats and RVs, you wouldn't be able to fit anything else while preserving access.
But if you have multiple vehicles, you can rent multiple spots to store them — assuming there's availability at your local Public Storage facility.
RV & Boat Storage Options
What RV and boat storage options does Public Storage offer?
We offer both covered and uncovered parking in sizes up to 35 feet. Not every Public Storage facility has each boat and RV storage option — and may not offer this type of storage at all.
Check with your nearest Public Storage location for their RV and boat storage options and availability. You can visit a property to measure the height of the canopy for covered RV and boat parking to make sure your vehicle can fit underneath.
Do you offer long-term RV and boat storage or just seasonal, short-term storage?
All of our RV and boat storage solutions are rented on month-to-month contracts. That means you can store your boat during the offseason or keep your RV handy when it's not on the road or at a campsite — all with no obligation outside the months you've rented your vehicle storage parking spot.
If you need long-term storage for your boat or RV, we can do that too. Your rental is available on your terms and we're happy to have you as long as you need us.
What's the difference between covered versus enclosed RV and boat storage?
Covered and enclosed storage may sound similar but they are two different types of RV and boat storage. At Public Storage, we don't offer enclosed, indoor RV and boat storage units where your vehicle is inside a building in a space with a door.
How do you store an RV or boat?
Storing a vehicle is different than storing some boxes or other items in your home. First, every vehicle stored at Public Storage must be in working condition. From there, you also want your boat or RV to be cleaned and serviced before putting it into seasonal or long-term storage. This helps to protect your vehicle from interior or exterior damage.
Lastly, you need to take steps to protect the engine and battery. It's also a good idea to invest in a cover to help protect the body of your RV or both the body and the interior of your boat. RV and boat covers can help in covered parking as well uncovered outdoor parking.
RV & Boat Storage Prices
What are your average monthly RV and boat storage prices?
Boat and RV storage prices vary based on a variety of factors: location, size, availability and amenities. Due to the space needed to store an RV or boat, storage costs are generally higher than other self storage units and types.
All other things being equal, covered RV and boat parking costs more than an uncovered parking space because of the help it provides against the weather. And large storage spaces typically cost more than smaller ones, so a 10x35 vehicle parking space will run you a bit more than a 10x30 spot.
How can I find cheap boat and RV storage near me?
While prices depend on a variety of factors, you can find affordable RV and boat storage near you by considering your storage needs. If your boat, RV, camper or motor home is shorter, you can reduce your storage costs by choosing a 25-foot or 30-foot space instead of a 35-foot vehicle storage parking spot. If you have adequate protection with a boat or RV cover, you can save by choosing uncovered vehicle storage.
At Public Storage, you can always find the best RV and boat storage price online, where you can save up to 30%. Be on the lookout for seasonal specials and promotions to find cheap RV and boat storage at your nearest Public Storage facility.
Do you have a waiting list for openings at your boat and RV storage facilities?
RVs, boats, motorhomes and campers require more storage space, which often means fewer individual parking spots of that size. And due to high demand and long-term storage needs at certain self storage facilities, there may be limited availability in the size you need.
Some RV and boat storage facilities do have waiting lists. Contact the property manager at your nearest Public Storage location to inquire about current availability and expectations for parking spaces opening up.
Storage Tips & Advice
From cabinets to containers, find the perfect place for all your stuff.
What is Climate Controlled Storage?
Peace of mind and comfortable access to the things you cherish...
How to Pack for a Move: 3 Ways to Get Started
Packing doesn't have to be stressful. Save time and energy with 3 simple steps.