Moving in to Your Storage Unit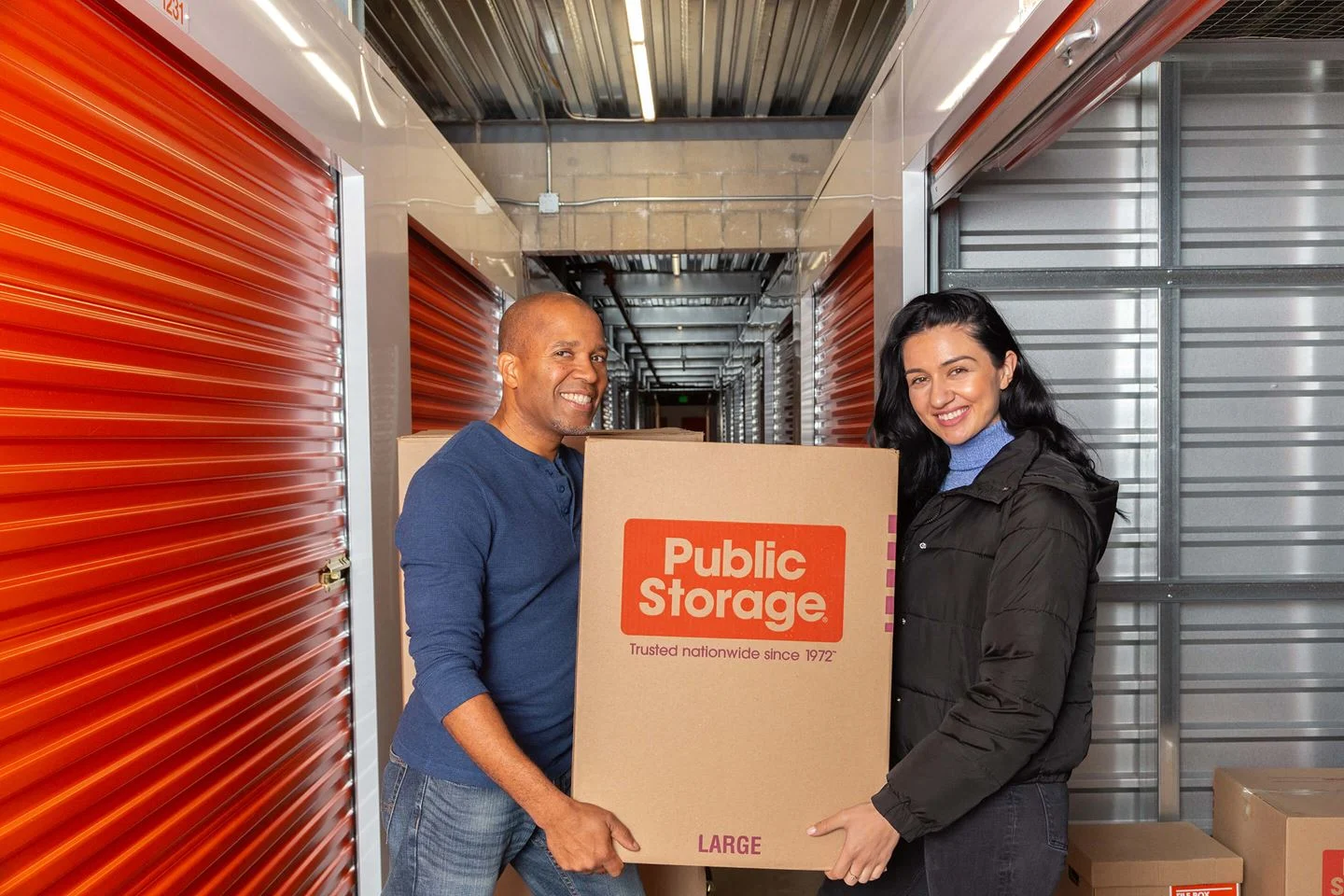 At Public Storage, we want to make your move into a storage space as seamless as possible. Our rental process is easy and fast — and now even contactless, if you prefer. There are a few things you can do to help get ready for your move. Planning ahead will help make sure everything is taken care of and move-in day goes smoothly.
Step 1: Complete Your Rental Agreement
Before you're ready to move in, you'll need to lock in your Public Storage lease. This can be done by making a reservation in advance and signing the papers day-of.
Contactless rental options are available using our eRental service. With eRental, you can complete your paperwork and payment online in just a few minutes and head straight to your space come move-in day.
Step 2: Line Up Insurance
Your Rental Agreement requires you to have insurance on your goods in storage. For your convenience, we offer an option of the Orange Door Storage Insurance Program. We offer various options based on statutory regulations depending on the state where you will be storing your goods. To learn more about this popular program, please visit Orange Door Storage Insurance or call 877-878-6730 option 3.
Step 3: Find the Right Lock for Your Unit
We require that you put a lock on your storage space — even if it's empty at first. You can come prepared with your own padlock or purchase one at your Public Storage location.
We offer two types of premium-quality locks at Public Storage. Depending on your chosen facility, either a disc-lock or a cylinder-lock specifically designed for your space is provided for a small fee.
You can also bring your own lock of the correct type. Ask your location manager which type is needed for your space so you can buy the right one.
Step 4: Prepare for Moving
Once you have all the details of your move-in taken care of, it's time to start packing and prepping. Depending on the size of your storage space and the items you plan to put in it, you may need to consider renting a moving truck or hiring movers to help you out. It takes a team to move heavy objects and stacks of boxes, so plan accordingly.
You're also going to need moving and packing supplies to safely transport and store your belongings. Public Storage locations offer moving boxes and other supplies that you can purchase in the office. Because you never know when you're going to need a bigger box or more tape!
You can purchase boxes, bubble wrap, glass packs, mattress bags, furniture covers and more. If you don't end up needing everything, you can return any unused items within 30 days of purchase by bringing your original receipt along with the unopened item(s) back to your Public Storage location.
Step 5: Find Your Storage Space
Our friendly on-site staff is here to help you get your gate code and find your storage space before your helping hands or hired movers arrive — even if it takes you a couple of trips to remember!
Like in any large space, the halls of Public Storage can be hard to navigate for the first time — especially in our larger facilities. By successfully finding your way to your storage unit ahead of time, you can make your move easier and less confusing.
Frequently Asked Questions About Moving Into a Storage Unit
What do I need to bring?
If you made a reservation or rented a space online, bring along a valid government-issued photo ID, such as a driver's license, state ID, military ID or passport. It can also help to bring your reservation confirmation email if you're completing your rental in-person, but it's not required.
If you're supplying your own lock and insurance coverage, you'll need to bring the lock and proof of coverage with you.
Are hand carts or dollies available?
Yes! To help make loading your space easier, we offer free hand carts and dollies to move heavier items while you're on the property. Just ask your location manager for one on move-in day.
Where do I find my gate code?
On your first day, you will be provided with a personal gate code that you can use to open the security gate. If you used our contactless eRental option, your gate code should have been sent to you before your move-in date.
How soon am I able to schedule my move-in date?
To give you time to pack and get ready, you can make a reservation a couple of weeks in advance of your actual move-in date. Once you've completed the rental process you're free to start moving in on your move-in date!
If you ever forget your gate code, you can find it by logging into MyAccount.