Whether this is your first Public Storage experience or you're a returning renter, we pledge to provide peace of mind for the things that matter most. Find helpful answers to many common questions about our 5x10 storage units.
Having trouble finding the information you're looking for? Check out our Help Center, or Contact Us, and we'll be happy to answer any further questions.
Friendly Reminder: As with all our spaces, sizes are approximate-please check your Rental Agreement for what can be stored.
5'x10' Storage Units Near Me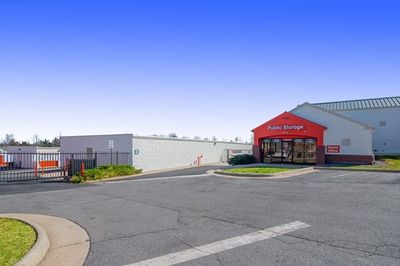 Self Storage Near
21360 Gentry Dr
Sterling 20166-6598
4.817 miles away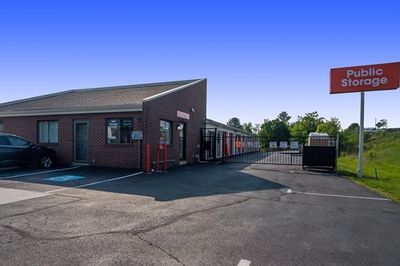 Self Storage Near
11 Lawson Road SE
Leesburg 20175-4460
4.835 miles away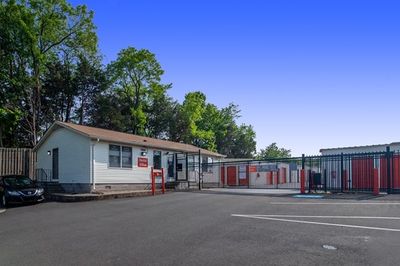 Self Storage Near
1800 South Sterling Blvd
Sterling 20166-9403
5.186 miles away
See Unit Prices Near Me
5x10 Storage Unit Size
How big is a 5x10 storage unit?
A 5x10 self storage unit is a 5 feet wide and 10 feet long small storage solution, totaling 50 square feet. For comparison, a 5x10 space is a small storage unit that's about the size of an average walk-in closet.
Many units have an 8-foot ceiling, giving you up to 400 cubic feet of storage space. But the actual height of each unit varies due to the unique dimensions of the self storage buildings themselves. Find your nearest Public Storage location to check the exact dimensions at their facility.
How many boxes fit in a 5x10 storage unit?
Each item's size, the size of your boxes and how you pack each item affects the total number of boxes that a 5x10 storage unit can hold. If you're only storing boxes, a 5x10 self storage unit can fit up to 20 large boxes with room to spare. When stored with furniture or appliances, you may want to use a variety of small, medium and large boxes to make the most of the space you have.
What does a 5x10 storage unit look like?
It can be helpful to picture our 5x10 storage units as similar in size to an average walk-in closet. Walk-in closets usually provide enough space for a person to comfortably stand in while browsing through their belongings or choosing an outfit. A guest or half bathroom or large outdoor shed are also good size comparisons.
How do you pack a 5x10 storage unit?
To maximize storage space, stack boxes up to your 5x10 self storage unit's ceiling. Avoid leaning any of your things against walls, as this can be a potential safety hazard. When you're packing, put heavier items at the bottom of boxes to create a stable base. Then, place the heaviest boxes at the bottom of the stack.
Getting creative with storage options and item placement can help save space too. Consider tucking away small items like books or CDs inside an appliance, like a mini-fridge. Keep items you need to get to frequently at the front of your 5x10 self storage unit, and make sure you clear a path down the center of your storage unit for easy access.
5x10 Storage Unit Items
What can I fit in a 5x10 storage unit?
Our 5x10 storage units can typically hold the contents of one mid-sized bedroom, including several boxes or storage containers. In total, you can store one or two large pieces of furniture in 5x10 self storage, perfect for a college dorm room or studio apartment.
5x10 storage units can generally fit household or business items from one room.
Furniture
Chairs
Chests of drawers
Small dressers
Twin or queen mattress
Small couches
Lamps
Coffee tables
TV stands
Appliances
Toasters
Microwaves
Vacuum cleaners
Fans
Window air conditioners
Outdoor
Bicycles
Lawn mowers
Motorcycles
Seasonal items
Sports gear
Entertainment
TVs
Books
Toys
Instruments
Collectibles
Records
Business
Small office equipment
Extra inventory
Paper documents
Misc.
Small to medium-sized boxes
Gardening supplies
Personal records
Luggage
Can a king-size bed fit in a 5x10 storage unit?
A king-size bed set, including a box spring, can fit in a 5x10 storage unit. An average king-size bed takes up about 18 of the 50 square feet of available storage space. Depending on how many other items you want to store, a 5x15 storage unit can provide an additional 75 square feet of storage space, comparable to a large walk-in closet. Still struggling to visualize our 5x10 units? Watch our storage expert walk through how to choose the right storage solution.
Can a motorcycle fit in a 5x10 storage unit?
5x10 storage units are large enough for most motorcycles, with extra space for a couple accessories too.
10x10 storage units are ideal for storing bigger motorcycles or multiple motorcycles. In order to store a motorcycle or other vehicle with us, it must be running, registered and insured. We also offer dedicated vehicle storage solutions for cars, boats, RVs or other vehicles including uncovered, covered and fully enclosed spaces.
Is there anything I'm not allowed to keep in a Public Storage 5x10 storage unit?
Because we value our customers' safety, we have put some restrictions on what you can store in 5x10 self storage. To make sure your experience with us is great, we don't allow live plants or animals, flammable liquids or lithium batteries. Your Public Storage rental agreement includes a complete list of restricted items.
5x10 Storage Unit Prices
How much does a 5x10 storage unit cost?
The average cost of a 5x10 storage unit depends on your facility's location, unit availability and other features such as climate control and indoor or outdoor access. You can find a 5x10 storage unit near you to find the most competitive prices in your area. Every unit comes with no obligation, no long-term commitment and a free reservation.
How do I find cheap 5x10 storage units near me?
With more self storage locations than any other company, we're always just around the corner. 5x10 is our most common unit size and is found at each of our local Public Storage facilities.
Prices vary by location but with hundreds of thousands of 5x10 units nationwide, you can easily find one at a local Public Storage facility near you. You can always find the best storage unit prices online, where you can save up 30% off rent or find move-in specials on select units.
Storage Tips & Advice
From cabinets to containers, find the perfect place for all your stuff.
What is Climate Controlled Storage?
Peace of mind and comfortable access to the things you cherish...
How to Pack for a Move: 3 Ways to Get Started
Packing doesn't have to be stressful. Save time and energy with 3 simple steps.