How to Use the Public Storage App
There are a number of self-storage apps out there. Only the Public Storage app gives you one-touch gate access, mobile bill pay and full control of your account. The app makes your storage experience easier. Using it is easy, too.
Downloading the Public Storage App
You can get the Public Storage app for iPhone or Android. Using your Apple or Google device, simply go to the app store and download the Public Storage mobile app to your phone.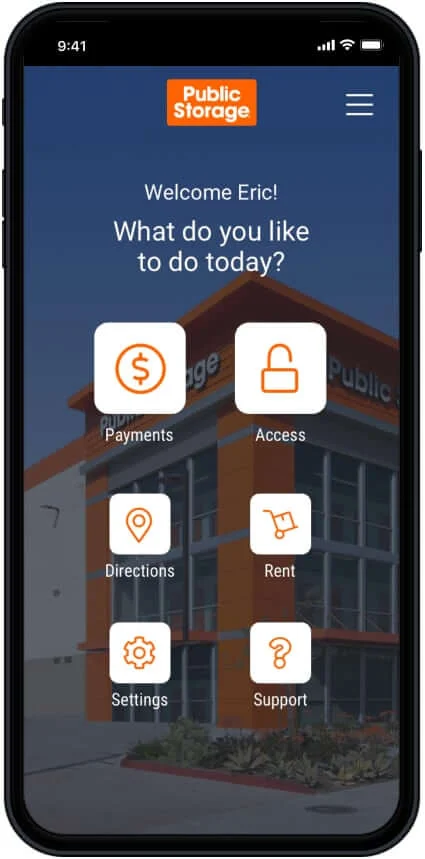 App Dashboard
Once the download is complete, open the app, select your settings and login to get to your dashboard. The app dashboard holds every tool you need to manage your space:
Pay your bill.
Access the self-storage facility.
Get directions to your Public Storage location.
Rent a storage unit.
Update your settings and manage your account.
Contact Customer Support or get quick answers to common questions.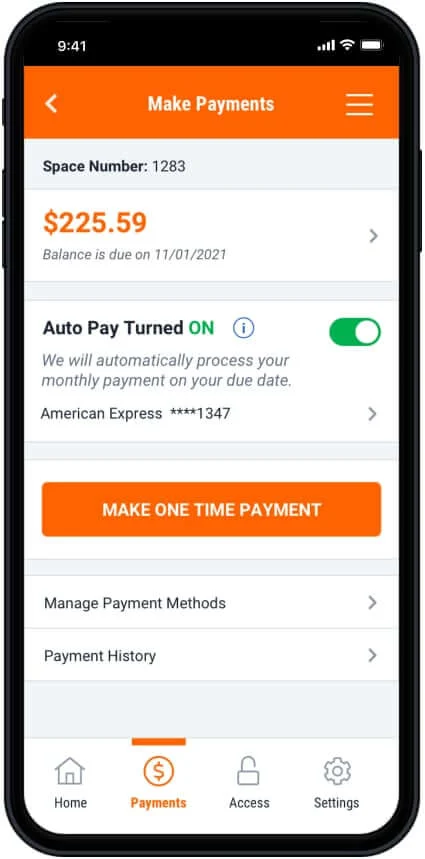 Making Payments from Your Phone
Paying your bill is a snap. In Payments, you can:
View your current balance.
Adjust your AutoPay settings.
Manage your payment methods.
See your payment history.
To pay your Public Storage bill, first add or update your information in Manage Payment Methods. Then, just hit Make One Time Payment before your rent is due to make an on-time payment.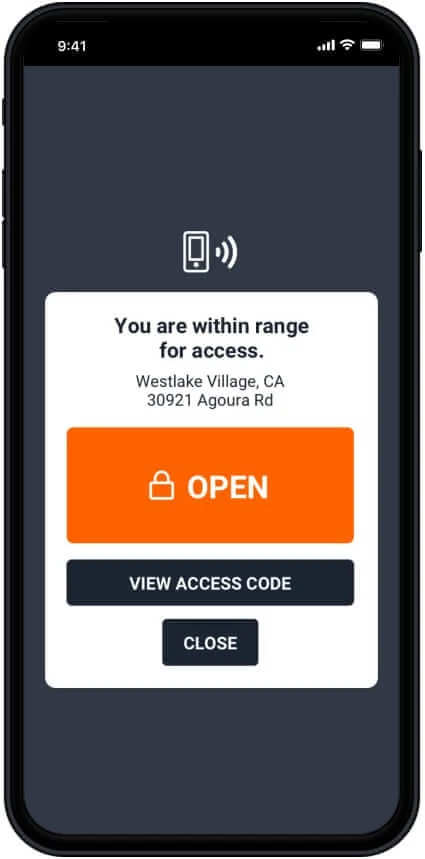 Accessing Your Storage Unit with the App
By far the most popular feature of the Public Storage app, Access lets you open the gates, elevators, doors — anything with a keypad — with just one touch.
Be sure you have Bluetooth turned on. Don't worry if you don't — you'll be prompted to activate Bluetooth once you touch Access.
If you're in range of an accessible gate, elevator or door at your location, you can Open it without entering a passcode. You'll be prompted if your phone is out of range and you need to move closer to your access point. And if there's a connection issue, you can always touch View Access Code and enter your code the old-fashioned way.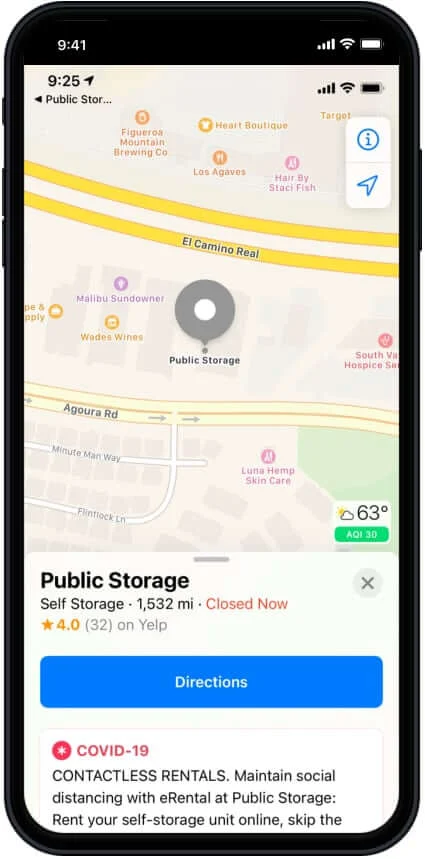 Getting Directions to Your Storage Facility
Whether it's your first time moving into a space at this facility or you're traveling from an unfamiliar location, we make it easy to find your way.
Touch Directions and your device's map app will open up with a pin dropped at your self-storage location. If you rent at different locations, multiple facilities will appear. Select the one you want to find, click Directions and let your phone be your guide.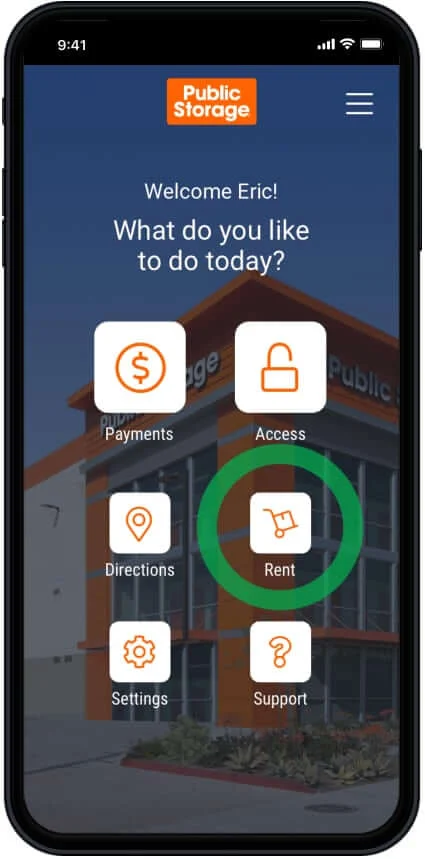 Renting Another Public Storage Unit
The Public Storage app isn't only for managing your current space. You can easily rent a new storage unit any time your storage needs change.
Tap Rent to visit our mobile-friendly online rental experience, where you can:
Choose the location where you currently have a space or find other facilities nearby.
Select the size you need.
Make a reservation.
Complete the eRental process.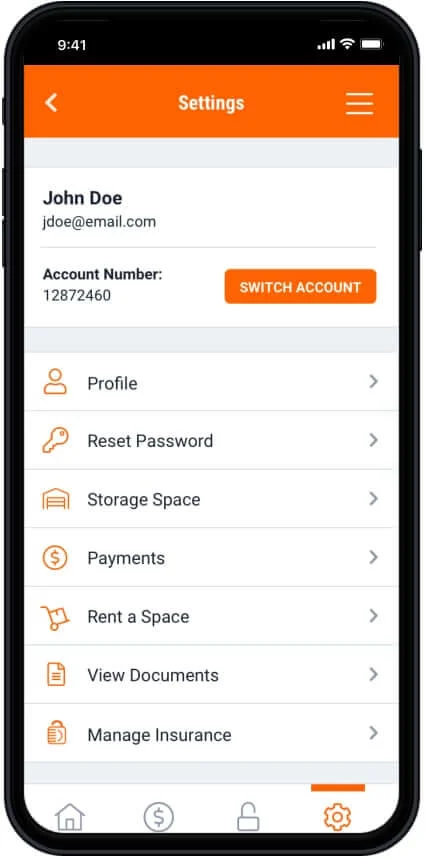 Adjusting Your Account Settings
Just like MyAccount, all of your information is stored in Settings. Any changes here officially update your information in the Public Storage system and on PublicStorage.com:
Profile – View your info and account number. Change your contact information or military status.
Reset Password – Change your account password.
Storage Space – Get info on your space and location. Add or update your emergency contacts. Schedule a move-out.
Payments – Check your balance and history, sign up for AutoPay, manage payment methods or pay your bill.
Rent a Space – Find another storage unit.
View Documents – Read your rental agreement, addendums and every other important document.
Insurance – Protect your stored items or make changes to your existing coverage.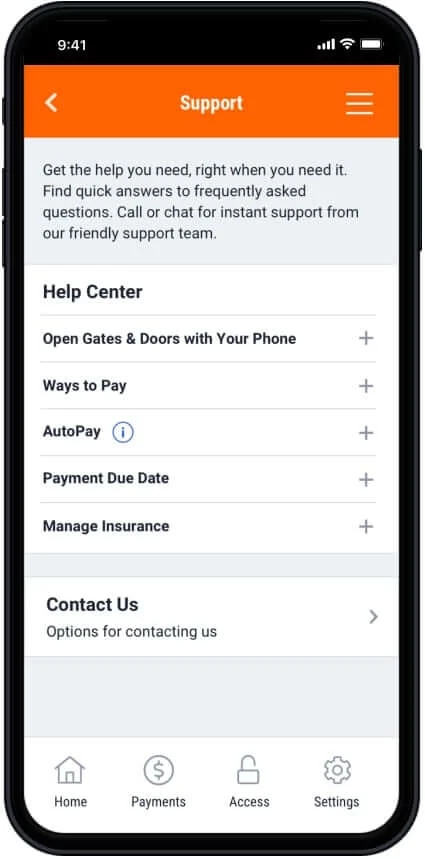 Frequently Asked Questions About the Public Storage App
How do I login to the app?
Your username and password for the Public Storage app are the same as they are for MyAccount. If you've forgotten either of them, you can retrieve or change the information to get logged in.
First time renting with Public Storage? It's easy to set up MyAccount. You just need the email address you used to rent your space. Once you're all set up with MyAccount, you can login to the Public Storage app.
I can't open the gates. What's going on?
When you first opened the Public Storage app, you might've skipped over some important settings. To access gates, doors and elevators, you must have two things turned on: Bluetooth and Location Services.
Bluetooth is needed for your device and the access point to communicate. Location Services are necessary for your phone to pinpoint your location and find nearby access points. To enable them on your phone, go to the settings in your Apple or Android device to find those features.
If the app isn't working for you after adjusting these settings, talk to your Public Storage location manager. Full functionality of the Public Storage app may not be currently available at your facility. Your location manager can tell you what you can access with the app or may have information on when this app functionality is available at the property.
If I don't have my phone, am I locked out of the facility?
While your phone can unlock gates, elevators and doors, it's not the only way to gain access. You can always use the gate code sent to you before you moved in. If you've forgotten your gate code, you can find it in Settings > Storage Space within the app or by logging into MyAccount.
Can I manage my storage inventory with the app?
It's always good practice to keep tabs on everything in your storage space. It'll make your visits a lot easier if you know what's in your unit and exactly where to find it.
At this time, there's no way to manage your storage inventory in the app. We suggest keeping a detailed list and a map inside the orange door so you can always find what you need and make updates before you leave.