Public Storage Self-Storage Units at 320 Wilson Ave, Norwalk, CT
Address
320 Wilson Ave Norwalk, CT 06854
Office Hours
Mon-Fri 9:30 AM - 5:00 PM
Sat-Sun 9:30 AM - 5:00 PM
Gate Access Hours
Mon-Sun 6:00 AM - 9:00 PM
Storage Facility Features
---

5'x5'

Climate Controlled

Inside unit

1st Floor

---

5'x5'

Climate Controlled

Upstairs/elevator

---

5'x8'

Climate Controlled

Upstairs/elevator

---

8'x17'

---

6'x10'

Climate Controlled

Inside unit

1st Floor

---

5'x10'

Climate Controlled

Upstairs/elevator

---

10'x9'

Climate Controlled

Inside unit

1st Floor

---

10'x10'

Climate Controlled

Upstairs/elevator

---

10'x7'

Climate Controlled

Inside unit

1st Floor

---

15'x5'

Climate Controlled

Inside unit

1st Floor

---

10'x8'

Climate Controlled

Upstairs/elevator

Climate Controlled

Inside unit

1st Floor

---

10'x15'

Climate Controlled

Upstairs/elevator

---

10'x20'

Climate Controlled

Upstairs/elevator
Nearby Self-Storage Locations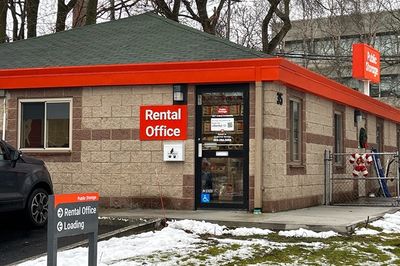 Self Storage Near
35 Hoyt Street
Norwalk CT 06851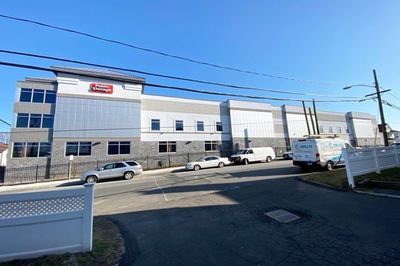 Self Storage Near
11 Leon Pl
Stamford CT 06902
Self-Storage Near Norwalk
Resources from the Help Center
See what fits in different storage unit sizes
At Public Storage, You'll Always Find...
Keypad Access

Friendly Staff

Month-to-Month Rent

Moving Supplies Available

Free Parking

Well-Lit Facilities
Reviews
( 83)
Angelina and Krystina were fantastic a huge help
Angela is a great person she knows her stuff facility was very clean Iove this place
Great facility. Very clean. Wish we could lock in prices for extended periods of time.
Service was great one of the best I've even been to. Krystina Cortalano's help was top notch.
Thank you krystina and Angiela for helping with rental very nice ladies and keeps property clean . Highly recommend this location
Richard, I genuinely appreciate the level of care and support you provided me throughout my entire storage process. Your kindness and professionalism made what could have been a stressful situation into a smooth and pleasant experience. Your dedication to your work sets a remarkable example for others. Thank you !
From the moment I walked into the office, Angela was top rate and could not be more accommodating. She gave me a thorough review and tour of the facility and was able to give me great suggestions/ recommendations with space sizes based on my needs. A true professional thru and thru! Def made my choice easy to go with public storage.
Great location, nice size units and pricing beats the competition. Kristin was especially helpful jumping units from smaller to larger after some consideration on my end. thanks!
Terrible customer service and no technical support! I reserved a unit (already had an account from a unit at a different location). Apparently Public Storage did some system updates, and my account got mysteriously deleted. I created a new account, but it still wouldn't let me in. I used the chat function online multiple times, and both times they said they were experiencing issues, and directed me to call the customer support number. After following the exact phone prompts they told me to use, I could find NO WAY to open a tech support ticket or even speak with a real human!! Meanwhile, I can't even complete check-in to get into my storage unit, which if you want the online only deals you have to do it through your online account. The district manager at this office said they couldn't do anything for me, and just told me to create an account under someone else's name. I spent hours trying to deal with this, and everyone I spoke to sent me to someone else who could apparently help, and no one actually did anything. Seems like this place is a fine choice if nothing goes wrong, but if you have any issues and need support it's a nightmare. I found more affordable storage elsewhere, and will not be coming back.
Super convenient location, 13 minute drive from Greenwich, situated between Norwalk and Darien, CT. Easy parking and easy access. Download the app to open the doors. The place is super clean and well lit, very safe and secure. Customer service is exceptional.
Angela absolutely the beat. Patience and knowledge is key and she had both plus great customer service
New warehouse and clean.I recommend
Thank you Krystina you was extremely helpful and patient this place was well kept extremely clean keep up the good work blessings
I'm only giving two stars instead of 5 because its sooo hard to wheel the moving cart from your car through the double doors! The steep is too high and so unnecessary. I loaded all the heavy stuff onto the cart and tried to go inside and simply couldn't! I was not able to lift the cart. Someone needs to put a tiny little ramp to get rid of that steep!
Krystina was wonderful the building was very clean and she knew where each unit was!
My report is for Angela. This is my first time using Public Storage. My experience is beyond my expectation, the manager was so accommodating, efficient and courteous. I would definitely recommend this location without a doubt! Thank you !!!
Angela has been a great pleasure awesome customer service. I recommend this storage facility very clean and outstanding service !!
Angela was great and helpful
Angela is so kind and helpful
Wonderful service krystina was amazing clean building affordable storage .
I had an amazing experience with Public Storage. Krystina was extremely helpful as well as very professional ! She made it very easy for me & was very clear with the transition I had to make. Definitely would recommend working with her !!!!
Great place great customer service Kystina was very patient with me as I had many questions, she took the time explaining all the details and gave me a rate I couldn't refuse with that being said I canceled my current storage and signed up with Public 👍🏾
Cristina is super cool very helpful serves you and your best interest!! Worth every penny!!
Very clean appearance inside and out. Staff is kind, welcoming, and knowledgeable on storage options and what is offered by public storage. Krystina is awesome always helpful with any situation regarding public storage.
I love this Public Storage location since they've first opened. It's an easy commute and they customer service is great. They girls at the front are amazing and always there if something needs to be fixed, cleaned, etc. I already recommended all my close friends to choose this location.
Thank you krystina for your profesional help.
Kristina was a 10+ — helpful courteous and a pleasure to deal with!
Thank you krystina for a wonderful professional assistance with my rental and using the app. What a clean big building!! Top place to get a unit amazing price and you must meet the manger, she's the best hands down
Love the place very neat and clean krystina is amazing she had me listening to her giving all details what i needed To Know thank You
Krystina , is an amazing example of a trustworthy and friendly customer service person very professional patient and knows her job well. It does seem like she has endless patience with all my questions I gave her five stars.
Krystina greeted me at the door and walked me through all the information of the storage units. Very professional. Kind. Very helpful. Made the process quick and easy. Showed me a unit and gave pointers to a smooth moving process and navigating the building.
Nice building smells and looks very clean. Manger krystina very professional nice and friendly
The manger kristina is amazing she was so paciente and vert profesional. Thank you God bless
Krystina! Ask for Krystina! She's a professional, friendly and had sincerity in her efforts. Made signing up easy breezy and she answered all my questions addressing all my concerns. She not only knew what she was talking about but enlightened me in what I was potentially missing. Thanks Krystina. I look forward to my time at public storage due to her help!
Thank you krystina for all your professional help. Wonderful location clean building and very secure. I recommend Wilson Ave public storage
This is the first time I'm using a storage and Krystina has been super helpful. I went in last Saturday to setup my storage unit and Krystina has been super helpful and informative. She was professional and informative. Thank you for you help Krystina!
Angela was extremely helpful and patience with us, thanks for having people like her to help and explain stuff to the customers
Thankd Angela you were great.
My sister and I just recently rented storage units in Norwalk with Angela Holland. We had an excellent experience working with her from start to finish. She was professional, knowledgeable, and extremely helpful. I would highly recommend using the storage facility and working with Angela.
Thank you krystina for your help with my rental and giving me a tour of building
Thank you krystina for you professional work and awesome conversation. Nice location and parking lot
Very nice location!! the manger Krystina is very professional, helpful and knows her stuff. I recommend public storage on Wilson ave.
Thank you krystina for assisting my wife and I once again. So professional kind and patient. Very clean facility and quiet area
Krystina was very helpful. In and out with a tour and keys in hand in under 30 minutes.
Angela is the sweetest person I ever met, what a great customer service. I already told her that she have an A+ from me. I wish more people in this world should be like her. 👏👏👏👍👍
Christina and Angela are so accommodating and very professional. This public storage is so clean too! I highly recommend getting a storage unit here, A++
Gracias Kristina , Exelente atención!!!
Angela gave me great service today she was very patient with me and my husband. I've worked with her with our other space here that we love. She's always been a pleasure to work with.
Thank you Angela and Kristina for your help with my rental. Inside and outside is very clean nice location
Thank you Kristina for your help. Wonderful place clean
Thank you krystina and Angela great job
Angela and Kristina are awesome thanks ladies
Had a great experience at Public Storage. The manager Krystina made the transition of my move in so and peaceful. Very professional and friendly! Thanks, Krystina you
I had a great experience at Public Storage! The manager Krystina made the transition of completing my e-rental over the phone and the day of our move-in ideal! She was professional and beyond friendly! Thanks, Krystina keep up the awesome work!!
Amazing experience with Krystina. Thank you so much for helping me.
I had a wonderful experience with Krystina. She was very helpful and knowledgeable about everything I needed.
There is a women there name Kristina; She is very pleasant and answered all of my questions. Thank you!
We had a great experience with Lillian. She was super helpful, knowledgeable and friendly.
Liliana was super helpful amazing customer service
Lillian did a great job with my rental she was perfect
I recently moved into the Wilson Ave, Norwalk Pulbic Storage. No matter what, moving is always stressful, but Kristina made it so much easier for me one day, just lifted my spirits with her kindness and help. This place is a nice place, and so are the people.
Had a great experience at Public Storage! The manager Krystina made the transition of our move in ideal! She was professional, accommodating, and beyond friendly! Thanks Krystina you were the best!
Lillian helped we in providing information what i needed. Thanks will visit again
Lillian did a great job thanks
Lillian has done the best job very professional and friendly thank you for having her employed
Lilian was amazing to work with! She was so helpful in helping me pick out a unit and preparing my contract. Public Storage is lucky to have her!
Kristina was very polite and professional. I appreciated her walking me through my rental process! I would definitely recommend a friend or family member!
I hope It was 100 stars ⭐ to rate Krystina I rented a unit last month she was so nice and went over the unit with me she took her time to walk me to the unit it was very big and clean she was very very professional they should be a Krystina in every place because what a caring beautiful young lady she is and she knows her job very well this world we are in now people are not too nice but I can say that she's top Gun I would refer anybody to rent from her at public storage Krystina I Thank you for your niceness and helping me out so great last month I am a Very Happy Costumer you will Go a long way because of who you are so Glad I choose Public Storage Thank you
Thank you krystina for going above and beyond you are amazing at what you do. I recommend Wilson Ave public storage building is clean and manger is very respectful friendly and good listening to customers
Thank you Krystina for your help and showing me the way how to navigate to complete rental online. I enjoyed the tour of your clean big quiet building on Wilson Ave. Thank you for the wonderful conversation and patients.
Working with Krystina at the Wilson Ave location was an absolute dream! She walked me through everything step by step and made sure I was well taken care! As a Realtor, it is very important to know that I can refer my clients to someone who goes the extra mile with a high level of professionalism.
Thank krystina for your professional help with my rental nice building clean and very big
Angela at Wilson Ave was very helpful very friendly and we just love her
Angela at the Wilson Ave location was awesome I highly recommend that store
Thank you krystina for your help and great customer service
Thank you Kristina for your help with my rental
Kyystina was great, helped me through the rental process and made it very easy and welcoming.
Thank you Kristina for helping with ny rental. Very nice and professional. The building is so big and fullfill all my needs