Public Storage Self-Storage Units at 77 Mill Plain Road #83, Danbury, CT
Address
77 Mill Plain Road #83 Danbury, CT 06811
Property Open
Mon-Sun 6:00 AM - 9:00 PM
Storage Facility Features
Climate Control Storage

Car Storage

Small, Medium & Large Storage Units

Indoor & Outdoor Storage Units

Property Manager Lives On-site
Property Open
Mon-Sun 6:00 AM - 9:00 PM
Storage Facility Features
Climate Control Storage

Car Storage

Small, Medium & Large Storage Units

Indoor & Outdoor Storage Units

Property Manager Lives On-site
Close Location Details
View Location Details
Climate Controlled

Upstairs/elevator

Climate Controlled

Upstairs/elevator

Climate Controlled

Upstairs/elevator

Climate Controlled

Inside unit

1st Floor

Climate Controlled

Upstairs/elevator

---

10'x7.5'

Climate Controlled

Inside unit

1st Floor

---

10'x10'

Climate Controlled

Upstairs/elevator

---

10'x10'

Climate Controlled

Inside unit

1st Floor

Climate Controlled

Upstairs/elevator

Outside unit

Drive-up access

Climate Controlled

Inside unit

1st Floor

Climate Controlled

Inside unit

1st Floor
Nearby Self-Storage Locations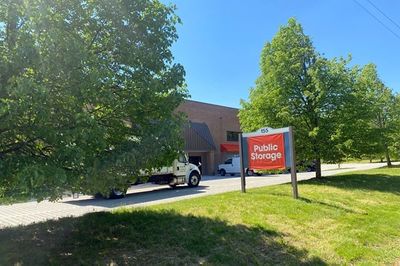 Self Storage Near
155 Hughson Rd
Carmel NY 10512
Self-Storage Near Danbury
Resources from the Help Center
See what fits in different storage unit sizes
Danbury Storage Units Near I-84
Public Storage, located right on Route 202 just north of Interstate 84 two miles east of the New York-Connecticut state line, offers cheap self storage options for the Danbury community.
This location features a large selection of self storage units, offering both indoor hallway-accessible units and outdoor drive-up units. Climate controlled units are also an option, and a keypad access code is required to enter the gated facility.
With easy access from I-84, Route 39, Route 53 and Route 7, it's a convenient location from anywhere in the Danbury area.
Students at nearby Western Connecticut State University can use a 5x5 unit to store a few extra boxes, perfect to create a bit more room on campus. Go Colonials! This is also a great option for folks living across the street in Westwood Village Condominiums, who need a bit more extra storage space.
Just up the road, travelers flying in and out of Danbury Municipal Airport – for business or pleasure – can take advantage of a 10x10 unit to store belongings within minutes of the airport.
Small business is booming in Danbury, and what better way to make sure the workplace is clear and ready for customers, than to store extra files, equipment and office furniture in a 10x20 storage unit.
It's easy to see why Danbury once topped Money magazine's list of the country's Best Cities to Live In, and families in the area can grab a 10x30 unit to store the contents of an entire five-bedroom house during a move or remodel.
Nicknamed "Hat City" for being the epicenter of the nation's hat industry in the 19th and early 20th centuries, Public Storage offers a tip of the cap to the Danbury community with excellent self storage service.
Amenities:
Month-to-month rental options with no obligation
Open 7 days a week
Free customer parking
Carts on-site to assist with over-sized loads
At Public Storage, You'll Always Find...
Keypad Access

Friendly Staff

Month-to-Month Rent

Moving Supplies Available

Free Parking

Well-Lit Facilities
Reviews
( 266)
Tyrone was extremely friendly and helpful!! Made the process extremely easy!!
Great place, Tyrone was at the desk and he meet all of our expectations and beyond. Definitely a great choice for any of your storage needs. Thanks Tyrone!
Tyrone was great and super attentive! Happy we got help from him because he was awesome!
I got the details for my storage unit from Tyrone and it's the smoothest experience I've had with any storage place. I'd highly recommend coming to Tyrone for any of your needs involving your storage unit or just a great laugh!
Tyrone is the man to go to 50/10 would recommend cause he's so nice and sweet and definitely will keep coming back (not because i'm paying for the storage just because he's nice and friendly and makes me laugh)
Tyrone was beyond friendly and exceptionally helpful and it's such a wonderful pleasure dealing with a great company and asset such as him!
We've been renting a storage unit since shortly after the facility was built and have always found it to be well taken care of. Tyrone at the front office is a lovely fellow who is helpful if you call or walk in
I do NOT recommend this place. They will rip you off as a customer. We started as a customer in 2020 and they raised our prices 4 times since then so our price is now double from where we signed up and double what they're offering new customers. When we called they told us too bad that's the price. $115 a month for a 5x5, what a ripoff, stay away. The gates are often open so security is lacking and it's hard to find space to park and a carts are limited at times.
Tyrone was a pleasure to work with and helped me find exactly what I needed.
Tyrone was very helpful and he provider excellent customer service and he was willing to go beyond
My rent was raised 46% within a one year timeframe. First raised in May 2023, then against in November 2023. I started out paying $114 a month, and am now at $172 for a 5x10 storage space. I contacted Robert, at the Danbury office, and he couldn't help me. He told me that Public Storage makes rate increases "arbitrarily" and "at any time." I explained to him that his website advertises 5x10 space for $95/month right now, and he said he couldn't tell me why or do anything to help me. He gave me the phone number for corporate. I called corporate and THEY couldn't help me and told me to call Robert again and get in touch with whoever the "district manager" is. When I called Robert he said he couldn't give me the phone number or email for the district manager and that I was not allowed to contact him myself, but that he would email the district manager for me and in a week I should call corporate again if I hadn't heard anything. I explained that this was unacceptable, and could he at least give me the district manager's full name. Robert said he couldn't do that. I asked him if it was Public Storage's policy to not give out the last name of the district manager and he said "no, I just don't know his last name." I asked if he had a manager or a supervisor he could put me in touch with and he said "no." He finally said "okay I'll look in the system for the district manager's last name" and gave it to me. I am 24 hours away from calling the Better Business Bureau to report this company for its insane policies, its arbitrary rate hikes, and its deplorable customer service responses.
Every time we pay or storage fees, Tyrone is always the Best Most helpful person!!!. Never had any problems or issues with Public Storage, great place to do business with, especially Tyrone !!!
Tyrone provided excellent customer service and was very helpful in securing our unit! Nick was also very helpful and made move into our unit easy and seamless.
Tyrone, the property manager was very helpful. He had a lot of patience, he was knowledgeable and made the entire process very easy. The facility is very clean.
Thank you Tyrone for your assistance today. You were very helpful. While there, I noticed the storage unit doors were sparkling . I appreciate seeing the outside of the units so clean.
Tyrone is the best associate helped me tremendously. Been a customer for two years at public storage Danbury.
I needed some help and Tyrone was extremely helpful.
Tyrone was extremely helpful assisting our family with settling an estate at an out of state Public Storage facility. His kind demeanor was appreciated given the situation. Thank you!
The Public Storage on Mill Plain Rd in Danbury the staff were very helpful and courteous in getting me the right unit for my needs.
Tyrone helped me look at storage units and figure out what unit would work best for me. He was very helpful
I had a great experience at Public Storage. Tyrone was very helpful and assisted me when I needed to close out on a locker I had been renting.
Tyrone was extremely helpful, took his time to show us around and the property was extremely clean!
Tyrone was a great help a gentleman a pleasure to deal with would rent from again anytime
Tyrone was super helpful and walked me through the entire process. He provided great customer service and took the time to answer all my questions!
Tyrone was so helpful in assisting us with our storage unit. You have two satisfied customers! Thank you Tyrone!
Tyrone was very helpful, and was ready at the door, he answered all of our question accordingly, and made the move in process very easy, definitely deserves a raise. 👍👍
This is Nick Tommaso, posting on my sister's account. I don't have the sign in info to leave a review on my own, but I had to leave one because of the exceptional level of service I received from CHARLIE S. and JOHN F. at the front desk. QUALITY, QUALITY, QUALITY overall human beings. They were extremely charismatic, informative and pleasant. It made my time finding the right units seem like a snap of the fingers. These are the type of people that give great customer service, are definitely great neighbors and who love life. Thank you guys!!!!
My husband went on line to reserve a 5×10 space upon having difficulty completing the transaction we took a trip to the facility on millplain rd danbury where Brian was a rude unprofessional employee who mislead us .I am appalled that in this day and time we would be treated with disrespect I guess if I looked like Brian it would have made a big difference ,my husband is a disabled marine Corp veteran who served our country with honors and Tyrone attempted to help us but couldn't we will take our business elsewhere
Seamless experience with Rob at Prime storage. Thanks again
The overall process of setting up and securing your locker is flawless! That part is great - the place is always clean and never had an issue with getting stuff in and out of my locker...However... My issue is this, and also a disclaimer to anyone who is trying to decide to utilize Public Storage for use over 6 months... I put my stuff into storage in 2020 to move to Washington State where my husband was stationed for his military contract. At that point my rent was only $86 which was a huge reason I wanted to use Public Storage. 6 months later my statement comes in and it's now $112. I called to inquire - staff said the rate went up and if I wanted to maintain the $86 I can move my stuff to the same size locker... well that didn't make sense to me. Move my stuff from one unit to the next when it's the same size? Lets fast forward to 2023 and my locker unit is now about $170 double from when I started. I inquired again, they offered for me to move lockers for $155 a month and that Public Storage isn't for long term storage. If I would have known this prior to setting up my rental with them, I would not have gone through with it. I have a feeling by the time my husband's contract is up I will be paying close to 3x what I did when I initially stored it. They don't seem to care too much about the military population... no big deal but they should have warned me before storing your stuff that your rent will be jacked up every 6 months (for no reason). Unless you don't mind paying more every several months, I just wanted to make this disclaimer to you if you are planning on using it longer term.
Brian and Carl were very helpful with renting a u it
Brian and Karl were great save me a lot of hassle, highly recommend pubic storage just ask for Brian or Karl
This company is an absolute ripoff. Their goal is to get you in and then jack up the prices every 4 months. My rent had doubled before i got out. They know what a hassle it is to move so they constantly increase rates on their already ridiculous rates! Total theives.
Brian was so professional and provided an amazing customer service!
Very clean, and well organized place, amazingly helpful employee who showed us around. Very nice and sweet, will definitely be renting here.
An amazing location, very well maintained, wonderful staff, everything is nice a clean. Very satisfied customer
Brian was amazing, he helped us choose the right unit at the right price! Five stars no doubt.
Dan was so helpful yesterday. He provided great customer service.
Christina is very personable. The facility is clean. There are not enough carts on hand - and then some inconsiderate people leave carts up stairs.
They are incredibly friendly people and Brian was fantastic
Christina was awesome, answered all my questions and gave me great storage advice options. Seamless transition to downsize due to less storage required and no hassle took less than 5 min for transaction.
We have used Public Storage for years now. Brian was very helpful the last time I went in.
Brian was very knowledgeable and super friendly made my day way easier
Brian was great Super Quick and efficient, very clear with all information needed . Give him a promotion and a raise !!! Brian was here to close my account always helpful very good guy ! There to assist you anytime !
Great place for that extra stuff glad they are back to full hours. They just need more carts available. Since they are so busy
I love how quick and easy it was to work with Christina on getting my unit in and out. Her customer service with the business is 100% awesome. I appreciate her hard working heart and soul.
Brian was extremely helpful, with the entire process from start to finish. Wonderful experience !
Brian was very helpful and pleasant
We've spent the last two months stressing over finding an affordable storage unit to accommodate my bf's sudden move from his house to my apartment. We were lucky to find public storage. Brian was great. He explained everything, answered all crazy questions, and brought us out to the storage unit that we ended up renting at the end. It's nice to have someone personable and one who doesn't try to upsale on what we didn't actually need. (Especially since this will encourage "if it doesn't fit, throw it out.")
Brian and Christina were both fantastic. I had to move things from another location and they were helpful, knowledgeable, short, sweet and made everything extremely easy. The location is very clean and prices are great.
Brian & christen very helpful
Christina Bryan has been very helpful throughout their years help me working with public storage in Danbury Connecticut.
Brian was very wonderful in helping me. I would recommend him to everyone.
James L was very professional and cares about the customers and he's very thorough I recommend Public Storage danbury Connecticut highly also Christina the manager always went above and beyond to be helpful to me along with their district manager Alex these three are very professional and always willing to go the extra mile to please their customers
Excellent storage. Brian was extremely professional and helpful.
Very well run facility. Christina's customer service is gold standard. Always helpful, accommodating, pleasant & proactive! Highly recommend this facility, and it's especially Christina that makes this rating!!
Brian was great helped with everything, would definitely recommend to others.
Brian was wonderful. Helped me out with the app and everything.
Brian was very helpful setting me up with the app,great service
Christina was great! She was very easy to speak with and very helpful! Made this process super quick and easy!
Brian was very helpful showing me the ropes On my first day.
Brian was helpful with the app on my phone and making everything easy. Excellent professionalism.
Brian and Nick were fantastic from when we called up to inquire about availability although the way through the sign up process till we loaded our stuff into our unit. I'd highly recommend this place and them.
Brian and Christina were absolutely great. Best service possible. Extraordinary friendly and knowlegable. Dr. John J. McGrath
Christina Did a wonderful job. She made it quick easy and painless to check in and to get everything set up. Highly recommend public storage… And, if you have the choice, ask for Christina. She's great.
Well organized, clean, large storage spaces, great trolleys to take your things
Moving is stressful! But Christina at Public Storage made the process a breeze for us with her helpfulness and friendliness! The customer service she provided is rare and hard to come by! Definitely recommend.
Just rented here again for the second time. I've worked with Christina both times and she has been nothing but kind and helpful! She made this experience 10x easier and we couldn't be happier. I'll be recommending Public Storage because of her!
The property manager, Christine, was very helpful and courteous to my family and I throughout my tenure. The facility is professionally maintained, clean, and I felt our belongings were in the utmost secure place. We had a great experience with Public Storage and would use them again.
The two managers were very helpful and accommodating throughout my move in and out of their facility. The facility was very clean and it was easy to access the storage unit.
What a smooth and stress free experience. I was moving across country and needed to put my things in storage for a short period. Christina was patient, responsive and put all my concerns to rest. She went above and beyond to explain everything and she followed up with me when I had questions. She was also proactive about a few details I hadn't considered. I cannot say enough kind things about Christina and my experience with this Public Storage.
Joe C - thank you, great customer service!
Initial good price for 10x10 rose substantially over a couple of years. Send well run, secure and maintained spaces.
Christina was very helpful this morning taking my payment and always has a smile.
Nice safe and clean facility,
I've always received such great customer service here. Christina C. is SO helpful. I definitely recommend!
Great customer service both on the phone and in person! Super helpful and answered all my questions. Christina helped us check in and explained everything. would definitely recommend this place!
Public storage is very organized and clean. The manager Christine does a fantastic job of making sure your set up and size of unit is appropriate. She also has excellent customer service skills which makes the overall experience very favorable Keep up the good work. John O
Suzanne and Christina at the Danbury location provide great customer service. The location is convenient and has a lot of packing supplies
So here is a story about my experience at Public Storage Danbury: After conducting days of research, it was evident that Public Storage Danbury offered the most competitive pricing for the 10x30' unit I was looking for ($332/month). On August 4, 2020 I reserved my storage unit online for a move-in date on August 15, 2020 and received a confirmation email. Leading up to the move-in date, I had called the main office several times to confirm my reservation and to go over some move-in details with them. On each occasion, I had very enjoyable and informative conversations with one of the employees, Christina, who also happened to be positively mentioned in all of the reviews I read about Public Storage Danbury. On August 14th (day before my move-in date), I received a "Move-in date reminder" email from Public Storage that read "We're looking forward to seeing you on 08/15/2020, when you have a reservation for moving your stuff into storage." The email also confirmed the size of my unit and the $332/month price that I had reserved online. On August 15th (my move-in date), I called the main office at 9:30am to let them know that I was coming into the office to fill out the paperwork and finalize my storage unit space. This time, however, another employee answered the phone (not Christina), but she told me that they were expecting me and everything was all set with my unit. I showed up to the Public Storage Danbury office, introduced myself to the employee and pulled up the confirmation email. After a couple of minutes of typing into the computer, the employee said to me in a confused voice "I'm sorry but your unit is no longer available. There is a 10x25' unit available but the door is broken and we are not sure when it will be fixed. We do, however, have multiple 10x10' units available." I asked her how that was possible and showed her (again) the confirmation email I received the day before. She apologized and said she's not sure how this happened, and proceeded to call her manager. I emphasized to her that I need at least a 10x25' unit based on the amount of items I have that I don't understand how I could reserve a unit and not receive any notification that it was no longer available. Unfortunately, the employee confirmed that the unit was no longer available. She then said, "My manager wanted you to know that we will honor the price you reserved online for the 10x25' unit if you want it." At this point I just stared at the employee blankly for a few moments before I said "so just to confirm that I have the facts straight...you not only gave away my 10x30' unit that I had a reservation for without informing me, but now I can pay the same amount for a smaller 10x25' unit that has a broken door?" I hesitantly asked her to please reserve the unit for me and to inform Christina (the employee who I had been speaking directly with since I reserved the unit) of what happened. On Sunday, August 16th I called Public Storage again and this time Christina answered. She had been informed of what happened and apologized for the inconvenience. She also reassured me that the 10x25' unit was not going to anyone else and the door should be fixed the next day (August 17th) at which point she will call me back. Sure enough, Christina called me on August 17th and informed me the door had been fixed. She said the current price for the unit was $408/month but the manager would agree to honor the original $332/month price I reserved. Christina could tell I was not satisfied and asked what price would be "reasonable" for me. I told her $300/month is fair based on the size of the unit and the unfortunate experience. After speaking with the manager again, Christina called me back and agreed to the new price. Christina was a life-saver and fixed all of my problems. Also, other than the broken door, the facility is incredibly clean and has a new car feel to it. The move went smoothly and luckily the 10x25' unit was large enough to fit my items. Based on my experience with Christina and the condition of the facility, I give this 4 stars.
Tremendous service from Christina and super clean halls ! Love it !
Dealt with Christina and I couldn't be more pleased with how helpful and polite she was and made the entire transaction smooth and simple! Would certainly recommend!
I have been storing my furniture at the Danbury Public Storage for several years now and I can't stress enough the cleanliness and convenience of this location enough. Christine the Manager and Suzanne Davies are always there with a smile, so thoughtful, kind and deliver EXCELLENT Customer Service! They will occasionally give me a reminder call if I need it and after this long being a loyal customer I feel like family! The facility is always well lit and well maintained in a clean and sanitary manor. I highly recommend using the Danbury Public Storage facility!
The 2 ladies who work here couldn't be nicer or more helpful. Very clean facility. I used 3 different units over a 3 year period and never had a problem.
Very nice place and clean. Charlie and Christina were helpful even with the covid19 going on. I had no issues with my move in and will actually be getting a second unit here next month. Great place to store your belongings.
Awesome customer service from Charlie! Would recommend to anyone in the area looking for a great storage facility.
Amazing experience. Very fair and reasonable rates. Excellent customer service to the max, Charlie Simao was truly a blessing to deal with. Fast to the point and also very helpful selecting the right unit for me. Highly recommend and very well maintained and cleaned inside and out. Security systems A+
Charlie was absolutely awesome! She kept a smile on her face the whole time and I know I was a pain in the you know what and freaking out about my big move and I had my father with me who asks crazy questions but she calmed me down with that wonderful smile and perky attitude! And even appeased my fathers questions about nothingness lol If your in Danbury and need to store this is the spot! Very clean and would recommend to anyone.
The staff here is very professional. I was attempting to help my brother who lives out of state. I was stressed and impatient. I was downright rude. They handled things without batting an eyelash. Great customer service.
Charlie was very nice and helped me save some money. I would recommend this facility to anyone. Very clean
Awesome service very helpful
Bryan at Public storage in Danbury made finding a unit a breeze. Very curtious and a true professional. He is a great asset to the company.
Christina and Suzanne are very customer service oriented, always helpful to answer any questions you have. They keep the storage facility clean. The bathroom is also kept clean. The parking area and hallways are well lit st night.
Charlie was great answered all my questions without hesitation.. I will be renting a unit in the spring.
Excellent start up deal. Property is well kept and secure. Employees are efficient and professional. I'd recommend this place to friends without hesitation.
Great service by Charlie and Christina.
Christina was very helpful during the move in. She make the process quite easy and painless. The unit was clean and it good shape.
This is a great storage facility, the customer service is top notch! Thanks to Charlie, Susanna , and Christina for the laughs and great customer service. My move was a lot more pleasant and less stressful!
Very good customer service explained everything and made the process very simple. The facility is secure and clean carts to use and supplies to buy just in case you need.
Malik was professional and very helpful. Couldnt have asked for better service.
Christine is absolutely amazing she made a very hard day way easier. !! Would always come back. Thomas Tommy Ryan
The Mill Plain location in Danbury is clean and has a nice staff. But if cost is a factor and you're shopping around based on price, forget it. They offered a special where you get the first month for a dollar. 4 months after I moved in, I received a letter that they were raising my rate 40%. I had 2 units and they did it for both units. I'm sure they figure that most people will accept the increase because it would be too much trouble to pack up and leave.
My husband and I just went to rent a storage unit to help facilitate our move to Danbury. We met with Christina and she was fantastic to deal with. We ended up with a nice unit on the 1st floor. Would definitely recommend!
Always helpful and friendly, Christina is the best!
If all the Public Storage employees are as knowledgeable,courteous and professional as Christina I have no doubt that I will have a good experience with this facility.
I've had a total mess of a year moving things around and Christina has been so helpful through both the move in process and having to switch to a different size unit. She made the entire process seamless and easy. I only wish they didn't raise rent significantly only 5 months after starting out there!
This is an A+ facility - the staff is super helpful (Christina is great!) and the location is clean, secure, and very organized with easy in-and-out.
My experience here was really good. Nicole is really nice and works with you extremely well and is open to help you to the best of her ability. It was a great experience coming to this storage place.
Great customer service in person and on the phone. Great response time to questions. The units are safely protected in a gated complex. One downside is the units aren't always cleaned out well when you move in. Also it would be helpful if the amount of bird droppings that accumulates in front of the exterior unit's doors was cleaned more. There is a bit of concern with moisture building up in front of the exterior unit doors since we've had a very wet several months. Otherwise, I'd recommend it.
Christina and Suzanne at Public Storage in Danbury CT are the friendliest, best, nicest, and most helpful employees. I have rented a unit for a long time and even when I'm stressed about "whatever" is going on they are rays of sunshine. I'm sure some customers are rude and short with them at times but they are professional enough to keep smiling through it. Thank you ladies for always being wonderful and kind.
We have stored some of our "stuff" at this location for longer than we would like to admit and thanks to Christina and Suzanne's attentive and friendly management we have no need to worry or want to go any place else.
The Danbury Public Storage facilities (08191), on Mills Plains road is the cleaness, best location for easy-to-use facility with great pricing. None of that would matter without Susanna and Christian's professional and courteous approach when you walk through the door. After three years and counting, as someone that travels alot, returning to change out seasons, Susanna and Christina are a pleasure to work with- Thank you Ladies.
I was wowed by the facility and Christina was the greatest down to earth property manager she made my experience great.
If you want to store your items at a storage facility, I highly recommend Public Storage in Danbury, CT. Christina and Suzanne give great customer service.
Christina and Suzanne gave us great customer service . Place is well lit and hallways are cleaner than other storage places we have been at.
Very good service and they made me feel special.
Facility is well kept and security gate as well as security elevator require your assigned pin code to access both the buildings and the elevators. Very clean and well kept. I like that it is climate controlled so nothing will rot away due to heat exposure.
I had the best experience. I worked with Suzanne who was kind and with a smile help me through the process. She was so knowledgeable about selecting the right size for my needs. She gave me a tour and then made the necessary paperwork a very easy process for me. She then explained in detail how easy it was to access the area to unload my truck and the ease it was to bring my things in, and find my rental space.
They can do better with there prices
Very clean, safe and efficient staff.
1st time user: they were very helpful and complete in covering the details. This location was very clean.
We experienced prompt and courteous service at the front desk. Richard was very informative and helpful in explaining the storage process.
Nice friendly attitude here by Christina!
Somewhat Expensive, but there are other places that are even more so I guess not a bad value. They now have enough carts available. They said that people keep stealing them or taking 2-3 of them leaving none for other people. So now you have to check them out. A minor inconvenience but at least now we can get a cart when we need one. Half of the lights in the elevator are always burnt out. The place does have good security decent lighting and is very clean.
Evelyn was excellent went over everything throughly made the check in process very easy
The storage facility is the best. Suzanne is an incredible person she really helped me out during a difficult transition with my storage needs. I will definitely recommend this facility to all my friends and coworkers. Employees like Suzanne make all the difference and she is truly an asset.
This place is great!! I was helped by a lady named Evelyn. She was so pleasant and helpful, and she was able to save me a little bit of money as well!! I highly recommend this location.
Rented a United from Christina and Suzanne I g it the summer special they were very helpful💟 thank you very much.
The woman who helped us was super nice. I reserved a unit size online and she called to let me know that they only had one left in that size and to come down as soon as I could. When we got there she explained everything wonderfully, led us through the building, and showed us where everything was. She did such a great job we didn't have any questions to ask, she answered them all!
Suzanne at Public Storage in Danbury was polite, helpful and explained everything very well. A truly pleasant experience. Thank you Jeff
Great Place. People could not have been nicer or more attentive.
Thourough tour and explanation of services! Very friendly and helpful.
Super friendly staff. They went above and beyond to help me. 10/10 recommend
Suzanne was very helpful and very friendly! Informative and welcoming! She mad sure our unit was clean and where we wanted! I would recommend this property and services to friends for sure!
Evelyn was the best person to talk with she was a lot of fun
The entire process was seamless thanks to Christina and Suzanne. 👍👍
Suzanne was wonderful and super-helpful. The units were clean and well lighted. I docked one star because when I made the reservation, they did not mention that I'd be needing to buy my own 20$ lock and insurance which all add up. the 1$ per month is just a marketing gimmick.
Suzanne in Danbury is excellent. She walked me through selecting a unit that was suitable for my needs. I'll work with her anytime. Kind, patient & knowledgeable .
Suzanne was very helpful. She offered suggestions and recommended different storage options.
Very clean and great customer service. Suzanne, who works at the front desk, was very helpful. She advised on the right size storage unit. I highly recommend this location.
This property has the most wonderful customer service; Suzanne, in particular, could not have been more helpful when I needed help with my account or box purchases!
Came here to this location. I had 24 hrs before turning over my house to the new owners and moving down south. I had extra stuff and had no where to put it. Called mill plain public storage and the girls. Christina and Suzanne were fantastic. They adhered to my every need and got me moved in to two units. These girls new I was under a lot of pressure and the made every step easy. Thank you to both of these ladies. Great professional employees. I would recommend this storage 10/10 times before anywhere else!!!!!
Nice and clean and staff our helpful
Suzanne is simply the best Public Storage associate that I have had the pleasure of working with. She is always ready to listen and work with you on any issue that may arise. I can honestly say that I am a Public Storage user for the past 4 and 1/2 years because of her outstanding customer service. Public Storage runs a greats storage operation!
We have been customers of the Danbury Public Storage for over 5 years and have always had good experience with the facility and great service from the staff. Suzanne has been especially helpful with all aspects of renting and any questions and/or problems we have had while we have had our unit.
Suzanne was very helpful and charming throughout the process of getting checked in and oriented to the facilities. The place is well-kept and clean. We are thoroughly satisfied with our experience, and would highly recommend it to any interested customer.
Eileen was great, she made all the difference in our transaction.
For the five years we have had the storage unit there have been no issues the customer service and staff have been very helpful
Suzanne, provided excellent service with helping me check out of my storage space. Really a great asset to this property.
The employees are nice. The corporate parent cares more about selling boxes and packing materials to people who call in, than keeping the restroom and the grounds clean. I once witnessed them coaching an employee over the phone making them repeat a sales line over and over and over again. The place serves it's purpose.
I dealt with Public Storage on Mill Plain Road in Danbury, CT and it was like dealing with a bill collector. They made a lot of veil threats towards my senior citizen mother who's health was fading. It was like she always seemed to owe money on her storage unit, every week there was a new fee assess on her account. She would constantly receive threating calls and she never seemed to pay enough on this account to clear the balance. I regret ever finding or recommending this storage solution to my mother and I will never use them again.
Eileen was extremely helpful, kind and informative. I highly recommend using Public Storage in Danbury, CT.
Clean and fairly reasonable prices. Secure. Wish they had longer hours though
It has been my pleasure to store with Public Storage in Danbury. I have been with them for many years. The premises are always clean and I have experienced noting but pleasant and helpful staff. Your manager Eileen has been a extreme help to me at all times. All I have to do it ask her assistance or opinion and she has always been there for me. I will and do recommend your storage facility to anyone who needs extra space.
Had an awesome experience here with Paul. He really helped me out and was really professional with the way he presented my storage unit. I would definitely recommend this place especially with an employee like Paul.
I was having trouble with reserving a unit online so I went into the Public Storage office for help. The customer service was great! I was all set in no time and the staff was very helpful.
I have never used a storage facility before. I was really sceptical and nervous. Eileen was super friendly and helpful. I'm so happy I went here. I found a clean safe place for my important belongings until my new house will be ready. I will be sure to tell my friends and family if they ever need a storage unit. Thanks again Eileen! Lisa
Eileen, Thank you, for helping making a difficult experience easy. Danbury storage is easy to access, right off the highway. So clean! I appreciate you always taking time to figure out the best situation for my needs. Lisa
The staff has always been very friendly and helpful. I've used Public Storage a number of times because of the security the climate controlled units and how clean and well maintained the facility is.
The staff here especially Eileen are the best! They are extremely professional and efficient. This place is very clean and well maintained. It's a place you can feel safe accessing even when the office is closed. Thank you for making my experience here a really good one!
I needed a storage unit in a pinch to get my things out of a POD. I walked in at 5:40 PM tonight on my way home from work thinking there wasn't enough time to pick one and do the paperwork. However, Suzanne was there, and quickly determined my needs and found me the right unit, then completed all my paperwork and everything was in order by 6:00 PM (the time the office closes). CAN'T THANK SUZANNE ENOUGH FOR HER EFFICIENT HANDLING OF THIS FOR ME!!!! VERY PLEASED AND RELIEVED!
Mike here is an awesome guy!!!! I've been to plenty of competitors for packing supplies looking for a deal with the associate giving me the "oh boxes are over there" and then point in some direction. Well this chap here Mike not only stood up when I walked in, he introduced himself and asked me my NAME!!! He came around the counter and took WRITTEN note of what I was packing. He BROUGHT me to the boxes and showed me your special deals and bundle packs. I bought what I needed IMMEDIATELY purely off my experience. Also not to mention these are well quality boxes.
The staff at this location are very friendly and knowledgeable. Suzanne was very patient with me ,showing me different options of units as I was unsure which size best suited my needs and being my first time using storage. After all was said and done it was past office closing hours but she made sure I made the right decision, not once feeling rushed. highly recommend using this company
Great storage facility. Clean, well maintained, friendly and helpful staff. I would give them five stars if the intercom system worked (I was told it was broken after asking why no one was responding) and there are not enough carts.
Very efficient service. Not the cheapeast, but a competitive deal. Place is well run by Eliene - property manager. It is clean, secure and organized
Fair prices and great staff: The property manager, Eileen, was incredibly helpful and answered all of my many questions.The facility is safe, secure, and squeaky clean. We will definitely be recommending this Public Storage to family and friends!
Great and awsome thats all i have to say with the whole moving and other issue that u have to deal with Eileen made my life so easy
Eileen was very professional and helpful. The storage facility is spotless, secure and easy to access.
Eileen was very friendly, knowledgeable, and professional. She made the experience very smooth and easy.... A+
Eileen was/is wonderful. She had everything taken care of before I came in to sign for my unit after I registered on line. She also followed up and called me at home.. She is so pleasant and knowledgable. She is a great spokesperson for Public Storage.
Excellent experience with move in and paperwork. Eileen, the manager, is fantastic and on top of everything, quite refreshing!!!
Three angels from the higher spirit were able to help me. Dennisse, Eileen and Jessica. They are Michael angelos sculpturing and I am pleased that I met these lovely ladies at the facility. They were very helpful.
Eileen was amazingly helpful and got us through the process quickly! The least stressful part of my day!
This was a wonderful experience from start to finish. Everything was laid out, no surprises and great service from the ladies, especially Eileen! :) They went above and beyond for all our storage needs and in both moving in and out of the unit.
This facility is extremely well managed. Eileen and Suzanne are very professional and customer focused. The facility itself is spotless and very secure. I am sure you could find a storage facility in the area that is less expensive, but you get what you pay for!
This site has served my purpose for short term storage twice. It is clean and easily acceptable. The staff is friendly and very helpful.
Eileen was a great help and patient! She works with the customers to come to a mediation to find what they are looking for with a decent price. Customer service rocks!
I reserved a storage unit at this location online and shortly after I received a call from the manager, Eileen. She confirmed that the unit I was looking for was available and that since I was trading up from a smaller unit I could simply do a transfer and save the admin costs. Good news. When I showed up at the location today, I was assisted by Suzanne who was also very helpful and provided a painless transition. I've been a Public Storage customer for a number of years and I appreciate the climate controlled building and the cleanliness.
Eileen, on staff, is very helpful and professional. The facility is clean and secure. Very satisfied. Thank you.
This was my first time using storage. Eileen was extremely helpful in helping me choose the correct unit. Our movers were quite happy with how they were treated and worked with. The facility is very neat and clean and Eileen will go out of her way to help you. Highly recommend this company.
Both Eileen and Suzanne were very helpful with my move into your storage unit. Your central customer service recommended a 5x10 unit for my purpose, however your very efficient staff helped me switch to a 10x10 unit under a very harrowing situation. I would highly recommend any one needing storage to contact your staff in Danbury.
is good 2 bee here. se siente bien y seguro camaras y censores total estas seguro tu y tus cosas te lo recomiendo life is good
Great customer service. The Property is easy to access and well lite up inside and out. They where able to find the best size unit for me. Thanks.....
I have a lot of experience with different storage companies especially in Danbury CT. This Public Storage location on Mill Plain road is always spotless, very secure, and well lighted. There are always plenty of complimentary heavy duty carts available to quicken your visit - even during busy weekends. Most other storage units have a few carts but usually the wheels don't work. This location always has plenty and they always work well even with very heavy loads. All the employees are great. Especially Suzanne, as she always goes above and beyond to address any concerns I have. I'm going on my fourth year as customer!
I love public storage they have wonderful people working there the name is Eileen and Suzanne they are the best love them for all they help that they give me
Great customer service! Eileen helped me find a local Public Storage in FL for me to store some items since I am moving. Also was great help with getting the boxes that I needed to pack my home!
Eilen es una persona muy amable amigable exelente nos indico todos los pasos a seguir para rentar una unidad gracias por su ayuda que Dios la Bendiga
Eileen did a fantastic job of helping me purchase a storage unit. Would recommend this to anyone looking for convenient storage.
The ladies in the office are more than Perfect
This was the best experience. Eileen couldn't have been more helpful and pleasant. Every concern I had was eliminated and more. The place is clean and there is easy access to all units. I highly recommend this place.
LOVE THIS PLACE!! The ladies that manage the property are sooooo helpful!! Wonderful!
Facility, was very clean, and the customer service couldn't of gone any better. Thank you Eileen!
Property is easy to access & well lite. The staff was wonderful & went out or their way to help us get a good rate on line. They also offered water & chairs to make us comfortable while filling out the paperwork. I've used them before & returned here based on the great service I received before. I was pleased to get the same wonderful service.
Very easy to move in, the facility is in great shape and Eileen provided wonderful service to get us set up!
Suzanne was extremely helpful both when we rented our initial unit, and when we had to get a 2nd unit. She went out of her way to make sure that the 2nd unit was as close as possible 1st in order to help us out!! Eileen was also very helpful when we had some problems w/our moving company and we had to review the security tapes, overall the staff was very accommodating and we appreciated their continued attention and care. Just one note on the property if you are using a moving company however - this is NOT fully tractor trailer accessible, only a smaller moving truck will work here. While a semi-truck can pull into (and back out of) the entrance of the facility, it cannot make the turns around the building or fit under the awning. This caused us extra time/fees from the moving company when were were moving in as we thought that it was accessible.
There are two ladies there that go above and beyond for customers. I am happy that I chose Public Storage, having the pleasure of meeting these woman and doing business with public Storage. Feeling safe there kindess and understanding makes it all worthwhile.. Thank you Suzanne and Irene
the ladies here are so helpful, gave great advice. As soon as I walked in they helped me figure out the size unit and boxes I would need. they didn't try to sell me on anything, didn't try to push anything. I priced out storage units elsewhere, and this location was the best value, and the employees had the best attitude out of any in the area. I highly recommend this location.
Tremendous help on the phone with eileen re-setting my account!...love the ease and PATIENCE she demonstrated!!...AAA all the way!
Just want to let others know that I've had a great experience working with Public Storage. I've been in the office a few times, and both Suzanne and Chester (? I think that is his name) have been really helpful. I decided to rent a unit to store a lot of things from my home while I sorted through what I want to do with them. Suzanne was a lot of assistance. When I chose a 5'x10' unit, she pointed out that it would be -5' wide and 10' deep, and for about $2 more I could take a unit that is 10' wide and 5' deep, making it easier for me to access the things that I'm going to be sorting through - HUGE help! The whole place is so incredibly clean - that really impresses me!
Suzanne was very helpful and friendly. I had no problem finding the right storage fit for my needs with her input and expertise. highly recommend this place.
We used the Public Storage site in Danbury for almost a full year. The site is set up to easily load and unload your items thanks to the carts and elevators and the staff was always very helpful and professional. Suzanne was very helpful on our last night as we were trying to check out before the end of the year. She stayed late and made sure we got everything out ok. Thanks.
Saw all the great reviews and decided to stop in, my experience were far from great. The women at the counter (Suzanne) was not very pleasant. She kept directing me to call the 1800 or to go online for better deals. She kept saying "This is corporate run business" and shrugged her shoulders. I just decided to leave and will stop in when someone else is working.
Looked at a few other places and this one was was the cleanest and appeared to be very secure. Location was very convenient and price was reasonable. Staff (Suzanne) was extremely helpful and friendly. She is a long term resident and knows the area and her customers very well.
Wonderful facility. Secure, clean and easily accessible. Friendly and dedicated staff.
Very professionally managed which made the whole experience a pleasant one.
Great experience. James was very thorough and explained everything. Very clean facility.
Reggie was very helpful in getting everything set up with our new storage unit. A pleasure to work with. His associate, Susanne, was also very nice. I would not hesitate to return to the office if any questions arise in the future.
I have to say my experience at public storage today was amazing! I came in to the store just for some pricing and left with a unit. James is awesome! He was so fast and very knowledgeable! He provided such great customer service. I was blown away by how accommodating he was. I will definitely be referring public storage danbury to anyone I know in need of a clean friendly environment to store their belongings. James thanks again for helping me out today!!
I was hesitant at first to store some family heirlooms, but completely feel confident now. I found the manager James to be both knowledgeable, friendly, helpful, and comforting. He explained the procedures in detail and was very supportive. I am not anxious about storing personal items at a 3rd party storage facility any more. James was so helpful, I almost feel like he is personally checking on my possessions personally. Thanks James and Public Storage :-)
James the manager was very helpful and easy to work with. Will definitely recommend to others.
James gave excellent sales services . I liked his professionalism
This was my first time renting storage and I had a great experience. James was so helpful in helping me with my first move. He took his time explaining everything I needed to know. I felt as though I left with all the information I needed to know. I definitely would recommend this place to my friends and family, great service :)
Very clean facilities and the manager, james, is excellent.
Great. James was very helpful. Clean organized place
I had a very pleasant experience. James, the property manager was very helpful and made my first storage rental a breeze!
James was great! Gave us a nice corner unit. Super helpful!
James gave a great tour and explained everything thoroughly! Place is clean!
This was the easiest experience. James was a great introduction to Public Storage. It is very easy to access your storage bin, open great hours, and easy in and out access.
James, the manager, is awesome! He is very friendly, but professional. I just secured three storage units today after having them on hold for a few days. James emailed me a reminder and also gave me a call as a reminder as well. He wasn't pushy, but just plain helpful. When we walked in today he couldn't have been nicer. He knew who we were and helped us right away. I couldn't be happier and am really happy with our transaction with James. Two big thumbs up!
Clean storage units and friendly staff
Easy faculty good people working there. Very helpful
Public storage has a large variety of moving & packing supplies that I did not know existed. The gentleman at the counter was very informative and did his best to get me the best deal. I would recommend anyone who needs supplies to come here.
I've had such great service from Public Storage in Danbury. They worked hard to get me the best deal possible and then working with me as my needs changed (smaller) to still help me get a new unit at a reduced rate. I'm very happy to be a customer here.
Great experience renting a unit. Clean, safe, secure facility. Professionally managed and well maintained. Staff is very helpful and easy to deal with. Would highly recommend Public Storage in Danbury.
Public storage is the best in danbury, I store my cars there and I feel 100% safe storing them. Everything is gated and surveillance cameras are all around. I was very impressed with everything. When doing the paperwork, the process was easy and stress free thanks to James who is the manager. I always recommend public storage.
I have rented a unit here for the last 2 1/2 years. The facility is always clean and well kept. James is a fabulous person and is always very pleasant and helpful. It's nice when someone knows customer service!
James the Manager was great, I did not have a clue as to what size unit I was looking for and kept going back and forth between units. James was very helpful and patient. It was a great experience! The facility is beatuful and well kept. It is nice to deal with people who know the meaning of Cutomer Service!!!!