Public Storage Self-Storage Units at 805 N Jackrabbit Trail, Buckeye, AZ
Address
805 N Jackrabbit Trail Buckeye, AZ 85326
Office Hours
Mon-Fri 9:30 AM - 6:00 PM
Sat-Sun 9:30 AM - 5:00 PM
Gate Access Hours
Mon-Sun 6:00 AM - 9:00 PM
Storage Facility Features
---

5'x5'

Outside unit

Drive-up access

Climate Controlled

Inside unit

1st Floor

---

10'x15'

Outside unit

Drive-up access

---

10'x20'

Outside unit

Drive-up access

---

10'x25'

Outside unit

Drive-up access

Outside unit

Drive-up access

---

10'x35'

Outside unit

Drive-up access
Nearby Self-Storage Locations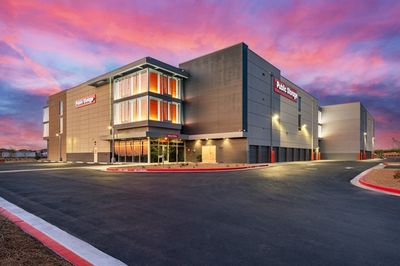 Self Storage Near
4830 N El Mirage Rd
Litchfield Park AZ 85340
Self-Storage Near Buckeye
Resources from the Help Center
See what fits in different storage unit sizes
At Public Storage, You'll Always Find...
Keypad Access

Friendly Staff

Month-to-Month Rent

Moving Supplies Available

Free Parking

Well-Lit Facilities
Reviews
( 78)
Absolutely the worst experience trying to reserve a unit. Rude online customer service. Tried calling the storage directly and he was rude, reservation canceled after speaking to employee at Buckeye facility. Note....the 15 dollars they charge you for insurance...DOES NOT COVER YOUR PERSONAL ITEMS.
Debbie was so nice and helpful thanks again!
Your manager Debbie was great, thanks for all the help
What lock-in price means to this place is that your lock-in for them to raise the price after you moved in. Don't believe the lock-in price they will switch it on you real quick. Find another place. It will cost you more here with your time and money moving your stuff here and out again.
We came in early when the office wasn't open yet but Debbie still took us for a rental anyway. Thank you so much.
Ms. Regina was awesome, she did a great job of helping me with returning my lock.
Regina was very helpful and provided great customer service!
Great storage facility. Very clean I recommend this place to anyone needing storage. Debbie at front office was professional and friendly. Very helpful with information needed.
Regina was absolutely amazing thank you so much for your help
My first time here! Darlene was beyond helpful with getting me set up and explaining everything. I can't believe how east she made this experience especially after an out of state move. Highly recommended and great customer service!
Once again, Debbie is the most amazing manager, when I needed help with paying rent she helped me, which was very nice.
Debbie at this place is so nice and they also have storage supplies to help out.
Stopped by for a quote and could not be bothered. Stated if your looking for storage best rates are found online. Are you even going to Say Hello I Asked. Once again I was told best rates are found on line. Wow!!!!!
Darlene is amazing very helpful and super nice
I came in during a hectic move last week. Debbie made things so much easier. She walked me to my unit and gave my kids pens and paper to occupy them during the rental process. I definitely recommend this place!
This place is amazing with helpful services and lots of smiles!!!! For first impression I'm glad I came her 😌
I had questions about our rate increase. Darlene was very helpful and sweet. She was patient with me and went through all my discounts and promotions so I could understand my payments.
I love I can drive up, pop open the gate remotely, and drive to my unit. Darlene was very helpful when I had a account request change and she was also very nice to talk with. Great people!!
Darlene was so helpful and commutative!! Excellent service!
Darlene helped me so much and got to were I needed thanks from crystal
I would like to say that we have had excellent service from Jacob and Debbie located at the Jackrabbit location in Buckeye, AZ. They both were very kind to me on the phone. The world needs more of employees like them. I will truly recommend Public Storage on Jackrabbit, Buckeye, AZ to all my friends who are looking for a storage location. Thank you Debbie and Jacob! :)
Debbie was an amazing lady made my transactions smoothly friendly and very very outstaring experience . Very happy to have came to this facility thank you 🙏
Awesome Service,by Debbie
What is the cost of a 5x10 storage unit
I really enjoyed Darlene and Regina. They were both so helpful, nice, and understanding. They made sure I was completely set up with everything I need to get into my unit.
I've been renting at this location for less than a year. I was paying $150 more than when I started due to them raising the price and when I asked for an adjustment, I received less than a $25 adjustment. They don't answer the phone nor do they return calls. I was made to leave a message, received an adjustment notice via text, and never a call back. I tried calling back and again it went to voicemail. I have been renting storage units since my mom died in 2020 and never had this issue until relocating to this new facility. Use a different entity. Public Storage just bait you in with discounts and then raise it to high hell once you've moved everything in. I currently have a 10x20 and paying $326 a month when the same size unit is being advertised at $188 discounted from $235. Tell me where that's decent?
Regina was awesome and helpful, thank you for all your help!
I did everything online. Super easy.
I came into this facility on Easter Sunday and met a wonderful lady. Debbie was extremely helpful answering my questions regarding renting a storage unit in your area. My family is relocating to AZ & we're looking to rent a storage unit that is safe, secure and affordable. Debbie assured me that my household items would be all of the above until our home is completed. She showed me several different units and gave a tour of the property. I loved her positive attitude & how kind she was to our family. We have a few more storage facilities to look at, but I'm certain I will be renting here.
I called the local number listed for pricing and availability. The person I spoke with told me they had a $1 move in special for their 5×10 units. I told him I saw a deal their site for a $1 move in and 30% off for subsequent months. He said I would need to talk to the property manager on site to try to get that promotion and he needed to text me their phone number so I could contact them. I told him I didn't want to give my phone number and asked if he could he give me the phone number for the property manager at the location? He said he couldn't and he wanted to text it to me and that is how they do it for marketing purposes. I told him I didn't want to give my information and I am calling around to find the right pricing and didn't want all these companies calling me or selling my information. He said they don't do that and he wouldn't give me the number unless he could get my phone number. I told him again I just wanted to call without giving my personal information and he said that he couldn't help me and have a good day in a very condescending tone and hung up. If this is how they treat potential customers I don't want to know how they treat you once they have your stuff in storage and your money.
We stored household items to protect them from the elements. When we went in to get our belongings, everything was covered in dust and there was damage to leather.
Dai was tremendous extremely helpful made renting a dream
Great service from Regina thanks
Regina gave me awesome service and was very helpful.I would recommend this facility to anyone
Great Service! Professional people ❤️
John Vinson was extremely helpful and professional. He did not mind at all showing us different storage units and going over all the details we needed to make an informed decision. Thank you John for making this easy for us.
As a first time renter at this location I will say one of my best experiences. The booking online was transparent and easy to navigate. Upon move in I was a bit worried that I'd selected the wrong size and my movers would not be able to store my items properly. I'm so glad Debbie was on site to brighten the day again. She not only assisted me with upgrading my unit, but made sure the new size worked well with no hassle. Thank you for your great service!
Ms. Kim was helpful, professional, and has a great amount of charisma. I was able to rent a 5 x 5 space on the spot to store small personal items. The inside of the garage where the cars pull into in order to load or unload items is clean and spacious. There are no foul odors throughout the inside of the building. All entrances are secured. Easy to access gate.
Julio is amazing 🤩 he helped me out setting up my account and is very knowledgeable in the business. Very clean place, love he's attitude very happy.
Julio was very pleasant and incredibly helpful with my unit! Would definitely recommend!
Best costumer service ever wonderful experience
We used Public Storage to store our household good while our house was being completed in Metro Phoenix, AZ. I am very happy with the service i received at Public Storage. Kim was wonderful and always had a smile on her face. Whatever they are paying her, it is not enough! Debbie also deserves credit for making our Public Storage experience FANTASTIC! Both deserve a raise!! They are close to The I-10 and have plenty of space to get large trucks onto the property for loading and unloading. If you need storage, you can't go wrong with Public Storage!
Customer service is super sweet… most friendly place to go to
Staff was helpful, cheerful, and fun. Place was new and clean and I'm totally satisfied with renting a unit here
Best customer service from Julio always makes my day always smiling great attitude deserves a promotion 😊
Very clean storage location. Staff is very welcoming and got me taken care of quick and with ease. The person who helped me was Kim, she's nice.
Kim was amazing! 10/10 would recommend this Storage location!
Kim and Deb were really nice!!
Super easy to obtain a unit. Any questions are immediately answered. Kim, I believe is her name- is simple a pleasure! Would like there to be a dumpster on site but not a deal breaker!
Thanks kim you were great 😃
Kim is also so helpful and pleasant to talk to! Thanks Kim !
Public storage is a very nice place to store your stuff, it's clean and properly gated with nice security. The staff is amazing John is very friendly. When a problem arises they are very helpful and understanding.
Taylor was very helpful with my company's move!
Had Fast Pleasant Experience, switching units @ this Public Storage location. Ms. Kim was knowledgeable, efficient, thorough, and personable. Made sure I was taking care of, answered all my many questions and was patient through my mini anxious spat about moving in this drastic heat. I would definitely recommend and Please Ask for Kim for a pleasant, expedient service!!!
KIM‼️‼️ Was amazing ‼️‼️ Thank you for making the experience great‼️‼️
Thanks for your service John.
Kim was great walked me through the online process and explained everything clearly
Kim was great she gave me a water because of the heat and I really appreciate it hope u see this Kim your one of a kind
I am in need of a very small space to place my few items while I am away. Maybe more like a closet. Lol anyway what is the smallest you have? Thanks Jess
Kim was really great! She showed me multiple storage units to see what fit my needs. She walked me around with no issues even in this Arizona heat. Area was extremely clean.
Kim (the Leasing Agent) is AWESOME! She quickly returns phone calls, is professional yet personable, and helped my family move into the exact space for the price we needed. If we ever need to rent storage space again, she is who I will call first. The facility itself is very clean and secure, with a locked, keypad entrance. Thank you Kim and Public Storage for being there for us!
They don't provide a dumpster for their clients so they keep filling up my families home private dumpster across the street from their exit. It's costing me lots and now I have to pile up trash in my backyard cuz there is no room in my dumpsters that I pay for. I barely make ends meet so now I'm forced to pay for other people's trash. That's not right. They should be required to provide trash devices!
Kim is so awesome beautiful inside and out💕 Have a beautiful 4th of July 🎆
I just like to say my experience at Public Storage on jackrabbit rd in buckeye az was great. I had an associate named Kim who took care of my needs. I needed to switch to a larger locker and she found one that was close to my original locker so I wouldn't have to carry my belongings very far.That really helped me out. All of the registration was taken care of immediately. So if I ever need a new locker because of Kim I would definitely use Public Storage again and also tell my friends. Please tell Mr Panos if he is still with Public storage that he has a great employee in Kim.
My experience with Kim was the best customer service every thank you kim
Very quick and easy online renting process. Only took a few minutes to sign up and get my unit paid and assigned all online. Met the site Manager Kim who was very friendly and helpful with explaining that everything was taken care of when I signed up online, explained the keys and lock were ready for me, and guided me to my unit very well. Definitely very happy and satisfied with my experience.
Great service, kim is amazing. recommend if you need storage this is the place.
Kim was so awesomeAnd so helpfulShe was great
Kim was the BEST. She made the process so easy and smooth. She was a true blessing during a stressful move. Thank you Kim for making it the best experience! 10/10 customer service
Kim was awesome. She's was so helpful. It made things go smoothly!!!
I arrived 2 hours before my appointment and i am still waiting there is nobody here and there is supposed to be i cant get a hold of anyone