Public Storage Self-Storage Units at 110 Kline Rd, Royersford, PA
Address
110 Kline Rd Royersford, PA 19468
Office Hours
Mon-Fri 9:30 AM - 5:00 PM
Sat-Sun 9:30 AM - 5:00 PM
Gate Access Hours
Mon-Sun 6:00 AM - 9:00 PM
Storage Facility Features
Climate Controlled

Upstairs/elevator

---

5'x5'

---

5'x10'

Climate Controlled

Upstairs/elevator

---

10'x5'

Climate Controlled

Upstairs/elevator

---

5'x10'

Climate Controlled

Inside unit

1st Floor

---

5'x10'

Climate Controlled

Outside unit

Drive-up access

---

10'x10'

Climate Controlled

Upstairs/elevator

---

10'x10'

---

5'x15'

Climate Controlled

Inside unit

1st Floor

---

10'x10'

Outside unit

Drive-up access

---

10'x10'

Climate Controlled

Inside unit

1st Floor

---

10'x15'

Climate Controlled

Upstairs/elevator

---

10'x15'

---

10'x15'

Climate Controlled

Inside unit

1st Floor

---

10'x25'

---

10'x20'

Climate Controlled

Inside unit

1st Floor

---

10'x20'

Climate Controlled

Outside unit

Drive-up access
Nearby Self-Storage Locations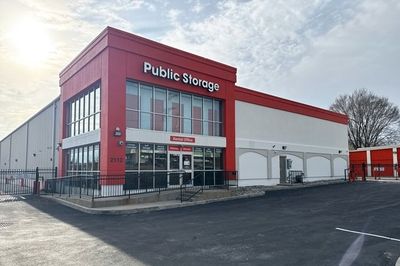 Self Storage Near
2112 W. Main Street
Norristown PA 19403
Resources from the Help Center
See what fits in different storage unit sizes
Royersford Climate Controlled Storage Near U.S. Route 422 and I-476
Royersford enjoys proximity to the Schuylkill River, which provides riverside and on-the-water enjoyment for all ages.
Royersford is located about 42 miles from Philadelphia International Airport and the City of Brotherly Love. Visitors and residents alike enjoy its pro sports, museums and vibrant neighborhoods.
Royersford Public Storage has plenty of storage solutions for all your needs.
At Public Storage, You'll Always Find...
Keypad Access

Friendly Staff

Month-to-Month Rent

Moving Supplies Available

Free Parking

Well-Lit Facilities
Reviews
( 177)
Great place to rent. The staff is knowledgeable and helpful. I appreciated the dedication to the property as well. It's really clean.
Had a great experience with my online reservation, Brandon was awesome!
My car broke down and the staff member help us jump start the vehicle. He went above and beyond to help us. Give this man a raise!!!!!
Very clean. Great customer service. Brandon was very helpful getting started .
Brandon in the Royersford location was Awesome! He explained everything and answered my many questions, makings my experience the best!
Mike was super helpful and the leasing process was super easy! Nice, clean, well maintained units. Happy so far!
While easy to reserve online, the ease of moving in was not ideal. I had no idea where I was going and the storage unit I rented was hard to find since there is zero help once you enter the property. No carts were available to use, the manager was rarely at the office. Much happier down at Metro Storage.
Felt very secure and private.
Very pleasant experience dealing with manager Brandon at the Royersford location. Explained everything thoroughly and walked over to the unit with us to make sure we were happy with what we chose. Very professional!
Was better before Public storage took over.
What size units do you have
Awesome staff Highly recommend
The manager Brandon was very helpful and patient with me.So Thankful to have a clean space to rent
We've been storing for the past few years. Had nothing, but good experiences since Public Storage took over. Mike was a very helpful when needing an additional space.
They can have my money!!!! I'm very happy with my new unit, it's super clean and fit our need perfectly! Costumers Service is definitely 10/10 made our starting process super easy!!!
Just rented a unit and the process could not have been easier. Very helpful workers, nice facilities and great prices.
We moved in with a rent of $219. A few months later (after we hired and paid for movers and a truck and moved in) our rent was raised to $348, plus the rent tax and insurance for a total of $383.33 a month. We were stuck, because moving meant hiring movers and a truck again plus the extra wear and tear on our belongings. Also, they only offer insurance covering up to $5k even for their largest units. It was impossible to secure additional insurance. The listing is for climate controlled storage. However, the temperature and air moisture level is rarely any different than it is outdoors with the exception that the items aren't being rained on. Had I been able to visit the property prior to our move in, I would not have rented here. All of our boxes have deteriorated from the interior moisture levels and varying temperatures.
I appreciate mike and Brandon at this location very professional and made to feel respected
Great customer service. Brandon very helpful and professional
Such friendly service!! The facility is always in such a clean state and I'd gladly suggest it to anyone!!!
Quick and easy, Brandon was great at giving us all the pricing and options upfront.
Location is very convenient and safe. Place is very clean. Brandon, the property manager, is very helpful and patience.
I added a drive up storage for my classic car. Online process took about 10 minutes and its cheaper than others in the area & 1 mile from home. Brandon was very helpful onsite as well.
I'm into my second year……Worth every dollar! Drive up, climate controlled, always accessible and no moisture, no insects, no rodents, no dust! The way storage should be. Great job guys.
Quality unit and good service.
Gladys was very friendly, helpful and knowledgeable about what we were looking for. Thank you Gladys!!!
I had called into the office and spoke with Gladys, I was trying to do a rental online & it kept giving me errors. She was helpful with completing my rental. She walked me step by step, it took a couple of minutes to complete & I am very satisfied with the outcome. I would recommend her services again.
Thank you Gladys for helping me choose a space that I will rent In January good prices and location is great clean and friendly staff will be seeing you soon.
Gladys was very helpful. I came in and my unit looked a little small that I had gotten online and she helped me find a slightly bigger unit right then. So now I have a unit that will fit ally stuff. She was super nice and answered all my questions.
Elevator broken on move in day - had to hire additional crew to haul my items up the steps during a heat wave. Very time consuming, labor intensive and inconvenient. We contacted PS and after much back and forth, they did not offer anything monetary to compensate us for our experience - in fact the Regional Manager person was not accommodating or helpful - so glad to be out of there!
I've had my unit for over a year. I have zero complaints. Customer Service is excellent. Easy access and the property is very well kept!
I have been renting a storage unit from Public Storage in Royersford for over one year. They have been very kind, considerate and professional from day one. The facilities are very clean and they provide the free use of their dollies to transfer your belongings to and from your space. After receiving a notice that my storage space was going up, I had to cancel my account because the cost was too high. Shortly afterwards, I received an email stating that during these uncertain times they would work with me. They lowered the cost of the increase. In times where just about everybody is trying to take advantage of someone, they are lending a helping help. I wish that all businesses put humanity above profit during these hard times. I would recommend them to everyone! Thank you so much Public Storage and God Bless! Thank you Gladys for all your help and compassion. Sincerely, Margaret
Fast friendly service and very clean.
Great service from the manager Annie, she was very helpful in my search for a storage locker. The place is very clean and organized as well. 10/10
Annie was Amazing to work with. Super professional, answered all of my questions. She went above and beyond. I'm excited to be able to store my stuff there with confidence! Thank you!!!!!!
Catherine was amazingly warm and helpful - we immediately reserved a space! The facility is clean, bright and really well-organized --- just like I hope to be! :)
Joelle is so friendly and helps me out, great location and very clean.
Joelle has been great to work with. She is very friendly and able to answer any question I may have. Location and accessibility is top notch
Joelle assisted me and was a great help! She explained everything to me thoroughly and was extremely kind!
I just worked with such a pleasant young lady named Joelle she helped me with getting a unit
Joelle helped me out getting a unit and answered all my questions.
I needed to secure a space at public storage and was lucky to get Joelle at the Royersford location on the phone! She was most helpful and was very responsive! She was a delight to work with!
We've been here for about a year and Joelle is super friendly and helpful!!!
Joelle got us a great unit and always waves at us and is always friendly.
I'm big fan of public storage, I consolidated my other storage unit in Phoenixville into public storage because their staff really connects with you and cares. Joelle does a fantastic job with staying on top of your unit, one time I left my unit unlocked absent mindedly (not like door open just forgot to put my lock back on cause it started downpouring and I had to quick put my windows up and got distracted, being soaked) and when she did her routine walk throughs to verify security she noticed and looked up my account and called me, twice, To make sure I knew about the situation and could rectify the problem. Most other places would have just said, "Not my problem..." But I was grateful that my 12 guitars(and various other belongings) were being watched and that the staff made sure the property was secure. Gives me piece of mind in an otherwise uncertain world. Pricing is actually better than most other storage lockers in the area (believe me this was my 2nd unit (should have just been my first and only) and I shopped around) considering they keep it gated and have cameras to make certain of who is entering where and when, which is nice so that nothing ever happens. Again you guys have been great and I look forward to continuing my rental as long as I require it. Which so far has been over a year. Thank you.
Just worked with Joelle who was amazing! Great facility! Definitely recommend.
Great service! Joelle was very helpful!
Joelle was really great! She walked us through everything and even showed us our unit. Super helpful and nice!
Very happy with this location! Clean and great customer service! Joelle is fantastic!!! Very happy!
We've had nothing but great experiances with this location and Joelle is awesome!! Even takes the time to say hi when we're there. Probably one of the better PS loacations in the area.
Joelle was very helpful. Quick and easy.
Joelle was so friendly a pleasure to speak too. They got me a storage unit ASAP. Was a very easy process. I would not look any further.
Joelle was fantastic she is the best! Great customer service!!!! Thank you for everything Joelle!
Joelle helped me upgrade my storage unit to a larger outside access one.
We recently had three households moving and relocating at the same time. Joelle gave each of us dealing with storage units excellent service. She was informative and helpful and always available when we had questions. It was a definitely a positive experience using this locations storage facility. Thanks again Joelle!
Immaculate Storage Facility, Centrally Located Used Public Storage Royersford for 6 months. Extremely clean, well lit and great location. Property Manager Noelle has a great personality and extremely helpful when needed. Would not hesitate to use this facility again.
Joelle was very helpful through the entire process of reserving my storage unit! Would fully recommend her help to her next customer! Thanks again for all of your help!
Joelle was fantastic and made everything super easy, simple, and fast for us to get the perfect storage unit for my family!! Highly recommend. THANKS JOELLE!!
Joelle was fantastic. Went above and beyond in explaining and going over the contract! Very friendly and helpful. Definitely recommend this location.
Great experience! Joelle was a pleasure to work with! She went above and beyond to accommodate what I needed and she did it FAST... I just called this morning. If I could give her 6 stars I would ☺️ 🙌🏻
JOELLE WAS INFORMATIVE THOROUGH AND FRIENDLY= GREAT CUSTOMER SERVICE.
Great customer service from Joelle. Very accommodating! I had questions after reserving a space online and Joelle took the time to go over the process and was able to get me in my unit the same day.
Moving is never easy, and Joelle made the experience pleasant and smooth. She was super friendly, helpful, and knowledgeable. She provided exceptional service and made me feel at ease. Left feeling safe and sound knowing my items would be stored at Public Storage!
Fantastic service provided by Joelle. Very knowledgeable and pleasant to work with. Highly recommend this facility for its cleanliness and ease.
I just rented a unit and Joelle was the nicest person to deal with. Very impressed with her professionalism and how neat and clean her property is. Such a pleasant experience.
They are so nice and very affordable lady j was so nice she helped me with my storage plenty of time please go here if you need to storage space best place ever.
The unit Joelle provided my husband Zane and I was perfect and her service was exemplary! If you want to be treated right, make sure you rent from this site!
Its a very clean and updated facility. Joelle the girl that works there is very nice and helpful..
Amazing facility. Their one worker, Joelle, was absolutely phenomenal. Every question I had she answered thoroughly and helped me with any issues I had. She went above and beyond to ensure I was fully understanding of everything discussed. Probably the best customer service I've ever received.
Joelle was very helpful, professional and enthusiastic!!!
Rude service. Tried to work out an agreement during a snow storm and was told they don't care about our items in storage and no one wants our stuff. I would not recommend as the staff is rude and ignorant. They told us we could open the side gate due to security but every time we have gone in to to pick up things the gate is wide open. Would not recommend to anyone.
Joelle, was really attentive and knowledgeable in regards to storing our belongings!
Struggled to find new me space and Joelle came out in the freezing cold to help
I called to inquire about a storage unit and I spoke with Joelle. She really went out of her way to be helpful to me. She is very friendly and welcoming, and she provided excellent customer service. She even called me back to make sure that I didn't have any trouble reserving a storage unit online. I was so impressed with her!!
Joelle was phenomenal in helping me get things figured out with a unit I rented at another location. She was informative and kind.
Had a great experience at the Kline rd. Royersford, Pa for 1 reason only.. Joelle, the site manager. Public storage had taken over the Self storage site and I was really upset about that, but Joelle jumped right in and was awesome! She displayed one of a kind customer service skills. Made me feel really comfortable. Thank goodness she was there because her colleague, a kid named Chris, who was EXTREMELY rude and as about as UN customer service oriented as a person could be. Honestly, if I wasn't moving out of my space anyway, I would have ended my contract right then and there!! I will look back at my storage experience fondly because of Joelle!! Keep her around, might need storage again some day!!
Joelle was awesome, so helpful in securing my storage unit! She went above and beyond to get me the correct size unit at a great price. I highly recommend this facility for all of your extra storage space needs.
Recently I called Public Storage to inquire about the services they provide such as unit sizes, pricing and general info about the property. I had the pleasure of speaking with Joelle who provided excellent customer service and was one of the nicest sweetest people I spoke to. She was very informative and knowledgeable about the services Public Storage provides. Based on her knowledge and excellent customer service skills I would highly recommend Public Storage to my family and friends😊
Rented unit today and Joelle was wonderful and helped me out a lot thanks joelle
Joelle, was very knowledgeable, helpful n excellent customer services. She is a great asset to your company.
I got my unit today, joelle helped me in every way possible. She was very friendly and answered al my questions . All the storages are well taken care of and very clean . Joelle walked with me to showed me where my unit was located. Thank you joelle for making my moving a lot more easier .
Joelle us amazing.Absolutely welcoming,thorough,genuine and a pleasure to work with.She made our first storage rental experience fast easy and fun.
Corporate run and not even 6 months increase $16.00 a disgrace. Hard times n mailed increase which never recieved mailed notice as I moved.
Joelle was great to work with securing a storage unit. She walked me through the necessary paperwork and even took me on a tour of the property and my unit. Thanks Joelle !
very accommodating but I wish you could access the unit later.
Great staff and service! Very helpful with all our needs.
Excellent customer service! The onsite manager was very friendly & helpful! Joelle answered all our questions regarding cost and unit size in order to meet our storage needs.
Its a public storage the same..as all of the others storage...
Great staff Joelle and Chris are the best, friendly, informative and gave good advice. The office and units are always neat and clean. I've been using this location for two years now!
Joelle from public storage is the best! Very spot on facilities and she got me in and out quick. I highly recommend public and joelle especially! Thankyou
The storage facility is clean and neat just as it was when it was all-time storage. People in the local office are friendly. That being said they raised our rental fee by 20% without any notification. They said they sent an email but we never received anything, not in spam, not in trash, nothing. Looking for a new place to store because of corporate office's lack of communication and refusal to talk to us regarding this situation, rather PS hides behind local office staff. While the facility is neat, you'd be better off to go to a facility where customer facing decisions and issue resolution are handled by the local staff. Edit... Samantha from PS's corporate office in CA called me, and we worked through this situation. They are rolling back my price to its original rate for 3 months. She advised if it raises in 3 months to call her back and she what she could further do, because of this experience.
Chris was great helping us giving us print outs of bills and letting know what is due and amounts Sugalski
Wonderful experience! Joelle was the customer service Representative at the counter. She was very polite and knowledgeable about every question I had!
Great place very accommodating. Very nice people. Joelle was amazing very helpful and polite!
Needed a storage unit. Went to public storage where I meet one of the managers by the name of joelle .. she was very nice and made me feel good about the unit I was renting she didnt leave any details out !! Wish everyone had a personality like her !!! Thanks I would recommend public storage!!!
Chris was great and very helpful. Appreciate the service?
Just rented a unit at PS in Royersford, PA. I initially had a little trouble with my entry code but Chris the manager was awesome in getting the issue cleared up. He fixed my code so it worked flawlessly. I initially rented an inside unit and asked Chris if there were any outside drive up units available. He did have a unit and was able to transfer me to the outside unit. Both the site and unit were clean an easily accessible. Thanks Chris for all your help. I would highly recommend PS in Royersford!
Joelle was very helpful during the moving in process!
Joelle Giambrone helped me in deciding which type of storage unit that I was inquiring about. She was SUPER informative and helpful!! I highly recommend speaking with her when you're inquiring about availability!! Thank very much Joelle!!!! When I decide on which location I will be using I certainly hope you will be there!!!! Five stars ⭐️ 🙌🏻♥️
I went in to inquire about storage units and Joelle was extremely helpful and so nice. She helped me with all my questions ! She let me know I could go online to rent a unit which I did not know I could do. She was wonderful to deal with. Thanks you public storage in Royersford.
I needed quick access to a storage site on a Sunday and Public Storage came through with flying colors. They had me setup in minutes and everything was ready to go immediately. Joelle at the Royersford location helped me and provided excellent customer service. She explained everything and was super friendly. The facility is clean, well-illuminated and has good camera coverage so you feel that you are at a safe and secure business. I give them high marks based on my personal experience.
Facility is very clean and well kept. Joelle was extremely helpful and had very friendly.
So far, so good...Chris gave me Great customer service. Highly recommend. (ADDENDUM AS OF 10/20/20...THERE WILL BE A 15 TO 20% RENT INCREASE EVERY 6 TO 12 MONTHS)
Joelle was wonderful!!! I recommend to everyone this storage place!!!!
Joelle was great! Very helpful! Cheerful 😊
Thanks to Joelle for all her help in getting me set up with the right rental for my needs. Excellent customer service. I appreciate the help greatly. Thanks again!
Hello I have been a customer for 2 months and I absolutely love it everything is clean and ready to go as well as an outstanding employee joelle that went above and beyond when my car battery died she didn't hesitate to help thank you Joelle and thanks for hiring people like her . She's amazing. I love your customer service .
Excellent place to be clean meet secure all nice help
Ouch, 20% increase after only 6 months? Just be aware that what they offer in the beginning won't last long. I have another unit at a competitor that I've had for several years without this kind of price increase.
Joelle really helped me out today both on the phone and in person. She answered all my questions and updated some info on my e-contract. Storage locker was clean and the over all facility was well maintained. With people like Joelle working here i would definitely recommend this facility.
Joelle was amazing! Super friendly, accommodating and helpful with the storage process. This is the first time using a storage facility and she made the process easy, and quick!
Chris got us set up with a good, clean unit. A bit of a mix up with the unit size and location, but all was resolved and worked out.
Used the facility for six months and had no issues. Facility was well taken care of and secure. Would use Public Storage in Royersford again if needed
Joelle was very helpful and knowledgeable. She was very nice as well.
Chris and Joelle really helped me out today with all of my questions and concerns. Will 100% consider this location next time
The facility provided excellent customer service! Came in to purchase a few boxes and everything went smoothly. Chris was a great help! I would highly recommend their services.
Joelle was a new trainee and she did an excellent job at communicating the contract and went the extra mile to make sure I really understood. Justin her Manager was there and made sure she hit all the points. I was very pleased from beginning to end with the customer service. Thank you both for making it so easy for me!!! Thank you, Bryan
Chris, Joelle and Gavin were very helpful. They are outstandingly professional and knowledgeable. This world needs more people like them. I would recommend this location to everyone that needs to store their belongings.
The manager Chris at this public storage was awesome to deal with. He didn't have what I was looking for originally. Within two days he followed ip and had unit for me. His prices were great and he was very professional and helpful with all that I needed.
Stopped by today to get an idea of what size/type of storage unit we would need and Chris was more then accommodating. We didn't have to ask a lot of questions because he already had that information covered. The site is clean and well maintained. If you need a storage unit, talk to Chris!
I never rented a storage unit before and Chris was so very nice and extremely helpful. If you are in need of a storage unit , come in and talk to Chris he is wonderful and he really helped me.
Chris was fantastic, very helpful, efficient, and cheerful! Great job!
Excellent customer service from Chris! Walked me through the renting process in an efficient and professional manner, and the storage facility is immaculate and well managed!
My experience at this location with Chris was quick and painless. He was well informed answered every question before I even had to ask. He showed me the unit everything was clean and as he said it would be. I purchased a unit during COVID pandemic and the entire facility was clean and we even social distanced and he had a mask on the entire time. It's probably the best service I've had in public since this pandemic. Amazing job public storage, gratefully appreciate the A1 service.
My experience was wonderful. Chris was very professional and welcoming. He answered all of my questions, and ensured I understood access methods and rules. The unit was clean and well maintained.
Easy access, friendly manager, thorough explanation, clean facility, very competitive price.
Chris was so professional when I came in to buy some boxes and bubble wrap. He was so welcoming and polite. I would definitely come to this public storage for a unit and merchandise.
Due to covid 19 my college year was cut short and I had to find a storage unit on very short notice, I'm so glad I found this place. The staff member Chris was extremely helpful and the unit was great, clean and climate controlled for a great price. I would highly recommend storing anything here!
My move in was made very easy because of Public Storage's help.The property personnel was extremely friendly and nice. They made sure to go over all details with me and answered any questions I had. They respected Covid-19 rules and were professional about their business.
No clue. Was never there.
We recently met with Rachael at All-Time Self Storage and had a truly wonderful experience. The facility is brand new, spotlessly clean, well lit and easily accessible. Monthly rental fees are some of the lowest we found in the area and most importantly it was a pleasure and a joy to work with Rachael. She was patient, knowledgeable and extremely helpful in advising us what size unit would best meet our storage needs. We highly recommend this facility. Thank you Rachael !!
Love the place. Great deals for good pricing.
A very clean facility. Very modern. Very secure. A good location and a helpful staff. Couldn't ask for more. A great place for storage.
All-time self storage is a spotlessly clean facility. Rachel was friendly, polite, and knowledgeable on check in day. I would highly recommend this facility.
Clean very secure and the staff is great prices are right and plenty of parking and climate control units are available my friend Jackie is storing some things here thank you for your help...
In a time of stress, the manager of the Royersford location, Rachel, provided us with the most exceptional service we could have asked for. She's been a Godsend! The time she took to care for & manage our rental experience has been the most effortless transition during my relocation. Always with a smile & eager to help. This location has every possible option available as far as storage space is concerned, impeccably clean and affordable. Thank you, thank you, THANK YOU!!!
On location manager Rachel is awesome. She has made our moving experience less stressful. Extremely professional. Clean location. Thank you!!
Nothing short of exceptional! Rented two of their largest units and the price beat every other storage facility for a 10-mile radius. The staff was exceptional, especially Rachel. Personable, responsive, flexible KIND, and so customer-centric, it is nothing short of enviable. Facility is secure and clean, the climate controls are exactly where they need to be, and my valuables, art, furnishings, and clothes have fared very well (yup - monthly examinations), from the viscous hot summer through the biting cold of December. I'm a consumer and All-Time is providing me tremendous and unexpected value for my dollar. My appreciation and respects!
Definitely don't recommend renting a storage unit from there at all. STAY AWAY! Your items will get damaged there and it will not be covered. They offer you the option to get your own insurance for the unit or you can get one from them. If you have to absolutely get one from then make sure you have nothing that isn't valuable and expensive because they will not cover anything, pretty much. I moved in on a hot summer day of June 2018 and I had an ikea expensive sofa stored there that somehow grew mold on it. The property manager Rachel (Eee-not a big fan of her at all) very unprofessional, rude, non-customer service oriented by any means, submitted a claim on my behalf. WHICH MY UNIT WAS SUPPOSE TO BE CLIMATE CONTROL..... Well my $500 couch from Ikea grew mold from only being there several month and my claim got denied because it's "not covered" under their insurance. Their insurance covers nothing but yet you gotta pay extra a month for it? FOR WHAT????? Just to take peoples money!!!! That's a straight rip off and robbery because it doesn't cover the most common things that can occur with your unit!!! I WARN EVERYONE, STAY AWAY!!! I am going to put this review on every Social media channel I can! DONT DO IT!! You'll lose money from paying monthly storage rent, insurance fee, late fee if you pay late and if your property gets damaged and that will be it. They can give 2 craps!! Wish I can give them NO stars
Staff was extremely nice and went above and beyond to find me the perfect storage unit. Prices are the best around. Would rent from them again.
This is a very clean, secure facility. The office is modern, and they sell what you need to put your items in storage at competitive prices. The locks in particular are impressive for the price. It was nice to not have to go running all over town. And Rachel, the manager, was really helpful, friendly, and knowledgeable. I have never had to put my belongings in storage before, and she made the process easy. I chose a climate controlled interior unit on the second floor, and loading my 10 x 10 space was incredibly smooth. Highly recommend!
First time in after big moving day. Unloaded a 26ft truck had trouble with the lock and was 15 minutes late to the gate. Cant get out. Call the number, tried a code they gave me. Doesn't work. "I will call you back" 30 minutes later I call again, new person, we try another code. Doesnt work. Put me on hold came back, "I cant help you have a nice night." If the building is on fire good luck getting in or out. Take your money and have a nice night. Will be out after my month is up.
Another storage place rented the unit I reserved so I needed a quick fix. All time got me in the same day I contacted them, and they set me up with a great unit. Great customer service as well. Definitely would recommend!
It works great for my family.
The first question I asked when I walked into the office was "Is your facility open 24 hours seven days a week?" The employee answered "Yes, it's why we are called All Time Storage". I rented a unit, moved all my stuff in and the first time I needed to get to my unit at 1:00 A.M. I was denied access at the gate. It said "Area closed" on the keypad. Needless to say, I'm not very happy and, depending on how management handles my problem, I may terminate my rental.
VERY GOOD SERVICE FROM CYNTHIA AND TERRANCE. THEY HELPED SECURE THE SITE AND SET UP MONTHLY PAYMENTS
How much does a 10x10 run a month,and is there any available?
Phenomenal facility, excellent staff and great rates. Facility is as modern as they come.