Public Storage Self-Storage Units at 4001 W 37th Ave, Hobart, IN
Address
4001 W 37th Ave Hobart, IN 46342
Office Hours
Mon-Fri 9:30 AM - 5:00 PM
Sat-Sun 9:30 AM - 5:00 PM
Gate Access Hours
Mon-Sun 6:00 AM - 9:00 PM
Storage Facility Features
Boat Storage

Car Storage

Indoor & Outdoor Storage Units

Property Manager Lives On-site

RV Storage

Small, Medium & Large Storage Units
Office Hours
Mon-Fri 9:30 AM - 5:00 PM
Sat-Sun 9:30 AM - 5:00 PM
Gate Access Hours
Mon-Sun 6:00 AM - 9:00 PM
Storage Facility Features
Boat Storage

Car Storage

Indoor & Outdoor Storage Units

Property Manager Lives On-site

RV Storage

Small, Medium & Large Storage Units
Close Location Details
View Location Details
Outside unit

Drive-up access

---

10'x30'

---

10'x15'
Nearby Self-Storage Locations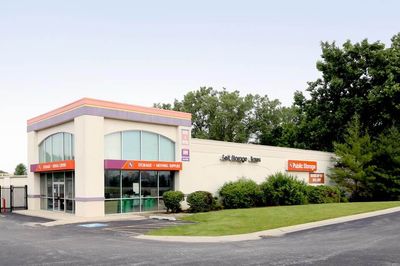 Self Storage Near
8230 Broadway
Merrillville IN 46410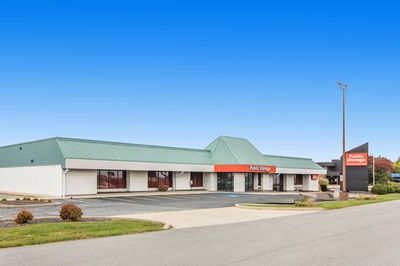 Self Storage Near
8450 Broadway
Merrillville IN 46410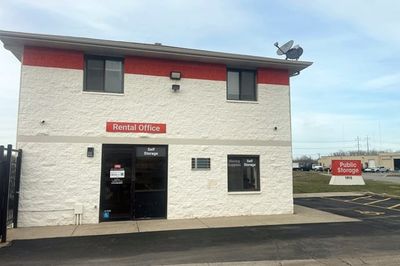 Self Storage Near
1915 N Cline Ave
Griffith IN 46319
Resources from the Help Center
See what fits in different storage unit sizes
Hobart Storage Units Near I-65
Public Storage in Hobart has self storage options to tackle any size load – from small boxes to over-sized vehicles, and everything in between.
Conveniently located on the east side of Interstate 65 roughly two miles south from the junction with I-94, this is a great storage location for customers near Gary, Liverpool and New Chicago too.
Whether it's students at Indiana University Northwest campus or a family with kids at nearby Ridge View Elementary School, extra space is always a good thing. A 5x5 storage unit is a perfect place to keep boxes of books and bulky seasonal clothing, while a 10x10 storage unit can fit bikes, sleds, scooters and other larger recreational items.
Meanwhile, fishing and boating trips out to Lake George can be easy to get ready for, when keeping all of the necessary equipment and supplies in a 10x15 storage unit at this location.
Families getting ready for a big move in the neighborhoods along Broadway can use a large 10x30 storage unit to store furniture, appliances, bedroom furniture, dining room tables and more until it's time to unpack in the new home.
About 20 miles east from the Illinois-Indiana state line, this facility offers indoor storage units, outdoor storage units, vehicle storage options, as well as spaces for boat and RV storage. The property features a keypad with access code entry.
For huge hauls and small loads, stop by this Hobart Public Storage for friendly service and cheap storage units.
At Public Storage, You'll Always Find...
Keypad Access

Friendly Staff

Month-to-Month Rent

Moving Supplies Available

Free Parking

Well-Lit Facilities
Reviews
( 476)
This facility has the BEST workers I appreciate the representative her name was jocelyn
Those reviews got to be a lie. My payments kept getting tripped up to the point where they claim I wrote a bad check!!! In this day and age a bad check?!!!!! They quickly try to to sell your storage horrible. The office manager is sweet on the surface. Please people watch out. Seriously. Their payment reporting systems is ancient. They take your payment immediately and then you get an email or text saying they didn't get your payment. Please if you can't afford to give up additional fees please go somewhere else. Honestly. I pray that this place get taken off the map because this is ridiculous the way they treat people who choose to conduct business with them. A slap in the face. Buyer beware!!! A particular public storage in the Hobart area. Yeah you know the one.
I had to terminate my lease early and move out quickly due to water damage in my apartment. It's been a really frustrating process trying to secure a place for my stuff. I cannot thank Crystal enough for listening to my concerns, providing excellent customer service, and giving me helpful information.
Crystal was very helpful today when I came in a bit confused on how to navigate through the PS app....thanks for clearing things up and teaching me how to use it properly❣️
I wish it stayed open or have access 24 hours or at least till midnight
The customer service was excellent . Jocelyn was a great help, she was informative and enthusiastic.
Fantastic customer service great app clean units thanks for everything Lauren
Rented a new unit with Lauren and she was amazing! She explained everything throughly and gave me helpful suggestions on how to pack the items in my unit to utilize the space better. Great customer service!
I stopped by today and was greeted and taken care of by Lauren. The service was exceptional. Very courteous and helpful. I highly recommend the Hobart location for your storage needs.
Lauren has been nothing but kind and helpful throughout my storage journey. I have rented here for about 2 years and it has always been a pleasure working with her. No matter if I have a question or if I need to make a payment, Lauren is there with a smile to help me out. Great example of what customer service should be!
Joselyn was very helpful and understanding
Thank you Lauren for your help today
Lauren has a great aptitude for customer service. Her professionalism and kindness made me confident in my choice of storage facilities. I like to do business face to face so I was immediately relieved when I saw a person in the store instead of a machine. Overall a great experience. The app is also very nice.
I like how they have codes to get in
Amazing staff and storage. Extremely helpful and professional hands down only storage place I will go to. Love them!!!
I have had nothing but good experiences with this location. Everyone I have spoken with has been extremely helpful. The ladies here make a great team. We've used storage in different states and always recommend public storage over anywhere else.
Phyneice was helpful and showed me how to work the app
Phyneice was amazing help me out so much. Thank you again
The lady in Indiana was very helpful. We need more people like her. Although I was in St. Louis, that beautiful lady did all my paperwork. Thank God for people like her.
Do I have to have insurance on my unit
Great customer service and assistance in getting a unit.
Called in to find out about renting a unit. I was told about the difference between climate controlled units and outdoor units. The difference in the sizes of the units. It's mandatory for you to have insurance. This is a good idea for me to feel comfortable about leaving my belongings there. She explained the access hours and about the app. No matter how many questions I had she answered them all. She was polite and informative.
Phyneice was very helpful
Phyneice was very helpful with my renting a storage experience
Phyneice Casey was wonderful and helped me out when I needed it most ,great customer service
Jocelyn was very... Very help and a very sweet person to deal with.... Very informative and patient🥲
Phyneice was great to us today! She helped us with all our needs and got a good deal!
Jocelyn was great helping me to get settled in. Awesome experience!!
Very reasonable and great prices
Great customer & she was very nice plus helepful! Even saved me some money on my unit! Her name was Phyneice Casey
Phyneice Casey is so helpful! She is very patient and answered all my questions! Phyneice is a pleasant woman
I enjoyed my first time experience with phyneice I will tell my friends
Phyneice wad a wonderful person, very happy to be here
I stopped by the store today and had a few questions and Phyneice handle me with so much care and she had a lot of compassion I guess she seen on my face that I was a little stressed out. It was the best customer service I've had in along time… thank you
Me and My Sister visited the location today, my sister was making a payment spoke with Patrialla very helpful very sweet. Came and held the door open for us as we were coming in. My sister makes her payment leaves out and in getting in the van she lost her card. Patrialla came out helped us look and even picked up the card from under the van. She is amazing and attentive.
Came in and my hands was full I was overwhelmed but Briante came in and not only helped me physically but was able to quickly help me assist other customers and get back to me in timely fashion.
Briante provided me with its excellent service. She was attentive, answered all of my questions and was patient with me through the process.
I've had a great experience at this public storage, every question I've had was answered by this nice young lady named Briante. She was very helpful and patient with me I Highly recommend this location they have great customer service.
Monday, October 3rd. I stopped by this location to secure a storage unit. I could no longer afford to keep my personal items in a PODS container and was looking for somewhat affordable options. I was assisted by Brionte. It's been over 10 yrs since I've had a storage unit but this young lady made it a very easy, relaxed experience. Online I originally reserved a 5x10 but when I saw it in person, I just knew I needed wider space. She went above and beyond by checking the computer to see which bigger units were available. It was a no pressure encounter on selecting a unit. After comparing pricing and location to A1-U-Stor-It Storage. I decided to go with Public Storage. Again, it was a pleasure visiting the property and doing future business at this location.
Briante was great to speak with and she answered all of my questions and concerns. Such a great help!
Called in for storage prices and Briante was so polite and helped me get the answers I needed swiftly
Always polite reminding me when my payment is coming up with a phone call every month. I appreciate it! The girls at Hobart are very helpful. Lauren was very thorough explaining everything last time I was there.
Lauren is real real nice and answered all of my questions and even put a little smile on my gate code card.
I am so satisfied I chose this facility to store my items in. Lauren is nothing short of FANTASTIC. She took her time showing me the space and making sure it was right for me. Customer service like hers is so rare nowadays. My experience here was great!!
Not only a great storage facility but the staff is amazing.
Briante was very nice and helpful
Great units but would like to see more friendly staff, no complaints but the workers on duty don't talk to you much
Lauren was great and very pleasant. Thanks for the help
I had a great experience here. Girls in the office are great.
Lauren has been very helpful
Briante was an amazing help! Public Storage has a bright young employee on their hands!!
My experience was very nice and polite. Lauren was very helpful and very informative. I appreciated her very much ❤️
A secure place to store your belongings
Looking into public storage while I move locations. Called and spoke to briante, was very kind and took the time to answer all my questions in detail as I know nothing about storage companies. Highly considering this location thanks to the interaction!
I am only rating to give the wonderful employee who helped me with my storage concerns a very deserving shoutout. Briante went above and beyond to make sure that I understood which storage unit was the best for me. Not only did she help me pick the correct unit, but she also let me know of the deals that were going on for specific units. As long as Briante is working there, I would definitely recommend Public Storage to anyone looking for a professional and safe place to store their things.
I went into the public storage place in Hobart and met with this incredible young lady by the name of Briante was a gracious help! I was looking for a storage unit to fit my 2 bed room apartment furniture and she gave me the run down on what unit was in my budget and what would be perfect for my belongs. More employee should aim to be as welcoming and insightful as her! I will definitely recommend this place as long as Briante is around!
Briante was a great help. Very patient and informational. Great service!
Robert Lindsay from Magnolia Tx. What a delight to work with Lauren at the Hobart IN. Public Storage. She / they were awesome very very respectful kind professional ready to help in any way. She did exactly what she said she would do honoring my requests. I would encourage anyone to use the facility there , what a Blessing they are. Thank you again for all your help. RL.
Briante was very nice and informative.
They are very money hungry and not helpful at all will not refer to anyone
The Hobart public storage has great customer service , I was helped by two extremely nice ladies named Briante and Lauren . They were a big help on informing me about there units and the process of buying one. I highly recommend the Hobart Public Storage.
Lauren was a great help with everything I needed and super energetic and friendly
Lauren is always friendly and provides great service
Great employees, and very helpful!
Lauren was very helpful throughout the entire process. Will definitely recommend this location to others.
Lauren was incredible with her hospitality, she took the time to show me a few different units to find out what was best suitable for my needs. Very knowledgeable and customer service savy. Would highly recommend.
Jenny was very friendly and helpful with my bill.
I tried to rent a unit. You did not have the size available I was looking for. But Jenny went above and beyond calling around looking for a place that had the size I needed. I really appreciate everything she did.
Easy process to get in & get started! Thanks to Jenny!
My sister was moving and used your services. Jenny Rowbotham was amazing and so helpful. She is very friendly and down to earth. You need more people like her for sure! We love you Jenny, thank you for everything!
This property is clean, secure, and well maintained. The staff is very helpful and accommodating to your needs.
Jenny was so helpful and friendly. She went out of her way to answer all our questions.
Lauren was an excellent customer service personnel
I always receive fast friendly service from Lauren. The location is clean and well maintained
Lauren is absolutely AMAZING. All my encounters with her have been nothing but pleasant. She keeps the property clean and is on top of everything. Truly great customer service makes a difference.
Been renting there for years Arlington Heights Illinois Location Clean Atmosphere Good Staff Secure Facilities 👍👌
Jenny was absolutely amazing and great help
Jenny was great!!! Absolutely loved the service she provided, which is great for you guys because due to the circumstances, the chances of me getting a unit was pretty slim but Jenny made it possible and now I'm a happy customer! She also told me about the app, which I think is a brilliant idea!! So KEEP JENNY! Promote her!! Lol she deserve it! I swear if I come back and she is not working here because y'all got rid of her, I will vacate and move to another company :). If she leaves, it has to be by choice, Thank you
Customer service great. Property very nice!
A good place to store things your not using at the time but will need later
michelle is amazing, very friendly and always there to help thank u for allowing me to find a place that i know my stuff is in good hands
Michelle in the office is awesome. This is probably the best storage I've ever used they are very reasonably priced and affordable.
amazing customer service, Lauren and Michelle are the best
Lauren was great when I came service was excellent
I have had the best experience ever at a public storage in Hobart....very helpful and courteous....hands down. Thank you Lauren!
I came in looking for boxes to pack my daughter up for college. Michelle was very friendly, got me set up with all the supplies I needed and even helped me carry it to my car! Couldn't have had a better experience! A+
Very clean. Friendly staff. Would highly recommend
I have had units at several PS locations in the area and had all great experiences so far. I have 3 units at the Hobart location. Lauren and Michelle have both been a huge help and really raised the bar on customer service. I visit my spaces daily and its also easy to tell the facility is well looked-after. The location is convenient too! Glad I found the place.
The customer service is good and friendly. That alone is 5 stars its clean, and very spacious lockers even the smaller units is spacious
Raquel had great customer service skills would love to come back if needed.
Michelle was absolutely amazing helping me with my payment. She's the best!
Michelle was amazing! So helpful and a wonderful attitude! Thanks do much Michelle!!
Michelle was great! Made this process quick and easy. Very satisfied customer.
Madison was a great help. Clran property.
The process was really easy thanks to Michelle. She has really great customer service
Michelle is an amazing property manager she always is so helpful. Thank you.
Michelle was very knowledgeable and helpful. Was happy to answer the many questions I had. Would recommend to friends.
Michelle is awesome!!! Very helpful and sweet!!
Michelle was very friendly and helpful! I would recommend this place to others
Clean location, easy rental process, friendly staff, what else could you ask for.A big Thanks to Michelle for all her help!
Michelle was absolutely amazing! She got me in and out with no hassle! I highly recommend the Hobart location! Custom service there is awesome!!!!!
Raquel Provided me with professional & excellent service today.
Meagan was also she took me around on the cart and explained everything to me and took me to see different unit even in this cold. I will stay rent here because of her.
Raquel is the greatest customer service/ sales rep anybody could ask for. She rocks👍🏾👍🏾
Raquel and Michele helped me with opening a account very friendly and down the earth people and awesome price !
Michelle and Raquel are awesome. Great customer service.
Michelle is the best .she helped me so much.
Awesome customer service Michelle was amazing
Meagan had great customer service.
Lauren was very personable and helpful. Thanks again girl!
Michelle was awesome and very cute
Was in a crisis and went Christmas Eve. Michelle was great!
Michelle was extremely professional and courteous.
Don't use it but they keep it up pretty good. I live near it and they seem to do maintenance on the property.
Great costumer Michelle helped us out a lot with a beautiful smile on her face the whole time. Will recommend this place to all
Terrible customer service..
Just rented a spot for my RV for the winter. Michelle was very nice and helpful and the property was clean and secure.
I was wondering if the upstairs is for rent?
Great customer service. Big help. Michelle is the best.
They are so disrespectful and rude do not go to this location at all they need all new people working there the people that work there are so disrespectful if I can give them zero Stars I will do not use this location at all
Michelle is awesome, great customer service!
Michelle does a great job always friendly and professional and the facilities are very clean. I would recommend it to my clients 👍
Best service & prices! Very clean & convenient! Safe & clean! I'm extremely satisfied with this PS location!
Friendly staff, clean place, excellent service. Highly recommend.
Michelle is amazing made everything smooth. Aweaome!!!!
Michelle was great! She was very kind on the phone and in person and told me everything I needed to know. The place was also very CLEAN. I was running late and she was very understanding and accommodating. She deserves a raise!
I came 4 years ago to put my stuff in storage after moving to help take care of my grandmother. I started out paying $79 a month I just received an email that it will be going up AGAIN to $119 next month. They literally go up $10 a year. That's crazy and definitely doesn't seem worth it anymore. Now that I'm no longer taking care of my granny I'm moving asap just to cut this ever growing bill off. Also management never answers the phone. For every little question I have to physically drive up there and when I get there the girl is always playing on her phone. Every single time.
If anyone using the facility in Hobart, IN and is using the indoor climate controlled building (Building O, I believe), you better get your stuff out asap. Helping my step daughter move her stuff, soon as she unlocked the main door, the mold smell hits you like a ton of bricks. Her bay was a little way down, so I was hopeful. But every storage door we walked by has mold on the bottom, hers included. Then once she opened her storage, it was unbelievable. Anything that was wood, was destroyed. Completely covered. Clothes, gone. Luggage, gone. We called the office so she could see the damage before we moved her things out and gave us a pamphlet to file a claim. Fine print on the claim.. $250 for fungus. What a joke. $250 will NOT cover replacement cost. Items were in storage for no more than 3 months. Three months! Very dissatisfied that a climate controlled building can't control the moisture in the air. The owner's of those inside units are in for a rude awakening. She would have been better off leaving her stuff outside in my back yard. Pictures don't do it justice and this was just a small portion of what's getting thrown away and what is damaged. Do NOT use Public Storage at this location. If I could give zero stars, I would.
I've had a unit here for several years now. Michelle helped me get moved in when I first got here. She has always been a joy to visit with when I make my payments. Great people, great place.
Michelle I appreciate her she has patience and calls to make sure you understand what's going on she deserves to be in corporate
Clean Facility, friendly staff, easy move in, what else could you want. Michelle was awesome, answered all of my questions and made the process quick and easy.
Michelle is Great! Very Friendly and Helpful
I have used this location for years! We tried somewhere else for a year and were extremely happy they had a unit in the size we wanted so we could go right back! Their manager Michelle is fantastic!!
Michelle was so professional and patient. I truly think that the company could not function without her expertise. She has such a bubbly upbeat spirit and I would definitely recommend your business to everyone I know.
I rented a 10'x15' for over a year. I had a great experience and highly recommend them if you are in need of a storage unit. The staff was very friendly and helpful. Michelle is the best!
Stopped in to pay on my unit,and Michelle has always been full of postive energy,and extremely helpful. If I could give her 10 stars everyday,she deserves it!
The place wasn't what I expected.
Rented a storage unit from this amazing lady Michelle. Everything was quick and easy. Love this place!
I had a unit for 5 months at this location. The Manager's Michelle and Gloria were always very helpful and friendly. I will be recommending Public Storage to my friends and family.
I just had a great experience. The manager Michelle is very warm and friendly and the property is very clean. I will be recommending Public Storage in Hobart to all of my friends and family.
Michelle was awesome an polite very understanding with the whole process explained to me everything i needed to know about the storage i would recommend this storage place to anyone because they have excellent customer service.
I highly recommend this Iocation. Michelle is Soo awesome. She's very helpful , kind and gives good customer service.
I had an issue with my unit and Michelle was very attentive and understanding! I really appreciate her services! Thank you Michelle!!!
Amazing customer service! Michelle is awesome, I highly recommend this location!
Amazing location and staff. Always helpful and friendly! Definetly will be reccomending to family and friends.
I just rented a storage unit from this location and had a very pleasant experience. The Manager Michelle was so sweet and helpful. She explained everything and got me in and out in a breeze. Amazing Customer Service.
Michelle was an amazing help!! She answered all questions i had and definitely made my rental experience amazing!!
Michelle was very nice and amazing and had a very positive attitude. We need more energetic customer service reps like this in this field. I give her 5 STARS
I have a unit at this location. Every time I come in the staff treats me like family. Michelle is so pleasant and helpful and does a great job keeping the property clean. I will recommend this location to anyone who needs storage.
First time renter here. I was a little nervous, but the manager Michelle explained everything and put me at ease. She helped me find the right space and told me what I need to do to protect my items while moving and storing. She was super friendly and helpful. If you need storage, this is the place to go.
Worst customer service on earth manager calls and yells on the phone telling me that I can't make a reservation
Thank you Michelle for such great and efficient service! I plan to refer others.
The experience was amazing, i highly recommend this location to other people in the area of Hobart Indiana, to store there belongs. Ive made a new friend, Michelle , she was a great person to meet
OMG!!! Michelle is the greatest!!! We had an issue with the price and she took care of the issue right away!!!! She was very patient and professional.
Love you guys! Lauren is AMAZING! Michelle and her have always taken excellent care of me!
Michelle is an amazing property manager
Lauren was awesome made it super easy
Thanks Michelle at Hobart location. She was awesome👍
Amazing staff, clean property, easy access, what else can you ask for? The property Manager Michelle goes above and beyond.
I rented a storage unit from a very pleasant and professional young lady named Michelle. She helped me find the right size and told me how to protect my belongings. She made this process seem so easy. I would recommend Public Storage in Hobart to anyone who needs storage.
The woman who helped us (I think her name is Michelle) is very friendly and awesome.
I've had my belongings stored here, and I just have to say, Michelle has been so amazing throughout this process.. Thank you so much Public Storage....
I highly recommend this place to EVERYONE the district manager Doug helped me out so well he was so nice and professional he has an OUTSTANDING positive attitude as well as the co workers that were there with him 👍🏾 I give them a 10 plus plus
I have a unit at this location and these girls are great. Michelle and Gloria are the best and they keep this place very clean. Would highly recommend!
How much is your smallest unit?
Came in to rent a parking space and was pleasantly surprised. Michelle was so friendly and helpful. She found me the perfect spot for my car. The property is very clean and I am happy about the late access hours. Overall a great experience.
Michelle was awesome and very helpful, thanks public storage!!
This facility has the BEST customer service!! I appreciate the customer service representative her name is Michelle. She explained every thing to me that I could understand without having to ask any questions. She greeted me so professional and her personality was awesome!!! I never had someone actually show me how to get to my unit, but she did and also showed me how to use my lock. I wasn't use to the new lock. All I can I can say is I had a great experience. THANK YOU AGAIN MICHELLE YOU ARE AWESOME!!!!!!!!! Keep up the great work.
Really hard to access thanks to the dumpy car dealership
Ive been renting their 4 about 11yrs & its been no upgrades, but the monthly payment have every yr.....
Michelle is Awsome! She goes over and beyond to make sure that we feel very welcomed. She is very nice and I enjoy seeing her cause she just makes my day with her happiness and she comes off as if she relly loves her job.. She is Grrrreat!
Came in to make a payment and had the best experience. Michelle is awesome, she is so friendly. I love coming in and seeing her smiling face.
I came in to make a payment and was greeted with a friendly face. Michelle is awesome. She always makes me feel welcome. I would recommend the Hobart location for anyone who needs storage.
Michelle makes me feel like family
My name is nikiya Jones I rent a storage unit from here...There's a lady there named michelle who works the front desk. She is very pleasant to talk to and very helpful.. thanks again michelle.
Michelle was an amazing property manager. She has a great personality that made me feel welcomed.She completely helped me with everything I needed all while projecting a very radiant smile. I plan on referring this place to many of my associates.
Michelle was great made the whole process fun and easy.
I really appreciate Michelle for helping me out with my storage. I am a repeat customer and she's a great person .
Gloria & Michelle has AMAZING customer service skills. They broke down all the deeds to the units & they're property! They even stayed & waited for me so that I could make my payment. YOU GUYS ARE AWESOME!!! Keep up the good work.
Michelle is the bomb diggity!
This was one of the best experience I have had with a storage company ever. The unit was clean the property was clean. The staff was so awesome. Thank you so much Michelle you are awesome. This will be the only place I will ever have storage at.
Rude help, expensive accessories, very dissatisfied
Ive been storing here a year and weve had a great experience. Michelle has been amazing. We will definitely be back!
Last minute needs and Michelle was very accomadating. Very friendly, clean, and easy registration. Thank you for great customer service.
Michelle and Gloria was very helpful today..thank you!!!
Michelle had great customer service skills and was a pleasure to deal with.
Expensive and vey pushy abouy payment
Went into the Hobart location to pay my bill and buy some boxes. I was surprised to see that it was pristine, despite being next to Gary. I was greeted immediately by Gloria. She was so welcoming and made the process seamless. I only planned on buying 2 boxes, but then Gloria explained the return policy within 30 days so I figured might as well get the 10% discount, I'll probably end up needing those boxes anyway. I cannot stress enough how great the customer service is at this location!!!
Great Service, I was informed of all fees. Friendly and very Professional .
Michelle is amazing I love her dearly, she was a wonderful person and every time I go in she welcomes me as if we are family,
Michelle Is Amazing Great Customer Service Friendly And Gets The Job Done. Thanks Michelle. Will Definitely Be Paying My Bill With Her From Now On
Love this place.... Michelle is very helpful and always courteous willing to go above and beyond her duties to make sure the customers are happy..... will recommend public storage to everyone with storage needs....
Michelle is awesome so helpful ❤!
I've been using this company for a year to store my RV. Prices are very reasonable and the staff was is very helpful. Michelle is especially great, she went above and beyond with helping me get a better parking space.
Came in to make a payment on my mom's Storage unit and was greeted with a warm friendly smile. Michelle was very pleasant and helpful. My mom's Storage is at another location, but I always come here to pay because they are always so nice.
Michelle is awesome!!! She has amazing customer service! She really helped me out when I was in a tight spot without me even asking 😊 She's an awesome property manager better than the last 😜
Paid my bill every month on time! When it was time to move out - THEY STILL CHARGED ME, SENT TO COLLECTIONS, AND DON'T RETURN PHONE CALLS! LESSON LEARNED - NEVER AGAIN!
Michelle is awesome!! Staff are very friendly and always helpful.
Michelle was great!!!!!!!!!!!!
Michelle is very good person Very helpful with everything
I came into this location to make a payment on my unit at another location. Michelle greeted me with a warm and friendly smile. She asked me about my day and made me feel like Family. Michelle give amazing customer service.
Michelle was extremely friendly and helpful. She helped me find a unit that suited my needs.
The service is great..and Michelle is the best!
No real issuses up until recently. Went to pay my bill,but their computer was down. The employee referred me to make my payment to another location. Went there,Merrillville,Neil said his computer was down also. Mind you,this was the 6th and trying not to incur any late fees,contacted Kevin? The GM in Illinois,who was about as helpful as a bag of dead cockaroahes. Needless to say I got hit with late fees because of the company's downed computer system and lack of intelligence to simply take my money,pick up a phone and call another branch that had a runnong computer system,and input my info. But they have no problems calling and emailing me about my late payment. Go figure.
Wonderful experience with Michelle Daniel. She's truly a class act and very helpful. And always smiling... sincerely Jamaal Ward.
Unprofessional staff. They told me that my online reservation was good until a particular date, then cancelled it without my knowledge or consent because I failed to make an appointment. When I showed up BEFORE the date that I was told my reservation would expire, it was too bad for me. Nothing they could do but give me a lame apology and a higher rate than the one quoted when I made my reservation. Also, they failed to inform me about what I needed to bring with me to my appointment. If I had known that I needed to bring my registration and insurance information for my camper, I would have paid for my spot when I showed up the first time instead of having to reschedule. Still, I came back the day before the reservation expired, only to find they cancelled it on me. Nice. Real nice.
I've had a storage unit at this location for a few months now. The property is very clean and the staff is super friendly. They really make you feel like family. Michelle greets me by name and asks me how my day is Everytime I come in. I would highly recommend this location if you need storage.
I've had an excellent experience with Public Storage so far. Michelle always greets me with a smile. I look forward to seeing her when I stop in to make my payment. I would highly recommend this location.
It's was good. Michelle was awesome she very kind and helpful definitely recommend her she is great I will come back for her
Great for all youe storage needs
Michelle was so helpful with my move-in today. Im glad I chose Public Storage in Hobart, IN.
I always need help with my locker and Michelle always helps. If I could nominate someone for employee of the year it would be her.
Michelle was awesome! Definitely had our best interest in heart, she helped us get the best deal possible!
Kevin is the best! It's not easy for first time movers, he was was more then helpful and knowledgeable! Thxx for everything.
The facility was clean and the clerk, Deon was courteous, knowledgeable and professional.
Gloria was very helpful and nice. Kevin was also helpful. Thank you guys for helping me with my move. Awesome
DarShanae' was great! Super friendly and helpful. 5 star service
I fell in love with the cleanliness of everything the staff is wonderful
Kevin and Michelle are awesome. They really make you feel like family. I highly recommend this location for there amazing staff.
I am very disappointed! I called during the weekend to find about rates and sizes available. The call center informed that there was a special rate of 50% off the first month of rental and informed me of the one time administrative fee. My reservation was confirmed for this weekend by the local office along with the rates. I decided to rent the unit sooner than expected and called the local office to set this up. I met with Kevin and he wouldn't honor the 50% rate, although he had paperwork that stated my preliminary request which also showed the 50% off rate. Instead, he treated me as if I should be satisfied that the monthly rate is $30 cheaper than the quoted price. Its great that normal monthly rate is $30 lower, however, if a customer is told there is a promotion for half off the first month, it should be honored! He continued to tell me that it wouldn't be honored because I hadn't been assigned a unit yet and that the reservation was good until July 2nd. I am still confused as to why any of that mattered. If I reserve a rental car and I'm given pricing info prior to pick-up, the price and any special rate offered is what I expect upon arrival. I truly hope I do not need this storage for a long period of time. I will not use them again and I will never recommend them to anyone.
This storage facility is the best I've ever used. My space was initially too small but the customer service rep was very helpful with providing a bigger space. It was enough space to comfortably fit all my belongings. Ahe explained the process very clearly and was very welcoming. I was stressed from moving bit she really made things easier with her pleasant and helpful disposition. I would most definitely use them again.
Kevin's customer service was awesome
Kevin was very helpful and nice! Did a great job!
Michelle was great just amazing at the Hobart location.
Ask Kevin or Michelle at this location, great customer service
Had the best experience with Public Storage. First time user, and the process from beginning to end was great. I called ahead of time, and Michelle was pleasant and provided information in a timely manner. I did not feel rushed, and it really made me feel like my time was valued. I was pleasantly surprised that this company provided such great service, be as you hear the stories about storage facilities. The incredible service by Michelle and the seamless process throughout, will definitely encourage me to refer people to this location and to this company for future use. Thanks for being so amazing Michelle!
Kevin was a great help and serves great customer service.
Tim and kevin informed us on any questions we had and are great people ! Come here to rent !
Experience very poor 95% of my store she had green and black mold the storage unit it's water outside of it. Also the manager showed no empathy or sympathy no concern whatsoever of my damages I filed a complaint and it was never taken care of I will never refer to this company
Kevin was awesome! Fast friendly and helped save me money!! Thanks Kevin you rock!
Kevin gave me great service he was a great help in finding me what I needed thank you
Kevin was good with the rental and very professional
Michelle is outstanding!!!! Fantastic customer service and beyond friendly!!! Talk to her directly for all your needs
She is the bomb. I loved her smile even over the phone. It made me come in right away. Couldn't ask for a better customer service.
Kevin did such a great job. He was quick and efficient and fun the talk to.
Excellent service given by Kevin. I recommend this location to all.
Enjoyed my service from Kevin at the Public Storage in Hobart, IN. Very personable, very informative!
Ebony was very nice and helpful with helping us with a rental unit.
Patrick and Kevin were very customer friendly and were willing and able to answer all questions .
great good service great hospitality
Patrick at this location has excellent customer service!!
Delila was great and very polite she also had a excellent personality. With no room for questions because she was so self explanatory. Also Michelle who wasn't our representative greeted us and made us feel welcome as well she very asked if it was to cold so they could turn off the a/c. Overall a great visit and a new customer to this location.
Kevin was really helpful.
Kevin and Patrick are an awesome team they show great customer service here at the Hobart office.
Patrick helped me with my unit, good customer service
Patrick. And kevin were awesome easy place to store your stuff and a safe place. They were really nice and easy to get along with
Kevin and Patrick were awesome and very considerat of my needs preciate it
Kevin did awesome job assisting me and provided me with a great offer suitable for my situation! Great job Kevin thanks alot!
Michelle is absolutely awesome!!
Patrick. And michelle. Are very helpful and nice they will go out there way to help you out and dint take a long time to get things done
Patrick was awesome, we lost our key and he was able to get us a new lock and key with in 24 hours so we could visit our stuff in storage. He was very pleasant and kind towed our situation, thank you Patrick for making a miserable situation no big deal.
Kevin was great. Saved me money, very knowledgeable and friendly!
Great experience working with Deliah, she assisted me in my move in and ensuring the process went smoothly! She created a spectacular personalized guest experience!
Kevin and Patric are great and very helpful... Will recommend and use again...
Kevin was really nice and he helped us pic the right storage unit to fix what we needed.
Delilah has excellent customer service skills, was very courteous and knowledgeable of the business. Thank for the Good Service!
Kevin was very friendly and he reassured me my stuff would be safe.
Kevin was OK. Nice guy clean place
Patrick was really great and a pleasure to deal with ...he provided excellent and friendly service
Just had a great afternoon with Patrick at Public Storage so hard he was a great guy said he even waited to help me out even though it was time for him to go home I got everything I needed and he took care of me quite professionally and was very kind but a good guy!!
Patrick was very helpful and polite .
Deliah. Very good loved how professional she was. & when going through contract really understanding.
Patrick did an excellent job making sure my needs were met with public storage. Keep up the great job.
Patrick is awesome! He provided an excellent experience today!
Patrick @ Public Storage was awesome. He was very helpful and friendly.
Delilah was a pleasure to work with she has great customer service skills
Patrick is a kool guy good business
Delilah sold the unit good manner
Patrick and Judy was very helpful today I came in and got what I needed today . They move fast and get you in and out
Patrick was very helpful and very respectful...need more people like him in customer service.
What a great experience!! from the moment I walked in Kennie greeted me with a smile I proceeded to tell her what my needs where as far as what I was storing she quickly picked a locker the suited me well gave me a quick tour and discription of the place explaind every detail I must know and got me in and out in know time I really do recommend this public storage I am very satisfied.. thanks you once again Kennie for you help and good luck!
Delilah did an excellent job
Patrick in the Hobart office was Awesome. Helped me with my payment in a timely matter. You Rock Patrick
Darshanae was very nice and personable. She greeted me with a smile and was very professional. I was very happy with her service.
Darshanae and Jude were amazing! They are both so friendly and helpful!
Darshane is awesome and does a great job she shouldn't leave we're gonna miss her
At first I was weary of the location, but once walking in the store I knew right away I made a great choice! The office was warm and smelled great! Renting my unit was fast and easy, and Darshanaé made it fun! Her customer service was excellent!
I dont know the first thing about storage but darshanae is great....super patient and friendly. Her bubbly personality made the process super easy.
Just got my unit and Darshanae was great and super helpful. She helped take care of everything and explained everything well
They have great service ask Darshanae for help u will love her😄
Desire was awesome! Through the time i have been renting there everytime i come in she is so nice and helpful with any questions that i have. She is amazing! Perfect customer service! 👍👍
I have been with Public Storage for more then a few months now... I love their atmosphere as well as their employees.... Desire Barnes is my favorite... She always greets me with a smile & is always polite!
Darshanae was very helpful and detailed
darshanae is always wonderful! she is helpful and sweet and always has a solution. thanks for the great service
Awesome customer service with a smile
Darshanae was great she was very helpful in my time of need amd i appreciate the great peraonality!! Superb service
DarShanae was amazing!!! the call Center set me up with the wrong unit...but DarShanae came through in the clutch!!! she got me set up in a 10x10 and it was perfect!! I will definitely be coming back if I need to...and I'll refer anyone I know that need a unit!!
Excellent service provided by Darshanae! She explains details to my account very well.
Desire' was such a beautiful person. I was having a ruff day and she brightened it up... She was so sweet!!!!
Always professional and friendly
DarShanat the manager is very personable and knowledgeable in how to accomplish what's best for the customer.
Desiree was awsome!!! I was vacating out of my locker and I discovered some damages to my thing. She came out saw the locker and apologized for everything and also gave me all the information I needed. Although I was very upset Desiree made me feel a Whole lot better upon leaving. She's a very sweet individual. Thanks so much Desiree
My experience with the manager at the Hobart Indiana location was horrible!! First off the manager Desiree had her kids in the office at work with her that was so freaking unprofessional!! I'm trying to explain to her my things were damaged from mold...and her kids were asking her things while I'm trying to speak with her. I think this was so unprofessional however I was allowed to put my things in another unit since my things were damaged and it was wet inside of the first unit however the manager Desiree acted as if this wasn't a big issue maybe cause it wasn't her things ...it just seems like she didn't care never once apologizing or making me feel comfortable about this situation. right now I am in a position were I have no where to put my things! I cant believe that it is ok for a manager to bring their kids to work to color and to be handling a situation like this with their kids at work it's so unprofessional!! What if I came into the office screaming and cursing because my things were messed up and her kids were scared!! I will be looking for somewhere to put my things so I can remove them from Public Storage ASAP
THANK YOU...THANK YOU...THANK YOU... The beautiful ladies with beautiful attitudes impressed me... I have never rented a storage space in my life and the experience and knowledge was appreciated from them....Good job with these great Employees Public Storage... Make sure you show your appreciation by compensating these individuals!!!!!
Darshanae was so helpful and nice. I could tell she is really passionate about helping people. I appreciate this type of service.
Katrina! Amazing customer service friendly, professional, and time effective! Highly recommend to store here!
Darshanae and Desire are great! Came in today to rent a space for my mom who is going through a bit of a tough time and they both really brightened her day. I never knew people could be so caring. They are a blessing to this company and humanity. Thanks again girls!
These lovely ladies DarShanae and Katrina are always cheerful and assist me with their awesome customer service!!!
Darshanae is amazing at what she does. She always has a solution an answer and of course a smile. Excellent manager, public storage needs more like her!!
Desire was great!!!! Although I did not rent at the moment she gave me all the information I needed. She gave great customer service.
desire and darshanae are an amazing team! they know their stuff and are super nice and professional
Darshanai and desire are very helpful
Katrina was awesome very knowledgeable and professional... At the same time considerate and caring
Katrina was a great help...Got me in and out...very fast and efficient...Thank you!
Patrick was an excellent representative for public storage. Smooth transaction.
Darshanae is great...i dont normally do reviews but her customer service is always on point!
Darshanae is a nice manager and she is always so friendly when i come in to pay my bill or ask a question.
Darshanae and Katrina were amazing. I just came in just to ask about a parking space and they really knew their stuff...even tried talking me into getting some boxes. Those two are great and i wish i got service like this everywhere
Katrina was very helpful but the quotes over the phone should be updated to Include everything not just the first month and start up fee
Katrina was very nice and helpful. It made everything easy and quick to move.
exceptional service from DarShanae super friendly
I came in today to rent a space and Laquana and Dar Shane were excellent. These girls are alright with me!! They are professional and very friendly. They kept me laughing the whole time I was in the office with them and they answered all my questions. Thanks ladies!
My experiences with Darshanae are always perfect! Shes excellent! Shes very polite and always handles her business...i always come to visit her!!
Katrina was very nice and helpful. She explained everything thoroughly and made me comfortable with storing here!
Darshanae and katrina were Excellent. Very professional and helpful. They tailored my needs.
Katrina was very helpful and polite
Awesome service, any questions or problems, see DarShanae, she's always been a great help with a great smile.
katrina and Darshanae were so helpful. They made a hard move super easy 👍👍👍
Katrina services was great today
The ladies were wonderful. We needed a unit with no notice and all 3 (the main line and the 2 in tge office) DarShanae & Laquana were sooo helpful, and did their best to make sure I had everything I needed. Highly recommend
Darshanae and Katrina were awesome help, I needed a unit and was having a bad night they both stayed pleasant and polite, those two young ladies are the best. Tell those keep up the good work..
Great....darshanae was very helpful
Katrina had excellent customer service she was very informative and polite great employee public storages.
I just experienced the best customer service! Katrina and Hope were awesome. I'm going through alot right now and when I came in they greeted me with the biggest smile and made me feel like family. Any questions I had... they answered. You have a great crew and an you really need to let them know this.
Katrina had great service today with movein
Katrina and Darshanae are awesome each and every time I come and pay my bill they are just so cheerful and very helpful.
Katrina and Darshanae where awesome, really. appreciate. their. help
Darshanae AND Katrina have been so helpfull threw this move.
She was the best advisor manager ever
Awesome from Darshanae and Hope!!!. Best Service in Northwest Indiana.
I loved the service i got when i came in jus to buy boxes. darshanae was great she is very intelligent and well spoken. She told me i could buy the mattress bags and use them to put my daughters stuffed animal collection in..and it help out a ton!! you guys are awesome!!!
DARSHANAE HAS GREAT CUSTOMER SERVICE AND SHE HELPS IN ALL WAYS POSSIBLE .... GREAT JOB
I just experienced the best customer service! The little girl with red hair was awesome. I'm going through alot right now with this move and when I came in she greeted me with the biggest smile and made me feel like family. Any questions I had... she answered. I promised her that I would spread the word about her being a great business woman and I did. Darshene was amazing and if you have to deal with a storage company... go to the public storage in hobart!
Katrina. Was such a great help
Katrina was very awesome and kicked butt
Katrina was excellent in helping me find the right unit that i needed as well as very friendly.
Terrible!!!! I have been a customer for over 5 years and I have never receive such a terrible service. My rent went up numerous times without my knowledge I continued to pay the expected rent not knowing that I was under paying this resulted in numerous additional charges. I was called to move my boat and given a one week notice to do so when I live two hours away. I explained that I lived far away and they continued to give me grief. When I finally showed up to move my boat I found out that it had to be moved because the vice president didn't like the way the front of the property looked. Are you kidding me? You're going to upset your customers and disrupt their time to make your property look better and not provide them any type of compensation. Furthermore, I have made numerous phone calls and left numerous voicemails to the district managers and I have never received a phone call back. I got suckered in by the low rent only to have my payments go up time after time get ridiculous late fees and terrible service.
Katrina had excellent customer service, really appreciated her services. .
DarShanae has excellent customer service skills. She was and is very friendly and helpful every time I see her at the office.
DarShanae and Quiana are awesome and a huge help, they got me exactly what I needed. They are so friendly and professional, most definitely recommend this place
Darshanae and Quiana are great...proffesional and friendly. These girls know their stuff !!
Hey....... DarShanae is about the business over there. She took care of me for real. big ups to her and public storage.
Darshane and katrina were awesome
Darshanae was awesome, very well spoken and energetically....told me everything I needed to know about my unit n made me feel at home! Indefinitely recommended this property
Darshanae and Katrina were awesome!! They really knew their stuff and ensured that I was completely taken care of! I definitely recommend this property!!
Went in today for a unit customer service was great....DarShanae' was awesome!!
Workers was very pleasant and nice with a great attitude working with the public. One worker in particular name Katrina was sooo helpful and very nice.
Katrina was awesome. She was very helpful and informative. Definitely recommended.
The manager name Katrina was so patient and helpful I would highly recommend public storage
DarShanae was very helpful and friendly. She knew a whole lot about her units. Thank you she was awesome.
My mom came in to this location to get a storage unit, & would like me to take the time & thank a young lady name Katrina for the great service she provided.
Dar'Shanae is sooo awesome I absolutely enjoyed her help today. She's excellent !
Today I came in for a rental and Darshanae helped me beyond all expectations. Tawana was very informative and helped me get the correct sized storage. These girls are amazing professional and very nice. I would most definitely recommend!
Came in for rental today and Darshanae and Catrina were amazing. They were very helpful and they took care of me and made sure my needs and concerns were addressed. I most definitely would recommended!!
Katrina was the woman I talked with and she was wonderful. Very informative and friendly.
I have been a customer of this public storage facility for 3 years and the customer service that I have recieved from both - Chanell and Katrina, has been of acceptional quality and professionalism. They have displayed a real concern for their customers needs and they strive to meet those needs. I applaud them for their efforts, for making sure that their customers recieve the experience that is desired. Keep up the GREAT WORK!
I was in the process of relocating to Texas and didn't have clue on where to begin. I went Public Storage for boxes but left out on top of everything. The store manager Chanell was a life saver with the right choices for the box sizes needed. She took time out to ask how many rooms I was packing and also offered assistance for a storage unit if it was necessary.
I discovered an issue with the lock on the second door of my large storage bin. The attendant, Katrina, came out to the bin to help me figure out what was wrong and in the end was able to help me find the missing key in my file. Altogether a good experience.
Hi, I came in and got a few boxes and this young lady Katrina helped me find the right size boxes I was really confused on what size to get and she was so polite and very friendly she helped me get the right size boxes and everything else I needed. I love her customer service she greeted me when I came in and asked me right off the back what I needed help with.