Public Storage Self-Storage Units at 3120 Vimy Ridge Drive, Joliet, IL
Address
3120 Vimy Ridge Drive Joliet, IL 60435
Office Hours
Mon-Fri 9:30 AM - 5:00 PM
Sat-Sun 9:30 AM - 5:00 PM
Gate Access Hours
Mon-Sun 6:00 AM - 9:00 PM
Storage Facility Features
Climate Control Storage

Indoor & Outdoor Storage Units

Small, Medium & Large Storage Units
Office Hours
Mon-Fri 9:30 AM - 5:00 PM
Sat-Sun 9:30 AM - 5:00 PM
Gate Access Hours
Mon-Sun 6:00 AM - 9:00 PM
Storage Facility Features
Climate Control Storage

Indoor & Outdoor Storage Units

Small, Medium & Large Storage Units
Close Location Details
View Location Details
Climate Controlled

Upstairs/elevator

Climate Controlled

Upstairs/elevator

Climate Controlled

Inside unit

1st Floor

Climate Controlled

Upstairs/elevator

Climate Controlled

Upstairs/elevator

Climate Controlled

Upstairs/elevator

Outside unit

Drive-up access

Outside unit

Drive-up access
Nearby Self-Storage Locations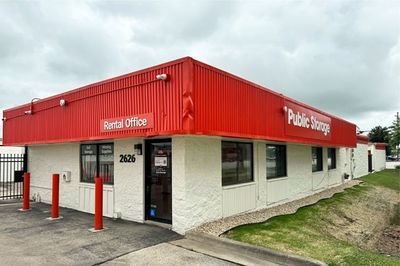 Self Storage Near
2626 W Jefferson Street
Joliet IL 60435
Resources from the Help Center
See what fits in different storage unit sizes
Joliet Storage Units Near I-55
Find the perfect self storage unit for any storage need at this Joliet Public Storage, located one block south from the intersection of Caton Farm Road and Essington Road, just about one mile east of Interstate 55.
A 5x5 storage unit is the right choice when it comes to storing hiking gear, biking gear and sports equipment for all of those trips out to Van Horn Woods.
When trying to figure out the best way to declutter a basement in Crystal Lawns or near the Joliet Mall, a 10x10 storage unit is always a great pick.
With its convenient location, a 10x20 storage unit at this facility gives residents in the surrounding neighborhoods, including Picardy, Wexford, Crystal Lawns, Warwick and Autumn Lakes, more than enough storage space to empty out a crowded garage, guest room or home office.
Indoor storage units, outdoor storage units and the option of climate controlled storage units provide customers with multiple options of cheap storage units.
This multi-level property offers elevator service to the higher floors and there are moving carts on site to assist with heavier loads.
Inside the rental office, open 7 days a week, customers can also buy moving supplies, including moving boxes, mattress bags, furniture bags and packing tape.
It's true, there's something for everyone in Joliet – from historical landmarks and educational museums to great dining and shopping and, of course, even the casinos. When the time comes for some extra space in the "City of Excitement," call on this Joliet Public Storage to provide the answer.
At Public Storage, You'll Always Find...
Keypad Access

Friendly Staff

Month-to-Month Rent

Moving Supplies Available

Free Parking

Well-Lit Facilities
Reviews
( 204)
Thank you Ashley you are the best!
Ashley was super helpful and very knowledgeable. She was able to answer any questions I had!
Melissa is amazing and very knowledgeable. Helpful in every way!! Thanks Melissa 😊
Thank you Ashley so much she's the best !!
Don't use this place! Someone climbed into our unit and was also throwing garbage into our unit and management did nothing about it. I have pictures and video of the items thrown into our unit along with dark footprints up the wall. Your items aren't safe at this place. Stuff to busy smoking and playing on their phones to care.
I have purchased many units from a variety of the storage facilities, and most of the times attempting to arrange pick up or payment. Most facilities makes me feel like a burden. This facility, definitely deserves five stars. Ashley and Melissa followed up with me shortly after the purchase was complete via phone call to schedule payments and pick up. Throughout the day I was not certain if I was going to be able to pick up so I've called multiple times to ensure business hour and a few other questions. The staff was very friendly from start to finish. Very kind, accommodating, and very knowledgeable especially Melissa. i'm sure I can get annoying with my questions, but with this staff, I definitely didn't feel like a burden. definitely one of my smoothest transactions in the past six months. Thank you so much.
Horrible facility and staff, no one is ever on duty, the have a dumpster located in the lot but customers are restricted from usage. Michelle the customer rep was terribly rude and had horrible customer service skills
Ashley was very helpful. she is the best one working there!! Thank you Ashley.
Ashley had great customer service and was able to assist me with everything that I needed.
I wish I could give a 10 star review on Ashley B. who provided me with exceptional customer service. She is so knowledgeable, communicates well and was so patient with me assisting with all my storage needs. I wish all places had service as good as her, please give her a raise!!! Thank you Ashley!!
Just wanted to take the time to give them a 5 star rating!! There receptionists Ashley is always kind and willing to help in any way possible, The units were always clean and affordable, if your looking for wonderful service and and a nice facility to store your extra belongs in, in this area this is a wonderful choice!!
Ashley was good help!! She was very helpful
Ashley was a pleasure super nice and quick with my lease!!
Nice clean place Traci is friendly and helpful
How much is your cheapest storage unit
Traci is friendly, and helpful we would come here again
Iam very happy now my stof is in good place tank. You
I rented from here for two years and I never had any issues everybody was super nice. I got a new bank card at one point, and forgot to give them my new card info and they were super understanding while I caught up on my payments. I highly recommend them!
Completely disgusting. Since 2020 been having issues Starting from unit 001 down the line is infested with rodents mice and squirrels. Lots of mouse droppings in unit along with dead rodents. Roof insulation in unit was torn down by rodents and mess in unit. Had personal belongings destroyed due to rodents. Have been fighting with public storage insurance claims since April 2022 I WOULD NOT RECOMMEND THIS PLACE TO ANYONE !!!!!!!!!!!!. If I could rate this place 0 stars I would
i like Traci a lot she is very nice would recommend
I rented this space from Traci. She was very professional and helpful.
Craig and Traci are so helpful. My experience storing my belongings here was a positive one.
Unit is clean. Rate is marginal. If you forget you're key they're useless in the extreme. Initial response from the employee when I asked for help with a missing key was "Well you need your key." Being older then 7, I understood that I need my key, which is why I was asking for help as stated on the website and was told then that she would send an email and someone might be able to help tomorrow. Plus I'd have to spend 22$ for a new lock. This was very helpful as I was 400 miles from home and here to get the last of my stuff following a move and had spent a night in a hotel. Trying the corporate phone line for options was even less helpful somehow. Ended up needing to contact a locksmith myself.
Came in today for packing supplies and Traci made my experience super easy. Thanks traci will come back
Traci is helpful and friendly she is very nice to everyone that she meets this is a nice place
Unit doesn't have working light.
Jose ,was great and was very Informative, and nice .I am glad he was on duty..thank you Jose..Public Storage found a good one
Erynn was great answered all my questions and was willing to meet all my accommodations!!
Traci is awesome mad a stressful experience a great one!
Public Storage /Hughes family need to treat Employees and Customers with Respect! You are Nothing but a Cut Throat Company. Properties are well maintained
I came in inquiring about a public storage for myself when I met Lakwesha she was of great help and she showcased amazing customer service, Thank you!
Public Storage at Vimy Ridge is clean and very safe. My Father is a retired Vet. His health is failing. Between his health and this pandemic it has been a struggle. Lakwesha, has been very professional, caring, and knowledgeable. She handles everything in a timely manner. We appreciate the way she handles our calls & concerns. Her outstanding customer service skills. She deserves a raise, she's a great Manager. Thank you for being you!
I was very impressed by this place! It appears be taken care of very well. My daughter just graduated college and needed someplace to store her belongings until she goes back off to law school. They did everything over the phone while we were still out of town. The one big thing I liked, indoor unloading!! With it being about 13 degrees today. That was perfect!
Good customer service, good quality storage
Tracy was great . Nice and very informative .
Traci is always so friendly and helpful
This place was great! Kevin was so very helpful.
Traci is always so helpful and friendly i like her alot
Clean facility and amazing service
Priscilla was very friendly, thorough, and informative. Excellent customer service.
Location was clean and easy to access. Staff is friendly. Indoor storage very handy to have when weather was bad.
Trudy is very helpful and considerate.
Great helpful staff Tracy is awesome. Nice clean and safe location.
Priscilla did a wonderful job helping me today with getting my storage!!
Priscilla is awesome. I came in to check out a unit and she was super knowledgeable about the property. It's very well kept and great service!!! Thanks Priscilla!
Great service. Tracy set us up with a unit about 2 years ago. Units are kept immaculate. We moved our things out this month and there was no water damage, no damage or signs of insects or rodents. Craig helped to close the account and it took all of 10 minutes.
My mom had a stroke and it has been stressful, trying to care for her and now move her out of her place. The Rep Monica was very patient and once I explained what was going on she took time to go over all the unit rentals and insurance. She highly recommended I purchase insurance in case of damage. I could ensure my mom's things would be replaced. She also recommended your packing products to ensure during the transition from mom's place to there damages would be eliminated. Thank you for the great customer service.
Traci has a wealth of knowledge and is a delight to encounter. I would highly recommend this facility.
Traci was very nice & professional!!
Can I store a snow blower.
Traci was very helpful and gave excellent service!
Traci, was great. Wonderful attitude and explained everything very clearly.
My thanks to Traci for her excellent customer service! She is patient, kind and knowledgeable, a winning combo indeed! Public Storage is quite fortunate to have Traci on its team. On a previous visit, I was assisted by Monica and she was a delight to work too. I met District Managers Travis and Sylvia at that same time. They round out a winning team of courteous, helpful moving professionals. Thanks again to all!
This was by far the best storage facility I have used. Very clean, good security, and Traci who works there, is the best. Very friendly and easy to associate with and she knows the right way to work with her customers. She made me glad I chose her facility. I would definitely use this place again.
Traci is phenomenal! She has excellent customer service and very hospitable towards guests. I felt and feel very welcome there, which is very rare nowadays at businesses. The company and the guests/visitors are very lucky to have someone like her working there. I am grateful for her kindness and assistance.
I came in to make a change to my account, Monica was so nice and very helpful with updating my information. Customer service here is always great!
Traci is very good at assisting clients also knowledgeable about the products
Traci is the best employee! Great service!
Very professional and helpfull,nice ladie
Traci is super helpful and she made the process easy
Traci is very helpful and nice
Our experience has been very positive. Traci was very friendly and most helpful. The facility was very clean. The indoor unloading area was spacious and clean. We appreciated the handy carts.
Great place to store stuff.
Friendly staff, clean facility
Craig's a top notch employee. The place is spotless. Excellent place to store my stuff!
Great place and friendly people to do business with!
Just rented a storage unit 5/10/18. Craig was very informative and pleasant. The place as a whole and the storage unit looks clean and received a good price online.
Great customer service, very easy to make payments on my rental every month.
Terrific service - Traci was outstanding and SOOOO helpful. I got exactly the storage we needed, and she answered every question. Great facility. Thanks, Traci!
Traci was great to work with. All the units I looked at were clean and well taken care of. The property was clean and Traci did a great job explaining everything as part of the rental process.
Tracie and Craig made the rental, use and vacating of our outdoor storage unit a pleasant experience.
This is my first time ever renting a storage unit and I'm so glad I chose this facility. Traci is pleasant and easy to work with.
Very helpful staff, and the units are very well cared for! There is always someone available if you need any help, which is not the case with most storage places... very convenient!!
It was great John was very informative. He a great job.
My stuff has been stored here for a year now. Traci helped me get set up over the phone and in person. I was pleased to see her after being deployed for a year. She was helpful in making sure everything was how it should be. I opened up the unit and everything was as I left it. I'm very happy I chose this storage facility over any other.
Traci provided great service and was helpful with other products that were useful to utilize.
Traci is excellent and very-helpful and explained everything very well. Location is working out very well for us.
Traci is amazing! She make sure that I knew how to get into my unit how to use the gate code and informed me of everything I needed to know to have a great storing experience. I really appreciated the time that she gave and helping me get my unit and a fast and timely.
The manager on duty, Traci, was very nice & professional. She set up my rental agreement very quickly, at a very competitive rate. Traci explained everything in detail. The facility was clean and inviting. I am very satisfied with my decision to rent with Public Storage on Essington.
1st time vist to the store and Yezmin was so helpfull😆.
Renting a storage unit is not something most people associate with being a memorable or pleasant experience, but this time was different. I have rented storage units all over the country because my occupation necessitates travel, this is the first time that I have rented with Public Storage and let me tell you, they may have a customer for life. Traci assisted me with the reservation process upon my arrival and it was the most pleasant and efficient customer service interaction I've had at any business. Beyond that, very clean location and you can tell its maintained properly. It's not something you think about often but it is reassuring knowing that your property is being taken care of by people who care about their job. Outstanding.
John did amazing. Explained everything perfectly and quickly.
Pros-The manager Traci is always very nice and helpful. I have been renting 2 spaces here for about 3 years and it's always clean and the items they sell are always stocked if you need something. Cons-Sometimes the keypads or the bay doors have problems, but overall they keep up with it the best they can. Access has been limited to office hours in cold weather because they are worried about the sprinkler pipes freezing. Just plan accordingly in the winter.
Always helpful fast and efficient. Tracy J.. is awesome. THANKS PUBLIC STORAGE... Very clean and easy to access
Steve was very friendly and explained everything clearly and gave me all the options. Thanks Steve!
My name is April. I love this storage facility. Traci is very nice & helpful!
This is my first experience with renting a storage unit. Traci was Very helpful and very friendly with explaining the process step by step. It's Good to know its someone who works at this Vimy Ridge location that cares! Thank you so much, Traci!
Property manager Traci was awesome with getting us the unit we needed for the best price! She had GREAT customer service ❤️😃
I stored at this location for 5 years. Traci was very helpful during the close out process. If you are needing a storage unit I recommend using this facility.
Great service and best price in the area. Traci was very helpful and professional.
Making a reservation online was quick and easy. Traci was very helpful and provided great customer service. Thank you, Traci!!
Location is very easy and accessible. Great, fast service, hadn't even filled out the rest of the information and already had a call confirming my reservation! Super friendly staff, Traci was very helpful and on top of things showing my space, and going through/signing the lease very easy, fast, and professionally. Traci is very friendly, thorough and exceedingly helpful!
The process was very quick and easy. The person who helped me, Traci, was also very nice and prompt during the whole thing.
We have been at this current Public Storage for several years. Not only do I like the indoor space that is temperature controlled, it is also very clean and well kept. It is nice to have availability of carts when carrying heavy loads. The best part for me is the outstanding customer service by Traci. She is so kind, accommodating and helpful. She even greets you with a smile and addresses you by your name when she sees you. I have spent a lot of time at storage lately down sizing to a smaller unit, and Traci has been there the entire time for me to offer assistance and has given great suggestions. I truly appreciate her, as she is a wonderful asset to the business. Thank you Traci!
Great people to work with . Super friendly and helpful. The whole process was hassle free!!!
I decided to rent a storage unit and the process was fast and easy. Traci helped me with everything and she is friendly and very knowledgeable. The property is also kept nice and clean.
Traci was wonderful to work with and very knowledgable! The facilities were more than I expected. Glad I chose this location.
Ashlee was a good costumer service representative help me out with the rent of my storage space thank you
Tracie has very very great to work with!!!!
Tanicia was fantastic with her help!! I got exactly what I needed and she walked me through everything like a pro! Every question was answered! She's great! Highly recommend her as you choose to move in!!
Thalia is a wonderful customer service rep. She's kind, thorough and accommodating. As a businessman who handle numerous Contractor trades I can honestly say I wish all of my business interactions were as pleasant.
I've been a client at the Vimy Ridge location in Joliet for 6 months now and almost always am greeted in a welcoming voice by Traci. Traci is always courteous, knowledgeable and attentive to me. Always a pleasant personality. She keeps the location in tip-top shape.
Was quick. And great customer assistants.. Cant beat the deal.. Thanks Thalia
Traci, was fantastic. Very helpful and friendly, and efficient. Ask for her for your storage needs. Wouldn't rent any place else.
The service was handled very professional on both visits..the world will be a better place with people like Thalia...thank you Thalia
Very clean, easy reservation on line. Manager even called to see how my move went! Excellent customer service! Ask for Traci!!! This unit was for my dad Jerry P.
The staff is pleasant on the phone and in person. They answered questions and offered solutions to concerns. The storage unit is clean and well lit. Appears secure and has easy access for me.
I have been using Public Storage for more than a year. Traci has been very helpful and informative with any thing that has come up with my storage needs. I highly recommend this facility to anyone.
Thanks for your help Talia. She is very good at her job and made my experience a pleasant one.
I recently rented a storage space from this location and the rep.Traci was so helpful, insightful and friendly. I would definitely recommend this location to anyone in the area looking for a storage location. Keep up the great work!!
Great service. Traci did a nice job helping me.
Traci was extremely nice and very professional. She made sure any questions I had were completely answered.
Just rented an indoor space and Traci was very helpful and informative!
It was our first time renting a storage unit. Traci went through and explained everything to us and made us feel comfortable. She worked with our options.
I would recommend this location for your storage needs. Traci is very knowledgable and will walk you through the rental process. The facility itself is very clean and well maintained. I look forward to continued quality and service with Public Storage.
Traci was super friendly and very quick to respond to our questions and inquiries about the facilities.
Service was super friendly. Matt did a great job!
Excellent service explain everything will
I love this place... so clean and very reasonable... Matt and Traci were very helpful when I needed to upgrade to a larger storage unit. If you need some extra space, I highly recommend Public Storage.
great service!!! Matt was very very helpful and pleasant!!! 😊
Excellent traci was very helpful nice friendly attitude
Matt was super friendly and helpful.
Great service Traci was very helpful....
I definitely recommend this facility!! It is clean and the staff is great!! Traci was very helpful and always has a smile!
Hi. I was very happy with the customer service at this particular location. Tanicia was very informative on how things worked for a first time user. She was very pleasant in her details and instruction. Look forward for more great and friendly service in the future.
Traci is extremely nice and makes you feel very welcomed. She's thorough in her explanations of how the codes work and adds a touch of humor on the tour. Great service!
Traci was friendly, courteous, and professional. The facility was clean and very well maintained. Moving in was quick and easy. Thanks Traci.
I absolutely would recommend this facility if you are looking for excellent customer service,, quality and cleanliness. The store manager Traci explained everything in detail and made moving in extremely easy during such a stressful transition. She was very friendly and helpful! Access to my unit is easy and secure. I love it. Thank you so much Traci!
Traci was very friendly and helpful!!!
Hi, everyone I must say im grateful we picked public storage. We had problems with our reservation an Traci was there to save us. We had to reschedule our reservation date. Which she did with no problem. When we arrive on the 21 of Aug is when we meet traci in person. She very knowledgeable of the facility environment and the rules. Traci Explained all the rules an paperwork with ease an made it very easy to understand. Glad we choose public storage.
Tanicia gave very good service and answered all of our questions she was very helpful
Traci was extremely helpful and patient. It was a pleasure to have her assistance on this very hot and frustrating day.
We just yesterday needed a storage building. I used my I pad to find one. I ended up at property number 25589 and was greeted by Traci. What a wonderful experience and she was so helpful to us at this stressful time of moving and storing our belongings. The experience could not have been better and I would recommend Public Storage to everyone, especially at this location.
Traci was very helpful and easy to work with. I am so happy that I went to this location and i know my stuff will be safe due to storing my stuff in the climate control storage units. Thanks again Traci!!
Tracy was so nice.. she stayed late after hours. She's helped. Me s o so much.. I'm so grateful to have. Picked public storage. . Thank You so much. Charity
Tanicia was very informative very polite n professional she made my first experience very pleasant. Highly recommend
Very nice staff, Candice was very professional and explained everything nicely.
Candice is a very caring and nice
Candice helped me with my transfer and she was great!
I came in to get some boxes and Tanicia took care of me. Her service was great.
As soon as I walked in Candice spoke to me and asked how can I help. She's a polite and friendly.
The help that Candice gave me was excellent in the choices of boxes and extras I needed for my storage project. Very helpful
It's the most fun I have ever had moving. Staff was great, the employee Candice Was awesome.
Traci was super friendly and very informative. Showed available spaces and answered all of our questions
Tracy And Candance are nice people and helpful.
One of the best experience s that I have had working with. Candice and Tanicia and I would send anyone to your storage here at 3120 vimey ridge drive Joliet Illinois
Awesome service from tanicia and candice.
I worked w/ Tanicia the first day that I arrived to get information about the facility. It was lunch time for her and she willingly ignored her ever starving stomach to wait on me, which I must say that there are not to many people in customer service who would go walk me through a facility to show me the accommodations that Public Storage offers. I had a pleasant experience with Tanicia and once I had my belongings ready to move, I returned to acquire a storage unit and that was when I had the opportunity to meet another team member named Candice whom was ready to answer any questions that I might have and also assisted her partner Tanicia so that I could get the unit I desired in a timely manner. Over all, the customer service is what sold me to the facility. The company should be very proud to have such great employees to work for them. Eddie
Kennie, is very helpful.I enjoy coming in and seeing her!