Public Storage Self-Storage Units at 28111 Kelly Johnson Pkwy, Valencia, CA
Address
28111 Kelly Johnson Pkwy Valencia, CA 91355
Office Hours
Mon-Fri 9:30 AM - 5:00 PM
Sat-Sun 9:30 AM - 5:00 PM
Gate Access Hours
Mon-Sun 6:00 AM - 9:00 PM
Storage Facility Features
Boat Storage

Car Storage

Indoor & Outdoor Storage Units

RV Storage

Small, Medium & Large Storage Units
Office Hours
Mon-Fri 9:30 AM - 5:00 PM
Sat-Sun 9:30 AM - 5:00 PM
Gate Access Hours
Mon-Sun 6:00 AM - 9:00 PM
Storage Facility Features
Boat Storage

Car Storage

Indoor & Outdoor Storage Units

RV Storage

Small, Medium & Large Storage Units
Close Location Details
View Location Details
Outside unit

Drive-up access

Outside unit

Drive-up access
Nearby Self-Storage Locations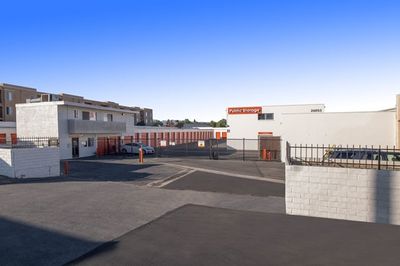 Self Storage Near
26053 Bouquet Canyon Rd
Santa Clarita CA 91350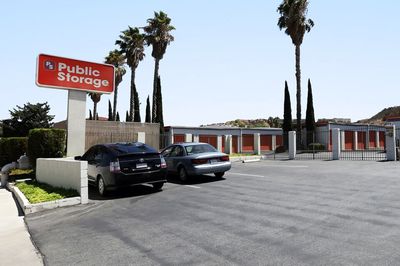 Self Storage Near
21648 Golden Triangle Rd
Saugus CA 91350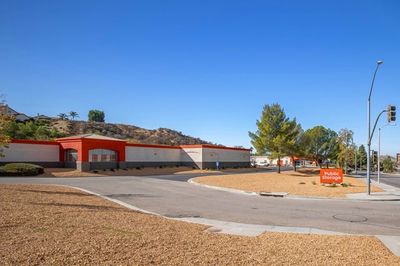 Self Storage Near
18650 Via Princessa
Santa Clarita CA 91387
Resources from the Help Center
See what fits in different storage unit sizes
Valencia Storage Units Near I-5
Find
Valencia
storage units just off I-5. Public Storage in Valencia is here to help with your indoor storage and outdoor storage needs so you can get organized just north of Santa Clarita.
Small Valencia Storage Options
Enjoy trips to Castaic Lake State Recreation Area without the extra clutter at home by stashing camping gear, hiking boots, and fishing supplies in a handy
5x5 storage units
. If you need more room for rafts, mountain bikes, or canoes, we also have
5x10 storage units
that can give you even more room.
Medium Valencia Storage Units
Local families who are running out of room at home will love our
10x10 storage units
to get extra furniture and appliances out of the way so you can stretch out in your space.
Large Valencia Storage Units
For large hauls, including temporary storage and business needs, our spacious
10x20 storage units
can help with your most ambitious projects with five rooms of storage space.
Valencia Car and RV Storage
Need to park an RV or boat between exciting excursions? We also have a selection of covered parking available, so you can get your driveway back. Speaking of adventures, with Six Flags Magic Mountain just down the road, you can store your stuff and catch some thrills in the same day.
With both indoor storage units and outdoor storage units at this Valencia storage facility, you're sure to find the best self storage selection for you. Use
our eRental program
to book a contactless move-in today!
At Public Storage, You'll Always Find...
Keypad Access

Friendly Staff

Month-to-Month Rent

Moving Supplies Available

Free Parking

Well-Lit Facilities
Reviews
( 350)
Girls are great!! Property is clean everything is well kept. Units are in great shape carts are nice to never had an issue with the girls they go out the way to help out!
Love the service from gloria all the time
14 hours later i met gloria she was pleasant and my unit was ready to go for me property is in great shape
Gloriana was an amazing helper and especially with helping me with the storage information such a huge help. The place was well organized and great service overall. Thank you , Ben
Great service and patience from Gloria showed me a total of 4 units and took her time clean facility!
What amazing service from Gloria! I loved her attention to detail and my concerns. Well kept facility inside and out.
Gloria was sweet she spent time with my wife and I helping out needs and explained every single thing my unit was clean and appropriate price
Transfer process was good and easy facility was super clean and unit in good condition Gloria made this process the best and stress free.
Clean property nice girls
I loved Gloria I needed a bigger unit and she made the transfer nice and easy! She helped me with the app and find the unit that worked for me!!! Property is well kept and I can see she takes pride in keeping it clean!!!!
Great service clean family and loved the app Gloria went out of her way to help me with my unit here and palmdale loved it
The propertyis clean and outsanding service always from gloria I like the app
Gloria mentioned to me that she is from this location but I've been running into her at palmdale and she is amazing just wanted to mention her for her property as well! Palmdale is clean so I'm sure her property is amazing clean too! Love her attention and service.
I was helped by Gloria today the property is really clean and the facility in general is amazing. Always asking how my unit is working out. Great service.
Clean property easy and great service Gloria has always been so nice to us. Anders any questions I have all the time
Gloria helped me out with my mom in she showed me a couple of units on monday and took her time to really show me the features of the unit i rented. I really didn't know what unit i needed untill she showed me a couple. Great fast and easy service. Unit is well mainted. No rodents even with the hillside out back.
Loved the service for gloriana and the easy process of the rental.
Gloria did a last minute rental with my mom and i took her time to explain everything to us clean facility and unit good service and she did not rush me even with her closing in soon
Get Gloria right as soon as she got to the office she was amazing clean property and showed me unit and app
Señorita gloria muy buena gente mi unidad siempre limpia y propiedad también bańo en orden y muchachas disponibles todo el tiempo encantado
Gloria i could go on about your service but i want to say thanks for always helping me carts are in great shape propety is clean elevator smells great Xoxo jenn
Amazing service from Gloriana and Sam!!! Clean property and amazing service app is great and unit and property was clean
One of the worst managers I've ever delt with, terrible customer service from a manager!!! if anything that has her to be involved she will just ignore a paying customer!!! If you have a problem here you should call corporate if you want something done.
Amazing service from. Gloria
Amazing service from Gloriana fast and easy rental process clean facility
I have the pleasure of being a long time tenant at this location I have met 2 property managers and now have the wonderful experience with Gloriana and by far Gloriana has been the most helpful and pleasant even with the heat on Monday she changed my lightbulb in my unit property is always well maintained isle are clean carts are well taken cared of elevators are super clean and the bathroom always smells amazing overall amazing property and staff my stay has come to an end but I will recommend everyone to rent at this location shout out to Gloriana and as always a great pleasure and thank you for always being able to help me and my family out. Cleanest and most wonderful service from this location!
Clean facility girls are nice and informative. Good rates.
Lady with the mustache is heartless. They stole $4,000 and kept my stuff.
Sam is great! Wonderful customer service, goes above and beyond. She made the whole process easy and very detailed. Thank you
Overall an excellent experience! Nicole and Gloria at the office were so helpful, kind, and answered all of our questions plus gave good advice. Location is convenient and easy to access. The storage unit that we rented was decently clean even though it was one of those outdoor drive ups.
I wish I could rate better but the way they charge their customers who have been there for years is ridiculous. I've never worried about my stuff being stolen at this facility which is a definite plus. The price just keeps increasing though, with no stop in sight. I can understand reasonable increases over time, but not the way they did it.
Senorita Gloria exelete servicio muy amable y la officina y propiedad muy limpid
Sam is amazing! Great service, goes above & beyond for customers. You always see her smiling 😃
Gloriana helped me out today with my units
I received amazing service from Gloria today amazing!!!!
AMAZING SERVICE FROM GLORIA SHE WAS A PLEASURE TO WORK WITH BECAUSE SHE TOOK HER TIME TO EXPLAIN TO ME EVERY SINGLE THING SHE HAS MADE MY LIFE AND MOVE LESS STRESS-FULL HOPE MANAGEMENT APPRECIATES HER
The staff is very helpful.
Samantha is amazing. She made our check in easy. She was very informative and helps us with all the questions we had. She is an asset to this property. 5 stars are for her.
Had an amazing experience at this location. Gloriana was very helpful and professional. The facility itself was clean and well managed, would definitely recommend it! Thank you for the great customer service
Excelente servicio de la muchacha hoy encantado con la propiedad muy limpia y la señorita gloria 20 estrellas
Everything went smoothly with the help of samatha she was really great with the whole process. Thanks sam
Samatha a great pleasant help!
Increased rent 80% without notice and is in clear legal violation under California Penal Code 396(a),(9) which states: (a) The Legislature hereby finds that during a state of emergency or local emergency, including, but not limited to, an earthquake, flood, fire, riot, storm, drought, plant or animal infestation or disease, or other natural or manmade disaster, some merchants have taken unfair advantage of consumers by greatly increasing prices for essential consumer goods and services.  While the pricing of consumer goods and services is generally best left to the marketplace under ordinary conditions, when a declared state of emergency or local emergency results in abnormal disruptions of the market, the public interest requires that excessive and unjustified increases in the prices of essential consumer goods and services be prohibited.  It is the intent of the Legislature in enacting this act to protect citizens from excessive and unjustified increases in the prices charged during or shortly after a declared state of emergency or local emergency for goods and services that are vital and necessary for the health, safety, and welfare of consumers.  Further, it is the intent of the Legislature that this section be liberally construed so that its beneficial purposes may be served. (9) "Transportation, freight, and storage services" means any service that is performed by any company that contracts to move, store, or transport personal or business property or that rents equipment for those purposes, including towing services.
Advertises AC controlled storage for indoor units, then why is it hotter inside this building then outside during the summer? Ever heard of cleaning or maintenance? There's spiderwebs and dirt everywhere along the staircases as well as The ceilings. Put some of our rent money to good use and touchup the holes and marks on the walls!! There's soda spilled all over the wall of the units across from mine and mine and on the floor that has not been cleaned up in so long that there's an ant infestation now!! Took them over three months to fix the bathroom for tenants to use when they're here at the storage facility. Three months is a ridiculously long wait for a bathroom plumbing issue to be resolved. I've had my unit here for 2 years now and have seen the property go downhill sadly. Previously rented at the nearby location next to Mountasia for 2 years as well and had no issues their. Manager was amazing!! Sadly I can't say the same for this location... With the amount of money we pay each month for these units, I honestly expected more from the management. Sadly disappointed that I even have to post this. I hope this will actually get your attention, so the much needed problems of this site will be resolved, as they have been ignored so far.
Amazing service from gloriana
Great service from Samantha.
Gloriana did great and explained everything very helpful
We came in frustrated because the site was not letting us "skip the line" and we were not able to complete the rental process. But Samantha was super nice and very helpful. She even saw us looking like stray dogs in the heat and offered us bottled water. Went above and beyond for customer service! Yay, Samantha! The storage facility is very clean and well-kempt!
Very clean storage unit in Santa Clarita. Samantha was very informative and helpful for my parents and I as it was our first time renting with Public Storage. Easy process and she walks you through it clearly.
Gloriana is amazing!!!! And sooo sweet we had an awesome experience
Thank you so much Samantha for your help today!!! Great tour and clean facilities!
Gloriana was amazing thanks for your help and knowledge
Gloriana did my rental and was very nice! Wonderful service and recommend me quilts for my stuff and I bought 2 of them
Gloriana helped me Download my app and do a transfer she is amazingly sweet every time I see her on the property!!
Amazing service from representative Gloriana she is very knowledgeable 2000000 stars for her
Very pleasant experience with Gloriana today
Gloriana took my payment early morning she is so nice! I love her!
All I can say is Gloriana wow!!! Amazing amazing person! She is the best at here I've met other people but she goes above and beyond for me all the time I've been here' thank you for all do!
Gloriana took my payment and was very nice property is super clean
Gloriana me audio con mi Cuenta y descargar la application excellence servico
Gloriana rented me a unit and she was very nice and helpful thankyouso much
Gloriana was the best! She was so helpful when I was looking for a storage unit. She made sure to help me find something that would fit everything I needed. She also was so clear and thorough when explaining all the fees. Beyond happy with the customer service provided!
My girlfriend and I are renting a unit here. Unit is great. Samantha was extremely helpful, some guy I talked to when I first tried to reserve a unit told me the wrong info but Samantha helped me fix everything. She's the reason I'm still renting with public storage.
Great service fast and prom very helpful
This is my first time renting a storage facility and the process was easy. From speaking with Ahmet over the phone to secure my reservation to meeting Rafael and setting up everything, my experience was uncomplicated. Rafael is personable; he explained the policies and answered all of my questions.
Rafael and the team here have been wonderful. He has taken care of my needs and more. Wish I could I give them more than 5 stars
Wonderful, friendly & helpful staff!
I had a great experience at this location the customer service was great and they answered all my questions !! I highly recommend this location if you ever decide to come ask for Gloriana she was amazing!
Carly the property manager was a huge help. Very professional!
Carly was very informative with the questions I had. Great customer service thank you
I'm so thankful for Carly, she is so helpful and she gave a great service!
Carly went above and beyond answering all my questions.
Worst experience with public storage I have ever had. I would recommend getting business elsewhere. We told CARLY we were going to rent a storage out and she said we could do it online since it apparently did not matter how we paid. She proceeded to rent out the storage unit, probably to someone white & richer able to pay more on the spot. This place is a scam.
They young ladies in the office helped me out the other day and they were amazing! Great customer service I've received from them!
I had the best experience possible at a storage unit business!! Carly is an ANGEL!!
Finding a public storage with nice people can be a bit difficult sometimes. Coming to this storage was a good idea. I met gloriana she is really nice! Talking with her was easy and I enjoyed it, not many are good at talking because they feel weird. I overall had a good experience at this public storage thanks to Gloriana. :)
I recently rented a space there and was helped by Karly. I was amazed by her friendly and helpful attitude, and her willingness to go out of her way to make my experience a positive one. So far so good...!!
Gracias Gloriana por tu ayuda pensé que ocuparía algo más grande, pero gracias a ti encontré algo más pequeño y me ayudantes a conservar dinero. Mi familia y yo te lo agradecemos
Your employee Gloriana was very helpful to me today I was looking on renting a storage but I had so many questions first and she was very nice on helping me answering my questions will come back and ask for her !!
Wow what a class act place this is and Manager was on it and didn't mess around
Very helpful staff! Will get you situated fast with no hassle. Thank you guys for making moving easy!
The space is always clean. Very happy with the service.
Very well kept facility; Kudos to the staff. Carly goes above and beyond to accommodate her customers; she is a credit to this establishment.
This is a very nice property. That being said, Carly the property manager is simply amazing. I'm at the property almost every day and she seems to be everywhere. This location is in the middle of a refurb and Carly is leaving no stones unturned. I've made several inquiries and even in the midst of the "refresh" she is happy to answer any and all questions. Every issue I have inquired about she has resolved or expressed her plan to correct or rectify. Carly is the best property manager I have had the pleasure of working with. I recommend this location to store your personal or business items.
Hidden gem! I happened to be driving by and spotted the Public Storage sign and thought I check it out. It wasn't the closest one to where I was but after speaking with The manager Gerardo I knew this was the place. Gerardo is friendly, kind and professional. He relays information in easy to understand language as if I was talking to a friend or neighbor. He is extremely helpful and returns calls right away. Gerardo made a very stressful time so much easier.
My experience at Public Storage was a hassle free and pleasant one. Gerardo was exemplary and gracious going over all of the details to secure a unit. Also, Kudos to Maria at the "sister" location who guided me here to secure an available unit. Nice team effort!
Gerardo was very helpful in explaining and answering multiple question I had. Excellent service!
I had absolutely an awesome service on the phone with Gerardo. He explained everything I needed to know and he patiently stayed on the phone with me until I completely finished my reservation. 5 stars service for sure. Thank you Gerardo.
The manager here deserves a darn raise! Always happy to help his customers and provides exceptional service. Thank you public storage and gerado
Gerardo was so incredibly helpful in finding me a storage unit to suit my needs. He made the entire experience very quick, super easy and equally enjoyable!
gerardo is awesome he went the extra mile to help out great customer service!!
We had such an easy move in! Gerardo was so helpful! He brought us the moving cart without us even having to ask. He then went and helped us bag up our mattress correctly and he was just such a nice person!!!! Thank you so much for helping us out and being so amazing! Without his help we would have been lost! Also the storage unit was very clean and easy to locate! I am very happy with my purchase!!!
Gerardo is a saint. I appreciate all he's done for me during these times. Truly a gem!
Geraldo was very professional and helpful. He took the time to look up other locations to find the best storage and price for me. You can tell that he enjoys his job and helping people.
It has been a pleasure seeing Gerardo when ever I go into Public Storage. He has great customer skills and is very knowledgeable. It has been an enjoyable experience every time I go into Public Storage.
I see Gerardos name all over these reviews and it's no surprise. Excellent customer service skills, extremely professional attitude, and has been a delight throughout this entire move process. Public Storage has really outdone themselves with hiring this young man, and I hope they know his work ethic value enough to ensure they keep him around for a long time. Not everyday you get a genuinely happy employee at a storage facility.
This location is amazing. Clean and secure. But best of all is the manager Gerardo, he's an amazingly helpful gentleman who will go above and beyond to help good customers. Gerardo and Public Storage have helped me and my family make moving easier and more convenient. Thank you.
Gerardo is so informative and very nice!! Great customer service! Units are clean and easy to rent. Thank you again Geraldo!!
We have a 10 X 20 unit at this location for many years. The unit is in the basement and is well lighted and always clean. The elevator is large and very helpful when we have a load of stuff to carry in. The price is very fair for all that we can fit in the unit. Everything is well maintained and people working in the office are friendly and polite. We love our storage unit because it helps keep our garage so much neater for the things we don't need on a daily basis.
When he's not in the office wearing a smile and his matching hat, he's out buzzing around in his golf cart checking up on the grounds, almost always with a broom and dust pan in hand. I hope they compensate him well because he really goes the extra mile to keep the place clean and appealing to customers. Thank you Gerardo! My spouse and I are very happy to be tenants here :)
I have rented a few times from the storage unit on Kelly Johnson and Valencia. Gerardo has helped me each time and he is absolutely excellent. He always answers my questions and helps me find a unit that works for me. I highly recommend working with Gerardo
Awesome service, thank you
Your employee Gerardo has such a nice personality and is very helpful. As a matter of fact, after a recent earthquake, my storage bin's contents shifted against my door and Gerardo jumped at the chance to help and lessened my stress of the whole situation.!! Young people now-a-days don't normally jump at much and they can't really communicate well, but he was superb. I was once a business owner and if I still was, I'd hire him in a heartbeat.! Thank you for listening.
Gerardo is a delight to work with. Came in to get a quote and he was very informative and patient. Definitely considering renting a unit at this location!
Gerado was very helpful. The units that I looked at were very clean.
Gerardo was very nice, helpful & very understanding.
Excellent service, Gerardo was very helpful and friendly
Clean and great storage facility. Gerardo and Nick exceeded my expectations with all my questions and concerns. Thank you guys so much! Highly recommend.
The guys were so cool to work with, even when I left a message they immediately called me back and were very helpful considering my purse and ID with a gate code was stolen. They even offered to double lock the unit just in case. I felt comfortable knowing our stuff was secure. The place is also very clean. I would absolutely rent a unit here again.
Gerardo is the best! So helpful and patient. I would for sure recommend working with him if you need any help with public storage.
Gerardo was awesome. Stayed late for us because we were stuck in traffic, and was super patient and accommodating!
This place is amazing!! Gerardo and Nick are super helpful and so is all the other staff at this public storage. They allowed me to fit a larger truck inside when moving across country rather than making me spend more money moving with multiple trucks.. large, easy to access units.. never have I had a better experience storing my furniture anywhere in LA or Valencia than this place.. keep up the good work guys!! Thank you for all the help!!
All I can say is WOW! This was our first time renting out a storage unit. The day we had to move in all of our belongings it was as smooth as ice. Gerardo was there to help and he was amazing! Thank you for all your help.
Wow how different things are. Since Gerardo came on board things are definitely better. The place is much cleaner, more organized and I like having the carts available to help me move things. I used to dread having to deal with but now it's a pleasure. The guys treat this place like it's their own rather than just being a job and it shows. Complete 180 change. 👍
I like everything about this facility. It's clean, well maintained and the staff is really helpful, friendly and professional. Thanks, Gerardo, for always being top notch.
Called in about renting, the gentleman on the phone was super helpful. Will definitely be renting here when I move!
Excellent experience here! Gerardo is awesome at his job! I am renting space here for the first time and so far everything is working out great.
Hi want to give a great review for Nick and Gerardo they were very helpful and patient with me and my friend.
We've had the best customer service experience from Gerardo the property manager. But a month later we got hit with a $105.00 bill of fees after we vacated and supposedly had 0 balance because they told us not to worry about fees, they were taken care of. Non helpful in these times of need.
It was quick and easy to set up. Thanks to Gerardo
The guys at this location are very accommodating and helpful. I highly recommend this location for your storage needs!
I have nothing but wonderful things to say about the staff! They are professional and friendly!
Employees/staff went out of their way to have help me
Gerado was very helpful and able to answer all my questions. Property was very clean and tidy. Such a patient young man. Thank You for all your help.
Omg since Gerardo has been there it's such a difference it's so much cleaner and all the light work it's great definitely work 5 stars
Spectacular service best in the business. And best price in the valley.
Very good service by Gerardo!
Muy buen servicio de Gerardo
Highly recommend this place! Kelly was absolutely fabulous! She was so helpful and kind. She definitely went above and beyond to make sure that we were taken care of. Glad they have people like her that work there.
Clean and well-maintained. Over the years I have rented 3 different units from this facility. The staff, specifically Gerardo and Itzel, are friendly, helpful, and professional.
Very helpful and courteous. Recommend this storage to everyone.
Gerardo was very thorough and efficient. Helpful with suggestions and possible needed items. Facility was clean and tidy.
Very helpful young man and very clean property
Friendly staff, and a clean facility! I was having issues with other storage places and decided to come to public storage, and was helped by this amazing staff member named Gerardo. He was beyond professional, fast, yet dedicated to helping ensure I had a positive experience switching over. He answered all my questions and helped rest me assure that my unit was safe and secure. Would highly recommend this company and Gerardo!
Nice staff, clean place, good prices, free carts to use, bathrooms to use, convenient location, but has a couple interesting quirks. Public Storage took this place over a while back and are making it better, but there are some interesting quirks they're still working on from the previous owners, like upgrading all the lighting and updating the storage unit doors. Note that the storage doors require a cylinder lock, you can't use a normal disc lock. Cylinder locks are more secure - no one is breaking in there - they sell the cylinder locks at a normal online price (from what I could find). Overall, their prices for the units and their supplies all seem quite reasonable. Unit prices "off the street" are pretty high like everything else in the valley, but if you do the online or call-in reservation, they have very good prices and deals. I had called the Public Storage "call center" and they kind of rush you into getting a reservation, but don't be afraid to tell them to slow down and tell you about all the options. I got a price cheaper than what they showed on their website. After I got a reservation, I made an appointment to come in and check it out the same day. I then said I'd come back in a week to do the paperwork because I didn't want to start renting for another week - the reservation just guarantees you the size for the price as long as the size is available. So, if they are low on stock for what you want, don't wait to rent. When I came back a week later, Gerardo helped me, he is very nice and knowledgeable. We toured the unit, noticed the light bulb was burnt out, signed the paperwork, and he then went and replaced the light bulb in my unit. All the paperwork is digital and modern (yay!). I got the unit I wanted for the price I was promised a week ago. Thanks!
Loved my experience with Gerardo and Itzel! Would definitely recommend this facility.
It's ok if need place to put your stuff!
Ms. KELLY WAS WONDERFUL FRIENDLY AND VERY HELPFUL I'M SO GLAD I CAME IN THANK YOU MS KELLY FOR ALL YOUR HELP.
Kelly, thanks for assisting me with my storage needs. Its easy to see why you receive great reviews. Keep up the great job and excellent customer service!
Maria is a people person and maintains this place rather well. I have been here for a year and don't plan on leaving anytime soon!
Kelly helped get me set up with a great unit and covered all my questions.
Kelly was very helpful & friendly. She answered all of my questions, showed me a unit that I liked
I have a storage bin and they have went up on the rent 3 times in less than 1 1/2 year. I have talked to other people who have storage bins with other companies for more than 5 years with no rental price increase. I have seen a person protesting outside this facility, these price increases. And now I'm wondering when will the price increases stop and why so frequent?
Nick was great to work with!
Checked in with Kelly and Itzel. They were super friendly, efficient and helpful. They answered all of my questions and made sure I was comfortable with the unit. Great experience and price!
Nice facility. Staff friendly but professional.
I reserved my unit online. Itzel had everything setup and ready for my move in day. The process was quick and efficient. Clean and well maintained facility.
Kelly in the front office is amazing, you can tell she knows her stuff. I came in to get another unit and as always she's so polite and great with her customers. The facility is clean and well stocked for what I needed to store. definitely recommend this location to anyone in the Santa Clarita Valley.
Kelly was amazing in helping me set up my storage. This is the first time I've had to use a storage and customer service was a great experience. The building is nice, clean, and very well maintained. She explained everything thoroughly. I came in to register and quickly she finished to be on my way. Thank you Kelly! Great job!
Helpful Kelly and Itzel set us up
Kelly was awesome and quick!!
Itzel and Kelly are wonderful and very helpful. A+++
Great customer service whenever my family comes in. Kelly in the front office is very professional and the facility is always clean and stocked. Great place to store your stuff
Kelly is awesome and very helpful every time we stop by.
They were the best. Very easy to work with and flexible. When I needed to downsize my unit, it was so easy and Kelly was very accomodating. Access was easy and I love this place. Definitely consider it when you have storage needs. Very well organized and they have supplies if needed to properly store your stuff. I would definitely use them again.
Kelly in the office was great, helped me get everything I needed. Truly great at her job.
This storage place is so nice, Kelly is a total professional, great customer service and so nice to all her customers. Will recommend to my friends if they ever need storage.
Kelly was the most amazing help at last minute notice. With too small of a unit she got me transferred and perfect unit in a flash. She was amazing help
Kelly Jo is incredibly helpful and wonderful!
Kelly in the office was very helpful when I needed new information. Great customer service..
I love Kelly and Brenda they are like my 2nd family.
Kelly in the office took care of all my needs with storage, very professional, when I was down she made it so easy. Highly recommend this place to anyone. I
This is my 2nd time renting from this facility and it is one of the best kept and operated storage facilities in the scv w the orange doors. Immediately i was helped by Kelly, she thought of everything making it so easy for me to get my stuff in and out. Great spot, close to everything else, in and out in 10 min everytime.
This is the first time my wife and I rented a storage . It was truly a great experience. Everything went smooth and easy. The manager Brenda helped us out. I highly recommend this location.
Brenda is very patient and the facility is clean!
Maria and Brenda are the best! So kind and helpful. Had a whole list of questions since it will be my first time ever renting a storage unit and they answered all my questions and doubts I had. Highly recommend this location and ask for them two :)
Kelly is so awesome. She is really good at her job. This is such a good storage unit. Love it!
Kelly in the office was a great help, quick and great customer service.
Betsi did a great job answering all our questions and help us find the best space.
Kelly and Betsi are literal Rock Stars! They were very attentive, and assisted me and my team from SCORPION with the highest level of customer service . All of our questions were answered and needs were met! 5 stars for this awesome team.
Kelly was very helpful and so pleasant to deal with.
Kelly in the office was extremely friendly and helpful in getting storage set up and adjustments made, all very easily. I must say, for one's first time dealing with storage, the bar has been set high.
I recently rented a new unit from the Public Storage at 28111 Kelly Johnson Pkwy, Valencia, CA 91355. Kelly helped me set up the whole thing and was always looking out for my interests - best deal, location, products I might need. She was so great. I can't recommend her more highly.
Have always had good customer service. Kelly was really helpful today and had a smile on her face and was cheerful throughout the whole experience.
Kelly was very helpful in all things. She was very nice and a pleasure to work with
The girls in the office Kelly and Lisette were very helpful, down to earth, and great customer service.
Kelly at the front office was such a great person to work with. Customer service was amazing the facility was clean and didn't take too long to get it all done.
Kelly went above and beyond to provide excellent service. I have been using the unlock storage for 5 years and never had a problem with the service. I highly recommend this location.
Kelly at the front office was phenomenal, bent over backwards to make sure my son had exactly what he needed when renting a storage unit. Exceptional customer service, clean facility, and sweetheart. Will definitely recommend this place to anyone coming to store.
Kelly was very helpful and nice. Best storage experience I've had.
Kelly was a great help, very efficient got us moving in in a snap
Kelly was very helpful and really made me feel comfortable keeping my things here at Public Storage.
Fabulous service, lovely staff very helpful and obliging thank you...
Came in looking for sizes and information, Kelly at the front desk was truly helpful. I definitely recommend coming to this location if you need to store.
Came in to make a payment and Kelly at the front desk is always so nice and helpful. Recommend coming and renting from here.
Excellent service. Got it done quick. Thanks Kelly
Kelly is the most amazing worker here! She is so sweet and remembered my name the second time I came into this location, would recommend calling ahead and making sure she's the one here so that you have an enjoyable experience:)
Great service from Kelly and very easy sign up.
The prices are extremely high their website in order to pay your bill is the most unfriendly site I have been on in a long time almost impossible to navigate around and you can't use just Google you have to go to Chrome. And even the local office cant take a payment from you which I do not understand the and if you call and you want to make a payment they will charge you $10 for you to make your payment I don't know how much longer I'm in a state with this company probably only another month. I will never store my stuff with this company ever again I will go anywhere but there
The ladies there, especially Kelly, were amazing. Great customer service.
Superb customer service!!!
Kelly was so helpful! Moving is always stressful, but the customer service made my experience as easy as possible. Thanks so much
I had gone into the office to get quotes on units. A woman was completely unloading on the customer service representative, Austin. He kept his composure the entire time. At no time did he address the irate customer with anything other than understanding and kindness. (Mind you, the woman was upset because her unit contents were going up for auction that day because she hadn't paid her rent in a few months). I was very impressed by the way he handled the situation I decided that I was going to rent a unit from this location. When it came time to take care of me, he was efficient, friendly and answered my endless questions with patience and professionalism.
Lisette helped us and was very friendly and informative! The facility and space is very clean.
Great experience! Austin and Lisette are awesome!
Not until after I had my stuff stolen did I find out that this is a normal occurrence here at this location. Also when I first signed up for a space they stated that they had security cameras so that I'd feel safe, but only after my stuff got stolen very recently did they share with me that the cameras are only focused on the lobby areas / elevators areas of each floor and on only parts of the driveway. So they are well aware that they have major blind spots and didn't care to share that information until after the fact. This is not a very helpful or transparent company. Also, did I mention that this happened near closing time and the person working was just in a hurry to get out of there which was very apparent. Just overall a bad and uncaring business. I think that any good company would let you know how many robberies they've had or if it's a common thing at their location and if so they should really encourage the highest insurance at least. I truly can't believe how unhelpful and intransparent this company is. I am so frustrated by his experience. I strongly recommend you go to a more secure location or one that is more upfront with their customers.
I reserved my 10 X 20 unit on Jan 30, 2019, online, came in yesterday Friday, Feb 1, 2019, to finalize and pay the initial monthly fees. Lisette was professional, helpful and patient in answering all my questions. The facilities are clean and the pathway between the outside units are wide and roomy. I'm impressed and will recommend to family and friends. M. DE LEON
Second time renting a storage space here. Secure, clean and air conditioned. Great customer service! I had trouble one day opening my door, probably due to another customer's clumsiness, and Austin rushed right down to fix the problem, checking to make sure it would continue to work properly. If I'm in need again in the future, this is where I'm going.
The manager Austin was very helpful and very knowledgeable he made my experience a lot easier!
Austin and Lizette It is always a delight to go in and make my payment. They always have a smile on the face and a kind word to say. It's clean and neat and I will recommend it to my friends.
I first had a phone call with Ruth in Santa Clarita, and she really helped me to find the right price for the right amount of storage for me. There was no nonsense, she was very straight-up with me and told me exactly what the price would be. Once we found a unit close to my house, I was served by Lisette at Kelly Johnson and she did a great job helping me find what I needed. She broke down the prices for me exactly, she walked me over to the unit to confirm it was what I would need, and she walked me through the whole process with friendliness and a kind and patient attitude. I have had a great experience so far.
Excellent experience, Austin the manager is great and very helpful. Great place to rent storage space from
Manager Austin was super friendly and made getting a unit an easy experience. The units do have air that circulates. Insurance is required at this place, but the price starts at $11/mo. As an employer, I would keep Austin, since friendly personalities is what ensures continued business success.
Austin was friendly, helpful and helped me quickly get my 3rd unit set up.
I'm a new renter. Great customer service! Lisette was very friendly, very efficient. Website was easy to use to reserve the unit. Prompt call from Austin regarding my new reservation. Clean location.
Worst storage I've seen nobody knows an answer to any questions all I get is here's the managers number price online is NOT what you pay in store the location is not cared for the gate code box is held up by a string... Choose another location this one is no good
Was able to go in and rent a unit after my scheduled appointment. Also the hours from 6am to 9pm work really well with our schedule to go in after we get out of work.
Austin was very helpful with supplies to store our items.
Very friendly staff! Lisette showed me a unit and I was in an out with no questions. She was very helpful and explained everything well!
Austin made the rental experience easy! He is knowledgeable, friendly, and extremely helpful ! The storage unit is clean and is priced just right.
Had to Check it out in person, will consider renting a spot. Also it's very close to six flags.
Austin was great. Fast, and easy storage experience.
Venessa was great and provided a superb service for me. She is a true professional.
I store my RV at this location. Very clean and reasonably priced. Lisette was extremely helpful and wonderful to work with. Thank you Lisette!
This place is excellent. The place is clean and very easy to maneuver. Austin was very informative and super helpful. He got us settled quickly before closing and still ran like a bat out of hell to get us a cart even though we had it covered. We appreciated his service.
Vanessa who helped me out was extremely helpful. She showed me two potential units and helped me decide on which worked better for me. She was very thorough and showed me all the nearby doors to my unit as well. Would definitely recommend
Can you access your unit 24 hrs?
Austin was grate and vary help full
Everything was easy and the office person Lisette was very helpful! Great facility.
clean and safe place. Austin was a great help in setting up my account here
Austin is super helpful and provides quick service. After reserving my storage unit online, he called me immediately to set up a meeting. The property itself is clean and offers plenty of security cameras for your peace of mind.
This is the first time I've ever had to rent a storage unit. Lisette was super friendly and helpful with the whole process! The location was easy to find and in a convenient area for what I needed.
So far my experience has been a very positive one! I'm still at the beginning stage (only a few days in) of my rental experience. But the customer service, tour of facility and the information provided to me was excellent. Lissette was very patient and helpful as she answered all of my questions & concerns. The location is perfect (quiet, safe, and brand new). I also observed how well maintained and cared for the property seemed to be. It is also very secure. I will add to this review once I have had the chance to be here a couple more months.
Austin was very helpful and answered my qyestions on the rate, verifying that the rate stated was correct.
Austin is very knowledgeable and patient. He is an asset to this company!
Austin showed great customer service. Very easy and fast!
Austin was great! Thank you!
Austin was great to deal with
thank you Lisette for all your help! wonderful customer service.
Austin is very helpful and friendly. Thanks!
Austin and Lisette were very polite, patient and helpful in answering my questions about the best possible storage options for my needs. I was able to find the right spot, sign up and get to business right away. Thanks!
Austin was great, very helpful, kind, funny, and polite. We looked at multiple storage places and were sold based on Austin's personality. The experience of renting was effortless, fun, and enjoyable which isn't always the case. Thanks again!
Austin was awesome and patiently answered all of our many questions. He made the process very easy to understand.
Austin is awesome. Clean, friendly and excellent customer service.
Austin was great and very helpful!!!!
I would definitely recommend this storage location. Austin was helpful and awesome. He explained everything very well. Thank you again!
Outstanding service from Austin as soon as I arrived. The facility is very clean and quick professional service. I highly recommend this public storage.
How can I change a Credit Card Number to another card?
Called over to get information regarding a rental. Spoke with Austin, he was very knowledgeable and patient with my many questions. Will be storing soon, and this location is #1 on my list.
Excellent experience by Lisette.
Fair pricing, very clean and most of all excellent service. Carly at the Kelly Johnson Pkwy. facility in Valencia was very knowledgable, friendly and efficient. She answered all of my questions and really cared about my satisfaction.
Nichole gave us 5 star service!
Excellent customer service. People very helpful and friendly. Completely satisfied
The staff (Carly & Lisette) are very professional and courteous. The facility is clean and has easy access. I store my RV here.
Love the experience . Very easy and a very clean environment
Great customer service! Extremely clean property.
Beautiful people!!! Very Helpful . I love the service
Had to get storage during a move. The lady working the front (lisette? I think) was very helpful and explained everything well. The facility itself was surprisingly clean as well. Will recommend to anyone needing storage!
I had the opportunity to get excellent customer service while leasing a rental space for the first time today at Public Storage. Maria and Carly were very nice, professional and excellent customer service. I being a former manager really appreciate when I get excellent customer service. Kudos to Public Storage, Maria and Carly! Thank you Karen Allan
The girl Carly was very helpful and sweet. She answered all my questions and was very patient. Will definitely recommend this facility to my friends and family.
Great location and very clean. Staff is very friendly!
Awesome staff David, and Casey are most helpful. They made everything so easy for us. I highly recommend this location. Would use in a heartbeat again.
Super friendly staff very polite and helpful very clean and neat storage facility
Clean, Organized, Lisette provided a comfortable atmosphere. Job well done.
How do I talk to a human at the Kelly Johnson location?
This place is well taken care of and the staff is very professional and polite. I was even in there when a customer was having issues (seemed like they were an issue themselves) and was being very rude to the staff member she was talking to. But not once did this staff person (I believe her name was Lisette) lose her cool and remained courteous and professional the entire time. Better than I would have done. After she was done with the rude customer, she was ready to answer any questions I had and was very helpful. I recommend this storage facility to anyone in the area.
My boyfriend and I were looking to rent a small unit, since we were moving and downsizing. We looked at several other places, the staff was rude and completely unprofessional. When we decided to give Public Storage a try. We talked to a girl named Carly. She was very helpful and personable. She took her time to help us understand the policies, rates, and sizes. We will definitely be referring any family and friends in the area! We HIGHLY recommend going in and asking for Carly.
I had a confirmed reservation and and appointment for an rv spot. I spoke with the store rep the day before to confirm my reservation and do I need to leave a deposit, credit card she said no its not needed, she said we will see you tomorrow. The morning of my reservation I picked up my rv and drove it to the storage facility. As I was checking in the representative told me she rented my confirmed reservation spot out last night to a walk-in customer and there wasn't anything else available. She said she did a courtesy check of the other local public storage locations, nothing was available and there wasn't nothing else she could do. I asked why how can you rent out a space that was reserved, she it was a walkin. I asked "so having a reservation dosent mean anything". She said it was a walking. So I then asked why couldn't you have called me to let me know that you rented my spot out so I wouldn't have brought out my rv. No answer. I asked for the manager, she gave me the regional managers number and of course they are only there Monday thru Friday. So I left a msg for her to call me back. We will see. I looked at the disclaimers and policies on their website nothing specific. So I'm out an rv space now I have to find another location that is close by.
Friendly staff, Good price, near my location.
Carly was very helpful in helping me choose the right size storage for my needs. In addition, she assisted me in making last minute changes to my online reservation. : )
Carly was very helpful, clear and understanding of my circumstances; would recommend renting here.
Extremely clean units, doors function well and a feeling of security. The hallways are wide and it's super easy to get to your storage. I've been to a few storage facilities and the staff at this one exceeds them all. Thanks again for getting me what I needed same day, huge relief.
This is a clean, well maintained property. But the monthly rates rise fairly quickly. Short term is a better use than long term!
Friendly staff! Thanks again Carly and alma!
The best costumer service!!!!!
Lisa in the front office is wonderful and knowledgeable. Be prepared for $11 a month Insurance feet. And a $20 key you have to buy. The carts are far away from your storage bin if you get a storage bin on the end of the property.
I was really nervous about renting a storage unit because i've never had to rent one before and I was concerned about the cost as well as it being in a safe location and the cleanliness of the unit. I'm very happy with this location and the manager AUSTIN!!! He guided me through the whole process which was QUICK and painless! He answered all my questions and made sure I got the unit that was best for me. He gave me a tour and told me tips on how I could get my things in the quickest and easiest way. I appreciated it all! He was very friendly, caring, and professional! Ask for him and he will take care of you. I'm thankful I do not have to worry now and can tell others my experience if they too find themselves in the same situation!:) P.s. The unit is very clean and well lit!
They have too many thefts. Their security is very bad and don't take responsibility for thefts. Inside jobs if you ask me. Don't use this place.
I have never had such an easy and helpful experience. Lisette helped me out from beginning to end, and she was nothing but kind and helpful. She took her time to walk through all the details and codes with me, so that on moving day, everything went extremely well. I got a great and fair rate as well. Everything is very clean and organized.
Lisette and Austin are very good workers and friendly .
The two ladies at the Kelly johnson pkwy facility Lydia & deena were very helpful and answered all my questions I would recommend this storage facility to others in need of storage
I've never rented a public storage unit before but needed one to store some boxes during the remodel of our garage. The desk person gave me some size choices and said they had plenty available. I asked how much per month and was told (And I Swear)...."We can't tell you because the price changes daily". I replied that I couldn't very well rent a space unless I knew how much it was going to cost. She responded that she was sorry it was just company policy not to quote prices. REALLY!?!!? Guess they don't need the business. Oh well, moving on.
Austin and Jonathan were very helpful and very friendly. Helped me out to the car with everything.
I came into this store to buy moving products and Lydia and lisette were very helpful and knowledgable with each product. I'd definitely come back.
Rented a space with my mother. Joann and David were great, they truly wanted to help us. They found a space that my mom could drive right up to, she uses a walker. The space was clean and bright.
Very easy to move into and the entire staff was friendly and easy to talk to even though it was raining that day.
This Public Storage is awesome!! They are very professional and friendly at the same time not to mention the place is always well maintained. I have dealt with Joanne and David and in every single exchange I have left very satisfied and happy. They have the best customer service. They returned and answered any and all my concerns. Lets put it this way when I call they take care of me, whether I forgot my code or anything they have me covered which in my business is very helpful. . Thanks Joanne and David!
JoAnn and David were incredibly patient and helpful. They took time to show us various options. We have had good experiences at the facility thus far.
We have used this storage facility for over 3 years and have never had a bad experience. The original manager we me Frinny was amazing, Jay was awesome too and the newest Joanne is great also! She helped me get the light replaced in our unit the day I reported it and Rafael, the facilities manager was friendly, kind and so helpful! My only complaint is that public storage is very expensive compared to other storage options in Santa Clarita and our rent just went up; but as far as cleanliness, customer service and presentation of the facility...definitely 5 stars all the way!
David was great a lot of help. The facility was nice to.
The guys that helped me out were very professional. As soon as I walked in, they stood up immediately and greeted me. I felt very welcomed when I was there. Great customer service!
I was there about a week ago looking for a storage space. The 3 guys that helped me out were awesome! They gave me a review card and wrote their names on it: David, Jay, and Miguel. Great customer service, would highly recommend!
Milan and Jay are always running around helping everyone or cleaning something. Spotless bathrooms and grounds. Super friendly people who genuinely care about customer needs. They both have personally help me out on several occasions. Thanks guys.
Jay and Miguel are super kind, helpful and great employees. A pleasure doing business with.
What a fantastic storage experience couldn't have been easier or better , Miguel and Milan took care of everything showed the space off walked me thru the paper work and just made it totally easy . thanks again
Excellent Customer Service!!!! Miguel called immediately to confirm what I requested and to confirm the date. Process was quick and easy. Unit was extremely clean. My unit is indoors and halls are wide and easy to access unit. Codes to enter doors are great for security purposes. Will definitely recommend location.
First time getting a storage unit and the customer service was not what I expected from a storage place, they were all great. Even over the phone Jose and Jay had all the answers ready. When I got there I worked with Jay, and he was very helpful telling me how a storage unit worked and what they offered including boxes and wrapping for glass items. Great customer service, I know I will like it.
Thank you to Jose and Melon. They made the storage rental process simple and easy. They were friendly, and helpful.
I had a great experience no fuss what so ever
Tara and Kelly were the best!
By far the best storage experience I've had. The prices were fair, the facility was clean and the service was Excellent. Amanda, Lydia & Loki were always friendly and helpful. I will definitely recommend this place to anyone!
The sign up process was quick, simple and cost efficient. The facility is accessible, clean, easy to get to and it's in a great location The staff was very knowledgeable and friendly and the only thing that I would prefer is an elevator stop for loading purposes. Other than that, it is a great place to storage needs.
Loki (manager) and the team are fantastic. I've used public storage all over the U.S. and have never been taken care of so well than at this location. The team is always friendly, greet you with a smile, and deliver unmatched customer service. While I have only been a customer for a few months, I'm sad that I won't be able to continue doing business with them as I am moving back to the East Coast. But seriously, if you want great customer service, a clean & safe storage location, and a team that genuinely cares about you and your belongings, this is the best place you can go.
Great prices and a very secure lot. Great staff, always there to assist me and answer any questions. Lidiya was wonderful and happy to help. She even called me personally to remind me my bill was due to help me avoid late fees.
Awesome customer service provided by Loki! From the first phone call to my tour, she's awesome. I signed up the same day. When it came to my move in day I noticed the light in my unit wasn't coming on, I went to the office and she immediately grabbed a ladder and replaced the bulb. Clean, easy to access and well lit.
Lydiya and Loki are awesome. The cleanest public storage i have ever seen. Must see to appreciate!
Amazing! They waited a few mins past closing for me when I was in a jam. So thankful! Very kind and accomidating!
Great service they helped us out a lot, awesome customer service!!
AJ and Loki have been amazing and so much help during my time renting here. I highly recommend Public Siorage and this Valencia location.
I have never placed any of my personal property in a storage unit before. I was very apprehensive about it. After discussing my fears with A.J and Krystal I felt completely comfortable. They walked we through the process and showed me their security features at the facility. They assisted me in explaining the policy's and completing the required paperwork. The facility was very clean in the office and inside my storage unit. Thank you again AJ and Krystal!
Great customer service from Loki and Krystal! Clean facility and good security! I'd highly recommend this location to anyone.
The people.working at this.public storage.were.very helpful...property very clean
Convenient location, clean facility, and AJ and Krystal were completely wonderful in assisting me with my storage rental - Thank You!!!!!
Clair is wonderful. The staff here is great as well
Loki and Stephanie are fantastic!
These guys - Stephanie and Joann are just fantastic. Really helpful, professional and friendly they made selecting a storage unit just as easy as can be. A great experience, and a shiny new storage facility.
The whole experience was easy and efficient. They were competitively priced and the staff was friendly and helpful. Closing out was just as easy, and Stephanie was more than accommodating. I will definitely be using this location should I need a storage unit again.
The checkin process was fast. Loki was able help me with all my questions and made sure my experience with the facility was a excellent. Thank you Loki for your help.
We had a situation and Noki and her team went above and beyound to help me, my husband was in the hospita at the time , so it was up to me and i am in a medical boot, my storage had to be moved and they really came thoough for me! I would highly recommend that facility to all my friends and family!!! Really!!! I am going to bring them a pie from Marie Calenders!!! And Joann Too! Awsome!!! Sincerely Tanya Curtis Law Offices of C. Ray Carlson
You can spend all the money in the world on facilities and equipment to make a great facility/business but the most important investment that this place has made yet was the hiring of Joann. I was uncertain of what I really needed and Joann really took the time to make sure I saw all my options and felt good about what I eventually decided on. I certainly appreciated the laughs and time we spent talking today. Would recommend this facility for many reasons starting with Joann , Location, New buildings, and the fact that they stay open till 9:00pm which was a problem at some of the locations I reviewed online. I need access after work so this just works. Thanks again ! Sean
Joann was great to work with. Answered all my questions. Very clean and well-maintained facility.