Public Storage Self-Storage Units at 6068 Branch Hill Guinea Pike, Milford, OH
Address
6068 Branch Hill Guinea Pike Milford, OH 45150
Office Hours
Mon-Fri 9:30 AM - 5:00 PM
Sat-Sun 9:30 AM - 5:00 PM
Gate Access Hours
Mon-Sun 6:00 AM - 9:00 PM
Storage Facility Features
Car Storage

Climate Control Storage

Indoor & Outdoor Storage Units

Small, Medium & Large Storage Units
Office Hours
Mon-Fri 9:30 AM - 5:00 PM
Sat-Sun 9:30 AM - 5:00 PM
Gate Access Hours
Mon-Sun 6:00 AM - 9:00 PM
Storage Facility Features
Car Storage

Climate Control Storage

Indoor & Outdoor Storage Units

Small, Medium & Large Storage Units
Close Location Details
View Location Details
---

10'x15'

---

5'x10'

Outside unit

Drive-up access

---

7.5'x10'

Climate Controlled

Upstairs/elevator

Outside unit

Drive-up access

Climate Controlled

Upstairs/elevator

---

10'x12.5'

Outside unit

Drive-up access

---

10'x15'

Outside unit

Drive-up access

---

10'x20'

Outside unit

Drive-up access

---

10'x15'

Climate Controlled

Inside unit

1st Floor

Outside unit

Drive-up access
Nearby Self-Storage Locations
Self Storage Near
4639 Eastgate Blvd
Cincinnati OH 45245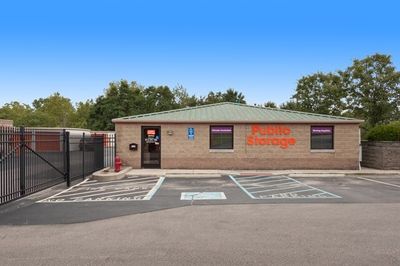 Self Storage Near
7058 Columbia Rd
Maineville OH 45039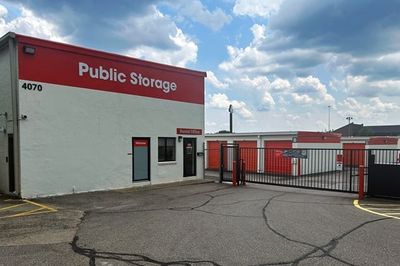 Self Storage Near
4070 Mt Carmel-Tobasco Road
Cincinnati OH 45255
Self-Storage Near Milford
Resources from the Help Center
See what fits in different storage unit sizes
At Public Storage, You'll Always Find...
Keypad Access

Friendly Staff

Month-to-Month Rent

Moving Supplies Available

Free Parking

Well-Lit Facilities
Reviews
( 183)
I prepaid a month more than we stayed since I thought we weren't going to move everything out of the unit before the first of the next month. I've chatted with customer service multiple times to try to get this resolved. I got refunded for the insurance cost but never got refunded for the price of an extra cost of the unit.
My move-in was professional and friendly. I felt like I was being taken care by a friend. It was simple and fast. The unit was clean, grounds were clean and overall it felt very safe.
Very nice facility have a inside unit there
Storage bin whatever you need in the storage bin whatever storage unit. You need there put your stuff in the storage app
Advertised price doesn't include the mileage they charge after the fact .
Great place! Staff was incredibly helpful and friendly. Definitely recommend.
Very easy to get set up. Easy access and great staff.
Nicely kept. Clean place.
That's a good and clean place, the lady who attended me was very efficient and helpful.
Shelby was fantastic helping me find the right unit for my needs.
Mindy is awesome. Always above and beyond. Thanks so much!
Shelby was very Polite to work with and made things easier definitely will come back again for my storage needs
Yes I had Gwen help me out to get a unit. She was nice, polite, repestful and very helpful in helping choice a size and all for me to move my stuff in. Great customer service. Thanks
Mindy was amazing. She made everything go so easy!
Shelby was awesome. Great customer service. I'll definitely come back because of her. Awesome job Shelby 5 stars to you🙂
Shelby was friendly and helful!! Was able to get in and out quickly and even changed my storage size when I got there! :)
Mindy was extremely helpful she helped me get boxes for my move the other week and was extremely friendly!
Shelby gets 5 stars, thanks for the help today!
I got in and out in under 20 minutes. Shelby was a great help when I didn't have much time. Thats priceless
Gwen was a pleasure to work with. She is very sweet and made the process easy and comfortable.
Gwen was great from public storage in Milford Ohio, and helped me out tremendously!
Gwen was extremely helpful and very pleasant to work with!!
Staff are friendly and nice to work with. However, climate controlled is not what happens here. Air in the summers was fine, but in the winter they keep the facility just above freezing. No electric in the units or lights in the units means they are only lit by the hallway overhead lights. It was so cold I was unable to get work done, or move Andy thing I stored there...it was too cold making my things too fragile. Calling the area manager meant I left a voicemail that was not returned. I will be moving out as soon as the weather warms. Warning....NOT climate controlled.
Ive been at the milford public storage for a long time. And mindy is by far the best employ they have. If i have any questions mindy always has the answers. Mindy has a great attitude and is very professional Thank you mindy for all you do
Very very helpful in choosing a unit and explained everything clearly. Very sweet knowledgeable girl. Gwen is definitely a an impressive employee. Will recommend this business!! Barbara Moorehead
What is the monthly charge for a 5x10 and a 10x10 space?
I wish I could detail the full extent of my experience with this particular branch, but it appears my attempt to do so exceeds the character length of the allotted space. In summary, the management is objectively corrupt, and worse, refuses to interact directly with customers (even when lawyers intervene), the staff is incompetent in just about every conceivable respect, and the security of personal accounts is tenuous at best. Put simply, an action that should have taken an hour or two at most, took more than a week and six visits to complete. No, I am not exaggerating. As a microcosm and perfect analogy of my experience, one Saturday - in which the office should have been staffed at 930am - I waited until noon for nobody to arrive. At one juncture, several other customers and I just looked at each other and audibly sighed. Pathetic is not an apt enough term for this company.
This is an awesome place for storage of excess items. We recently brought home some items after a death in our family and needed a temporary place to store it. This Public Storage facility is kept very clean inside and outside. The employees are friendly and very helpful. I highly recommend them. They have inside and outside storage rooms available
I've had other storage units where the price was the same for years. With Public Storage be prepared for your rent to be increased every 6 months like clockwork. They don't base it on their cost, they base it on supposed price comparisons to other storage units in the area.
Had to give this location a one. Buyer beware!!!!!! Terrible location!!!!!! From management scamming you into purchasing overpriced locks, from the office locking the doors during office hours, which makes you unable to close accounts out in time, so they do not charge you for the next month. Then to calling the branch to discuss these issues and having to leave voicemails that never get returned. Rent somewhere else. Shoot store your items in your enemies shed, it probably will be a better outcome than dealing with this company!!!!!!
Storage unit broken into, so many things taken. Beware, the site is not secure and not monitored well.
Mindy is very nice. Good storage place.
There is Nothing here that is $1.00 They do not replace burned out light bulbs in the storage area hallways.
Excellent location friendly staff oh and watch out for Jill
Awesome customer service. Very secure. If I ever need to store anything again, I will definitely use them again!!
I have been at this storage unit for a long period of time and have always had good service. Staff are always nice, prices are reasonable and I feel my stuff is always safe. If you ever need help I recommend going to talk to Amy if she is available.
Any was very polite and helpful explaining everything
Aimee skipped her lunch to get me signed up to rent. Thank you!
Amy did a great job setting us up and giving us all the info we needed. Thank you
Dave was fast and friendly
Amy did a great job getting me set up with my new storage unit! She was very friendly and helpful.
Great place to store your stuff great prices and amazing staff
Amy was very helpful, facilities were in great condition!
David hooked me up! Thanks so much!
Mindy is amazing! Thanks for bailing me out!
Mindy is very nice and helpful. I recommend the inside units, they are really nice.
After at LEAST 15 calls, we still have not had anything resolved. My mom reserved a storage unit for Sunday. When we got there at 3:15 with a 26' U-HAUL, there was no one there even though they were supposed to be open until 5:00pm. We waited an hour and a half while calling anyone we could. We talked to multiple people and left several messages for the supervisor. We never got a call back. We did not have a code to get in to unload the truck, therefore we had to pay for an extra day for the U-HAUL rental. Not to mention my mom and brother-in-law both had to take a day off work to unload on a Monday when it should have been finished on Sunday. Since we had to get the truck unloaded as soon as possible the next day, we booked a reservation at a different storage unit. The LEAST they could do is pay for a day of the U-HAUL rental, not to mention the 2 days of vacation time they both had to use to take Monday off work. We are extremely upset with how everything has been handled (or hasn't been) and will continue to let everyone know how poor Public Storage's customer service is until this matter is resolved.
Does this facility have storage for pick-up trucks, work trucks and work trailers? Is it accessible at all hours of the day?
Just checking prices, Dave was helpful.
This place has is nasty.. the bathroom is always disgusting!! The toilets are never clean. A lot of times either no toilet paper or paper towels the trash is always over flowing..
Public Storage's website was advertising $1 for the first month, so I booked a space. Then, when I talked to Mindy on the phone to confirm the booking, I learned that the website hadn't given that rate, but she said she'd give me half off. When I arrived from WI, Mindy had managed to get me the $1 rate, so I was pretty pleased. Access is guarded by a gate that requires a passcode. The rear doors to the temperature-controlled facility kept opening by themselves, and only one of the 2 elevators worked, but the facility was clean and comfortably cooled. There were about 4 flat carts for taking stuff to your space. I wasn't so excited that I was required to get insurance on my space... She was pretty insistent that I get a specific kind of lock for my space, which was $6 I think. I know that makes it easier for them to access a space that's way past-due, but it also makes it easier for anyone else with master keys for that particular lock, too.
I have 2 storage units here. If you get a storage unit here be prepared for them to raise the rent on you every 6 months like clockwork.
Climate control is wicked nice and clean. Mindy always remembers our names and unit number. Super nice lady 10 out of 10 would recommend
Always a smiling face in the office. Top notch customer service here.
I'm a fan! Convenient location, secure grounds, easy sign up with an iPad instead of a ton of papers to keep track of. Everything was explained thoroughly, all questions answered. Good job guys! UPDATE: Service is still top notch 1 year later. Stephany was able to save me money by suggesting a downsize with better organization. She even made sure the new unit was close to my old one.
What sizes are available, large.
Very friendly and helpful
Good facility for storage. Pricing slightly high, lighting in climate control facilities a bit dim in units.
What a relief! Right in right out. The building is clean and nice. The price is better than any other storage close by. We will come back if we need storage again. Thank you Staphanie for everything !!
Really nice climate control with the best prices in town. The ladies in the office are really nice too!
Stephany and Mindy are amazing they helped me so much. I would definitely recommend them.
I have had a relative's items in storage for several years without incident. The premises are monitored by camera and this is in a nice area with a low crime rate. Public Storage has autopay and online bill pay. The store is always immaculate when I come to pay in person. Stephany has been the office manager for years, and she is fabulous.
We have been customers at Public Storage for sooooo many years! Finally moved to another facility which was much nicer and MUCH cheaper! During the years we were with Public Storage, the roof caved in and water got on our storage boxes, Public Storage said they couldn't help with our items but they would patch the roof. Just this year, there was a problem with the door, it wouldn't raise properly but management said they were "too backed up" to fix it. (The door was rusted so badly it took two people to open it.). That was in July, we moved out in November and the door still hadn't been fixed. We have asked for some charges to be taken off our final month's billing, upper management has refused. I feel like with upper management it is all about profit and not about customer service, although the front office personnel are very nice.
Melissa took care of my storage needs. Very Friendly and helpful!
Lindsay and Stephany are wonderful! My experience at this location has been wonderful!
Mindy and Stephanie are the best. I will always use this place
Mindy was a very cheerful and helpful person! Her attitude and understanding made a not so happy event much easier!
Really fun, really fresh, really good.
Mindy was awesome!! She was friendly and very helpful. The storage facility is nice, has cameras and is clean.
I was recruited to help my daughter move because I have a truck. Mindy made this super easy. She was very helpful, answered all of our questions and made us feel extremely comfortable and confident in our choice with this location. She saved us some money by suggesting a smaller size and even helped us carry our boxes outside. Highly recommend.
Lindsey was very helpful, respectful and informative. Made the move in painless and easy. Very kind lady!
I just wanted to say Lindsey was amazing and truly fabulous. After a situation with my MIL , and having to move her from an hour away, some unfortunate mishaps, she made what could of turned into a horrible situation bareable. Thank you so much for your patience and understanding
Stephanie and Mindy were a God send! This is our first ever experience using storage spaces, they've answered every question we've had, they have been an absolute pleasure. If you need to find a space go here and ask for them by name!!!! Please please please use this place you won't be sorry!
Stephanie the property manager is excellent!
Lindsey was very kind, I've never stored anything and she tried to make it easier and helped me clearly understand everything! Thank you for your help! I would come back and would tell friends and family to come here, very good hands on customer service
Kelly was fantastic! She went out of her way to make the renting experience very easy for me. Thank you so much!!!!!
Lindsey was so sweet and helpful, I would recommend this place to anyone!
Stephanie did a great job!!!!
John was great. Very friendly. Great customer service
Used facility for almost 3 years, excellent facilities.
Just about everything had some sort of water damage.
Stephany at Public Storage is very friendly and supportive. Stephany has always gone out of her way to make sure I had the easiest spot to maneuver through. She is my bestest good friend and I really think she deserves a promotion
Not too happy about using this place. They make the offers sound great online, but once you get there and get things going, they drop a big price on you that you weren't expecting.
No electric in the storage units.
Beautiful location and a beautiful manager.
Stephanie was very helpful. She helped me find the right size unit and even a great lock.
Two units here. Mine and another family members. Wouldn't rent from anyone else. Units are good, lots of space. People are friendly too.
Its clean and maintained but I don't like the forced insurance that they don't tell you about until your signing the contract. Insurance isn't included in the quoted price but your required to purchases either way so your $64 unit is really $79 after the tax and insurance, and yes thats even if you already have your personal property insured thru a well know insurance company. Paid several months in advance when I got the unit, no discount for that but a $20 late fee (over 25% of the original rent) the first time you pay on the 7th. Lesson learned, I wont be using them ever again after I vacate this one!
Came to this place once a week for work. Always clean, not in a rough part of town, very secure and nice staff.
The indoor units are great and so convenient with the elevators and dollies on hand
Excellent customer service and professionalism from an employee who showed me prices along with some units. Thank you Jenn.
Just move to town from Florida into a small apartment and needed extra space. The climate control units are very clean and Stephany was very kind and helpful on move-in. Highly recommend this place.
Had a lovely experience at Milford Publix storage with Kaitlyn with A k I would recommend this place to anybody
Danielle was very polite and helpful.
They never answer their phone and they over charge me all the time. Even one month after I paid my bill they waited 5 day's after I paid and then they charged me again and said if I didn't pay they was gonna keep all my stuff. So I am very disappointed in this property and if I could give it a negative number I would.
Great place for storage and business solutions. As an independent sales representative, having shipping receiving options and 24 hour access is essential for my business. Stephany is very knowledgeable and always pleasant to work with! Happy customer!
Stephany G. Is super helpful
Stephany is alwaya very helpful and very friendly.
Stephany was a great help answering all our questions.
Stephany really knows her stuff. Very helpful
Stephany was very pleasant.Great to deal wth
Miss Stephanie from the storage facility is extremely kind and courteous always has a willingness to help and keeps the company very clean. And it definitely helps me pleasant on the eyes
Mel S was very helpful. Her customer service is awesome. We are unaware if our car would fit in the unit and she drove her car in the unit! I would recommend public storage to everyone. Very satisfied customer.
I recently acquired a.storage.space at Public Storage. I was particularly impressed with the help I.received from Stepheny. She really knew her stuff, and.made it easy. Thanks....
I love this location! Missy is always so helpful and courteous. She keeps her store clean, tidy and always well stocked. Thanks Missy!
Had a great experience at this store. Thanks to Missy for being so helpful!
Went into your store in Milford to by moving supplies, loved Missy so upbeat and friendly. I got exactly what I needed!! GREAT CUSTOMER SERVICE!!
Melissa Spradling you are the best. I appreciate the effort you put into making me comfortable. When you have to store things in a place you cant watch for yourself it can make you Leary. Not at Public Storage!!!!!!!!!!! The people you hire says everything about the company. And you guys at Public Storage did a bang up job by hiring Mrs. Spradling. She is friendly, courteous, and has a great smile. Thank you again for looking out for my valued treasures. From: A very satisfied customer
Stephany was great to deal with. She was able to answer all my questions . She seemed to know and really like her job. I will definitely rent from Public Storage.
Stephanie is very nice and helpful. Great to have around she has a great personality. Thanks for all help..TJ
Melissa S. Was so very polite! She was very professional and efficient. She took the time out to take care of needs I wasn't even aware I needed. She made me feel like a friend and I will recommend Public storage to friends and family.
Mel was very friendly and excellent!!
Melissa S. Was very helpful in getting me in the right size unit for best price.
Just want to say how great the service was there. Really clean, promp service. Usually when I go store my material for my job I have problems with that and I never know the right size! Luckily for me a sweet young lady named Stephanie help me. I would recommend this place to anyone.
This location has everything we needed to store. Very nice
Thank you Missy for the great customer service and for taking the time to show me the difference between climate control and outside storage areas.I didn't realize how much better my electronics would be by storing inside. I don't have much but what I have will definitely be going inside.
I came into this location inquiring about a storage space for January. Missy G. Was very helpful. She answered all my questions. I will be back in January to rent.
Wow...what a day it was. To make a turn down another path...a new start. Public storage opened that door. The most professional demeanor ive seen in a business setting. I believe her name was stephany?. I trust in public storage..thanks...Solomon lamneck
Melissa was very helpful and very very polite! I was price checking. Do believe i will be going back to rent at public storage!
I tried doing this on yelp not sure if it went through. I had a job this morning and needed tools out of my unit, I couldn't get the lock off unit. I stopped Missy as she was going into building she grabbed a can of wonder spray, sprayed the lock and the sliding mechanism on the lock worked like magic. I feel bad that she got soaked but she did it with a smile and told me to have a good day. Thanks Missy
I stopped in to get prices on a storage bin and the lady in the office, Missy, was very helpful and informative. Great customer service here.
Missy is always awesome to work with
I love missy perky attitude
Wonderful experience. Pam at public storage was a huge help and went above and beyond to meet my needs. I will definitely come back to this location for my future storage needs.
MISSY GAVE Great customer service, informative about lease rate and my unit.
Missy was kind & extremely helpful. Made multiple attempts to connect with me about a unit. I would definitely share my experience with others.
Missy great customer service
Wanda was wonderful very sweet and helpful miss her
Very reasonable rates. Excellent service.
Missy was a great help!!!
Very knowlegeable and customer service oriented
The people that work here are very nice and very customer friendly. This facility is clean and well cared for, I have had things stored in this location for many years and never worried about the things I have here.
Units are a great size and price. Any issues that came up, Wanda was quick to address. We have used this location several times and never had any real issues!
My mom and I went into public storage to get a smaller storage and Missy was berry helpful and very nice
The price and some of the front desk workers are good. Maintenance at the place is lacking. Drywall ceilings are falling apart and onto your stuff. Corporate will not contact you about any issues you bring up. Snow removal doesn't happen, so good luck in the winter. Saw multiple units with drywall problems. They did get me into another unit, but I never had any luck with getting a reimbursement from drywall falling on my car.
I had a great experience with Public Storage! As a long time customer (over 5 years) I never had any issues. Wanda was so nice when I first signed up for my unit and Missy was very kind and helpful when I closed out my account. Thank you, Public Storage!
Never done this before. Took the time and made things comfortable.
Great storage unit pricing; clean facilities; Tariq was friendly, helpful & professional!
Great service. Easy access.
Wanda was a professional, she explained everything well, and also gave me a tour of some units to better help me find one that suited my storage needs. I highly recommend Public Storage, thank you very much!