Public Storage Self-Storage Units at 5491 Westmoreland Plaza, Douglasville, GA
Address
5491 Westmoreland Plaza Douglasville, GA 30134
Office Hours
Mon-Fri 9:30 AM - 5:00 PM
Sat-Sun 9:30 AM - 5:00 PM
Gate Access Hours
Mon-Sun 6:00 AM - 9:00 PM
Storage Facility Features
Boat Storage

Car Storage

Outdoor Storage Units

Property Manager Lives On-site

RV Storage

Small, Medium & Large Storage Units
Office Hours
Mon-Fri 9:30 AM - 5:00 PM
Sat-Sun 9:30 AM - 5:00 PM
Gate Access Hours
Mon-Sun 6:00 AM - 9:00 PM
Storage Facility Features
Boat Storage

Car Storage

Outdoor Storage Units

Property Manager Lives On-site

RV Storage

Small, Medium & Large Storage Units
Close Location Details
View Location Details
---

10'x20'

---

5'x10'

Outside unit

Drive-up access

---

5'x15'

Outside unit

Drive-up access

---

10'x10'

Outside unit

Drive-up access

---

10'x15'

Outside unit

Drive-up access
Nearby Self-Storage Locations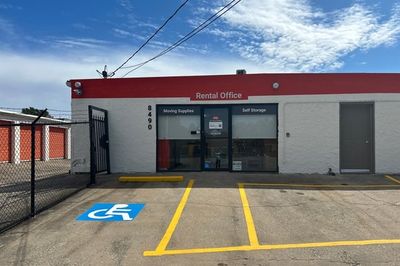 Self Storage Near
8490 Duralee Lane
Douglasville GA 30134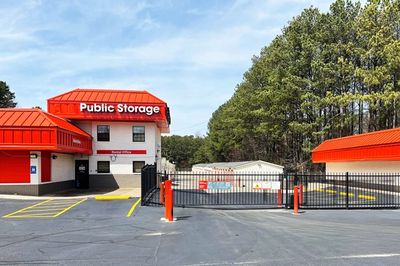 Self Storage Near
3313 Highway 5, Suite F
Douglasville GA 30135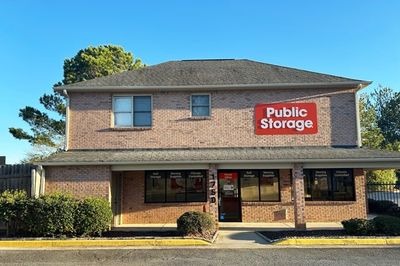 Self Storage Near
1750 Oak Ridge Road
Austell GA 30168
Resources from the Help Center
See what fits in different storage unit sizes
Douglasville Storage Units Near Tom Murphy Freeway
Public Storage in Douglasville is an easily accessible self storage facility with cheap storage units to help the busy Douglasville community stay organized.
At this location – directly north of Interstate 20 between Fairburn Road and Burnt Hickory Road – a large selection of outdoor storage units in various sizes is waiting for customers, along with vehicle storage spaces for cars, trucks, boats and RVs.
With Deer Lick Park just across I-20, a 5x10 storage unit is a great place to keep sports and recreational equipment all together for easy access to, and from, the park.
Residents in the apartments along U.S. Highway 78 can use a 10x10 storage unit to hang on to an old bookcase, sofa, coffee table or even a refrigerator when bulky items need to be moved out of the way at home.
Homeowners throughout the northeast side of Douglas County will love the space inside a 10x30 storage unit whenever it's time to remodel a kitchen, add a second story or renovate the entire home.
A property manager lives on site to provide customers with some added peace of mind when storing personal belongings here.
Roughly 20 miles outside of Atlanta, the population of Douglasville has tripled over the past few decades as more and more folks try to find a little extra room to live, work and play in the greater Atlanta area. When too much stuff starts to get in the way, head over to this Douglasville Public Storage with small storage units and large storage units to tackle any size load.
At Public Storage, You'll Always Find...
Keypad Access

Friendly Staff

Month-to-Month Rent

Moving Supplies Available

Free Parking

Well-Lit Facilities
Reviews
( 367)
Chanel was awesome and walked us to see the unit and explained everything! Thank You
Fantastic! Chanel made renting my storage unit fast and easy. The process was uncomplicated and I'm very much pleased with my service! Thank you
Ms Chanel was fantastic!!!
Exceptional customer service!!! The property manager Chanel was very kind and helpful. She gave me a smooth experience during a difficult time.
Had a great experience The employee Chanel was very friendly and helpful.
Ms Chanel was very helpful , I will recommend this location because of the service ..
Ms. Chanel was awesome , ive been storaging at this property for 2 years and i must say publicstorage westmoreland came along way she brought life and light to this property !!!
I recently had the pleasure of dealing with Public Storage, and I must say that the level of customer service provided was nothing short of exceptional. From the moment I inquired about the storage services to the day I moved in, the entire experience was smooth, efficient, and tailored to my needs.
Chanel was a great person to work with, very professional, helpful and respectful. I would definitely recommend this location
Best service I ever received
Chaneal was extremely helpful and had a wonderful personality. She made the experience easy swift and I came in a bad mood but left with a smile
Chanel was very patient and helpful thank you
Chanel. was great! I love the app she help me download it on both of my phones. Very convenient definitely beats competitors!!!
Love the management here! Chanel is amazing and goes out her way to help all the customers with a smile! Definitely will recommend anyone to visit this location!!
My experience was amazing I can be a handful but Chanel No she went over and beyond she is an amazing person who knows what she's doin ……..
I was assisted by this Young Lady Chanel her customer service was great she had everything broken down into details to where I felt secured to store with this location I understood everything she was explaining she also told me about the app but I was more interested in coming in to get assistance and she was able to help.
Prices are ridiculous and they always increase for no reason. Do yourself a favor and public storage!
Carle was great! She made sure j understood everything!! Will recommend to everyone.
Carle was very helpful and made the moving process super easy glad our company choose this location! Thanks again Carle for the hospitality.
Carle service was amazing!
Niesha was outstanding and had great knowledge on the process. I will definitely recommend you all
Carle was very nice and helpful by giving me the best service for my needs.
Gave 4stars due to CARL'E .. She was upfront & honest with pricing. She was and is very polite. & customer service friendly. She is the ONLY reason why I continued with getting the unit. She needs a raise & promotion. She the type of person Public Storage needs . THANKS Carl'e for the help
Jam was the best she helped me alot and was very nice respectful and polite. I would recommend this place to everybody that I know
She came right just in time thank you and she was a good host
Unexplained doubling rent in 8 months. Door was difficult to open. Partial collapse of the ceiling.
Chloe was absolutely great!
Great Storage and Good People
I wouldn't go to a different place to handle my business even if i wanted to,, this place definitely has me hooked!🤣 I love the customer service here and the way things work! Big shoutout to chloe brown she's an awesome employee,, really helped me with my issues over the phone,, thanks much!
Chloe was very helpful with me! She was patient and nice. I was so glad to have her help me!
Chloe has amazing customer service and is very polite. Gave me all the information I needed.
Chloe was awesome. Poor thing can barely type, but was absolutely amazing. Great customer service, she made it painless and easy.
Chloe Brown the property manager has gone above and beyond to assist with someone on disability and being able to afford and keep all memories located at the same place for the past 6 years and has given me phone numbers due to a second increase within 3 months for this to speak with the parties involved called We Care in order to see if we are able to review my case as I already had negotiated the price for the year 3 months ago on my rent increase with my district manager and office manager. some people are strictly business this young lady has business heart and I sincerely appreciate her
I've been with public storage for some years now.And honestly I have never noticed a change until Chloe arrived she's so wonderful at cutting off locks. Positive attitude and always smiling. Love having her around.
Chloe was very helpful and extremely professional and helped me with what I needed. 10/10 would recommend.
Thanks to Chloe we were able to find the perfect storage space. She was very knowledgeable about everything she was telling us. I would recommend to anyone who needs a storage in the area!
Choler the representative for public storage customer service was great. She gave us valuable instructions and information so we can continue our storage with this company.
Always helpful and friendly
Very easy and to work with and very nice and professional! Thank you Chloe!
She was amazing and very nice , thank you so much
Chloe was amazing helping me today ! Deff will refer more of my co workers to ur storage thanks agin for all ur wonderful help Chloe! -Kennedy
Love it here and ty Chloe for always being helpful and always being on point on helping me with all the questions I ask
Vey clean very organized was refreshingly surprised to see the care they take to make sure everything is locked and even saw her hand washing the doors next to mine to clean them!!! I forgot to lock my storage unit and was called and reminded to lock it
I have been a customer at this facility for many years. I have experienced rudness by the workers, not following through with problem solving, property was dirty and trashey but the rates keep going up. If is refreshing to see clean grounds, follow through on problem solving, and a customer service representative who is easy to do businesss with because of her positive attitude and listening skills. GREAT JOB!!! Dan C
I went there earlier and this girl (i think chloe is her name) is very friendly and professional. She helped answer all my questions and I feel comfortable going back to her if I have more.
Chloe was very professional and nice with my rental process. She was also helpful to me around to my rental space. Thank you Chloe
Chloe is an awesome salesperson, she was helpful and through. She is a professional. I rate her as 10 out 10.
Chloe is absolutely wonderful, there wasn't a question that she didn't have an answer for! Great worker and very nice!
Had a few questions about this storage unit and how it all works and the price, Chloe I believe her name was, was very informative and helped me get the information I needed. She was also so sweet, great customer service. Would highly recommend you to ask for chloe when you go.
Working with Chloe were very professional and great custom services
Chloe was extremely helpful, great service! Every time I go in shes there, thank goodness, because I couldn't imagine getting help from any other employee. Surprised she doesn't own the place from how knowledgeable she is about the company. 10/10 just for her
I can't just say Great service! Property manager, Chloë was amazing! If I could give 10 stars I would!!! This location is HIGHLY recommended. ❤️
Great service and space. Along with the property being clean, the customer service was excellent with Chloë's service. She was extremely helpful and the unit is perfect. 10/10
I am well pleased with the customer service I received from Cloe. The property was clean the units are well kept and she was very kind and knowledgeable thank you for great service.
This location has such helpful employees i'd ask for chloe she was very helpful and made the moving process much quicker
I had Chloe brown she was amazing her hospitality was 10/10 will recommend her to my family and friends never had such a easy transition to storage and it's all thanks to her
Had the best experience with this location for my storage needs. I would recommend to ask for Chloe; she was very thorough and so very helpful. Will stay with them for a long time.
Very helpful and friendly staff.
Trakita is very professional. Quick and easy process. Highly recommend location.
Trakita was very quick . Answered all my questions very knowledgeable. Highly recommend location.
Trakita has very great customer service. She was quick and very professional
Trakita is very professional. I have been storing at this location for years . The property manager is always so kind and helpful. Property is very clean , highly recommend this location.
Trakita was great. Quick and easy process
Trakita was very helpful, she helped me from her location. She saved me money , and was so sweet. Excellent customer service highly recommend
Me and my wife scheduled an appointment to come look at two different sizes and was going to rent one of them right then. When we got there at 2 in the afternoon the lady working there was so extremely rude to both of us that we couldn't even think about giving them our business. They seemed like they preferred to not even deal with us.
Trakita was very polite. She was very helpful and I left from Duralee upset and needed a second unit because the guy didn't show me unit first. Trakita was very professional and informative. Should have came here first to Westmoreland location.
This place is horrible. The customer service is literally nonexistent. EVERY time I come here, there's no one here. Just came to make a payment. They want my money, right? Or do they? I show up at 2:15 pm. Sign says be back at 3pm. Okay. Not cool when they should be open per the website. I waste 45 minutes. Come back at 3:05. Sign has been changed to 3:30pm. What? I'm trying to give you money!!! It has been this way for the last 3 months. EVERY time. 9am. 12pm. 2pm. 6pm. Any and every day. I'm passed. Get it together please.
Trakita was wonderful. 10 out of 10 . Highly recommend location.
Trakita was very knowledgeable and professional. She helped me save money and was very polite in my time of need . Highly recommend her and this location.
Trakita was very professional. She recommended me protection for my property and process was quick.
Trakita is awesome, helped me and was very professional. Highly recommend location
Trakita is awesome. She made move in easy and quick.
Trakita was outstanding. Quick and easy process.
Trakita was amazing ! Quick and easy process
Trakita is such a good property manager, she has the best customer service and is always trying to help in anyway she can. I highly recommend her and clean property
Trakita was so great, I walked in with an issue and she solved my issue . Very prefessional and nice . Highly recommend location.
Trakita is very helpful she helped me save money and really cared for my needs. She is such a sweet soul.
Trakita is excellent customer service. She was patient with me and made sure I understood everything. Very clean storage facility. Highly recommend her and location .
Trakita was very pleasant and knowledgeable! She made my move in quick and easy.
Somer was very nice and knowledgeable. Thank you.
Trakita is very professional and knowledge. She went above and beyond for me .
Trakita the property manager was absolutely the Sweetest Person that I've had the pleasure of doing business with in a while! This young lady was VERY Professional, considerate of my time and made the process of renting a storage unit easy!!! I wish there were more people like her!!
Trakita was excellent just like her reviews. Very clean, quick and easy process.
Ms. Somer was nice and helpful, thank you.
If you get a storage building for a 1dallor the first month your going to be paying about 60 dallors they make you buy the lock for 21 dallors and they make you get insurance I'll never get a storage building with them I went to another storage building about 2 miles away and got one for 40 dallors a month and I didn't have to buy a lock and get there insurance
Trakita offered great customer service and storage advice which helped me save money.
Trakita was awesome. Great customer service.
Trakita has the best customer service ever, she listened and was very caring. She recommended me merchandise to protect me things. Highly recommend location.
Very neat. Great customer service. Thank you Trakita.
My storage unit door came off track, and I had a hard time getting into my unit because the lever was sticking. There was a brief misunderstanding, and communication issue, and I decided I wanted to cancel my storage unit and left. Trakita was very helpful, and had awesome customer service which is why I rented the unit to begin with over a year ago, so I was so lost. Trakita called me after I left to see if there was anything she could do, and I explained how I was feeling, and why I wanted to cancel my storage unit. She apologized for the miscommunication, offered some suggestions and went above and beyond to keep me as a customer. I appreciate her willingness,and effort to keep her customers satisfied. I was able to move to a bigger storage unit for the same price. Trakita is definitely the best storage unit manager I have ever dealt with.
Trakita was very quick and pleasant. Clean location .
Trakita is an amazing property manager. Clean location
Trakita is very knowledgeable and quick. Helped me with smile on her and recommended merchandise. Very clean location.
Trakita is very, helpful, very informative, very patient. Very good prices for clean storage . Overall very good experience. Highly recommend.
Trakita was quick and professional. Recommend clean location.
Trakita very professional and quick. Recommend clean location.
Trakita is very helpful. She really cares about her customer needs. Very clean location and make sure you ask for Trakita. Best customer service in Douglasvillie.
Trakita was very nice she was patient and showed me different sizes to help me decide what I needed. After the bad experience I had with Uhaul she made me feel better and helped me secure my things. Great prices and super customer service. Highly recommend location.
Trakita at Public Storage was such a pleasure to work with! She was efficient and so informative... I'm so glad that I chose this location..
Trakita goes above and beyond her duties to help her customers. She is such a helpful and sweet young lady. Clean property and very great customer service. Highly recommend Public storage.
Trakita gave us great customer service
I've been calling several storages in the Douglasville area and I came across this location. Not only is there's lots of good reviews but the young lady Trakita that assisted me was very very sweet and professional. She answered all the questions I had and was very knowledgeable of her location. This location is really nice, clean and welcoming. I normally don't leave reviews but this is definitely how I found the location with good reviews. Thanks Trakita and public storage
Trakita was professional and knowledgeable she helped me smiling the entire process
Trakita is very good at her job. She is so warm and welcoming. After a long tiring trip she made my move in very easy. She needs a raise ! Thank you for the lift off my shoulders . Highly recommend location.
Trakita is amazing . Clean property!
Trakita was amazing. Very fast and simple process.
Highly recommend clean location.
My experience with public storage was simple and quick.
Trakita is really sweet and made the whole process super simple! Definitely recommend! 🤗🤗
Trakita has excellent customer service. Walked me through everything and offered me merchandise to protect my belongings. Would recommend clean location.
Trakita gave me the best service ever . Moving from out of town and not knowing Ga. She walked me thur everything and was so pleasant. I would recommend her and location.
Trakita is very warm and knowledge of job . She helped me with a smile on her face during these hard times. I would reccomend her and location. Very clean location.
This was my first EVER STORAGE EXPERIENCE IN MY LIFE. I didn't make it a month. The second trip that I made to this facility and the door was messed up. I was told that I would receive a call back (so called property manager) when it was fixed(almost a week). I called today just to check and the young lady says I didn't call you because it hadn't been repaired. Foolishness. When I said I'm coming to get my stuff and don't want it, the girl calls me back to say it's fixed. No thanks my dear, customers have too many options for the run around.
Trakita was amazing, she was really friendly, knowledgeable and upgraded the size and sweet.
Trakita was extremely helpful. Great customer service skills
Trakita was excellent. During this hard times she made me experience quick and practicedsocial distancing at the same time .
Beverly was so helpful. I wasn't sure if was going to be able to rent anything this weekend. But she was great!!!!! Thank you so much Beverly
Customer service the agent was rude do not go to this location
Trakita ..... She was very helpful and respectful.....
Trakita she was very helpful and took me step by step !!
Trakita is simply wonderful!
Trakita has been extremely helpful.She told me how to arrange my items and it worked for me.
Trakita was kind and very helpful with finding me a unit.
Trakita, was very professional and full of life. If I had to do it all over I would ask for her assistance. I highly encourage anyone who is looking a place to store their belongings to choose to work with them. Public Storage in Douglasville is a for sure go to spot and when you're there ask for Trakita! I'm so glad that I chose them.
Trakita has very good customer and recommended me merchandise to protect items. I would recommend her and location very clean property .
Trakita is very professional. I love this location and had the pleasure of meeting Genecis she helped make my move in smooth. I highly recommend this location.
Trakita was very helpful and very informative of what I was paying for.
I decided to switch for Uhaul to Public Storage after dealing with unprofessional and expensive Uhaul. Trakita made the switch as easy as possible. She answered every question before I was even able to ask it. She was a joy and extremely friendly!
Trakita was a great support here at Public Storage.Helpful and friendly
Trakita was great help at public storage
Trakita she the best Customer service Representative I have ever Dealt with!!!! She's a Keeper!!!!!
Trakita was very patient, kind, and helpful throughout my entire experience. Definitely a great place to take your business!
Hello Today I was graced with a very nice young lady by the name Shalanda. And she was so helpful and she's really Great! Thanks! Shalanda 😃
Trakita was very helpful and quick . Nice location.
The new Property Manager Trakita was very friendly in this raining weather and got me in and out. I would reccomend her and this location. Very clean.
Trakita was professional and had everything ready for me and was able to answer all me questions. Thanks for the great experience
Simon did a great job helping me on today
Came to location to ask questions about storage Manager Jenny was very helpful and great customer service.
Jenny was very nice and helpful and saved me a lot of money.
Jenny was very helpful and explain everything very clearly. She was very professional
Jenny was really helpful and great to work with.
Jennifer B. Was great, informative and personable, very nice, very pleasant experience
Jennifer was a great help. She has a great personality and greeted me with a smile and wonderful customer service. She made my search for a unit smooth!
I came to look for a unit, I'm in the process of moving. Jennifer B was extremely helpful in helping me find what I was looking for. I will definitely be back with my services.
Jenny was excellent and very efficient. She deserves a raise.
Jennifer really did help me get the storage unit I needed for me and my family. After moving from another state she made my day awesome! Words can't not describe the way this young lady help us. I want to say Public Storage Management you have an really good employee. Satisfied customer 😃
Great customer service I was having a problem with my door on my unit and Ceddric came right out to help me and held the door up for me while i got my things out Great Job!!!
Ceddric was an excellent salesman!
I was referred to this property by Ms. Bev who is the property manager at the Highway 5 location in Douglasville and her and Jenny, the property manager at this location were both super sweet and came through for me in a pinch. It is so refreshing to know that this level of kindness and customer service still exists! I just met them and they feel like family :-)
Great customer service very patient and caring will recommend to family and friends
This public storage haves good services. The people who works there are very friendly and helpful!
Jenny was a very pleasant been working with her for years. Will recommend this place to Family and friends.
Customer service amazing. Great deals too.
Amazing value. I can't complain.
Treaunda Lee was extremely considerate and helpful in what is usually a stressful situation. Would definitely recommend.
Everything was okay until I went to get my stuff of of this storage unit after it's been sitting for a year. Rodent feces EVERYWHERE (disgusting)... The rodents destroyed some of my items that was in this unit and I still haven't heard back from the manager Patrice. The insurance that we pay is only worth $250 of coverage for Rodent damage so I'm waiting to here back from Public storage to see who is going to pay for the damage to my furniture minus the $250 that the insurance company paid.
There was a mice infestation in my storage unit (Doraville, GA), as a result, we will no longer be able to keep our stored items. To date, no one from Public Storage has attempted to rectify the situation despite our countless attempts to contact them. The insurance we have covers only $250 of vermin damage. Our storage has over $5,000 worth of furniture that we can no longer keep due to the infestation that has occurred! DO NOT USE THEM!!!
Wonderful customer service!! Jenny goes above and beyond making sure her customers are taken care of! She's the best thing about this place!
Great customer service from Jenny will recommend to family and friends
Jennifer Was simply great...highly recommended.
Jenny was extremely helpful, kind & very knowledgeable of the services provided.
Trakita gave great customer service and sold us products for our storage
Great customer service from Trakita.
Trakita is very professional , I love her work ethic . She called me twice to get me in. She explained everything in detail and was able to honor the price I was promised. I highly recommend this location and her .
I visited the Westmoreland storage facility and was very impressed with the professionalism, helpfullness, and product knowledge of Jenny, who happened to be at the front desk assisting me with securing a unit. I would recommend any and all persons who are looking for storage units to see Jenny at the Westmoreland location. Thanks.
Trakita Cruse is a nice and professional clerk to work with during my check in for a new storage unit. She explain everything and answer all my questions. Trakita made the process easy and fast. Just a pleasant young lady. I would recommend anyone base on her excellent customer service. Keep up the good attitude and work Trakita!
Jenny was fabulous and very informational on helping me select the right size storage I needed. I had no clue of my needs. She asked the right questions to help make the right decision. Thanks Jenny!!!
Great place to put ya things for safe keeping
Very good place to rent. Clean and professional
Unfortunately, they have rodents as well as my units roof leaked through and they wouldn't even give me a couple of boxes to put my things in. Unfortunately, this ruined my whole experience.
Experienced great customer service , lady name was jenifer ! She was very helpful and respectful
Been storing with Public storage for years . I would highly recommend this location and Trakita has the best customer service ever !
Great customer service from property manager
Very friendly service great sta staff
I love the customer service that Mrs.jennifer provided!
Trakita was amazing! She was very knowledgeable and helpful to my husband and I. We will definitely be coming back here when we need a storage building again.
I would not recommend this location even to my worst enemies the customer service is horrible it's in a very bad location a difficult to get to several of the lockers or kicked in and when I try to alert the staff of the damage to the facility the staff member made me wait since they were not open yet at the time for almost 15 minutes just to let them know of their damage the girl kept saying we are closed very rude on the phone two customers who are trying to pay their bills this location lockers and units are prone two leaks and damages avoid this location at all costs if you must use a public storage location the one on duralee Lane is a much better and friendlier atmosphere the lockers there or even cleaner
Trakita Cruse.... Great job....
Trakita Cruse was very helpful and professional
Great service from Jenny at this location. She even offered to sweep out my storage for me after I moved to a larger one. Good Job!
Hi Jenny is the BEST EMPLOYEE EVER YOU COULD HAVE HIRED. SHE IS FAST, FUNNY, & FABULOUS! PROMOTE HER!!
Trakita Cruse was very honest and knowledgeable about everything
Trakita was so nice , she gives very nice customer service and was very knowledgeable of her job. She made my day because her service was so good and she all so made my move in smooth. Rent there she is awesome!!!
The manager was very professional and courteous. Extremely informative.
*MAJOR RODENT ISSUE* Do not rent here! Found evidence of rodents in my unit. Went to management first and filed an insurance claim. Turns out the $3k in insurance they require you to have only covers $250 due to rodents. Oh don't forget the $100 deductable! Property manager said they have had a MAJOR rodent issue for over 7 months now. They have pest control coming every 2-3 days but clearly it's not enough. This is a major health issue not to mention, rodents chew on furniture & belongings! While their staff made promises that I would get reimbursed the $3k, insurance says $250 cap. Horrible facility and management! Only rent here if you are storing less than $150 of valuables because that's all you'll get. Additionally, there was an ant issue. I bought spray too get rid of them. No big deal. Their security gate was broken and open for over 5 weeks. Now it's "fixed". You don't put your code in to get out, you have to push it just right in the right direction to get out. So what exactly am I paying these people for?
I was in need of a storage unit and I originally went to the location on Hwy 5. The rep there Ms. Beverley was very helpful. She did not have a unit available so she called around and found me one at the nearest location. When I arrived Miss. Trakita was very nice and helped me to get a storage unit at a great price. Thanks for all of the help!!
Trakita Cruse is very knowledgeable at her job and was very helpful. She made my moving experience smooth and easy
Trakita made it a pleasant experience. She was aswesome!
Great customer service from the staff. However, this location has a horrific rodent problem. I hope this problem is rectified very soon.
Great customer service!!!!!
Love public storage!!!!!😁😊❤️ Excellent customer service!!!!!!👍 Jenny is the best
Great fast and perfect service
This one is the worst, nasty attitudes unprofessionalism things missing at your strange
My unit was auctioned on 01/18/2018 without my knowledge. According to public storage website items in the unit such as personal documents and pictures are to be returned to me. In my unit I had tax documents containing my personal info, copies of id and ss card and many family photos. I've left voicemails about having these items returned to me and haven't received any call backs. I would really like to have these items returned and have my info given to the individual that purchased it so I can discussed possible return of some other items. Please let me know if the info on your web page is correct and if it's possible to give my info to the purchaser. Also yesterday I posted on the page and it appearsmy post was removed. What's the deal with that?
Great customer service! Crystal was very knowledgeable and helpful!
Crystal was sweet very helpful and funny I enjoyed her energy and how fast she got everything done.
Ty was very nice and extremely helpful I know I'm going to enjoy my lease here
Jenny has great customer service got two units with her and she was so patient with me. Shes a great manager
Jenny is absolutely amazing!!! Customer service is outstanding!!!
Mrs. Jennifer had great customer service and the price of the unit.
Great customer service from jenny
Jenny is awesome very helpful!!
Robin was so helpful. She's just so nice and I could talk to her all day.
Robin was very nice and friendly. She always has a smile on her face and she definitely knows what she is doing.
Melissa is wonderful and knowledgeable. The facility is clean. And overall the best place I have ever used.
Good costumer service Britny and chasity were great unit was just right for what i needed
Brittany provided excellent customer service!
I have been trying to get a smaller unit for months now. Cassidy was patient nice kind and helpful. She checks on me while I'm at my unit. She helped move some things to save space. She's a friend of mine not just an employee. Thanks Cassidy you're great!
Chassidy is a good manager. When we moved in she was friendly and she remembers our names. My fiance wanted to open new storage but I say we stay. Good management and it's clean.
Very pleasant and helpful staff.
Customer service was great, Chasidy was very helpful.
I was only suppose to be here for a month but I'm glad I stayed. Chasidy is nice and greets me by name. Keep it up!
I would have to say that the onsite attendant Shannon's customer service was the best thing about my Public Storage experience. Anything less than perfect customer service would've ruined the day completely but I was fortunate enough to be assisted by Lady Shannon who couldn't have picked a better day to provide customer service as it should be.
Chasidy is a great manager. She helps beyond her job duties. She's great.
Chassidy is a good manager. She smiles and knows about storage! 5 stars!
Great manager always friendly and helpful!
I came here and chasidy is great! Just got another space!
Chasidy is a great manager. She's friendly and professional. I will never rent any where else! 5 stars all the way!
Chasidy is a good manager she is friendly !
Chasidy was amazing she exceeds 5 stars.she has a great personality and she was very helpful !!
Chasidy is always friendly and professional.
Chasidy is a good manager! Clean place
Awesome service. Very friendly lady.clean
Chasidy, know all her customers by name which gives me a great feeling that my property is in good hand. All my concerns and questions never goes unanswered. Rules and regulations will be followed or you will receive a call and I know because I'm guilty of not following the hours rules and I received a phone call the next day to inform me the importance of following the property rules. Keep up the good work.
The associate was engaging, friendly, professional, detailed and very clear with the entire process which made my last minute situation run smooth, and not once did she complain about anything , she definitely accommodated me once the call center emailed my info...she was very friendly on the phone especially with giving me directions, this was my first time renting....she was awesome, Cheryl H
Quiet area with trustworthy staff. Chasidy was so helpful and was very thorough about what I needed to know. I would 100% recommend this location.
The service that I received was better than I expected. Chasidy is a wonderful representative and asset to your company. Five Star*****! Thanks
Melissa the property manager did a fantastic job!
Melissa has wonderful customer service. Awesome personality and extremely friendly. I felt well taken care of.
Melissa was very knowledgeable about all my questions and concerned very nice!
Melissa really gave me a pleasant experience and showed me great customer service.
Melissa is a very sweet and caring and understand person. She always great me with a smile and and ask me about my day and may me feel welcome.
Melissa Was the nicest lady and very helpful, Thank you so much!! I got exactly what i needed!!
Melissa Lindley was absolutely outstanding. @ store 28137
I went in to the store last week with my sister to pay her balance. Although I'm not a customer YET, I mentioned to the Property Manager Melissa that I was moving back from TX in a few months just in coversation. She was so friendly and funny. She gave me so much good information and invited me back to her store. Melissa, I will definitely be using your store for storage purposes when I move back home. Thank you for your amazing service!
Public Storage is Awesome!
Melissa the Property Manager was fantastic!!!
Melissa was so sweet too us an she did a great job for us thank you Melissa
I came into my favorite location today and paid my bill, I had the opportunity to meet the new property manager Melissa and she is just so delightful!!! She made my day with her smile!
Melissa the respresentative was wonderful. Definitely get a unit here, and come see Melissa she's great!
Avia helped me to decide on the best size of unit, based on the items I will be storing. She was very professional and knowledgeable regarding the storage unit policies.
Melissa has been so helpful! She made my entire storing process quick and easy to understand! You're definitely getting a great person if you're working with Melissa!
Melissa is amazing at her job...the customer service she gave is exceptional...this Public Storage had all my business from now on
Felicia was very nice. Help out A lot answered all my questions. I will always come back here. To be honest this my 3 time coming back.
Luv this location Felicia is Amazing...nice prices very friendly customer service
Felicia is amazing, I love this public storage. I wouldnt go anywhere else.
Great service from the phone rep to Felicia who helped me out. Highly recommended.
love Felicia and this location..best storage facility prices are Amazing and Customer Service
Felicia is awesome!! You rock!
Felicia is very nice and friendly! I love her! I have had my storage here for about 3 months now and they are very helpful here and they also do courtesy calls to remind you of when your bill is due. It's a very secure storage and I haven't had any problems. I highly recommend!
Melissa was extremely personable and professional. We're off to a great start!
Felicia has excellent customer service...
Luv the facility Felisha did great customer service a plus
luv this location Felicia is amazing
it's awesome Felicia rocks ! best person ever ! wouldn't want to have my stuff in any other place !
liz was AWESOME...... Whole STAFF was!!!!!!!!-
Felicia was very helpful and has a very pleasant personality. I would recommend anyone to drive out of there way to use the Westmoreland Plaza facility because of her service and the maintenance of the facility.
Wonderful experience. The property manager was very friendly and offered every product they had available. Great customer service!
Amazing customer service. Felicia is the best
Felicia has excellent customer service love this storage location....my stuff feels secure
Love this location and Felicia is awesome with customer service...
Felicia was very cool and helped me alot. LOVE her!!!
Felicia was very personable and professional. Great experience.
Felicia She was the best.
Been using them for years. Always satisfied. Actually sad about moving out today :-( Thanks for everything Felicia!
Felicia was excellent. She answered all questions and provided me the exceptional customer service.
Loved being at Public Storage with Felicia! She is wonderful and was always helpful!
Felicia was great! I would definitely recommend this property based off customer service alone.
Felicia was amazing. She's a great people person and really helpful.
Felicia absolutely great and was very helpful. She has a great and positive personality.
Felicia was amazing at helping me with all my storage needs....luv this Public Storage location...
Felicia gave, Excellent customer service. I am very satisfied with my experience.
Trish was amazing very detailed on every aspect. She was very friendly felt like I have known her for years. Great customer service. Thanks again Trish!!
FELICIA WAS TOTALLY AWESOME!!!!
FELICIA TOOK EXCELLENT CARE OF ALL MY STORAGE NEEDS... LOVE THIS LOCATION
Felicia is great...love public storage
Service was excellent! Thanks Jasmine!
Had a very good experience at this public storage. Office were neat and clean. Felicia was very helpful and informative. I would recommend to anyone.
Felicia is awesome I love Public Storage would recommend to all my friends and family...
Felicia was extremely helpful and friendly. Will definitely recommend to everyone
Great customer service, price is good and their friendly...
I love Felicia she did a great job assisting me with all my needs she made me feel my furniture was going to be protected
Love Public Storage . Felicia is wonderful (:
GREAT PLACE FOR BUSINESS 5 STARS ALL THE WAY!!!!! Felicia is the best
I will certainly do business with public storage again. The young lady Chelsie was very helpful in helping us with our unit.
Very nice people and help you with any questions you have about their facility nice job Felisha
Love storing at this location and Felicia is always so helpful and nice....
Felicia you are the best...
Felicia and I had a conversation today that made me feel like I was talking to an old friend. 20yrs of customer service myself, this is the kind of relations the consumer is expecting from someone asking for their hard earned money. You don't feel you're being taken advantage of,,,, felicia, great job keep it going.
Felisha was a good assistant
Excellent customer service. Thank you Jasmine!
Love Felicia. I always look forward to coming in and paying my bill because of her.
Felicia.. was great and her personality is good
Felicia is great.. I like coming in to pay my bill only if she is workin. She is a really nice person. There is no other place I would keep my stuff . But public storage because of felicia
Jewel was polite and helpful great customer service
Love the service!! Great friendly environment.
Feica took good care of us allgood
Felicia has been great at her job...I have been at Public Storage for 10 years....wouldn't go anyplace else..
Amazing service provided by jewel
Great service, friendly staff. Jasmine did a great job!
Felicia the property manager was very polite and helpful with our selection of storage unit and price. She gave us a unit at the front for our convenience. I would suggest this public storage to all my friends.
The lady that helped us was extremely helpful! She was polite! And helped us get the things we needed to make our move easier, and more productive. I will recommend my friends and family!!!
The day that I rented a space at this location I had checked several others first and then I met the manager at this property she educated me on renting a storage space since I have been renting my 10 x 10 for a reasonable price per month lucky me for a change always a friendly reminder every month if my debt. card doesn't work whatever the situation is its always nice to get a reminder to save on additional fees for being late.
It was great severse made me feel welcome It wad great
Good Customer service with respect. Clean storage at a reasonable price.