Public Storage Self-Storage Units at 4093 New Castle Ave, New Castle, DE
Address
4093 New Castle Ave New Castle, DE 19720
Office Hours
Mon-Fri 9:30 AM - 6:00 PM
Sat-Sun 9:30 AM - 5:00 PM
Gate Access Hours
Mon-Sun 6:00 AM - 9:00 PM
Storage Facility Features
Climate Controlled

Inside unit

1st Floor

---

5'x6'

Climate Controlled

Inside unit

1st Floor

---

5'x8'

Climate Controlled

Inside unit

1st Floor

---

5'x10'

Climate Controlled

Inside unit

1st Floor

---

5'x15'

Climate Controlled

Inside unit

1st Floor

---

10'x8'

Climate Controlled

Inside unit

1st Floor

---

10'x9'

Climate Controlled

Inside unit

1st Floor

---

10'x10'

Climate Controlled

Inside unit

1st Floor

---

12'x30'

---

10'x15'

Climate Controlled

Inside unit

1st Floor

Climate Controlled

Inside unit

1st Floor

---

10'x25'

Climate Controlled

Inside unit

1st Floor

---

10'x30'

Climate Controlled

Inside unit

1st Floor

---

18'x20'

Climate Controlled

Inside unit

1st Floor
Nearby Self-Storage Locations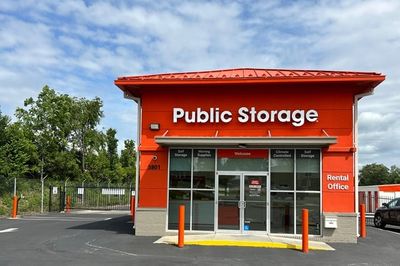 Self Storage Near
3801 N Dupont Parkway
New Castle DE 19720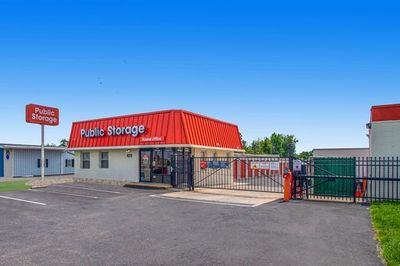 Self Storage Near
425 New Churchmans Road
New Castle DE 19720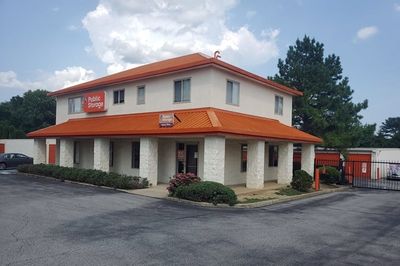 Self Storage Near
3800 Kirkwood Highway
Wilmington DE 19808
Self-Storage Near New Castle
Resources from the Help Center
See what fits in different storage unit sizes
New Castle Storage Units Near I-495 and Wilmington
This storage in New Castle is located just north of the 1-495 and near Wilmington offers both indoor and outdoor options spaces.
At Public Storage, You'll Always Find...
Keypad Access

Friendly Staff

Month-to-Month Rent

Moving Supplies Available

Free Parking

Well-Lit Facilities
Reviews
( 139)
Bria is exceptional! First time renting a storage unit and I picked the wrong size but she helped me upgrade to a bigger size and it was fast and easy. She also went above & beyond to get me help with moving my things into the unit. I'm so thankful & appreciative for Bria. Thank you again Bria! If only I could give her 10 stars! I highly recommend using this place of business. They hired a gem!
Very good customer service.
Very Helpful , very Clean. Really good customer service 💯 The Churchman's location and New Castle location were working together with us to help us better see all our options and what was available. Thank you so much for everything!
The manager Carter at this location was phenomenal! From moving in to moving out, they kept me up to date the whole time. Offered promotions and any other thing that could be necessary for a move. This is never a fun process but Carter certainly made it easy. Thank you Carter and keep up the good work!
Great customer service, Great place to go , clean and kept in great condition, Carter always helps when needed, thanks
Attendant called and stated I incorrectly locked my unit up and it was still open. I corrected it immediately. Thank you
Mr Carter, It's very helpful and transitioning an my moving my stuff in public storage. He Ensure me that my stuff would safe and secure and tell me ways of saving money by paying automatic. I also referred my brother to open up a storage unit as well. I don't
Very professional and friendly
The storage was clean, affordable, and accessible. Carter helped me a lot during the time I used public storage. Carter was kind enough to direct me to my storage, along with reminding me to lock my storage, and even reached out to me when I forgot my ID. She has a great attitude and great customers with a smile
I called to inquire about a space today. I spoke to Carter unfortunately I do not need a space today. But when I do I will be going to Carter. Great job Carter.
Definitely was a great help with all my questions
Carter was the absolute best, and helped anyway he could. Love this location bc of carter!!
Carter was amazing and helped us out greatly ! Thanks dude
Rented it blindly and doing so, we are now at a broken gate, and the movers have to use an alternate entrance. When asked about a unit with better access, we were told that we would need to pay an extra $100...... for a smaller unit. It this fair?
Good clean storage for a reasonable price.
Carter is amazing help me take care of my bill, plus been friendly with great customer service.
My experiences have always been great. My calls and my visits have gone extremely well. I've had to opportunity to speak one on one with Carter prior to the meeting in person. What a pleasure to work with. Good People...Keep your soul.. I love it! LaLa, my dear you just keep on staying amazing. Your help is so on point. You have taken a lot of pressure off my back just by letting me vent and then saying " It's okay, you understood". ;-) Thanks for all you do. I appreciate your patience and your respect for the individual. You are in a business where you can't make everybody happy, yet you both go out of your way to try and you both do it well.. I'm a testimony to that.... Thanks Again
Sharis Purnell Excellent service.
Wonderful customer service! I ran into an issue about making a payment online today. It was the first time I have had any problems in the 2 years that I have been using this facility. I had the pleasure of speaking to Lala. She was very helpful and kind to try to figure out what went wrong.
Excellent Service, take advantage while you can!
I had some issues with online booking, so I called the store location multiple times after I made my reservation and each time I was connected with Carter and he helped me out tremendously. He really cared about my issues that I was having and he followed up promptly and solved my issues. He is a great asset to this company and he should be rewarded for his efforts to go above and beyond to help out his customers! Great job Carter. I would recommend anyone of my friends to come to your location so you could help them out. 5 stars!!
Carter and Amanda are amazing and so nice.
Great experience!! Start to finish was immaculate service. Carter is excellent - kind, informed, and very personable. He had me in and out in minutes, all situated to my needs. Highly recommend!
Amanda did an amazing job helping us! We will absolutely recommend!!
Bria was the most greatest representative of public storage I ever encountered she was very respectful, informative and helpful to the end especially after she offered all the necessary materials I needed for a complete move in her skills in customer service are superbly justified if you have to come to public storage I recommend you go to the tt 9 office to see Bria . Thanks for all your help Bria keep up the good work!
Bria is incredible! The most help in the least amount of time ever!! We found exactly what I needed in record time - knowledgeable, friendly, respectful and SO helpful. Best quality was the fun conversation, humor, and thoroughness while working through the adjustment. Absolutely recommend this location.
HOW MUCH IS A 10×20 AND A 10 ×30 UNIT ???
The staff is very friendly and professional and they really do their best to make sure that you are very informed and go beyond to help you
The sales rep there was super helpful and really nice. She showed me multiple sizes and helped to get a size that worked for me. Gave me honest opinions to help me make a decision that fit my space and financial needs. She also went to extra mile of finding me a unit closest to a garage door and gave me a map. The storage units themselves are good too. This is my second time renting from this specific location and have been satisfied both times.
Nice rental place , Amanda the sales agent rented me my storage and was there to help with any questions & concerns I had thank you Amanda !
Good communication ! I called to get inquires about units and talked to Amanda. Really nice and walked me through all of my options. Will be coming back to rent unit.
The service was very friendly and helpful Amanda took care of any issues that I had I would recommend this to anyone interested in finding a storage facility clean and secure
Hello, we recently visited a public storage on Newcastle, Ave (DE). We meant a young lady named Amanda , she did a phenomenal job with excellent service. Me and my wife came in a little upset, but when we left the office we were full of joy. Thank you very much Ms. Amanda!
They helped my mother out alot when she was moving
Bria was AMAZING!! Gave me a full walk thru of the facility and the space I'm renting, explained the contract in full detail, and made sure my move-in was smooth by providing us with carts to maneuver my things easier. Thank you again Bria, and it's people like you that make us believe in quality customer service again.👏🏾👏🏾🙏🏾🙏🏾
Amanda was very helpful to help me pick out my storage. Very knowledgeable and very patient, she even helped me get a cart to help move my items items conveniently.
I've gotta get her name again next time I'm there but the woman on the phone at this location made the entire process so stress free!! This place has some awesome costumer service!!
Amanda was super customer Service she is a asset for the company a wonderful person She answered any questions and help me with my storage bin very polite and courteous I am a retired postmaster and if she was working at the post office we would have love to have her her personality is phenomenal. A winner for the team, She definitely needs to be recognize
Fantastic help with the whole process. Very clean and friendly place. Bria was super helpful and very nice!
My first move in was great, but today we had to switch units and Bria was amazing. I really appreciated the patience and honesty exuded. I feel comfortable knowing my valuables are in good hands. Also wireless access from my phone is clutch.
Brian was excellent. My first time moving into storage alittle nervous. I wasn't to sure how this worked..Bria was patient t, kind, and she made sure I was able to get a storage close to the front. Thanks girl!
Definitely great service. Bria was very helpful I'll definitely be back!
I just recently rented a storage space, and was helped by Bria, she was very patient and helped me pick out the right size. Overall storage facility was clean.
Amanda and Bria were awesome to work with! Great lady's!
Stephanie found me the right storage space
Just visited this location and encountered Bria who was a wealth of information and answered questions which I had plenty and was very patient, gave advice and showed me several units which helped with the final choice I made. She was very knowledgeable on the computer and guided me through the process which was greatly appreciated. Thank you to Bria once again and your company your providing a very good employee. I look forward to using your facility.
Bria was very helpful setting up my unit. Easy to sign up and a convenient location.
Stephanie did great helping me find storage. She found me unit right by the door easy access. Friendly service!!
DON'T DO IT!!! Run!!! This place is HORRIBLE. I mean the company as a whole even. They raised my bill a total of 3 times the total 1 year I have stored my belongings in a 5x15 unit. I'm sick of it. First it was $90 (even though the website claimed $60), then $120, now $158. All for no reason. They blame "inflation" which is not my problem and I've never been late on a payment. I hate these people. Can't wait to move out soon!
Stephanie was very helpful with my storage needs. She was patient with all the questions I asked not being familiar with storage. Would definitely recommend to anyone looking for storage great customer service.
Very helpful employees and they are willling to help you find the space you need for your things at a reasonable price
Stephanie was amazingly helpful. She was very knowledgeable and when we ran into a hiccup she helped us solve the issue immediately. She was very polite and I will definitely recommend more people to come to this establishment. Thank you for all your help.
Stephanie was great! Her energy was awesome and she was very patient with me with all of my questions, concerns and lack of knowledge of how things worked. 10 star service!
Stephanie helped me find the perfect unit for what i needed. Very friendly and great with people.
Great location clean and easy access off the highway. Manager Stephanie was helpful with all my questions.
great service from stephanie
Stephanie is always willing to help me great customer service.
Stephanie was a very good help with everything we needed.
Stephanie was very helpful very patient and polite I appreciate it her help very much she has good customer service skills thanks again
Stephanie was great found me the perfect unit for a great price. Clean location!!!
It"s always a pleasure when dealing with Stephanie. She is always running around keeping the place clean and in tip top shape. Very friendly and outgoing a pleasure to work with.
Stephanie was very considerate and answered all of my questions. She was extremely helpful! Great customer service!
Stephanie is a great employee. Very helpful and considerate. Love dealing with her
Nice and clean facility, easy access to the units and rental was super easy
Stephanie has been awesome in explaining the details of my rental. She answered all my questions. Stephanie took extra time in letting my wife and I decide on our best options. Excellent customer service.
Stephanie was very friendly and helpful
The staff here is amazing Bria was so understanding and helpful! Thanks for the hard work!
I had a great experience at this establishment and Stephanie was a big help with everything! I would definitely recommend this place to other customers
Stephanie offered great service. Clean facility will recommend to others.
Stephanie was A1 great service
Bri and Steph are great employees. Each and every time I come in they greet me and are very helpful. There are the BEST! Whoo Ladies! Thank you
Stephanie was amazing! Very knowledgeable and very kind. I would definitely recommend this facility based off of our interaction.
Stephanie was really helpful, whenever I need anything she was very quick and accurate.
New facility, units are clean.
Stephanie was very happy to assist me in finding an affordable unit. She was very nice and I would highly recommend talking to her to get what you need!
Stephanie was just the best! She was super sweet and helpful. She made sure we knew all the details that we needed to know. Very great place overall!
Stephanie was very helpful! Super nice and funny! BEST public storage I've ever been too !!
Stephanie found me a good unit for a good price. She was very friendly and helpful.
miss stephanie is very nice person she very helpful in plesant with her costomer.....
Stephanie was great in helping me with my mobile app so I don't miss payment. she is awesome!!!
Liz the property manager was great on all aspects she explained everything thoroughly and efficiently and she has a beautiful personality and fits perfect for this job keep up the good work thank you
Great experience with the manager. Stephanie I think her name was. She was patient with all my questions. Just a great company to house all your needs.
Clean easy access to the highway
Stephanie was totally helpful in giving me a rental space once I graduated from college! Thank you for all your help!
Great costumer service and really clean
Wow Bria was so wonderful I just wanted to keep talking to her. However I knew I had to let her get back to the next customer. She was so sweet I will always use this company Bria is the best
Great customer service from Stephanie would recommend to friends. Clean facility!!!
Stephine that works the front desk was every helpful. It is clean and will kept. Stephine explained everything in words that could be understood with no question. It is on route 9 or new castle ave easy to find and get to.
I highly recommend Public Storage especially Stephanie at the New Castle Avenue location! Always clean and ALWAYS fantastic customer service!! I do not care if it is early or late in the day Stephanie and her crew go above and beyond!
The staff here are very knowledgeable and friendly. Emmy helped me get the correct size unit in a timely and affordable manner. She was very respectful. I definitely recommend storing here.
I had the most horrible experience at the 4093 Newcastle avenue location. I was trying to help a friend with moving stuff into the unit and I arrived at 5:00 p.m. 1 hour before they closed the office. I then attempted to acquire a cart to help me move since I was by myself. I was told the front office had the carts and when I approached the representative, she told me that I only had 15 minutes to use the cart because they closed at 6:00. I was confused as to why when I had one whole hour. I declined and continued to unload as I was told that this particular facility allowed customers till 9:00 p.m. for the facility itself to exit. On or about a quarter to 6:00 to Representatives from the office we're out by the entrance and exit yelling across the lot something about problems with the gate and said if I don't wrap up within 15 minutes I would be locked in and have to pay a surcharge. I then rushed to do as much as possible to follow their directions. As I was leaving it appeared that customers were still coming and going even after they told me I had to leave and would be charged a fee. I don't know what's going on at that location but after this experience, I don't think that I will be relocating from a storage facility and my garage as I was going to check this place out and possibly rent. I am a disabled veteran and this just added to my thoughts that I will never use public storage again. I contacted my friend who is renting the storage and shared my experience and he told me that he would contact the general manager of that location. I am a good person and I give people a lot of leeway but this was an excusable.
Apon arrival at this facility you will find the layout very confusing. The gate access is not connected to the main lot and the keypad to the gate is opposite of where traffic would normally stand. They interior layout has no signs indicating which blocks of units are what. Staff was not helpful and unavailable on several occasions. Online rates are deceitful too. They may have a special promotion, but by the time you pay for their premium locks, insurance, and deposit, I was paying more than the advertised price. The only redeeming part of this particular facility is that it is practically brand new, so everything is clean and the building is climate controlled.
Great service, good contactless process, a lot of space for a decent rate
The desk associate Bria was spot on. She had great attitude was very helpful and made the process seamless. it was a pleasure doing business with them.
A+ service. friendly. got me in and out in a good timely fashion.
Stephanie was professional and should get a pay raise. Helping to get the storage unit that fit my needs! Great work Stephanie.
Stephanie is awesome! She is helpful, funny and quick to lend a hand. This new faculty is beautiful!! I can smell the "new car" of it all! Very happy to be here at this location with great staff!
Great experience, Bria was helpful and has great customer service.
I helped my brother inlaw move his stuff out. Looks like a nice facility.
Stephanie was very helpful with finding me the closest available unit to the door. Super quick and easy process.
Just moved in. Nice place. One week, the door on the main gate was broken. The next week, the main entrance gate is stuck open. Security please.
Great Customer Service and Move In. Arrived Early and was greeted by Stephanie right away. She showed me to my locker and made sure I knew the easiest way to get in and out. Overall great experience! Glad I chose the New Castle Ave Public Storage.
Stephanie, whom waited on me was a very welcoming person who worked with me and upgraded my storage place Customer service Jobs needs more nice people like Stephanie
Well kept environment, with easy access to my unit 👍🏽
Stephanie is AMAZING!!! Handled everything from the gate, was silenced to work with! A true asset!
By far the best customer service I have ever had the privilege of having. Stephanie is the best host/ greeter nicest person I've had ever met. She was so awesome I would rent a 100 units from her hands down 5 star excellent customer service representation I've ever witness.
Stopped in this morning to get information on some prices on moving supplies and I was greeted by Stephanie who went over each product with me and really helped me understand how each product will protect me stuff. I left my wallet home so I wasn't able to buy anything today but I will definitely be back. Stephanie is amazing and I will definitely recommend this location to others!!
You call her Stephanie, I call her satisfaction guaranteed.
First let me start by saying the facility is amazing for a personal storage spot. I've been to a few in the past and it's really nice. Stephanie is A-1! Very friendly, immediately greeted me and was already knowledgeable about my situation and what I needed. She had my reservation already prepped and was extremely thorough in explaining the in's and out's, where everything was and things to consider when housing certain types of personal belongings (i.e. electronics, furniture etc.) Definitely loved my initial experience and will refer to others!
This is a new facility thats clean with an convenient location to my home. Stephanie and Bria @ the New Castle Ave location were professional and friendly. I choose a unit based on the price. The only draw was the unit is upstairs and there's no elevator, so if u don't have a lot of stuff or anything thats to heavy you should be fine.
Stephanie was very helpful and nice
Fantastic customer service by Stephanie. She went above and beyond to help me. My only problem was that they weren't offering the same special I signed up for. When I got there, after paying online for one size unit, I realized it wouldn't be big enough. I had to upgrade to a larger unit and they did not have the 1st month for $1 promo. So, i had to pay for the month in full. Other than that, KUDOS to Stephanie. Now THAT'S what I call "great customer service" ... Stephanie, you ROCK!
So far so good friendly helpful staff massive building workable pricing.
Gteat service. Very nice overall experience.
Stephanie was very friendly and heloed me out with storage great service.
Stephanie was very quick & easy to understand & the storage unit was very clean and affordable & she answered all of my questions.
Excellent and knowledgeable service, and friendly staff
Looks good bright lights.. .
Brand new facility, friendly staff, all climate control units, secure location - very nice!!!
Great service! I was able to get a storage unit same day and the process was super quick. Thanks Liz!
Liz was AMAZING!!!! She was attentive and very helpful. Liz made sure I knew everything about my unit and lease agreement before asking me to confirm anything and paying. Outstanding job Liz!!