Public Storage Self-Storage Units at 1296 Kings Highway Cutoff, Fairfield, CT
Address
1296 Kings Highway Cutoff Fairfield, CT 06824
Office Hours
Mon-Fri 9:30 AM - 6:00 PM
Sat-Sun 9:30 AM - 5:00 PM
Gate Access Hours
Mon-Sun 6:00 AM - 9:00 PM
Storage Facility Features
Car Storage

Indoor & Outdoor Storage Units

Property Manager Lives On-site

Small, Medium & Large Storage Units
Office Hours
Mon-Fri 9:30 AM - 6:00 PM
Sat-Sun 9:30 AM - 5:00 PM
Gate Access Hours
Mon-Sun 6:00 AM - 9:00 PM
Storage Facility Features
Car Storage

Indoor & Outdoor Storage Units

Property Manager Lives On-site

Small, Medium & Large Storage Units
Close Location Details
View Location Details
---

5'x10'

---

7.5'x10'

---

8'x10'

---

10'x10'

---

10'x15'

---

10'x15'

---

10'x20'

---

10'x10'
Nearby Self-Storage Locations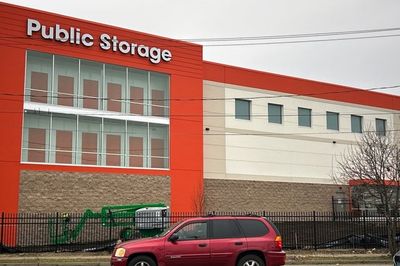 Self Storage Near
299 Wordin Ave
Bridgeport CT 06605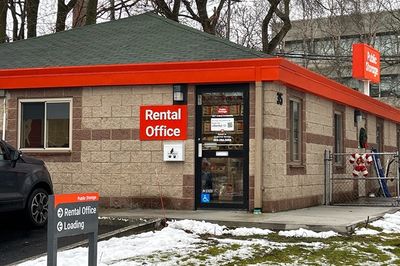 Self Storage Near
35 Hoyt Street
Norwalk CT 06851
Resources from the Help Center
See what fits in different storage unit sizes
Fairfield Storage Units off of Interstate 95
Public Storage, located at the junction of Route 1 and Route 130 just south of I-95 and just east of Route 135, offers an array of cheap self storage options for Fairfield and the surrounding community.
This location offers a large amount of indoor units with interior hallway access. This location also offers outdoor units with drive-up ability, as well as rental parking spaces for vehicles.
A property manager lives on site 7 days a week and a keypad code is required to enter the facility, for added peace of mind.
With Jennings Beach just a few minutes away, this is a great spot for storing beach chairs, blankets, umbrellas and sandy gear year-round in a 5x5 unit. Slightly larger hauls, perhaps all the gear needed to regularly set sail out of the South Benson Boat Marina, will fit nicely in a 10x10 unit here.
Students enrolled at nearby Fairfield University or Sacred Heart University can use a 10x15 unit to declutter the tight campus quarters, while families in the area – including the Black Rock, Southport, Trumbull, Easton, Weston and Greenfield Hill communities – can take comfort during a remodel knowing everything can fit into one large 10x30 storage unit not too far away.
A growing community that still holds small-town values in the highest regard, along with an appreciation of nature and the arts, it's no secret why so many families and businesses call Fairfield home. Public Storage is committed to providing residential and commercial customers with the highest level of self storage service.
Amenities:
Open 7 days a week
Flexible, affordably monthly rental options
Friendly, professional staff to provide excellent customer service
Complimentary use of moving carts for heavy loads
At Public Storage, You'll Always Find...
Keypad Access

Friendly Staff

Month-to-Month Rent

Moving Supplies Available

Free Parking

Well-Lit Facilities
Reviews
( 323)
Overpriced and not climate controlled. Holes in the ceiling everywhere and when my unit was filled with water and mold (I visited the unit frequently) and in less than two weeks I lost most of my belongings. Yes, I had insurance, but they didn't send an adjuster and I had to photograph and document everything while also disposing of the damaged stuff offsite, I wasn't allowed to use the on-site dumpster - and if I wanted to move to another unit, that was all my labor as well. The storage facility took zero responsibility for the conditions, even said the dampness was just normal condensation and continued to charge me full rent on the unit. I spent days breathing in mold to empty the unit and document everything in hopes of recovering even a tenth of the value of what was stored there. Between reporting the issue and emptying the unit, not only did more water show up but note what was left of my belongings was covered in urine and feces from mice. Avoid this place at all costs, I paid less for a climate controlled unit twice the size and didn't have to get rid of everything I owned.
Irma and Grover were very patient with me. Very professional and courteous with me. I will reccomend Public Storage in Fairfield to my friends.
We went in with a million questions and Irma helped us so thoroughly the entire time, such good customer service. Good price, good everything, honestly. Great experience.
Irma Was very professional and helpful thank you Very much for the In and out service.
This facility looks a heck of a lot better. It's nice to see that the kind sweet Edwin is still there. I love to see a familiar kind face when I am doing business with someone.
If you're looking for a storage company in the Connecticut area this is the place to be. CUSTOMER SERVICE IS A1. Their DM Alex is THEE BEST!
Edwin was very courteous & professional.
Great customer service. Explained everything well
Workers are very helpful and professional!
Angela is a superhero. We rented a unit at this location, and realized after it wouldn't meet all our needs. Since we hadn't moved anything in yet, Angela helped set us up with a unit at the Norwalk location, and handled the refund process on my behalf. That's an A+++ employee. Thanks again!
A little dusty and the bathroom inside didn't have any towels or a hand dryer... But overall, it is a storage unit.
Edwin was a huge help and got me set up with no issues at all. Highly recommend.
Edwin was thorough and professional!
Edwin is amazing, though helpfully and patients of Saint. First time using public and I couldn't have had a better experience.
Edwin, was extremely helpful in my set up with a storage unit. Made it fast and easy. Definitely recommend.
Edwin was very helpful and easy process...
Edwin was very courteous and professional. He helped me by finding a safe place to store my things. Edwin also helped me understand the code in system to get into my unit.
Edwin has been a fantastic help for our grip who rents 2 units. Every time we ask fir something, Edwin delivers. All great!
I am a current customer at the Bridgeport location. I stopped by this facility to see if I could get assistance with updating my account. Edwin not only helped me download the app but also showed me the convenience of using it. What a huge difference this will make with not only making payments but reviewing my account. Thank you for your assistance!
Kent was efficient and helpful. He made the process simple and easy as well as quick! Thank you for a great experience!
Edwin. Service was superb
Large storage facility, mazelike in a horror film-esque style... close to agreeable pricing though
Edwin was professional and courteous. He showed me around the building and working with me to find the exact storage space to fit my needs!!!
Naomi was super helpful today getting my autopay done and making sure my stay here is good.
I was so stressed moving from Brooklyn, Naomi was literally the most informative and attentive person i have spoken to all day ! Had the best experience!
Love the manager ! Edwin is very helpful nothing but smiles! Thanks for the help. Definitely recommend
Spoke with Alex the district manager who reached out to me to make sure my experience with Public Storage was a good one which I appreciate. Thanks Alex!
Great storage service. Naomi was helpful & very friendly the moment I walked in. Whole process was straight forward and smooth 👍
Elaine was amazing! Thank you so much!
Thank you Renee and Krista for your help today
Alex was extremely knowledgeable and helpful!
Naomi is so kind and professional. She was very helpful and informative. She knows the business side and explained it thoroughly to me. She is an outstanding employee.
Naomi and Edwin were both very helpful to us they went beyond there duties .They made it easy for me cause my husband is in a wheelchair .we are glad we
Naomi was amazing ! We booked late Sat night and she called un on Easter Sunday morning. She invited us to the facility to see the unit, made the paperwork simple and by 10am, we had stuff in the storage unit. This is service that is really unusual in these times. Public Storage should be proud and specifically Naomi who put an incredible face on what was previously just a storage facility we would just drive by. PS - We had a positive experience with Edwin a few months ago also when we first contacted this facility. Public Storage has done some good hiring !
I just closed my unit in Fairfield, Ct. that I have had for about 5 months and I had no problems with the unit at all and everything came out the way it went in. I did vacate this storage facility to go to another, more expensive facility though because I was nervous about the potential for trouble. This place is not heated or air conditioned and did smell like someone was storing thousands of dirty socks in there. The elevators smell like urine, the concrete floors are cracked in the narrow doorways making pushing dollies difficult and the dollies themselves can be hard to find. I did have to go through the entire, large building once to find one and another time had to beg someone who was using all 4 of them to let me use one for 5 minutes. He was not a nice man and it did get heated. The place is actually a little scary. Dark, cold and creepy. I am paying twice as much now for a slightly larger unit but it is night and day. I could sleep in my new unit it is so clean. The other customers are friendly and polite. They have dollies galore and multiple elevators! They have a bathroom! And it is clean. They have a truck bay. My kids can actually come with me because it is that nice. It all depends on what you are storing but for me, I am happy to pay twice as much because I am storing things that I care about that can't be stored in a gym locker. Again though, Public Storage was fine. Management was fine. Just know going in that this place is bare bones and you get what you pay for.
Naomi professional, knowledgeable. First time ever renting and looks like going to go smoothly!
It is a great location but expensive with two local colleges they overcharge. Place gets freezing cold and very hot so if you have valuables plan accordingly Outside space rental limited. Never be late they are like loan sharks.
Besides the mistake I made renting out the wrong city Joe was very helpful and direct over the phone to help me throughout the whole process. He had great costumer service. Thanks to him again!
Joe was courteous, friendly, and most helpful. We needed a cart and Joe got one for us most promptly. He's wonderful. (From Kathleen and Julia)
Joe was so helpful! Explained all my options and was very professional.
Had a great experience. Joe came in clutch and helped me out. Customer service is top notch!
Joe was so amazing...I was so impressed and it is so nice to work with competent honest people. Go see Joe!
Edwin was wonderful! So easy to work with!
Check in process was quick and easy. Edwin was so friendly and helpful. Highly recommend!
Great customer service from kareem my best experience as a storage customer .i wish kareem worked for me.great person and great workers attitude.awsome person
Edwin did a great job of answering all of my questions!! Also did a great job of accommodating me with last minute request.
Edwin Edwin is patient and like able. He answered all my questions and I will recommend him to my friends!
Roof leaks and unit had water in it. Stored items there for two months and they came out moldy. Management won't even answer phone.
Excellent service by Public Storage Fairfield staff. Helped me out promptly with a lost key. Thanks.
Corporate was frustrating to deal with but Edwin gentleman at local office was pleasant, thorough and helpful.
Kapriece was extremely knowledgeable and accommodating. She let us check out two different sized units to see what best meets out needs and told us we could easily upgrade if necessary.
When I set up my account to get a space I was greeted by an employee named Edwin who was extremely knowledgeable of his job. He helped me choose which plan and space was best for me in addition to explaining all things public storage making my experience much easier and smoother. Definitely recommend
Kapriece was a lovely lady! She was very helpful, patient and explained everything calmly. If you have any questions, feel free to ask and she'll have all the answers for you. Thank you!
I'm out of state and had movers move things into the unit for me and public storage made that SUPER simple. They were very helpful in the whole process and major props to KAPRICE (with a "K"! There's also a CAPRICE with a "C", who I'm sure is also great, but KAPRICE with a "K" is the one who helped me).
Kaprise helped me get set up with a unit that fits my needs. She was very helpful and friendly. Answered all my questions and helped me find my unit. Great service. Thank you.
Edwin was very accommodating during a time of social distancing! Very helpful and smooth rental process
Edwin, the manager was super helpful getting me set up!
Kaprice was so helpful even when we needed to change units. Thank you
Tiana was very helpful when describing the things that I needed while also showing me all of the details
Edwin was great to work with. Very friendly!
Edwin was very helpful and nice!
Highly Recommended! Renae and Anailia is really customer friendly they are helpful, and 1$ first month is COOOOOOL! Will def go again when i need to storage.
Great interview and went very smoothly!!! Malik was the attendant
Edwin was a great help!!!
Edwin & Javonia were the best! Thanks for all of the help and setting up our storage :)
Javonia was great. I reserved online. They called back with a time to come in and do paperwork. There was no waiting.
Edwin his service was very helpful and polite. And I would send people to this storage place .
Javonia is very professional and funny she showed me around the property I must say this facility is clean she takes pride in her job although I haven't rent today this is definitely my first choice!
Javonia was the lady working here and she was very nice, the price was reasonable. I would suggest this for anyone who needs storage
Kevin : excellent personality. Great customer service skills. Really made me feel welcome
Edwin was very helpful in helping me decide what I needed. I would refer this location and Edwin.
Edwin was very nice and helped us a lot. Even gave me directions when I got lost
Edwin has excelente customer service, he explained everything very Well and made me comfortable! Thank you Edwin
Edwin was very excellent! Very polite and well mannered young man thank you Edwin!
Edwin was wonderful! So helpful and made sure to give me all information I needed to know. So kind and great service 👌🏼
Edwin was great. Very attentive and cordial.
Thank you Edwin for making our exp easy and convenient!
Grad was very helpful, informative, professional and courteous. I am glad I chose Public storage and happy to have worked with Greg.
Kevin was a wonderful help and answered all my questions! I felt very welcomed and pleased with my experience!
Kevin, had excellent customer service. Thank you!
Signed up for a unit online, went in to sign the paperwork and had a great experience. Mia helped me out and was super friendly, knowledgeable and accommodating! Definitely recommend!
Greg was incredibly helpful and efficient! Made moving in a breeze and I am so pleased that I chose Public Storage for the storage of my belongings!
Mia gave excellent customer service everything was well explained for a first time storage renter I had an amazing experience 😊👍🏽
After only 4 months, the furniture I have at Kings Hwy, Fairfield storage facility is covered in MOLD! It's an old damp building with no air circulation.
Great customer service. Edwin was super helpful and I would definitely recommend this location.
About a week after I moved in and posted the initial review ("Edwin was extremely helpful getting me all set up with storage. Very easy process.") I received a phone call that the first floor had water damage and my unit had flooded. I had to throw out most of the furniture I was storing while I found a new apartment, but luckily the movers I hired had put the boxes off the ground. The building is cheaply made, and another customer commented on how it wasn't the first time it had happened. The employees were mostly helpful with the process of switching units after that happened, but I was told I had to share a roll of tape to pack my boxes and the movers they hired were tired from moving all the units and not very conscientious with my things.
Greg, the solo manager on duty at the time, really demonstrated what true customer should be and feel like. I really appreciated his patient and kind demeanor. I was experiencing some of my own uneasiness prior to coming to look for a storage place. Upon my arrival, the office smelled wonderful. Greg encouraged his coworker to go home because she was not feeling well, this was on Memorial Day. He greeted me in a welcoming manner and talked me through the variety of storage options, pricing and location. He patiently walked me around to some of the units and allowed me to view the insides. I wasn't sure if I was going to pick my storage location in Fairfield or some where else, but his kindness and professionalism sealed the deal for me. Thank you for making this season of transition for me go smoothly and positive for me!!
Edwin and Greg were very professional and helpful and patient even though it was close to closing time! Greg was helpful with information regarding any questions I had. Greg put me at ease about how things are being handled and I definitely felt any concerns we may have, would be handled appropriately and resolved to the best of their ability. I also appreciated the honesty and there was not any run around or unanswered questions. Great job in customer service Greg and Edwin!
I was really pleased with the 5 star service I received from Greg today, he really knew his job. Just flawless...no Questions needed he provided every detail. Great job!
Edwin did a great job helping me!
This is a company I don't like. They raise rents quickly after occupancy and continue to do so regularly forever. No rent level ever lasts long. I know. My brother's rent more than doubled in 10 years. His pay did not. And the penalty for late payments seemed quite high to me.
Good service, good access, good knowledge. Thank you Edwin..
Edwin was a pleasure to work with. A+
Edwin was a knowledgeable and professional person. Exceptional quality and excellent service. 6 stars
Edwin's customers service was amazing! He went above and beyond to make sure the rental process went smoothly. I highly recommend you come in and see him! Thank you Edwin!!
can i store a car in the unit?
I came here and immediately felt comfortable using the storage space. Edwin and Raven were extremely knowledgeable of what I needed and very helpful. I HIGHLY recommend anyone looking for storage to use this location. Also, the space is really clean! Very important for my valuable items.
Edwin is always great i look forward to make a payment every month to see him smile .
Greg was great. Helped save me some money
Edwin was amazing best service I have gotten everywhere in a long time ! Thank you Edwin
Edwin was very helpful and knowledgeable in helping us find a storage unit!
Edwin was great & so helpful
Raven was fabulous Patient informative helpful Used this storage before and will use again
Facility is clean and Edwin was really helpful
Greg was wonderful. Answered all of my questions and was very knowledgeable, made the move in super easy and I look forward to having a unit at this location
Greg was one of a kind, Fantastic customer service, knows his stuff, and a pleasure to work with. Very happy!
Edwin was very helpful getting me set up for my storage unit, I needed it last minute and he helped me to get set up with everything within 15 minutes. Definitely happy I chose Public Storage for my storage needs. Booking online saved some money too and the first month is $1
Greg was wonderful he made it very easy and was very helpful and had a wonderful personality
Edwin has been extremely helpful with setting up my unit and making sure I get a great deal. Would highly recommended them
Edwin helped me tremendously from being lost and providing me directions to the facility. He took time with me and explained everything I needed to know about my unit. Not to mention he helped me right before closing. He's a real gem and you all are lucky to have him on your team.
Great experience Edwin was very helpful and answered all my questions I would definitely recommend other people to go here
Employee refused to help due to her shift ending in 30 minutes
Anna was soooo nice! She was honest with what appropriate storage would be best for my husband and I'd personal assets. She's very patient, I recommend this site to do business with!
Analia es siempre bien servicial desde la primera visita y siempre bien amable
If you value your items and value honesty in a company, don't choose this storage unit. Picked up my clothing and furniture and they were covered in mold. Of course, Public's awful insurance has a loophole that excludes fair payment for mold damage. Not to mention the contract doesn't guarantee you a "climate controlled" unit even if you're paying for one. Go anywhere else.
Amelia is the best. She makes everything easy and less stressful.
Gracias Analia por tu buen servicio durante mi estadía en storage . Í recommend this location.
I'm in the process of moving and might need storage I came to the location on Fairfield and Analia was extremely helpful. She showed me a space and recommended the packing supplies I will need to move... I will definitely be back when I am ready.
EXCELLENT service! They are terrific!!!
Amazing experience!! Analia assisted me from begginging to end. She was very nice and kind. We spoke over the phone when she gave me directions because I got lost the night before. You have to be careful because the gps was sending me to another place because the address are similar...Analia clarified this and I found the place with no problem. We reviewed everything and then took a tour of my new storage. It was perfect! It was clean! It was easy to get to! Everything I needed and more. Thank you Analia you ROCK!!
Analia was very helpful and answered all my questions about my storage needs
La sra analia muy cortes Buenas atencion ... She helped me with my storage needs.
Perfecta la atención, muy agradecida con la Srta Analia, She is the best. Muy amable, muy carismatica, muy atenta. Muchas gracias por su excelentisima atención.
This Public Storage has one of the best employees in the area, Great customer Service. Very Clean and everything is organized. They value their customers and make sure their customers are very happy. Very trust worthy in leaving my personal belongings stored in this location. :) Ms.Analia has always made me feel comfortable coming into this location, she is amazing and I will always come back to this location.
Good price and great service with Analia. Thanks
Ms. Analia was very professional from the time we walked in, with a friendly smile and a welcoming hello. She helped us to figure out what storage area that would be best suited for us. The process was smooth and easy with her help. Thank you Analia!!! Great job!
what is the cost of a wardrobe box
Analía was very profesional, I will Rent again.
Thank you for being professional and kind highly recommend this location.
Edwin ' he was amazing and very informative and handy.
Analia has been EXTREMELY HELPFUL in our storage needs !!! We needed to store some items for my daughter and her roommates from school and Analia could not have been more helpful !!! I would highly recommend PUBLIC STORAGE and of course, Analia , to anyone who needs this service !!! THANKYOU ANALIA !!! 👍
Best customer service from Analia , she is very profesional and she did care about my needs.
Analia was very helpful and made the process of renting a space very easy. Glad we chose this location!
Inquired about a storage and the storage attendant ana was very helpful and knowledgeable on what i needed. Took the time to attend me and show me the units that would fit my needs. I found exactly what i needed and ana was very helpful in my decision
Ms. Tara is great. She was informative, very professional and helpful. This public storage is very clean. I would definitely recommend this storage place!!!
Analia was very helpful and kind walked me thought ever step of the way and explain the benefits of ever locker☺️ thank you analia
I appreciate the excellent service at this Public Storage. The staff here is professional, courteous and thorough. I have rented here 3 times in over 20 years! And while researched other locations, I feel this Public storage provides the best value while being conveniently located.
Edwin did a great job showing me around and explaining the facility and the agreement.
Edwin was fantastic! Very professional and helpful. He made sure that all of my questions were answered and that all of my needs were met. Thank you!
Tara is very sweet and explained the contract perfectly.
Las personas me atendieron excelente analia y harris.
Tara & Brian were outstanding help my wife and i get the right size storage in our budget. they took so much time showing us around in the frigid winter weather. Tara is such a sweetheart every time which is quit often we are there dropping stuff to our unit or taking stuff out she is always there in helping finding a cart or just her outgoing personality of a warm welcome, she truly takes care of all of her customers with high pride for the company. she has 100% of costumer service.
Moving is super stressful. Figuring out how this storage stuff works is even more stressful. However Edwin made is very easy and he is very knowledgeable of everything. It was a great first time experience. Five stars ⭐️ for sure
Edwin & Analia had great customer service & explained my rental storage agreement completely.
I came in to ask a few questions about the property. Edwin, an employee there, was very helpful and definitely helped me and making a future decision in storing there.
I had the most amazing time at this location, the property manager Analia was beyond helpful and answered any questions that I had about renting a unit.
Love this storage place and Ms Analia she's the best she is so helpful I would recommend any one to her.
Tara was very helpful and informative. Overall positive experience. Thank you!
Tara gave great customer services, She got right quickly!!
Tara was thorough and a very knowledgeable professional.
Tara, very helpful and kind.
Absolutely love this location Amazing customer service Analia and Anne are very professional. Analia is the best, she is very helpful, friendly and knowledgeable with procedures. Had so much patiencein assisting me though the process and walked me to the unit to see the size. Yes..... I would definitely and highly recommend this facility if you need and looking for a safe, clean and convenient storage space come here fist.
Analia and Tara gave me great service, very friendly and knowledgeable... I recommend this place anytime.
Great reception from the manager, property clean
nuestra experiencia fue excelente con Analia y Dennisse unas personas muy profecionales y amables esperando recomendarlos a otras personas . Fue muy excelente. Es la segunda vez que rento en esta locaidad, y el servicio para el costumer fue exelente, con la sra. Analeah. Fantastico. Super feliz, Gracias.
Public Storage is a rip-off, who arbitrarily changes rates, and waits until you've been there about 6 months to change and nearly double your rent. I started using Public Storage about a year ago. The first month being free was nice. For the first 6 months, my rent was about $160. Then they arbitrarily changed it to $270. They explained it as "Supply and Demand" and stated "the rent changes daily". 6 months later, when I went to change the unit into somebody else's name, the rent magically went back down to $160. Essentially, they wait until you've been there for a good period of time, then nearly double the rent, because they assume you're unwilling to move all of your items. If that wasn't bad enough, Public Storage has some of the worst late fees I've ever seen. Late one day…too bad you get fined. Late one month…too bad, you're now locked out. Lesson: AVOID PUBLIC STORAGE LIKE THE PLAGUE. There are much better storage options out there.
Analia and Evelyn are the best from the start shown a comfortable but professional atmosphere and no concern about storing my possession
Hello everyone my name is martin l. Such a Great service i had there at soonest i walk it they went thru all the policies and show unit and walk me thru everything step by step. Thanks to anaida and evelyn you guys did such a great service thats what i call custumerservice. The place was very clean.
Tara made this part of moving, an overall stressful experience, very enjoyable and easy! Plus the rates here beat everywhere else locally!
Tara :) Gave me a great service!!!!
Best deal in town... safe, clean and convenient. Great rates. Analia in the front office should get a promotion. She is so helpful, friendly and professional. We used this facility when we moved here from Boston 18 years ago, and we are using them again as we get ready to sell our home and move again. A++++ esp. compared to other facilities in the area that cost more and have staff that are not nearly as helpful.
tara was very helpful . she answered all of my questions thoroughly , showed me everything i needed to see , & explained the process with ease . i appreciate her help today . great customer experience .
Tara gave me great service and answered all my questions
Analia and Bryan helped me with my storage needs.... Highly recommend if you are in need of storage.
Elevator smells like pee.
Found them online. They were having a special that beat everyone else's prices by far. I could not pass it up. When I went to the office to get my key, Evelyn and Anna were terrific. Friendly, knowledgeable, and very helpful. Excellent customer service!
Analia was a joy to work with. Always treated me with respect and always have has a smile on. I would definitely recommend if you looking for storage space come here first
I absolutely love this location ! Analia is my public storage angel ! I was assisted by her for my original unit and have switched units twice in the past year ! She is patient and knowledgeable! I highly recommend this location !
We went there just when they were about to closed and the girl was very nice and took her time to show us the unit we needed and was very knowledgeable. Her name is Analia, she really has excellent customer service. The place was really clean. I do recommend it.
I had the BESTT experience today with this company. I spoke with Evelyn and she answered all my questions and even informed me of other matters I did not even think of. After looking around and speaking with other storage places I have to say this was the most informative and I am looking forward to working with this company. Thank you again Evelyn!
Would recommend this location to any of my family members and anyone looking to store there personal belonging. The staff was helpful and polite. especially Analia and Bryan. Would definitely return to do business here again.
Analia is the best! She provided excellent customer service and helped me to change my mailing preferences to email with ease. This company has provided top-notch service since I began renting in August.
Great service very knowledgeable staff and affordable packing supplies and Analia made my experience wonderful and the property is so clean I know my stuff is in great hands I will recommend this facility to all my friends.
I was being helped by Analia she did a great job with all my needs I wish the company was only ran by here cause I called into customer service a day or two later and I was treated like I'm not a customer. But thank you analia from Fairfield your great
Great Prices, Place and Costumer Service. Analia is the Best !!!
This facility is very clean and well kept. The staff especially Analia is very responsive to the client needs. Although I did not write a review when I initially moved in the staff that day was exceptional with the details. She walked me through all of my payment options as well as answering all of my questions, with regard to pricing of different size units. I was also offered the option of being prorated until my next due payment or paying up until the following month (which I took advantage of) Very professional staff (especially patient with first timers like me). I have already recommended this facility to my family and personal/professional acquaintances. Kudos !
Great place, very clean , employees treat you awesome... Thanks Analia for all the help!!!
Will you be open tomorrow on Labor Day?
I just left public storage and had an awesome experience. Elaine and Analia took their time and helped me by answering all my storage needs questions. Great place to store I recommend this location to anyone in need
I came to public storage and Analia and Elaine treated me like family and took care of my storage needs and explained the process. I recommend this facility to amyone looking for storage.
I had a wonderful experience at public storage this week! I was helped by Analia. She could not have been nicer or more helpful. She walked me to the unit so that I could see it, and was very thorough in explaining the process of renting a storage unit. She told me about a promotion that was going on so I saved money as well. I will recommend this place to everyone!
This storage is very organized very clean Analía give to us excelente costumer service very helpful very polite and professional I highly recommended this Storage thank very much Analía for your great service.
Elaine was very patient and helpful in the process of making sure l got the correct size storage units for my moving needs. Thanks Elaine!
The staff at this property are awesome and very helpful great people to work with.
Slack management cart never around
We needed a storage space for an immediate need and found the representative Elaine to be knowledgeable, helpful, and very personable. The facility is clean and well lighted. I highly recommend Elaine and this facility for all your temporary storage needs.
The young lady that helped me during my rental process, did an awesome job. Very knowledgeable.
My storage place is clean and has plenty of room for my property. Elaine checked me in and did a great introduction to the facility and the procedures. She was very courteous and very professional.
Great service ... Big space ... Big parking ... Highly recomended A+++++
Great service! Analia was very helpful
Bryan Perez is a great asset to the company. Very passionate and knowledge about his work. I received amazing customer service! Thank you Public Storage!!
Analia &Jose made me feel welcome as soon as I stepped in . Very nice ,friendly and professional.Place is very nice and clean.
I will always recommend this location to people. Analia is incredibly helpful and always helps me with any question I have. Like I said I will always come here because of the amazing service and help.
The facility was very clean and an associate named Dennisse was very helpful and professional about how she conducted our business , I will definitely do business here and refer family and friends ☺
Great customer service and very pleased with our storage unit. Jerrod was a big help to us and made the process easy and fast. I'd definitely recommend this business to friends in the area who are looking for a storage facility.
Jarrod was very nice to speak with, I had called a couple other storage places and they were very rude. Thank you so much for the great customer service and the help with a storage unit!!
Very efficient! Jerrod at the front desk was very friendly and helpful. He helped us determine the right size unit by coming out and taking a look at what we brought to store. Appreciated the extra help!
Customer service was extremely excellent Denise was very helpful in answering my questions in very polite manner i will definitely recommend and reuse the public storage as long as they have employees like her
Denise was friendly and professional. She is an assett to the company. She provides value, and always willing to help. Fantastic job.
Analia made my storage experience very easy and smooth, all my question s are always answered. Always pleasant and good sense of humor. Meet all my storage needs.very happy and pleased with the service provided by her.
Jerrod has amazing customer service .. For every time I come in to my unit he has this great energy & so curtious to my needs ..when I come in he greets me by name very friendly to my family . He is well appreciated and I will continue my business with u guys for as long as he's there..He needs to be recognized for his dedication and hard work , I'm one needy customer and not once has he complained nor gave me poor customer service ... About outlet love him ... Great worker for your team !!!!😃😃😃😃😃😃😃😃😃😃😃😃
Very respectful and helping staff.
Great location and Management is there when you need them.
Very good experience with the staff, very knowledgable with procedures, showed me units available, explained everything made sure access code worked, recommend highly..............analia & jerrod were my contacts, did a good job, easy to talk to
GREAT CUSTOMER SERVICE. ANALIA AND DENNISSE WERE EXTREMELY HELPFUL AND SUFFICIENT WHILE HELPING ME AND MY FAMILY. #5STARSTATUS
Great customer service very friendly jerrod and analia are great will definitely recommend this facility it is the best
The staff is awsome..very helpful
Dennisse was outstanding, great customer service, beyond my expectations, friendly I was really satisfied with my experience. What makes a business great is their customer service and the way they treat their customers and this place definitely delivered.
A mate of mine had property go missing. Apparently it happens from time to time and the insurance doesn't cover you?!?!?! Hopefully it will be found soon.
This is my first experience with public storage of any kind. The process couldn't have been much easier. The manager, Jerrod, was wonderful. He explained everything and helped me select the space that was right for me. The building is neat and clean. If storing again I would certainly return there.
Jerrod was very professional! Very helpful & great customer service skills!
Break-ins often happen at this location be warned! They have cameras and security on site but it turns out none of it works. Camera don't record. So I stored a house load of goods here Sept 16th to Oct 14th while I moved house. I rented large 10x15 on the first floor. When I went to remove my property I found many high value items were missing (road bike, ladder furniture etc). The lock they gave me was still in place. When reported to the Public storage manager he just gave me the insurance document and said it happens from time to time and to file a claim. They have no security, cameras or monitoring on site. When reported to the Fairfield police they told me this storage site is a problem.
Analia y Dennisse son Las mejores!! Me ayudaron y fueron muy amables. Le recomiendo esta propiedad si alguien busca una unidad o un parqueo Para rentar.
Dennisse was extremely helpful. We had a few small issues that she easily handled and each time we went in for something and Dennisse was there, we knew it would be handled in the best way possible. Their prices are also very reasonable for this area.
BEYOND GREAT SERVICE IN AND OUT THANK YOU SO MUCH JERROD
Dennisse was very knowledgeable, very welcoming and helpful. She gave me a piece of mind at this time of hardship. If anyone is looking for storage, go see Dennisse she'll take great care of you .
Great customer service clean facility analia and Jerrod were great and very knowledgeable about storage and my packing needs
Because Dennisse and Analia are so amazing, I'll only do business at this location! I see promotions and raises in their near future! Thanks ladies!
Very clean organized great customer service jerrod and analia are wonderful they are a great asset to this company I will recommended this facility to everyone and anyone looking for storage
Jerrod and analia are excellent very knowledgeable knew exactly what I needed for my packing needs and answered all the questions I asked regarding storage public storage in Fairfield is the best
Denisse and jerrod were fantastic and very knowledgeable to my storage needs gave me a great deal public storage in Fairfield is the place to go
So far great customer experience with Jerrod at Public Storage Fairfield. The timing of our move changed by a week and he was more than happy to accommodate. With all the stress going on, nice to have a good, responsible contact at the facility where our entire house will reside for the next 6 months!
Jerrod was very helpful, he knew exactly what I needed for my move & was very attentive to what I came in there for. I will definitely recommend this facility for my packing needs. 5 star rating is a must.
More than 30% increase in rate? What a rip off, they recommend after 1 year of tenancy that I book a new unit so I can get a new customer rate. I guess they don't value any existing customers. would not recommend doing business here
I had been having a hard time finding packing supplies that I needed but Jerrod came to my rescue. He was very helpful & knowledgable of my packing needs. He was very polite and knew exactly what I needed & I will definitely be back in the future! Great service like that is hard to come by.
Jerrod, showed excellent customer service. I had an amazing experience and feel safe keeping to stuff at the Public Storage at the great location.
Today I went in to sign for my lease on my storage unit and immediately I was greeted by Jerrod. He was so kind, helpful, and fully knowledgeable about all the information I needed in order to rent a unit from Public Storage. Jerrod is a true asset to the company and should never leave! He made my move a little less stressful just by the exceptional customer service I received. Jerrod should be recognized for his excellent customer service he gives out.
Great customer service very knowledgeable to my packing needs I will definitely be back for packing supplies Jerrod and analia were a big help
Great customer service friendly staff and very knowledgeable jerrod and analia were very helpful
Jerrod was very knowledgeable to my storage needs he made everything real easy for me I will definitely be using public storage in the near future
Best storage place EVER. Jerrod and Analia are the BEST :)
I had an easy time finding everything and the staff was wonderful
Staff is SUPER friendly!!! Made my moving process very easy Thanks again:)
I drive 2 towns over just because of Analia. Anytime I needed help she has always been there and even if she didn't know the answer she went above and beyond to find out. I have rented several times here because of her. I also have my friends and family only using this facility. There is one closer but for me it's worth the drive. No bugs no rats no attitude. She really makes a bad situation ( moving/ complications ) just a little bit easier and that's not always easy to do. I would recommend this place to any and everyone as long as she's there. She truly is an asset to the company. Always polite no matter how busy and always smiling.
5 stars! We had a great experience with this location. Jerrod was extremely helpful in finding a affordable unit for us and we will make sure to go back for our future storage needs.
Very clean very organized jerrod and analia-were very helpful and very nice they answered all my questions
Awesome place! Jerrod is the best! He waited patiently and was very friendly.
Great customer service and great location
Great experience very friendly staff! Super helpful
I had a great experice at public storage jerrod and analia were very helpful with all my storage needs every question I had got answered
Great customer service and very knowledgeable will definitely recommend this facility to others jerrod was a great help
The service was excellent and the staff was knowledgeable. The place was clean and the staff managers Jerrod and Analia made sure I was comfortable with lots of options. Great experience.
THE BEST IN TOWN.GREAT SERVICE THANKS TO ANALIA FOR HER HELP SHES THE BEST!!!!!PEOPLE LIKE HER MAKES YOUR BUSINESS LOOK AND WORK THE PROPER WAY.GREAT SPIRIT AND CUSTOMER COMMUNICATION IS A PLUS!!!100% RECOMMENDED FOR ANYONE.TRY THIS COMPANY AND I GUARANTEE YOU WILL GET FULL SERVICE..
I recently went to public storage in the fairfield location i was very pleased with the service i received from jerrod and analia. I had never used storage before and they made this transaction very simple and were both very friendly.. I went to uhaul and was not happy with their service which is why i contunued shopping around and i am glad i did... :)
A great experience and wonderful customer service.
Great customer service great place for storage needs Analia and Jerrod were very knowledgeable for my storage needs will recommend Public storage in Fairfield is the place to go.
I came to public storage in Fairfield and Analia took great care of my daughter and me. She was friendly and got me the best rate . I rented the unit and she took time to explain everything in detail..I would recommend this location to anyone looking to rent.
This Public Storage location has to be one of the most professional storage companies in Connecticut. Jerrod and Analia were very polite, professional knowledgeable, as well as helpful. It was an easy going visit because of them. I recommend this location for your future storage applies. Thanks guys!
This place was very welcoming. A gentleman named Jerrod provided me with extravagant service!! He was very patient and nurturing as I was indecisive. He aided me with my needs. I will definitely go here again, where such kind people are there to help.
My experience there at Public Storage was great, especially for a first timer like myself who has never had to utilize a storage area before until now during my moving process from one city to another. I greatly appreciate the help from Jerrod and Analia who were extremely helpful with explaining everything to me and breaking down the small details of the whole storage process. They were friendly, funny and very helpful, with the anxiety that I had and being skeptical on using a public storage area for my belongings thanks to Jerrod and Analia I felt at ease and was happy that I just so happen choose the public storage in Fairfield. I highly recommend anyone; especially first timers like myself who need storage to go to Kings Highway and ask for Jerrod and Analia.
great customer service. had every single question answered. very clean and jerrod and analia were wonderful. thank you for the great experience guys, and i will refer anyone to public storage anytime.
I came in to inquire about storage and Jerrod and Analia answered all of my questions and were extremely knowledgeable about the entire Public Storage process.
This place is dirty. Things don't work like the doors and the roof has leaks that got my stuff all wet and had to be moved to another room. Very dark and very cold. Cant see many things unless you bring your own flashlight. I slipped on a puddle of water in the halls. The high management never seems to get back to you to talk to you about your issues. Garbage is lying around outside all over the place and the key access is a real joke!
Great experience easy and quick. The male by the name of Jerrod and his co-worker analia was very understanding and helpful and knew just what would be right for my needs. Those two answered all questions I had and where very informative, and exuded a great depth of customer service I would recommend anyone in need of assistance to see those two.
I had a great experience. Customer Service was very good.
Jerrod was great. He was very helpful in explaining how to set up a storage since I informed him this was my first time. I will recommend anyone in need of storage to come and give this place a visit. Thank you :-)
Very well and the Jerrold was very helpful and told me everything I needed to know and after I moved my things in he still made sure I was ok I would definitely come again
Absolutely appreciate my first time experience at Public Storage. Only needed a unit for a period of 2 weeks. Uhaul & Westys did not want to accommodate me with prices nor did they seem pleased to assist their customers. I believe the lady that helped me was Analia & she knew exactly what size I needed & got me a great price. Above & beyond service was given & I couldnt be more thankful.
Jerrold was very nice and personable. He was educated about my storage needs and made my decision easy and stress free.
Jerrod was a great help with awesome customer service.
I Had problems with finding storage at both Uhaul and Westy storage. Both places do not take reservation at location you have to call a general 1-800 number..which I did...I put a hold on units at both places to view in person to decide which would work better. When I went to both locations uhaul in Bridgeport and Westy in Fairfield they both indicated they had no reservations and were both totally full. Never again.... Public storage on the other hand allows someone to go directly to location you want and see what they have open. I made reservation with Analia went in saw unit and even was able to see a larger one which I rented. Analia was VERY informative and helpful as was Renae. I highly recommend using this location Public storage in Fairfield CT property number 20472
Very friendly and helpful staff and great location!
This place is pretty convenient. Customer service is excellent. Jerrod did an awesome job showing us the right unit for our things and offering us a pretty sweet deal. For long or temporary service this place would be perfect.
So I was looking to buy boxes and packing supplies for my son who is going away to college. I was actually going to home depot but stopped by this public storage location to see if I can catch a deal, and was helped by Analia. She gave me a package deal and she was very helpful. She even went out of her way helping me bring my supplies to the car. Most places will charge you and send you about your way, but she made sure that I was taken care of the minute I walked in til the second I got back into my car, and that is great customer service. I will definitely be back if I ever need packing supplies or any storage. Will definitely refer to people as well.
A very clean, secure, and welcoming establishment. the customer service I received for both supplies and unit help was more than excellent. Prices are very good/reasonable. The staff is very friendly and welcoming. In all just a great place to trust with your things as well as getting supplies. I will definitely return again and recommend this place for anyone seeking a unit/supplies.
A very welcoming place, frankly I was on a mission acquiring boxes & some tape. Analia with such great spirit not only helped me find my materials but also gave me a smile with her warm customer service. If only there were others in many different places employed like her. I will return when I'm in need for more materials. Thank you
Clean, clear and orderly. I went in for information and was met with Jerrod... Not sure of his last name but her was an awesome awesome help. I will definitely use Public Storage in the future!
Analia Castro, Thank you for all your help!! You were awesome! Thanks for making it easy even though it was long distance. Your friend , Bill
I was a precious customer , service I recieved when I rented with Thomas was excellent. I also came here for packing supplies and Analia also offered great customer service it seems like its a pattern at this establishment.
Hi people, I just want share my experience in this place is nice, safe, secure and really good customer service. The property manager. Analia/Steph explain everything I need to know very friendly. I really recommend this place!!
I went to this public storage last week in need of storage space and had a great experience. The staff was very friendly and helpful. I had some additional questions and concerns and the manager Analia came personally to assist me with my questions. I would definitely recommend this location.
I recently got married and was in need of storage space urgently since I received more gifts than I had space for. A friend recommended me to this location and while I was hesitant to use any of these storage places I was pleasantly surprised when I arrived and the location Manager Analia walked me through their storage process and showed me the available spaces. The customer service at this location was excellent and their prices were pretty reasonable.
Very knowledgeable and helpful people...I had the pleasure of dealing with Renae, but also spoke with Analia and Jae, and they were great!! Made the checking in process very easy...Explained everything very well. I would highly recommend this Public Storage for anyone having storage needs....
My Storage Facility Manager Analia in Fairfield Ct has been a joy to work with thru the past few years . I have had no problems and had nothing less than a excellent experience with her and the rest of her staff . Thank you for keeping the facility spotless and safe and I would recommend Public Storage to all my contacts . Sincerley Joseph Christiano
Left Uhaul in a complete unsatisfied mood hoping that Public Storage would make the slightest difference with their customer service. All I needed were simple supplies for the Holidays to send out packages to family. Analia & Jae couldnt have been more of a help. I appreciate the kindness. Thank you I definitely recommend this facility for merchandise purchase.
I was very pleased with their quality of service. Jae and Analia were very helpful and answered all of my questions in a friendly manner.
Both Analia and Jae were very helpful in helping me find a unit in their facility. They both answered all of my questions in a professional manner and made me their top priority. I definitely enjoyed my experience.
Great Location, professional Employees, Clean and well maintained.
Very satisfied customer and have had a good experience with Analia and Jae, both have qualified and skilled customer service and I would recommend them to anyone of my clients.
The people who work there are amazing!!!!!!!!!! Sometimes I just stop by there to say hello even when I don't need to doing anything with my storage unit. They are so kind and courteous. Based on the level of customer care I get there, I would recommend this location to ANYONE! :) Dan Bowen of Southport, CT.
My first time there was a good experience Jae & Analia was very friendly and gave great customer service . they helped me save alot of $$$ they explained everything vary respectfully . i will do business again :} & jae was a cutie
I stopped by your facility because I wanted to inquire about prices and storing for my future needs. I had the pleasure of being greeted and assisted by Jae and Analia. Who may I add, were not only professional and knowledgeable but there customer service exceeded the other places that I have visited in the past. They both knew that I have alot of important documents that needed to be kept safe and they went the extra mile to describe your file boxes. They provide assurance and high quality in the use of your products. If I wasn't sure who to store my belongings with when I first stepped foot in your facility...I do now... Keep employing individuals because it makes things a lot easier for us the consumers.
Stopped in for prices since im considering to rent in the near future. Wonderful customer service, felt at home from the minute I was greeted. Analia & Jae were knowledgeable of storage & merchandise I would need at the time im going to store. Will definitely store at the Fairfield location when looking to store.
Excellent, I had a really good service I'm very satisfied with it. Jae and analia they took good care of me.
Analia was tremendously helpful. She was patient answering all of my questions and was very knowledgeable about the storage facility, policies, procedures and cost. I couldn't be happier with my experience. Its been a long time since I've received such competent and friendly service. The facility itself is very clean and easy to access my unit. Very Very Happy with my decision to use Public Storage. :)
hi, my customer service personal and product with fairfield storage pr 20472 is very good highly recomend staff mgt analia /renae /joe /tim and other were in full effect like family.... mr lee grant/cleint