Public Storage Self-Storage Units at 990 Beck Ave, Fairfield, CA
Address
990 Beck Ave Fairfield, CA 94533
Property Open
Mon-Fri 9:30 AM - 6:00 PM
Sat-Sun 9:30 AM - 5:00 PM
Storage Facility Features
Indoor & Outdoor Storage Units

Property Manager Lives On-site

Small, Medium & Large Storage Units
Property Open
Mon-Fri 9:30 AM - 6:00 PM
Sat-Sun 9:30 AM - 5:00 PM
Storage Facility Features
Indoor & Outdoor Storage Units

Property Manager Lives On-site

Small, Medium & Large Storage Units
Close Location Details
View Location Details
Outside unit

Drive-up access

Outside unit

Drive-up access
Nearby Self-Storage Locations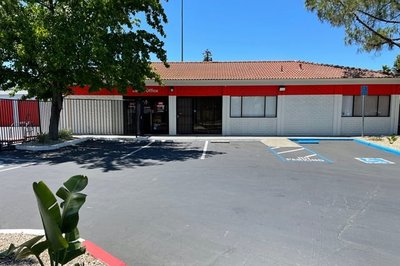 Self Storage Near
1199 Western Street
Fairfield CA 94533
Resources from the Help Center
See what fits in different storage unit sizes
Storage Units in Fairfield near Interstate 80
Self storage solutions are easy to get to at our Fairfield storage facility, just off of Interstate 80.
We have over 450 storage units to choose from, so whether you're looking to clean out a whole house or just a hallway closet, we've got you covered. Our 5x10 storage units are great for outdoor enthusiasts to store bikes or rollerblades, families to store picnic supplies for Allan Witt Park, or homeowners to store grills and other barbecue supplies during off-seasons.
10x10 storage units can handle the equivalent of a one to two-bedroom apartment. Larger hauls demand larger storage units, so take a step up to the 10x15 storage units and 10x20 storage units, big enough for a two to three-bedroom house. Homeowners going through a renovation project or folks between residences can store all their possessions for the long term. Couches, chairs, coffee tables, bookshelves, dressers, and large kitchen appliances can all fit in these large storage units.
To make moving those bulky items less stressful, we offer outdoor storage units with drive-up access. Just park your car, truck, or van in front of your ground-level storage unit and load or unload. Packing supplies like tape, rope, bubble wrap, and boxes can be purchased here to make your move even more convenient.
This facility even has an on-site manager who lives on the premises. Visit us today and learn how you can get organized.
At Public Storage, You'll Always Find...
Keypad Access

Friendly Staff

Month-to-Month Rent

Moving Supplies Available

Free Parking

Well-Lit Facilities
Reviews
( 442)
Naomi is the greatest! She does a great customer service that make us star renting here
Very professional and helpful
Naomi is great at customer service. There was a substantial price increase from June 2022 to July 2022, about $100 to $461 for a 10x30 space. She was able to knock it back to back to $356. The initial contact and financial rental process with Ashley in 2021 was very good. The location is ideal for my needs. So customer service 5 stars, however the rate increases not so much. Again May 2023, I'm giving Naomi 5 stars for customer service. She made it easy to transition from the larger to a smaller unit as I did not need as much space. The facility is very clean, and all of the staff are helpful, so kudos to the entire staff and facility. Just note however that the price increases in the last year were excessive, over 40% !!!
Naomi!!! Muchas Gracias!! Great service
Naomi was such a great help!! She really took her time with us and helped us look for one that best accommodate us!! We appreciate her patience, time, and kindness. Amazing customer service overall!! Thank you so much Naomi!
Great place for storage. As well as the staff is friendly and amazing at assistance when needed at the time especially Naomi great place and very clean.
want to say thanks for the amazing help niecey you go girl
Denenia muy buen servicio esplico muy bien todo muy atenta muy buena
Niecey was super helpful and was able to help me set up everything that I needed. Come see Niecey if you need storage.
Came to this property. Good customer service. Friendly. Josie was awesome. I liked that they have security and clean property.
I had some problems with my initial signing up for a unit. But I had one of the employees by the name ofNaomi and site Manager Carla theyworked out the details theywerevery helpful and pleasant. They showed genuine concern for what was going on and ultimately fixed the problem. I left happy and willing to continue doing business with the company
Niecey has done an excellent job for the Public Storage company. She gave me great first time service. And she directed me in all the appropriate places that I needed to know. She deserves a 5 Star review.
Thank you Naomi for the great customer service you have given me and my son over the last year. We will definitely use public storage again! We were Super happy!
Naomi was amazing when I came totally lost on sizes of units and what I needed. She stopped what she was doing to attended to my needs. She is the prime example of customer service!!!
Naomi's soo positive and her energy is infectious. She made my day brighter. Thx
The property was clean. Niecey show me the unit which was to my expecation. I would recommend.
Naomi was extremely helpful and patient. She spent the time to help us with our needs. She even had found our keys. We appreciate all her help. So glad she was here today. Better than anyone else that has been here. Thanks please keep her here. n the other people we experienced here. Please keep her here. Thanks
Every time I go I am greeted with a smile and a wave. Really nice and very helpful.
Naomi was great nobody was here when we first came so we called and no one answered, within an hour she called back and got me set up and now I have everything I need. Definitely recommend
Naomi has helped me with opening the gate on the app and she was so patient with me and very kind. We should see more people like her in the main office . What a pleasure to do business with
NAOMI HELPED ME WHEN I VACATED. I HAD A GREAT EXPERIENCE NO ISSUE MY ITEMS WERE SAFE. I WAS WITH PUBLIC STORAGE FOR 1 YEAR AND NEVER HAD ANY PROBLMEA.. THE OFFICE AND MY UNIT WERE CLEAN NO RODENTS OR WEORD SMELL.
Nicey is the most helpful person I have ever met at public storage she took care of all my storage needs...5 star assistance!
Niecy was very helpful, courteous and has very good customer service skills.
Niecey megntic personalty and cooperative nature I really appreciate to niecey she provide a good customer service here
Naomi was very helpful & pleasant. She did not get mad when I was a little late arriving to pay for my unit. She made my check in experience an enjoyable one.
Naomi was very helpful. However, erental didn't allow me to bypass the office. I only got the gate code and did not get the door code that I needed.
It's crazy the Fairfield location has two workers that are there on time take your lunch is on time one is definitely Naomi let her handle all your stuff otherwise you'll be waiting and waiting and waiting to even get into the storage
Naomi excelente customer serbise
Niecey is a very nice lady very professional I give her 10 stars
Naomi was extremely kind and helpful. She had the understanding of what I was asking for and found a way to get me what I need.
My storage is in the midwest but I love coming to Beck in Fairfield because I love coming to see Naomi, she is wonderful. I don't yuh
Great service Niecy and carla
Ms. Naomi and Carla were exceptional to work with. They told us everything up front, we really appreciated the transparency. The facility is clean and easily accessible. We've used public storage a few times in the past and we'll continue to use them. It would be awesome to start giving veter/military discounts.
Chuy was great fast and friendly thanks you're great!!
Naomi excellent service, used excellent rental and worked perfect! Will rent from agian if I ever need one.
Naomi was very efficient and quick to help, she was sweet and caring to our needs. She answered every question in detail. Glad we choose this place to store our stuff
Naomi was very helpful and very sweet I have been with this storage since December 1, 2018
Naomi was Very helpful and nice !!!
Naomi was really helpful with all the charges and fees
Naomi was very helpful to me, I don't know what I would have done without her! She's a real Sweetheart! ❤️
Naomi is the sweetest! She made my experience nice and smooth. Naomi was also very easy to talk to. Thank you, again!
Great clean environment! Spacious dry units. Naomi helped us and was great! Highly recommend this location.
Naomi was extremely helpful and cheerful. I would give ten if possible.
Naomi tha KS for all the help and 5 star services
Naomi was great helped me get a storage unit last minute fast!
Naomi help me really quickly
Naomi always give the best service and has the brightest smile! Love the new updates to the property and employees!
Carla was a delight from the moment I stepped into the office. Thank you for all of your help Carla!
Good storage facility but over-priced in my opinion, pretty much every storage facility is over-priced, can't believe maintenance costs would be very high for these places.
Naomi was working hard to make my move smooth. Thank y'all.
Naomi was very dependable and very courteous in helping me. I highly rate her at the maximum. Thank you so much Naomi! Vickey Wesby
Naomi was very helpful and friendly. Fast on getting the storage unit for me.
Noami is a wonderful 5 star employee! Very helpful and professional !
Naomi was amazing!! So helpful and extremely polite! Clean facility and easy to find.
Naomi helped me today and both buying a storage unit was seamless and easy.
Ms Naomi was so kind and helpful She was lifting heavy bench but stopped to help me with my lock. She was so nice and pleasant
Ms Naomi is the best customer service person in the world!
Naomi is the best. Before I use to have problems catching someone in the office to pay my bill no matter what time of day I came. She is so helpful and polite and is always willing to help. Thanks Naomi.
I, Wende Lee Sharp, poured out my frustrations immediately upon arrival towards Naomi, the representative at the window! She accepted my remarks with gracious, composure letting me vent my anger. After I was somewhat through, she calmly explained the procedures of this national company, which has no regard for personal touch! Naomi definitely has NOT LOST the good old fashioned way of business!!! "The CUSTOMER is Always RIGHT" She is the very example of HOW customer service should BE!!! She deserves a RAISE!!! Very Happy She Was My Representative!!!! THANKS NAOMI!!!
Naomi is the best. She knows her stuff there is no problem she can't fix. Had a wonderful experience. Clean secure and plenty of smiles.
I love Naomi she is very polite and helpful. She always working and stops to help me with whatever i need and I appreciate her. Please keep her here. Thank you
I'm very happy With Naomi . I only wish she had been at this facility from the time I moved my stuff in the two units I rented.
The prices are cool But their representative is great if you go to public storage go to the one on beck in Fairfield Naomi will get it done for you
Naomi was extremely helpful!! She took care of the business, and made renting my storage unit easy and painless!!!
Niecy" !!! was very polite, professional, & straightforward w/ helping me secure my unit, & complete my reservation for an easy move-in, She also helped me set up my account through the public storage app, I'm very appreciative of her... Thank yOoouuuu Niecy !!!! Lol....🤗
Wonderful and very helpful experience!
I had an excellent experience with an employee by the name of NAOMI. She was the only one that EVER gave me the right information and was very professional. She knew what she was doing, and I'm greatly appreciative.. thanks again NAOMI 🎂🎉🎊 from 990 beck Ave, Fairfield, ca.
Horrible. Super inconvenient hours, staff lady running the joint was rude. Seemed like everything was always "broken". The open Gate feature via the app never is online, and online it says 24 hours, DEFINITELY NOT 24HRS. No use of the restroom NOR the dumpster on-site. Super high in price for a junky storage facility. If it's gonna be junky the price should be wayyyy less. Stayed only for a few months. Horrible experience here. The picture was the entrance to my unit. Barely hanging on by a drywall screw... smh...
Amazing service by Naomi, appreciate it a lot will be coming back.
Naomi was awesome providing excellent servoce to me .During this stressful time fpr my kids to have strage. She os a wonderful person thank Naomi
Naomi went above and beyond to get me a storage unit after my unit was rented. Thank you!!!!
Naomi was a very awesome lady helped so much with out of town public storage in Pittsburg ca. She is a very kind lady. My shot out to Naomi. God be with you dear sweet Lady
Niecey she is a beautiful person, great customer services all nice and I will recommend! Thanks
Was very courteous friendly helpful it's a clean establishment and Naomi was awesome
Naomi was amazing! Made you feel welcome and like family, got everything squared away and moved in very quick
Naomi is very professional and helpful on what she does at the facilty. She will go above and beyond to get you what you want
Naomi has been so helpful since day one, she is Friendly and always has a smile even with the remodel and all the crews here everyday she keeps things running. A real asset to this location!
Naomi was very professional, conducted herself in a professional and respectful manner will refer public storage beck to family and friends!!!!!!!
Naomi she's a keeper she was very helpful very knowledgeable of what's going on at her office
Naomi was the best! She was very friendly and made my transition from a smaller unit to a bigger unit very fast, easy and painless! I would recommend Public Storage in Fairfield on Beck Ave to everyone! Thanks again Naomi!
Naomi n Neisy tagged teamed n got a perfect unit. They all smiles n very helpful energetic new their stuff one one location to next. I'd them 10 stars n more but require only 5 stars 🤩
Naomi is a real asset to your company. She gave excellent customer service.
I had a great experience at Public Storage today on Beck Ave. in Fairfield, Ca thanks to Naomi who was extremely helpful. I was looking for moving boxes and she explained all of the products they offer and how I could use them. She helped me narrow it down to what I needed and loaded my purchases in my vehicle for me! I would recommend them for your future moving/storage needs. Thank you Naomi!!
Great customer service, She was polite and very helpful. She answered all our question and made great suggestions. Thank you Naoma
Naomi helped me today! She is amazing, explaining everything clearly, showing my options, taking the time to walk me through. I really appreciate her time today and making me feel good about my choices Thank you Naomi
Loved ms.naomi she was awesome
Naomi was so helpful to me and answered my questions. She truly knows her stuff. Thank you for her.
Niecy and.Naomi were awesome, friendly, knowledgeable and provided great service...home town feeling!
Ms Naomi is wonderful and beautiful! Make sure to keep her. I was in Vegas and she helped me so when I got home I had to come see her in person and she was just as friendly in person, she made my day!!! Thanks Naomi
The property manager Carla is such a blessing! Very friendly and efficient she explained everything we needed to know I would highly recommend this storage facility for future storage needs based on her customer service and knowledge of the company . Everytime I come here she is cleaning the grounds or hard at work appreciate you Carla!
Only reason I gave it one star is because I couldn't give it less! No one is ever in the office, nor do they ever answer the phone… Oh and beware if you go after hours the woman who stays in the shack in the back will come out and hold a shot gun out at you. When we first got out unit online and checked in took us a whole day to find the woman, when we asked her for help… she was upset to have to come out of the office and help, mind you public storage sent us the wrong code. We checked out 2 days after checking in, smells like rats and they have rat packs inside of the units! Be careful when bringing your stuff in to this place. We're still awaiting our refund.
Naomi was sooo helpful over the phone and in person. She made my reservation into a transfer because she determined I needed a larger unit instead of two units. I'm happy. Thx Naomi
Ms Naomi was such light of sunshine and sooo very helpful. Thx Naomi
I'm a first time resident and Naomi helped me get situated. She was so helpful! Thank you so much for everything.
If and whom it may concern niecey was of good nature and service,thank you!
Niecey helped so much with my move and made it so easy and stress free
Carla was awesome thank you
Carla has outstanding customer service. She answered all my questions And she was very patient because I was having a hard time understanding. Very friendly
Carla is was great friendly and fast
This is a nice, clean facility, friendly staff, manager lives on site. Located off of Claybank Rd. Rates are not as good as some, but they aren't as bad as others. Reasonable I suppose! The one bad thing is the hours, not open late enough
Carla was great fast and friendly. Thank you
Yvette was very nice, great service helped with everything i needed and some. Great place
Property number 21614 Always friendly Yvette assisted me this morning 3/22/21. I like that you can make your payment at anyone of there facility's.
I'm glad I came across this public storage center. Yvette was very polite, and helpful during this stressful move. She definitely made my day!! The property is also well kept and secure. I recommend this place if you want a peace of mind knowing your things are safe and secure at a reasonable price.
Carla was awesome. Great customer service super friendly and informative. She made my moving experience so smooth
Carla made my experience renting at public storage very pleasant and enjoyable. I would definitely continue renting here. Carla was very knowledgeable about the ins and outs of the facility. She had answers to all of my questions and i was satisfied with all her answers. and that is all a customer can ask for. Thank you.
I was very pleased with Yvette, manager at 900 Beck Ave., Fairfield, CA 94533 on how professional she was. She was kind, helpful and courteous. She went out of her way to assist me in any way she could. It was a pleasure to know that there are people/employees willing to help.
Yvette has recently started at this location and is very professional and polite every time we have interactions.
Yvette helped me today very polite lady can answer any questions you have. Clean and secure facility.
Carla was great! Extremely helpful! Love this location because of her! She has great customer service skills helped me with all of my needs! Left here feeling my things were secure and safe because of her thanks Carla !
Carla is great fast friendly service. Made the process so easy. Thank you!
The customer service is amazing Debbie does a wonderful job directing her customers! 10/4/2021- Update: This place feeds off of first experience reviews they train their staff to ask for reviews on google, they even hand little papers to show you where to leave a review. Up until now I was content with their service, but found out they randomly increased the price. When asked for explanation they said we periodically raise prices as stated in the terms and conditions so don't be fooled by the low prices you see now. The storage beside me also had a rat issue, not sure if that was ever addressed. Initial customer service was great, but after a couple months will likely be choosing someone else. Save yourself the headache. Hope this helps!
Carla is grate highly recommend this store really clean best Customer service always smiling very friendly
Carla is awesome great customer service thank you
Carla was great made everything quick and easy thank you
Carla was great super friendly! great customer service!!
Carla is great!! Made the whole process quick and easy thank you
Carla is great. Thank you. I currently rent here and I recommend this place
Wonderful service from the property manager Carla. Beautiful smile and even lovelier customer service!!
Carla waa super friendly had a great experience renting here i would highly recommend coming here if you need a storage
Carla was so amazing, really took her time with us and let us know where our storage and best options were!
I've been storing here for over 2 year's and This place is great.
Every time I come in to pay my bill or ask for assistance (the manager) Carla is very polite and always professional. She always goes out of her way to help me. I would definitely recommend this location to anyone who needs to store items and appreciates great customer service! Thank you Carla!!!
Stay away from this place
I had a wonderful experience with the manager here her name is Carla ⭐️ and she was very kind an helpful even going above an beyond to assist me which I truly appreciated she is the kind of person that's needed throughout this company!!! Thank you 😊 again for the great customer service!!!
Carla was great. Fast and friendly made the move in process super easy thanks girl!!
Carla & melanie was amazing !
Carla was great super friendly fast and professional make this whole process super easy and pleasant thanks Carla
Carla was great fast and friendly
The manager Carla was super friendly and professional. I've been considering up until recently, getting another unit at a different location because of the issue with people hanging out on the property and there always being random junk in the halls. But there's been a serious change and it's highly appreciated!! Will continue to rent here. Thank you Carla!!
Just rented a storage unit from Carla she was great super friendly and professional made the process quick and easy thank you
Carla was great super friendly and professional. Thank you!!!
Rebecca's is very helpful, cheerful and makes my day good when I come in here.
I FIND IT QUITE THE STORAGE OF CHOICE AND I SAY. THAT BECAUSE OF REBECCA OUTGOING EFFORTS SHE REALLY IS A PEOPLE PERSON
Carla was great. Thank you carla you rock
Carla was great and very knowledgeable! Go see Carla for your storage needs ASAP!!!
Carla was great. Fast friendly and efficient. Thank you . You rock
I am currently renting here and have been for a few months now and the new property manager Carla is so pleasant. She caught me while I was dropping some stuff off and she introduced herself and asked me how my experience has been and just great friendly conversation. The best service I've received in a long time Thanks Carla
Carla gave amazing customer service 🧡
Ramon, the property Manager, is very helpful. Seamless and efficient.
Carla was awesome thank you!!!
First time in need of a storage space .I got to say Rebecca at the public storage office at the Beck location in Fairfield was so friendly, nice , helpful and gave us good advice in regards...I recomend it if you ever need a place to store your personal stuff. Thanks to John at the public storage office at the western location office for your help and ideas ..it really saved us money.
The new manager carla is great. I've been renting for a few months and she is the first lady to come and check on my experience. Great customer service thank you!!
Carla was great super friendly and professional
Very poor security there. No alarms on individual units. Many people coming in main gate behind other cars. I had a break in and they had no idea.
Carla was fast, friendly and efficient!
Came to public storage today to rent and Carla was great, super friendly answered all my questions she made the rental process sooo easy. This is my first time ever getting a storage and I must say I am pleasantly surprised by the customer service she offered. CARLA YOU ROCK!!!
Carla was great fast friendly and professional. Just want I needed in a crunch. Thank you
Went to PS today to look into storing my property there. Right off the back I see Carla cleaning and maintaining the business which was a good sign. She immediately engaged with me and provided excellent customer service. She was knowledgeable, professional and super friendly leaving me with a great impression of this location! I will definitely be doing business here.
I've been a tenant at this location for awhile and I've never had such a pleasant interaction with one of the employees here. On my way to my unit the new girl "Carla" was in the middle of cleaning the property and stopped to come over to talk to me. She was very friendly, professional and by far the best manager I've come across. I'm in the process of moving and might need to move to a different location. She was understanding, patient and professional and didn't leave any of my questions unanswered.Thanks again for everything!!
Maggie was absolutely awesome! She mentioned that she works at the Sacramento site but was covering this property for the day. For just the hour that I was there, many inquiries and issues came in via phone and walk-ins. She was the only staff member on site and she handled all the problems above and beyond expectations. She deserves more than the 5 stars for her superb service and friendliness :)
Melanie, she was very professional. With great customer service. She gave an awesome experience. Thanx Melz!
Melanie was an absolute amazing experience. Easy transaction, intillengent at her job and motivated to get the job done. 100% satisfaction.
I've been so stressed out with this sudden move and the last I wanted to do was to put my personal belongings in storage. I never had a storage unit before so I really nervous and did not know what to expect. Luckily Sarah was there, and she broke down the agreement completely for and gave me her honest opinion of the size unit I needed for the amount of stuff I have! She was able to put up with my indecisiveness and show me all the different units I was considering. Her customer service skills was beyond amazing! Even while helping me and running the phone line by herself, she was able to maintain a calm demeanor with a smile. I really suggest anyone that needs a storage to check out out the Public Storage on Beck! You won't be disappointed! Thank you again Sarah!
I had to store things from a flood here for a few months. I came pretty often for access to this and that. I found the whole system here pretty painless.
Rebecca you are so sweet thank you for being so knowledgable!!
I needed a storage unit for a short time while we move to another city. The Public Storage facility on Beck in Fairfield was awesome from the website and pricing, but even better over the phone and in person. They were very helpful and worked with me and my particular situation. Highly recommend!!
Tessa very helpful and friendly
I have been here for almost a year and from the day I walked into the door Tessa greeted me very warmly and professional each time I've gone the office has been professional and seems as if they enjoy their job and there ready to help I would readily recommend this Public Storage
Tessa is a very nice person and my unit is big for the price I pay
Not only did Tessa exhibited great customer service the day prior, she as well as Destiny made me feel more than comfortable and secure that your company was the right choice in making for a New York Native to safely store my property in a unit for a more than fair price! Thank You Public Storage!!
Tessa is amazing, we have been here 3 months now and have had no issues! Thank you!
Tessa was awesome, efficient, nice.
Tessa the Besta" is the best at what she does. She made my experience at Public Storage! Courteous, knowledgeable, and has a great personality. Great promotions, and low monthly rent. The property is always clean. I will be storing here again.
I came to cancel my insurance and Susan was awesome. She's so friendly and upbeat.She didn't know exactly how to do the cancellation but she got some help and was able to finish it. Her pleasant disposition makes this a place worth visiting. Thank you
Great customer service. Clean facility.
I had the best experience ever with Public Storage. The young lady Tessa, was welcoming and knowledgeable. She knew I was in a hurry and she was fast and efficient. She answered all of my questions and got me a great deal. Every time that I come to Public Storage, she has a smile on her face and calls me by my first name. Great customer service!
We came here twice to get moving supplies and Susan was awesome both times. She's so friendly and upbeat and she knows the products a buyer is looking for. Her pleasant disposition makes this a place worth visiting for moving supplies and storage needs. We will definitely be back.
Great customer service! Clean property. I only Speak spanish and The property manager called María and she helped me. They went above and Beyond.
Great help!! Love Susan was amazing
I love how the manager worked so well with me, She was very cheerful and answered all my question about if I wanted to rent a storage and how the process was done. Thank you again to the manager Tessa
Clean facility. Great prices.
Just an all around wonderful establishment. Clean, secure, good pricing, and whether I'm dealing with Ms. Tessa or Ms. Sue, I'm walking away having consistently had a friendly, accommodating, and professional experience. Keep up the good work.
This place was great... went in to buy a lock and some tape and found the girl working the counter very nice and courteous. I didn't need a storage but if I do I'll definitely be coming here.
Recently had my storage unit robbed, earlier in the year someone tried to break in, I informed them and purchased new locks, less than 9 months later my unit was broken into. The storage never contacted anyone. I only found out when I went to the storage for something and found my locks where changed. They claimed they tried to contact us, TRIED!!! IT NEVER HAPPENED! I have no words to describe the lack of professionalism at this establishment.
Because the manager Tessa is a owsome woman,she very helpful with anything,anybody ask her and for some crazy reason she can't help you she will send you to the place or other person that can. And a big plus she has a beautiful smile for everyone that walks in her office. We love her,
Good customer service and clean property and office
Tessa is very accommodating and polite, and listened to everything I had to say. She answered all my questions. She was helpful and very respectful.
The front desk feel in from Sacramento Jessica is definitely one of the best. She shared alot of helpful information with me and I really appreciated that because it showed me that she cared about my financial situation. So I just want to thank you once again Beautiful Smile.
Transferring locations is a pain especially when they are not willing to work with you. Where's the customer service?
Tessa was excellent and very informational
Tessa is amazing she is also so happy and helpful when I come in to pay my bill.
Awesome service from Tessa. Assessed a clean storage unit in a professional and timely manner. I highly recommend.
The new manager is a real people s person.. And it's clean..
Tessa was very helpful and thoroughly explained all my options. Tessa is awesome!!
Tessa was very helpful and professional. Great experience overall.
Excellent Service from Tessa! I've enjoyed working with Tessa, she is very pleasant and reminds me of my daughter!
Tessa was so amazing ! She helped me with everything ! Loved her personality ! Thank you
Tessa always has a warm welcome when I came to my unit. Best customer service and great prucing.
The property manager Tessa is amazing! Very professional and always a delight to speak to when I come to pay my bill.
Property Manager Tessa is the best! She answered all my questions, worked with me on all my issues and best of all really cares about customer service! If I could I would give 10 stars. Thanks again for having someone like Tessa working for this office. 😉
Stopped in to get some shipping/packing supplies. Let me just say this place has Great Customer Service, Knowledgeable staff and very professional ;) most of all quality shipping/packing supplies.
Love this place always so so clean
Service was great all my storage needs were met
Great place the women in charge are always helpfull and very knowledge about any questions or concerns. Thanks love this place.
Hello this my apologies to the storage on beck ave i put a bad review to thia storage when it was meant for the storage on Western in fairfield ca I wanna give my deepest apologies mever had any problems with publuc stoarge on beck ave so if you stop and read my teview its for the public storage on Western sorry be k ave
Tessa was really helpful and I loved the whole intake process it was really nice!!
Tessa is super nice and funny. Good storage to come to 👍
This place is NOT what it is You pay for insurance" then when it's time to turn a claim they say I'm not covered, What F...K do I have insurance for!
Tessa was very helpful and great customer service.
Tessa didn't have a storage for me, but she went above and beyond to find one for me at one of her Sister storages! Thanks Tessa!
Tessa at the front desk was very helpful and friendly. I signed up online and she called me within minutes to help reserve my spot. She also helped when I needed to get a larger unit.
Tessa the besta is the besta! Best customer service I've ever experienced
The Good- Service is adequate, friendly staff - Prices are attractive (but be-careful) -Security is good -Spaces are clean (wood inside is old) The Bad- They're super aggressive and try to sell you everything! let me explain.....they hand you a lock when you first do the walk through and make it sound like its part of the deal but when you are about to sign the contract they charge you like $13.99 I believe for a lock you can get somewhere else for half the price, they make it sound like it's a requirement to buy their lock - Also they almost force you to buy their boxes and supplies( super aggressive that intimidates you) I understand sales people are meant to upsell but sometimes they forget to remain professional when offering their products - 1 Dollar moves you in? not true they charge you and admin fee of $25 dollars and also 61.67 in less than a month so shady for that one, also when they send you the bill the want you to pay one Month in advance for example I moved in on 10/24 and paid $25.00, got a bill right away for $61.67 on 11/1 and on top of that they want you to pay $229 in advance for 12/1-12/31...... so question is when I move out on 11/25 hopefully (would I get refunded back my 61.67??? why? because $25 moves you in for 30 days right? do the math - Last but not least!- the Insurance.....this are their exact words when the insurance question pops up on their screen "You are required to purchase this insurance for your storage and this are the 3 options, which one would you like"........I'm scratching my head and replied " I'm not getting that I'll get my own.....they looked at each other and said ok just make sure you get it......again they force it into you( shady).....I called my home insurance when I got home and boom I actually get coverage without paying a penny more! I called them back and said " Would you like a copy of my policy? since you told me to make sure to get it? they said no......we don't need it just make sure you get it!.......one more thing! they absolutely force you to do a GOOGLE REVIEW right on the spot but I refused because I wanted to take my time and analyze my experience and do this later.......all those 5 star reviews they have probably because they force you to do it on the spot but I bet half of those are people who were not necessarily 5 star satisfied but since they are there next to you have no choice.......
I came in never having got a storage unit before and Tessa was wonderful she was funny and friendly made this the best experience ever thank you for lighting this stressful experience
Tessa was awesome! She answered all my questions with a beautiful smile and contagious positive spirit. I was not having the greatest day and she made me feel so much better. She deserves a raise!!!😀
Tessa is amazing and has the best personality! Glad to know my belongings are safe with such friendly staff! Clean property and such great options! Been using them for years, go in and say hi to Tessa!!!!
Fast ,friendly service I needed a unit fast and Public Storage was great to accommodate are needs ,thank you Tessa ! She made the difference in who we choose !
Tessa Thebesta was very friendly, helpful, and made the process of obtaining storage a delightful experience. It's hard to find good customer service these days. I would recommend this place to anyone.
This place is great. The manager tessa is great and will be sure to take care of you.. I highly recommend them
Tessa is my favorite new person. She was extremely helpful, went through all my options and helped me select the best option for me. She was friendly, professional and very knowledgeable. It's been a great experience with this storage facility and Tessa is a main reason. I HIGHLY recommend.
Tessa was great! Very kind & knowledgeable....also patient with me as I stressed and complained about moving. Thank you Tessa!
Great service from Tessa. Very thorough and efficient!
Tessa was very helpful and friendly.
Shavasia store number 21614 was so polite and wonderful. She went above and beyond the necessary duties to assist all of our needs. Thank public storage for having the face of kindness.
Tessa was really helpful. She was very knowledgeable about the different unit spaces for my moving needs. Thanks Tessa!
Tessa the woman who helped me was very helpful she was very respectful she basically made the whole experience about me and she was very adamant on making sure that I was comfortable with the storage space that I had she found me a great location great price I had a lot going on that day due to the fact that my mother had just passed away and I had to multitask on my cell phone and she was just very very helpful and I would definitely do business with them again thank you very much Candace I appreciate it. -Sarafina
I worked with Tessa it was a very easy fast experience I really did appreciate all the help that she was .she found me the perfect storage that's easy access for me to get my things in and out . Thank you Tessa -Sonji Basped
Tessa provided excellent service. She is definitely an asset to this business.
The associate Tessa it was really nice when she helped me she made sure I had a perfect storage that met my needs and for a great price I'm really happy with the storage company I would definitely recommend business with them over other storage places
Never ever store your things here. We were gone for one year and our storage unit was broken into twice. My full keyboard, my trunk, my tables, my record player and all electronics were stolen. These thieves took knives and ripped through all of our boxes and made it look like a hurricane. Very unhappy with the level of security. Were they really unable to capture the thieves on camera? It makes me wonder if somebody working at the storage unit tipped them off.
Terrible customer service! Woman is rude from the moment we walked in. Previous management treated customers like family.
Great Job Tessa! It was painless and quick! I have used Public Storage before but she was sure to inform me quickly of everything that you guys offer! I was in and out with a new space in 20 mins. Now I can get on with moving in 100 degree Heat! Thanks again! Also the place is right by the freeway which makes it easy to get in and out if you don't live right in Fairfield but pass by on your way to or from the city.
Candace was so helpful and friendly! She offered me a better unit for my budget and called me to even let me know I did not lock my unit properly! Excellent customer service!
Great location and super customer service. Tessa is great!
How much is the cost of unit? And how big ?
The assistant manager, Tessa was very helpful and helped us figure out the right size unit for our needs. She was very pleasant to work with! Would have given 5 stars if we were able to take advantage of the $1 first month move in fee. Was able to get 50 % deal, but not the same. Thanks for your help today Tessa!!!!
I Like Candice she is very nice and very respectful. She explained everything I needed to know.... She walk me to my storage and made sure if it was the right size I need. I never met Tessa yet, but I can feel she is a very nice person as well.... My storage was nice and clean.... I'm so glad I chose this location.... Ok! Thank you both and God Bless youall forevermore....
I LOVE this place! The staff like Candice and Tessa are super friendly and welcoming! I've been to other places where they treat you like nobodies but here they treat me great and really value me as a customer! Five stars all the way!
I was there at Public Storage 990 Beck Ave and my experience was great the person that helped me was awesome she explained everything gave me a tour and I just have to say she was awesome person her name was Tessa, and thank you very much you have a great day I would recommend this place
There great here i highly recommend them
Great staff!! The reservations was quick and easy.
My son and I come to our unit everyday. Everyday, Everyday, Everyday, I write the book......💖😹💖😹💖😹💖😹💖😹........sigh......hehehe.....no, jk.....Tessa has ALWAY'S been so incredibly kind. My son and I stop in the office to see her every time she works. She's a VERY genuine person!
Super easy to check in and get started, and Candice is very friendly and professional!
Tessa was very helpful when we arrived. She was very thorough with the information provided and on the walk through of the space. She also offered the availability of the different products to protect our belongings. Our experience was awesome!
Tessa Ortega was amazing, she has great customer service skills. Tessa helped me to pick the right size moving box package and also other items to use for our move. Thank you so much..... 100% Great Service given by Tessa. Tessa also greeted us as we walked in, was very personable with myself and my children. Keep up the Fantastic Work Tessa! Public Storage you hired an amazing worker!
So far so good, Have yet to move in but Candice did a fine job showing me a unit that will fit my needs and getting me signed up.
Candice is amazing!! Couldn't ask for a better property manager! Thank you candice
I received excellent service the person who stayed half an hour late help me decide on which storage unit to rent I highly recommend Tessa she was great sport for staying late really really appreciate it
Clean, well lit, great prices with first month $1. Candice the property manager was helpful and friendly. Highly recommend.
Great place to rent a storage. The process was quick and painless plus Candice had awesome customer service and helped me get a great deal!
What time does the gate open
Rent and late fee prices were increased without any notice access hours changed without notice
Candice is super nice and friendly! She is extremely helpful and really tries to accommodate you the best she can. I feel very comfortable and safe having my things stored at this facility and location.
Candice is so accommodating-if something isn't right-she takes the time to make it so~
This place rocked. The manager made the entire experience the best I've had at any public storage. She gave reminder calls when she could have charged late fees. She waited the night I checked in well past office closing. I checked out at an odd hour and she made that easy as well.
I had a very pleasant experience at the Beck facility, Candice was very friendly and personable, she answered all my questions and rented me a very nice unit at a very fair price.
Hello All! Transition can be tough, so finding a place to ease part of your worries is a blessing in diguise. Arriving at public storage I was greeted with respect and genuine concern for storing my belongings. Candice who is the onsite property manager is such a professional, she not only gave me a tour of my options but also helped me assess my needs. Thanks Public Storage!
Great and friendly service. Recommend coming here for all your storage needs
Each time we've visited this location, Candice was extremely helpful!
I went to public storage looking for pricing. When I got there there were a few people in the office. Candice was the lady working by the Counter and she acknowledged my presence right away. She was very busy but very helpful, she did not make me feel rushed in any way. They were preparing for an auction at the time I can in and she invited me to stay for the auction. I did because I was curious. I was impressed with the way Candice knew the names of all the auction goers as well as the professions of the former owners of the storage units( which was helpfull to the auction goers. You would think she had eyes behind the back of her head, because she noticed that a renter needed help with something with her unit During the auction. She helprd her and was quickly back at the auction. As a business owner I could see how valuable she was to the company. Her boss was there (he was also very nice with a great sense of humor and he also knew the auction goers by name). You could see they had a great professional relationship, which I'm sure helps her be a great Employee. As I was leaving she called me by name and reminded me to call or come by with any questions. I will definitely be renting from this public storage.
This is Jay Chapman I am very pleased with this location and the staff. Well taken care of and professional.
Very nice staff, got me moved in the same day which was perfect!!
Super helpful and would recommend this location just because of the customer service I received. Very clean unit. Move-in ready.
I happened to be looking for a $1.00 storage unit. And before that, pretty much was having a bad day.. I located a PUBLIC STORAGE center in Fairfield Ca. On Beck street I explained to the associate, that I was interested in one of the units as advertised on TV. Although there were none abailable, the associate at the desk , seeing that I wasnt having a good day. Proceeded to look up on the computer to help me further. Out of all the things I had been mad about but was steadily saying ,something good has got to come out of this day. And it was, CANDICE , AN ASSOCIATE OF PUBLIC STORAGE, in Fairfield, Ca. Talked to me and assured me that, she understood the situation, and was willing to give me a chance and regroup. Now not only was that exeptional service but it was above and beyond the call of duty. So I just wanted to thank them and her for standing up and honoring a T.V advertisement. That means nothing until you see., for yourself its not just marketing. But undersyanding as well.
Excellent, professional, and friendly staff! Candice at the 990 Beck ave Fairfield Ca. location has been very courteous. I would recommend this storage facility to anyone desiring a hassle free experience!!!
Candice was very professional in helping me get all set up with a unit! Glad I chose this location.
I just came back for another storage space. Jennifer was very friendly and helpful. Property was clean. Would definitely recommend.
Thank you Candice for working with on this, specially its my first time renting a storage. You're so knowledgeable and transcends positively to folks like me. You made everything so easy to understand. Good job!
Jennifer gave me a good deal and she's very friendly and helpful
Very quick, great service
Great Friendly costumer service, they take their time to explain and help you pick the right size storage for you. I would totally recommend this Public Storage!!!
Jen is very knowledgeable very friendly and great customer service.
Gina, has excellent customer service a professional individual and is very helpful in a customer concerns
Gina is great customer service
Seemed very nice. Watch our though, sometimes they hand you things (from the wall on the left) but don't tell you how much they cost. Other than that I enjoyed my time there. They are nice. Well maintained. quiet. and nice staff.
This Public Storage has great service, great location, Gina is awesome... never had any problems... and feel safe with my belongings being stored there.
Gina was very helpful snd very knowledgeable with her job. I would recommend this property as the best in Fairfield Ca. Keep up the good job👍
Service was friendly. Place clean, easy access, and very good rates.:-)
The service was great! Dominique was a great help too!
Customer service is awesome I had no problem at all.
Gina is very nice, friendly, and gives excellent professional service. She's also caring of others and is an expert on her business.
Gina was a great help thanks
Gina has great customer service
Gina has great customer service.
Very friendly and they help make storage needs simple. Because they don't call me Robert!!!
Great customer service. Gina and Jen are very knowledgeable. I would highly recommend this place then any other storage companys.
Great customer service by Gina! Service was fantastic and the storage unit was clean and safe. Thank you
Great space Gina the manager is great!!!
Jen was amazing. Very perfessional, very knowledgeable. She made the process painless and easy. Very good at her job. Five star plus.
Jennifer was superb! I would recommend this storage for anyone who is moving.
Excellent customer service. My family is moving to the area, and our second car broke down halfway up the state on the way here. Despite this stressful period, Gina and Jennifer really helped us out by walking through our options. We could save money switching to another unit for the second month if we need to. Definitely recommend this place.
Gina helped me get a great storage unit for a great deal!!! Friendly staff!!! Love this place!!!
Gina is so sweet and helpful.
Gina is great. Great customer service and she helped during my stressful times having no where to go and put my stuff.
Gina was great thank you very much
Gina was very sweet,respectful,and helpful during a stressful time I'm experiencing right now..she's definitely regional manager material.
Gina is great has great customer service. Give her a raise for excellent customer service
Gina was great and gave us great service
Gina was very friendly & informative.
Gina was great it was great service
gina was wondweful fantastic. she really stepped out her way to help us
Wonderful service. Gina and Jen were very accommodating. I would recommend this place to everyone.
property was great, Jennifer was very nice and helpful. would recommend this to anyone.
I have had a great experience here with this facility. property manager is great. Jennifer is also very helpful. would recommend to anyone needing storage.
Jen was awesome and was a really good help.
Gina has given us great service
Great customer service from Gina
Gina helped me by showing me what units were available and what prices they were
Love this place great service, location. Gina answered all our questions patiently took the time to show us the unit before we decided to rent it we will definitely be coming back!
My name is Alicia and my husband and I went to this public storage in quick a bad mood. We had a horrible spin out on the freeway with a U-Haul trailer which could have very well killed my husband and two dogs in the car. Anyways needless to say we were very emotional and tired from the stressful day. From the second we walked into the door GINA was GREAT!! She was so comforting in asking how we were and finding out it wasn't very good.. she was sweet and so kind. She helped us find the perfect unit for our unique needs and got us an amazing deal. She is such a kind lady and I hope she gets a raise from this because she is a one of a kind person that makes the difference between telling all your friends you had a great experience instead of a bad one. Keep up the awesome work GINA!!
Dominique and Gina Go above and beyond the call of duty Great customer Service
Never again will I be coming here again. People be careful with who you leave your stuff with. I was only here 5 months and a whole lot of stuff got stolen. The manager Gina seems a bit suspicious. My stuff was gone but the lock was put back into its place. I would recommend a place with cameras and with people who will help figure out things rather than leaving them alone like nothing happened. Also, make sure that you keep note of the things you store. Thing could go missing without you knowing.
Gina was great ...I had a great experience here since she took care of all our storage needs
Had a problem and kept getting the run around,until I went in for the last time, and met Kelly who took care of my problem , like it was her own. I am very pleased with her efforts ,and I will stay a little while longer.
Everything is great !!! Love it Gina is wonderful
Jen was awesome. The property was very clean. great customer service.
Gina was so helpful and she guide me to the entire process
This is a great location with easy access to and from the freeway. Gina was very helpful in determining my storage needs. She even stayed late helping me when I had a problem and was quick to resolve the issue. Excellent customer service.
Very easy going and good customer service from Jen.
There system for paying your bill online sucks, it's only intention is to create more revenue by not working properly. It continues to take you back over&over time and time again. Not allowing access to their site. And issues multiple usernames And passwords, which only add to their screwed up system. They make no attempt to help , but only criticize your method of contact I.e. (cell phone) this company should be investigated by the Attorney General, And soon will be.
Gina was awesome!!!!! She helped us get a unit that was the right size and the best price. She sold us a pak of boxes that would get us started with our move. I recommend this place to everyone.
Gina is the best! She helped us out so much! She is thoughtful and a very sweet person. I sure will go back if needed. They are clean and have good rates. Thank you so much Gina. Your a blessing!!!
jen was very helpful and very very nice to talk to. helped with everything.i needed
I am really pleased and satisfied with the help that Gina has provided me with today 01/22/15.
The manager, Gina, went above and beyond in helping me get set up with my storage room. I am very appreciative of her excellent customer service, as it made our move from Brooklyn, NY much, much easier! The hours for the self-serve section are pretty convenient too and this location had the best selection of rooms that I could find.
gina is the best in the west God bless her
Excellent service! Gina made sure I had all the packing materials I needed. I was treated with respect and definitely recommend her facility.
gina is the best go rent storage from her location
Great customer service by Gina satisfy
Clean, easily accessible location. Staff (Gina) is conscientious and very helpful to me. Kudos.
Cody and Gina were extremely helpful in assisting me with finding the storage unit that best for my needs.
Wonderful experience gina was great
Jen and Brittany were both great with fast professional service. They were able to set me up with 2 storage units to fit my needs.
Jen an Brittany were very kind their costomer service skills were great the facility also looked nice very neat an clean and organized . Awesome spacious storage site. Better than many I've seen - Dustin Eiffert
Good customer service. Brittany is very helpful
Clean, good location, and good service.
Jen is Awesome she got me in & out, I would recommend to anyone.
My experience was very good with public storage! Very happy!
Brittney was very helpful
The property is nice and clean and the staff is always pleasant.
Brittany & Jennifer are very sweet and kind. Whenever I go there I don't feel like I'm at a storage place but it feels like I am just out and about.
Jen was awesome work did a good job
Jen is awesome, so friendly, she bends over backwards for you. I will tell everyone to come to Public Storage, she is the best.
Jen was a great help. The property looked clean and they have been very helpful through the process
JEN WAS TOTALLY AWSOME AND HELPFUL ...STORAGE UNIT AND PROPERTY VERY CLEAN
Jen and Brittany are awesome. They are very friendly and greet me as soon as I come in the door. The office and site is always very clean. Keep up the great work ! You both are awesome!!!
Jen is really helpful and the property always looks clean
Brittany is the best. My stay at public storage has been a wonderful experience feel at home everytime i come to public storage. She is super helpful and friendly. Made my stay at public storage the best!
Service was friendly, efficient and knowledgeable. Thanks Brittany for your help.,
Brittany had good customer service
Jen has been very helpful and polite. Wonderful customer service. Property looks clean and well taken care of.
Love my experience at public storage
Jen and Brittany Are great. Always try to help me and keep the property clean.
I stopped in today to ask about renting a storage unit. Brittany was there and answered all my questions and helped me pick a storage unit that would be best for my purposes. She has excellent customer service skills and I look forward to doing business with public storage in the future.
Britney is a super heroe, who helps me get through rough times job wise. I can rate her five stars anytime.
Brittany is awesome great customer service, the property site is always well maintained, never had a problem here.
Jen and Brittany was very helpful and professional. We need more property managers like these two ladies in Fairfield location.
I called public storage today to get some information on the units they had available and I spoke to a lady named Brittany. She was very friendly and helpful, just want to say thanks for the great service!
No need to look anywhere else! These storage units are the best. Brittany is very knowledgable and friendly! She was able to answer every question we had!
I would recommend anyone who needs a storage to come here. Brittany is very helpful and polite she helped me change all my questions that I ask or need answers to about my storage and its always clean around the facility and it doesn't matter the day or time Brittany is always smiling and cheerful. I been renting here for two years.
Excellent location / staff are very helpful especially Brittany
Great Customer service. Brittany was very helpful!
Jen was friendly and provided exceptional customer service. Much appreciated and highly recommend this location. Couldn't have ask for more.
I stopped into public storage to buy some boxes and check out the facilities. Brittany was there and was extremely friendly and helpful with all my questions! The next time my family needs to store anything, I'll be coming here. Exceptional customer service!
Went in today to gather some information on renting a unit. Brittany was extremely helpful and gave me all the information that I needed. Will be back soon to rent a unit.
I just moved to the area recently on business and needed something quick and easy. Brittany opened the office right at 9:30 and had my paperwork processed within ten minutes or so. She was very professional and accommodating. I will definitely use public storage again in the future if needed. Jonathan
Brittany She is very helpful one of the most helpful person I've ever seen in the office.
Friendly employees that care about customers needs as opposed to simply making a buck.
Jen did a great job at explaining things. Very solid customer service.
The manager, Sharon, is a very friendly and helpful person. The storage unit is very secure. The storage complex is clean and well-run. The only problem I had was with the actual rollup door to the unit I was renting. It was in need of some lubrication to make it easier to raise.