Large business storage units for everything and the kitchen sink.
Reduce Overhead
Why spend significantly more than you need to on commercial real estate for storage space? Our large business storage solutions can hold your equipment and other big items at a fraction of the cost.
Stay Flexible
Our drive-up units make it easier than ever to load, unload and go. And, with thousands of facilities nationwide, you won't have to go very far with those heavy items in tow. Need to switch to a more convenient location? It's a breeze with our month-to-month rental terms.
Explore Business Industries We Serve
No matter what your commercial storage needs are, we have a solution that fits them.
Whether you're putting away seasonal materials or decluttering your workspace for some extra room, our small business storage units are great for storing boxes and small furniture pieces.
Inventory, equipment or other materials taking up too much of your space? Rely on our medium commercial storage units to store your things when they're not being used.
Your business vehicle is a reflection of your brand. When it's not being driven around, keep it in our covered, uncovered and enclosed vehicle storage units.
How much can you store in a 10'x20' storage unit?
This size guide will help you learn how much you can store in a 10'x20' storage unit. When it comes to relocating, a 10'x20' storage unit can hold 80 large moving boxes and still have room to spare.
Storage Unit Size Guide
Picking a storage unit size can be tricky. We're here to help make it easier.
Small Self Storage Units
Our small self-storage units range from 5'x5' to 5'x10' and are great for storing boxes, small furniture or the contents of one room.
Medium Self Storage Units
Our medium self-storage units range from 5'x15' to 10'x10' and are perfect for storing the contents of a one bedroom or two bedroom apartment.
Large Self Storage Units
Our large self-storage units range from 10'x15' to 10'x25' and are ideal for storing items from a two bedroom house or larger.
Vehicle Storage
Our vehicle storage parking spaces range from up to 20' to 50' and are suitable for parking cars, RVs, boats, campers, vans, trucks and trailers.
Large Business Storage FAQs
Get quick answers to your commercial storage questions below! For specific details on what can be kept in your storage unit, check your rental agreement.
You can store equipment, as well as inventory, furniture and other business materials in your unit. You may not use your storage unit as a store front, equipment repair area or office space for your business, nor should you operate machinery inside the unit.
Yes, we offer
climate-controlled storage units
in all sizes, however, availability varies based on location and facility. Our 10'x15' and 10'x20' climate-controlled storage units can help take the edge off the weather, allowing you to comfortably visit your storage unit and keep business moving.
You can pick up or unload equipment anytime during gate access hours. Gate access is typically available from 6 a.m. to 9 p.m. daily, but these hours may vary by facility. As long as gate access is available, you can enter and exit as you please. Every Public Storage facility features entry points accessible via electronic keypad or the Public Storage app on your phone so you can unload, pick up and haul away with ease.
No, the monthly rate on the space when you select it is what you pay to start using it. If it's being used for commercial purposes, the cost of renting your unit may be considered a business expense, meaning it may be tax deductible. Consult a tax professional for more information.
To find large business storage available in your area, you can use our
storage locator tool
that conveniently lets you filter results by unit size.
Moving Tips & Advice
Get prepped with tips and tricks for planning a move while saving money and staying organized throughout the process.
Storage Tips
Check out our tips on corralling all your business supplies for easy and fast access.
Packing Hacks
Try these packing hacks to help you save money, free up space and unpack more efficiently.
Organizing Advice
Get expert advice for decluttering and organizing your workspace to boost productivity.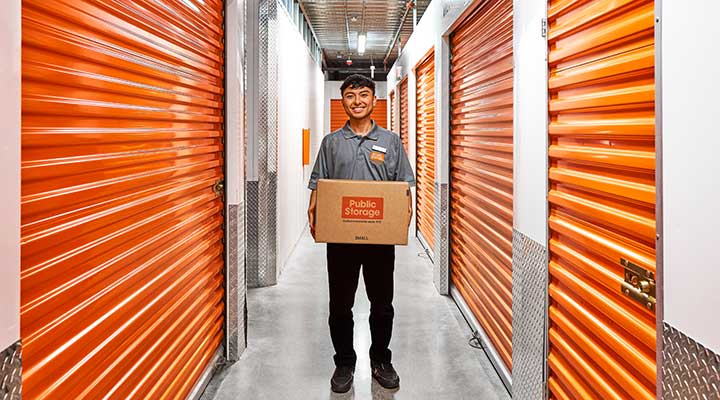 What is Climate Controlled Storage?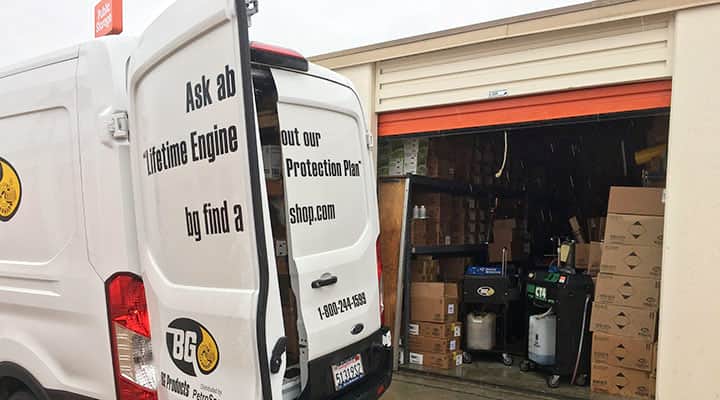 Public Storage is Essential for Helping Business Customers Help You