Public Storage Self-Storage Units at 625 West Blackstock Road, Spartanburg, SC
Address
625 West Blackstock Road Spartanburg, SC 29301
Property Open
Mon-Sun 6:00 AM - 9:00 PM
Storage Facility Features
Climate Control Storage

Boat Storage

Car Storage

RV Storage

Small, Medium & Large Storage Units

Indoor & Outdoor Storage Units
Property Open
Mon-Sun 6:00 AM - 9:00 PM
Storage Facility Features
Climate Control Storage

Boat Storage

Car Storage

RV Storage

Small, Medium & Large Storage Units

Indoor & Outdoor Storage Units
Close Location Details
View Location Details
Outside unit

Drive-up access

---

12'x20'

---

5'x10'

Outside unit

Drive-up access

---

10'x10'

Outside unit

Drive-up access

---

10'x15'

Outside unit

Drive-up access

Outside unit

Drive-up access

---

10'x30'

Outside unit

Drive-up access
Nearby Self-Storage Locations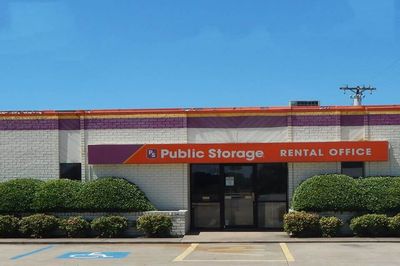 Self Storage Near
2155 Chesnee Hwy
Spartanburg SC 29303
Self Storage Near
168 Farm Lake Rd
Boiling Springs SC 29316
Self-Storage Near Spartanburg
Resources from the Help Center
See what fits in different storage unit sizes
Spartanburg Storage Units Near I-26 and Route 29
Storage units are available near I-26 and Route 29 to get organized in Spartanburg.
Moving in is easy with the outdoor storage units at this location, which allow you to drive up and drop off your stuff quickly. With more time to do what you love, you can focus on making memories in town at destinations like the Hatcher Garden and Woodland Preserve, Spartanburg Regional Museum of History, and Hub City Art Park.
At Public Storage, You'll Always Find...
Keypad Access

Friendly Staff

Month-to-Month Rent

Moving Supplies Available

Free Parking

Well-Lit Facilities
Reviews
( 285)
My unit was broken into. Called the office only to be transferred to a call center. No one called me back. No one showed up for my "appointment" no one called me. Never heard from the district manager or anyone. Keep your money. Go some where else. The team is NEVER onsite. The only reason why I know it's not a scam is because the gate works for me to get in. Otherwise, customer issues like a BREAK INTO MY UNIT! Is not even addressed.
I've used this company for about 8 years now. I just recently another unit here. Everyone helpful and nice. Ty. K Buckman
TERRIBLE TERRIBLE. OUR STORAGE UNIT HAS BEEN BROKEN INTO. IF YOU HAVE ANYTHING STORED HERE ON THIS PROPERTY, YOU NEED TO MOVE YOUR STUFF ELSEWHERE. THEY ONLY HAVE 2 CAMERAS, ONE AT THE ENTRANCE AND ONE AT THE FACING STORAGE BUILDING B,C,D. THERE'S TWO CAMERAS IN THE BACK THAT DON'T EVEN WORK. THIS WHOLE PROPERTY IS A JOKE. THERE'S BLIND SPOTS ON THIS PROPERTY. THIS PROPERTY IS NOT SCURE AT ALL. THE LADY TERRI UP AT THE FRONT SAYS SHE CHECKS THE WHOLE PROPERTY EVERY NIGHT. LIES, THIS GATED FENCE BY "BUILDING A" LOOKS LIKE ITS BEEN BROKEN FOR A LONG TIME. THE EMPLOYEE DOOR WAS BROKEN INTO AND I BELIEVE THAT'S HOW THEY GOT ACCESS TO THE OUR STORAGE UNIT. OUR UNIT WASN'T THE ONLY ONE BROKEN INTO. THERE'S A FEW MORE THAT WAS BROKEN INTO. IF THE FRONT DESK LADY(TERRI) CHECKS THE PROPERTY EVERYDAY & NIGHT, SHE WOULD HAVE SAW THE BROKEN GATED FENCE. THERE AIN'T NO WAY THAT THIS HAPPENED LAST NIGHT. THIS GATED FENCE WAS BROKEN A LONG TIME AGO. NOT ONCE THE LADY INFORMED US ABOUT IT UNTIL WE CAME AND CHECK. THERE WAS NO CAMERA IN PLACE IN THAT DIRECTION. THERE'S SO MANY BLIND SPOT ON THIS PROPERTY. THESE PEOPLE DO NOT CARE ABOUT YOU. FRONT DESK LADY(TERRI) TELLS ME " I JUST WORK HERE". THEY TOLD US THAT IF WE HAD INSURANCE, IT WOULD HAVE HELPED US. NEVER WE WERE INFORMED ABOUT IT NOR INFORMED ABOUT ANY PROTECTION PLAN WHATS SO EVER. WE ARE NEVER DOING BUSINESS WITH PUBLIC STORAGE AGAIN.
This place is not safe for storage your stuffs. Someone just broke into three of the units and one of them is mine. They took lots of my coins and important stuffs. The fence from the corner of the building are gone, the employees unit is unlocked and there's only two cameras in the entire place. We talked to the management there and they're not going to do anything about it! So not professional and doesn't not have any responsibilities at all. We paid this company every month but this is how we got treated by the management teams after our stuffs were stole. Please check out the attached photos.
Terri was very nice and professional. Very helpful.
Got a rental space for a car that got towed away the same day canceled the unit got no response got promised a refund but was way lesser than promised there's no one ever at the management property very unsatisfied with the service really would like my refund
Long time customers, great service from Pam. Great location.
This location is top notched with Pam as the manager. Always friendly and helpful. Place is clean.
Pam was great with her communication and facility instructions.
We always receive wonderful service from the manager Pam. She's helpful and kind. Highly recommend.
Very helpful and explained everything I need to know. Genie was great.
I was happy with the unit .
I've been renting from public storage for a few months now and I love them. I don't think I would rent with anyone else. We just recently upgraded to a bigger unit and Pam has helped us both times she's super nice and awesome!
Pam was awesome but the person we had to deal with when moving out, was rude and unprofessional. If you go there try and get Pam to help you.
The site manager Pam is an absolute joy to work with, and cares for her site like a child. I came here to fix the gate, and she was nothing but patient and understanding with the process it takes. 10/10 storage site, I will be recommending it to anyone I know looking for a storage unit.
Great service and security
I've been with Public Storage for two years. I am on Social Security and the dates were changed of when you received your check monthly. I have ask Public Storage to help me pay my bill the second Wednesday of the month and they will not help me . Twenty dollars is a lot of extra monthly when an elderly person is on a fixed income. I have been asking for a year for the General Manager to call me and I am told he is receiving the messages, but I have never received a call from him. I would appreciate it if someone has any advice . Thank you .
Just have to give a shoutout to public storage for their amazing staff member and property manager Elias. He was great help with getting my unit and ensured me that i made the right choice. Highly recommend him to everyone.
Great location, quick service, and fairly priced! Pam is AWESOME! She got me in and out on one of the most stressful days of my life. Beyond this, she has just the right bright and warm attitude people need to encounter when putting their valuables in the trust of another. Ten out of Ten. PLEASE NOTE*** Be warned the gate system for this property woks through an app on your phone. If you were to go in and drop your phone and break the screen (like I did), or your phone dies without a charger, you will not be able to get out. Still, I'm having a great experience with this location.
Great customer service! Nikki was awesome! Easy process!! Thanks girl for your help!!
Great and fast service from Pam.
Was very helpful. I walked in got immediate friendly service. Thank You
Miss Nicky was very helpful with helping me open my gate
Niki was so kind and helpful I
Niki was very friendly and helpful in showing us the storage unit and then getting us signed up. Quick and easy process.
Niki was absolutely professional and kind!
Ms. Amy was outstanding with her service! I don't think there are enough stars to access and leave for her. 25 stars for her customer service!!! And she's only been here for 5 weeks! She most definitely deserves a RAISE!!!!
Very courteous and hospitable. It was a pleasant experience renting a storage space.
Pam was very helpful and kind.
Pam is very kind and helpful.
Mrs.Pam was very helpful when getting me what I needed..Also she had very good customer service...I would definitely recommend this Storage Place..
Pam the manager is phenomenal! She went above and beyond customer service. She saved me money without me even asking. That's what I call customer satisfaction and being attentive to customer needs (even if they don't know they need it)! Pam you are a gem and always a pleasure to talk to. Thank you for always providing excellent customer service!
Scott the district manager and to Pam the store manager I never received my refund as promised for the $131.39 and I never moved into the unit for this precise reason.
Thanks Pam for helping me get the unit that suits my needs thank you very much very nice. 😀😀😀👍👍👍👍
Pam is the best! She knows her stuff and goes the extra mile!
Great response time, Manager goes above and beyond to get the job done.
Convenient storage. Gated
Great service, and always super nice and understanding!
There's always a warm welcome when I come to pay for my storage space. The customer service is excellent, understanding, friendly and helpful.
Pam was/is wonderful! She was so helpful to me as I've never rented storage space before and she was very helpful in explaining the size differences to me. The place is great and secure. Couldn't have asked for a better experience!
Not only did my locker get broken into once, but TWICE! Pam, the manager, seems to be a very friendly lady. She told me that the guy suspected of breaking into my locker was living on site, inside the storage area gate. I spoke with corporate management at Public Storage and they were not willing to help me out at all for stolen possessions. They were also not willing to add any security measures. I would not recommend this location because it is very easy to steal from, the gate is sometimes broken and not operable, allowing anyone to drive right in. There is only one camera at the front office area and that's it. Someone could easily drive into the gate, either by piggy backing on someone else's entry or just entering through a broken gate. Once inside, it is possible for someone to break into multiple lockers undetected. Around the time mine was broken in to, there were 12 others that were broken into as well. Be cautious out there.
Pam was very knowledgeable, helpful and friendly, walked me through the process quickly. The unit was clean upon opening the door. No complaints, pretty nice!
Great location and staff!
I'm a repeat customer and I wouldn't choose anywhere else to store my furniture. The service and convenience is great!
Ms Pam was nice and helpful to my Mom. 5 stars ⭐️⭐️⭐️⭐️⭐️
Great service with Pam, fast and efficient! 5 stars!!!⭐️⭐️⭐️⭐️⭐️
Professional, Polite, and Thorough!
Good place to keep your extra stuff. Ladies are nice and helpful.
Pam was awesome...This is my second time using Public Storage!!!
Returning customer, good customer service will be returning again if ever needed!
Great service provided by Pam. Would lease from here anytime
I have two units at this location. Property is safe and clean. Managers are friendly, helpful and kind. I highly recommend this location.
Tracy was amazing! I love that she was so helpful and nice! She made sure that all of our questions were answered and that we were satisfied that everything was in place. If you want a kind courteous staff and a wonderful location this is it!
Customer service was great! Pam was really helpful and got me through the entire process in no time. & not to mention, the $1 deal really helped me out a lot. I would for sure recommend Public Storage
Tracy was fantastic, People person, Go getter
Very professional and nice and went over everything carefully
I loved the experience..friendly service, clean environment...the rates are good also..
I have stored here many times amd love it. Great customer service!
very great service! staff was helpful and friendly
Second time customer and will highly recommend anyone to them.. The staff is very friendly and the prices are excellent!!
Excellent customer service. Pam is extremely friendly and pricing is great. Would recommend to everyone.
Super friendly people. Wouldnt go anywhere else. Highly recommend this location.
Great people. Great place. Always friendly. Pam and Tracy. Are the friendliest people.
I meet the Property manager Pam. She was very friendly and smiled. She showed me the unit. I would recommend people to come talk to Pam.
Had a very good experience and would recommend them to anyone
Great place to store, girls are nice and helpful, good locations
Tracy was absolutely wonderful to work with. She was extremely personable and helpful!
Tracy and Pam know their stuff and we're a great help. Best rate I found and good location. Easy in and out.
I am quite impressed with the stellar customer service from this location. Pam goes above and beyond.
Pam has really been helpful. I recommend to anyone needs a place to store there items that needs help
Every time I come here it is always great service ,and the people there are great
The ladies there where very helpful and kind and i would recommend this place to all my family and friends.
Great customer service. Always welcomed with a smile and great attitudes.
Great service from pam at this location
This is great place friendly staff Tracy was very helpful to us. Great place if you need to bring stuff o storage this is the one to bring it .
Public Storage 625 West Blackstock.rd.Sprtanburg.South.Carolina a great help.Pam the office mgr.a wonderful Lady. Pam arranged indoor storage for my classic. Ford Mustang ,Thanks again Pam and Public Storage.fron Leon in Texas
Good service, direct and to the point, answer all you questions
Can I go to my storage unit now
Fast and easy service. Loved it. Mrs. Pam made everything very simple.
Mrs. Pam was amazing and made my experience very smooth and fast. I recommend anyone to come see her.
Staff was very helpful and price are good
Management is very respectful and resourceful. I will come back if I need it again. thank you. Public Storage.
Great check in experience!
I rented a unit for several years and the staff was always nice & very helpful. The premises were kept clean & safe. They stocked a lot of supplies to make moving easier. They'd be my first choice if I need storage in that area again!
Great girls Pam and tracy
Excellent service, recommend this location.
Great service from Tracy!
Sibbie was the best she is a wonderful person she took me to look at the unit before the paper work to make sure it was big enough for us and out things and she explained everything to me and answered all my questions and I wanted to send a thanks.
It was friends good price too
Mrs. Pam was very nice and thorough! She explained everything so perfect! I highly recommend this storage unit company!
ATracy& pam were outstanding and very very polite very nice atmosphere visited pam todayOP m.p
I am a returning customer. Stored stuff here for many years and was very happy. Upon my return, I was glad to see Pam still here. She provided friendly and timely customer service in the past, and did so again today.
I am a second time customer.....Pam was extremely pleasant her professionalism exceeded my expectations!!!!!!Thankyou so much for being so helpful second time around pick public storage!!!!!
He the best man ever!!!! He always works with me if im late he works with me i just tell him im goin be little late his very understanding kind loving sweet man and hygiene always smell great if that matters!!!😆
Great price for 5x5. Completed the transaction within 20m!!
Quick, efficient and friendly what more could you want?
I love them! Prices are good, the staff is helpful
Typical "Rent-a-Storage-Room place. Provides everything you ask for. Beginning to show it's age, but still functional. Convenient location in West Spartanburg; easy access in & out.
Kudos to Pam. She made it easy to get moved in with all the info needed. It's in a great location for easy access.
THE BEST EXPERIENCE I'VE EVER HAD AT ANY STORAGE PLACE. TRACY WAS VERY HELPFUL VERY PATIENT WITH ME EVEN AFTER I ASKED LIKE A MILLION QUESTIONS SHE STILL HAD A GREAT SMILE AND AN AMAZING ATTITUDE!!! I LOVED IT I WILL DEFINTLELY RECOMMEND PPL TO THIS LOCATION AND TO SPECIFICALLY TALK TO TRACY SHES THE BEST!!!
Pam was very helpful and efficient today when we purchased our first storage unit ever!!! Defiantly recommend Public Storage for those of you looking to keep your stuff safe with respectful and reliable staff in Spartanburg :)
great service! highly recommend!!
Fast, friendly service and the facility is clean and very convenient. I would recommend this facility to anyone.
Best deal around! Great service.
Lady was very nice to me and it helped rest if my day thank you for being there for me God bless yall
This is one of the best storage places I have found in Spartanburg. Pam is always helpful she's very polite and respectful answers all my questions that I have to where I can understand them. I would recommend this storage facility to all my friends and anybody that asked me if I know of a good storage place. You need to keep Pam she's the best!
Great movein deal and price. Ms Pam was nice and helpful. Easy move ins. Would recommend this place.
Being able to rent at Public Storage has been truly amazing.
The young lady named Tracy M. assisted me and I was very satisfied with her service. She got me in and out with no problems or confusion. Thank you
It was such a pleasure doing business with the manager, Pam. She was so friendly, knowledgeable and professional! Thanks Pam!
I am a second time customer and happy with the service
I arrived 5 minutes early for my appointment with them and the only lady there didnt show back up for 25 minutes just to make me wait another 15 minutes so she could get the lady in front of me. when I came back with my lock so I could start moving my stuff she was gone again and I had to wait another 15 minutes for her to return. very unprofessional in my opinion
Pam is a very great and wonderful Manager she is all you need.
Ms.Pam was friendly as well as knowledge about what I needed. Very helpful.
I went online and put a storage unit on hold at this location.The next morning I began to call the location at 9:30 am and no one answered.I received a call from another location saying the Manager was sick but they sent someone there.Well whoever they sent to run the store never answered the phone or returned my calls.The lady from the other location was unable to get in contact with anyone at this location as well.Very unprofessional and cost me more money bc I ended up having to use another company.We called this location for hours and never got an answer.
A great rental location because of Pam the manager. She is very friendly and professional. I come back because of the great service. Grounds are well kept and secure.
Customer service was speedy and friendly. Ms Pam was helpful and kind. Great prices to. They take care o your stuff and a very nice.
Very good price and good service from Pam. happy to be there. Storage is great. Very good people.
This place act like they're giving you an ok deal at first when you purchase a storage building but the prices gradually goes up and then you ask why the increasement of the bill.they answer when you first got your storage building the first payment was a prorated cost..
Tracy was very very helpful to us in the process of renting at this location. She went out of her way to answer all of our questions and what she didn't know she found out. Very on the ball. thanks Tracy!
The staff was quick and friendly.
Friedly people nice facility
Very nice people and secure storage area all you want for storage
Pam was so helpful with the entire process! She helped me find everything I needed and made sure that all my needs were met. Thank you so much!
DO NOT STORE YOUR ITEMS HERE. They will hold your items hostage if you don't buy their $20 lock. I am getting my attorney involved. Pam, the manager, refused to give me access to my unit because my lock was not a disc lock. It's my property, and I should be able to use whatever lock I'd like. She is rude, and unprofessional. If you need to store items, I would suggest a different place.
Great service very helpful.
Pam was awesome!! Very helpful and timely!!Thanks
The manager Pam made my sign up easy and fun! She was very friendly and answered all my questions. The place looks nice and controlled. Great choice! April 10, 2018 I was at my locker today and could not get my lock open, the mgr Pam was going by on her cart. She stopped and help me, putting some spray on my lock and now it works like it's new. Thank you for helping me when I was in a bind! Great service at Public storage.
I have storage here before. Pam gives great customer service and lets me know everything about storing my stuff. I like the move in special. Place is secure and clean.
Everything thing was wonderful.
I love having my things up in Public Storage and i enjoy coming to pay my bill because everyone is so very kind and thoughtful and very nice so i Thank You so much Pam and the other Ladies for being so kind
Good help from Pam and good stay. Close to home and secure. Great price thank you .
Worst storage company I have ever used, when your signing up, oh nice as can be, then that's it, your not a customer, your now someone who under a contract, your basically pre considered as you will try to rip them off, your a number, so you better read the fine print of the contract you sign, when you are ready close your unit, no pro rate on the last month, even when contacted and explained, read 3. 3.3 on your contract, they can restrict your access at anytime, for any reason at anytime. I complained to customer service, and was retaliated by the district manager, and deactivated my code. I was a good customer, paid on the 1st every month I was with them, so read the fine print, even just a day or 2, you must pay the full month. I had another storage unit with Cubsmart, completely different, they prorated the month, no deactivation, no issues, my suggestion is to use Cubesmart, or any other storage company, Public Storage? Read the contract, and just in their wording, you can see how your already considered that you will try to rip them off, and no pro rate. I attached a picture of the barbwire around the facility, evidently not a safe place, I noticed it when I was leaving. Never again Public Storage. Update 1/14/18, talk about Karma, building catches fire? I would get my stuff out of there, serves Public Storage right, the way they treat their customers. LMAO at you District Manager,
It fit all of my stuff in there!!❤
Fantastic hospitality and always address concerns. Very clean units.
I very pleased with my service from Pam and the other young lady who works there. They are both helpful and kind. I feel my price was good and I like the one dollar promo. Good convenient location by the mall.
They are good people they call n send reminders in cace you forget to pay they work with u if u don't have the money on time n cheap Pam
Great prices ... Clean Establishment.. very helpful and professional employees !!
I have been a longtime customer at Westgate Public Storage. Pam the manager is always friendly and helpful. The place is safe and clean. I will highly recommend this storage company.
Great place to get a storage unit! Excellent and quick service with great prices!!!!
Alot of hidden fees...literally
Great service from ms Pam, my third and final summer storing at this great location. very satisfied college student.
Great service Pam help me
Had a very unique situation regarding my storage unit and Pam was incredibly understanding and extremely helpful!
My fiancé and I rented with Pam today, it was fast and easy. She was very nice and knows her stuff. Nicest storage place I have ever been to. We will definitely come back again if we need storage. Very glad we chose this location. Pam and staff were very helpful and our property was delivered in great condition. Would highly recommend this location. Update: Just finished moving our stuff out of storage into our new place. Very pleased with coming to Public Storage. Pam helped us out with an issue that came up, and was always friendly and helpful. Highly recommended.
Pam was very helpful with helping me get a locksmith and get my lock undone since I forgot my key in Indiana. Great customer service. Thank you for your help.
Awesome unit, great staff.
I like they have storage buildings for humidity control and cameras you need access code to enter so just anyone can stroll thru the area .
Very professional and curtious. Martha is very sweet and helpful. I would rent a unit again.
Pam, is very nice. She has great customer service, fast and efficient! For my first time storage experience I am glad I chose this company!
Mz Pam was a lot of help with all information that I asked of her and she gave us a good deal on a unit
Pam was definitely a great help. She was able to answer all my questions and concerns.
Great service and excellent customer service! !!!!!
Very impressed with the facility and the staff. They are very professional and goes the extra mile to help you out.
Pam was very customer friendly and helpful with all of my questions. Got a great deal for just what I needed !
Pam is the sweetest and made my experience a breeze! I am a second time customer and I would recommend this facility to anyone in need of storage!
Excellent customer service from Desiree, very knowledgeable and friendly. Made my transaction seamless. The grounds are well kept and look very secure. The packing boxes are very sturdy and stable, worth the purchase. Highly recommend the Westgate locale.
Miss Desi was very informative during my rental process.
Desi and Pam both are super nice - Desi helped sign my lease and got me all settled - she was awesome! Nice public storage spaces, clean!
Do not rent here. The gate never works, the staff lie and they charge you for a full month - no pro-rating. You can find better service and security for a better price in Spartanburg.
Do not use this storage unit. For what ever reason ever year there charge goes up. I started paying 60 dollars a month and now it's at 85 it's ridiculous. If you have a loyal customer it should go down if anything not up DO NOT GO HERE!
Pam was extremely friendly, efficient, and polite! It was wonderful to walk into a storage facility and be greeted in a friendly manner, shown courtesy, and personally toured around the facility. The location is extremely clean, well-maintained and very secure. I would recommend it to anyone in the Spartanburg area!
I've used Public Storage for two summers now and am very pleased. They have excellent customer service, the units are clean, and I will continue to use them.
Fast and simple service. Thorough process and they make sure if you need anything additional like boxes even gave recommendations to make sure I had the right unit for my needs. Excellent.
Pam the attendant was very friendly and informative. Polite and knows her job. She even made some suggestions. Thx Pamela.
Pam and Desiree were amazing. They made the process very simple and easy. Everything was explained in great detail. I feel like my items are very safe at Public Storage.
Very pleased with knowledgeable and helpful manager Pam. She showed me several options for storing my items and camper. Highly recommend this locale.
I am so glad that I chose public storage! Pam was AWESOME!!! She was sooooo nice & patient with me! I am pleased to be a first time customer!!!
Desiree treated us so well. She showed us two different units that would work for us and our budget and allowed us to choose. We enjoyed renting with her.
Pam was helpful and fast. Great location and price, clean and secure.
Great friendly service. In and out!
I have had a great experience every time I have had to use public storage.. The staff is friendly and ensure you that you are getting what you pay for. Jamie H help served me today and was very helpful in answering questions for me.
Had the pleasure of meeting Pam upon our first visit with Public Storage. She was very friendly and great to work with!! Will definitely use Public Storage (08615) again!! Thanks Pam!!!
Do not use this facility!! Very dissatisfied customer. We have been renting here for 10mo. now. The power has not been working in our CLIMATE controlled unit since at least the summer. This has not only affected the light and ability to control the temperature to our unit but the outside light does not work either. This is a huge safety risk at night based on the location of our unit! We have made several complaints and requested the district manager call us with no reply. I... am enraged that we have been paying for our unit to be climate controlled and I found candles that were melted in boxes which obviously shows how hot it got in there this summer. The gate has been broken and just left open for at least a month at a time on more than one occasion since we have used the facility.. Also, if all of this were not bad enough we have been find roaches in our boxes and throughout the unit! Truly spend your money elsewhere and stay far away from here. See more
Do not use this facility!! Very dissatisfied customer. We have been renting here for 10mo. now. The power has not been working in our CLIMATE controlled unit since at least the summer. This has not only affected the light and ability to control the temperature to our unit but the outside light does not work either. This is a huge safety risk at night based on the location of our unit! We have made several complaints and requested the district manager call us with no reply. I am enraged that we have been paying for our unit to be climate controlled and I found candles that were melted in boxes which obviously shows how hot it got in there this summer. The gate has been broken and just left open for at least a month at a time on more than one occasion since we have used the facility.. Also, if all of this were not bad enough we have been find roaches in our boxes and throughout the unit! Truly spend your money elsewhere and stay far away from here.
I recently needed a storage space and decided to stop by this location. Pam was very friendly and the location is clean and secure. I would definitely recommend this location to anyone looking for storage.
Pam is awesome. Speedy service and excellent prices. I will be back for storage here
Pam gave us an excellent tour of the facility explaining things before we could ask. Great personality and very knowledgeable. Enjoy working with her.
Mrs. PAM WAS VERY HELPFUL TO ME. SHE TOOK HER TIME SHOWING ME EACH STORAGE ROOM, AND HELPED ME CHOOSE THE ONE THAT BEST SUITED ME.
Pam is awesome and the facility is top quality! !
Had great service with Pam, she was very helpful and got us the right size unit. The site looks clean and well kept.
Pam is always pleasant to work with! Very convenient location to us. This is our 4th time using this facility and have been extremely happy with it. We like the short vacate notice you allow since our lives can change from one moment to the next very quickly!
nice clean and secure facility.Pam was very nice and helpful in deciding which unit to choice.
Pam was prompt and friendly, great experience!
It's amazing and a good place to be.
This is an excellent storage place! I've rented here for 3 years and I've had nothing but great service. I'm a student and I usually get there smallest unit available. I love that I can pay my bill online and also at another storage place that is close by! PAM IS HILARIOUS AND SN EXCELLENT WORKER!!! I LOVE HER!
I have always had a great experience here! Everything is clean and Pam is always so helpful! I would recommend this location to everyone! I wouldn't think of going anywhere else!
I love public storage its the best one i have found the prices are great and the units are in great condition i would recommend everyone there
Very clean facility Helpful staff. Really good experience.
Pam has always been so incredibly helpful every time I come in for packing supplies! :)
I needed storage for my camper van and Pam was so helpful today. Although there was no unit with a level entry that I could use Pam helped me find an available space and recommend a store where I could purchase a tarp to protect my vehicle. The facility is clean and well cared for and the professionalism of the staff is reassuring. I would recommend this business for your storage needs.Thx Pam March 6th, 2015 Just wanted to leave another review of this business-I have concluded my storage needs and was very satisfied with the professional service I received and the security I felt knowing my belongings were secure. Pam was very helpful and the paperwork required to close my account was expedited efficiently. Thank you so much-I will be happy to recommend this business.
Property is well kept, the staff is friendly and very helpful with questions (Ms. Pam is awesome! ), Straight forward answers :)
Pam was very nice, and service was very fast.
pam was most courteous and helpful she's very polite and made nice I contact for senior citizen thank you very much
the property was nice and clean. There was knowledgeable and friendly staff that helped me alot
My public storage experience with property manager Pam of the Spartanburg SC store #08615 is always a GREAT one !!!! She is always so courteous and friendly and greets you with a smile. She goes above and beyond to help you and answer any questuions that you may have. Pam is truly an asset to the Public Storage Corporation. I Highly recommend this facility to anyone for their storage needs. The personal assistance and customer service that I received from Pam was incredible. I want to personally thank her for her service
Our agency and the families with whom we work have had good experiences in all our dealings with this facility. It is clean and secure and always looks well kept. Pam has been very helpful and welcoming. I feel quite comfortable with recommending the facility and certain that the staff would work to remedy any problem that might arise.
I would highly recommend this facility to anyone for their storage needs. The personal assistance that I received from the property manager was incredible. Pam went above and beyond the call of duty when she helped me facilitate using another public storage location in another state!!!!!! She was efficient, effective, and most importantly she did it with a smile. Public storage is lucky to have her as a representative.
I was very pleased with the service....The lady was very nice and helpful...and the service was fast...no long wait...
Pam was great with showing me the building and the options I had. She was also very friendly. She was knowledgeable about the buildings and price ranges. It's good to see good people working out here
Pam is Very professional, and courteous. Always greets with a smile.
This was my first time renting with Public Storage and the experience was great. The facility is clean, secure, and well maintained. I had the pleasure of being help by Pam; she is very pleasant, knowledgeable, and processed the needed paper works in a timely manner. I would definitely recommend Public Storage to everyone.
Pam is amazing! She's extremely professional and knowledgeable. I'll definitely continue to do business at this location. A+ service.
I'm currently renting from them for the second time and have never been as pleased with the storage facility as I am with this when I give it 5 stars because their storage facilities are clean and their customer service is absolutely wonderful I have dealt with Pam and Darren and they have been wonderful accommodating people have helped me out in a bind twice I think the prices are worth it and I think they're great
Very good experience. Had a problem with my existing storage and they worked with me to arrange movers and even gave me a break on my monthly fee. Great!!!
Very professional, fast, and courteous. They had all the products associated with moving and storage, and rentals available too. What more could you ask for. Pam wad especially helpful.
My brother uses this place to store his stuff while in Costa Rica. We appreciate how helpful and informative the managers are.
Great park with friendly staff!
My brother has used this facility for the past three summers and is very pleased with the managers Pam and Steve. It is a very secure facility and he enjoys using this on vs. other completion.
My parents have stored here for a few years now, and we have enjoyed how nice the facilities are and how clean the grounds are. The staff is very helpful, and knows exactly what to do when helping out customers. I would recommend this location to my friends.
My family has stored with Public Storage for years. We have used the Blackstock location now for a couple years and are very happy witth the professional and friendly service from Pam, the manager. The property is well is well lite and very well maintained. We highly recommend this location.
I went to this public storage for packing supplies because we are selling our home. An not only did we get the supplies we needed when it was time to declutter Pam gave us the information to make a decision about the size of unit we would need. An thanks to her great customer service my mom now rents a unit there. We recieved such great service there. We would recommend this place to everyone. Thank you.
The Manager on duty (Steve) was very thorough and pleasant with setting up this rental. I would recommend this facility for those looking for a short or long term rental.
THIS IS MY 2ND TIME RENTING FROM PUBLIC STORAGE AND I COULDNT THINK OF ANYBODY ELSE TO STORE MY BELONGING AT. THE PROPERTY IS SO BEAUTIFUL AND CLEAN AND THE MANGER AND TEAM TREATS YOU LIKE FAMILY. THANK YOU! SIGN: MR. GENTLE JOHNSON JR.
Excellent experience. We moved here to Spartanburg and didn't really know where to store our belongings. We didn't have much to store, but we wanted to ensure that what we stored would be safe and secure. My wife and I looked online to see what was available and what people were saying about the services that were offered. We were blown away by the reviews concerning Public Storage and this lady Pam that everyone thought was so awesome! We decided to check it out and it proved to be exactly like everyone had said. Pam was really nice and super helpful! She took us out to our unit and made sure that it was what we needed. She answered every question we had and was willing go the extra mile to ensure our satisfaction. If you've got stuff to store, there's nowhere better than Public Storage. Ask for Pam!
A great rental property due to Pam, property Manager, She was very friendly and professional, and renders great customer service. Pam explained the process to getting everything in the unit, payment options, and accessibility to my unit. This made it easy for me to get off to a great start. I have had to discuss a couple of issues related to my account she quickly referred me to the correct source to get resolved. Thank you Pam you help making my relocation a little smoother and less stressful. KUDOS!
Steve was so helpful and wonderful to work with,he walk my daughter though the whole process of renting a storage unit,how to pay her bill and when everything due. I recommend anyone renting a storage, store here, but ask for Steve only he the best in the world.
I am a student at a local university and needed to store my belongings. Pam, the manager couldn't made it any easier for me to do this. She provided me with excellent customer service. She set everything out in front of me and explained everything so it was extremely easy to follow and understand. She even showed me my unit to make sure it was suitable. While I was working on the paper work the phone rang and Pam answered it and also provided excellent customer service to them as well. I left the office with a smile on my face. Later that day I realized that I had requested the wrong size storage unit. I called Pam and asked her if I could change my unit and even though I had finalized my last unit Pam said it wouldn't be a problem at all. I went back to public storage and she had all my paper work out and ready for me to sign again. This saved me around $55. Overall Pam at Public storage was one of the most beneficial and professional experiences I've had at a business. I would suggest this to anyone who is looking into a storage unit. They had great deals and great on site storage units with gates and key code access. Will be back for sure. Thanks Public storage and a bigger thank you to Pam!