Public Storage Self-Storage Units at 2120 Harshman Road, Dayton, OH
Address
2120 Harshman Road Dayton, OH 45424
Office Hours
Mon-Fri 9:30 AM - 6:00 PM
Sat-Sun 9:30 AM - 5:00 PM
Gate Access Hours
Mon-Sun 6:00 AM - 9:00 PM
Storage Facility Features
Climate Control Storage

Car Storage

Small, Medium & Large Storage Units

Indoor & Outdoor Storage Units

Property Manager Lives On-site
Office Hours
Mon-Fri 9:30 AM - 6:00 PM
Sat-Sun 9:30 AM - 5:00 PM
Gate Access Hours
Mon-Sun 6:00 AM - 9:00 PM
Storage Facility Features
Climate Control Storage

Car Storage

Small, Medium & Large Storage Units

Indoor & Outdoor Storage Units

Property Manager Lives On-site
Close Location Details
View Location Details
---

5'x10'

---

10'x10'

Outside unit

Drive-up access

---

10'x15'

Outside unit

Drive-up access

---

10'x20'

Outside unit

Drive-up access
Nearby Self-Storage Locations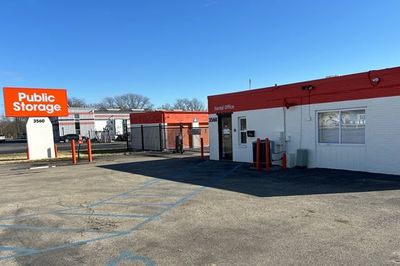 Self Storage Near
3560 Needmore Road
Dayton OH 45414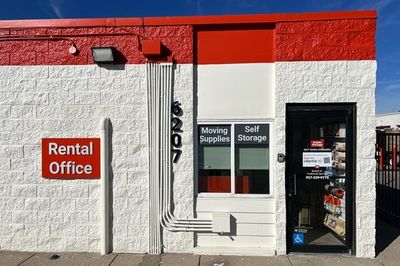 Self Storage Near
6207 Executive Blvd
Dayton OH 45424
Resources from the Help Center
See what fits in different storage unit sizes
Dayton Storage Units Near Wright-Patterson Air Force Base
Cheap storage units in Dayton are easy to find from Route 4 near Eastwood Lake. Our indoor and outdoor storage units are close to the National Museum of the U.S. Air Force and Wright-Patterson Air Force Base.
Located just 6 miles from downtown, Dayton Public Storage has great storage solutions to fit your needs.
At Public Storage, You'll Always Find...
Keypad Access

Friendly Staff

Month-to-Month Rent

Moving Supplies Available

Free Parking

Well-Lit Facilities
Reviews
( 298)
Property manager Rob was extremely helpful to my dad and I today. He was very helpful and had a great attitude!!
Eric was more than kind and was VERY thorough when explaining how this process works. He is the consummate professional and is most definitely an asset to this company. I wish ALL of my previous experiences using storage facilities were this easy and painless. He made what could easily be a complicated process an enjoyable one. He was AWESOME to work with and I hope to run into him again when bringing my boat in and out. You've got yourselves a terrific employee in Erie. He was an absolute joy to work with. Kudos to him... outstanding job my man. VERY well done! I'm more than satisfied with his service and treatment of me as not only a valued customer, but much more importantly a human being. Terrific job! I'm a 💯% satisfied new customer b/c of just how well Eric took care of me. ALL I would ask now is that you continue to take good care of him and most certainly consider him for a step up the hierarchy ladder. 👍
Customer service is lacking, high prices, mice, mice and more mice.
Rob was very professional in helping me secure the unit that I needed!
Eric was incredibly helpful. Not only that but there was a smile on his face throughout the whole process. First time using Public Storage, but won't be the last! Thanks Eric!
we have a a unit for less than a year and are trying to save to move to another storage facility. not even 6 months in they raised our rent without warning. I personally got locked in one night because the gate was broken and they closed it up without checking to see if anyone was there. I had to take apart the chain assembly to get the gate open to get out after calling the number for support and being told to have the police come and break down the gate. next time I will call the PD. I had my bank account hacked and was going to have to pay my rent late and I was told that by the 26th of the month the lock would be cut off most storage facilities allow you over a. month before cutting the lock off or are will to work with you especially when it's something that's beyond you controll. I also left message when I was locked in and never even got a courtesy call back about the situation. I recommend finding an better place than here I know I am definitely looking for one.
Cortney and Eric were awesome and had great customer service. They were able to get my bill decreased.
Great service, thanks Rachel!
My bill is different every month I feel like I'm being ripped off
Robin was very helpful, and informative, helped me get the right unit for all my stuff.
Very reasonable pricing for a unit. Ashley was the one working when I needed help. Ashley was super sweet and super helpful! She knew all the answers to my questions and she would go above and beyond to make sure I had all my questions answered! Great place and great customer service !
Robbin was so kind and helpful. Thank you so much for all your help.
Robbin is a great customer service person helped me with all my needs and defiantly recommend this storage unit thank you for your great service
Rachel and all of the staff at this facility are so professional, knowledgeable and willing to go over and above! The units themselves are clean and easy to access. The office is bright and welcoming. You have a customer for life!
Rachel was helpful while my wife stored here.
Rented a unit here for a couple of months to hold my things between moves. Starting/ending my lease was very straightforward and had no problems; 99% of my interactions were through the app. Unit was clean the whole time. My only complaint is the entrance ramp to the property has a huge pothole as of this writing, so be careful if you're carrying a big load and avoid it.
Love the new technology...I forgot my code, and now they have an option where you can access them on your phone...very convenient!
From start to finish, the experience was great. I scheduled on line and was advised that I'd receive a follow up call. I received a follow up call. I was informed that I'd receive a text message to complete registration. I received a text message to complete registration. I was told my information to access the gate and storage unit would be sent to me (text). I received the information! NO ONE I dealt with prior was as easy to do business with as Public Storage on Harshman Rd. The unit was clean and fit my needs. I even needed a larger unit last minute and they promptly set me up. I highly recommend them. Thank you! (Rachel was awesome!)
Not a Fan. Prices are Too HIGH
Friendly customer assistance, but being from New York I probably wouldn't use it again. Been a few shady people hanging out there.
How often do they auction off abandoned units?
Whole time I rented they never replaced my light bulb that they promised to do first month. I was often late, knowing there was a late fee, np, but the rude office lady would personally call to bug me about paying each month. They raised the base fee I agreed to TWICE during a 6 month period with no notice. Does not have 24 hour access and you must be out by 9pm, I was 2 minutes late leaving and got a "courtesy" text to leave on time from now on lol.. Weird place, dumb rules, rude staff, rent somewhere else or just buy an enclosed trailer for storage, that's a better investment.
Everysince September of last year I didn't had had not one problem with Ms. Rachel she very respectful she help me understand the process and very nice plus that she had a very positive vibe that I like 😊 ❤ ☺ she doing a great job!!!! Keep the the great work and just be yourself
Robbin was very professional and knowledgeable on the questions I had and helped me understand all the fees !!! I recommend this location to anyone that is looking for a place to store items !!
I am so happy that Robbin was able to help me out today. She is really sweet. She was helpful over the phone and so pleasant in person. Thank you Robbin! I appreciate you.
Please come here Ms.Andrea Will Get U Together
The woman working there. Andrea was very helpful with me and helping me get the right size storage unit that I needed. She was very polite and courteous she was very professional. I will definitely recommend Public Storage to all my family and friends.
Thanks for helping me get my account squared away billi.
They took care of my junk for 10 years.. I'd say they did a pretty good job... of course I paid a lot!
Was great once I was able to get ahold of the lady to meet me at the facility.
Robin was amazing! She was very attentive and responsive. Thank you. She deserves 5 stars! Just had to move out because the rates were just way too high. The high rates is why I left 4 instead of 5 stars for the facility. Thank you
Rachel + Robbin did a great job.
Edit: I got a phone call within 1 day of posting this. My rent was lowered and he was super nice and understanding. Good job public storage!! If you can find another place 2 store your things then I would. Despite their first month for $1 promo ,it's a total RIP OFF!!! The property itself has never been the greatest and I've rented a unit here for 3 years. My rent has went up 4 or 5 times since getting my unit. It started off being $150 plus insurance and taxes. It is now almost 300 a month. And for what? A garage that is infested with mice and spiders, no cameras, no 24 hour access, and a gate that is always broken. I'm now paying so much I cannot save up to move to another storage facility or ever even think about saving up for a place of my own. ITS BEYOND FRUSTRATING!!!!
Good customer service. Need to fix lights in the storage place. It is quite dark.
Robbin was immensley helpful with an autopayment error I was experiencing. I wanted to change over my autopay card and she helped within minutes.
Robbin saved the day for me after my experience with orchard rd location. She made the process so easy was extremely friendly and helpful. Robbin is 100 percent the reason I will use public storage.
Y'all a rip off and shady sell someone's stuff for $5.00 and expect that person to pay you $300 and something after selling their things and the only thing they had left I'm talking about a baby's things as well You should be sued I'm going to talk to a lawyer about this you don't deserve any good ratings
Customer service was great. Went in to get pricing, moving in June. Tara was very helpful.
Robbin is the best manager even!!!
Robbin is so sweet and awesome! Very friendly and helpful polite! So much more I can say about Robin. Excellent service!
Try to send to pay bill over phone. My card was not recognized. All 3 storage place I went to, the personnel was not there. A sign in each storage places read be back at a certain time in which all were an 1 hour behind the others. A setup to make you pay more than what you truly owed. Need to find a new storage place cause Public Storage is ripping customers off.
Decent place very quick to take their units back. Like 2 months and I couldn't have anything out of my unit. Seemed very quick to me.
Pretty good move in deals. Clean, Mgr. on site. I'd give it a 5 however they constantly email you about promotions. Wich is annoying!!
There staff are friendly and helpful. There storage unit's are clean and lighted inside. Their prices are also decent!
Great experience from Rachel and team! Booked my unit very easily online as well!
Rachel and pillows with concerns of this is Saul review for Rachel and and Robin Miss Rachel and miss Robin were very helpful they went step by step over the contract is up how to do the contract online and knock I really appreciated that help thanks and have a good day post
Autumn was very helpful with my experience with public storage.
Robbin was great friendly, efficient and great explanations of all my questions.
Robin is very respectful and helpful in the things in need in terms of information or something with my unit.
I have been renting a unit for over 2 years. I have always been greeted with a smile. Robbin and Rachel are fantastic. Great customer service, friendly, and always would go above and beyond if I had any issues with my unit.
The storge my parents have the inside of the roof is falling apart
Great service wonderful manager.
Robbin is cool people got 5 stars from me
Autumn was extremely helpful and informative. Very professional and courteous. Answered all the questions I had before and after I asked them. Would recommend to everyone.
Very nice, had all I need!!
Linzie was very helpful both while showing the units as well as during the process of reserving a unit.
I would suggest storing with the company, i stopped in and had great customer service from the woman who was working there, Linzie. I would recommend to anybody in the area looking to rent out storage units.
Robbin and Rachel were great very informative and helpful they made the whole process fast and easy...both had great attitudes and smiling faces....pleasant experience!! I would strongly recommend public storage on needmore. ....later on the next day....On thee otherhand fast forward to the very next day as i my brother and friend arrive at public storage only to find NO ONE there to open the door to enter the building where my unit is located so we in fact had to wait outside for 40 minutes for anyone to arrive...truck full of my belongings and 3 ppl who timed this out so we all could get to work on time however we were all late that day....now when robbin finally showed up she had a appointment waiting in her car it was 10 after one so this lady had to sit and wait as well. Robbin rushed past me as im saying to her that i find this very unprofessional and i had already contacted the regional manager..she was very unapologetic and gave no excuse or reasoning behind the lateness or mere absence...i know things sometimes come up but a note on the doir with a return time would of helped and her lack if empathy that we as customers in the cold sat there and waited that long...i should of atleast gotten a "im sorry" or a excuse i actually should of been compensated for my inconvenience but thats not the point...so if i were you thinking of renting from them id call to make sure someone is there to let you in if you unit is on the inside like mine! Also every day they close from 1:30-2:30 ??? Who knows why thats a lil inconvenient as well. Be aware
Linzie have been very helpful she deserves the 5 star keep up the good work
Robbin and Rachel gave me great service today I really appreciate them such so much respect.❤️❤️💕
The Public Storage on Harshman Rd in Dayton is great. The rates went up due to supply but the manager was willing to work with me to our mutual benefit. This is the type of business everyone should run. Putting the customers first instead of just as dollar signs. Thank you. Reggie
Rachel & Robin were funny and great to be around. They were helpful.
Not happy , spoke one person on the phone and 1 for month and 25 for other fees. Came all the way here and now wanna mention insurance and locks etc.. Been nice to know total b4 i drove all way here ..
Great service and nice worker. Robbins and Rachel
Robbin and Rachel are awesome at Public Storage!!
Rachel is patient and kind. The storage was clean, she took the time to go over everything. I would definitely recommend this facility. Thanks Rachel for being so kind. You have great customer skills and should be a supervisor teaching people customer skills. Thanks again Lois Gwin
Always clean and looking nice. Rachel takes great pride in her facility. She is always friendly and extremely willing to help and doesn't just give lip service to customer service she delivers. Would highly recommend.
Great customer service, helped me to best of the employee, Linzie, knowledge. Kind and professial
Linzie has great customer service
Had been storing my belongings at Public Storage for a few months and when I was ready to move out, it was very easy. Auto-payment kept me on top of my rent and my belongings managed to stay safe during storms/tornadoes! I'd go back there for storage any time I need in the future. Once had a late fee issue on my unit that was a mishap and Linzie called the regional director and helped me save on paying an that improper fee. It was very personable and kind of her to help me like that.
They don't waste any time raising the rate. However, the units are always clean and they're always friendly!
Robbin was very sweet and a very big help. She even tried to save me some money. I highly recommend bringing your business here.
Great service and curtious customer service
Came in to acquire about a unit linzie went above and beyond. Great customer service.
Robbin was very friendly and helpful in finding the best unit for me!
I had needed help and Robbin was very helpful..i wake able to use my pin code to gain access however she got me in and even was willing to stay a little later so i would be able to get out..i Will say there it's little to tolerance when it comes to you getting yourself off the premises at the time stated..other than that its not a bad place..thank you Robbin
Rachel was awesome, she really worked with me to figure out which unit would be best for me. She was very nice and very knowledgeable.
I had an amazing experience with Mrs. Robbin! She was very friendly and she was definitely helpful. I just want to tell you that I have an unfortunate situation and had not eaten anything and she was kind enough to offer me something to eat as well as a hug. We need more people in the world like her tpu have an amazing staff member . I just wanted to say thank you for caring. You are amazing and you have no idea how much an impact you had with me . I appreciate you so much and thank you for letting God shine his light within you.
Very nice!! Robbin was amazing!!
Rachael & Robin are very Sweet Courtious & Very Polite i love them Both Excellent Customer Service!!!
Robin is the bomb she called me letting me no my unit Payne was mess up and waited til I got there to explain to me she was nice calm and on point thanks Robin tornado hit my area but she made my day feel better
Fantastic customer service
Everytime I go in there Rachel is very polite and knowledgeable
Never have any issues, great staff
Linzie is amazing she is real friendly and she knows what do do and she is a very hard worker
They need to let their customers come and go in their units as the please instead of having a time limit
Came to public storage for information on storing, I'm moving the end of April and was shopping around I've never stored before so I had no idea what I was walking into Linzie explained everything to me, showed me multiple spaces and was really friendly! I Do plan on coming back to this location due to the great customer service and information I was provided! Thank you for your awesome customer service!
Linzie and Rachel have been so helpful! They always greet me with a smile and courtesy. Both of them are friendly and I appreciate them!
Linzie was awesome and a huge help. I did not like being forced to take an insurance premium but Linzie was awesome. The total cost of a rental is what is important, not just the "Monthly fee.
They fail to tell you after 6 months your rate will be increased. While they advertise the same size units for a cheaper rate.
Annalee was helpful and super nice
Robbin was super helpful and nice. Really made rental fast and easy.
I called and talked to linzie she was very professional and very helping. I would reccomend her to anyone.
I came in to make a payment and there was a new face to me she told me her name was annalee and she was one of the sweetest teenagers I think I will ever meet you guys have a keeper with that one... but when can we do something about the roll up doors they're so heavy.
Robin and Rachel were great help showing and helping me with everything
Miss Robbin was great to meet
My stuff hasn't been there even a full month and I going roaches in my unit. How am I supposed to get them out before I move my stuff. This is crazy!! Then the office lady act like it was not a big deal. I came in with no bugs and I better not leave with bugs
Robin was hilarious and very helpful. They have reasonable prices and a CLEAN facility
I would not recommend this public storage to anyone, they are thieves and extortionist and kept my deposit for no reason after I pay the full monthly payment and late fees they still screwed me out of my deposit... Absolutely terrible business
Rachel did an absolutely amazing job! She is well educated on all the standards and procedures and the facilities are very well kept and organized. She was so helpful, and was and absolute delight to work with. Her customer service was off the charts! I'm glad I was finally able to find a storage unit at an affordable price that worked for me. I would recommend this place to anyone.
Great experience. Well organized and Rachael was outstanding
Facility was safe, secure, orderly, and clean. The Customer Service was exceptional, helpful, team-like, and friendly, especially via Rachel.
A good place for storage. Teresa is very helpful and has a good customer skills
Friendly courtesy and all smiles
I came in to get some prices about a unit and linzie helped me, she was awesome and gave me all the information I needed.
Linzie and Britnie were extremely helpful, they did a great job.
Teresa gave us exceptional service. There was a vacating fee pending on the last unit, she found out why within like, 10 min! The units were astonishingly clean, Teresa at the front desk was so polite and courteous, i have finally found the perfect storage units!
Had a reservation at needmore but unit was not available so Heidi sent me to Rachel an she was awesome
Made me pay even though I had till the 5th and I had everything out before then
Great units, friendly staff.
Very helpful and knowledgeable.
Britnie & Theresa offered excellent customer service! They are very kind and very thorough with all the details needed to make my experience as stress free as possible!
$1. Move in, plus hidden charges.
A great place to store anything, they have a new paperless system and a great new gate
Very friendly and helpful staff.
I went to Public Storage on harshman to get a 10 x 30 unit since I'm downsizing and need something big to put my remaining stuff. Sadly they did not have one available but I got excellent Customer service by Anthony. He really went through my options and had a great attitude!!! Will recommend to others in need of a storage place.
When I went to Public Storage, I found that there was wonderful customer service, and great deals that Britnie provided me. She was very helpful, and I'll be happy to come back.
I went in for a small rental space and inquiring pricing. The woman, Britnie, that I dealt with was very personable and was so informative with the different deals Public Storage had to offer.
Great deal, reasonable rates, clean facility, SUPER friendly, cool staff! Britnie helped me & we had a blast chatting while setting up my account. Would definitely recommend!
Clean and not to bad in prices Employees are very friendly
Just signed up. Service was great.
I stopped in and inquired about a unit. The lady I spoke to was quite helpful and knowledgeable. Chelsea was awesome. I will definitely be back to rent a unit once my affairs are in order. I will also recommend anyone and everyone that needs a storage unit to stop by and talk to Chelsea.
Chelsea and Britnie were wonderful and very caring. They listen to my needs and answered any questions I had. I would definitely use the facilities again.
Thank you Brittany and Anthoney
Anthony and Britnie were awesome. Helped me with all my questions. Thank you
Britney was great!!! Very professional, sweet and kind. I would highly recommend her.
Britnie was a great customer service help to us with a great attitude she's the bomb
Britany is awesome. Love coming in to make my payment to see her. Thanks for the amazing service Brittany
My bf rentd wit Britney the othr day and she was so helpful. She fully explaind everything and answerd any questions we had. I would recomend this property for her customer service any day of the week. Thanks Britney!
Very good customer service with Britnie!!
I always enjoy talking with Britnie when I come in to pay. She is always so helpful with anybody she has interacts with.
britnie is a very sweet lady and explained it well was very nice
Just vacated yesterday. I rented for 2 months with no problems. Brittnie did a good job explaining the rental and check out information.
Britnie was who I spoke with the day I was moving in. She was very polite went over everything I needed and I was taken care of within about 20 mins total!
Awesome experience!! Would definitely recommend to friends and family. I was helped by Britnie and she was able to answer all of my questions and was able to save me so much money each month, huge relief!! Thank you so much!!
Brittany was very helpful and very friendly. I would recommend coming here for your storage needs.
Britnie was a great help! Thanks for your help.
Brittany and Ashley were great with customer service and very helpful. GREAT PEOPLE!!
Great deals! Freindly people! Thanks Sarah for helping me out!
Sarah was friggin awesome. She had the answer to every question I had and was very pleasant to work with.
Sarah was cool and helpful.
Would give them -05 if it would let me rip-off artist.horrible. Worse storage place in Dayton Ohio.would not recommend to no one rude people over priced. Glad I got my furniture out of there.go to uncle bobs on need more rd they treat you right fair reasonable rates.they act like they hate their job.Awful Awful people.they must write fake reviews.I'm turning them in to BBB.because nobody and I mean Nobody can like that place.wake up people. Thanks! But NOTHANKS
Montina gave me an awesome deal and was really respectful!!
Thanks for the help Montina! Friendly people here.
Montina was very helpful in helping me transition an account into my name. I would recommend this place to others looking for storage services.
I went in and got a storage and a girl named Sarah helped me she seemed nice and polite and helpful to my needs she said she would give me 24 hour access for the next few days well then it became a nightmare we get there with our stuff can't get in we finally get in when the person who lives there opens the gate an hour later which gives us a late violation and so we don't no about all that and 2 days later have another load and this time our code don't work says late violation and we have nowhere to take the stuff nobody to help us in we no that lady hears us beating on the window she ignores us wow this place is a joke and I wish I never came here or got lied to and I'm going to ask for a refund and if my stuff is gone I'm suing this place because this is crap I would not suggest going here it's awful and no Matter what number u call they don't help u so I retract my good review cus they r unhelpful and liars and my stuff is getting ruined by the ran as we speak
Love this place, Sarah was very helpful and made sure I understood everything before I left. She made me feel right at home.
Sarah was great and very knowledgeable
Sarah made the move in process nice and smooth when selecting a unit. I would definitely recommend public storage.
Courteous and hassle free customer service .Montina was generous with her insights and recommendations .overall, a great experience!
Chelsea was wonderful help this morning!
I just came i. To pay my bill and sara was great and very helpful!!
Montana was great she made the process quick and easy and got me out fast! Thanks again
Lacole was awesome. Got everything i needed and was happy
Lacole was extremely helpful and VERY nice! I would highly recommend renting from her!!
Great customer service from Montina. Very easy process, and very thorough.
Great service from Sarah. Was quick prompt and helpful
I had a great experience at public storage. It was a quick and simple process. They have a very friendly staff that helped me right away with what i needed. The call center was very helpful. They had everything set up for me when i arrived at the public storage office. Britine was super friendly and a huge help with helping me figure out everything I needed!
She was great. I had an awesome experience with her
This location is awesome! I was there with a friend about a week ago who rented a space and Montina was awesome. She knew a lot and was able to help with all of our concerns. My friend doesn't have internet right now so I wanted to do a review because Montina was just that awesome.
I stopped in there before a few times to make a payment for a friend and Montina has always been very nice to me. I joked with her that she should get a raise.
I rented a storage unit from public storage yesterday. my experience was great! Britnie was my point of contact and she was very helpful. good storage experience and would recommend this storage business.
Last on phone gave wonderful service and Sarah at site was prompt, helpful, and friendly. Good service experience all around.
Sarah was extremely helpful and knowledgeable. Her customer service skills were awesome. Looking forward to doing business with her.
Britnie wonderful costomer service
I appreciated the efficient service that Montina offered. I glad that i will be able to start moving my things immediately. I would definitely recommend Public Storage to anyone. Oct 29 2015 I've rented with public storage before at this location and had an amazing experience. I'm moving so I stopped in to get prices for moving supplies and Montina was amazing! She knew exactly what I needed.
First impressions are very important and I believe her name was Montina was very professional and answered every question I had. She. Had excellent communication and listened to me entirely before responding which was great because Ive had other units at other facilities and was used to not being listened too. Intially I was worried but having this unit at public storage has been a great experience. She was very prompt and exact in getting me the right size unit. My mind is at ease. Thanks so much for the great customer service.
The 2 female managers I dealt with were very helpful. Several family members use this location and we are all very pleased!
I called to get pricing today on a unit and Sarah was extremely kind and helpful. I would definitely recommend Public Storage to friends and family
Montina was very polite and knowledgeable. Suggested how to keep our boxes from getting wet or damaged. We've never rented a storage unit before, and it went very smoothly.
Called the other day, as I was shopping around for storage for my Harley. Talked to Montina, and she was very helpful explaining everything to me.
Came in to get some pricing and Sarah was a huge help! Not only did she make me feel welcomed she knew what she was doing. Also Montina was right there to help with any questions there were as well. Will definitely come here when I need it, and I would recommend this place to anyone especially if these girls are here to help! I would give this a 10 star rating :)
I came in to get pricing on a unit and I spoke to Sarah she was very helpful and nice. She took time out of her day to talk to me and help me when she did not know if I was going to rent a unit or not. I would recommend this place to my friends and family.
i went in today to see about a unit as i am moving and have to downsize alot on space. i spoke with sarah and i think her name was montina. they were both very helpful and very upbeat the whole time. they went through everything with me and explained everything perfect. i told them that i would be in to get a unit when i get everything packed up to start moving. very professional and i would suggest this place to anyone who is interested. thank you for your time sarah and montina.
I was essentially scammed out of my apartment and I needed a storage unit asap. The ladies at Public Storage were so nice and they made sure I got the unit size appropriate for my belonginigs. The deals were also unbeatable and Montoya was very knowledgable.
Great place! Montina was awesome, very helpful!
Lindsey , our rental agent get a full 5 stars...Pleasant and very helpful. The call center and policies are where I had an issue. I ended up paying double what was quoted by their call center rep, when making my reservation. Be prepared to buy their lock...at a price of $20, the call center rep also failed to mention a requirement of buying insurance, their insurance of course, So a $23 dollar quote became $55.00 real quickly. Not happy at all!
Was absolutely pleased with the service I was provided with here. It was a spur of the moment decision and I didn't have many choices. My whole day was just terrible I had to move items in a hurry to avoid flood damage, of course this new expense had not been factored in my budget so I was worried that I would have no place to store my most prized possessions little did I know I had an ace at public storage on Harshman rd Named Jay. He was very courteous and helpful, we spoke briefly on the phone and he reassured me that not only did they have available units but that they were very reasonably priced. Once I arrived Jay, which I later found out was short for Jaylen was eager to assist me the application was very simple and wasn't time consuming, and in no time I had my things unpacked, loaded and secured safely. He truly was a life saver, and now I will always use public storage for any future storage needs. Thanks Jay.
Minting is awesome, was a big help
Montina and Cherokee had Great service , very respectful & kind !!!!!!!
Montina was super helpful by handling all my questions, and not rushing me. It is a good space, and I will be using them every summer!
Cherokee was nice and professional she knew how to stack my unit so everything would fit just right. I will definitely suggest public storage to anyone...
i was in yesterday to buy some boxes and montina was very helpful
I was very pleased with the customer service at this location. I was assisted by a very polite and courteous young man named Jay. He was very attentive and detailed in assisting me and answering all my questions. I would recommend this location to anyone who's looking for a nice storage facility with reliable and trustworthy staff.
If you're looking for a reliable place to keep your storage items safe, Public Storage is the way to go. Staff members, Jay and Cherokee, were very helpful.
I stoped out today despite all the snow on roads and was asking to view property Heather the lady working was very nice and showed me a few unit sizes i was asking about and she even gave me a few tips on how to conserve space in unit i recomend this facility to anyone looking for storage
cherokee was so wonderful, and very helpful, she officiant and knowledgeable, loved it
Montana helps us very well and gave us great customer service!
I went here for a storage unit, but they didn't have the size I needed. The young lady working was very helpful! She found a unit for me at the other location.
Great service and very knowledgeable. Will use again
Very nice service. Shi is very.helpful and courteous.
Cherokee was very friendly. She explained everything in detail to make sure our needs were met. Great job!!
*Positive: Shi (customer service) was friendly. *Neutral: Property seemed to be maintained okay, but doors leading to inside units were warped, a little difficult to open/close. *Negative: I didn't like that you have to get out of the car to enter the gate code (both entering and exiting). Not the worst area, but not the best either. Probably why they have limited hours, so you don't get carjacked trying to get in. *Negative: You can't access your belongings 24/7, they have limited hours. *Negative: Price. Not the cheapest to start with, then once they tack on insurance, lock, administrative fee, etc., it gets more pricey.
Simple and quick check-in process. Shi was a friendly representative that got me set-up.
Very friendly staff with helpful advice.
Always call to remind me when my payment is due. Always friendly and helpful especially Shi.
Shi and Cherokee were super friendly and helpful
I just rented a locker from Public Storage a few days ago and Shi was great. Prices are awesome and she is very nice and professional. Wouldn't go any where else for storage!
Cherokee and Shi did a great job in and out quick and easy.
Shi and everyone was very pleasan. Thanks
Amazing deals. And Cherokee was wonderful.
Employees are very helpful friendly and explanatory
Shi and Cherokee showed me excellent customer service today. Thanks girls
Very helpful and quick experience with my needs. Shi and Cherokee were very knowledgeable and helpful with pricing needs.
Shi did a great job shi was very friendly
I LOVE STORING MY ITEMS HERE BECAUSE THE PEOPLE ARE FRIENDLY AND THEY KEEP THE PROPERTY REAL CLEAN AND SECURE AS WELL AS COMPETITIVE PRICES. Cherokee and Shi make it painless to pay my bill. They are always smiling and seem to enjoy their jobs. They make it fun for me.. I will continue to store with them because they make me feel safe about my beloved items in storage there..
I had an employee named Shy. She was very helpful and informed me about the policies/procedures of the facility. She definitely needs a raise in pay. Thanks Shy I appreciate it.
i stopped in at the property on at harshman and spoke with cherokee i was looking to get some prices to store some garage items next month she was very nice to speak to had a smile throughtout the whole time i was there and she was informative and understood that i didnt want to rent right away i had a good experience
The employee Shi was very kind and knowledgeable. I appreciate all of her help.
I am handicapped Heather made things very easy for me she opened the door, had a big smile on her face and asked me what can she do for me. I told her i need a unit but i ended up coming in and getting two. Heather was very helpful on explaining on how things work. especially that auto-pay. She is a sweet heart and i will keep coming back.
When I arrived, Erin was the Employee on duty. She was very friendly, also extremely knowledgable. In no time flat, did Erin handle all paperwork, my check in, and showing me my unit. There were no surprises, as with other storage facilties I had visited...the whole ordeal was quick, painless and super friendly. Very clean unit, well lit, and secure. Public Storage can be very proud to have such a great employee. Thank you Erin, you made a stressful ordeal a bit easier on me.
Erin was great! She was very nice and polite and helped me pick the right storage unit for my things! I was very pleased with the customer service I recieved...thank you!