Public Storage Self-Storage Units at 3560 Needmore Road, Dayton, OH
Address
3560 Needmore Road Dayton, OH 45414
Office Hours
Mon-Fri 9:30 AM - 5:00 PM
Sat-Sun 9:30 AM - 5:00 PM
Gate Access Hours
Mon-Sun 6:00 AM - 9:00 PM
Storage Facility Features
Indoor & Outdoor Storage Units

Property Manager Lives On-site

Small, Medium & Large Storage Units
Office Hours
Mon-Fri 9:30 AM - 5:00 PM
Sat-Sun 9:30 AM - 5:00 PM
Gate Access Hours
Mon-Sun 6:00 AM - 9:00 PM
Storage Facility Features
Indoor & Outdoor Storage Units

Property Manager Lives On-site

Small, Medium & Large Storage Units
Close Location Details
View Location Details
---

5'x6'

---

5'x10'

---

5'x8'

Outside unit

Drive-up access

---

10'x15'

Outside unit

Drive-up access

Outside unit

Drive-up access

Outside unit

Drive-up access

---

10'x25'

Outside unit

Drive-up access

---

10'x35'

Outside unit

Drive-up access
Nearby Self-Storage Locations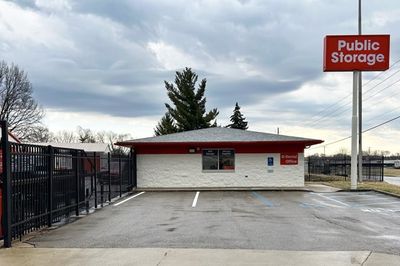 Self Storage Near
2120 Harshman Road
Dayton OH 45424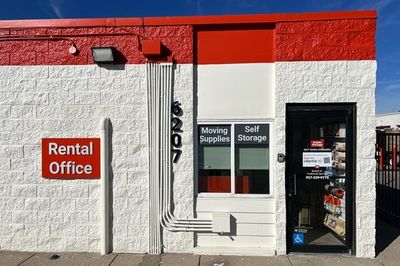 Self Storage Near
6207 Executive Blvd
Dayton OH 45424
Resources from the Help Center
See what fits in different storage unit sizes
At Public Storage, You'll Always Find...
Keypad Access

Friendly Staff

Month-to-Month Rent

Moving Supplies Available

Free Parking

Well-Lit Facilities
Reviews
( 311)
Cortney from the Needmore location was helping out at the Sharonville location. She helped retain us as a customer due to the terrible management of the Sharonville location. We have had nothing but a terrible experience and if Cortney did not talk to us and help work out the mess from Sharonville we would of left Public Storage ASAP. She helped retain us a storage unit at the Maineville location and if it were not for her we would have terminated our relationship with Public. She is definitely an asset to the Public Storage group and should be commended for her hard work, professionalism and curiosity.
Eric was quick with the rental, throughly answered any questions we had and were able to transfer us quickly when we realized we didn't have enough space. Thank you so much for your help, Eric!
I'm so pleased that Cortney was able to help me with all my needs
Thank you for helping me with all my questions.
Cortney is amazing! She's very professional and answered all my questions I had about the units.
The customer service is amazing. Courtney was able to answer all of my questions with detailed knowledge.
Eric and Cortney are so friendly! I love this location
Cortney and eric were very helpful
This is the first time ive bought an auction unit before Cortney was very fast and very knowledgeable.
Huge shoutout to Chris and Courtney for going out of their way to help someone who was missing some very important valuables gain access to a unit.
Had a great conversation with Cortney she was very very helpful and respectful of all my questions definitely will recommend to visit for top service.
Eric went above and beyond to help!
Amazing visit! Andrea was the sweetest person I have ever met. She made my day so much brighter. You should give her a raise she is the best.
Cortney and Eric are always super helpful and inviting when I come to the office and make my payment.
Cortney and Eric helped me with setting up the App they made it easy and fast.
Bought an auction unit here this month and the process was easy. Eric and Cortney were had outstanding customer service.
Courtney was really helpful
Cortney and Eric were so helpful and fast
Wow the lady Cortney, her customer service was excellent, she explained everything thoroughly and had us in and out.
I came into the office inquiring about a storage unit for a future date and Cortney was so helpful with answering all my questions and showing me different sized units to make sure I would get the size space I needed.
This is a great place to store your items
Courtney helped us and she's absolutely amazing
Cortney was helpful with helping me move in
I was having trouble e-renting but Cortney helped me with all my questions
I could not have asked for a more helpful gentleman who was working behind the counter. Great customer service! (It would be nice if the lights worked in the units)
Courtney was very professional and had all the answers to my questions. She explained everything in detail and did it with a beautiful smile. If she were my employee I would consider her for a promotion. I recommend this facility for your storage needs.
All in all, fairly satisfied. Courtney, who works at the front desk, did a great job being transparent, explaining costs and fees.
So awesome ! love the amazing customer service and easy use of app
Courtney was such a help I had a lot of questions with this being my first time renting a unit she answered and made me feel welcomed she was also very friendly it's nice walking into a place and seeing a smiling face.
Ms. Cortney was very helpful with everything that was going on with my storage, thank you for all her help
Courtney was a great help
Cortney helped us today she was very helpful an kind today.. she made sure we had everything we need an even gave use her opinion on wats yhe right stuff to use. THANKS YOU CORTNEY
Very helpful and super nice.
Was very helpful, made sure all my questions were answered.
Rob was extremely courteous and went above and beyond assisting me in a very stressful time. He is a great asset to the company.
She's a real nice lady always takes care of anything I need
Clean facilities, spacious rentals.
I called to raise concerns about a problem i had and Rob understood where I was coming from and handled it for me like a champ, if they gave out medals for customer service Robs would be gold ! Kept my business after I thought I was done
Heidi is awesome she helped me with everything i needed
Heidi is one of the best customer service people that I have ever encountered, she is a valuable part of this company.
I am sòòo dissatisfied with the service because I'm 65 with a cane and they gave me a storage bin on the 2nd floor with no elevator. I don't have time to text the rest.
Nice clean storage and very pleasant people
Heidi is very knowledgeable and patient with all our questions. We feel very safe leaving our household items stored here. Thank you Heidi for all your help.
A very nice storage facility. The property manager Heidi was very nice and helpful. Would recommend to others
Heidi was fantastic to deal with Very pleasant and kind
Just moved to Ohio and was very fortunate to find this great Public Storage on Needmore. The manager was super helpful -helping me coordinate with a very large moving truck and getting settled into our secure unit. Thank you!!
When is the next business day someone will physically be at this location to help me with a question?
Heidi was amazing! She is very professional and took great care and diligence to get us the first unit that came up. She helped set up our account and showed me how to use the lock system. She always answers the phone and answers all my questions with patience. We are so glad we found this storage unit. The grounds are clean and very secure. Thank you!
Today I went in to correct an issue that I was having with payment dates and late fees. Heidi was there to help assist me and get me to the proper channels to solve my issue. She was a huge help. Now that I think about it, she was there to help with past issues. She's so helpful, patient and kind. If anyone needs a friendly and helpful storage space, check Heidi out! 2 thumbs up Heidi! I appreciate you.
I didn't like the fact that I wasn't informed that my unit was on the second floor, I had to find out for myself. Other than that I haven't had any issues with anything else. I continue to use public storage. I'd like for them to make it a point to inform customers about the second floor units and given the choice I'd definitely wouldn't have gotten the unit.
The lady helped me with my problem. She was fast, very helpful and friendly. She got the problem resolved quickly to my satisfaction. If you have any questions please call me. Thank you Philip Lindsay.
Heidi is very helpful and worked with me when I needed and was very informative with information.
I would like to say Thank you to the gentleman Dennis that was there that helped me with all my questions that I had, and that lead me to renting out my first storage rental, in my time of need.
My man Dennis.R took good care of me and let me know everything I needed to know
Had a great experience here on Needmore road. , Dennis helped me with all of my storage needs. He was very polite, answered all my questions. Although they didn't have what I needed, I appreciate good customer service. Thanks Dennis.
I had the best customer Service experience that I could ever ask for, Dennis went above and beyond, to make my rental experience as smooth as possible. Thanks Dennis!!!
Overpriced and lousy staff.
Thanks Heidi you are the best at understanding your customers and awesome customer service
A bit on the expensive side, but they worked with me to control cost
We have been renting storage from here since February. I just want to say thanks to Heidi! She has always been amazing. She has gone out of her way a couple of times for us. When we first moved our stuff in to the storage unit, we had been traveling from the other side of the state and showed up right as her work day was coming to an end. She still stayed later than she needed to make sure we were good and that we had everything we needed. Every time I have ever called in to ask questions, she has always been very informative and easy to work with.
The property manager was extremely nice, explained everything in detail, highly recommend storing your belongings there if needed, very clean units and well up kept.
Robbin was very very helpful and knowledgeable. Autumn was very sweet and also very very helpful and knowledgeable as well
Clean...pricey $$, as a frequent flyer, this is my 3rd time using public storage. Heidi was awesome. I do think you should have a senior citizen rate of some. Using AARP. They are very clean...I will use them always.
Robbin makes Public Storage a great place to keep my extra things and she even showed my kids how to free a bird in need ☺️👋🏾
Will not use again. Over priced and not accessible all the time. Heidi is the best employer this company has. I like to work with her because she is very knowledgeable and friendly.
Robbin at the Needmore Drive location in Dayton OH was AWESOME! She helped get our unit ready as her last appointment of the day, when we called just 15 minutes before! She made sure we were all set with the unit and locked up after us. Really appreciated the excellent customer service!
Robbin was very nice today!
Office was to reopen at 3:30 pm. I waited til almost 4:30 and NO ONE Showed Up
Linzie was very professional and helpful in every way. I recommend this storage facility to everyone.
Robbin was very helpful and friendly would definitely recommend to everyone
Actually, my rating is no stars. They sold my unit after I called to pay, and then tried to collect through an agency. There was over $2000 worth of merchandise in my unit. Including furniture, antiques, jewelry and personal documents. I believe they looked in my unit and decided to keep my things. I am considering small claims and I do not recommend this business to anyone.
While Heidi is amazing this place is a joke. The fees, raising of rent, and then them kicking you off automatic bill pay and hitting you with a late fee and saying you took yourself off of automatic bill pay is ridiculous. want to talk to someone in corporate? forget it they never call you. I seriously do not recommend them to anyone.
Really great service, and the staff is really helpful. I would recommend anyone who needs a cheap and convenient facility. Also is very clean as well
They wanted to know everything I was putting into the storage unit
My experience here today was great! Don't usually frequent the front office... But, I had a question about my unit. Upon entering the property I met the property manager Robin. She was extremely helpful and knowledgeable for all questions asked. Her professionalism was more than I anticipated we need more in the service industry like her.
Very great and helpful great Nov should recommend
There was a young lady their name Robin she was great an very helpful i will Be back
annalee was awesome they helped me with my lock
Heidi has been absolutely amazing and understanding. She is always happy and tries helping me anyway she can. I am beyond pleased with the service
Awful manager totally getto wouldn't rent there ever again
Had to clear out a unit for a frie d couldnt get anyone to let us in with new lock had to make 2 trips from 2.5 hrs away
Heidi and annalee were awesome
I've had public storage for years. I've had a very great experience since I've been dealing with them. I would recommend public storage to anyone they are the Best!!!!! Robbin is a good receptionist hands down and deserve a raise she does a phenomenal job!!!! She deserves a 10 star! thanks public storage! -Kenny Wilkerson
My son was being deployed and needed a storage unit asap. Heidi was absolutely amazing with helping us find the best deal an size so my son did not need to worry about his belongings.. Heidi was very nice and has great customer service skills. She forsure knows her job and how to make the customers feel welcomed. I will be suggesting all my friends and family to go see Heidi. Thank you
To expensive for older people who are on a fixed income.
A bit pricey and inconvenient to pay otp and/or online
Had a Very Pleasant Expérience Always Courtious & Very Polite!!!
Great service thank you Robbin
This is the worst place I have ever done business with they are slow rude the units are overpriced and dirty I would recommend that you go anywhere else.
Heidi was very pleasant an knowledgeable at her job nice service
Heidi gave me good & fast service. She make a quick call and pulled a miracle for helping me today ❤️ Thanks again 😃
Unparalleled customer service. Robin is the absolute best!!
Robbin was very friendly and helpful...I would definitely recommend this facility.
Heidi does a great job there
ROBIN was very help & a people person.We will be back ! Ty Robin
Heidi is the best property manager you ever highered. She went above the call off dutie for me. Thank you.
Amazing amazing amazing. Very friendly very quick and very helpful. Robin was so nice and kind and her smile brightens the room
Heidi helped tremendously came in not knowing when I could actually get the unit and needed up walking out with the unit just perfect for me!
Mrs Robbin Was Easy To talk to She Was Very Very Nice
This is Billi Burnett and I just want to let everyone know that Store Manger Linzie went above and beyond the call of duty for me. Thank You.
Robbin has a wonderful attitude and is great woth customers...
Robbin done an awsome job thanks robbin
Robin was kind and very helpful, giving me the information I needed.
Ms Robin was very helpful nice an took. her time helping me an I would tell everyone to come to public storage
Robbin was very helpful and patient with what I needed to be done.
Robin was very helpful very efficient and did everything in a timely fashion because I was in a hurry.
I had a very bad experience! I went to my storage unit for the first time with my overloaded Uhaul truck and there was a red lock on it so I had to take my load all the way back and pay another day Uhaul. Heidi failed to tell me to put lock on storage unit right away. I was told when I asked for an explanation that she's only human giver her a break ! Her daughter told me that. I am hoping for a resolution to this matter can you help?
Heidi is the best at whatever is she does
Robbin is a good person she helped me very fast
Robbin ,had a very good experience at the time of my visit very helpful very nice attitude
Robbin is very helpful and personable
Robin was more than helpful, and extremely polite.
Robbin, is so sweet and very kind person. Keep her and give her a STAR 🤗🤗🤗
She was super nice and listened to anything I was sayin to her. She was great.
Great place to store your stuff you have to keep! Heidi has always been helpful and friendly even though I've lost my access code more than a few times.
Heidi was a great help to us when we rented our storage very knowledgeable and helpful.
Heidi is always pleasant to work with, her customer service skills are superb!! Speed of in processing is phenomenal. Promotion is in order for her. She brings great credit upon Public Storage. As a customer I am very pleased with the service I received from Heidi. She exceeded my expectations!! Rodney Stark Very satisfied customer.
Heidi was helpful in providing detailed info about pricing, approved lock types, insurance, and autopay options.
Heidi did a wonderful job helping me today.
Heidi was very helpful with our needs from our company that has come into Dayton on business.. Walked us thru all procedures and we left the storage unit with all our questions answered and felt that our property was safe and secure. Thank you Heidi!!
Good quality customer service. Thanks Heidi
Wonderful place. Very well kept and guarded!
Sales lady Heidi was very nice and professional and thourough. Answer all my questions and covering all the bases on giving answers to all questions I may have and need to know.
From my experience this has been a very helpful storage unit establishment and Heidi has been very cordial with assisting me on everything that I have needed in the storage unit
Heidi Robinson has gone above and beyond to fulfill ALL my needs with Public Storage! Heidi has been a pleasure to do business with!
Heidi and Anthony was very helpful very nice and the process was quick, easy and at a great price! Highly recommended!
Be better if it were 24hrs other then that not bad.
The service was fast and the prices were awesome.
I walked in to the office and was greeted with a warm smile from Anthony. I had many questions about the different units and he was very knowledgeable and gave me all the information I needed. If you need a unit he's the guy to talk to.
Melanie was awesome to work with, very professional and got me into a unit with a great rate!!!
The customer service was second to none! Every aspect (cost, customer service etc) was top notch. Thanks guys!!!
If I could rate this place a zero I would my storage unit has been broken into twice they dont seem to care..The insurance is a joke..When you inform them you want a refund because you have to move because of theft they don't think that should happen.I wouldn't be moving my property if it was secured like they say, you would have better luck putting your stuff on the street then here, oh and lets not forget all the mold that was found on my belongings..If you ask for a corporate number you wont get one and the district manager doesn't return phone calls so who is running this place...
Those two ladies have the sweetest personalities and always smiling and by far they treated me with a personal touch..
My storage unit was broken into. Management made zero effort to even apologize. Would strongly recommend going elsewhere.
Mel and Chelsea where great very nice, and helpful two great employees, a raise is needed.
Melanie was great very detailed and professional!!
Very friendly & helpful folk...thank you Rachel & Melanie
Customer service was excellent. Everything was handled quick and easy!
although they are very nice on the phone and in person, my unit was broken into and they took 24 hours to contact me. Upon arriving I saw that there was easy entrance into the property though an open unlocked gate. I had already paid for the month and this was the 4th, I was informed that I would be getting a refund but am yet to see it? They have also sent me an invoice for the next month?
Melonie was excellent. Very good customer service.
Quick friendly and very helpful!! Thank you
Well this is for my brother...my brother explained his living and transportation situation and the manager said that they would work with him. My brother made 20 phone calls concerning his payment but was unable to reach someone by phone, he came on the first to pay his payment and back payment but then was told that his items had been seized, alot of his items are not replaceable, and are valuable. So please listen if you cannot pay in person this place will take your items, there will be no "Working With You"....
I've never rented a storage unit before but when I saw $1 for the first month and $31 for the following months I thought it was a good price. First month actually cost me $57 with that $1 rent. A one time administrative fee of $24 when signing up, which was mentioned when reserving the unit so that was fine. Then they charged $20 for a lock which I could have gotten something better for that price and would have gladly provided my own. Then there is mandatory insurance which is $11 minimum. So my $31 is now $45 with insurance and tax and over double what I was expecting for the first month. I haven't even put anything in there yet and I'm already a bit irritated. Hopefully things go well with the unit. At least they look fine. And while Melanie was very helpful and very nice, when we got back looking at the unit and I mentioned I was probably going to put a sofa in there she pretty much tried pushing a sofa cover on me without actually asking if I wanted one. Just said "Since you have a sofa you'll need one of these so lets add that." and I had to deny something I never agreed to in the first place.
Melanie was very friendly and very professional great service
Melanie was very professional
A little upset they don't tell you about the required insurance when booking a storage locker online. And I even asked if I was required to get the insurance and the lady said I was so that was an extra $11 a month
Melanie was more than amazing !! She got my storage unit ,boxes and even offered plastic covers for my sofas. She had offered suggestions for everything I needed. She was quick helpful and very pleasant to work with . I enjoyed my experience and look forward to having my stuff with PB because of Melanie I will tell everyone I know to go to PB on Need more Rd.
Melanie has always been nice and pleasant and helpful!
This place is amazing! Melanie was extremely helpful, kind, & matched my Uhaul Reservation price. She even made it to where I could have 24hr access to my storage unit for 2 days. Great environment, fair prices, and extraordinary service. I highly recommend it!!!
Chelsea provided good customer service. She was patient and answered all my questions.
I worked with Chelsea and the move-in process was REALLY easy. She explained everything and made sure that I viewed the unit before signing anything. All of the girls in the office were very nice and helpful and I had a great experience. No surprises. The only thing that was a little difficult was trying to turn around between the buildings - I was driving an SUV with a trailer and there wasn't a lot of room. It took a while but I finally got turned around. Not sure how it's going to work with a big moving truck, but I guess that I will figure that out when the time comes.
Chelsie was awesome! Thanks for the great service!
Chelsea is very helpful with a friendly smile everytime time I come visit I know she enjoys providing excellent service. Thank you for providing service that makes me want to share with others.
Did a transfer there and melanie and chelsea made things pretty easy and understandable..thanks guys see ya when i move out
I had a very good experience Melanie was very helpful and patient with me and my sister as we looked at the various units. And the specials they have going on was a added bonus in our choice of storage company.
I was helping a friend move their stuff outta their storage unit and I went in the office to use the restroom and asked a few questions because my husband and I are moving soon and will need a unit and Chelsea and Brittany were soo helpful and answered more questions than what I was expecting, they were so sweet and seemed like they really knew what they were talking about, I will definitely be storing here when the time comes!
Great customer service. Melanie was extremely helpful and very nice.
Britney was fantastic! So helpful and friendly! Thank you!!!!!
Had a very positive experience! Lacole, the employee was very helpful and informative. Happy to know all my possessions are safe and secure.
La'Cole was friendly with a warm personality.
they were very nice when need them
I had a couple questions for my parents and the lady working today, i think her name was Brittney. She was very informative and had an awesome personality! I will recommend Public Storage to everyone. Thanks!
Britney and Melanie were very helpful. Informative and respectful.
LaCole was great. I hate moving but she made my experience worth it. Great customer service. Rent with her!
Britnie helped with everything and was quick and easy
I came in today to get a place to store my belongings, Lacole greeted me right away and was VERY knowledgeable. Very speedy and accurate service. I loved it
Went in to pay on a friends bill and ask about storing my car for the winter. Lacole was real nice and helpful. Melanie was too. Great place. I recommend.
Britnie lovely personality. Would recommend to friends
Britnie was awesome...very helpful.
Britnie was very personable. Informative, funny, made our experience great. Was one the cleanest facility I have ever visited. Prices were affordable.
GREAT!!!! Britnie was awesome!!!!
Britney was very professional and courtesous.
Melanie and britnie were awesome. And professional
Easy to obtain storage. Melanie and brittany helped tremendously.
Melanie helped me with my recent rental of a storage unit. She was very professional, polite, and thorough. Even in the rain, she showed me my storage unit and where the key code access units were. She provided excellent customer service with a smile!
I had a wonderful experience here with Melanie and Lindsey. They were so helpful and the went above and beyond their means to make sure I was happy before I left the store. Great Customer Service!!!!
I was helped and treated with respect and will tell friends and family. Thank you Lindsey
Had a Wonderful time with Customer service!!! She was amazing with communication skills, smiles and overall well being. Thank You So Much Melanie!!!
Melanie has awesome customer service skills!!! Very helpful and explained everything thoroughly!!!
I had a simple question, and the Manager Melanie, was amazing! She was not only friendly and had a smile but very informative in helping me resolve my issue. Rarely do you see Customer service as friendly and helpful as she was for me! Thumbs up for her She deserves the best!!! Thanks Melanie!!
Melanie's Customer service was great. very impressed.
Upon my arrival i have never used a public storage unit. I had concerns about the safety and atmosphere of my fellow belongings. This opinion changes thanks to Melanie. She assisted me with kindness and assured my belongings were safe. She was kind and the reason i would recommend this storage unit to anyone. She did whatever was needed to help me with everything. She built a kind of trust that only my cat (Mr Fluffles) has been able to get out of me. With this new age in life I have moved out of my parents house, graduated from college, and grew from a boy to a man. But there was one problem . Storage. But I fear no more thanks to Melanie and Public Storage! I highly recommend this storage unit to anyone looking for a good place and clean place to leave their items. Whether you have boxes and boxes or a piece of paper. STORE! STORE! STORE! at PUBLIC STORAGE!
I have been leasing this property for 11 months. Customer service has always been exceptional. They go above and beyond to make sure the customer is satisfied. In addition, they have provided a safe, clean atmosphere. Any minor problems I have had with my storage unit have been quickly resolved. Upon my recent visit on 3/16/15, I was provided superior service by Serenity. She assisted me every way possible, even helping me with boxes from my storage, as I was organizing my unit. She offered supportive assistance in assessing the size of my unit, making sure it was appropriate for me, and offered to change it. I would recommend this location.
Very disappointed. Almost every unit has a cylinder lock which is 18.00 extra every month. Which the call center told me that wasn't the case. Was told I did. The light in my unit did not work so I was told to leave the key so they could change the bulb. I returned to be informed that the whole side where my unit was (30+units) had no electric and hasn't had in several years. according to the property manager. I asked when it was going to be fixed and my answer was probably never. But I was also told that they do check on every unit before it is rented??? Nobody has called me back in 4 days. The attitude was not our problem, and was offered another unit , but none with a light were empty. Beside I would of have to move everything I had already stored to another unit. I was offered no compensation for not giving me what I paid for and what was advertised. Nobody is on the same page and I feel this facility is ran without concern for the consumer.
My experience with Public Storage on Needmore rd. has been excellent and the property manager name Serenity is the best, she's a very caring, empathetic, understanding young lady and i give her 2 thumbs UP, the customer service is great. i recommend anyone to use this storage facility!! (Thanks Serenity and may GOD Bless you) Sincerely Janice Anderson!!
Melanie helped me find the right size unit she was very professional and the property was very clean and we'll maintained
Thank you Heather! You were awesome!
My experience with Serenity was wonderful
Serenity was very professional and very friendly.
I had some ?? But with some good answers I was very happy with the way heather (location worker) took the time to answer or help me get the answers I will continue to rent a space at this location with staff like this it is nice to do business here thanks
I loved the service I received for heather.... she was amazing ... Thank you so much Heather
Excellent customer service. Very knowledgeable and polite.
Melanie was a lot of help and very knowledgeable. .
Great customer service, really friendly and very helpful. Made it quick and easy to rent a unit
Melanie is awesome service is great
Great service, recommended!!
Melanie was very helpful and nice I will defiantly tell every one about your storage lot
Melanie stayed late to take our payment
Personal cooperative and kind
Melanie and Shi were great. They were very friendly and helpful.
Melane was great. She was very helpful.
Melanie and shi are fantastic. .. always bubbly and nice. Very helpful whenever I need it
melanie was awesome she deserves a raise
The workers of this store has excellent customer service. Their rooms are nice clean and odorless.
I love storing my loved belongings with public storage because they make me feel safe and that my items are safe as well. Melanie makes me smile and laugh. She is cute and has a wonderful personality..
The service from Melanie was great she was very helpful
Melanie helped me get everythng i needed to move this is a very clean place
i stopped in to look at a unit and melanie helped me out alot answered all my questions and showed me everything ill need to move in a few months its a very clean place and id recommend this place to anyone needing a storage place