Public Storage Self-Storage Units at 6207 Executive Blvd, Dayton, OH
Address
6207 Executive Blvd Dayton, OH 45424
Office Hours
Mon-Fri 9:30 AM - 6:00 PM
Sat-Sun 9:30 AM - 5:00 PM
Gate Access Hours
Mon-Sun 6:00 AM - 9:00 PM
Storage Facility Features
Climate Control Storage

Boat Storage

Car Storage

RV Storage

Small, Medium & Large Storage Units

Indoor & Outdoor Storage Units

Property Manager Lives On-site
Office Hours
Mon-Fri 9:30 AM - 6:00 PM
Sat-Sun 9:30 AM - 5:00 PM
Gate Access Hours
Mon-Sun 6:00 AM - 9:00 PM
Storage Facility Features
Climate Control Storage

Boat Storage

Car Storage

RV Storage

Small, Medium & Large Storage Units

Indoor & Outdoor Storage Units

Property Manager Lives On-site
Close Location Details
View Location Details
Outside unit

Drive-up access

Outside unit

Drive-up access

Outside unit

Drive-up access

Outside unit

Drive-up access

Outside unit

Drive-up access

Outside unit

Drive-up access
Nearby Self-Storage Locations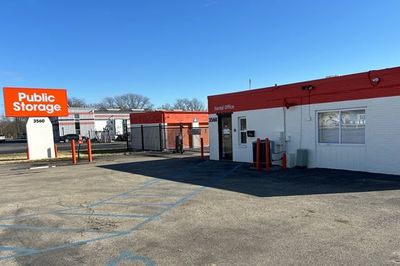 Self Storage Near
3560 Needmore Road
Dayton OH 45414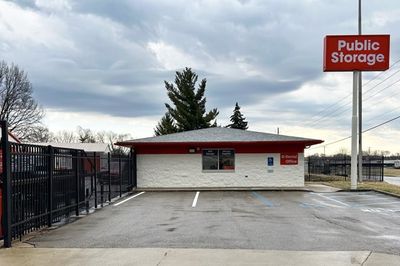 Self Storage Near
2120 Harshman Road
Dayton OH 45424
Resources from the Help Center
See what fits in different storage unit sizes
At Public Storage, You'll Always Find...
Keypad Access

Friendly Staff

Month-to-Month Rent

Moving Supplies Available

Free Parking

Well-Lit Facilities
Reviews
( 298)
Each year these folks have raised my 10x20 non climate controlled storage rates a total of 71% since March of 2020. Needless to say, I will be moving my storage and no longer be held hostage with annual rate increase no smaller than 23%!!!!
Such a great experience at the Executive Blvd. location! Montina and Robbin were wonderful, very helpful, and patient with our gazillion questions. Definitely a much easier process than expected.
Great service at location from Robin and rest of staff.
Friendly,courteous and clean
Super friendly staff and conveniently located as well as secure
Today I received GREAT service from Robin and Montina. I left Public Storage in 2015 but I am back now and look forward to fantastic relationship with the management.
Montana was so awesome love this place!¡! Very helpful!!!!
Robin was a great employee and helped out tremendously, unit is nice and clean. Gates and doors work excellent as well I will definitely use public storage again !
Thought this place was great when I first got it. Cheap and easy to get into. Then they raised the rent without notice. When I called they said they sent one. Which I didn't receive until they sent one that day. Since then my rent has gone from $91 to this month now at $177.
Stephanie is helpfully and always has a smile
Robbin was great! Very friendly and helpful she made the stressful part of moving wonderful!
I can't rave enough about Montina!! Tonight she really went above and beyond for me! One of the best customer care experiences I've ever had!
Sometimes getting a storage space is a happy thing and sometimes unexpected life changes require it. My case was the latter and I was very stressed about the whole process. I just want to say what a treasure Montina has been! She patiently explained how to open the storage garage door when I was extremely frustrated and not so pleasant. She kept her calm and her kindness helped calm me down. Anytime I've had a problem (mostly user error) she has helped me out. Public Storage is blessed to have such a wonderful employee!!!
Montina has always been very helpful and nice, I thank her for all the help she has provided to me , thank you Montina.
Montana, is the most helpful customer service person I have worked with in years. She has a great personality too.
Clean and super nice employees
The agent working the office when I called did a fantastic job. Was even kind enough to hold a unit for a day for me so I could get in to rent it. Great work. Keep it up. Thanks.
Robbin was very helpful and knowledgeable,helped me get the right unit for my stuff.
Montina was a huge help !! Thanks for all the help.
Good service and great pricing.
Montina ( I hope I spelled that right:) has been so kind and extremely helpful for us. Excellent service and a great attitude! Highly recommend
Montina is always pleasant when I come in.
Montina very pleasant every time I come in very friendly place have a nice day
Robbin has an great positive attitude , her energy is great and the service was amazing, thankful I met her
Robbin was fantastic she really walked me thru the process and unit like a true professional!
Montia was very helpful and nice . I was in and out in no time!
Montana was a great help, and always is everytime I visit the office to pay my bill. I would recommend this place to everyone I know. Thank you for your help!
I use public storage quite a bit and Montina is always such a big help Amazing Service and attitude
Montina was awesome today
Got my unit, instead of a large rolling door, it has small doors separated by a large metal beam. They didn't even mention that and I wouldn't have taken it. DO NOT sign up without seeing your unit first!!! The inside light was broken, it's dirty, there was dirt and debris everywhere. Not temp controlled but expensive. They force you to have their insurance. Their app is garbage to check in. And if you accidentally leave a single object behind when you move out, they will try to charge you another month. This place should be leveled.
Great management, very nice and helpful
Robbin has a great smile and personality. It was refreshing to get customer service from an authentic person who is knowledgeable and friendly. I also remember commenting to her how clean it smelled when I walked in. She had mopped the office and the bathrooms prior to me walking in. It was an over all great experience; especially since I had encountered so many negative experiences during my search.
Robbin was awesome at the front desk. She answered all of my questions and made the process easy!
Robbin answered all my questions and suggested other ideas that I hadn't thought of, like online renting and paying with the app .... Thanks
Montina is the manager at this location, She was very helpful, she was able to get my account and storage activated quickly and was very helpful in explaining the whole process, which she made easy to understand...
Robbin is a wonderfu person, very helpful .
Robbin is so awesome, good customer service and very respectful
Robbin is always amazing when I come in. She's super fun, sweet, and honestly I feel we could talk all day. This location is worth every penny in my opinion!
Robin and Montina helped wave my fee for a late payment. I didn't have enough money to pay on the first when it was due so I got a fee and since it was the first time they helped me out. No hassle or anything. Much appreciated ladies!
Robin is the best employee. Professional an extremely helpful. She knows her stuff and deserves a raise
Robbin is awesome and very helpful with finding a storage.
These girls have always been helpful when I need it. Thank you Montina and Robbin.
Robbin was extremely helpful. I give her 10 out of 5 stars
OMG this is what customer service should look like everywhere!!! I went into Public storage for some rental information and the young lady Montina I believe was her name gave me a full rundown of options but more importantly for me was attitude and demeanor. I am a General Manager in the food service so customer interaction is always the top of my priority list and this young lady nailed it!!! Many thanks, Anthony Hilson
Robbin was awesome today, she was very quick and helpful!
Robin was very helpful great service definitely use five star
I chose the Executive Blvd Public Storage unit because they had the best rate for a 10 x 15 units when I was searching in early 2020. There was a unit closer to my house but it was an old unit and rusty and tired looking. Executive Blvd was clean and definitely a newer unit. During the winter I noticed drips of water dripping into my unit from the snow thaw, so I immediately called the office and Montina was at my unit within just a few minutes! A work order was turned in, roof resealed, and my items in storage were dry! During covid the office may not have been manned as much, but I always reached someone by phone. We needed after 9pm entrance for a UHaul traveling from Washington DC, and they gave us a code to use that night. Thank You! I would recommend this location and I will use it again.
Stopped inThis morning just to obtain some information for my sister who is moving to the greater Dayton area In the very near future. I spoke with the Manager on duty: "Robbin" she provided a plethora of information, and, Her people skills along with her knowledge of policy and procedure was very helpful for what I was looking for.
Stopped by to check on storage prices and Montina went over everything I asked. Let me know that I could easily secure my space online when I'm ready to rent.
Montina was very professional and helpful
Montina is wonderful! She is so professional as well as extremely helpful. She is most definitely a valuable asset to your organization. ...
Montina is great very thorough, detailed great customer service and safe during COVID.
Brittany from the Beavercreek location and Robbin were fantastic! They went above and beyond to resolve an issue. Great service!!!
I was only able to visit their website, but it has all the information you need if you want to rent a storage unit.
Montana was super helpful, very professional and courteous. Thank you!
DO NOT USE! FIND SOMEWHERE WITH SECURITY CAMERAS! I have used Public Storage on Executive Blvd. in Huber Heights to store my trailer in an outdoor parking spot for 2 years now. Up until recently, it was great. However, my trailer was stolen off the property. They DO NOT have any cameras and their rental agreement free's them of any responsibility. You would think your belongings are safe, you have to use a personal code to enter and exit the fenced property. I understand it is not their fault the trailer was stolen but it is unacceptable that in 2020, they don't have security cameras! Security cameras are so cheap these days. Protect your belongings and find a different storage facility.
I have Chrons and theres a public bathroom but the lady wont allow me to use the bathroom as an emergency reason. It is Illegal for a facility to deny access to a public bathroom or even an employee bathroom when give a medical card for chrons or any other type of medical problems. I have called the police and will be making a report and looking into a lawyer. This isnt just for my reasons it's for anyone and everyone that has medical problems and are denied.
Montina was very helpful getting me signed up for my new storage space!
Montina was super helpful. I highly recommend public storage in Huber!
Where mine storage unit got me place at for an $132.00 is right in front a puddle of standing water which never seem to drain. Either they move me and find a new spot, my billing should come down around $80.00 a month.
Montina at the executive Blvd Public storage as well as Rachel at Harshman Rd public storage gave wonderful service they were very informative and knowledgeable about what I was purchasing and agreeing to 5 stars all the way!!!
Montina was very courteous and patient. Fantastic customer service. Would definitely recommend.
Robbin and Montina was very helpful and nice.
Don't ever deal with these crooks $19 lock fee 24 administration fee 15 insurance fee all you have to pay for the1$ special adds up to 88. Don't forget about the 50 late fee or the 150 administration fee run run run from the crooks
Montinia have given good customer service Thanks
Robbin was very friendly and helpful.
I was not able to get in myunit lock was froze and i needed in to get some stuff out
Montina was great, however I don't like how all these hidden fees come out of nowhere.
Montina was very quick and helpful!!!
Robbin was an amazing help. I got an appointment time quick and she answered any questions I had! Great customer service!
Robbin is very friendly and extremely helpful! Definitely recommend!!
Montina was very nice and sweet. Great experience
Montina was so very helpful, and her customer service amazing!
Brittany was a great and helpful
Montina is the friendliest and most helpful employee I've had the pleasure of being helped by in a long time. I'm a high maintenance customer and she's gone out of her way to make sure I get what I need. Very impressive! Thank you!
Awesome service!!!!! Mrs montina was great!!! Keep it up!!!!
Robin and Montina helped me when I set up an account to pay my storage fee. Thank you very much ladies!!
Has fairly reasonable pricing, although it is kind of hidden.
Robbin is very professional and efficient
Clean and still affordable!
They offer a 50% discount on the first months rent, but then turn around and tack on an administration's fee that is more than what the discount took off. I understand an admin fee, but $24, really? I feel as though this is a bait and switch type deal. No thanks, I'll find another storage facility that's a bit more transparent up front.
Great customer service here at public storage! Montina was VERY helpful in finding me the right size storage unit. And the price was very affordable!
Montina did a great service this morning.
Decent prices and you get to use their box truck for free only a deposit and replace the gas used.
Montina Robbin Great Staff good people tremendous customer service
Montina and Robbin were both incredibly friendly and helpful with finding an appropriate size unit for my needs.
Great service. Great prices. Easy to rent
Motina was outstanding very professional and helpful she provided great customer service I'm satisfied!!!!!!
I was at public storage today an i was talking to robin about a storage she was very helpful i will be back thanks again
Montina made it a very quick, easy, and thorough experience for my first tome renting a storage unit.
Tina was awsome help us alot thank u great customer service
Montina was very friendly and straight to the point. Very professional!
Montina was very nice and very helpful. She was patient with me while I was having a rough day. She took time to explain everything and made sure I understood. I even had a chance to sit in a chair and chat with her while I was locked out of my car.
I had a Great Experience with Public Storage. Montina was very Professional and Courteous. I highly recommend her to anyone looking for storage units at a reasonable price....
Montana and Robbin thank you!!!!!
Montina. Very courtesy very helpful
My girlfriend Tina had to get a storage notice on short notice. Robbin at your Executive Boulevard was extremely helpful, courteous, and helped her make the right decision on the size unit needed based on the items that needed to be stored. my girlfriend even left her debit card there twice and Robbin went straight to work to get in contact with me as her backup contact to be sure that Tina got her debit card back. It is really nice to do business with a company that has honest, reliable, and friendly staff. Thanks again for all your help and we would definitely recommend you to anyone looking for storage. Best regards, Tina Fah and Jeff Smith
Tina was absolutely off the charts on knowing about everything I needed to get moved in. She is like totally the best !!!!*****
Montina was very sweet and helpful and made sure I got the best deal ! Thank you Motina for being such a big help!
Montina was both professional and informative.
Montina Was a wonderful sales person. I got my storage unit with ease an it was very fast. Will definitely come back.
Robbin has been great help to me and a very nice person love public storage for there good employees
Robbin was very helpful and attentive. She asked the appropriate questions and I therefore received the appropriate storage. Thanks Robbin!
Snotty rude I could go on
Robbin is vary nice vary friendly
Robbin + Montina have been great to work with.
I mean it's ok to store things. But nothing great. My storage unit was one where they didn't have drains. So water was ALWAYS standing right at the door. We had to have wet feet or rain boots to get in and out of the unit. When it was cold everything was frozen over and icy. If you rent here make sure you are near a drain. When you move in you can't use your own lock, you have to buy a lock from them that cost 20 bucks. That is a circular lock that fits pretty much nothing else, unless you store with them again. Also, make sure you are out exactly by the end of the month. If you are 1 day over you are made to pay the ENTIRE months rent. They can prorate you going in but not when you leave. And don't be late on a payment by a few days (even if you are sick, moving, snow storm, etc) its an extra 20 bucks. Will NEVER go back to public storage.
Make sure not to do business with them. Their lot stays full of water any time there's a slight rain and you'll be getting your socks wet every time you load or unload stuff from your unit. They also WILL NOT pro-rate when you leave so you better get OUT AND CLOSED by the first or they'll just steal your money. Also, tack on extra fees from whatever you think their rates are. You HAVE TO use a cylinder lock that you ,OF COURSE, can buy from them but will likely never use again. Also you have to carry insurance (provided by them) unless your INS co. will cover it. All said, a TOTAL SHAM that I'll never do business with again.
Robbin was very helpful was the best made me laugh listened to us was sweet and caring even took a selfie listenand laughed with us
Nice and helpful staff but not a lot of room for bigger trucks
Robbin and Montina, are very very nice, they are also very helpful . I wish more employees were as good as them. Thank you
Robbbin n martina great employee serive great like place nice n clean place
Units are nice size but if you're moving anything big into them there's not much room for maneuvering a bigger truck inside the isles.
Robbin is a very nice lady and is very helpful
Robbin was a wonderful person.
Linzie was very helpful and went through everything when checking in, showing the unit and going through paperwork and explanations. I appreciate the consistency of Public Storage units and clean lots with excellent rain runoff.
Entire leasing process couldn't have been easier thanks to Linzie! step by step help when needed! Best place for storage and customer service!
Helped nephew move things from there to another unit they borred out his lock before sending paperwork stating he was behind in his payments.
Great customer service. Montina provided quick service and answered my concerns/questions.
The entire process was very easy. Linzie showed us the unit to make sure it was what we needed. She explained everything and told us about the insurance. After all of the paperwork was signed, Linzie took us out to make sure that our gate code worked. Overall it was a great experience.
motena was very patient professional and kind.I love it..
Great facilities, wonderful staff and the prices aren't too bad would definitely recommend to other people
Linzie showed what was being rented and made sure it was what I was going to be needing. She did a great job explaining the benefits.
Very polite, nice manners and very quick.
Ms. Montina, was very nice, respectful, polite, and helpful. I would come to this storage place again in the near future because of her human interaction and great customer service skills. Thank you all so much.
Their late fees are too high. Plus the girl I talked to about closing my account lied to me. I told gett I would be out by the end of the month. But asked if I needed a few more days what would the cost be. She told me it would be prorated by the day. When I went in to close out on the 7th because a need a few more days. They charged me for the full month. And the girl looked right to my face that she never told me they would prorate by the day. Because she lied to me, it cost me a full month pay for something I can't use. I will make sure I post every where I can sho others don't get taken
Montana was professional an absolute Gem.
Montana was very very helpful and answered all questions I had
Friendly staff, Linzie was courteous and knowledgeable.
Montina was so helpful and explained everything very well to me!
Montina did I great job , very helpful.
My experience was awesome due to your rep. Linzie who was very knowledgeable and professional in assisting my storage needs. Had a very polite tone and a great smile throughout our transaction. She deserves a raise 💲💲💲
Great customer service and she was very knowledgeable with all of our questions.
You have a very helpful staff. Heidi at needmore did not have the size units I needed so she had me come here and they answered all my questions I will for sure be storing with them.
Linzie was extremely helpful with my moving supply needs. She always has a smile on her face whenever I go there and is polite and professional.
Excellent Service....Very Helpful...And Accommodating...Thanks Montina..You Rock!!!
Montina was very helpful today. Didn't have what I was after but offered a larger space to me.
Online deal was great and Anthony made checking in easy. You do have to purchase their lock and show proof of insurance but I knew about this ahead of time. So far so good! Edited to add: if I had to do it all over again I would NOT rent here! Our unit has been leaking for a month and NOTHING has been done about it even though I've contacted corporate and the property manager. No one cares and they won't call me back. The issue was reported in February and it's almost April and still nothing. Hope they are prepared to replace my furniture!
Montina was awesome customer service rep for Public Storage. She really knows her stuff.
Very good experience . Montina was very helpful with all questions concerning rental. She is very informative and does her job well
Montina was very professional & very helpful!!!
Good prices. Has 24 hr. Access. Good quality and well sized units. Management could be a little more friendly
Theresa aswad was outstanding. Great customer service. Loved working with her
The girl Montina that everyone is praising either has them all fooled for now or those are her friends or fake accounts that are praising her. They are great to start with but change their tune the 2nd month. They tell you one price and then they up the price big time when you're not looking. They don't honor there coupons for a certain amount for the year like the website & coupons say they will honor it for a few months but after that they won't do it. The gate is always broken there's no cameras your stuff is not secured they make you get insurance there storage units inside some of them are busted like ours they want to have us give them the key which we did for them to fix it only they never fixed it and they have the key to our storage unit and we have stuff missing now and when you talk to them about it they say it's not them yet they're the ones with the key?! It's a untrustworthy establishment and if you're going to be renting I suggest you look over your unit with a fine-tooth comb make sure that you check out everything including the walls including the floor when we first got ours there was oil all over the place and they were trying to rent it like that and there's no way we were going to put our stuff on an oily floor. And like I said our second unit that we had to get had the walls coming down they're still coming down because nobody has fix them and we're responsible for them when we leave which I don't think is fair and they have the key like I said before so they're not trustworthy. If your late on your rent only by two days they will call you with an attitude and say that they're going to be cutting your lock that Friday if you don't pay it.
I used to specilty never had any problems and the gate always opens for me
Montana and everyone there was very helpful and extremely nice. I would definitely show the place to anyone who would ask
Montina is so sweet and helpful! Great place to rent storage!
Montina was awesome and very kind and helpful!
Montina was extremely helpful. She told us about the discounts and products that were available and got us out in a timely manner. I will definitely recommend this place to friends.
Montina was exceptional she explained everything thoroughly showed me 2 storage umits. I had a great experience.
Heidi was very helpful and i got a great storage unit for not a lot of money.
Very helpful employees. Montina was awesome. Quick easy set up
Stopped by looking for a unit larger than 25' x 25' and although they didnt have exactly what i was looking for the employee was very helpful and quick to assist me. Thanks again Anthony
Super Nice Lady *Montina* That Helped Very Informative Made It Easy For Me
Montina was great to work with. She helped me pick the right unit for my needs and everything went smooth.
They lied about the size I paid for a 5x5 It is not even a 4x4 I'm 5 foot... And if I try to lay down I can not I can not even put my shoulders on the floor when I try to lay down And the drain pipe is right over my door Not happy Trying to find corp phone number See more
I moved to Alaska for a summer internship and needed a storage unit to keep all the stuff I couldn't bring on the airplane. Public Storage provided. I chose this location even though it wasn't the closest to where I moved from because they had the best online deals. Anthony assisted me when I moved into the unit. He was professional, kind, and helpful. The unit and location were up to my standards. My only complaint was the additional charges (mandatory insurance and purchasing a tube lock) of which no mention was made when I reserved my unit online. Overall, it was a satisfactory experience.
These people are liars! They will tell you one price and charge you a higher price and deny they ever offered anything lower. Then refuse to give you your money back. Oh and you never talk to the same person twice so apparently there's like 20 managers lol
This place is terrible. The main gate is rarely closed so there is little to no control over who enters the property. They installed new doors on the units without notifying me that they were entering my unit. The doors that they installed are so cheap that could be easily pryed open. The door on my unit leaked when it rained and ruined some of my property. When I brought this to the attention of the manager, she acted like she couldn't care less. Then they had the audacity to send me a letter letting me know they were raising my rate. No thanks, I moved my stuff to a more reputable and secure storage facility.
Received great customer service from Montina today. I needed a place to move my Moms things to and Public Storage was able to accommodate us at a reasonable rate. Thanks for everything!
I received the best customer care from Montina. Give her a raise!
Best customer service thanks montina
Best in dayton. professional staff and very nice units!! I would recommend to everyone and I will!!
I've always gotten great service when I come to make my payment, Montina is the bomb!
Montina was great at helping picking the best space to fit my needs very helpful and kind.
Fantastic service! Have looked and talked to many shelf storage companies in the last few weeks, No one took the time, and effort to help me out like Montana! Thank you again for a job well done, she understands customer service.
FREE MONTH? All I wanted was storage for 2 months and pay for it all on that day. They are very polite and they do what they want and you end up paying late fees and when you move out early, there are no pro rated amounts past the 6th of the month. Aug 27 to Oct 7=$138 for a 10x10 with 1 door. Very slick operators, that don't want to take your money initially, just pay online later, it will be okay. They got me on my last day for $78.BEWARE
Montina was amazing I would most definitely rent from this place again. She smile and was very friendly and helpful. If you are looking for a place to rent from I say go there!
Montana was the person who helped me. She was very friendly and very helpful and was very professional. She made the experience very easy.
Montina was awesome! She was very professional and knowledgeable.
Months was Great! Customer service star. Great experience.
i worked with Montina, she was very helpful with me, I definitely will recommend anyone who is in need to visit here and ask for her thanks
Chelsea was very helpful and informative. Her internet was down but was still able to provide excellent customer service.
Brittany was amazing very friendly....although the $1 special was misleading and a lock was $22 and had to pay $11 for insurance $1 turned into $60 really quick
Montina and Britnie were vary helpful and accommodating with my storing needs.
Britnie is especially helpful and has wonderful customer service. She took extra time to make sure my unit was fit for my needs.
Great customer service from Britnie, Thank you so much!
Brittany provided great customer service.
I came in the other day with a friend to rent and Brittany was so helpful. She explained everything thoroughly and even gave me some great tips to store items in my unit
Britnie provided top notch service during the many months I had a storage unit at Public Storage. She always had a smile on her face even with 5 people standing in the office area for various reasons. Once she had to call me about payment b/c I was not receiving my alert notification emails that payment was due. She was very professional and fixed the alert notification so I no longer missed the due date. Love the new doors and would recommended this place to anyone.
Britnie was so patient respectful and knowledgeable I have not had this type of customer service in a very long time please enter her as Employee of the Month weekend here because she deserves to win each of these as well as put something in writing in her personnel file of her wonderful customer service abilities please give
Britnie is a very pleasant person! Thank you!
Brittany is super awesome security from the door project
Danielle was an easy going manager, walked me through the processs with a snap
This storage unit is the best! I came into town with unusual storage needs, needing a huge unit 20x25 and having a U-Pack trailer that had to be dropped of for more than a day. Britnie (the manager) was amazing; concerned, agreeable, nice and willing to work with me and my situation. The prices are the best around - especially for the size unit that I have. Every time I go to my unit I am greeted with friendly faces and during the cold season - that warmed my soul. Being military I travel a lot and this is the best service I have had in the Dayton/ Huber Heights / Beavercreek area. Check them out for yourself if you have a chance.
I came in with a friend the other day for a payment and i think the ladys name was Brittney. She was extremely kind, had awesome customer service and i enjoyed the experience I had with her.
Britnie and Chelsea are amazing. They both took the time to go over everything that I needed to know. As well as being imformative they also seemed to enjoy their job. It was a terrific experience and I would recommend public storage to everyone.
Britnie was a very professional property manager. The visit was very welcoming and she explained everything that I needed to have and need in a very considerate way. It was extremely pleasant. I would definitely stick with Public Storage on 6207 Executive Blvd. It's amazing.
Britnie was awesome! Very personable and very concise in explaining all of the terms of the contract. Property is clean, accessible, and safe. I look forward to dealing with this facility in the future.
Britnie was wonderful and getting me into a new unit!
I loved my service. The lady was very nice and answered all my questions politely. Thank you britney
Britnie is doing a really good job at work she needs a raise ASAP or to become manager or something...keep up the good work Britnie
Britnie was very helpful and gave excellent customer service. We would recommend this place to anyone. Very convenient to the interstate.
Came to Public Storage for a unit and Britnie was super helpful. The prices are fair and reasonable. Easy peasy.
my experience with Brittany was truly amazing! she was amazing..
Great customer service. Location is improving!
Worked with Montina and she was a huge help with everything!!!
Customer service is excellent, the property manager at the executive Blvd. Location makes sure you have a clear understanding before you leave.
Sarah was very helpful and I'm glad to find a good storage facility for a good price. :-)
Everything I left in Ohio is in my storage bin. Serenity has kept me informed when I forgot to pay for a couple of days in the nicest way. She is my advocate in keeping my belongings safe and I trust she is not trying to let my stuff go to auction (my biggest fear). She has a very professional and personal demeanor and I totally appreciate her.
Convenient, good prices, nice staff.
Came into the store so use your services but I live out of town. Yes although I live out of town I keep the unit here and I've been with this company for years and I've encountered many people at the desk my experience with serenity today was pleasant she was exceptional and efficient pleasant and knowledgeable very good at her job. She gives exceptional customer service you don't find many people like this nowadays. Thank you for hiring her. She is an asset to your company. Margaret M.
Has been great so far, everything was explained thoroughly, Serenity was great and there were never any issues getting in or out. Highly recommend this location.
Had good experience with Serenity. She informed me with possibilities.
greatest place ever! Serenity is excellent
I give Public Storage 5 star rating because of the staff, Serenity went above and beyond the call of duty to make it that way. Robert Simpson unit # 108
I worked with Serenity and she was very personable and professional. I would love for all of my customer service experiences to be like this. I would hire Serenity for my own business.
I went in to pay my mother's storage bill and Montina was very frienldy.
Montana answered all my questions with a smile.
Serenity is awesome she made the transaction fun!
The lady in the office Serenity was very helpful and friendly. She helped me out a lot and was very understanding of my lack of knowledge. Great person to help anybody.
Serenity was very helpful. She made our visit quick and painless!
I am looking around for storage units. I stopped at the executive blvd. Location and Heather Alsept was very nice and showed me what units were available. When I am ready for my storage unit I am definitely going to this location because of the great customer service I received from Heather.
Good service. Serenity was very helpful
This place is amazing I was treated so kindly by Serenity she is very beautiful too ;) overall the prices for what you get is well worth it. I would recommend using public storage to all my family and friends.
I rented my storage space for only a coulple of weeks and never actually used it due to circumstances. Serenity was very helpful in explaining everything and the experience was great. I will rent there again if I should ever need too.Thanks Serenity. You rock!
My mom rented here over the weekend and said she had the greatest experience with Serenity, the property manager. She explained everything in detail and left no stone unturned. She feels that her things will be safe at this location. and recommends it highly to anyone looking for storage.
Great service from front desk person. She made our selection easy and showed us how to pay online. Thank you!
Melanie was a great help! She was able to take my payment from this location even though my unit is at a different location.
Wonderful experience with the women who work here. They didn't have the unit I needed but they found one for me at the other location. Thank you!
Serenity was great. made me feel welcome made the whole experience smooth and easy.
Serenity was very helpful answering all my questions. I have never used storage before but will need the unit in mid-November for my daughter. I will be back to this location in the next couple weeks. Thank you Serenity!
Perfect service nice clean environment and excellent customer service with melance and serenity
DON'T STAY HERE TO LONG THE RATES CONTINUALLY GO UP" I will advise you not to rent a unit from Public Storage on a long term basis. Your rates will keep going up every six to twelve months. In the period of 7 years our rates nearly doubled. If you're on a fixed income the rates can empty your wallet. The local staff were very helpful nice to work with. However the "District Manager" is a another story. When we were forced to move out due to the ever increasing rates the DM would not even give us an additional four hours to move out with out demanding that we pay about a fourth of monthly fee so we could get back in to sweep and clean up from the boxes that had deterioration from being on the cement floor. We had paid thousands of dollars over the past 7 years but was not even considered to extend a courtesy of a few hours to leave the unit in as good or better shape than we got it. However I am sure if we did not pay the money he would not hesitate to auction the few items left in unit and then bill us for two months or more fees and late fees and whatever else he could tac on. I have also found that it does not cost as much to keep a good customer than have to depend on new customers. We hope that you don't get the same discouraging service that we received. Thank you for reading this message.
Good location and excellent service
Shi, my attendant, was awesome and very sweet through the whole process of renting my first storage unit!
No problems concerns or issues with the service I received. Shi was extremely nice & friendly along with the rest of the staff.
We are the maintenance crew here at public storage. We love coming in to executive store because heather is so kinda and sweet. And we keep this property maintained.
The manager heather was awesome she was very nice and very helpful with renting me a unit. Very pleased
Space was good. Customer service person was nice.
Heather was very nice and courteous! She is a great part of your team, thank you for your services!
Erin is so wonderful at her job! Public storage would be at A lost without her exceptional customer service skills! Very nice and attentive every time I see her! Thanks again Erin
I went to pay my bill. Erin customer service was awesome
Erin has the best relationship with the public. Friendly and helpful ALL the time. Come on in and get a unit from her.
It was excellent very friendly aron was very helpful
The location is good, the service is great but the property manager Erin is excellent she's always thoroughly explained everything so that when I left I had zero doubts about anything
I had NO-WORRIES experiences with Erin (the property manager) at 6207 Executive Blvd, Dayton OH location. My sister died and I needed: 1. an immediate short-term storage solution until the estate closes. 2. economical pricing. 3. to arrange the storage from out-of-town. Erin made it all happen! She also followed up every step of the way, that exceeded my expectations and built my confidence in Public Storage as the facility that I would choose for other storage needs and recommend to others. It was as if Erin was a "Personal Storage Concierge". Erin was very personable, we discovered in the course of one of our conversations that she and my late sister had lived in the same local community at one time. It is clear to see that Erin is a consummate professional and sees her clients as more than simply a transaction, rather she seeks to develop relationships and listens to the needs and preferences of those she provides A-1 customer service. Thanks for making my experience a worry-free one!
Every time I go in to pay my bill or have any questions Erin is very helpful I have no complaints
Erin and her team are very friendly, helpful and courtesy. It took no time to get my unit and be on my way to loading it up. The unit was clean. I received a follow-up call to see if I was satisfied or if I needed anything. All is well. I have only been at this facility for a couple of weeks but so far it as been an all-around excellent experience.
We have had the best customer service experience since we have been with Public Storage.
I had a great experience especially with Erin. She was amazing and helpful! She does a great at her job! I would like to thank her for everything she has done for me!!! I can't thank you enough!!!!!!!!! Everytime I call or need something she is very efficient in returning my calls!! Thanks Erin!!!!!!!!!!!!!!!!!!!!! Lindsi
I love storing my items at this facility. Reasons for, the staff is super helpful and friendly. The facility is easy to access with security code and a i have a real safe feeling for my beloved items.. Erin is one of a kind . Fred , please dont let her get away from you... Sincerely .. Steve or Tiny
Expensive and they raise your rates with NO warning what so ever!! I dont think that is fair at all, and there is nothing you can do about it, you just find out when you go to pay your bill. It is a very clean place, though, and never had a problem with my unit