Public Storage Self-Storage Units at 1170 W Ohio Pike, Amelia, OH
Address
1170 W Ohio Pike Amelia, OH 45102
Full Service Kiosk Available
Office Hours
Mon-Sun Self Service - online & on-site eRental
Gate Access Hours
Mon-Sun 6:00 AM - 9:00 PM
Storage Facility Features
Outdoor Storage Units

Property Manager Lives On-site

Small, Medium & Large Storage Units
Office Hours
Mon-Sun Self Service - online & on-site eRental
Gate Access Hours
Mon-Sun 6:00 AM - 9:00 PM
Storage Facility Features
Outdoor Storage Units

Property Manager Lives On-site

Small, Medium & Large Storage Units
Close Location Details
View Location Details
---

6'x6'

Outside unit

Drive-up access

---

5'x8'

Outside unit

Drive-up access

---

6'x15'

Outside unit

Drive-up access

---

10'x10'

Outside unit

Drive-up access

---

10'x25'

---

10'x15'

Outside unit

Drive-up access

---

13'x15'

Outside unit

Drive-up access

---

12'x20'

Outside unit

Drive-up access

Outside unit

Drive-up access

---

12'x40'

Outside unit

Drive-up access
Nearby Self-Storage Locations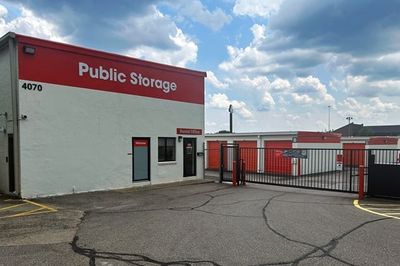 Self Storage Near
4070 Mt Carmel-Tobasco Road
Cincinnati OH 45255
Self Storage Near
4639 Eastgate Blvd
Cincinnati OH 45245
Resources from the Help Center
See what fits in different storage unit sizes
At Public Storage, You'll Always Find...
Keypad Access

Friendly Staff

Month-to-Month Rent

Moving Supplies Available

Free Parking

Well-Lit Facilities
Reviews
( 245)
SAVE YOUR $$ This place is a complete rip off! In 1 year they have raised the price (twice) around $70 for NO good reason. And forget about talking to a LIVE person or getting ANY explanation for unwarranted price hikes!
The unit I'm renting is very clean..The people I worked with were so very helpful..im very happy
So easy to get a unit on line and getting in and out of the facility is secure and convenient.
Easy to access. Clean when we arrived.
Expect a 30 to 50% rate increase every few months. The longer you're there, the steeper the increases become, not to mention that the roof leaks in my unit.
Best storage facility around. Very clean.
Amy was very friendly and professional. Very nice and clean property I enjoyed my time there. Highly recommend.
Amy was very helpful and assisted me through the whole renting process!!! 10/10 would rent again!!
I was a customer before public storage even owned it and and after all the years I decided to move out after I discovered everything I owned was gone through and so much was STOLEN!!! I then called the manager and she then informed me there was nothing they could do that I should've had renters insurance!!!! No I'm sorry or NOTHING.... So I moved out and now they are trying to charge me almost 1000$ !!!! If I could leave a review of no stars I Def would've.....RENTERS BEWARE !!!!!!!!!!!
Amy really helped me out with an issue. She took care of it in a timely manner, and then followed up with me. "Great service" Rick Pawlak
Amy was super nice and helped me out tremendously! If I could have given her 10 stars, I would have. Definitely would recommend this place.
They're really nice and understanding
Best convenient location in the area hands down
The place is clean. Amy was so much help. She made sure I had everything I needed and showed me where my unit was before I left. I will tell everyone about Public Storage and Amy. Thank you for making things so easy.
Amy is a super nice and very helpful person. She is absolutely the greatest. I would recommend her to anyone. She is the best!!!
Amy is very professional and she takes time to listen to you
Wonderful facility and even better staff! Amy has helped me multiple times with any questions I've had, she is a lifesaver!!! Highly recommend this business.
Amy was awesome. The unit was really clean, as was the facility in general.
Went in to rent a unit and the place was super clean & Kim was very helpful. I enjoyed my experience with them . Highly recommend . Thanks again!!!!
A great storage facility and was treated truly professionally this afternoon, Thanks Amy...
Nice property, Amy in the office was awesome to work with
Amy was very helpful. Thank you
Using PUBLIC STORAGE is a very simple process in obtaining a storage unit. I merely described my needs and amount of material to be stored and was given the correct and appropriate size storage unit. It was further explained by Amy that we should obtain their insurance in case of fireOr any other destructive force. Amy did a very good job and explaining the billing and the insurance. Based on her information we have decided that we would go with automatic withdrawal from our checking account for payment of the unit. Thank you Amy for a job well done
Amy was informative, clear and concise! Amazing job! Thank you so much!
Thank you for the help Amy. You made moving much easier
Great place to rent from. Very clean and nice property. Amy is always there to help when you need it.
Thank you for all the help
Shelby and Amy were awesome! I thought I had lost my storage keys, but nope they found them. They notified me right away to let me know they had them. They held on to them until I was able to go pick them up! Super friendly too!
Thank you Amy for all your help make this transaction very easy.
Amy was awesome and very helpful with everything and question..
Great experience and Excellent service from Amy and Shelby!!!
Amy was very helpful and nice, she helped me out a lot during a complicated time
Shelby answered all my questions, she was very polite. Her customer service was excellent! Thank you, Shelby. Keep doing what your doing!
Amy was very nice and extremely helpful!!!
Our service was definitely wonderful and Amy and Shelby was tremendous and all around fantastic people!
Amy and Shelly are we're awesome and very helpful.
When I went to Amelia Public Storage Amy helped me and I am very pleased. She got me in and out promptly and hassle free.
Shelby was extremely great and helped me move in fast👍
Our camper has been hit twice already at this location and the facility had no cameras the first time, so couldn't give us any solutions. This 2nd time they said their cameras just started working however they can't even look at them cause they don't have the password, what type of customer service is this? I've been waiting almost 2 weeks and nothing!!! I'm very unhappy with the service from this location, there is no urgency to resolve issues
Got the best service from Amy, she was great help and very professional and nice.
Wonderful service!! I really appreciate Amy's help with all my questions. Definitely recommend going here!!!
Amy helped me with everything I needed to know! Shes so sweet and very knowledgeable with what she does! I will definitely recommend people to her!
Amy gave me great service and was super helpful!
Great place and excellent service from Amy!!!
Went to get boxes Shawn was friendly an helping
Amy was very helpful and very extremely nice. I know if I have any other ideas or questions I know where to go. Thanks Amy keep up the great work!!! You are awesome!!
Great property and excellent service from Amy!!! Will be referring people her way.
Nick was great to work with so very helpful.
I was new to renting a storage unit, and Amy did a phenomenal job walking me through all the details of using the facility! I would absolutely recommend for anyone!
The staff is very friendly, the property Manager is extremely helpful and very complex .... Although a bit pricey for something the size of a closet .
Wonderful service except guy not going to look at unit with me got me locked in storage facility other than that all good !
I love the Bluetooth feature to get in it's awesome
Great place to rent from. Definitely recommend. Amy was great to work with!
Amy was amazing to work with! She was very helpful and knowledgeable and made the whole application and renting process very easy and efficient for me! I'd recommend this storage location to all friends and family! Thanks so much Amy!
Renting and closing the unit was very easy. Amy the manager wonderful to work with!
Amy was very helpful and informative
Very friendly staff and very clean
Amy was very helpful in finding the right sized unit for my needs. Will recommend to anyone else needing storage!
Excellent customer service from Amy! Clean units and easy to get moved in.
Thanks Amy! Stay safe great service
Amy was so much help. Would highly recommend you stop in and see her if you need storage.
Stopped in with my buddy to be added to his account the process was smooth and Amy was very nice. The place is very clean! Would definitely recommend this place to anyone.
Amy helped us get started and got us into a unit quickly without confusion!
Amy was very polite and helpful making my moving process a lot easier
The people are nice. I have not had any problems with them
Needs gutters on the buildings when it rains or the snow is melting the doorway for your unit becomes a waterfall
Kim & Amy were very helpful in helping me get everything set up. The unit was clean & dry. Exactly what we needed.
Did the storage rental online, & when I got there it was no where near the size I needed. I went to the office and told Kim about it and she made it alright at the end of the day. I couldn't be more happier with the Customer service I received today. Thanks Kim!
Amy Scott is always a great help. Very friendly/professional and knows what she's doing.
Kim did great job very polite and everything to me
Kim at the Amelia Ohio location was a pleasure to work with very personable, always available for questions and concerns, maintains a very clean efficient property. Public storage is lucky to have such a hard working employee to represent their business. I would recommend anyone looking for a storage unit in the Amelia area to go talk to Kim.
Amy was very helpful, and knowledgeable! She is an asset to the company.
Great service from Amy today. First unit we looked at had floor wetness along one wall. Amy found another unit that was much better. She explained everything thoroughly and made the whole experience easy for us. Haven't stored anything yet but the space seems clean and easily accessible. Should be easy enough. Thanks for your help Amy!
Thank you Amy for my fast and easy move in.
Went to multiple places and decided to go with Public Storage because the service Kim gave me! Thanks!!
I have rented storage units at the Amelia location many times. Kim is very sweet and easy to work with. I recommend this location!! Thanks Kim for being helpful and making renting a unit easy.
Price is good and the customer service is pretty good
Great place with clean, safe storage. Gates are only available between 6am and 9pm, but the staff seems helpful to assist if you talk to them before hand.
Very professional and clean!!!! Little pricey but all seem to be now days 🤷🏻‍♂️.
Miserable experience. Set an appointment. Confirm appointment. Arrive - no one there. Call - no answer. Wait. Leave and call multiple times. Call numbers on website. Get run around and piss poor attitudes. I'm trying to give them money and can't get ahold of a single person that is remotely willing to assist me. Find another place.
I arrived at the facility to get a storage unit, Kim was helpful with the whole process. Though the unit I was gonna get had a cheap plastic lock cylinder, she said they use them for vacant units and wished they used the metal ones given to customers. She apologized twice for not being able to get the lock off the original unit I was going to get. I told her both times it's not her fault the company wants to use cheap stuff. I choose another unit that was smaller, but worked. And again, Kim was helpful and nice
Kim was very pleasant when I had to change my check in time twice. Greeted me as I came in & showed me what I needed to know with a smile. Great service.
Very secure and very helpful been with them for over 6 months and never had a issue.
Amy rocks. Quick, easy and pleasant. Super property.
Amy was very nice and helped me get a unit same day within an hour that was in my budget and she's over all pretty great
Amy was very kind and was very helpful.
Great customer service so far with Kim providing us with thorough information and super friendly
Amy was awesome and very helpful!!
Amy was very helpful in picking the storage unit we needed and made renting easy
Kim who is the assistant manager I met on a Sunday. She was very knowledgeable about her company and walked me through the whole process. The units were very clean and they do have cameras to monitor the place 24/7. She also went over the storage insurance program they offer to insure your belongings
Great place to store your belongings if need be. Clean and large storage spaces available.
Amy was very helpful with our storage rental. She was courteous and explained everything to us with great patience since we just stopped by last minute !
Kim showed me the storage space I'll be using. She was polite, nice, and took time to answer all of my questions. I have no worries about using this storage facility and am very happy with my purchase. 😁
Amy provided great customer service! Recommended a couple items, but didn't push. Nice, clean facility.
Amy was awesome and she was able to resolve my issue right then and there... thank you!
Great service today! Amy was super helpful! Thanks
Amy and all the other employees are always so friendly and helpful. Great storage!!!
AMY was awesome...took her time to explain...
Kim was very nice. I knew I chose well when she mentioned the unit I had reserved was leaking, and that she would have to give me a diffrent one. She helped me pick a good unit that is easy to get to and the best size. The place is clean, and it was pouring rain and the unit she showed me was dry so I am very happy.
The dealings I have had with your company, your representatives and agents were very accommodating. They displayed customer services that I felt would have how they expected their family members or friends . Your agent from the Mt Carmel site Her name was AMY. A wonderful choice of personality and compassion that serves your business community extremely well.
Amy gave me excellent service today I would highly recond public storage in whithamsville
Kim was very helpful, she made the rental process very easy and fast. The unit she rented me was extremely clean and ready. The process and facility could not have been better.
A fantastic experience with Kim. Online registration made everything so much simpler and Kim's kindness and professionalism were the icing.
Amy was very pleasant to work with, very knowledgeable
Amy did an awesome job showing me around! She knew all her information and was super helpful and friendly! Definitely recommend!
Amy is very helpful good service thanks
Amy did a great job explaining everything and was professional and courteous.
I came in with my buddy Robert Erwin to be added to his account. I just want to say Amy was very nice and helpful.
Just got my unit today. Kim was incredibly helpful. I truly appreciated her going through things in detail and showing me what options were available for me. I had a bad experience at Store Space with their new owners and can tell this place will be so much better.
Kim is truly amazing. Great experience at her public storage location!
I rented two spaces from Dave at this location. He was super helpful and made the entire registration and rental process (both times) very, very easy. Thanks Dave!
Kim and Amy did a awesome job 👍
Amy was very professional and even took the time to help me before they were actually open. I would recommend them to everyone.
Amy did a great job helping me find the right storage unit for my vehicle. She took time to explain all my options, show me various storage units, review the lease agreement and set up my account. She was very patient and thorough and did everything with a smile.
Amy was good help public storage
Kim was very helpful on me picking what size storage I needed and very knowledge
Kim was so pleasant & such friendly & helpful great customer service! Great employee of the month. She deserves being recognized for going above & beyond. Thank you! Happy Holidays!
Amy was super friendly and very helpful!!
I stopped in to look at units this morning. The property was well kept and clean. Kim, the person who had helped me, was nice and helpful.
Kim was the best person with a loving heart that truly helped me with exactly what I needed
Got to the facility and Amy was able to promptly and most professionally get me into a storage space and take care of all administrative work with mo delay. A most pleasant experience.
Because Kim is the most amazing person. Also she's the shizz.
Amy did a great job explaining everything.
Amy took excellent care of my parents. Glad we choose this place!
My husband and i have been having a very difficult time the past 3 1/2- 4 months with everything in our lives and just lost our apartment and pretty much everything we owned but with the little bit we have left of our belongings we pulled up public storage in Amelia/ withamsville OH we got greeted by Kim with a smile on her face and greeting us like a long time friend would. Kim explained the process and then walked with us all the way over to where our unit was and talked to us the whole way. She was so sweet and caring. She was also so helpful and very knowledgeable about everything we needed to know. She was great and so amazing. Thank you Kim for all your help and everything. Your awesome. If anyone ever needs to rent a storage unit they should go to public storage on OH 125 in Amelia and work with Kim because you won't be sorry you did and you will think she is sweet and amazing like we did.
Kim is very helpful and great customer service representative! Was very pleased with the service , greeting, welcoming Kim made that unforgettable. Thank you very much! Maryna
Stopped in to look at a storage unit and to get pricing for future use and Kim was amazing , very knowledgeable ! Place was clean and will definitely be renting soon .
Amy was absolutely fantastic!
Had a great experience. Amy was super friendly and helpful!
I had a bad experience with public storage mixed with an extremely bad day. But when it's all said and done the distract manager reached out to me and did everything in his power to change my experience and he did. Every company needs a leader like this man. He Leads by example, and for him to reach out to some nobody customer that ended up not even going with his company says alot about him. Now i can't wait for him to send my wife those flowers for me.
My experience was wonderful. Kim and amy were extremely helpful. The storage is clean and secure!!!!!!. Would recommend to anyone!!!
Amy is the best customer service person to talk to
My experience was excellent! Amy and Kim were outstanding and very helpful. The facilty is very nice and clean. Highly recommend this place.
Great place to rent space from... Kim who runs the place was awesome she helped me to determine size I would need and even showed me a few units so I could have the visual space size in mind. Also seems to be very safe with gated entry and security cameras on site. A+
Good place to storage your stuff
Outstanding customer service provided by Kim! Facility was clean and well maintained. Process to reserve and obtain storage unit was efficient and took only a few minutes. Would highly recommend others to use for storage needs.
Excellent customer service! Kim called to confirm my check in time to ensure she would be available when I got there. When I was running late she stayed so I could get moved in on time!
Thank you to Rick for taken care of a mistake one of your workers made! My experience was great in the beginning the workers and facility was very nice. Then my nightmare of an evening began in the rain! Just beware if you provide your own lock that you need to make sure they put the lock on. Not just put stickers on and no mention of units staying locked. I assumed they would take their lock off lesson learn never assume!
Amy was very nice and helpful. Facility looks great. Great service
Was very impressed with how fast and efficient Kim was in handling our signing up for storage (I believe that was her name). Very friendly, explained everything about the rental in an efficient manner. Good price also for storage. Thank you!
Very clean and professional environment, always friendly. I feel like my items are safe when being stored at Public storage. Thanks for being awesome!
Amy was very professional and very caring very nice and patient. Very satisfied!
Kim was the bomb. Handled everything like a pro and made getting a unit quick and easy. Thanks and kudos Kim. Peace among worlds.
I gave this location five stars because of the well maintained facility and the exeptional customer service. Kevin was very professional and courteous.
Kevin and Rik are awesome!!!
Very knowledgeable, knows the business in and out. Very polite and always knows the answer to my questions.
The gentleman working the desk was a consummate professional and made the move-in process quick and very convenient. He answered all of my questions very satisfactorily, and I'd highly recommend that others consider using this facility for their short-term or long-term storage needs. Best regards, Mark
Great service. Kevin is extremely helpful
what do you do with people's stuff.?
Super nice property manager! Helped me understand everything clearly. Highly recommen!
This facility is staffed with 2 awesome agents Kevin and Robbie. Dealt with Kevin the most and the service was awesome and they were very helpful and understanding, will be back if needed.
Nice clean space, good security but a bit expensive and not 24 hour accessible
Very friendly associate! Great service, easily switched our unit to a bigger size.
Fast and friendly. Robbie was great.
Kevin was extremely helpful. Explained Everything, also saved me money by getting the right size unit.
Kevin is an awesome property manager! Explained everything I need to know!
Robbie was amazing. He showed me around and walked me through everything. He made it very easy!!
Very nice storage unit! The manager was super friendly and helpful!
Horrible place. Had unit for 8 years. Moved out on 4th of month because of disability that caused inability to work. Still charged for entire month. No heart.
Robbie was very helpful in helping me select a unit.
Robbie was VERY pleasant and kind. You need to clone him! Thank you!
Kevin provided amazing customer service. He was very helpful and explained everything.
Take whatever price they give and tack on $20 lock, required insurance $10, rent tax for the real price. Say said it was 50% off the first month but with all unsaid fees it was the standard price. If you miss one payment they send you a notice saying they went through your things, you lost access to your property and its going to be auctioned off in 7 days if not paid in full. Be sure to ask to read the contract they have you sign blindly. You miss a payment and they own your stuff, which shouldn't be legal. Imagine if apartments changed the locks on you and claimed everything inside theirs now if you miss a payment.
Very Helpful and Informative.
Great location. Very friendly polite and helpful! Highly recommend!!
Kevin was a tremendous help with setting up a storage locker for the household goods I was going to store. He was extremely patient when I was having difficulties providing all the information required, and in my opinion went the extra mile in his assistance. I have no hesitation in recommending Public Storage for your needs to store items, be it short or long term. The units are clean, concrete floors and I believe not subject to flooding.
Robbie did an excellent job getting me set up with a unit. I'm glad I came here and I highly recommend this place!
They have stopped giving Student Discounts
The other review is right. They will bend you over a barrel with rate increases after you've moved in. It's insane. Look elsewhere if at all possible!!
The first month was a dollar, and that was fantastic. But they continue to charge me late fees even after I said and showed the reciept 3 times.
It's a nice facility but considering their rate is double all the other storage places in the area why would you bother. Yearly rate increases are the norm. If you try and call into customer service prepare to be dealing with rude and disrespectful agents.
Awesome experience renting a storage unit today!!! Robbie was great to work with.
Robbie is awesome!!! He took care of everything we need and make sure we were happy with changing units. He made moving into public storage nice and easy.!!!! Go Robbie!!!!!!!!
Very clean and convenient
This place was everything I could have asked for in a storage facility. The manager Kevin clearly knew what he was doing and made sure to answer all my questions without me even asking them!
Very friendly and courteous - one of the nicest customer service interactions I've ever had. Very clean facility - no damage, no flooding issues, no pest problems. Affordable with flexible options.
The staff made it easy to find and rent a unit to fit my needs. Really easy to work with! Unit was clean and dry-big plus with all the rain we've seen recently. Great location for me, close to home.
Very knowledgeable and courteous
Good experience. Kevin the manager took care of me, was nice an very informative of all the details.
Needed boxes they were very helpful. Kevin was the attendant.
Excellent customer service. Very willing to work with me and ensure that I had everything I needed. Kevin was a great associate!
My experience at this location was positive. Kevin helped me get my storage unit together & was very easy to deal with! A+!
Prices are affordable, good security
I absolutely LOVE Public Storage! I have been with them for some time now and it has always been a pleasant experience. The customer service is outstanding and KEVIN couldn't be any more awesome!!!! I will definitely be a permanent Public Storage Customer. Thank you!!!
wow! what a very nice experience had with " kevin " very helpful never got in a hurry up go explained everything in a very professional manner answered every question as asked I couldn't believe this was a business sign up so well done this was at 1170 ohio pike Amelia ohio 45102 location he also said I will be there if needed ifeel like he is the real deal and will be helful in future if needed rickey davis & Charlene davis thank you : KEVIN
Kevin was great at explaining our options on buying boxes and things we needed for packing to move. He also explained our different options for renting a storage facility. He was very friendly and courteous.
I loved my total experience with the storage company.
Kevin was wonderful! He is so helpful and always polite and professional. Best customer service ever!!!
Public storage has been a blessing to me and my family. They are not only close by but easy to work with as well. It allows me the extra space that I don't have at home. Would recommend them to everyone I know.
Kevin is always professional, helpful and gracious at this Public Storage
Kevin was extremely personable and helped me with so much. He even worked hard to help me get the best rates and to save money. I would highly recommend this place and Kevin!
I rented a storage unit today, Kevin was the gentleman who helped me, he was a wonderful guy, very helpful, informative, and has a great personality, I would definitely recommend Public Storage to anyone, the facility is very nice and clean!
I may have been too eager to review this heavenly facility, and clicked too hastily. Upon arriving at the public storage, my nostrils were pleasantly greeted by the scent of freshly paved parking lot, although the pavement was anything but fresh. As I walked into the store, a supernal aroma wafted through the air; Hawaiian Breeze by Febreeze I think. Shortly after arriving inside the exquisitely kept offices, a robust middle-aged man, with a glorious beard greeted me. He enthusiastically answered any and all of my questions, and even a few I didn't ask. We talked of life and our dreams. It truly was a pleasant and life-altering experience. However I was simply lost and looking for directions, but the handsome man working there was so helpful I had to write a review.