Public Storage Self-Storage Units at 1516 Walkup Ave, Monroe, NC
Address
1516 Walkup Ave Monroe, NC 28110
Property Open
Mon-Sun 6:00 AM - 9:00 PM
Storage Facility Features
Boat Storage

Car Storage

RV Storage

Small, Medium & Large Storage Units

Indoor & Outdoor Storage Units
---

5'x5'

Outside unit

Drive-up access

---

5'x5'

---

5'x10'

Outside unit

Drive-up access

---

10'x10'

Outside unit

Drive-up access

---

10'x15'

Outside unit

Drive-up access

---

8'x15'

Outside unit

Drive-up access

---

10'x25'

Outside unit

Drive-up access

---

10'x30'

Outside unit

Drive-up access
Nearby Self-Storage Locations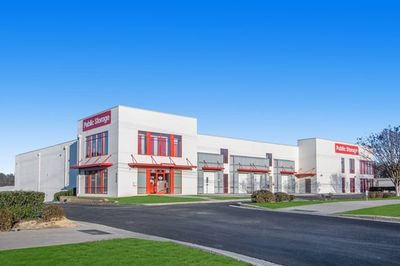 Self Storage Near
5530 W Highway 74
Monroe NC 28110
Resources from the Help Center
See what fits in different storage unit sizes
Monroe Storage Units Near Roosevelt Blvd.
Public Storage in Monroe offers up a wide selection of self storage units, right off of Route 74 near the intersection with Morgan Mill Road and a quick drive from Route 601.
Take the stress out of getting ready for trips to Belk-Tonawanda Park or Monroe Golf Club when storing athletic equipment, hiking gear, jogging gear or golf clubs in a handy 5x10 storage unit here.
Time to finally clean out the kids' rooms of old toys and clothes they've outgrown? Instead of stacking up boxes in the garage, grab a 10x10 storage unit to hold a modest load with room to spare for extra household items.
Downsizing from a house to an apartment near East Elementary School? Utilize a 10x30 storage unit to hold onto over-sized items and bulky furniture that may not quite fit in the new place.
Outdoor storage units not only give customers multiple choices in sizes to fit their storage needs, but they also come with the convenience of drive-up access. In addition, this facility also offers a number of indoor storage units, as well as vehicle storage units and rental parking spaces for automobiles, boats and RVs.
Open 7 days a week with a friendly and knowledgeable staff on hand, this Public Storage is perfect for customers looking for cheap storage units on the east side of Monroe and throughout central Union County.
At Public Storage, You'll Always Find...
Keypad Access

Friendly Staff

Month-to-Month Rent

Moving Supplies Available

Free Parking

Well-Lit Facilities
Reviews
( 545)
When I was filling out my paperwork I had Tonya and she was super helpful and friendly.
It's your basic storage facility. The only negative I have is the entrance. It's hard to get in or out if there are cars parked by the office, which there was each time I visited. Poor planning I guess.
Lucy did a great job for me and was tons of help! We definitely recommend speaking with her.
Lucy had excellent customer service!
Lucy is the best she has the best customer service. I highly recommend this location.
Tonya was very helpful & nice to me.
Easy to rent the unit, very friendly service. Tonya in Monroe is very nice and professional.
nows how to help customers and explained guide lines thoroughly ..i advised for all my collagues to cone here...
Great customer service! Shout out to Addy who was awesome. She will help you in anyway she can. Lucy who was assisting her also was willing to go out of her way to help. Thank you!
Excellent customer service, Lucy was lots of help and very informative, will definitely use them again if I have to. Junius
Tonya was very detailed renting me a space.
I had an issue that was quickly resolved with great customer service. Thank you!
Lucy and Ashlynn did a wonderful job today, they explained in depth the rental agreement!
Lucy and Tonya was very nice and professional and helped me with all My questions. I would recommend them to anyone.
Lucy provided us with exceptional service. She handled us with care and enormous consideration. i would recommend using public storage in monroe, North Carolina (1516 walkup ave). Ask for Lucy, she made my experience for back to school happy and an unforgettable one. Thank you Lucy!
Tonya has been very informative on the units Public Storage has to offer and answered all of my questions. I'll be going here when I need my Storage unit! Great Customer Service!!
Lucy and Dom were outstanding in getting us a rental space. Lucy was very helpful and Dom had helped my husband download the Public Storage app. Thank you so much!
Gave exceptional customer service!!!
I came into Public Storage this morning in need of a storage space. Lucy found me the perfect size; great service and Dom set ne up with PSApp and made it easy for me to use.
Lucy was amazing and made this experience so easy for me.
Lucy & Dom were both great. You are lucky to have them.
Excellent customer service, Very informative from Lucy and Dom got me signed up for the PSApp. Very happy.
Lucy was an amazing help finding what I needed to store my late dads items. I loved her attitude
Lucy was very kind.tonya was very detailed about the unit I was renting.
Tonya is fantastic. Very fast and efficient. Very friendly. I won't go anywhere else for my storage needs.
I must say Thank you from bottom of my heart to Lucy!! What a compassionate lady and so professional. I am currently attempting to get away from a really bad and abusive relationship. I needed a storage unit on the spot. She asked me a few questions about what i had as far as to store. And she knew exactly what size unit i would need. Lucy was on it! She knew what to do and got me all set up and less than 10 minutes!! She was an angel! Not justthat? She made a call and when i arrived to my unit, there was someonewaitingfor me there to explainhow to use the lock..WOW! Thank you Lucy!!
The storage units are clean and true to size. I've talked with Lucy and Tom and they are absolutely professional and helped me with any concerns I needed and always are positive when I walk into their office! Great staff and always smiling and friendly and helpful. Highly recommend!
Lucy and tom great serive
Lucy is great! She was patient and efficient. Great job Lucy! Thank you!
Lucy is fair and takes good care of her customers.
Very polite and helpful was in and out quickly. Highly recommend Lucy amazing customer service
Tonya was nice. She was very helpful with renting. I was very happy for her help.
Lucy was such a delight! She made moving into the storage unit quick and extremely easy! Thank you so much for all your help :)
Tonya was very helpful and knowledgeable
Tonya was very nice and Lucy gives excellent customer service every time i come up here. I recommend this place for anyone that needs storage.
Tonya was extremely nice and Lucy was very helpful. Thanks
Tonya & Lucy were super helpful in getting the storage unit I needed, they made me feel like I was at home. Thank you ladies!
Tonya was very nice and Lucy was very helpful
Lucy is the absolute BEST! She took care of me and provided "Excellent Customer Service"!
Just wanted to thank Chancey and Lucy for all the great help. Me and my girlfriend came to see a unit and they both were very helpful and outgoing. Thanks alot!!
I love Mrs. Lucy, she a very sweet lady. She treat u very nice when u come in the office. She always have a smile on her face. She cares alot about her customers. She is a good clerk. I couldn't ask for a better person to service me.
Tonya was very knowledgeable. Lucy was nice.
Tonya was kind.Lucy was helpful.
Lucy showed up a few units to choose from and was very nice.Tonya helped us sign up for the public storage app.
Tonya was very knowledgeable when renting me a space Lucy was very kind.
Lucy is the absolute BEST! She took care of me and provided "Excellent Customer Service"!
Lucy is wonderful!! Easy process, easy to pay and easy to move out. 5 star facility I highly recommend!
Easy to use, plenty of storage but the MONEY...OH, THE MONEY. They have all kinds of expenses that they don't share with you and make sure you don't AUTO PAY because that's where they get you. They take money out and their return policy is out of this world. Beware.
Prices are going up not good
Thanks Lucy for all the Great Help! Great Clean Location!!
Lucy has made our experience at PS wonderful. From finding the best rate in the area to the perfect size unit for us, she's been on top of it all from the start. We highly recommend anywhere she works.
Lucy was super nice, super competent, and super helpful. Thank you!!
Lucy has done an outstanding job despite the poli es that her clients like me have to work with. But she has done a superb job for me. Better pay her more before I find her a better employer.
This place is great! Clean and well-organized. David was very helpful in getting me the right size unit for what i needed to store. He was thorough in his explanation about how to get in and secure my stuff. I needed a place to store my stuff while I relocate to another city and told him I would probably need it a while and he smiled and said, "No problem at all. We're here for as long as you need." Excellent customer service!
I was recently in the Monroe store on walk-up Ave. I purchased products there. I was greeted by Lucy who is the store manager she is very kind and knowledgeable about all of the products in the store. This store is very clean and organized.
My experience at the Monroe location was simple, streamlined, and with excellent customer care. Lucy was fantastic and friendly at every turn. Thank you for a great stay😁
Worked with Lucy and David today to help them get their gates fixed and back up running they are very friendly and polite.
We t in to pay my bill & Lucy was super nice. I wish everyone would be nice as she is
.Malaysia was a lot of help really appreciated her today...
Ms. Lucy and Malaysia helped me get a storage space and got the me the information I needed. Definitely would recommend this property.
Lucy is great! She needs a raise!
Mrs. Lucy was a great help. Very polite, she explained everything about our unit and the area in full detail. There weren't any issues with payment and she had sold as soon as she spoke. She deserves a RAISE. Thank you all for your time.
Well run an organized. Prices are reasonable. Great hours of access.
I rented storage here for 5 year. Lucy and staff were great. Recommend this place for your storage needs
Excellent customer service. Lucy, Danielle and Sara were fantastic!!
Great experience with them for storage... dry units
Lucy is a ROCK STAR and they are lucky to have her!! She is courteous and professional...EXCELLENT customer service!!
Economical, easily accessible. Very helpful staff.
Customer service was great
Lucy was so sweet and helpful, Thank You!
This storage facility gets a five star for many reason but mostly the staff was amazing, professional, helpful, polite and totally understanding. Looking forward to storing my personal things with this facility.. Don
Julie Strickland will definitely be an asset to your Rockingham location as she has excellent sales and customer service skills…She is all around a hard worker and will always make sure to get the job done with a smile.
I opened up a new storage container with this location and it was the most seamless and easy transaction I've probably ever had. Lucy and Malaysia were very informative and helpful in the decision making process and also very welcoming, friendly, and polite. They made my day so much easier and put a smile on my face while doing it. I wish I could recommend them higher than five stars
I've had my unit in the public storage on Walkup in Monroe for about 6 years. I've never had any problems through out the years, but recently I've noticed the quality of this location has greatly improved and I can only Credit this to the Staff... Thankyou Kyle and Lucy... Keep up the great work and service...
Don't waste your time here there's a rude lady named Lucy rudest person I've ever met that will give you a hard time don't believe the reviews!!!!
Lucy has great customer service called me in a flash to fix the problem. Very sweet and understanding employee.
Lucy treated me wonderful
Ok and cheaper than others.
Very pleasant experience, thanks to the clerk who assisted me. She was very knowledgeable about all aspects of the business, was able to explain in detail the available options, and assisted me in choosing the best unit to fit my needs.
Lucy gave me and my family a grate experience looking for something to put are stuff in while we were moving
Ms. Lucy was an outstanding customer service rep., very helpful.
Lucy good attention and help to fine a good place to rent.
Absolutely love this location. Amazing customer service!!!
Great Customer Service!!!
Customer service here is awesome. Jessica and Lucy are very helpful. Highly recommend!
Great location, Lucy and Jessica are so helpful. 10/10 recommend.
It was great service I was able to be in and out with a storage unit in no time.
Lucy was so helpful to get our storage needs set up. she recommended things I didn't even think about.
Lucy was one of the best I refer her to anyone she is very well appreciated no concerns at all fast an easy 🥰
Very reliable service. Appreciate all that this public storage staff has helped me with.
Lucy did me a solid today, tremendous job
Lucy is the best, best service, very friendly
Lucy is amazing!! Can't wait for my new apartment!
This is the best customer service I have ever had. I am a repeat customer. Lucy and Robin are very helpful.
Lucy and Robin are very polite
This place is extremely expensive on their rental fees!!!! When I first came here in 2019 a 20x20 size room was $164.00 a month (which is expensive at this price already), then starting February 1st, 2020 my rental fee went up to $235.00 a month without being notified, and if you're payment isn't made by 5pm on the 1st day of every month you will have a late charge (fee) of an extra $35.00 tacked on (I would NOT set up an automatic draft, because of this issue)!! So, I've purchased a 14x36 building for 200.00 a month with no credit check and I'm paying for the building to be mine. Not to mention if you have to buy a lock from them it was $20.00 back in 2019 but the same locks are only 10.00 at Lowes and Walmart. Just an FYI, "Buy Your Own"!!
Lucy is awesome she was very helpful and very friendly I would recommend this place the customer service is on point and they are the bomb!!!
Lucy was wonderful to work with and was so knowledgeable!
Lucy was amazing! Was very helpful with the move in process!
You must try this dessert!!! Holy Biscuits Batman!!! It's called "the stampede"... order a to go box at the same time... CHOCOLATE HEAVEN...MOVE over PMS !!! UNBELIEVABLE !!! Andrew is a great waiter... Wooow!
Lucy was so helpful and amazing. She made everything easy and she gave the best customer service
Terrible experience here. BUYER BEWARE! I moved in on July 4th, as this was the only storage facility open that day and I was coming in from out of state. Somehow Public Storage forces you to buy a lock when you move in. Even if you already have one. But the website says it will refund the fee if you turn the lock in unused. After I opened the unit, I brought the lock to the office immediately and handed it to the attendant. However, I never received the refund, nor credit to my account. I asked them to look into this no less than 4 times in recent months. The answer was always "I need to email corporate so they can look into this." As of the end of November, still no refund. To make matters worse, when I opened my unit, I could see the entire right side of the unit had some kind of water exposure at some point. All of the contents I had on the right side of the unit were ruined. When I picked up several boxes, water poured out from the box. Even closed plastic tubs and containers somehow had water sloshing inside. The stench of mildew and/or mold was undeniable and unbearable. ENOUGH ALREADY. I moved out and went up the street to Extra Space Storage, which is where I should have gone to begin with.
I want to thank Miss Lucy
Moving out today but if I ever need to store again in the future I'm coming back to see Lucy and Jennifer!
I was very disappointed that there was no light bulb in a 10 x 20 unit. So after moving from Wilmington, NC to Monroe, NC the downward living quality has begun! I ask the front desk clerk for a light bulb, and her reply was there's no power in that row because of electrical problems. Why would they rent me a unit if its defeated at full price? She ask me to leave one of my keys for the electrician to enter into my unit to repair it when sometime in the future! I guest I just have to fondle around with a flashlight like a thief in the night!
Lucy was great. Made rental a breeze.
I came in today to ask about storage, Lucy explained everything and gave me 10 star service, thankyou.
Teara was wonderful she's truly there to help people what excellent customer service
Service was great! Storage was clean!
Lucy is hands down the best person to see if you need storage. She is knowledgeable and knows what works best for her customers.
Lucy was amazing! She made me and my wife comfortable about buying a storage unit there. She was friendly and very knowledgeable! She made everything easy! I'm going to tell me friends to come here when they need a unit!
Lucy and Tiers were great. Glad i.stopped in here.
This was one of the easiest and best experiences I've had in along time. I registered online before I went. When I got there I met Lucy and Teara! Lucy spent her time with me and my husband. She was funny, very knowledgeable, organized. We had to go to another site with her so we could get a unit without a step. I felt like I could of brought lunch in and we would of just laughed. I have not had this good of experience in along time. Teara was in the office and by the time I left I felt like we were all old friends! What a treat this was. Lucy is every great comment I read and more. So was Teara. The storage unit isn't even for me and I'm still this happy😊
I've rented storage units in the past and this storage is by far the worst!!!! I personally feel they shouldn't be cutting off locks just cause the payment is late..they should try putting an extra lock on the unit like other storage rentals do instead. This will be the last time I ever rent from them and I will advise everyone I know to never rent from here.
Lucy was extremely helpful she was a pleasure to deal with and made us feel welcome. We were also impressed with the phone interactions we had with the staff. Thank you!
All the girls there are extremely helpful when I stop in to make a payment on my storage units at another location. Lucy is always available to assist since this location is accommodating my payments.
Lucy is always very helpful
Lucy provided such great customer service! Thank you so much for finding the perfect storage unit for us.
Lucy was very helpful when i came in to rent last week😊😊😊 great service. Highly recommend
Lucky was helful when i came to rent a unit last week 😃
Great customer service! Lucy is super friendly and she made sure that the sign up process was easy and FAST!!! When we had a minor issue with the storage door, Lucy was right on it.
Jennifer at the front desk was awesome and really helped me out! The storage areas were nice and clean and ready to go upon arrival. I'd defenitly recommend this facility for your personal storage!
Lucy gave me great service and explained about the Damp check to help protect my stuff.
The ladies here are very nice. They answered all my questions with ease
This is a great place. They have the BEST STAFF. Friendly and treat each customer like family☺
Jennifer and Crystal was wonderful and excellent customer service
Crystal was awesome. She walked through each process and made sure I understood everything. Had a smile the whole time and made me feel welcomed.
Jennifer and Lucy were literally the MOST amazing ladies helping me getting a storage unit with them! Not only were they so awesome with any of my questions and answered them to the best of their ability, but they called me back right away and also they complimented me and made me feel totally at home!!!!! They were very thorough with the details of how the unit works and the ins and outs since this is new to me! I would not recommend any storage facility besides this one because you will Feel like a #1 customer and like royalty!!! Thank you so much girls!!! A+++++++++++!!!!!!
Lucy was so extremely helpful today. We are moving from Maryland and Lucy helped us out with furniture protection and made everything so so easy and nice. :) Thank you !!
If I could give 10 stars I would. Great customer service from Donna always
Crystal was very polite and very helpful throughout our visit.
Kristy did an awesome job getting me checked in and she was very knowledgeable about everything, so glad I chose this location‼️
Lucy was great. Lucy showed great concern for her customer in getting them want they need.
Jennifer did amazing!!! She knows the ups and downs of what would do best for you and your needs. She also let's you know about all the things you need to make sure your items are stored safely! Also answer any questions I had.
I had the pleasure of meeting Lucy today. She exceeded 5 stars. She was very knowledgeable about the sales/discounts, pricing and sizes of both units that I was interested in. With the information/details she was able to provide of the two units. I was easily able to make my decision on which unit was best for me and for my need of the unit at this time. She was also knowledgeable about the products available. I learned about damp check product today and she was able to explain the purpose of the product, how to use, how often product needed to be changed out and the best option on replacing product. The whole setup process was very quick and very easy. She was great at listening to all of my needs for the unit and then was able to give much appreciated feedback on which unit would be best and explain why one unit worked better than the other for my needs. I am very satisfied with the choice I was able to comfortably make with all the important information/details she provided.
Young lady Micah was very helpful in finding me the best rate keep up your high energy happy birthday
I love the service especially Micah Blake she's very respectful & professional she helped me out a lot. If you go to this storage unit and Micah Blake is there she can help you. Great service.
Jennifer was very courteous and helpful with my recent storage needs.
This is a horrible horrible horrible place, the manager is super rude and nasty. She's trained her staff to be EXACTLY like her. If you're a day late with your payment they start calling and harrasing you. I've had to replace my locks twice because management cut them off. No one can give me an answer to why they're cut off if the month's not over as well as explain my billing cycle. I wouldn't recommend them to anyone. You would be better off leaving your stuff outside unattended.
Lucy and jennifer are great , always very polite and nice ..thanks ladys
Micah is so sweet!!!! Today was my first day ever getting a storage building. She let me know everything I needed to know even the promotion they had going on. Thank you so much
Jennifer was wonderful!!!
Went in to make a payment and Lucy was awesome she was friendly and very professional. I had some concerns about people that had their items in my unit with me. And knowing they can't get any information if the unit is not in their name. I feel good knowing that the Security is tight. Thank you Lucy you're always awesome 😎
Fast and friendly service for a great price. Lucy was amazing!
Lucy was awesome she made everything easy from start to finish. She help me with getting all the things that I would need. She even give me ideas on how to pack my storage space. She was very empathetic to my needs. Lucy and Jennifer both were very nice and friendly. Thank you ladys. It's also great knowing that no one can find out anything about my unit even if I have/had someone else renting with me. My name is on the paper work and no one else. That made me feel so much better.
Today I had to deal with a very aggravating phone call at this place with LUCY. Let me tell yall.. She was very "sweet", "nice", "informative", and "understanding" the first time I went in to rent out my unit. Of course since she was trying to get that storage unit rented out...& of course she made sure to ask me to give her a review with all 5 stars. Well today I call to let her know that I will no longer be renting out that space and she is talking to me with a very loud voice and very fast like she's in a rush... Horrible additude.. And tells me that I need to Pay the full month either way today even though I want to move out by tomorrow the 6th. I tell her okay fine no problem. I'll take care of that later online. Then she says no I HAVE TO come in by today or they will send me to collections and ruin my credit. Like if she doesn't believe that i'm going to pay that bill. Second... I asked her a question that I also asked the first time I came in and aparently she was able to answer it the first time but not today... B.s. I let her know she would be recieving this review and that I was not happy at all with the way she handled my questions today! Once your out they don't care to treat you the same respectful way and answer all your damn questions in a polite professional manner!
I love this place. Lucy and jennifer were amazing. So helpful so informative. Will recommend to everyone. Just love these girls.
Lucy and Jennifer where so helpful. Thank you very much for everything!!!!
Lucy was very friendly and helpful walking us through the process of getting a storage unit. She showed us how to get in and out and where our storage space was and was very thorough in explaining the payment process. I would definitely recommend Public Storage Monroe!
Lucy and Jennifer are very sweet and helpful. They helped with finding the things that I needed to move. I will definitely be back. Thank you ladies.
I went in to buy some boxes and rent a unit Lucy and Jennifer were very friendly and helpful I would recommend anyone to go here.
Lucy is a very sweet lady...
Lucy and micah great service.
raised my rate by 1/4th of the price and with a month's notice. absolutely terrible.
I came in looking for an affordable storage units and had the privilege of working with Micah. She was very knowledgeable and offered great assistance in making the process easier. She is also very friendly and has great customer service skills.
Everytime i come here there close. Came at 11:50 am close. Came here 4 days ago closed at 3:30pm closed. But u want me to pay my bill. How?
Micah was a HUGE help when I came to get a space last minutes. Great customer service.
Micah blake was very sweet. And she try to do her best in helping me.
Micah had exceptional customer service. She answered all my questions and made the process very easy for me.
Donna was awesome helped me with everything was polite and quick great service
Went in today to inquire about storing some extra equipment for my company. Micah was very professional and helpful through the process.
Came in this morning looking for a 20*30 and Donna was an outstanding employee. She took the time to meet our need s. She went well beyond her job. I would recommend PS any day.
I came in today to get my storage unit and the entire process was flawless. Micah did an outstanding job explaining everything to me in a very clear and concise way, and was very courteous and professional. I look forward to doing business with them four months to come
She where a great help and she works well me.
Donna and Lucy had excellent customer service and I always felt respected when going to the office for whatever reason. The unit price did increase over time otherwise it would have been 5 stars.
Loved the staff, very friendly Erica is great
Donne& micah was good to me they did there job
Lucy was great. Would recommend to friends and family to use public Storage.
Donna gave great customer service today. I recommend PS to everyone!!! Great place to visit
Good service when I come in Donna
Donna gave me excellent service and answered all my questions.
Donna Williams is amazing! Wonderful service always Smiling always willing to help!
Highly recommend public storage for your storage needs!! The facility is nice itself however, my experience with Donna Williams was nothing short of perfect! She answered all of my questions and had the best attitude and personality making my overall experience exceed expectations! Ask for Mrs. Williams in Monroe!
Experience today was awesome!! I was always a bit worried about putting my items in storage but Donna Williams@#08618 made me feel at ease. So now i will be a public storage renter!!!😁
Donna was friendly and very helpful with any questions I may have had. It made the experience a lot easier for me. Highly recommend if you are looking for storage
Mrs Donna always has a smiling face and helps me out as much as possible whenever I'm in town checking on my belongings! She's great!
I went into public storage today looking for a place to store my belongings mrs. Donna Williams was more than a blessing in helping me do so!! She has a excellent attitude as well as a sweet spirit she really helped me make my mind up on renting a unit very fast!! If you are in need of a unit please take time out to head to public storage An be sure to ask for mrs. Donna Williams
Kristi treated me with kindness and very professional
Ms. Donna and Ms. Erica were very professional and friendly. They helped me figure out my options and are very thorough in their explanations. Great service.
Erica, Lucy and Dana are always so polite! Excellent customer service all the time. Hands down the best place for your storage needs. They deserve a raise for their hard work and courteous manner. You would never know if either one of them is having a bad day.
Lucy was very helpful. She showed the property, asked what items was storing, offered extra items to prevent moisture and damage to my items. GREAT Customer Service.
Lucy was Awsome! Great friendly service
Lovely Lucy Helps us sort all our units out! BEST DEALS IN TOWN! Make a reservation via the app & get outrageously good deals!!
Excellent customer service as long as you pay on time or you may lose your property.
Lucy made the whole process a breeze. Nice clean facility. 5 stars!
Lucy is always so nice and helps me with everything I need and if I leave, she would be the reason.
I've been a customer here for years. Never had an issue. Lucy is a great communicator and is a pleasure to work with. The rest of the staff is always polite.
Lucy was great to work with very pleased
Donna provided "GREAT" customer service. Great Experience
Great place and very affordable!
Erica was such a big help the other day! She went out of her way to help us! I was so indecisive and she was so very patient with me! Thank you so much!!!
Had a very nice pleasant experience.Showed a storage very pleased Very nice people working there
The services here were impeccable! I went in shopping for a quote and nothing more but eventually left having signed up for a storage unit after great rapport and laughs. I would highly recommend this place.
Amazing customer service with Lucy. Sweet and fun to talk to and very very knowledgeable.
Customer service was absolutely fantastic. She made sure to suggest a mattress cover so that our beds were safe. Thank you so much Lucy.
Auction was good. Auctioneer went a little fast though. She kept missing bids
LUCY was amazing!!!! She was super understanding and knowledgable. Made sure we received the best service and even took us to review unit to ensure it was the best fit. She walked us through all steps and explained all services thoroughly. Definitely satisfied with her services and would recommend over any other storage. Best prices over any of them
I"ll be be moving to town in the next few months. I called this location and spoke with Donna. Out of all the places i called this was the most friendly and detail oriented. I will be going with you guy"s!!
Lucy was great and sweet! Thanks
Lucy was SO helpful and sweet. She eased the stress of renting a storage unit. Very thankful!!!
Roof leak destroyed $40000.00 of my property. Some of which was not replaceable. Will never use Public Storage.
Just went in to make my the monthly payment on my daughter's unit. Miss Lucy is awesome, always gives great customer service. Always friendly and helpful.
Lucy was amazing! She was friendly, helpful and nice. She made it such an easy process! I would highly recommend!
Sydni was great! Excellent customer service and very friendly!
Sydni was great! Excellent customer service!
Lucy called within minutes of me making an online reservation. She was very welcoming and informative while showing me the property and completing the checkout process. I'm confident my property is in good hands and look forward to stopping by the office to say "hey" on my next visit. Property appeared to be clean and secure as expected - front gate in good working order - easy to find location - ease of access once within property - fair price!
I came into the Monroe NC location very frustrated not knowing what I needed because it was my first time inquiring about a storage unit. However, Roderick and Lucy were very professional , knowledgeable and helpful with everything! They both helped me with exactly what I needed very quickly! Thank you for making this a smooth transition for me!
Lucy has excellent customer service skills. She made me feel so welcome. Her friendly smile gives customers the confidence needed to trust a company with their precious belongings. I know my personal valuables are safe here. Thanks Lucy for doing what you do best, which is taking care of your customers and treating us like family.
Heather was a great help!!!!
Excellent service from Heather five star recommendation
Late fees and pre lien charges are excessive
Rod was very nice and patient Lucy also took care of me and made sure I was good gave great service I also have been here a few months and I've always paid my storage. I had lost my job and this caused a problem they don't work with u and they try to overcharge u. Just basically so they can action your things after a month. My balance went from 152 to 240 something. Smh. They can have my stuff nothing even cost that much in my storage for 240 something. Now I don't have my diploma and papers that are important to me cause they really don't care if u pay or not just as long as they get their money they don't care about important stuff u may need. I was going to pay my overdue balance but now they overcharging me which is unfair. I tried to make payment plan before I even got that overcharge and they still didn't work with me. I will not go here again. I've been better places but they tricked me cause they made it so easy to afford at first then start being overboard with prices later.
Really easy process. Friendly service!
Heather has great customer service and was a big help when I came in to sign up for my unit. Would highly recommend!
Heather and Lucy they really nice
Roderick helped me out a lot. First month renting there so I'll see how it continues...
Heather was very informative and helpful in making my first experience renting a storage unit a success. I recommend anyone to Public Storage. Thanks again! 😁
Lucy is great her customer service is wonderful and she is very helpful. I'm a repeat customer and she made it pleasurable.
Heather gave great service and and got us set up with the perfect unit
I spoke with the associate Lucy within the front office and she is an excellent salesperson who is curious and friendly. Outgoing and willing to help you with any need, she made my experience with public storage much more pleasant and smooth.
Heather provided excellent customer service today!
Heather was absolutely wonderful, and I couldn't have asked for better customer service. I recommend this company and will be in business from here on out.
Great experience. We had a unit for almost 4 years. We never had any problems at all everything was kept safe and the staff were fabulous. Lucy is a keeper! She was great to work with and i always recommend this storage in Monroe. Thank you!!
Great Customer Service. Satisfied Customer, thanks Heather :)
Went in and spoke to Lucy about a rental for August. Was super helpful and answered all my questions. 👍
Lucy did a great job and took care of all questions
Heather was so professional and did a very good job being a new employee, I would recommend anybody looking for a storage building to go see Miss Heather!! I enjoyed my visit!!!
Thank you Lucy for taking care of my college son for his summer storage needs. It was very reassuring having someone honest taking care of him. Lucy loves her Yankee friends....
I had an amazing expirience at Walkup Public Storage. Lucy is the best, she always answered my questions when I had them, and she not only worked with me when I got into an accident and had get surgery and was unable to work, but she asked me how I was feeling on multiple occasions when I went in. I cannot thank her enough for her great customer service! I couldn't recommend the Walkup Public Storage more, if you're looking for a storage locker in Union County, this is the place to go! I promise you, you won't find a better place. Thank you so much for the great expirience Lucy, I wouldn't go anywhere else but here!
Lucy was amazing!! She called right after I made an online reservation and was very flexible with our appointment. Thank you Lucy we look forward to working with you.
It is always a great pleasure working with Lucy. When we rented our first storage room 4 years ago Lucy assisted us. We came back today to rent our 2nd storage room and she was able to help us again. Great service and I would recommend this location to anyone interested.
Lucy gave us fantastic service and was very helpful in assisting us in getting our new storage unit set up!!
Lucy is Sooo kind goves us great service keeps us smiling😂💜💜💙
I called and spoke with a manager named Lucy she was very knowledgeable and knew what I needed and I can't wait to meet her when I get done moving
I was a past customer at public storage I stopped by today to get a roll of tape. Erica and Lucy were very helpful and always have been. I would definitely recommend. Excellent customer service!
Every time I come in here. I have wonderful experience a the emolyees Lucy and eruca.. Always so friendly and kind. I recommend coming here to all my friends and family. There's no better storage to store ur stuff And feel safe.. They are very trust worthy.. Wonderful people!!
I spoke with Erica & i had nothing but a great experience getting a unit! Patient and very helpful.
Lucy Armer was extremely helpful when helping me find out more information about a storage unit! She all around made my day better! Keep Smiling!
My experience was fantastic, Erica was more than helpful on deciding which storage unit we needed and what worked best for you. Employees like her are the perfect example of customer service!
Lucy gave my mother and I wonderful service
Lucy ia always polite when I come into the store and very helpful.
Mrs. Lucy was very understanding and experienced. She went above and beyond to help us. I will return if needed.
I love Lucy. She is great. TERRIFIC customer service. She is definitely a keeper.
Lucy is so helpful! She walks you through every step of the process and makes suggestions for how to make the most of the space you rent. I'm actually a repeat customer, this is the best place to go for your storage needs!
I was running behind today and called Lucy to reschedule 2 xs today. She waited for me and gave me great service with a smile.
The staff was great. Erica who help me from the time I walked through the door. Was so polite and knowledgeable about her job. It made my decision on what size unit best fit my needs. She asked a few questions and when I loaded my items into the unit it was a breeze. This was my first time using a storage unit. But with people like Erica working there I will be more than happy to point people in public storage direction. Just because of the customer service. My name is jarellia Montgomery , a very satisfied customer.
Lucy was amazing - so professional and helpful. The only reason I am giving her five stars is because there is no place for 6 stars. Great prices and I feel confident leaving my belongings here. Thanks, Lucy - for the stellar service!
I totally love this place. Lucy is always wonderful to us. Always helpful every way possible. I recommend her and this office to everyone. You want excellent service? Go see Lucy today or as soon as possible for your storage needs.
Got a great deal on a large space. Thanks!!
We have used them for 7 months, payments are easy and affordable. Several different size units available, nice secure gated location with easy access to renters
Absolutely love this place! It is clean, well maintained and I am very comfortable that my stuff is safe there. Lucy is very helpful, knowledgeable and friendly!
Lucy, she's awesome! Very personable, patient, and fantastic sense of humor. Love her!!!
Lucy, always a great experience. Look forward to the next time.
Roderick was an amazing help!! Wonderful customer service and very friendly!! Definitely recommend this place. Everything is clean and the customer service, as I said, is amazing!
Lucy was awesome! Extremely helpful and friendly! Glad to do business with her!
Lucy gave us amazing service! Will come here everytime great positive personality.
A girl named Lucy hooked me up. Very courteous and professional. She Explained everything detail by detail. Real good experience.
Great service friendly environment clean units specile thanks to lucy for here great customer service
Lucey was very informative and helpful with helping us find just what we needed, she was just excellent
My experience at PS, Was a good experience Lucy Public Storage needs to change some things in their policy...... The storage fee gets higher and higher! If you ever get to where you can't afford the fee, please remove your things of importance such as pictures, documents, trophies, medals, etc. These things can not be replaced and it's a heart throbbing feeling to loose things with personal value that has no meaning to someone else....... For this Public Storage gets an half of star...💔
Lucy was very helpful polite and friendly. She explained in detail the process great lady great experience
Great customer service was giving Lucy. Very customer friendly.
They work with u at reasonable matters
The Manager Lucy, is the best!
Lucy always had a great time and going to miss her company took care of me the best
I love Lucy.. She really went out her way to make sure I was satisfied.
Fast and easy service. Lucy was extremely helpful and professional.
Lucy provided great service over the phone and even better service in person. Great place.
Lucy is very helpful, and this is my second storage unit , i recommend you use public storage in monroe on walk up ave great place.
Lucy assisted me in my rental and she was excellent. Her customer service was great!!!!!!
There's a lady by the name of Lucy, she was extremely helpful and attentive to my family's needs! It was an awesome experience, and by far the best Public Storage I've been to by far.
Lucy deserves 6 stars at least. I thought she owned the business by the way she presented the whole experience. She is a great asset to this organization!
Lucy and Rod were friendly and professional right from the start and helped me understand step and step. Great experience!
I have been with public storage a long time ,I think L ucy is the best
MS. Lucy gave us such great customer service with her good kinder heart
Ms. Amber was exceptional worker. She made the process super easy for me and it was a smooth painless transition.
Emily did an awesome job with our rental and she answered all questions professional. .
Lucy was absolutely a pleasure to work with! She made everything super simple and walked me through the whole process. She made sure to answer any questions I had, and provided excellent customer service throughout my whole experience! :)
Lucy is a charmer have dealt with her 3 times and will always go back
Emily did a wonderful job today , she was straight forward and very kind and helpful and I appreciate her help
Lucy did an awesome job with us today she a great person
Lucy was very helpful, units are very clean. Lots good supplies for reasonable prices. She's the nicest Yankee in the south.
My first experience was awesome. Lucy did a great job at getting me setup. Was very impressed with the service. Keep up the great work!!!!
Lucy was phenomenal! So friendly and really took an interest in us! I will definitely recommend this Public Storage to all who need it and definitely ask for Lucy! Beyond expectation of friendliness and efficiency!
Lucy made sure that I had the perfect size storage for my things! I strongly recommend this place.
Lucy was a great help, she helped me get a perfect storage for my stuff I had to store. She was very nice and helpful. Also very kind as well. She explained very thing I had to do. She made sure everything was good for my stuff and I appreciate that. I would recommend this place to anyone. Lucy will help you with everything just like she help me.
Lucy is so great! We have never had any problems. The other day we had a question with our bill and she cleared it up right away! we will continue to Use public storage, they are so convenient and easy to use. Thanks again Lucy!
I used to be with Public Storage a few years ago and when I went to pay my bill Lucy was always there. She was always so friendly and helpful. I just recently moved back to Monroe and have rented with Public Storage again because of Lucy and her friendly staff.
Great customer service from Crystal and Lucy awesome job guys
Outstanding talk to Lucy very helpful
Great facility crystal was very nice and helpful with the whole process i would recommend this facility
Lucy was super helpful and very knowledgeable. She helped us pick out the proper size unit and went over the benefits of the moisture absorbers to help protect our items. I would highly recommend this facility to anyone. Ask for Lucy!
We needed to store a decent amount of furniture for a month while we are renovating our new house. We got a nice unit for a pretty decent price. Lucy helped us sign up and showed us the best way to pack the unit to maximize our space, and also got us a good deal on some boxes and a mattress cover. Customer service is real good here, and they are very thorough about everything!
Lucy was great to work with, very knowledgeable
Lucy and Crystal were awesome!!! The whole staff has been very helpful! Two Thumbs up for the whole crowd!!!
Lucy and crystale are always very courteous and respectful.. they know know their customers well .. always give respect services and always smiling
Lucy is awesome! Unbelievable customer service. Great experience!
Lucy was very helpful and informative. She knows what she's talking about and was able to answer all our questions from the smallest to the biggest. Great service!
Lucy is a great worker and give good servce
Lucy is so great Super helpful. Dynamic Energetic
Ms. Lucy service was wonderful and she was very sweet and full of positive energy ! Mr. Roderick was a great help and very good with his customer service.
Lucy and Crystal always give me professional service with a big old smile.
Thanks to Lucy we had a quick easy no hassle set up. Don't waste time checking with other storage options in Union County unless you want to deal with pushy, rude individuals. Lucy and the team here will make sure you are treated like family.
Crystal was a big help and the folks in the office are quite friendly. A few days later I got a call to make sure everything went okay...first class all of the way.
Lucy was extremely friendly and so knowledgeable about the property. She answered all questions and helped us decide that we needed a bigger unit than we had thought. We have used other storage facilities in the past but have not found this great customer service before. Go by to see Lucy and she will make you feel welcomed!
Roderick and Lucy were amazing! Extremely helpful and excellent service and I'm very pleased with my new unit and the supplies I purchased!
Lucy was an excellent help. She was very helpful and personable. She made everything easy and left me with no questions to ask.
Lucy is always a very pleasant and friendly person. I love her attitude. Great experience!
Lucy is an awesome representative excellent customer service committed to help!!
Lucy has been a great help with working n finding me a unit for my things and so I recommend you to come to public storage
Mrs.lucy gave great customer service she explained everything and answered all my questions very nice lady i was in and out in less then 20 minutes thank you mrs.lucy!
Lucy and Rod did an excellent job and took great care of someone with a broken ankle! Thanks!
Lucy was GREAT with our services today.
Lucy help me get the right size Wat I needed today.
Crystal was very helpful and did a great job helping us find the correct sized unit. Great customer service!!!
Lucy gave me good Customer Service
I am always surprised when I get excellent customer service. And I was surprised today! Crystal at the Monroe Public Storage did a superb job of explaining all of the ins and outs of leasing space for my daughter's storage needs. Don't need a long-term lease? Got that! Need the space to be guaranteed for Saturday's arrival. Got that! Not sure if the moving truck will arrive before 6pm? No problem! Excellence - that's what brings me back as a customer! Thanks Crystal!
It was an absolute wonderful visit thanks to Lucy. I would recommend it for everyone. Thanks Lucy
Lucy was outstanding on today. Thanks Lucy for treating me with kindness and taking care of my needs..if you ever need storage go see Lucy
LUCY IS SO FRIENDLY AND PROFESSIONAL, A TRUE PLEASURE TO DO BUSINESS WITH
Lucy has giving the best service ever.
Lucy rocks! She knows her stuff and was very generous and professional. She made sure to go over every detail we brought up and was more than able to answer all questions we had. Thanks for all the help!
Lucy help me very well to get the space I needed to store my things
Ms. Lucy is fabulous service and is always very pleasant to deal with. Love doing business here
Lucy has always been good to us and every time we need help she been there
Went to close my storage locker after 12 years of use and was greeted most graciously by Lucy who handled the closure in a pleasant and professional manner Over my twelve years with Public Storage I never once had an issue to discuss with them. I would use them again if needed. Thank you Lucy for your help today. JC
Lucy was very helpful today with finding me the right storage.
Lucy provided great customer service...VERY friendly and explained everything concerning our rental. VERY happy with our service 😀
Lucy took care me and I was very pleased with the service.
Imrs Lucy was an great service towards me and my wife. I would suggest any one would would need public storage to come here. The service was wonderful
Lucy was great at helping me today. She help saved me $15
Crystal gave us great service and made everything easy. Would definitely recommend it this location.
Lucy was awesome and very informatable and a blessing, with the most wonderful smile that is made me feel comfortable and welcomed.
Lucy made sure I got the unit to fit my needs and made the whole rental process a breeze! In and out within 20 minutes and completely satisfied. She even thanked me for doing my job (I work EMS). She even offered some extras to make storage easier and gave me ideas as to what I may need in the future. Love the facility and location. I feel safe leaving my belongings there.
Extremely friendly, and excellent customer service from *Lucy*. Who helped us through the whole process (this being or first time getting a storage unit). She was very helpful and informative with the information we needed. She set us up with the exact storage unit we wanted, while also informing us of a few extra items we might want or need, which we did (a few boxes, and a cover for our bed). The whole time she was very friendly, with a constant smile on her face. Was a very easy and pleasant experience. Thank you Lucy! Natalie + Justin
Well pleased with the service I got from Lucy
Rod And Lucy are very nice people helped me out trying to find the right space I needed.
Crystal the manager gave us an excellent tour of the facility
Lucy was absolutely awesome! She was very friendly and made us laugh. She was very helpful and explained everything in detail. I highly recommend using this facility.
Lucy was the most friendly, caring, helpful person I've done business with in a LONG time. She welcomed me with a big smile and was very professional. I definitely recommend anyone to go to the Public Storage at 1516 Walkup. Thank you Lucy! Thanks for your positive words too! :-)
Jessica provided me with excellent service simple, quick and straight to the point.
Crystal helped my wife and I pick out a storage unit. This was our first time getting one. She was very friendly and courteous. From start to finish it only took about 30 minutes and that was because the unit was at another location. Very easy to setup and get paperwork completed. No hassle whatsoever. I will be sure to tell everyone I know. Thanks Crystal!
Lucy provides the best customer service.
Jessica was great. She was very helpful. Thanks alot
Lucy Is awesome! Always a pleasure to see :)
Jessica was awesome. She explained everything thoroughly! She needs a raise!!!
Lucy was really helpful and had me in and out in no time.
I absolutely loved my experience at this location!!! Lucy was amazing! Best customer service I have had ANYWHERE thus far!!!
Lucy always is so friendly and gives great service with a smile I have rented at this location for over ten years and Lucy has been the best location manager I have ever work with. :)
Well the manger Lucy and her other employee name Daysha was very nice and helpful they gave great sevice and saved me money it was a alsome experience.
Such wonderful customer service! Lucy was fantastic, and completed everything I needed! I highly recommend this location!
Rented a unit from Lucy today. A fellow northerner :) great experience ! Everything explained ..actually shown the unit before renting it ! Quick service I was pressed for time she made sure i was in and out I recommend public storage on walkup in Monroe for sure ! Go see Lucy!
Great service, greeted properly well mannered. By Lucy.
Good service, happily greeted by crystal.
I went to apply for a storage today and Ms.Lucy blessed me just as I blessed her. she gave me wonderful customer service, polite and very easy to conversate with. she reviewed everything with me to make sure i understood .she was a very nice women and I am so glad I choose public storage on walkup, I would recommend everyone to go the there if they need storage. thank you Lucy!!
Lucy was great!! Very helpful
Great experience! Lucy helped me through the process quickly. She enjoys what she does & helps you feel welcome. Lucy took great pride in walking me through the property and the paperwork.
I was shown the right unit for what i was storing. I was able to get the right items i needed to pack my items i was storing. Lucy and crystal did a wonderful job
Roderick and Lucy gave me excellent help they provided me with a unit that was just the size that I needed my service was great...
Lucy has made using public storage easy to do and us very professional.
Thanks to Lucy I saved $15 today!! Great service and help thanks to her
Lucy is very friendly and helpful- great customer service!
I visited Public Storage today and Roderick was great! He handle all my storage needs with finding the best rates and space for me.
Crystal and Lucy are awesome. I am a 5 time repetitive customer. Very helpful and fast easy service.
Roderick and Lucy were wonderful! Very helpful! Super happy with my customer service experience 😊
I found Lucy to be extremely helpful. I did not know what size unit I needed and after describing what I had to store she was able to find the right unit for me. The price was excellent. Lucy was very helpful and pleasant to work with. Thank You Penny L.
Roderick and Lucy are very supportive and helpful. They were so nice and kept me laughing and smiling. I will be a returning customer.
Lucy was great service to me
I came in to do rent a unit and Lucy was very Helpful and knowledgeable on the products and very nice. I enjoyed my experience today. Thanks Ps.
Great customer service. Gave us many great ideas on how to put our stuff in. Thanks lucy
Rod and Lucy were great! Thanks!
My husband and i loved our conversation with Lucy. She was very knowledgeable and walked us thru the whole rental process. She is a great asset to Public Storage.
Lucy gave us amazing device and made sure we had everything we needed and put us in the right stage unit for us!
Always a pleasure lucy and tenine are agreat assit to public storage
Rod and Lucy were awesome today and showed right side space I needed.
Lucy ... Great costumer service!
rod and Lucy very helpful showed the right size and products to protect our goods
lucy was a big help, we got the best price for a 10x10
been a customer for little over a year Lucy has always gave me great service
Everyone there are very friendly and helpful. Great customer service, which is so hard to find now!
Lucy was very friendly and informative. I would recommend this place to everyone!!!
Excellent customer service from Lucy. Was very helpful!!!
Lucy was awesome!!! Showed us great options and helped us find just what we needed. Got every thing squared away. Lots of helpful information! Love our experience. :)
I have been to this Public Storage 3 times now, and Lucy has been awesome and helped me out in a tight spot every time!
We had an amazingly easy and wonderful experience renting our unit. Lucy was very professional, and made sure we received a unit that would accommodate our needs. I would send anyone to her! Five stars all the way!
Great experience and great price. Lucy helped me get squared away with my parking rental very quickly. You can tell when someone enjoys what they do. Lucy took great pride in walking me through the property and the paperwork. It appears to be a relatively painless process. Hope to be a long time customer. Thanks, Bryan
My uncle came to this storage facility and the staff was extremely friendly, especially Lucy.
Lucy provided excellent customer service and helped me get all the moving supplies i needed ..thank you Lucy :)
Lucy and Vida showed me an excellent unit for an awesome price and assisted me with all my storage needs. Thanks
This is my second time using this facility and once again I am very pleased with the whole package. I have dealt with Lucy both times now and she is great. Thanks Lucy and Public Storage. Mike A.
I received excellent customer service from Crystal today and she was very helpful.
Always a smile on their faces. Thank you lucy and crystal.
Just left there not even 20 mins ago and i loved their friendly nature and even helped me out. i had a way bigger storage than what i needed and Crystal helped me out and also helped me save quite a bit of money. Thank you guys again
I came in to get a storage unit. lucy did a great job helping me out with what I needed
Lucy showed me everything that I needed and was very friendly. She helped me out alot.
Customer Service from Lucy and Crystal was outstanding! They went above and beyond! I truly appreciated their help in bringing our RV here to Park and Store. They went over Rules, Policies and they are meticulous about the safety of the lot. So glad we came! Thank you!
Lucy found a much needed larger storage unit and had all the additional packaging tape, glass wrap, special glass storage boxes, mattress covers. Very nice people and very knowledgeable about packing items needed. It was great, a real big help, thank you.
I went into the location here in Monroe. I'm going to need a storage unit within the next 3 months. The facility was very clean I was greeted by Crystal and Lucy where they help me maximize my space and save me money when I come in July!!! They where very pleasant!! I will be back soon!! Thanks Ladies.👍
Mrs. Lucy was a big help with my transition from the military. Told me everything that I need to know about storing my stuff at this location.
I needed a storage unit to store a two bedroom home and Lucy helped me to find the appropriate size I needed made sure that I was satisfied with everything prior to leaving I would definitely recommend this facility if u need a quick storage...
Good customer service. Thanks Lucy.
Sydni was a wonderful help in easing me into signing a new contract with a more fitting unit. Would rate higher than 5 if possible, thanks for your FANTASTIC help!
We had a great experience working with Lucy. She was very helpful, polite and explained everything in detail. She gave us the chance to see the actual unit we rented.
Lucy did a great job finding me the right size storage. I have rented 3 different ones and have always gotten great customer service. She let me know of all off the great stuff that I need to use for my move.
Rodney helped me pick out all the right merchandise to protect my belongings and he also helped me pick out the right size building that would work best for me! He made it super easy to get the moving process started!
I have a storage unit at a different public storage location. I always come into this store to make my monthly payments. Lucy and Crystal are always working and go over and beyond to take care of my needs even though I am not there customer.
I would like to think Lucy for her great work in helping me get a great storage unit .She is a very sweet person to work with and I thank her so much for everything.
Lucy and crystal are the best;-)
Had a wonderful first time experience, and Lucy suggested bubble wrap for fragile items. You have to come see her she's awesome!
I am a repeat customer at this exact location. I love the service, and courtesy of the employees here. I highly recommend people to come to this location.👌👍👍
Attendant Crystal was very helpful and personality
Crystal and Lucy are so friendly and always go above and beyond. Excellent customer service!
I can in to get some information on a storage place .. Crystal & Lucy went above & beyond to make sure I was given just that. They were very friendly / knowledgeable / helpful. I am looking forward to using services here with this company
I came in today to purchase few boxes. Lucy and Synethia are always friendly. I rented here three years ago and has always been given great service.
I came into the property here in Monroe and was greeted by Synethia and Lucy. Synethia showed me around the property was very knowledgeable about storage. I'm going to need storage in a few months so I will be back here. thanks ladies
like to would tell you of my experience at this Public Storage. I am always treated with respect and courtesy. The people are so efficient in their jobs and Lucy and Synethia and Crystal really know their jobs well.
Lucy was very helpful showing me units for my needs and helping me with my mattress bag for my bed
Came into office helped by synethia. She did a awesome job. I loved the mattress covers. Thanks so much
I have been a customer since 2012 at this location. The experience here is far superior to previous storage companies. Lucy and the rest of the staff is always very friendly, and helpful. It is very welcoming to be greeted by my name and a smilling face everytime I come in the office to pay the bill or need some supplies. Lucy is top notch in her customer service, she must be one of the top trainers for this company. I would recommend this storage location to anyone. My unit was clean and leak free when I moved in. The staff keeps the grounds neat and clean all the time. 5 STARS to Lucy & The Staff !!
I always come in to pay my mom's bill and the ladies there always give me five star service. Synethia and Lucy are always nice. welcoming me with a warm smile. thanks !
coming in to get some information about storage greeted by Synethia and Lucy. they were very helpful and knew a lot about storaging items. I will be coming back to get my storage space from these ladies.
Lucy & Crystal are wonderful. They give me a call every year on my birthday. Wonderful ladies. If you need storage go ask for these ladies!!
Very satisfied customer! Excellent customer service, very patient and helpful! Thanks Lucy and Crystal!
We had good service both rod and Lucy were helpful unit worked well for what we needed
Crystal and Lucy are life savers! They showed me several sizes and made sure everything would fit. They made sure I got the best value and made my extremely stressful situation no stress at all!!! Anyone and everyone should come see these ladies :-) thank you so much for everything you guys are life savers!
I had an urgent need for a storage unit and the personnel both online and at the actual facility did a fantastic job in helping me to determine my needs
The ladies at this location are very professional. Lucy and Crystal are so knowledgeable about their products. These ladies informed me about an amazing sale they were having on boxes. I walked out with 15 for free!!!! I couldn't believe. Best service in town hands down!! My son even came back later in the day to get more boxes from these fabulous ladies!! BEST IN THE BUSINESS
Crystal and Lucy have wonderful customer service. I went back into the Monroe location to check prices to store my children's Christmas presents. I walked out with my very own unit. I received a very needed discount!! I love it!! Go see these wonderful ladies!!!! They need a raise for their hard work!!
Lucy was fabulous today pulling my online reservation after a week of me waiting to make it in. She even took the time to go out in the rain to show me my rental unit.
This place is great! Fast service and super friendly!
The process was easy and fast.I reserved a unit online the morning of and someone contacted me later to confirm my reservation. Went in and did paperwork, I was ready to place my belongings.
Lucy and Rod were fantastic...I had reserved an uncovered parking space for my pop-up camper and it was going to be a very tight fit. Another had become available with much better clearance and they wouldn't let me leave till I checked it out and was thoroughly pleased. The different unit was even a lower price, so it was obvious that pleasing the customer was their goal and not trying to make an extra buck or two.
Roderick was awesome, very personable. My move in was very easy.
Shannon is a joy to meet. I was totally having a bad day and not ready to make a move. Shannon the representative had the best attitude and Outlook as well as great customer service. I would recommend that you consider public storage for their storage, not only for their security but also for their great customer service.
I am a past customer with public storage. The service was great, and I had to come back!! Lucy is very knowledgable about the property. It is a very clean and friendly environment.
Lucy was fast and helpful. got in, got it done....painless!
Customer service is excellent. This is my second time renting from this place. Roderick and Lucy are very professional and have great attitudes.
Excellent! Synethia was wonderful!
I called your location in charleston about making a payment for my sister and the office down there said I had to come there to make payment I was never told from the office that I could make payment online how to make the payment online that I could make it at any public storage I got online and then run North Carolina and look up my closest public storage place to me I got the number I called a lady named Lucy answer the phone she was so nice to me she told me exactly how I could go online and do it and that if I did it did not work for me that I could come to her office this morning and she would take care of me this lady has gone beyond her job to make sure that I was taking care of it's a great place here and she's wonderful but y'all do need to talk to the Charleston office because I was trying to make a payment which means give you money and I wasn't helped so if you're there not really give them all the information so you can pay your bill are they really give them all the information to rent a storage space Donna
Excellent customer service. Explained everything in a clear and concise manner.
Lucy was really helpful. The service was excellent.
Rod is awesome and so is Lucy!
Awesome people! Best service i n town! !! Thank you Lucy for everything you've done above abd beyond your job description! !!!!
Great job Aniyah, Mac and Lucy! Happy Memorial Day!
Lucy was very helpful with all my needs
Im a college student and a different storage facility did not come through with the I promise. I called Public Storage and in thirty minutes I was moved in and on the way out. Great customer service!
My experience here at Public Storage in Monroe, NC was fantastic! The help from Lucy was tremendous! She walked me through every thing I needed to know about my unit and made this moving day less crazy! Thank you for Public Storage!!
The miss here was very nice and friendly,
Lucy great service! She's awesome and made everything easy to do and understand! Deff you should go to public storage!
Aniyah was so helpful! Computers were down, but the people were really sweet! Go ask for Rod or Aniyah-both great helps.
Rod and Lucy were great help and very easy to communicate with. In and out in the matter of minutes with everything I needed. Absolutely perfect!
Had a real good experience here. Came when it was pouring down rain an rod went the extra mile to show me around the site answer all my questions, while standing in the rain. Look forward to continue business with this site. I even like the Yankee behind the counter.
Roderick was a great rep. Service quick and easy. Made visit a pleasure. Have dealt with other public storages and this one by far is the best
Came into this location and they did not have the right size unit. She sent us to another location that does. Lucy was very helpful.
Great service!!! Shannon did an awesome job...
Shannon at Public Storage was extremely helpful in assisting 4 college freshmen to find which storage unit was most practical size-wise and financially. Shannon and Lucy were both very personable and made our first rental experience very easy. I would recommend their services to all college students looking for a good deal on quality storage units.
This facility is absolutely wonderful. We needed the extra space as our daughter and husband were living with us. We rented the storage unit and this saved us so much trouble. I work in the area and anything I needed, I could just run by and get at anytime. The staff go above and beyond to help and stay on top of things. Once we finished using the larger storage unit, not even 2 weeks later, we were back renting a smaller unit in order to do our "spring cleaning" and get organized in our home. I highly recommend this location as Crystal and Lucy are excellent workers and help in all aspects of getting you set up for your storage needs. Will continue to use!!!
Lucy and Shannon @ the walk up ave facility have been very courteous & professional during our experience we have had doing business with public storage . Their customer interaction is excellent, even to the point of reminding us if we are late on our payments , and working with us to resolve any issues we may have had
Lucy has always given me great customer service and is very kind to me and looks like she is always working hard to take care of us. Thanks.
Great customer service every time I come in!!!
Lucy did a very good job she was very informative and helpful great first experience
The best geart customer service
Great service! 1516 walkup ave monroe nc 28110 Recommend for everyone Great manager Crystal
Crystal is a true gem and extremely helpful. She left nothing unexplained and I left smiling from the kindness she afforded me. Great employee!!!
We have worked with Public Storage for well over a year. We have always been treated with the upmost respect and courtesy by all staff members. Lucy has always gone above and beyond to assist us in any areas of need. We appreciate the excellent customer service of this location!
These Ladies are Great!!! I have always been treated great every time I walk in to the office!! Would I recommend Lucy? Yes, Yes I would!!
Lucy and her team are great to work with. We have been customers there for more than 2 years and we have never had an issue. Their storage units are clean, spacious and well kept.
Public Storage always gives us the best customer service whether we contact them in person or on the phone. They are friendly and greet us whenever we come in the door. We have several storage units for our business and the area is always clean and well maintained.
I had a great experience with these guys. Oh & they have the best staff, I've ever had to deal with. Just go talk to Crystal or Lucy!
Olivia & Lucy are excellent help if u need storage.
Tried to park a camper but had no place, they referred me to other places they were great
Excellent service from shannon and lucy my wife and I have been customers since 2010 they recommended I get a smaller locker and saved a good bit of money would reccomend to anyone they are very nice
Lucy was very helpful and knowledgeable about the property and units. The office was neat and clean and overall it was a very enjoyable experience. She was so nice and was great to talk to.
I believe that every post most have came from Lucy's personal friends. Please do not use this storage, you get what you pay for...they are money hungry. If you are late, your late fees are more than your rent!! If you lose anything to auction they do not care, she will tell you that is not her problem!! Run...it may be $1.00 first month...but again you get what you pay for. I never give bad reviews but I am going to report them to Better Business Bureau, Complaint Board, and anyone else that will listen.
Latricia and Darius were courteous and professional.
Lucy and Brian were very helpful in meeting our needs to get the correct size unit that we needed. great experience.
I stopped in at Public Storage seeking information about the units. I was greeted by Brian. Lucy gave me a tour of the units and answered all of my questions. The application process was handled professionally and quickly. Lucy then made certain I could use my # code to enter the gated area and could use the lock for the unit. She swept out my unit and provided a crate for my book boxes to rest on. She really couldn't have been more helpful.
I have been a customer of this location for almost 2 years now and I have always had the best service from Lucy and her co-workers. The property is well-maintained and secure, and I would not hesitate to recommend this site to anyone. They have definitely been very professional and courteous in all interactions. Thank you Lucy!!
Had a great experience when looking for a storage unit I would give Roderick Arrington a 10 star if I could.
Lucy and Crystal are the best! They are very courteous and always cheerfully helpful. I've had a storage unit at the Monroe facility since March 2012...Highly recommended.
I am a student at Wingate University, and this is the closest storage location with the best service. Lucy took care of my storage problems very quickly and was a great help. Will be coming to this location again for sure.
Lucy and her staff was very helpful assisting me with my storage needs. I needed to storage boxes and had several other storage facilities closer to my home. I chose public storage for their excellent customer service and clean facilities. Thank you Public Storage.
I have been using this storage unit for four years and have never had problems. It has been great service!
Great facility and amazing service. Lucy went above and beyond for us, customer service this good is hard to find!