Public Storage Self-Storage Units at 7396 Grove Rd, Frederick, MD
Address
7396 Grove Rd Frederick, MD 21704
Office Hours
Mon-Fri 9:30 AM - 6:00 PM
Sat-Sun 9:30 AM - 5:00 PM
Gate Access Hours
Mon-Sun 6:00 AM - 9:00 PM
Storage Facility Features
---

5'x5'

Climate Controlled

Upstairs/elevator

---

5'x7.5'

Climate Controlled

Downstairs/elevator

Climate Controlled

Inside unit

1st Floor

---

5'x7.5'

Climate Controlled

Inside unit

1st Floor

Climate Controlled

Downstairs/elevator

---

5'x10'

Climate Controlled

Upstairs/elevator

---

10'x10'

Climate Controlled

Downstairs/elevator

---

10'x10'

Climate Controlled

Upstairs/elevator

---

10'x15'

Climate Controlled

Downstairs/elevator

---

15'x10'

Climate Controlled

Upstairs/elevator

---

10'x12.5'

Climate Controlled

Downstairs/elevator

---

10'x10'

Climate Controlled

Inside unit

1st Floor

---

10'x15'

Climate Controlled

Inside unit

1st Floor

---

20'x10'

Climate Controlled

Upstairs/elevator

---

15'x25'

Climate Controlled

Upstairs/elevator

---

25'x10'

Climate Controlled

Downstairs/elevator

---

20'x10'

Climate Controlled

Inside unit

1st Floor

---

15'x25'

Outside unit

Drive-up access

---

10'x30'

Climate Controlled

Inside unit

1st Floor
Nearby Self-Storage Locations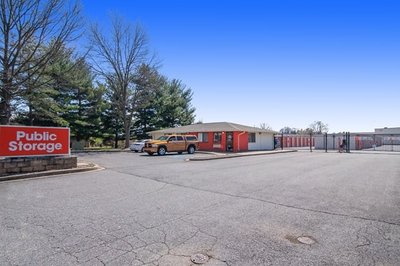 Self Storage Near
396 Prospect Blvd
Frederick MD 21701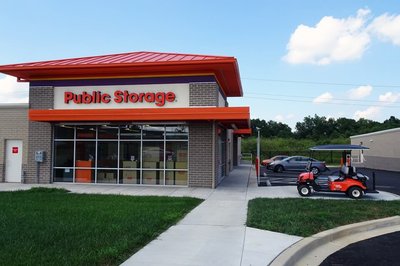 Self Storage Near
8410 Broadband Dr
Frederick MD 21701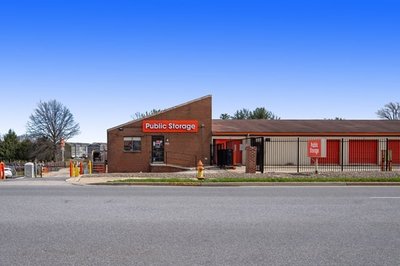 Self Storage Near
48 Thomas Johnson Drive
Frederick MD 21702
Self-Storage Near Frederick
Resources from the Help Center
See what fits in different storage unit sizes
Frederick Storage Units Near I-270 and Route 85
Frederick storage units are available near I-270 and just off Route 85.
At Public Storage, You'll Always Find...
Keypad Access

Friendly Staff

Month-to-Month Rent

Moving Supplies Available

Free Parking

Well-Lit Facilities
Reviews
( 450)
Jenn and Tracy love them , they're always saying hello and being very friendly. Always love seeing them. Could ask them any question about the place and always had answer.
I absolutely love this Public Storage ! It's always clean, huge facility with great carts, and the nicest people working the office! Ms. Jenn was always so kind and helpful, and I will miss seeing her smile every time I came by! Thank you! -Mika
The staff (Jen & Tracy) were extremely helpful in assisting us with our move in, they were a pleasure to work with, their professionalism and hospitable demeanor was comforting and made what can be a very unnerving task pleasant. Thank You both for your support.
Rates continue to go up faster than the cost of living... Had a rate increase on my unit not long (well less than 12 months) after signing up for it...
Jenn was very helpful and polite!
Jenn was very kind helpful and courteous
Jenn has always gone above and beyond, for our first unit rented and then when we needed to downsize and get a different one. Great service always!
I went in and was helped by Tracy. She was so helpful and had an amazing personality. I've never had a storage unit so she really helped me.
Miss Tracy was very helpful during my first experience with a storage unit. She explained everything in regards to completing the form online and how to access the unit via my phone. She made the entire process super easy!
Tracy is amazing!! I wasn't sure how the process worked but she explained everything and made the process smooth as silk. Thank you Tracy, you are Top Notch! Also, the facility is very clean and organized- impressive all around.
Great service and great staff
It has been very stressful apartment hunting and the the Storage Issue has been costly adding to the stress. But Staff memberJenn provided excellent customer service and help with a new unit location and size and cost of the storage unit I had for a few years -- saving me money that I really needed for other expenses. It was a pleasure working with Jenn and Public Storage.
Jen was so helpful at getting a storage unit reserved for my Mom. She helped us pick the right size unit for our needs and gave a nice tour so that we could make an informed decision. Not only was Jen helpful but she also was very kind and pleasant to work with. She was energetic, had a great attitude, and made us feel like we were valued. We can't thank Jen enough for providing us with such great customer service. She made a stressful situation much easier to deal with and we appreciate her!
Jenn - is amazing!! She gives you a comfortable feeling and explains e retuning that you gotta know!!
Excellent excellent. I love how clean their premises are and how wonderfully easy it is to get to your unit. The loading unloading area is super convenient and your things are SAFE. I've yet to come across such good customer service experience and was happy to have been dealt by Jenn. She made the whole process of renting a storage unit easy peasy lemon squeezey. She's always helpful, smiling and her witty comments on practically everything is so much fun. She sure is an asset to Public storage and we would not go to any other storage probably because she's at this one. I highly recommend this particular location and but make sure they have one available as they go by fast. Good luck Jenn and team.
Excellent service over the past four years at the Grove Road Site. Staff are particularly knowledgable and helpful. At Grove Road, our most recent experiences and storage transitions have been masterfully handled by Jenn. Jenn is extremely helpful, setting customers at ease and showing us the best value for our storage dollars. Public Storage is fortunate to have Jenn as a member of the Public Storage Team.
The manager Ms Jenn is great. Always helpful and Courteous.
Jenna service was prompt and excellent. Thank you!
Made an online reservation for a storage unit and Manager Jenn was very pleasant and helpful with getting my questions answered and finalizing the deal.
Jenn was awesome. Took the extra time to wait for me and was very helpful as I moved my items to storage. Give her a raise!
Jen is the best ..... if u need anything she ur gurl!!
Jenn at public storage is great and the facility is very well maintained and secure! Would highly recommend!
Jen at Grove Road location has consistently helped me with issues re my storage unit at the Broadband Drive location. If not for her, this would've been a nightmare experience. She has gone above and beyond 4 times in the last two weeks with answering my questions. If she leaves your company for whatever reason, I guarantee I will cancel my unit on the spot. I'm not sure who manages the other locations, but this person is MIA.
Jenn and Tracy, you two are a God-sent to man. Very helpful, knew what I needed, and time management. I am very grateful. Anyone who needs storage, pls go to this location even if you live across the state, it is well worth it. Thank you, ladies!!!!
I rented 2 large storage units and my experience has been amazing. The manager Jen has been very helpful and professional. The facility is always clean, well maintained, and everything has been in working order. I feel safe when I come in the evenings. This location is also close to so much that it was very convenient to someone new to town. Access to the gate, especially with the phone app, is super easy so I don't have to press buttons to open the gate. I moved in November 2022 and it is now February 2023. Nothing but good positive comments from me.
I have to give a shout out to Miss Jenn! I don't anyone who enjoys moving. But I can say she made my experience much better. She answered my 100 questions and was very patient. I appreciate all her help and I would definitely share my experience with anyone I know that needs storage.
Jenn is awesome and was extremely helpful getting me into the right unit!
Miss Jenn at the front desk is amazing, I was a client for three years, great experiences especially with the move-in/move-out process. Very clean establishment, thank y'all for an awesome few years!
Jenn is absolutely amazing! She was so helpful with our recent move and communicated with us to ensure a smooth transition. We highly recommend this facility for your storage needs!
Nice professional friendly staff clean
Been a customer here for over two years, and the management and staff have always been incredibly helpful. They go the extra mile to make sure that customers are satisfied with the services provided, and that they can get you the best deal to stay. I won't be changing storage any time soon, now, thanks to Jen!
Jenn is amazing! Her customer service and personality is 5 star.
Jenn the property manager provided exceptional customer service!!!
Jenn Was Great And Very Helpful
Jenn WAS Friendly And Nice!
Great service, Clean facility, Quiet location. Staff is excellent. Love Jen always smiling
Great customer support from Property Manager Jenn. Strongly recommend for storage needs.
Jenn Was The Most Professional And Curteous Person I've Ever Met! Keep Her Here Working At This Storage!
I have been extremely happy with our experience at this location! Jenn is definitely one of the best people to deal with in every situation. I would strongly recommend working with her!
Jenn and the contact less service was amazing
The storage facility is the best! It is very clean, very organized and VERY user friendly. It provides large doors and elevators along with carts for customer convenience. Jenn, the manager, is extremely customer friendly and a great pleasure to work with!
Jenn was absolutely awesome, she even missed her lunch from my tardiness, best experience I've ever had getting a storage unit and I've had quite a few!!!
I had a fantastic experience with Jenn at Public Storage. She assisted me with setup and feeling confident about my belongings being secure there and she was a sweetheart!! She made the entire experience a smooth transition for me and I greatly appreciated it😊.
Jenn is wonderful and very helpful. She always was there to help and answer any questions or concerns I had. The place is always very clean.
Jen is extremely helpful. The facility is clean and well maintained.
This facility is very clean. Jenn and Kristina are the best! The property Manager is GREAT always friendly and helpful.... Customer service is always a wonderful experience..Great prices , I would recommend if you are in need of a storage unit.
This is a very clean facility and Jenn has been very helpful in giving us excellent customer service!
Jenn the manager is an excellent worker and a knowledgeable employee. I am so glad that I had someone like her to help. Keep up the great work
I want to extend my gracious thanks to Jen at Public Storage she was so nice and helpful. And we so appreciate workers like her.
Great customer service thanks Jen !
Five starts isn't enough for Jen. The professionalism and customer service she provides should be the industry standard. Jen - thank you for everything you do. I glad I have the opportunity to work with you for my storage needs.
Jenn is amazing you picked the right person for your property manager she helped me out so much and understood my struggle I can't call her anything else than an angel God bless her thank you guys for all your help I'll always use Public Storage❤️❤️🙏
Jenn, the Property Manager, went above and beyond when I had a problem with a lost key. She figured out an excellent solution that kept my property safe and saved me time and money on a locksmith. Highly recommend.
Excellent service! Super clean facilities. Great location.
Just what we needed. Easy to get into, easy to get out of, definitely safe and secure. Jenn was AMAZINGGGGGGGGG.
Good place to put your stuff and the facility manager (Jenn) is truly wonderful and will put in the extra work to make your time and money worth it. She worked with us to get our rate down after it was raised and also will make sure your unit it always properly locked up each night. Great location, would recommend this location to anyone.
Just spoke with Christine ( or is it Kristin) at this location. I needed to change my information because of moving out of state, and she was so helpful. It was such a pleasure to have her help me.
It is very neat and clean storage area.They are dedicated and professional in dealing with the clients.
The front office is an amazing group of people, that go above and beyond to take care of their clients. Jenn, she spend time to ensure that my account was closed in a timely manner and Behare, was very calm and tolerance of people that are in chaos such as myself. Thank you ladies.
Jen the property manager is professional, courteous, and customer service oriented. She made our storage process smooth and easy. This is the best storage facility in the area by far.
Jenn was absolutely GREAT!! Customer service was EXCELLENT!! Thank you for your help and making this process as easy as it can be!!
Jenn is awesome ! She has a great attitude and great customer service skills ! Very helpful when getting set up in unit with directions and passcode help.
Property Manager Jenn was a great help. She explained the difference in size and price. Also showed how the storage space looked. She also stayed a little longer than closing to perform the transaction. It's very rare to find great customer service. Give this Manager a raise.
Very helpful, Cliff went above and beyond to help me out. Thank you!
Jenn, is awesome and goes above and beyond in customer service. She made the rental process so easy and quick. The facility is very well maintained and easy to access.
Jen is amazing. As I moved in I realized I needed a bigger unit. She quickly moved me to the perfect unit and the access is right next to the elevator! Definitely recommend!
I had the pleasure of dealing with Jen (the manager). Not only was the storage super affordable and clean, when I moved out....I forgot to notify her that my storage was vacant. She noticed right away, called me, and helped me close my account so I could save money. Excellent service!
This was my first time getting a storage unit and I accidently got there a day earlier and Jenn (property manager) was amazing at helping me get my unit. She is very knowledgeable and patient and overall made me very comfortable since I got there a day earlier.
We never thought of storage facilities as having a 'personality', but Jenn certainly does give this place one! She's courteous, knowledgable, helpful, efficient and, well, funny! It's a pleasure doing business with her and Public Storage. Bob and Meredith
Jenn is so amazing. She helped me find a unit for my things. Also, she was so kind, well mannered, and professional. I enjoyed the service Jenn provided. Best experience I have had.
The manager was so kind and helpful! She let me know that my move out date would have forced me to pay for an entire month of storage for only a few days and changed the move out date for me. I never had any issues getting in to my storage unit. Also, it was a very easy process to sign up and close out. Definitely recommend!!
The property manager, Jen, is friendly and very reasonable! She goes above and beyond to sort out any issues. Location is convenient and facility well maintained. Highly recommended!
Jenn (Property Manager) was our first contact at Public Storage since this facility changed hands from previous ownership. Jenn patiently took time to quickly work through every question and concern we had, at every interaction, she was professional, cheerful and informative. We had a packed 10X20 storage unit to clear out in short time frame, Jenn's presence and support made our difficult task that much easier, that meant a lot to us. Thank you very much, Jenn!
Clean, great location, easy to access, secure. The property manager Jenn has been extremely helpful to work with. I got a large unit after moving and was able to easily transfer to a smaller unit once I was able to consolidate some items. Jenn made sure it was an easy, seamless transition.
Jenn was extremely helpful in helping us navigate our very stressful move. Facility is spotless and you can conveniently pull right up to the gate and back in for easy unloading. Highly recommend
Jenn & Kristen Were The Best! Jenn Got Me To Come Back And Rent Another Space After I Vacated Yesterday! She Really Is A True Asset To Your Company Along With Kristen! They Deserve A Raise!!! Thanks Again!!
Jenn and Kristen provided great customer service. They answered all my questions in reference to my storage unit. The overall building is well ventilated with climate control and clean!
Jenn & Kristen Gave Us Great Customer Service When I Rented My Second Space Today!! Thanks For All Your Hard Work!!
Easiest time I've had ever renting a storage unit. Jenn was professional and courteous and helped me make my online reservation so I could get the best price available. I am moving my things from a different unit and was able to get the new unit close to the elevator on the next floor which is making it easy to move. I accidentally didn't lock my unit properly and they gave me a call the next day to let me know which I greatly appreciated. The lock that came with the unit had the wrong keys in it so it wasn't usable. The staff the next day were very kind and let me return the lock for a refund. I also like that if rent is late they only lock access and don't cut off your lock like EZ storage.
Weren't sure exactly what we wanted or needed but Jenn was there to walk us through everything. She was super knowledgeable and helpful.!
Jenn And Christian Are The Best! Jenn Is Always Helping Get The Storage Space I Needed Today! Highly recommend! 10 Stars All Around!!
Clean, Secure, Quiet and great customer service. Nothing more you could ask for! Truth…. If you need A plus experience I would suggest Public Storage. Moving will always be stressful but Jenn the property manager and General Manager Ehdaa helped me to create a smooth and easy move. Jenn took her time to show me several units and both of them really cared about making it as easy as possible. Their prices are fair and their service is phenomenal!
Jenn The Property Manager Helped Me Find The Correct Size Space I Needed To Store There! Thank You!
Jenn Is Very Helpful! Thanks For Your Help!
Jenn Just Rented Me A Space There And I Got Packing Supplies Too! Thanks Jenn
Easy location and convenience! Super secure and great management! Highly recommend.
Great experience. Easy check out when we no longer required a unit. The entire process was smooth. The manager was very responsive and very helpful.
Jenn 3/1/22 She was very knowledgeable about storages, time ,dates, everything. Reached out to me when I had a problem and she needs a raise! Will tell people to come to this storage
JENN the property manager is positive and upbeat .
Jenn, the rock star manager, is exemplary in customer service. She is personable, professional, and positive. Every time I visited I was confident that I made the right choice for storing my home. Thank you for all your help, Jenn!
Very clean and organized facility. Jenn is a very knowledgeable, friendly, patient, and courteous representative of this company. Great experience using this facility long term.
Thanks Jenn for great service. All questions were answered and you worked hard to give us the storage space that fit our needs. You are an asset to the company.
Ginny and I found Jenn and her staff to be extremely friendly, helpful and professional. The facility was very well maintained. Jenn was always available to address any of our questions. We would definitely rent from Jenn again. Richard Beck
Jenn and Ehdaa were so pleasant and nice. They helped me update my account and get adjusted to the changes at Grove Rd location. Thank You! (:
Clean areas with plenty of security. Elevators and moving carts are a HUGE plus.
I would like to thank Manager Jenny, she is great support through the move and providing storage unit. She explained clearly all the details and helped my move smooth, she helped in moving date and booking the unit. Jenny is super fast responsive, I recommend everyone for this storage unit. Thanks Jenny so much for helping me throughout. She is 5 star, happy to work with you Jenny.
Jenn is the best, very helpful in getting and reserving the unit. Made sure the unit was the correct size , she is a true blessing .
Great place to rent space. Easy access and convenient. Jenn, the property manager was extremely helpful and knowledgeable! She went out of her way to help me acquire the unit I wanted as well as help with the rental insurance.
Jenn is the best... Wonderful customer service Held the whole building down by herself Plus this storage is better then all other storages in Frederick
JENN was great at this location. The whole process was done smoothly and quickly!
Great property manager. Goes above and beyond to help clients.
Absolutely amazing experience! Jenn the property manager was super helpful and went out of her way after hours to help me get setup and take care of any issues or questions I had.
Jenn went out her way during my move in as well as my move out. I'm so grateful for her help and would recommend public storage on grove rd just because of her.
Jenn and Kristen are very helpful to meet the needs of the customer.
Wonderful place, Ms. Jen is wonderful manager and if you need help or have questions she is there for you every time. The storage place at this location is very clean and well kept up and very secure to have your personal belongings there.
Wonderful place to store my personal belongings. Very safe and secure location as well as clean and well kept up. Ms. Jen is a very helpful manager on site.
Absolutely amazing experience! Jenn the property manager was super helpful and went out of her way after hours to help me get setup and take care of any issues or questions I had. She was very accommodating even after hours since she knew I was in a pinch and had to get my stuff in a storage unit short notice. This is my first experience with Public Storage and they have continued to impress. Highly recommended! Everything is clean and new as well!
Jen Cliff Kristen Were Very Friendly
Jen and Cliff we're very professional & courteous.
Great option if you are looking for something indoors.
Friendly, helpful and professional
Jenn was super helpful and polite! She made the entire process convenient and painless.
Ms. Jenn was amazing and went above and beyond to assist us during the stressful moving season!
My wife and I were looking into storage facilities to utilize during our move to Frederick. Jenn was extremely helpful in explaining the sizes and costs associated with the storage units. Her approach was very professional and not high pressure.
Very clean, very friendly staff.
Always a friendly greeting when having to enter the office. Both Jenn and Kevin were very helpful. The storage units very clean and large and always . The climate unit was indoors. It was temperature controlled and I never had to worry about my materials I recommended Thanks
Great location easy to get in and out. Jenn worked with us to get the rooms we needed close together and answered all our questions!
Jenn is Great Thanks For Your Help
I had a problem updating my payment information and Jennifer was so good helping me with everything, she is awesome 👏🏻 and not to mention this storage it's kept so nice and clean!
Very knowledgeable customer friendly always on point. Recommend you again Jenn.
Jenn was fabulous. She helped us from the moment we walked into the door with open arms. She was able to set us up in a matter of moments with a storage unit. We were very pleased with the cleanliness of the facility. 😊
Jenn Always Very Nice And Knows Me By Name. Thanks For Everything!
Jenn was so helpful with my rental, and her positive disposition made the experience fun. Thanks!
Nicole was great! Showed me two units before I picked one out and was super nice the entire time! Great place to get a storage unit!
Property Manager Jenn deserves all the credit for my experience. She made it a BREEZE!! Very very satisfied.
This place used to be actually a decent place when it was EZ Storage, but ever since Public Storage took over the front windows seem to be permanently broken so anyone from the street could just come in at any time, the air conditioning seems to be turned off, and overall the security just seems to be really lax. We are super disappointed with the changes, especially since they raised the rent on our space 50$. For what?
Jenn was an absolute delight to work with. She was very helpful and professional. She went above and beyond in helping with our special situation. Great staff and facility to work with!
Nicole was super attentive, kind, and helpful for this last step of my move. The temperature controlled unit was the perfect size and felt very secure.
Jenn and Linda were so great to work with! All I had to tell them is what I needed and they led me to the perfect storage unit. The facilities and units are clean and ready to store. Would recommend this location over and over! Thank you ladies!!!
Jen is the best super professional and helpful, highly recommended this place!
Jenn Is Awesome! Rent Here!
I had a really good experience with Jennifer. She was super friendly and she had answers to all my questions and concerns.
This public storage was excellent! It was clean, friendly staff, elevators, and easy to get to! Thank you!
Jenn was an absolute delight. Her bubbly and happy personality added to her knowledge and professionalism made our renting space at Public Storage an extremely pleasant experience. I wish she could share the formula for being so happy, even at the end of the work day. I highly recommend the place to anyone looking for storage. The place is spotlessly clean, safe and the price is way below what I quoted at other places.
This was my first time renting a storage unit and I wanted to pay in person, even though I had reserved online, and MAN was I glad I did! Nicole helped me and was absolutely wonderful! Because this is a new facility for Public Storage there were quite a few snafus at check-in but Nicole had the patience to help me through all of it, answer my questions and made sure my experience was the least stressful possible, even with the problems we encountered, which were all operational. A+ for customer service!
Currently moving 8 years of my life out of one place for a move and this location is amazing! The storage units are exactly what I needed, the building is clean and well maintained, and I feel my belongings are very safe with the security measures in place. Highly recommend!
Jenn & Nicole Were Very Helpful
Nicole And Jenn Were On Top Of This Storage Facility! Kudos To Them! Highly Recommend!!
Jenn Property Manager Was Very Nice!
Jenn (Manager) assisted me with all my questions and concerns. Great service at its best.
I have been member of EZ storage Frederick for more than 6 years, I had three storage to rent a lot of waste of money that I paid a lot. two former managers did not make any suggestions to change to a large storage room instead of three storage room because I paid more than $450 monthly for more than 6 years, Jenn saw my records when I met her at Public Storage and check my three rents, she said waste of my money, I could have save a lot of money by moving to a big storage to save a lot of money. I was glad that she could recommended to move to a big storage room. I am very grateful for help me a big time. I will try to move an old rent room to move to big one by Friday. I will try to complete it by Friday after working since I have a big track meets on Thursday and Saturday for West Regional track meets for high school. she really helped me a lot and very supportive. I am very happy with a new manager. I am telling you that Jenn is the Champion woman to help people including me a lot. She made me a big smile and still need to help by moving stuff into big room by Friday. It is a highly recommendation for you to see her and move your stuff to her Public Storage on 7396 Grove Rd, Frederick, MD 27163
Jenn and her staff are absolute pleasure to deal with .. Facility is always clean ..
Jenn and Autumn were great at walking me through the whole service, facilities were clean and I dont have to worry about my items getting ruined.
Always a friendly greeting when having to enter the office. Both Jenn and Kevin were very helpful. The storage units themselves are large and always clean. The climate of my unit was indoors. It was temperature controlled and I never had to worry about my belongings.
Jenn was professional & polite--she provided information on the surrounding area and even recommended great areas to see. My experience was great. My 10X10 was ready and waiting---even with a lock if I needed it. Facility was immaculate and accessible and there were a lot of dollies readily available with 3 elevators for transport. I am happy with my decision to choose PS on Grove Rd.
Jenn was very helpful with getting us all set up with our storage unit. The facility is clean, the security protocol is reassuring, so far so good.
Jenn, the Facility Manager was very courteous and helpful. Is a great facility and clean.
People weren't very friendly and didn't even acknowledge my daughter and I when we walked in and spoke to them. I believe it was because we were black! I'm sorry to say that but it'd exactly how I was made to feel.
Jenn is a great customer service
Very secure climate controlled facility. Very large elevators. Large dolly's and carts available for moving stuff to the unit. Best place around.
Do you have self-storage Move-In Specials?
What size self-storage unit do I need?
Do you sell self-storage and moving supplies?
Do you offer Contactless Renting?
What items need to be stored in your climate-controlled self-storage units?
What do I need to bring with me to rent a self-storage unit?
Are your self-storage units easily accessible?
Are your self-storage units secure?
Do you have drive-up loading and unloading?
What hours can I access my self-storage unit?
Do you offer car, boat, motorcycle, ATV and RV storage?
Not a great place to do business. Please think twice before choosing this as your storage space.
Friendly staff and very clean!
Excellent customer services and space area is so clean and bright.
Great service! Makes it easy for even me to do!
Michelle was very pleasant and knowledgable. She was able to answer all of my questions . I would highly recommend Frederick EZ storage on Grove Rd.
Amazing customer service from michele Very helpful and easy to work with
Michele was spectacular!! My wife and I were in a hurry during an unexpected corporate relocation/move across the country and were running low on time before our flight to return home and start packing. Michele understood our situation, worked quickly to get us the unit that fit our needs, and took care of us. Very happy customers!!
Great service. Friendly staff. Immaculate. Never one problem in 6 years. Highly recommend.
My husband and I rented a very large unit and were in and out all the time. We changed to two smaller units and then back to the extra large one. We interfaced with staff a lot and they were always friendly and very helpful. The place is immaculate and I always feel safe there. I highly recommend them. If I ever need storage again, I'll come back in a heartbeat.
Michele and Jacque are both very helpful every time I have needed any assistance with our unit. Thank you!!!!!
Courteous and professional.
The staff at this location is so friendly and helpful. Happy I chose this company. Always clean and inviting.
Very clean, friendly people, great pricing and convenient. Highly recommend.
Clean and friendly staff!
Great and clean environment! Friendly staff!
Wonderful facility. Such friendly staff. I love it here. My favorite one I've had. Thank you!! UPDATE: I may be leaving soon and I'm ridiculously sorry. This place is clean, peaceful and courteous. I'm seriously considering re-renting a tiny space. Thank you!!
Great customer service and very clean
Great location and its really nice. Though you have to use the elevator they make it easy for you by providing carts and being able to back in to unload on the carts right there. Very easy
Ian and Mandy were PHENOMENAL!! Customer service was outstanding! They helped my husband and I pick a storage unit during a very stressful time in our moving! Thank you guys so much!!! SO POLITE & RESPECTFUL! Wouldn't think to go anywhere else! Thank you so very much!!
Super helpful and friendly staff! Michelle at the front desk went above and beyond to accommodate our storage needs! Great place, easy to navigate and very competitively priced!
Great prices and awsome customer service!!!
Amazing guy's on the front desk and the best price on the area
Great customer service and awesome prices!! I really recommend this place if you're looking to storage stuff that it doesn't fit in your place!!
Make delivers there maybe once a month, and the assistant behind the counter is very help, and always have a smile on her face regardless of what is going on
Very secure and clean facility. Michelle made the process of renting a unit very easy. She made me feel comfortable and was very thorough. Would recommend!! - Bridget 4012
Great place to store your items, climate controlled
Absolutely love this place! We needed to find a new storage place when we recently moved, somewhere safe, secure, and climate controlled, somewhere we could trust leaving out belongings for an extended period of time and after much research of options we went with ezStorage and it has been our best decision ever! The staff are all so friendly. The whole building is always immaculate and clean. The elevators and XL wheeled cars they have helped SO Much with moving are stuff in. We come very often to move things around and we always have a great experience. I feel so safe with my stuff here. Great price! Great people! Great company!
I like how the new floors look . The Lady at the front desk was very helpful and answer every question I ask
Nice place to store ur stuff
The front desk personnel was very nice and very helpful. The inside plus outside the business were very clean and well maintained
The staff are incredibly nice and easy to work with. The facility is clean and very accessible. I highly recommend coming here.
A very clean storage facility with very reasonable prices.
Great customer service from Michelle! Very neat and clean.
Fantastic facility! Climate controlled units, decent price, and pretty secure.
The whole experience was great. It was easy to rent the unit. The place is clean and very secure. I would highly recommend using this facility.
EZStorage was convenient and the staff were great to work with.
The security and staff in this place is amazing! Always felt like a comfortable atmosphere and plenty of trolleys to use at all times.
Facility is clean, easily accessible, secure and well climate-controlled. Staff was courteous and prices were better than competitors in the area.
Ez storage is clean has great access and michele made the move very easy. Great security.
We're new to the area and they were super easy to work with to store our household items while in transition.
Awesome customer service.
These storage units are very clean and easy to access. I have assisted my family moving items into a couple of storage units and the staff has been very helpful and a pleasure to work with. The location is in a convenient location. I will definitely recommend them to anyone else in need of storage.
Probably the cleanest storage facility, with plenty of different carts to move with.
Using the ezStorage Frederick has been an excellent experience for me. The facility is clean and convenient and the staff efficient, friendly and most helpful. I would highly recommend this facility and be sure to access their website for special internet pricing.
This storage facility is impeccably clean, inside and out! Plenty of carts elevators. Friendly managers! Nan
Very clean and sufficient place. The employees are very nice . A very nice place to store your things.
Great customer service! Clean facility, I have peace of mind that my things are safe from rodent and water damage.
Always felt our items were safe...so we came back when we needed storage again!
Great facility and very friendly staff!
Always very helpful and friendly. Convenient and easy to get in and out of.
Place seems very neat and clean.. this is my first time using the storage facility and the staff was very friendly..
Very clean and got the size we wanted. Front desk staff very friendly and helpful.
Very organized, clean space and a spectacular customer service experience from Michelle.
Very nice storage, Michelle has excellent customer service and treated us well.
It's a very clean facility, security was great. The relief manager was very nice and customer service was excellent.
It's a very clean and organized place.
Great experience and friendly staff. Would recommend to anyone
The facility is very clean and well taken care of. The staff is super friendly and very knowledgeable. The facility is gated and secure and the units are climate controlled. Would recommend to anyone!
Very friendly, super clean facility I would send any to this ez storage
Ian and Mindy were so nice at getting us set up, and the storage areas are so nice: clean, well-lit, wide hallways and very nice area to unload your car to access the elevators. I was impressed and recommend.
I have been so happy with their service! The employees are so helpful and kind. I feel like my belongings are safe:)
Bathroom are spotless. Great services.
Michele was extremely helpful with explaining all the options and showing us around. We ended up selecting a 5x10 space which is way bigger than I thought! The security and cleanliness are top notch and we look forward to the ease of moving in!
We LOVE ezStorage of Frederick! Beautiful, clean, secure and climate-controlled and the owners are super fantastic people. The value for the price point is beyond compare. Highly recommended.
Excellent Management, very clean location, excellent service, safe location, good prices
Great location, Mandy and Ian are really nice to deal with. They know their business and very friendly. The inside of the building is well lit and very clean.
Lovely couple running the office! Very clean and convenient place with great value. Highly recommend.
Our experience with ezStorage lasted 12 years. Resident manager at two different locations. Golden Ring and Frederick. The last two years of Lillian and my own tenure at the Frederick location was quite...interesting. As soon as she turned 70 the PTB did their very best to hit us on our work ethics. Ha! They more or less forced us out. We did nothing more, nothing less than we did for the past ten years. This company was very good until Jill Fairchild entered the scene as the Vice President of Operations. She stated that she could save the company a million dollars in the first year. The first thing she did was cancel the music throughout the buildings. Do you know how boring cleaning the doors of storage units are? She did indeed save the company a million to her own benefit. I won't get into that. Then they took away double coverage on the resident managers days off leaving single coverage. This means that the person working could do NOTHING to assist the resident managers in the cleaning of the facility, thereby lower property evals and lower personal evals which in turn lowered the yearly raise. Since we were forced out it seems as if that has changed. Maybe not. My take is that they do not like the old people. The facts are there, if you look. Coincidence? I think not. I know that it will be claimed that I am a "disgruntled" employee by the PTB. Not true. Everything I say is the truth. Have the moths on the second floor been dispatched or is it still an ongoing problem? In conclusion, they want the young bloods that can't think for themselves. I guess you could say they want robots. Hey tommy, you will be stuck in middle management for the rest of your life. Feel the burn babe.
Facility is clean and temperature controlled. Staff is outstanding. Friendly, helpful, and professional.
Greg was absolutely a pleasure to work with went through all the ins and outs made renting a unit here wonderful
Fantastic service! Toni, at the desk, was very helpful and kind through the process of helping us get our storage unit quickly!
Super friendly staff! Easy access to storage and no long codes to memorize! They validate upgrade online prices with your online reservation :)
This is the best storage facility I have ever used. The owners and front desk employees are most helpful and pleasant. The climate controlled unit was immaculate and a comfortable temperature regardless of the season. There were ample loading docks for the movers and enough moving dollies to allow easy access to my elevator access unit. The price is also very fair for the size of the unit, especially compared with comparable units in Gaithersburg, Rockville and closer to DC. I recommend EZ Storage Frederick without reservation for all your storage needs!
Mandy and Ian made the check in process a breeze! The facility ( and unit) was clean and spacious!
Quick and easy. And great prices!
Great experience. SO friendly and helpful.
Very helpful staff, pleasant clean environment.
Very nice people and property. Clean and well kept units as described.
Great and fast way to store things we don't have space for.
Michelles awesome! Took care of us ! Very professional.
Great attitudes and very helpful staff 👍👍
Mandy and Ian were great helping us transfer our unit this morning! It was quick and painless!
Went to the frederick location to get some pricing. Greg was super helpful and helped me figure out the size I need. Rented it on the spot. Great service
Easy, fast, clean and friendly! Highly recommend this storage facility.
Very nice storage will highly recommend
The owners made it a breeze to reserve a unit. Fast and friendly service. Super clean facility. Highly recommended!
Great place to store our stuff!!! We were here 9 months and the prices were great!!!!
We had a very nice experience with Ian and mandy. They were very helpful.
Easy fast and helpful! Would recommend - long time customer.
Super friendly and clean!
Quick and easy - friendly staff
Great facility, friendly staff!
Wonderful experience with this establishment. They are courteous, prompt and well organized. The facility clean and awesome!
New managers and Staff are wonderful and very helpful! Highly recommended!! They even saved me money by giving me the cheapest rate.
This place is awesome! I never imagined getting a storage unit would be this fast and easy. They showed me a unit as soon as I got there and had everything filled out and ready to go within 10 minutes! The facility is very nice and clean! Would definitely recommend this location!
Friendly Staff. Convenient. A little pricey.
Staff was so friendly and the facility is immaculate. Very happy with my choice of ezStorage!
Wonderful staff! Very clean and neat facility. Convenient access to unit and plenty of carts available.
How much is a large storage
Sorry to see them leaving. 😣
Great people with great hospitality. Sad to see Glenn and Lillian go.
Hate to see these guys go. Been with them for 9 years and counting. Great people to work with.
Nice clean friendly service
Staff were extremely friendly .... very comfortable experience renting units ... We have rented multiple units over several years and have never experienced any negative issues
We always rent storage space at this storage facility. The management is always kind and informative. The facility is always clean and secure. The space is conditioned so your belongings are safe and not subject to heat and humidity which can damage your belongings.
Great staff, very accommodating!
Friendly staff, very clean building!
The staff is very professional and friendly. The facility is very nice and clean. The prices and accessibility are great, I would rent a storage again here anytime. Positive experience!
Lovely managers. Checking was super smooth.
Glen and Lillian rock. They are helpful and curtious, hard workers. They deserve a bonus.
Glenn and Lillian, the managers, are so sweet. They always greet everyone with a smile and are always willing to help.
Excellent storage place. 5 years no problem.
The whole facility was very clean and the lady at the front desk was very helpful
The staff are great to work with the building is clean, would use them again
The place nice and clean, but Lillian is awesome!
Great customer service - clean facility!
Good climate control storage place. Very clean and safe. Good discount deals as well
Great services, friendly staffs and very clean facility
Easy access! Friendly staff, climate controlled! Need a say more! Everything you need for a storage unit and more!
First timer here! Lillian and Glenn were very helpful, knowledgeable and easy to work with!!!!
Ezstorage was a perfect solution to my storage needs. The staff was friendly and the facilities were immaculate. I've recommended it to friends and family.
Glenn and Lillian Phillips were extremely pleasant and helpful. The entire process took perhaps 15 minutes. I will recommend.
We had an incredibly pleasant experience procuring our storage unit! Thank you and we will remember this for next time.
I am very satisfied with the customer service
Excellent staff and impeccable facility.
Very nice pepple tp deal work
Have two units here place is always clean and the owners are nice
The managers are so nice and really worked with me to get my unit.
Nice family friendly storage unit. Nicely kept!
This has been The easiest storage experience! cleanest facility, friendly staff & excellent security!
Clean, safe, secure, great hours for access. Several years ago heavy storms flooded many areas of city, but ez storage was dry, and our stuff was protected. My wife is very fussy, and when we were checking out storage space, she demanded ez storage.
They were very helpful trying to get me into my new unit. Made sure I had the right unit for the stuff I was trying to get in there. Thanks guys.
A great little spot close to everything. The access is secure and safe. They do have a 25 one time registration fee but other than that everything is straight shooting. The owners live onsite so if you have an issue they are happy to come out and give you a hand.
Been with EZ Storage for 7 years. You can't find nicer people. They've been great to me.
Very fair pricing and friendly staff, I highly recommend Frederick EZ Storage.
This is a very clean and safe facility with excellent customer service. If you need extra room to organize for the new year come here
Easy in and out and reliable service. Return customer over the years.
Great location, very friendly, secured well and clean!
Has always been a pleasure at this location, and we have been here for years. Could not ask for better staff!
Wonderful people. Easy peasy.
Great place, awesome service. Kind and friendly! Totally recommend.
Great place to use for storage. Clean, safe and friendly staff.
Great storage facility, clean, well-maintained, generous size and number if elevators, easily accessible docks for large vehicles, etc. It's all here.
I truly enjoyed my brief stay here at storage. The people were nice and Ii will definitely recommend their service to my friends and family.
The old couple who work here are amazing Bkes the couple
Great staff and good upkeep
The facility itself is spacious with easy to navigate. The hand carts they provide is a big plus, especially when transporting belongings in the elevator.
First month was not free, mandatory insurance and access not 24/7. Very hot in the hallways during Summer.
Excellent facility, excellent staff.
Best storage facility bar none. Management and staff are professional, courteous and helpful. I like the enclosed fenced-in building. Security features give you peace of mind. Everything is top notch. The price/s are very competitive. On-line email reminders, invoices & payments are a plus. Found this place by accident and I am more than happy with their service. Just wanted to add to my previous review. Nothing has changed in terms of the great service, clean facility and safe/secure environment. Far exceeds to the national chains. Also, the online payment system is very easy. Even better, the automated payment system works exactly as expected.
very helpful and friendly
Very clean and dry, well kept. Staff are friendly and provide excellent service. Surprised when they remembered my name after only one meeting.
Facility is always clean and well-maintained. Staff members are helpful and friendly.
Glenn and Lillian Phillips are great employees and have always helped me a lot.
They are very good service, helpful and friendly!
Always great service and very clean! Rates are great compared to other storage units I have had.
Clean facilities, easy access, and awesome employees. Love this place!
Clean facility and very well managed. Feel that my belongings are safe and well secured. Management is very knowledgeable and cares about their customers.
Awesome place! Managers of the Frederick location are very nice and friendly to their customers!
This was my first experience with a storage facility, when the original closet sized space I had booked was too small for my needs, Glen at EzStorage in Frederick knew exactly where to take me, he showed me a 5×10 space and changed my booking on the spot. He even made sure to give me the best deal available. He was friendly, helpful and attentive through every step of the process and he made going through all the paperwork easy.
I love this facility! It's always so spotless and Glenn and Lillian are amazing.
I stored household goods here for over a year. The managers Lillian and Glenn keep the place immaculate and free of insects and "critters", are very professional in their interactions, and I had no problems with accessing the facility through the drive through gate. I would highly recommend this EZ Storage to my family and friends.
I've been doing business with EZ Storage Frederick for about 4 years now and will be for many more. They have been very attentive to my needs and have been very open and honest about their rates, and rate changes (which are quite rare). They are military friendly, and the owners are very friendly (they remember my name and say Hi whenever I walk in) I HIGHLY recommend this place to a friend in need of storage space that will not try to rip you off. They will take great care of you!
This is my second time renting space here. Friendly, knowledgeable, and professional staff, clean facility and great prices. I love the extra security measures as well as the rolling carts by the big doors to help make moving items easier.
The site is very clean and well maintained. I have been using my storage unit there for about three years, and have always gotten great service, and the staff (usually Glen and/or Lillian) are always friendly and helpful.
This is one off the best storage in this are the personal is very nice and profecional
Excellent storage room facility! The facility is always clean and the staff are friendly and exceptionally professional. I've rented a unit here now for several years and never encountered a single problem. Always plenty of carts available for moving larger objects. Highly recommended!
I've been renting now at this facility for the past two years and have been very pleased. Glenn and Lillian are very pleasant to deal with. Friendly, outgoing and always willing to help. They work very hard to keep this EZ- Storage clean. Thanks to them for making this a great place to rent a unit.
Great place, clean, state of the art! Good prices! Secure environment as well!
Great place. Have stored my personal belonging here for the last 3 years and and very pleased with the service and facility.
My company has rented from Lillian and Glenn since we opened in 2014. Lillian and Glen are always professional and provide the most wonderful customer service. (that's why I never look elsewhere for our storage needs) The facility is always super clean and always has the right size storage unit when needed. I will not ever use another company.
Awesome place! Never had any problems!
This has been an great experience with the friendly staff and great services. I've been a member for 2 years and I recommend this location for future renters.
Reasonable price. Safest and cleanest
First, the employees are top notch - they should get a 5. Always willing to help as much as they can. Only problem is the corporate polices that are designed to be misleading. Best initial price you will find, if you play their system.
Great place, safe, climate controlled and conveniet...helpful staff......
Very friendly and always helpful. Great storage facility!
Glenn and Lil are professional, courteous, and friendly. The facility is clean and well maintained. I would not trust my family overflow to anyone else! 👍👍👍👍👍
Very clean building and service was above par. Between staff and building I felt completely at ease storing my stuff!.
This was the best storage location we have ever used. The management team, Lillian and Glenn, were so friendly and helpful. We were given a tour of the facility and it was explained to us why it is so important that some household items be stored in a controlled temperature environment. The management team also helped us to estimate the size of the units we would need. The facility is always kept so clean and has plenty of carts available. This is a first class facility managed by a first class team.
Great place. Clean. Safe. I feel comfortable being there personally and with leaving my belongings stored there long term. Wonderful staff. Honest people all around. I would recommend this location/ company to friends and family.
The Staff is excellent. This is my favorite Storage.
Great storage place. Super clean. I had a storage unit for two years. No complaints.
Wonderful folks and nothing but VIP services
Love this place, Glenn & Lillian are just the best!
Great service. ... Super good
Lillian and Glenn were excelling at answering all of our questions, very thorough, helpful and knowledgeable. The building is in great condition and they keep it very clean.
Friendly staff alway willing to help. Office is always cool in the summer and warm in the winter.
I have been renting a storage room at the ezStorage on Grove Road in Frederick, Maryland for nearly 5 years now. It is a well-run, clean, and secure facility. As a woman on my own, I appreciate having a storage room there because I can feel very safe going there alone even in the evening when I need to. The resident managers, Lillian and Glenn Phillips do a great job and are very nice people. They are very knowledgeable and treat all the customers with courtesy and friendliness. I recommend the Frederick, Maryland ezStorage to all my friends who need a safe, convenient place to store their belongings.
Very friendly staff specially Lillian she's always there for customers, very helpful and friendly.
Friendly staff, no hassle storage
I love EZ Storage Frederick not because of the place necessarily, but because of Glenn and Lillian! Their service is top notch. I like coming back because they are there. And the space is always clean, neat and problem free to store my stuff.
Very helpful and friendly.
Glenn & Lillian were such a pleasure to work with. They were professional and patient. If the need should arise in the future, I will definitely use EZ Storage. Thank you both!!
I've been with Frederick EZ Storage for over 2 years and counting. I chose this facility for many reasons. Location, cleanliness, and customer service were the most important. I've known Glenn and Lillian ever since I've been coming here. They are very professional and extremely easy to work with. They've always answered any questions I may have had and offered great customer care and service. I will continue to store here and look forward to seeing them and speaking to them any time I visit. I would also recommend coming here for your storage needs. They always seem to work with customers and their unique needs. I remember when I first started coming here. The unit I wanted was not available at the time. So Glenn and Lillian told me they would contact me as soon as the next unit I wanted was available. In no time at all, I was settled in and very comfortable with my conditions. Thanks again Glenn and Lillian for being fantastic people to work with! Looking forward to see you again!
I have had several storage units at other facilities but none compare to our unit in Frederick. We chose to drive the distance because of how clean and secure the units are and how friendly and knowledgeable the managers are.
My wife and I had a unit at the Frederick, MD EZ Storage facility for two years, before moving to NYC. During those two years, we came to know the managers, Glenn and Lillian Phillips. They were always friendly and helpful, and made the facility feel more like a second home. When we left NYC, we moved to Germantown, MD, about 16 miles or so from Frederick. And even though we have an EZ Storage facility about two miles from our current home, we went back to the Frederick facility because of the rapport we'd established with Glenn and Lillian. They welcomed us back like long lost friends. Lots of companies have storage units available, but it's the people who work there that can make a tremendous difference. And the Phillips do just that.
I have had several units at this facility and have always been impressed on how clean the place is. The front staff is friendly and treats renters like family. This facility is not the closest but it worth the extra few minutes to get to.
I have 2 units with them. The owners are frendly and helpfull. Any time i have a question they are always polite and answer it quickly.
Mr. Glenn and Lillian Phillips are very good and courteous managers, who are very helpful with any question I may have. The facility is always clean incuding the restrooms and the carts. I definitely will let friends know about this facility that is user and customer friendly.
Nice staff, Clean facility, and reasonable rates.
Nice place to store your important stuff had my furniture store there for 2 to 3 years