Public Storage Self-Storage Units at 76 Captain Neville Drive, Waterbury, CT
Address
76 Captain Neville Drive Waterbury, CT 06705
Property Open
Mon-Sun 6:00 AM - 9:00 PM
Storage Facility Features
Climate Control Storage

Car Storage

Small, Medium & Large Storage Units

Indoor & Outdoor Storage Units

Property Manager Lives On-site
Property Open
Mon-Sun 6:00 AM - 9:00 PM
Storage Facility Features
Climate Control Storage

Car Storage

Small, Medium & Large Storage Units

Indoor & Outdoor Storage Units

Property Manager Lives On-site
Close Location Details
View Location Details
---

5'x10'

---

5'x10'
Nearby Self-Storage Locations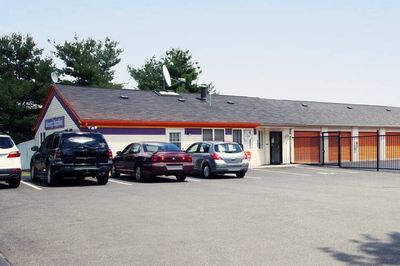 Self Storage Near
100 Spring Street
Southington CT 06489
Self-Storage Near Waterbury
Resources from the Help Center
See what fits in different storage unit sizes
Waterbury Storage Units Near I-84
Storage units in Waterbury are just off Austin Road at I-84. Indoor and outdoor storage units with drive-up access are available in a range of sizes. Just look for our Public Storage Orange rollup doors for cheap storage near downtown and Naugatuck Valley Community College.
Waterbury Public Storage has indoor and outdoor storage solutions to fit a range of needs.
At Public Storage, You'll Always Find...
Keypad Access

Friendly Staff

Month-to-Month Rent

Moving Supplies Available

Free Parking

Well-Lit Facilities
Reviews
( 466)
I had a rent increase and Sterling helped to get the increase pushed back for a couple of months. Thanks Sterling, I really appreciate it so much.
Sterling and Steve were great, they assisted me with great hospitality and knowledge about my storage unit!
Just want to say Thanks to Steve for great customer service it was my first time renting a unit and he made the whole process go smoothly
The employees are rude, lazy and unreliable. Called several times no call back. Stopped by to speak with a man who worked there who was not only rude but walked away while I was talking. The next day I arrived with a moving truck and was promised that construction would have been done to only have to wait 30/40 minutes and had to be charged $300 more for the movers to sit abs wait to be let into the guy by a worker who never showed up. Construction had to let movers in. To top it off I called all to upgrade my unit knowing nothing would fit once I saw it. Do to the worker never showing up I couldn't get into an upgrade and was forced to leave 2 items which one was stolen abs belonged to my child. Don't wasn't your money they over charge but can't afford a single camera. Unprofessional and completely unreliable
Got a storage unit to hold my motorcycle, and after the first 2 months, they kept raising the price every month after that. Spoke to the guy at the counter. Said they had 17 other people moving out as well as us. Cause of that issue
Clean, safe, managed well. Good value. Property manager Steve is very competent and is always available for any questions or concerns. I have renewed my lease due to Steve's assistance.
I have to give a shout out to your employee Sterling! What a nice and professional man! He took the time to explain everything to me in detail and even showed me the space available. I wound up not renting a storage space due to changing my mind but I really want you all to know that he is a GEM of an employee! You rarely get such amazing customer service anymore. I hope he gets a bonus!
Very friendly and helpful staff, they go above and beyond!
The storage places are OK. It would be much better if they had 24hr access.
The prices will go up ever couple of months try another storage place
Strange problems with access, elevator and no carts.
How much would I have to pay today if I remove everything from the unit
Mariah was polite and helpful. Thank you for helping me get a unit Some people give bad service and I did not recieve any of that here.
Mariah great customer service. Showed me how to do everything online. Also good selection of a unit. A+++ customer service
Mariah was good. She was patient with me and helped with all of my questions ! Thank you
Maríah was Great and helped with my transfer!
Mariah was very good. I'm always happy to come here and pay and she helped me get a second unit !
Mariah helped me so much!! The unit I got was too small and she helped me get a bigger one fast. Would recommend this place for everyone!
Mariah was a relief I went somewhere else before here and they wouldn't even let me see the space Everything has not been going great She was so patient with me when I had to transfer compared to other places Thank you
Mariah was the sweetest girl and so very helpful. Thank you so much for being so helpful I know its not easy dealing with me always thanks for being patient with me
Mariah was a 10! 5 stars. I swear I should have rented here yesterday instead of other place !
Management is helpful and maintenance is swift.
Mariah was amazing during my move in process! She was so helpful and made it so easy. She is very knowledgeable and explained to me the whole process.
Mariah was awesome and very helpful Very pleasant.
Mariah was excellent she helped me with out an attitude! Wow
Mariah was very nice and kind. She spoke to me so I can hear. She was very helpful!
Mariah was very helpful it was a great visit Thank you
Public Storage is VERY lucky to have Mariah on their team. She was extremely kind, polite, and took her time to explain things clearly throughout my rental experience. She is committed to keeping the customer happy. Even when I had trouble with the slide lock to my unit, she came out personally to assist (successfully !) and followed through until we were able to get the maintenance staff provide a fix a few weeks later. (throughout the wait, she provided status phone call updates on the progress) Mariah is a true professional and very knowledgeable of her job -- from hands on maintenance, to using the mobile app, and a very smooth close-out process when we vacated our unit. Mariah is an asset to Public Storage because she cares about quality customer service.
Great experience with Mariah at Public Storage!!
I wouldn't recommend this storage to anyone
Mariah has been really great She has been super friendly and super helpful I'm no good with electronics so setting up the app was not fun! Thanks so much:)
Mariah was the coolest person I have ever met. She helped me go through the rental process in no time. She explained all so clearly. I was very nervous before I got here. I am glad the services provided. Highly recommend
Mariah was amazing she is always willing to help thanks so much I appreciate it so much
Mariah was awesome we love her She helped us get going and also feel better than we did before visit ! Storage was easy to find
Mariah was amazing. I was able to get storage at a very good deal!
Mariah was ready to solve my issues and so helpful thank you for helping me set up the app !
Very polite and friendly, extremely helpful and knowledgeable
Mariah was excellent thank you for your time I went to three storage places before this
Mariah was very polite and she took her time showing me and teaching me what I need to do to get in and out of my storage thank you for being so helpful
Mariah i was a good aspirins very friendly n helpful
Mariah was the best She helped me with the e-rental and she really cared to help and make sure I understand. Thank you !
Mariah was amazing she has an amazing personality. She made the process so much fun !
Mariah was awesome Even though I thought the process was going to be quick She made the process painless! Thank you very much I appreciate your help and kindness.
Mariah is was great she is the best when it comes to caring and helping u out
Mariah is the nicest most helpful customer service person I've met in a very long time. She's always smiling, genuinely kind and very helpful
Mariah great to work with good information. Great at her job. Very helpful and resourceful
Mariah was great helpful. Answered all my questions thank you for your help.
Mariah is always so happy to help me ! She is always dedicated when resolving any concern I have.
Mariah was pretty helpful with the storage process. Had some issues with the payment not going through at first but Mariah was passionate enough to not only figure out what was happening but also made sure payment process went through finally. Great rapport and made the visit less stressful.
Mariah was awesome. I wouldn't still be standing here if she wasbt. She helped make a reservation for a space at another location that had drive up option for the size I needed ! Thank you.
Mariah was great helping me with my issue She was kind,helpful, she has her mask on for safety but you can still hear the kindness and happiness through her voice. I did an e-rental and I didn't want an upstairs unit she went above and beyond to help get a unit on first floor to fit my convenience needs, my location needs and keep it affordable. Thank you so much.
Mariah is a great property manager ! I'm a vendor for public storage She is always happy to answer questions & every customer I have seen her with she has been so kind to
This place is very humid. A family member of mine had their things in there for less than a week. many things were moldy because of the humidity. A bad place to put your furniture!!! Please don't ruin your furniture by leaving it here.
Mariah had great service She was fast and great price!
Mariah was i great help and very friend. Very helpful about all the information you need to know.
Mariah was good & was so easy to work with. Thank you! I was at another storage place and the woman kept saying idk to all my questions. Mariah was happy to answer all my questions with out a problem
Sarah was amazing. Great customer service!
Mariah was very helpful and kind. I really enjoyed her service. She was very professional.
Mariah was very friendly and explained everything that was needed for the storage Excellent employee. She went above and beyond to help me.
Mariah took the time to solve my problems ! Thank you
Mariah is a well good person and was a very very nice.She knows her job very well.
Mariah was very nice & very polite She was very easy to talk to I was amazed by the customer service & she was efficient while answering questions Thank you !
Mariah was very professional and helpful. Explained everything clearly and took care of my rental quickly and efficiently. Great job!
Mariah gave us good service! Thank you very much
I was having a rough day and I came into office mariah was so generous and understanding.
Mariah was great customer service.
Mariah helped me log in to the Public Storage app. What a great new feature. She is always so happy and ready to help thank you so much :)
Mariah was great. She gave me all the information I needed and the bathroom was nice and clean. Thank you so much!
Mariah was awesome. Got all the answers we need and more definitely recommend public storage.
Great manager good prices, very organized and sevured.
Mariah was great and helped me find my unit she also helped me download the app
Mariah is always smiley and ready to help. She helped me set up my app so I can start paying on my phone.
Mariah Always take 100 plus percent care of me. She is totally welcoming and warming & is such a blessing in disguise. Thank you Mariah!
Mike was a great help. He was very informative and very helpful. The experience was great.
UPDATE 2.0 Public storage and reached out to me and addressed all my issues and concerns. Great to see them take care of their long term customers.
Decent storage facility, very good prices for the area...
Mariah was very welcoming , and was clear about everything I need to know . I'm glad she was the one who took care of me !!
Mike and Mariah are true professionals. I appreciate all their efforts to making my first time using Public Storage a pleasant one.
Mariah was so friendly and very welcoming. Her customer services skills are up to par. I am grateful to have got my storage space with public storage.
Mariah treated me so good! She did a great job with my move in.
Mariah was very helpful and informative.
Mariah was very helpful She helped with everything I needed help with to move in. I really appreciate all of her help!
Mariah was great! Super customer service easy quick rental!
Mariah gave me excellent service I am not great with the internet and did not want to move in today so she helped me complete an e-rental. She was so patient with me and all my questions!
I stored here in the summer and just came back to look at a few units as I may be moving Mariah was such a pleasure and so patient answering my questions to see if I will need a larger space or smaller space. I would recommend this place as she made the experience stress free.
The best property manager im thankful!Mariah was so understanding so sweet!
Mariah my visit was handled very well and it was very knowledgeable and I would recommend other people to come to this storage provider
Mariah was the best helping me with the unit i need! Thank you!
The service was very efficient I loved being treated so nicely. Mariah is s tremendous employee.
Mike was helpful and helped me with the reservation making and got me in the unit i needed!!
Mariah Was very helpful with my needs thank you for your help
Mariah was very help with vacating a unit. She was very nice and able to solve our problem.
Mariah did an excellent job with my move in today! Perfect
Mariah was great Just signed up for new space Process was smooth, she helped me quickly and was so nice. I would highly recommend this property based on customer service in general. Thank you for your help today!
Mariah was great she is super friendly and helped me protect my mattress to keep it safe while in storage!
Mariah is wonderful! She is always happy to answer any questions I have and making sure my experience here is going well.
Mariah was professional and a delight to work with. Very knowledgeable. She's a keeper
Necesito pagar la factura como lo hago
Mariah she is perfect for your place of business very helpful great with customers thank you for having her there
Mariah- we had a pleasant experience with this young lady she was very helpful and informative. She made me feel very comfortable and for that I thank her very much.
Mariah was very helpful, and pleasant to do business with. Always has been reliable since day. Highly recommend renting here!
Mariah was very. I give her 10 stars. She was super pleasant. I was 30 minutes early and she was happy to take me!
Mariah and Mike were very pleasant! I had to leave and come back and they were super patient! Very informative about how to keep my stuff safe in storage and are happy to help with any future questions I have! Highly recommend!!
Mariah was great and everything was done so timely. Great customer service. I highly recommend.
Mike was great showing me the unit and very good explaining everything
Mariah was great, had an issue with my lock and she got it fixed right away! Great experience!
Mariah I loved Mariah!! She was extremely friendly, helpful and charasmatic. I would live to work with her again!
Mariah helped me set up my online account and was a great help! She is always happy when I come in and makes me feel welcome!
Mariah was extremely helpful and energetic. I reserved a 10' x 10' unit and she was sure to provide me with helpful information regarding the safe storage of my items. I strongly recommend checking out this location if you are looking for a convenient storage location and friendly staff.
Mariah is the beat very helpful and friendly
Que necesito para obtener un store para una moto
Mariah was so wonderful and answered all my questions. I am very thankful that she made this process quick and painless and relieved my stress for my move.
Mariah was helpful great costumer service highly recommend place
Mariah is a great helper.
Mariah she was amazing help!!
Mariah was excellent, she is very nice and patient with me!
Mariah was super helpful and made sure I was very comfortable and informed before signing my lease... Thanks again mariah
I'm giving this 5 stars based on the amazing deal on rental rate that I got online plus the size of the unit but the facility itself I would rate probably 4 stars, they should have extended hours for access since 9pm is too early, 11pm would be ideal.
I've been going here for years and I've never had a problem thanks to their outstanding team with a special thanks to Mariah for all her help and kind demeanor. I'll definitely be here for a long time and recommend the space to anyone looking to store.
Mariah was very nice and polite . She helped w everything I needed . Thanks A lot MARIAH .!!Youre Greatttt.!! 👍🏽😄
Mariah gave great customer and was very flexible gave me great service!!
Awesome customer service by Mariah nice units well kept
Mariah, was awesome. She gave us an excellent service will defined recommend
Mariah, provides outstanding service and support. She is on top of everything and willing to help customer in any way.
Mariah was such a great help. Excellent customer service!
I would to thank Mariah for extraordinary service, since I stepped in the office until I left. She is very knowledgeable and made me feel confident that my household will he safe here.
Great service Mariah was excellent
Great friendly service and they have all your moving essentials. Units are spacious and well kept. Can't lose, Mariah thank you honey.
Mariah was so sweet and helpful with the setup of my storage unit. Very professional place. I highly recommend!
Mariah was pleasant and easy to understand!!
Mariah was very friendly and helpful all we t quickly and easily
Mariah was very helpful and knowledgeable
mariah helped me & my mom out today very well and in a orderly timed fashion I like her you guys should keep her around lol great customer service will be referring you guys to other's!!
Shara did a fantastic job with everything i needed and needed to know about public storge. Wonderful and friendly person to work with.
Sarah was very good to me
Sarah helped me get the best unit I need and for a good price , fast and quick . Def recommend storing your things here !
I had the pleasure of working with Sarah she's was very kind and explained everything well and quickly would recomend.
Pricing is terrible, I paid over 100 dollars for the smallest unit. They trick you at the beginning with saying one month free and then only 50 dollars after hit increase it every month. Customer service is terrible. I had to speak over the phone and through email multiple times, every time went badly. I do not recommend using this location.
Sarah & Paula were patient, lovely & kind with me! They were very informative and friendly. No issues what so ever and they made everything so easy & fast! ALSO, the customer service lady was VERY kind & VERY helpful !
Sarah was very helpful and patient!! We love her!
This place is amazing, Sarah and Mike were very helpful and understood my rush of time. They got me in and out, made products available if I need it and HOOKED ME UP. Thanks guys!
Sarah was very helpful and courteous, would recommend!
Sarah was very informative n very helpful. She make sure I had the information I needed it. She was wonderful and I will recommend her n this public storage.
Sarah was friendly and helpful, I would highly recommend!
Sarah was fantastic! 2 seconds after I filled out the online form and hit submit Sarah called me and explained everything perfectly. She has a great personality, you can tell she loves her job and loves helping people. Her promptness and her ability to explain everything in a pleasant, concise way is how you gain customers. Great job!
Mariah was an amazing help. It was an amazing first time buying a storage
Great place awesome location
Excelentes espacios limpio seguro al alcancé de su bolsillo
Sarah was a pleasure. She help us get everything we needed Thank you sarah
Thanks for your help today , great experience with Ron & Sarah
Sarah was helping me and my mom. She was very informative and did amazing with informing us on everything. She was super and I appreciate all the help. Need more workers like her.
Very friendly and professional. Storage is very clean and big.
The property it clean and the employees is very nice and helpful
Met with Sarah today to discuss and view storage space at the Waterbury location and she was informative, friendly, knowledgeable and helpful in deciding what my needs are.
Great customer service from Sarah
Sarah was very accommodating and helpful!
Sarah was helpful and vey friendly. Thank you.
Sarah was incredibly helpful and even stayed to help me when she was supposed to be off work. Great service.
Sarah was very helpful and friendly. I highly recommend.
Paula is always helpful and pleasant when I come in to make my payments. Sarah was pleasant to work with today.
Sarah and Paula were amazing, helpful, and friendly . I would recomend them over anybody else
Mariah was amazing and was superfriendly and fast with everything
Service was great. Mike was helpful and knowledgeable about which size unit to rent for what I had.
I just booked my reservation with Mariah and she couldn't have been more helpful. She took the time to walk me through the process so it was a zero stress experience. Awesome customer service.
Mariah went above and beyond!
very happy with the service there. the young gentlemen that works their is always polite and helpful when i stop in.
Paula was great with helping me get set up! Fast and easy☺️
Very good customer service, great price and perfect location!
Great and friendly customer service
Paula was fast and efficient and courteous
Paula was a great help. Quick and easy.
Paula was so great to me got a storage box in minutes !
Excellent service Mike help me in all show me the space and ask me all i need for give the best service...im recommends him good service
Paula was very nice helpful
Excellent service. Mike was very helpful and explained everything to us.
Paula was very helpful in showing us the sizes and helped make the right choice. Very nice
Michael was very helpful, explained everything in detail and made getting a storage unit very easy, & without a hitch.
It was easy to locate. Very easy to reserve on line, prices are very reasonable. Mike was very pleasant and knowledgable. He took the time to explain everything and helped me with the right size unit. I highly recommend this facility when looking for storage.
Paula was helpful in getting us the right size for our needs and items to help protect our stuff.
Paula did an amazing job with my storage
Great place, Mike really took care of me. Professional and very polite guy. Glad to rent from Public Storge.
Excellent service! Very helpful, great price!
Very friendly and helpful!
Hate having to do stairs or elevator and for the price very small unit
Great service quick and easy and the workers are friendly i highly recommend
It was a nice experience Mike was very helpful.
Paula is super friendly and helpful!
Thank you Debbi for helping store and protect my
Great job Debbie I really appreciated your knowledge of the proper way to pack and store my items.
I rent storage there, and having had any problems so far.
Paula was wonderful helping me get my new storage unit
Debbi is always friendly and helpful
Debbie was awesome to works with. Very nice and explained everything well.
Greg is the worst. The place is the worst. There was no snow removal and my unit was block by the previous snow removals snow pile. It took weeks to thaw and gain access. Also there is supposed to be lights in the unit but apparently there was an electrical fire and they don't want to repair the electric. Finally I vacated on the last day of the month and Greg must have forgot to do what he was supposed to because now they are sending me a collections bill asking for the month after I left. DON'T GO HERE!! You can't even pull up to the keypad. You have to get out of the car.
Debbie was fantastic today in a major time of need
Very. Ice place Debbie n Greg. Very helpful.
They hook you in with a reasonable price and then on June 2018 the rent went up 15%. Now on June 1, 2109, it went up another 16.6%. With horrible or non-existent maintenance with lights out and hours late snow removal to name a few.
Customer Service is AWESOME! Paula was GREAT‼
Lean location. Friendly staff. Convenient to the highway
Awesome experience at the waterbury location. Greg is very polite and most helpful.
Greg is the most professional and thorough person I've ever met. Very direct and helpful. I felt safe leaving my personal and precious things there. I'm grateful to have met him
Greg has great customer service!!!
Great experience moving in! Greg was extremely helpful.
Why is my storage cost up over 20 dollars. Same unit as when i started.
Paula helped us wonderfully. Made the process super easy and simple. We left feeling informed and confident leaving our belongings there. Will definitely use them again.
Greg saved me 65.00, also property was clean and he was very nice and detailed.
Greg is helpful and thorough. Got a good promotion for signing up online! Paid $1 for 1st month.
Paula was very kind and helpful with finding the right unit size for me I appreciate the help alot theyre great service
Debbie was a great help Nd wonderful
Paula very helpful Thank you
Paula was very helpful a d courteous. I was able to get to my storage unit without an issue and my check out was hassle free. Good service
Greg is one of the men's to keep around He's a sweet heart Thank you
Greg was a big help and the service was wonderful. Very informative and gave useful advice about the unit plus items being stored there.
Greg was very helpful quick and easy experience and I appreciated his help during the whole process. Quick and easy and I'd recommend it to anyone.
Paola was very good nice and helpful
Greg is very professional and helpful.
Greg and Paula superb people to deal with, excellent service, the facility is neat and very nice to talk to.i was confused when I got there to talk to them but I left with a lot of relief and happy to have talked to them.
Great Staff, and very responsive. We would recommend this location for short term and long term storage to anyone.
I have been very please d with my dealings at this public storage.I just was assisted by Becky on a billing question which involved some research and she was warm,lovely and got back to me immediately to offer me the info I needed.Highly recommended!
Greg was very helpful with all of my storage needs. He was knowledgeable and pleasant. I would definitely recommend public storage.
Customer service was great. All information was well explained. Thanks Greg for the help and support
Greg,very informative pleaser, and professional.
Visit was very nice. Staff were very friendly, informative, and peompt.
I am so impressed by the manager Greg every time I need something he is always there to help me with a smile public storage is very lucky to have him on staff he goes above and beyond the call of duty I'm also happy with the building set up and I love the fact that I'm able to access my unit whenever I need to thank u for providing awesome service it's greatly appreciated.
Greg was very friendly and helpful. Covered every detail
Greg has been so helpful and kind. Please note he was the best ever .
Very good service so far! Merry Christmas
Exelent service by greg. Very through on explaining the policies and very helpful.
Grey paul where very nice people helpful. Very clean place thank you so much
I'm appreciative of who I spoke with today for trying to help me find a unit. There wasn't my size available but he did what he could to help me out. great guy very helpful.
Place was clean and the Manager was very friendly. Would highly recomend. Saved 73.00 on my move in.
Greg was awesome, very knowledgeable. Went above and beyond!
Store Manager Greg was super friendly and very helpful this storage is very affordable and the service i experienced was very professional i will recommend storing with Public storage .
Found this place on google in Waterbury based on pricing it caught my attention. When i arrived I was greated by Greg, even though it was near closing time he took his time to show me a unit and explained to me pricing. What I luke like about this was the knowledge he had and the great customer service he provide. Unit and area where clean and it the office smelled good.
He's amazingly friendly and super helpful. He made the check out extremely easy and I highly suggest using here if you need a storage unit. Greg is the man you want to talk to.
This is a great place to store anything! It's been a great price and the manager Gregg is super friendly!
It was a pleasure renting a space from public storage Greg was very helpful and got me and my husband set up with everything we needed I would recommend them to anyone looking for great service
Very informative! He thoroughly explained our options and recommendations. Assisted inna very courteous and respectful manner.
Greg has a passion for good customer service. We stored our household items here for over a year and always felt safe and secure. Greg explained to us very well how to store things so that mold would not damage them. We just cleared out today and are very satisfied.
Greg provided me with great customer service. Fast, courteous and knowledgeable. Thank you!
Just had the pleasure of renting a storage unit for only $1 the first month. Had a great experience with Greg, the facility Manager. He really knows his stuff.
I really like this facility, it's well maintained and the Manager is amazing! He takes pride in keeping the facility clean. He always have a smile on his face and is always willing to help. He's a great manager and a great representative of the company.
Incredible experience with the property manager of this facility. He went above and beyond to make my stay smooth and easy. Great customer service and great rates. Definitely would recommend!
Greg was amazing and friendly , is such a well maintained place to have storage.
Excellent customer service. Greg was very helpful in setting me up with my unit. Keep up the good work. Would highly recommend to friends.
Friendly and prompt service. Needed a storage space in an emergency and they were very accommodating.
The prices are expensive but the staff is great and very helpful.
Greg was very polite and accommodating. Highly recommend for anyone looking for storage.
Greg was so friendly and helpful especially with the things that I need to protect my belongings.thank you.
Greg always is friendly and able to answer any questions. The property always is clean and in great shape.
Had the unit for 3 days, no refund of any sort and a lot of hidden fees when you sign up. Avoid.
Great assistance and staff. Very happy with Greg and Paul
Very professional friendly and accommodating.It definitely makes me want to come back for future storage needs
Greg was awesome. Very helpful and knowledgeable! Thanks!
Came in inquire about renting a storage space. I'm not ready to rent yet but this will be where I will trust my belongings in the future. Greg was awesome and made my day a little better.
Clean, safe and secure. Greg made my move in process so easy and made the whole experience stress free. Highly recommend.
Paula and Greg were wonderful. Greg showed me the unit. Explained everything to me very detailed. Facility is clean and nice. Very friendly. Pleasant experience.
Very friendly location, great pricing and informative.
It was a great place to come get a storage for my vehicles. And they beat the competition hands down on the price per unit. Thanks Paula for all your great help.
Go to Public Storage in Waterbury, and see Paula. Great customer service!
Was a customer since 2005. Just closed out my account today. Very smooth transition. Greg was fabulous helping me close out my account. The facility is always clean. Tight security! 5 stars!
The manager at the facility is very helpful and knowledgeable individual. Public storage should be proud to a him there. I know I am. Thank you Greg.
It property the nice and clean all the time. Greg it very nice and polite to me.
Greg was very helpful in my process of finding an ideal storage unit. The property was clean and well maintained I highly recommend this location for any of your storage needs
My name is nelson and i had a very good experience today!! Great service!!!!
Great facility, an great prices. Service from the manager was excellent...!
Ron did a great job! Nice guy and friendly.
Here at Public Storage Waterbury Connecticut, Greg an employee here, great customer service always on time property is always clean never a problem an always got a smile on his face
Great aswome appreciate the service
The manager Mike Flynn is very knowledgeable and helpful.. Make him CEO...
Great experience! Mike, Greg and the rest of the staff were super helpful. The auctions were great as well. Recommending this Public Storage to any friend or family member looking for storage!
I would like to take a moment to thank beatric for all her help i am new to town and entered the facility alittle fustrated due to my new living arrangment and may have took alittle of my dustration out on her...even tho that is not like me ..she was very understanding and her smile very warm and inviting i was able to get all my questions answered and was even given a tour i was surprised on how clean the facility was and was so greatful for all her help thank you beatric hope to see you soon for the unit havd a blessed day
Was helped to the max! Greg was such a big help and even gave me tips to keep my items in storage safe and damage free. Was very kind and very helpful!
Greg was super helpful and kind when we were purchasing a storage unit. Prices are reasonable and location is convenient, right off the highway.
Gregg was very helpful. He was prompt and knowledgeable. He was helpful with Storage information.
Greg was very informative and provided me with best options for my particular situation. I highly recommend this place
Greg was awesome, very helpful. Go Greg
Customer service was excellent. Every question I had was explained carefully and thoroughly. I feel good knowing my valuables are safe.
Everything went well except there was a large lip at the entrance and it made it harder to pull the cart thing in when it was loaded with stuff. Sorry I don't have pictures of the lip
I look forward to speaking with the property manager Greg Wood. Always so pleasant, informative and a great people person. Give that man a raise! I just love my experiences with him whenever we meet.
I recommend this storage to everyone that needs a storage...I went there today and Greg the manager was very kind and helpful...I was going to rent a bigger storage than what I need so not only he gave me ideas of how to storage my things but he also helps me on saving over $150.00...great customer service...clean and convenient storage...I had a great experience and recommend it to anyone...
Greg is an outstanding man and great representative of Public Storage. My sister has had a unit there for many years, and he's been nothing but helpful, supportive, and resourceful throughout the time, and a true professional and friend. High, high praise.
Very Impressed with this Public Storage facility! Greg was so efficient and kind. I had my unit rented in 10 minutes and although I wanted the smallest unit I could get-Greg counseled me on what I was wanting to store and how much I thought I had. So happy he took the time to help me with this. He was correct. I would not have made it with a smaller unit. I had No idea I accumulated so much stuff over 12 years at my last place. I highly recommend you go in and see Greg if you are looking for a storage unit. The hours are perfect and the whole place is clean and well lighted and secure. I am grateful for this experience. Thank you Greg!!
Great services !!!!very friendly
This place is awesome cheaper then other places out there and great customer service I will definitely will rent from here again ...
Very polite and friendly staff. Clean and reasonable storage space.
The service was great. The manager was very helpful.
Greg was good to me and very helpful.
I got all the help i need it. And all my question answer. Service was great!! Thank you! Greg for helping me with the correct unit. Ur the best!
They were fast and efficient. Very friendly.
I just rented a 30x10 storage unit and I thought it was actually his own business he was so thorough and informative thank you Greg
Service was awesome.Greg has excellent customer service skills and was very helpful.
Greg made sure that i was aware and prepared for all of the problems that can accure with a storage unit. Very polite and well organized. I will definitely will and have recommended public storage.
Worked with Greg, I could tell form the initial call to the facility, he is very organized. When I went there, the experience was great, everything was clear and explained very well, Greg is very helpful, thorough, and he knows the process very well. i recommend this location.
CHEAPER THAN UHAUL. GREG IS AWESOME!!!!!!
Greg helped us fine the adequate storage unit for our needs. He took the time to explain the pros and cons of the unit and his advise was very valuable. Should you ever need to get a storage you should defined come here. You'll definitely save money and get excellent service.
Great service. Fast and informative. Nice clean units.
Greg was great. Very professional and upfront. Definitely recommend this place for storage.
Easily accessible, well secured storage area. Greg the manager is very helpful and knowledgeable guided me through the process and regulations n gave me a lot of tips. To note that a mandatory monthly insurance fee applies which is not included on the website. Recommended.
Greg is such a great guy. He helped me out and didn't get annoyed with any of my questions. Would recommend to any one!
The representative Greg was very very helpful. He helped me to save money and get a reasonable sized storage space. He went over alternative storage space and and ensured I got what I need for the items I needed to store.
Need to clean debris .... always..... good staff...watch the pricing...
Worked with Ron today and he was absolutely amazing, great customer service and all around great guy to talk to!
Used Public Storage briefly transitioning between homes. East access and a decent rate. Would utilize this company again.
This was my first time looking for a storage unit to store furniture from my one bedroom apartment. I googled storage places and this one popped up so on good faith and great reviews I decided to try this one out. I can't say enough great things about this place and management. Greg the store manager who helped me and my boyfriend was phenomenal. He's very knowledgeable about the process of storing and offered us some great tips. Although, add-ons were suggested I didn't feel pressured to buy additional things and he allowed me ample time to read throughly through the contract before signing. We bonded over silly jokes, life advice, and the wonderful news of him having a baby boy. He compliments public storage well and I'll be sure to suggest this place to other potential movers. Thanks Greg and good luck!!!!
I looked up storages online an came across public storage. The website was easy and I saved like 50% off the store just by reserving online, which was one of the best parts. Made an appointment to go in and do all the paperwork and see the storage a few days later. Went in and the guy working is very nice and efficient, went over everything with me verbally showed me the unit and then we went to sign the papers and it was all set. He also gave me some good tips about keeping my furniture in good condition so overall I am beyond pleased with the storage and I'm glad that I found them online. He let me know how much my storage would be monthly when was the due date even told me to put a reminder in my phone so I would know went to pay and went to cancel. I would recommend them to anyone!
Greg was awesome & save me $105.. I will recommend this place if needed to
Was very helpful when I needed help with my unit. Available at just the right time!!!!!
Very close to the interstate, very easy access
Greg ..Very professional ,welcoming atmosphere.The only draw back of why four stars ,it does not have climate control.
He was awsome great customer service
Very friendly staff ..knowledgeable...print and professional 😊😊😊😊
The customer service is excellent.All is clean the facility and inside the office.The person attend me is very nice and explain all very good.Thanks,aprecciate
The office manager, made this experience for me one of the most pleasant ones that I have ever experienced!!! Not only was he super friendly and helpful, he was very empathetic towards my situation. I had to move unexpectedly and I came into the office stressed and in tears!!! I left this office smiling and feeling a lot better because of his helpfulness. I will definitely choose this company again because of him!!!
I would like to say I really like the storage facility, the guy Greg in the office is very helpful and always friendly
Greg walked me through the facilty. Explained everything fully and throughly. Process went very smooth. If I ever have the need for storage again I'm definitely coming back here.
Greg was very informative and friendly. Property was clean.
I am very pleased with my services today with Greg. He explained everything to me and was very respectful. Thanks for the great service.
Greg the young man on duty was very polite and helpful. I needed the bulb & pull string replaced and he happily took care of it within minutes.
Clean well maintained property with a friendly staff... Greg has always been extremely polite and informative he seems to know his job well... I would definitely continue to give them my business for any storage needs I may have.
Greg was very helpful and knowledgeable of facilities. Up front and descriptive and a pleasure to do business with.
Greg was extremely helpful! Get prices and experience!
Greg was very helpful towards me and my sister. I highly recommend anyone looking to rent a storage unit to come to Public Storage.
This is a great place and I will recommend it to friends and family and Greg is the best
Greg was very friendly. Price was great.
The property is clean and greg is always friendly.
Great place nice and clean. Friendly service.
Greg was very helpful and had great customer service.
Excellent customer service! Friendly environment and very patient with customers.
Property is always clean. Greg is always very friendly and helpful when I'm at my unit.
Greg was very helpful. The place is clean and they are very helpful!!! I would recommend anyone who needs storage to see Greg!!
I was provided service and info from Greg of property 26419. I must say i have never been happier with a company agent before. He provided me with great service and i recommend everyone to use Public Storage!
Taylor was a great help while I was trying to move out of my unit. She let me stay in the office while I made phone calls and had a truck pick up my things. Would recommend to anyone looking for a storage unit.
greg and taylor was really helpful respectful and kind this was my first experience and this location and im very satisfied
Very clean and extremely helpful ppl working greg is a very nice guy I
Excellant....Greg was excellent ! Very good experiance
Great customer service!! Greg was very helpful informing me of all available options and determining what was best for my needs. He spent a great deal of time going back and forth between two units and the financial cost until I made a decision. I would definitely suggest public storage to anyone looking for a unit. The location is easily accessible, clean, the cost is reasonable, and the staff is knowledgeable and friendly.
Greg is incredibly friendly and personable, i recommend any needing storage to come see Greg!!!!
Clean units. Extremely professional service representative. An asset to your company.
Awesome service, saved lots of money during a costly and frustrating move. Public storage made it easy thanks greg at public storage. In Waterbury ct,
greg was very good too us. he does a greatbjob
Prompt service even though Greg had a root canal !! Thanks
Greg was extremely helpful and friendly, and I highly recommend this location because of him. I'll definitely look for Public Storage whenever I need space in the future.
My experience was great. Greg was very helpful and informative. Everything was nice, easy and quick. I'd recommend them to everyone.
the property was clean.. the service was great and fast.. and the best part i saved $53 .. from the other places.. everyone. should come here...
Hello I just want to give blow a preview of my visit to the stores company I dealt with a guy named Greg and he helped me out the prices was beautiful I would definitely recommend this unit to family members and friends I look forward to doing business in the future with your company and also with Greg thank you for your storage facility text
Great prices, clean units and HIGHLY professional service!
I enjoyed that Greg was extremely helpful and very polite. .. the unit was clean and at a reasonable price.
Storages are clean worker was very polite very satisfied
After making a reservation for a unit via the internet, I was promptly called by Greg to confirm my reservation. I arrived at the office at approximately 550p, 10 min before closing. Greg was very accommodating and polite, and stayed late just to help me. He showed me 2 units and was extremely patient and kind. I am very appreciative of Greg for his help and the great customer service he provided.
rons the man. very very helpful
Ron was very helpful and made the it fast and easy.
Great customer service and price. Greg was fantastic, very knowledgable and professional.
I very seldom write reviews but my experience with the Public Storage on Captain Neville Drive in Watertown, CT and its manager Greg warrants sharing with anyone who is considering using this site as a storage location. The circumstances surrounding my need for the space was such that it would have been impossible to get to the facility, complete the paperwork and move in my son's items before the gates closed. Greg not only exhausted every possible solution, but he spoke with his manager to help figure out a way for me to be able to secure and move into a unit that same evening though I was traveling across country. He did this over a span of hours as I traveled from airport to airport. In the end, Greg came up with a way for me to secure my unit and get me moved in but it was at a great personal inconvenience for him. He refused a tip to buy his fiancé dinner or flowers. I offered this since the inconvenience was at the cost of him being away from his fiancé on a Friday evening. When I asked what I could do to thank him for going so far out of the way to help me, he simply asked me to pay it forward and show kindness to a stranger that could really use it. His act of kindness saved us from what would have been a negative cascading effect on our college tour plans that started the next morning in another state. I am so grateful for people like Greg who understand the impact of one act of kindness and generosity. I will pay it forward over and over. Incidentally, the unit was clean, the premises were clean and secure, and every detail about the rental agreement was covered thoroughly. Despite the fact that there were many steps involved in going over the contract, he didn't rush through it and made sure I understood and accepted each term. I would definitely recommend this property to anyone looking for storage in the area.
Love the customer service that was provided. Everything was nicely explained and with details
Greg was very professional and thoroughly explained the contract. The facility is well kept.
Greg was a good guy ! Explain everything step by step made sure the unit was the perfect one for my stuff thanks !! Nice and clean
First time ever renting a storage unit, I thought it was just going to be give me your money and here's your unit, but Greg from waterbury public storage walked me and my mother through everything and I feel at ease with where my belonging will be stored.
This is my first time having to rent a public storage facility. Greg's courtesy and helpfulness went a long way in helping me to decide to use this facility. Rental process was very easy and smooth. The property was very well maintained. I would recommend this facility.
Greg was very helpful. Hope the storage experience is uneventful. Good first impression
Greg was friendly and very helpful finding the right size unit for my needs. I'm a repeat customer and employees like Greg are why
I spoke with greg very friendly person made you feel comfortable leaving your property stored
I spoke with greg and he was very helpful and answered every question i needed answered i would defenitely would recommend. ...
Very well attender Greg was very helpful & clear about the process. A+ thx
The manager was awesome. However the company seems to use Frontier for internet. I have not been able to make reservations, call them on the phone etc. Kinda insane that the do not change to Comcast.
Desire & Greg was so helpful, they didn't have what we needed. But they was so helpful, friendly, informative..
I've used other storage facilities before. This is the first one that I've be to that I felt that they knew before I walked in. Grey & Desire' greeted me as soon as I walked in in unison. Although they didn't have the size I needed, they directed to where I could see get it. If I didn't have so much stuff to store, I probably would call back and check to see if they have something available and move it from the other facility.
My experience was great Greg was very helpful. He show me the unit and all the details I needed to know and got me in and out at a reasonable time
Greg was a pleasure to deal with. He shoveled the snow and ice from the front of our unit as well as changed the inside lightbulb. Greg's overall demeanor made it a great customer experience. He is definitely an asset to your company.
Desire was extremely helpful. Great location with easy on/off the highway.
Arrived around 12 noon Greg was very helpful and enthusiastic he answered all my questions with an honest straight forward answer. The unit I was looking for was not offered in Waterbury but he helped me find what I was looking for. He is an asset to the company.
Greg was very friendly and made my experience getting a storage unit easy ! I would highly recommend. This storage spot to anyone who is looking for one !
I like when I come down after a snow .its all nice and clean. the people who work here are nice.
great place! the guy who helped me out was very friendly and helpful, he explained to me everything very well. I feel good and secure leaving my belongings there. and the price is just right!
I found management at the site helpful and knowledgeable. Costs are competitive and the location is great. Looking forward to doing business with this company.
Greg was very helpful and made sure only paid for what I needed. Very convenient as well
Great service. The property manager was very informative and friendly. When I left my first visit I knew all I needed to know. Including some helpful suggestions. My rental space is very clean.
To start, Greg was a real welcome person and he explain everything to us. He even speak spanish to us and make us feel good. When we were doing the paper work , he was fast and did not waste any time on doing the paper work as he goes along doing it. He was courteous and friendly , in my words I call him Speedy Gonzalez, he knows his stuff.......in Speedy Gonzalez words, andale, andale, andale, andale, arriba.
The best storage facility that my family and I have ever used! The storage units and the property are extremely clean and well maintained! Greg and Sara are always eager to offer assistance to their customers! I highly recommend this location!
I had a great experience here at this storage. I was helped by a very friendly person named Greg. He is very helpful and kind.
Very satisfied with my time I used the storage unit. Greg was great with all his answers to all my question , would recommend to others.
Greg was extremely informative during the entire process. The office and the property were very clean and well kept. The key code gate and new locks for the units really reassured me that my stuff will stay secured. GREAT EXPERIENCE
It was an overall great experience i dealt with a man named greg and he was very helpful.very informational with which type of storage fit my needs.he was straight to the point and i didnt feel as if i was being hustled.will recommend to all friends in need of storage
Today Greg's help was great. He walked me through every step and made sure I understood all the paperwork. I have used storage facilities in the past and I have never received the service that I did today. Greg was polite, friendly and helpful. I registered on line and Greg called me ready to assist. I am sure that there will not be any issues or problems. Thanks to Greg!!!!
Professional, friendly, and great customer service. Greg went the extra mile to help me understand all the important details I needed to know and made sure my gate key worked before I left. I drove off feeling comfortable about leaving my things here. I recommend this place to anyone needing a storage unit.
Price is really good and I like how close the unit is to the highway. The staff there were very helpful and I never felt like they were trying to pressure me to make more expensive choices at any point. The unit I got was clean and it was easy to drive the moving truck up to. The only thing I took a point off for is that some of the units, including mine, seem to sit low on the property and water pools very easily around it in large, deep puddles. Also the overall area is very damp in any but the driest times so I recommend getting those dehumidifier buckets if you have anything that needs to stay dry in the unit because it is a damp area.
Very clean facility and fairly priced. Staff (Greg) was attentive and helpful and answered all my questions. Will use in the future.
Best storage place I've ever had!! The guy there Greg was so helpful and made sure we were fully satisfied, the website to facility program works great unlike other places I've been ,autopay program is awesome!!
Great service! Very friendly and welcoming! They offered detailed explanantions and prompt assistance during my sudden, unexpected need for storage space.
The place is very clean and user friendly. Greg was very helpful. He was very thorough with everything. I left today feeling happy and confident that my belongings are going to be secure. Thanks Greg.
We began renting our storage unit today and I could not be more confident that we are in safe hands. A thorough tour of the facility proved that units are clean, dry, and secure. Sarah provided amazing customer service, answering all our questions with perfect clarity. I highly recommend using this place for storage needs.
Sarah and Greg good staffs and good with customer service love going to this storage
Very professional staff. I would definitely recommend this place!!!
I've just begun renting with this location, after renting with a more expensive competitor for some time. Greg was incredibly accommodating to my needs. The units are clean, secure, and easily accessible.
I am extremely happy with the service and the customer service that I received from Sarah and Greg. While helping my friend move from NY there were many obsticals that came into the process, but one for sure that wasn't an issue was Public Storage, the went the extra mile and then some this was a move that was gargantuan.Both Greg and Sarah helped me to make a monster move turn out so smooth it was unbelievable. I owe a great debt of gratitude to these two who are the true meaning of customer service. I will gladly recommend Public Storage for my friends storage help and needs.
I have rented storage from this location before - Sarah was great and helped me get a drive up space quickly and a lock for my stuff. However I was driving a 26 foot u-haul - not used to that size - and the roads in the space were blocked with snow and hard to pass and go around - and at my final exit there were employee cars parked near the exit so customers could not exit easily. I hit Greg's hubcap slightly and there was a big scene that held me up time wise etc and the employee Greg reacted as if I rammed his car and totaled it instead of scratching a hubcap. Anyway cops were called etc etc etc which was unnecessary. - Solution = they need to get a space out of the way for employee cars and make sure there are signs telling customers how to exit properly with big u-haul trucks
i have rented from public storage before and every time i rent from them i am happily greeted by their staff everyone is courteous and friendly and i always do my research before renting storage units and they always have the cheapest prices around
I have rented from the Waterbury location since late September 2005 and very seldom visit my rental unit with the last visit possibly being some time early in 2008. Yesterday (12/18/2013) I actually had an occasion to go to the Waterbury location to move some items into the rental unit and found I didn't have a key for the lock on the unit. Initially the location office didn't have a way to cut the lock off of the unit and I was left with a car full of stuff and no way to unload it. I am visiting in but do not live in the region around Waterbury and not being able to move the items into my storage unit was beyond frustrating and unacceptable. My frustration led me to do the modern thing, take to Twitter, and I voiced my unhappiness. Almost immediately I had a reply from Public Storage asking for account and situation details. I e-mailed PS and within a couple of hours I was contacted by a representative telling me that the Waterbury location's district manager would contact me the next morning to get me access to my storage unit. Very true to their word I received a phone call from Doug, the district manager. He apologized for my inconvenience and he told me that later in the early afternoon he personally would cut the rogue lock off of my storage unit and shovel the snow away from the front of the unit. This is truly above and beyond. When I returned to Waterbury I was greeted by the young lady who is the location's manager. She also apologized and offered her assistance. All in all, what started out as a very frustrating situation turned into the true definition of customer service and my gratitude goes out to Doug, the district manager, and the staff at the Waterbury location. Thank you Folks.
I been with public storage for quite a while now and so far i had great service friendly staff and easy access to my storage, also very convenient around my location. So i say thats pretty good for me.
I started renting at Public Storage over 4 years ago with the intention of renting for a couple of months since they had a promotion of $1 for first month. Since I first started I found it very convenient with easy access that I just never left. The location is clean, has great hours, a light is available if needed in the storage area, and most important there is always a pleasant staff. Payment arrangements are so easy and convenient as I have payment arrangements taken out monthly automatically so I don't have to worry about running down there and making payments in person. I have no complaints and no suggestions for improvements. A satisfied customer and that is why I'm still there. Good job Public Storage.
it was friendly and very helpful...thank you so much for your service tonite and looking forward continue using this service!
Greg was very professional and friendly. He was a pleasure to work with. But I still think that the monthly rates are too high
The space is well maintained and the staff is fantastic. Everyone has been very helpful when I've had questions and Sarah is the best!
After looking around for a storage unit. I went with public storage because of the friendly service and the save and secure units. Also payments could be make online at the website or In person.
I've used this facility for my extra storage from an old apartment. I quickly got the storage space I needed at a good price, and the staff was helpful and friendly. It's always been clean and without hassles.
Im writing in lieu of all your employees and management at this location, but I'd like to especially say thanks to Manny and Greg, they were very helpful to me from beginning to end. they were Kind and courteous and most of all professional. thanks for having great customer service which is very hard to find these days.
Sarah and Manny helped me purchase a storage unit today. They were very accommodating and knowledgeable. Even though it was obvious that they were busy (with phones ringing constantly and many people coming in and out) they were both helpful and friendly to everyone who needed their assistance. Manny even took the time to show me several units when I wasn't sure the size I needed. I left today feeling happy with my storage rental. One last thing: Sarah and Manny would be twice as excellent if they had a second computer at their disposal!
Andie!! is a wonderful person she does a great job and i thank her for helping us out.