Public Storage Self-Storage Units at 299 Wordin Ave, Bridgeport, CT
Address
299 Wordin Ave Bridgeport, CT 06605
Property Open
Mon-Sun 6:00 AM - 9:00 PM
Storage Facility Features
Climate Control Storage

Car Storage

Small, Medium & Large Storage Units

Indoor & Outdoor Storage Units

Property Manager Lives On-site
Property Open
Mon-Sun 6:00 AM - 9:00 PM
Storage Facility Features
Climate Control Storage

Car Storage

Small, Medium & Large Storage Units

Indoor & Outdoor Storage Units

Property Manager Lives On-site
Close Location Details
View Location Details
---

5'x7'

---

5'x10'
Nearby Self-Storage Locations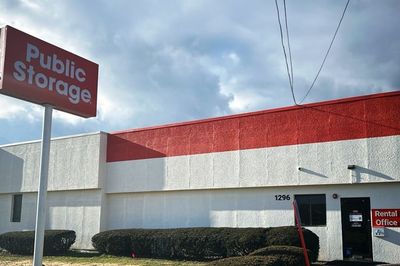 Self Storage Near
1296 Kings Highway Cutoff
Fairfield CT 06824
Self-Storage Near Bridgeport
Resources from the Help Center
See what fits in different storage unit sizes
Bridgeport Storage Units Near I-95
This Public Storage, located on Wordin Avenue between Interstate 95 and Railroad Avenue, offers a wide range of cheap self storage options for the Bridgeport community. With easy access from the Connecticut Turnpike, Route 8 or Route 130, it's a convenient location for any self storage needs, whether residential or commercial.
The storage facility offers indoor hallway-accessible units, as well as outdoor drive-up units for easy vehicle loading and unloading. A manager lives on site at this branch, and a keypad access code admits customers to the gated area of the facility.
Heading out to Seaside Park for a relaxing day by the water, or maybe to catch a concert? A 5x5 unit at this location is a great spot to store chairs, blankets and all the essentials needed.
For students at the University of Bridgeport, living on campus is a great way to enjoy college life - but not always the most spacious option. A 10x10 unit at this location can help open up a cramped dorm room or apartment.
Meanwhile, Bridgeport Public School families who are getting ready for a remodel can store everything in a 10x30 unit at this location, to make sure belongings aren't far from home.
Few communities can boast the unique historical attributes of Bridgeport - it's not often a town can claim to be the birthplace of the Frisbee and Subway restaurants and that it also once had circus master P.T. Barnum as the mayor.
With a special history behind it and a progressive future ahead for Bridgeport, Public Storage takes great pride in providing excellent self storage service to this community.
Amenities:
Friendly, professional staff available to assist
Moving supplies, packing supplies sold in rental office
Wide range of storage unit sizes, from small to large
At Public Storage, You'll Always Find...
Keypad Access

Friendly Staff

Month-to-Month Rent

Moving Supplies Available

Free Parking

Well-Lit Facilities
Reviews
( 543)
Elaine and Anthony were a great help prioritizing my needs, going above and beyond to help me get the best possible outcome for my storage space… thanks guys !!!!!
Anthoney was great, he walked me theu the place and got everything done fast. Thank you
Anthony was very helpful and answered all my questions I had a bout my storage even help me get a storage close to the other while I transfer. Get ppl here at self storage.
Elaine is awesome and so helpful. Thank you!
I got a space with Anthony and Elaine and had a great experience in office. I ended up getting a place sooner than expected and ended up not needing the unit. Anthony gave me the same professional treatment ont the way out as I got on the way in. They both make a great team, I no longer have the space but the impression they left on me was noteworthy. I will be recommending this place to anyone who asks, and if I ever need a space I know where I'm going! Thank you Anthony and Elaine!
Elaine & Anthony were very fast and efficient in completing the registration. Elaine was very knowledgeable with the sign up. Anthony was very thorough and precise while explaining where to go to my unit. Highly recommend this location. Rates are very reasonable compared to everywhere else.
Elaine was so awesome, very friendly, patient & very helpful. I wish I had this experience with everyone in customer service
Anthony has been a great help very perfessionall great attitude need more people like him working for you
I've was a customer of public storage for 2yrs+ never had a problem. On the last day I had a small issue with a piece of furniture, one employee Elaine came through for me, Elaine was professional and stayed in communication with me throughout the whole process. She worked on the issue and stayed on it until the problem was solved. Thanks again Elaine 😊
Anthony was superb, and professional. It was a pleasure working with someone who knows their business and provides high quality customer service. Thanks again!!!
Elaine was very professional and new exactly what I needed. Thank you
Elaine did an immaculate job explaining everything. Glad this location had such a well versed employee!! Super happy with my choice at Public Storage.
Anthony was really great he explained all that we needed to know. His customer service was amazing. He also had a great team member by his said Elaine. Great work Anthony.
I had a great experience with Anthony, a quick visit to the office turns into a refreshing experience !
Love the service that I received today by Anthony he was very helpful in helping me find a good space for me.
Anthony was super nice and really helpful with giving me information and directions !!
Im back again as the customer service I receive in this location is unmatched. Thank you Anthony and Elaine for all the help!
Since I have been renting here I've had no issues with my unit. Anytime I have any questions or concerns the staff there are very knowledgeable on they're line of work and always have the right answers. Thanks again for making this stay easy. Also huge thanks to Elaine for always greeting us customers when you see us.
Anthony and Irma were great!
After searching what felt like forever searching for an affordable easy to understand storage, I was able to get a unit with confidence and certainty! With also have the pleasure of meeting Elaine who helped me out tremendously! Couldn't be anymore thankful.
Elaine is fantastic thank you so much for listening to me and helping me with my needs
Elaine is so kind and helpful
Elaine is so helpful and assisted me last minute thanks again
ELAINE WAS EXCELLENT AT HER JOB! Great customer service and very welcoming and inviting! Thank you for accommodating my needs and getting things taken care of quickly!
Great service. Very helpful :) Elaine was very helpful
I actually rented in the Carmel location but stopped by the Bridgeport location to ask some questions I had regarding my lease. This office was so busy and she was by herself and still smiled and had everyone at ease waiting their turn. What impressed me the most was ability to multitask and still be so professional. Elaine is amazing!
Elaine Hernandez was completely amazing, knowledgeable, and pleasant to talk to!!!
Anthony's professionalism was stand-out! Was there helping a friend move in to a space and he helped us get everything together. He knew his stuff and he even checked in on us later as he was on his way to another space.
Elaine es muy amable, gracias
I just wanted to say public storage Bridgeport ct Wordin ave just bless me and made my day…Anthony and Elaine y'all Rock..not only was they professional with smiles as I walked in they showed me a great unit that I wasn't to sure about because of my furniture size well they directed me to the Fairfield location with help with my paid amount bigger unit and very convenient storage location please pat yall selfs on the back I am extremely satisfied with my visit to the public storage location I choose to store my belongings…
Anthony is super positive energy and extra helpful towards customers
Elaine and Anthony are an amazing team! Thank you guys so much!
Once again I love this place Anthony and Elaine are amazing
Thanks a lot Elaine and Anthony
Anthony and Elaine are awesome, the facility was clean and the move-in was easy!
Amazing service @wordin ave storage. Elaine and Anthony were extremely helpful with excellent customer service. Will definitely return.
Anthony has been an amazing help the service was excellent!!!
Anthony was great! This is a great facility!
Anthony and Elaine are a heck of a team! Great pair to have working together. Everytime I come to the facility not only do they greet me by name they always ask how my space is working for me. Customer service at this property is amazing!
Anthony went above and beyond to make me happy I was completely amazed at how much money and time he saved me ...hes such a wonderful person🤩🤩🤩
Anthony's and Elaine's customer service was excellent. Very helpful and supportive no matter what you going through. I highly recommend them for your services.
Anthony and Elaine are the best
Excellent service. Elaine and Anthony will walk you over the process of renting a space. They are very polite and friendly. Go and find out by yourself.
Great people friendly great customers clean storages multiple units
Multiple units great customer service very flexible with payments . Have supplies on property to buy if needed for storage
Great flexible with payments great customer service friendly nice clean privacy Elaine Definitely helped a lot today with a new lock for my storage and with my little fee that I had left they are amazing and today was truly a blessing (Alice)
Anthony got me into the right space fast and professionally. Thank you!
Anthony did a great job marketing and on boarding
Anthony Has Great Customer service. Very helpful, Kind, Respectful. Great Place
Very nice location, easy to get to, clean and well taken care of.
Anthony and Elaine were very helpful and friendly. When it came time for me to decide the right storage space to fit my storage needs, they were very knowledgeable and that help to put my mind to ease. I left public storage feeling like I made two new friends.
Hello everyone out there I choose public storage they try awesome to help out the customers And the staff is so great very professional with politeness Anthony needs a raise . I love public storage I feel that they're awesome the manager she's she's just an awesome person and she's well training people five Star All The Way
Elaine was super nice!! They are amazing! Helped so much!
I've been renting a unit for a little over a year now and Elaine has just been the best - the entire time! From working with me with payments, to helping upgrade my unit to a bigger one and then closing out my account once I finally moved. She's gone above and beyond to help me and I couldn't be more grateful!
Elaine and Anthony were fantastic!
Excellent Customer Assistance, & Also showed several ways the customer can save money!!!
Anthony was the most helpful sincere employee I've ever had the pleasure of interacting with. Helped us save money time and peace of mind. Made the stress of moving so much easier.
It has been a pleasure working with the team you have in place at the rental office during the time I have been here building the new 3 story building. They run a tight ship and clean facility. Elaine is great leader.
The ladies at the public storage unit were very professional and polite helped me find a great rate 10/10 would recommend ask for Irma
Came into the office asking some questions the ladies are amazing! I Will be renting in November
I experience excellence in storage services and Great customer service too. I Thank you, so much for your help.
This particular location offered way cheaper prices than all others I found in the region. I had an initial issue with my first unit, but Elaine sorted me out immediately. I've got an excellent unit now and the customer service has been fantastic.
Anthony was extremely helpful, helped me get a great space at a great price and answered all my questions professionally
Anthony was very helpful with all my needs appreciate his work. Smooth
Elaine is great and an asset to this company thank you for caring! Thank you Anthony as well I will be back
I am going to be new to Connecticut and I did a walk in. My experience with Elaine was punctual and very very accurate. She recommended different ways of stacking boxes to use less of a storage unit to help with my budgeting, she was considerate of my needs and was patiently answering all my questions. Although I did not rent on the spot she did make me aware of the renting process online. This is going to make my move wayyy easier. Great experience
Anthony was extremely professional in helping me with my storage needs. Thank you so much
Irma was great. She took her time to help out and understood the layout around everything storage related. She communicated well, properly listened to me and provided guidance when moving items to the storage. She checked in several times to make sure everything went well. Please give this employee a raise. Thank you Irma!
Irma was very helpful I was able to do my rental In Spanish and she made me feel very comfortable doing it with her. I would recommend Public Storage in Bridgeport to anyone. Thank you Irma
Thanks Alex and his professional staff for all their kind assistance. If you have issues, problems or concerns, they will help you! Would do business again. Blessings 🙌
Came to Rent a Space Irma was very helpful and patient with me and very sweet. Will recommend Public Storage to my friends and family. Thank you Irma for the Great experience.
Anthony was very helpful and friendly.
Today I went to public storage in wordin avenue and was helped by Irma she was very helpful polite and patient with me. And made me feel very comfortable I would highly recommend her to anyone who goes there
Irma and Anthony provided excellent service and are kind, friendly and easy to work with!
Irma is very professional and easy to work with, I have great experiences with this company Especially Irma. THANK YOU!!
Terrific counter person!I recommend this PS Site on Wordin Ave in Bridgeport Ct.Very professional and made our move easy! (A winner)!
Anthony was extremely helpful and kind! Hope to be dealing with him again next time I return!
Anthony and Irma are awesome. Great customer service and they really care.
Anthony was super helpful and understanding of our situation. Thank you.
Very nice people. Great customer service. Prices are reasonable.
Anthony he was the best help and so good with customers service he is a 12
Elaine was super helpful and she was very nice with everything and very exciting everything
Great company, everyone is so supportive
Mark its was extremely kind and helpful! Thank you Elaine and Markita
Elaine is absolutely the best ever. Easy to sign up, quick and efficient. 10 stars!!
Elaine was phenomenal! I came close to the close of business and she was so accommodating even still! Elaine you're a blessing!!!
Thank you Elaine for all your help
Brianna was a charm with us, she treated us very well and explained everything to us excellently, she helped us with everything since it was our first time renting a storage. Thank you Brianna!
Moláisa fue muy amable en atenderme me dio la información que quería muy buen trato
Thank you Elaine for all your help today
Need storage come see Elaine! Thanks again Elaine
Elaine super formal muy cordial muchas gracias por su ayuda 😍
Elaine was very helpful and friendly. She took her time to explain the process and walk us through everything. She is very knowledgeable and very accommodating and helped my dad stay at ease. I would definitely recommend this storage facility to family and friends. Extremely Satisfied!
I was highly stressed today and molaisa professionalism helped me leave allot more positive. She truly made this process very swift and easy. thank you so much my family and I appreciate it.
I never had to rent a storage space in my life. Elaine at this storage facility make the process so easy that i will recommended her to anyone who is looking for a storage space. Thank you so much Elaine.
My experience at this public storage with Elaine was unique. She is very friendly and takes her job seriously. Thank you for your excellent customer service.
Brianna was amazing. Great customer service, with a smile. I thank her for being patient with me with my account changes. I have rented from 2 other places before and always end up right back at Public Storage. I love them and highly recommend them to everyone.
Elaine is the best! She answers any and all of my questions that I may have. She gives wonderful customer support and service. I wish there were more like her!
A couple of weeks ago I came to this location looking for a specific size. Elaine took my info down and followed up with me and got me the perfect size at the rate I was seeking. You're amazing
Elaine was very nice and comforting. I would recommend this place to any one just because of her.. thanks a bunch!!
Elaine!! She was so kind. Everything she explained to me was spot on. Her services were greatly appreciated. We need more kind people like her in todays world
Thank you Elaine for all your help 6 months later and you have never changed
Tanya have been awesome for me at the Bridgeport location very satisfied
The rep Tanya was amazing assisting me.
Tanya was great, very informative and polite, a grateful asset
Tanya is very helpful . Glad she was there to help me .
Alayna she did a great job to care of me great customer service will recommend people
The manager Elaine was very helpful customer service was very goodThe facility needsAn upgrade in certain areas
Denishia is the cutest, sweetest customer service personnel! She is always hard at work, if not in the office helping people, I see her cleaning around the premises and picking up trash.. She deserves a raise!
Looking for a convenient place to store stop by and see Elaine she will treat you with respect and help you with all your needs
There is no better customer service than. What I receive from Elaine, I am back again to add to my review! Who's better than Elaine? NoOne
I went by today to rent a unit for my storage and Elaine was very helpful in helping me find one. Thanks a ton.
I met with the manager Elaine, who was more than happy to show me the space I needed to rent. She was very professional and knew her job. She was very patient with me as she explained all the terms that go with renting the space. The best part was she treated me like a friend instead of a customer. I also met with Craig a regional manager who went above and beyond to help me with renting this space as well. Let's face it good customer service is hard to find these days, but not here. These two work so well together bringing customer service up to another level!! Thank you to both of you for all your hard work!!
This public storage is the best Elaine is amazing! Helped me very friendly environment love this place ! Thank u Elaine!
Elaine was more than pleasurable to deal with. She was informative and honest. Two qualities seldom shown in retail services dealing with the public. She made my decision to choose Public Storage over the competitors in the area, crystal clear. She deserves a raise!
I am a returning customer and had to come back to Elaine thank so much
I love this location always made sure I had the best deals ! Thank you Elaine
I have been renting a space at this facility for over a year and Elaine always assist me and makes me feel as if she cares.
Thank you Elaine for all your assistance
Leslie was very clear and helpful with all of the information that I needed and MORE. I REALLY APPRECIATE THE SERVICE AND WHOEVER TRAINED HER NEEDS TOO BE ACKNOWLEDGED ALSO. THANK YOU FOR EVERYTHING!!! 👊🏼💯
Amazing customer service highly recommend
Elaine was very professional and helpful
Thank you Andrea for all your help
Needless to say still renting and need an overall experience. Other than that the manager was good, she was amazing.
You made this process so easy thank you for all your help
Excellent service. Dom was helpful and got through easily
Dom was so helpful in my rental, made it easy and simple.
Elaine was pleasant and professional on the phone and in person. She seems to be dedicated to her job and knows it well. It was my pleasure doing business with her.. Only suggestion is to have larger moving carts and more than 2 available for use by customers. (Bridgeport location)
Elaine is amazing she saved us from a rough patch and helped us find the best space at a great price
Whenever you need storage unit best salesman to talk with Dom he will get you right
Thank you for all your help
Thank u good custommer server
Best guest service with Elaine !!
Great service and amazing staff!
Had a wonderful time coming in, dom was truly helpful through the whole process. Very appreciative for his help
Thank you Dom for all your assistance
Dom is the best ever he did everything possible to give me time for my things to not get auctioned off and I got time to get there in time to pay my storage fees thank you dom💕
Elaine great job awesome worker
Elaine was great thank you
Excelente trato de parte de Eliane!!!
Ask for Elaine is absolutely wonderful! She called me to follow up after visiting the office and wanted to make sure I had a good experience. She is a woman of integrity and holds her position with pride. I instantly signed up for a storage space. Elaine is a professional woman that goes above and beyond her job description. I recommend this Public Storage location!! Many Thanks Elaine.
First, before I mention anything else I need to let everyone know how incredible Elaine was. From the first time I called to inquire about the space, up until I moved my stuff into the unit, she was incredible. She walked me through every part of the process making it go by very quickly and effortlessly. On top of that she made sure to try and get me the best deal possible, and she did. I haven't experienced customer service like that in a while! Highly recommend this place.
Elaine was the best at her job. She gave the information that I needed in detail. Great Customer Service.
Matt help me out today he was so nice and very helpful. And he has good customer service too , Matt was very patient with me in the office and I thank you Matt for finding a suitable unit for me I appreciate it .
I had the best experience today working with Elaine after searching the whole city I managed to find a space in the neighborhood at a wonderful rate. Elaine was super helpful fast and I was in and out quickly. Her customer service was really on point.
Lorraine was great she helped me with an e rental
ELAINE IS THE WONDER WOMAN OF STORAGE!!!!!! 🌟🌟🌟🌟🌟
I had the pleasure to work with Elaine today and she was very helpful, very informative and kind I wish alot of people I've met had Elaine attitude and kindness. thank you for your help Elaine!
Clean, secure storage facility and convenient for my needs.
Elaine and Naomi were great. They both helped me get set up with a storage unit within minutes. The explained the process to me and made it easy to move my stuff in a unit quickly. I definitely would recommend this facility simply because of their exceptional customer service!
Elaine the manager was a great help. She made sure I had the right storage space I needed, great customer service!
Elaine was the best. She made my first ever storage experience a great one. Every single question i had, she had a solution for. I'm forever grateful. I Definitely recommend this storage and the prices are the best in Bridgeport !
Elaine was such a big help I'm very thankful for her. She took some of the stress off. Thank you Elaine your the best
Just rented storage space at this location. Elaine was extremely helpful throughout the process. Great customer service, knowlegeable and a really nice personality. The place is clean and rates are very reasonable. Thanks for the help Elaine
ELAINE was so wonderful always willing to go out of her way for you to help friendly all the time the best.
If there's one thing this place has is Elaine! She's been the best in providing customers the best customer service a person can ask for. She's greets you with smile, she polite, respectful, diligent, and dedicated. Elaine is the reason you would want to continue your business with public storage.
Elaine was so nice and made sure we had all the information we needed. She went out of her way to walk us to our unit. We left feeling confident that our personal belongs would be safe.
Elaine is the woman that I spoke with when I got my unit shr is so sweet and helpful I strongly suggest she gets a raise.
Thanks so much for your great customer service Naomi in the Bridgeport office on Wordin ave
UPDATE: I seen Elaine again at public storage for the Third time and she never fails me! Always great service!! Won't go anywhere else for service. Elaine was amazing!!! Took care of me and made sure I felt comfortable
I would like to Thank Matt for his help.He made sure I was able to get my storage just in time.
Greetings All !!! It is amazing how when so much is going in the world today both good and bad, there are special people out there that show love and consideration to others. Ms. Elaine over at the Bridgeport location helped myself and family out with our rental issues after our families terrible loss of my mother. Special thanks and blessings to Ms. Elaine and the Bridgeport Public Storage family for delivering professional and excellent customer service. Blessings Nita J. NYC.
Clean units. Easy rental process. Manager very informative and patient!
Thanks Naomi from provided great service
My first time renting at public storage! Services was great, Sarah was exellent.
She was the best I haven't had customer service like that in the long time she was amazing explain everything I need 2 know and for my first time have a storage am just so conformable with I love it
Tyrin W was exceptional and super helpful
Joe was amazing, very helpful and respectful.
I am going through a rough patch in life and Elaine not only listened to my cries but also helped me with my storage needs. Thank you for listening to me and showing me that there is always a bright side to everything.
Amazing service! Elaine was a great help for my family during their transition. I am uber grateful for her wonderful customer service. Keep being you Elaine ❤️
Thank you so for your help Elaine! Great customer service! Have been renting a space here for months now and never had an issue.
Sherrae was very helpful and polite. Thank you for everything.
Highly recommended we love to store our supplies here
Best place to store for a small business
Very convenient and close the highway highly recommended
Eileen -Outstanding Customer Service , Courteous, knowledgeable , Friendly and Professional - Highly Recommend . Thank you for all you do . Your the best
My husband and I were very pleased with the great customer Service that Elaine and Joe provided , Friendly , Knowledgeable and courteous and very Professional. You don't see that nowadays. Thank you for helping us choose our units . Much appreciated. Great Job 👍.
Elaine was quick, efficient & extremely friendly. It was my first time utilizing a storage space & she made the process seamless!
Words can't even express the level of professionalism, meeting our urgent needs, and being understanding for me and my mom. This service is beyond exceptional. I personally want to thank Elaine for her generosity. Highly recommend.
Elaine more than meets every criterion of an exceptional employee, she is a huge asset to the Public Storage team. She has made an excruciating transition as comfortable as humanly possible. I can't thank her enough. Thank you, Elaine!!!!
Great service from ms Elaine. Its been a rough couple of days and she was so nice and helpful thnks so much.
Elaine is great! She helped me find a great space and the added security at this facility is great!
The young lady was very knowledgeable and helpful
They are great at this location they are Patient and understanding and they answer all question to make sure you understand thanks Kareem for such a great visit
Kareem's customer service is exceptional, his explanation was clear and precise.
Hey I came here today as a walk in and it was awesome service he got me in and out. Kareem was very professional today thank you public storage.
Elaine was so helpful and hooked me up with a unit on the first floor for an amazing price!
Genesis Was so helpful with all the questions sadly they didnt have a spot available for me but she was so helpful and took down my information hopefully a spot opens up for me because inwould like to be at no other location thanks to genesis being such a good customer service representative amazing customer service by her
Terrible customer service...no enough people in the front to help.
I went to public storage today and there was a man there named Kareem he was very helpful he deserves 10 star service he was kind and customer service was on 100% I would like to say public storage was a very welcoming place.
Elaine from Public Storage in Bridgeport CT (Wordin Avenue) was amazing. Very empathetic and compationate!! She rocks!!
Had a great experience at this location. Elaine is definitely a 10⭐ property manager thanks you for your help.
What can I say I am back again. This facility has been my go to a few times now and love to rent here as the staff is kind and Elaine always makes me laugh and feel welcome.
I had a wonderful experience thanks to your employee Kapriece. She was patient and so very kind. Excellent customer service
Kapriece was very helpful and I appreciate her helping me out. She was amazing
The easiest transaction! Clean spacious unit, immaculate customer service ( even during pandemic). Elain was beyond kind, knowledgeable and time efficient Highly recommend
Renting a space at Public Storage on Wordin Ave was easy and convenient thanks to the staff there, especially Elaine. She consistly provided excellent customer service and was kind, understanding, and willing to work around my needs. Communication by her was awesome- she always returned my calls and kept me informed about my account. I trusted that my belongings were stored safely for months. If I ever need storage again, I will definitely store here.
Elaine helped me today she even knew some sign language thank you very much for everything as I am deaf and was unsure if anyone could help me
One of the best storage place, staff very professional and kind. Mia and the other staff was very helpful nice young lady help me with all I needed.
My first time renting at public storage and i like it. Staff is very friendly and helpful. I really want to thank Rashona, she gave me a tour around the facility and explained everything i need to know and helped me rent the right unit! Will definetly recommend this location to anyone looking to store.
Kapriece was very helpful and I greatly appreciated everything she helped me with.
Thank you Tiana today for all your help
Kapriece was awesome and professional, she deserves a raise!
***Elaine*** provided the best customer service I've received in a very long time. She was able to answer every question I had and made great suggestions. Also helped me out with items that would make my move easy. Loved her ❤️
Kapriece was knowledgeable, very fast and efficient !
I spoke with Kapriece over the phone and she was very knowledgeable and very helpful from the time i spoke with her til the time we arrived. God bless her
Elaine is amazing she helped my aunt with her storage needs. She came in stressed out thinking she could not afford storage and she found me a space for my aunt. Elaine is God sent from the heavens. Thank you so much!
Kapriece was very nice and helpful
Muy amable..me atendió una chica llamada Elaine...
I received great customer service from Rashona here today at Public Storage!
I am a returning customer and Rashona helped me today with my rental. She is great at what she does and I appreciate her help today. Thank you once again!
Elaine gave me Excellent customers service, she has Empathy in her heart for me
Elaine is a great manager and she makes you feel comfortable when you come in to pay for your unit or you want to rent a unit she and her staff are very very helpful no matter whether your paying or renting I highly recommend Public Storage Elaine and her staff will not only help you they will also help you with what ever else you may need
Elaine has helped me do much and i appreciate everything she has done for me thanks again
Elaine I amazing she not only found me an incredible space but she also is amazing and welcoming to everyone she greets thank you
This location is Amazing!!! Rashona provided great customer service. The process was easy and straightforward. Much appreciated
Had a great experience today at public storage , Malik did a wonderful job . I had a horrible day , it was nice to have good help.
I had the pleasure of working with Kevin and he was amazing . I definitely recommend working with him if your looking for a storage space at this location . He is very personable .
Very professional and straight forward in renting a unit here dealing with Elaine A+++++ service.
They are good ppl .. They know how to take care the clients..
Elaine and the gentleman i saw there i forget his name they are excellent people . polite. And trustworthy .tell them keep the smile on
The lady Elaine helped me find the perfect size to fit all my stuff in. I was truly happy I chose public storage .
Gracias Elaine por tu ayuda
Javonia was amazing thank you so much!
Needed a storage and Elaine helped me with what I needed, she did an awesome job she did what it took to help me. They have good prices for the storages check it out. She's the best. When she promises you she'll help you trust me she will, never doubt her word. Thanks for your assistance your the best can't complain at all.
Trataron muy bien Kevin nos ayudó graciass por su servicio
It was very disappointing experience because they have a rat problem and I was never notified. One day I went to my storage to get somethings and was horrified when I realized there was rat feces all over my belongings. I had to get rid of a lot of my things which defeated the whole point of having my things in storage to make sure my belongings were safe. I highly suggest you look else where to store your things.
Mrs Elaine was Outstanding! From the minute I arrived until my departure. The service was Amazing! The greeting, tour of my unit and the explanation of the contract. True Proffetional. Thank you Soooo much! Xoxoxoxo🏆👍
Mia was good customer sevice for me today.
Bryan was friendly, knowledgeable, and very helpful. Excellent experience.
Great experience with Mia. Very knowledgeable and great customer service skills
I'm very satisfied with the customer service Eliane and the other woman are great people with the best personalities & always willing to help anyway they can 🤷‍♀️ I'm all set with Uhaul💯🤦‍♀️
Siempre me tratan bien y Buenos precious
Mia was very helpful and informative, her customer service was very superb
Very great customer service Kimberly Rybczak
Elaine was very pleasant. Thank you
Great customer service especially Elaine.
Javonia helped me today to secure a storage unit. Really great attention to detail and kept her cool while she juggled 3 customers by herself! Great job. Thanks.
Elaine is a dream to work with. She's very thorough and knowledgeable. She explained everything in great detail and made me feel like she had my family's best interest at heart. Even when we selected the wrong size unit for our needs, she openly communicated the price changes. The facility is cleaned and well kept. Highly recommend to others who need storage. Thank you, Elaine!
The property manager Elaine was super helpful when I was deciding what size unit fit my needs. Super flexible.
Hey guys I was moving from a house to a condo and no ware to put my mower and gas equipment so I call public Storage and they had my back special thanks to Elaine and Javonia for helping me out 27013 my pubic storage
The customer service from Mia was great she helped me with saving and paying in advance my experience so far is great thanks
I had a great experience today. Elaine jaronia helped my husband and I today with a great unite just want we needed. Thanks again
Affordable storage unit and excellent customer service from Mia at the Bridgeport location!
Mia was great she helped me with everything
The employees were great Mia did a wonderful job with helping me out.
Elaine was so helpful and patient with me. If you're looking for storage come see her
Elaine was very helpful during my vacate. She called me a day before to remind me and made the whole process very smooth for me on my vacate day.Her customer service skills are excellent. I will definitely use the facility again of the need arise.
My husband was there like three months and he need a small place so he can paid a little bit less and Elaine help me with the space she call me and let me now that she have one space available and she called me early in the morning so I can do the transfer thank you I'll give her a five we need to gave more people like her thanks
I had done business with this facility years before, and when I came back I found they were still one of the best storage places I have found. Elaine, Mia, and Tamia are all great, Elaine goes out of her way to aid you in what ever your needs are. That is why I came back, and I will do so again, and again and make this to be my favorite storage facility of choice. Robert
I got a storage unit today and was unable to spend a lot of money, Elaine the property manager was absolutely amazing and did more for me than I could have ever asked for! She was able to get me a bigger unit than I was originally looking for and practically cut my price in half! Elaine has made this experience so much less stressful with her help!
Raven was a great person help me find the right size storage for my needs Thanks for your help
My wife and I came in yesterday to get a second unit and Javonia and Elaine helped us save money by transferring us to a bigger space. Thank you ladies it shows you care
Javonia and Elaine are amazing they saved me money by transferring me instead of vacating. Thanks again
Elaine and Jovonia gave great customer service and I would definitely do business again!
Greg was very good with helping me ,I appreciate he had very good customer service skills
Elaine was very helpful and thorough with the rundown. Continue to do business with them simply for her!
Ty Caprese for all your help u are amazing
Have a great experience!! Eileen did a excellent job, very professional and friendly ! she explained me everything in details, helped me to get the right storage for my furniture! 😁
I recently rented a storage unit here and was assisted by Elaine. She was very knowledgeable and helpful in the process. I would recommend this place to anyone who needs extra storage space.
Elaine was super helpful. She had all the information we needed and convinced of that this was the perfect spot foe us. Thamk u so much Elaine!!!
Very professional, very clean place and amazing customer service, I Would definitely go back !!
I absolutely love the employees here there customer service skills are impeccable. Raven made my move so easy and stress free. Keep up the good work and thank you again!
ELAINE MADE THIS PROCESS SO EASY. THANK YOU ONCE AGAIN
Elaine and Eileen made our experience this morning wonderful! It's great to see two ladies with huge smiles in the morning giving great service. Highly recommend here.
Walked i to the Bridgeport location in a bind needing packing supplies. Elaine was there and got me everything I needed and it was the friendliest customer service I've ever had! Thanks!
I am a current customer and Came I'm to make my payment today. Elaine always greets me with a smile and is always professionally.
Elaine was super helpful ! Truly appreciate her staying a little later after her shift to take care of my needs. Awesome customer service!!! Thanks a million times , Elaine !
If I could give them no stars I would. I previously rented with them. We ended up getting water damage in our unit and lost everything we owned. Which is all good we had insurance they paid us. I recently sold my home and wanted to give them another shot and they said I owed them a previous balance from the month when my stuff was ruined. In order for me to rent I would have to settle my balance and pay $145.00 for a month in which my stuff was completely destroyed. I highly recommend to go somewhere else.
Elaine was wonderful. Positive, accommodating and knowledgeable. She made my experience with Public Storage fantastic. Extremely customer friendly. The facility is barebones and could definitely use enhancement, but the customer service was excellent.
Elaine is the best property manager of all time!!!
Very friendly and kind to customers!
Everything was quick and easy. Elaine was very polite and answered all questions. Great experience.
Elaine was absolutely great! Great customer service here!
Great Place and Service Thank You Edwin
Elaine is so polite and is definetely a storage professional
Javonia is always friendly and kind
Elaine is so kind and friendly! Thanks public storage you guys are the best!
Elaine was awesome with her beautiful self...herself and the gentleman in the office were very welcoming...Elaine was very thorough with the rules, regulations, and fees...im off to drive trucks and I can say im feeling good I am leaving some of my belongings at this location...ELAINE CALL ME 😍😘😝😝😝😝😇
I came to the property to get some quotes and see some of the spaces, an employee named Edwin helped me and explained everything to me. He is very knowledgeable and showed that he cared. He even told me all the things I would need to protect my items while storing. I'm definitely going to consider this location for my future storage needs!
Javonia was very helpful and friendly. She provided excellent service!
Bryan & Elaine of the Wordin Avenue location in Bpt were very informative & helpful! Thank you!
Thank you so much bryan you where a great help!!!
Elaine made my experience very pleasant she helped & guided me through all the steps. Very friendly & patient.
Elaine is wonderful and always greets me with a smile.
Elaine helped me today attempting to transfer. This facility has made major improvements. Overall excellent place to rent
Eliane was extremely helpful and very kind and sweet first-time ever using a storage and she walked me through everything If you ever need storage space go and check Eliane out💝
My visit to the public storage was smooth because of Elaine. She was very patient and understanding and understand what i needed. Thank you
Bryan followed up quickly after my initial inquiry, was courteous and quick.
I have had the most pleasant encouraging and uplifting experience. The staff is amazing. My customer service rep. Elaine H. did the best job of seeing to it that I was fully accommodated, she answered all of my questions and made sure I was fully informed on Public Storage policy. I couldn't recommend a better facility, staff and location. Thank you for providing such a valuable service at my most urgent time of need. Calvin S.
Me trataron bien estoy satisfecho gracia Elaine
Javonia is a great person. She showed me several units til we found the perfect space. She is not only funny but is an asset to this company.
Elaine was extremely nice anf i left a beyond happy customer! I appreciate everything!
I reserved a unit online and received confirmation both by email and a phone call from the manager with a scheduled appointment time. I arrived on time to be told that they rented the unit to someone else. They then tried to get me to take a smaller unit at the same price. Not a good look.
Very convenient. Friendly and knowledgeable staff. I have interacted with Elaine on multiple occasions. Always efficient. The gate has had some issues but it seems they have fixed that.
We travel all over the country and I can honestly say I have the best experiences with dealing with Public Storage of Bridgeport on Wordin Avenue. Elaine the manager helped us with the best decisions for long term storage and made it so easy to transition into a unit that was perfect for our needs. The staff... Javonia especially are all awesome to us! Love this place and know that all our lifelong belongings are safe!!! Thanks Elaine!!!
I had great customer service from Elaine.
The location is great and their hours are not bad. But the bulding is old, the elevator slow, and I feel as if my things are properly protected. There is never a cart around when I need one.
Rockstar Customer Service!! Overall, my experience with Public Storage has been nothing short of phenomenal! Elaine (especially), her team and the others at this location are great to work with, true extra milers! A far better experience than I've had with other companies. If you're shopping around for a storage space, I have zero complaints about this location - it's been working more than well for me over the past months. If anyone has any questions about storage here though, leave a comment to my review and I'll get back to you. Pros: Right off the highway, easy access, great associates who value communication, reasonably sized rooms, good prices, web access for billing (etc), video surveillance. Cons: None I can think...
My husband and I went into Public Storage knowing exactly what we needed, and how much we were going to spend. We told Elaine what we needed, and after several questions she asked, we realized what we had in mind was too large. Elaine not only helped picked the right unit, we spent less money as well!! Elaine is very knowledgeable, polite and a pleasure to work with!!
Elaine was really professional, pleasant and polite, she was able to answer all the questions that was asked and explained everything in detail, which made me feel good.
Great service.. great communication with professional working skills. Very satisfied with the property management. I recommend the place. Thanks
Every time I need storage I come to Public Storage on Warden Avenue they are friendly knowledgeable and they help you as much as possible with all your storage needs and questions. Elaine and Myles provided great customer service on my last visit and I really appreciated that. You won't be disappointed!
great place to rent a unit as well as best price in Bridgeport
Had a great experience purchasing my first storage unit. Elaine was very nice and helpful. Very professional and patient with us while we found a perfect fit. I recommend Public Storage if you're in search for a storage.
Evelyn was a great help very professional and informative.
Evelyn really went above and beyond i wasnt sure what i needed shes and expert she knew what i needed and reinsured me everything was fine. bless her heart real nice to have meet her.
Evelyn was outstanding she answerd all my questions and did a great job
Elaine and Myles made us feel comfortable renting at this facility we walked in not intending to rent but just shop prices and they sold me on a space
Elaine was and outgoing person very helpful and respectful.
She very understanding and respectful and she did a good job assisting me with my storage she is the best😍
Myles and Elaine are amazing I walked in seeking a unit and Myles found me the perfect space
Kind friendly & very helpful
Evelyn was awesome and very helpful!!
Elaine is an asset and helped me find the best space and also helped me with protecting my items as well! I am very satisfied
Javonia was very helpful very good personality thank u javonia
Returning customer, great atmosphere. Employee's go above and beyond to satisfy your needs.
Elaine was so helpful for my first time she is great!!! Love their service
myles and elanie were very helpful and welcoming
Elaine os very knowledgeable as Well as bilingual she is good at what she does
Elaine and Myles are awesome very friendly and courteous. Give them a raise.
Very customer friendly . Elaine and Myles were very knowledgeable of the available services that were perfect for my needs.
Elain is awsome great service with a smile
Super helpfull, made this whole process very easy and simple, explain everything to me, good to make business with, (Elaine) thank You
Javonia was great!!!, great job..Thanks
Jovania was awesome! Not only was she very professional and helpful, she went out of her way to assist us with a challenging situation. Thanks, Jovania!
I was in a situation where I needed storage ASAP. Elaine was so professional and very knowledgeable every step of the way. She showed me several units and insured me which one was suitibale for me. Thank you Elaine you truley made it very comfortable.
I️ am a former customer seeking storage needs once again. Came in to ask the storage professionals what size I️ would need and see what they would recommend. Elaine and Myles are very informative and are friendly as well. Walked out after purchasing some merchandise and will return on the first as this is when I️ am in need. I️ recommend this facility to anyone seeking storage!
I WOULD LIKE TO SAY YOU HAVE TWO VERY GOOD WORKERS WORKING HERE AT PUBLIC STORAGE THEY ARE VERY HELPFUL N RESPECTFUL DURING ME COMING N THEY ARE VERY HELPFUL IN MANY WAYS AND THERE NAMES ARE ELAINE & ANGELICA I GIVE THEM MORE THAN FIVE STARS THEY GET OVER A HUNDRED STARS IN ME N MY HUSBAND EYES HOPE YOU GET MORE WORKERS LIKE THEM THANK YOU VERY MUCH 😄 I AM ONE HAPPY CUSTOMERS N I AM GLAD I CAME HERE AFTER TALKING TO ELAINE ON THE PHONE SHE MADE ME FEEL VERY COMFORTABLE LEAVING MY PROPERTY HERE AT PUBLIC STORAGE N SHES A VERY HONEST PERSON ABOUT EVERY THING SHE TOLD ME ON THE PHONE N WHEN I CAME IN IT WAS EVERY THING SHE SAID ON THE PHONE N I BEEN HERE NOW TWO MONTHS N IM VERY SATISFY WTH MY STAY HERE N DONT WORRY ABOUT MY STUFF BEING HERE THANKS AGAIN FOR EVERY THING YOU ALL OFFER AT PUBLIC STORAGE ... THANK YOU ALL N HAVE A BLESS DAY
Good job Angelica she was the customer service person when you walked in very friendly she know what she was doing I wish there was more customer service people like her.
Angelica and Elaine were very helpful and pleasant they made me feel welcome and they are very knowledgeable. I highly recommend this facility
Elaine and Angelica were extremely helpful and knowledgeable of their facilities. We had a great customer experience with the staff and company as a whole. Mira
She was knowledgeable of her job and suggested products that I needed great customer service.
How to pay my storage online
Elaine n paul are Very cool people and explained everything. Price wise very affordable. Thanks guys..
Elaine and Paul helped me find the right space at the best price. I definitely recommend this location to anyone
Angelica/Elaine was great helping me pick the right storage.
The people was very helpful and friendly
Some of the most helpful staff
Angelica & Elaine were very polite & helpful...Great service...thanks ..
My mother and rented storage space from here the other day and the lady that helped us Angelica was a pleasure to work with she was very informative and very charismatic she made the entire renting process extremely easy will definitely recommend
Angelica and Elaine helped me with my rental. These ladies are awesome and got me the best price possible with the right items to protect my things. Thank you Public Storage!!
They helped us pick a storage unit with many different options and great customer service qualities. Great place !!! Elaine and Angelica were amazing helpers!
Elaine was extremely helpful and an overall pleasure to be with. She is great with her customers and I'm happy she helped me.
Service is good the employees are very polite and helpful but the rental prices are sort of high for small units.
Elaine is very friendly and informative
Elaine and Bush where very helpful
I had an emergency situation and the young gentleman here went above and beyond for me. I believe his name was "Bush", although it was time to close he made sure I found the perfect unit to suite the needs of me and my children. He was funny which was a treat after the horrible day I had. Its not often you find exceptional customer service, I definitely experienced it at Public Storage. I will definitely recommend them to all I know.
My name is Emanuel Black and I absolutely love the employees at this place. Everytime I go with my cousin Michael to pay his bill we end up staying for half an hour just laughing and having a good time. Give them a raise!
This service here was excellent. Great service. I had no issues getting a unit set up. Would definitely recommend to others.
I went to this place not knowing what to expect because i never went to storage before. Thanks to the expert staff i was able to store my things. It was fast and painless. It could use a upgrade but the staff is so nice you dont even notice.
Paying every month thinking my things are safe,half all my things were stolen ..
Angelica and Kim are awesome always smiling and very kind to ME. Always laughter in the office.
I didn't like public storage because there were rodents as well as dead rodents and roaches so when I moved into my new place of residence roaches was coming out of my belongings I will never store my belongings there ever again as far as the employees they were very nice and respectful and helpful
Just came from public storage and was helped by Denise which was very helpful, nice and polite. And cute. Thank you
I visited there today. The officer who explained everything for me was a girl and she is very polite and informative.
Angélica was a great help and her assistant Kim. They laughed at my jokes which told me they are down to earth ladies but very good at their job. It was quick and easy despite this Heat.
Great experience !!!!!!I highly recommend Mike A . He was the best he stayed late to get me situated with the right unit and I honestly appreciate that . He definitely deserve a promotion and a raise . Thank you
Angelica is the best!!!!!
Angelica and Denise are great. Need more employees like them. Thanks they were great.
Angelica and Dennisee were great. Awesome customer service. New unit smooth and easy. Also great selection of packing supplies. They need a raise!!
I'm reviewing today Public Storage in Bridgeport CT. First the convenience of this property right off the highway is ideal. You enter the office, it smells great and looks good. Then you have the manager Angelica and her assistant Michael, fabulous people by the way. They greeted me and showed me actually what I needed at a steal of a price. Regrettably I'm shopping around for next year when I move to Africa for missionary work. I've never stored before so I just wanted to see what it was like. I've been to a couple of places, great looking facilities but how I was treated here at Public Storage was beyond customer service. I didn't feel rushed and I felt like I was being listened to. I felt a personalized vibe from them and no question went unanswered without a clear, genuine response. Yet I have to go back to the physical property, it was clean but the building you can tell is old and needs some major renovating. There is a fine line between having great service and then putting your personal property some where you're just not sure if you can take it out the same way. Yes there are plenty of supplies to help protect your items right here however I'm just not sure. Public Storage I'm going to have to think on this one. Maybe I'm being a little fearful. I'm going to be so far away. BUUUUT I HIGHLY suggest anyone come to this property to meet with the team and make your decision from there. Good luck in your storing adventure!!
I've been here a few times. Angelica remembers my name,always asks me how I'm doing and shows real concern for me. She knows her job unlike ANY other person in ANY other place I've done business at. I noticed her team changes often with new people, yet they still do a great job. What a leader that Angelica!!!!!
I had my stuff there for literally TWO weeks and my unit was broken into. Ironic that my unit was the ONLY ONE broken into on the whole flr. I was told it was "random". My unit is halfway down the hall. Why wasn't the first damn unit on the flr randomly hit?? I guess somehow my flat screen tv was randomly foreseen to be in my unit. A bunch of BS!
Great staff!! They listened to my needs and helped me find a unit the same day, after my reservation was cancelled due to ME not following up with the location. Mike and Denise are awesome!!.
Great experience for a first time costumer. The staff is really nice, polite and down to earth. Mike was very helpful in aiding me to find a unit to my standards, he answered all of my questions and was very patient with me. Overall, it was a pleasure doing business at this location.
Great place and very friendly. I was short 3 dollars and lady in the counter told me not to worry and took it out from her own pocket. Places like these will make me recommend to everyone who needs a storage for use ..great costumer service thank you dennise i owe ya
Angelica and Eugene have shown me exemplifying customer service with a unique touch for any new customer. They are a true asset to the Public Storage team and company. I look forward to working with them in the near future for they have made my experience here today pleasurable one.
I've been renting at this facility for almost 5 years now. I was ready to leave but Angelica helped me move to a smaller unit at a cheaper price that was even closer to the entrance. She really showed me how to pack my items to utilize the least space. She is truly a storage expert.
excellent service. Mike A. was very helpful helping me find the right unit to accommodate all my things
I've been a loyal customer since 1996. I've moved out in the past year and still visit Angelica and her crew. They became more than just people to do business with and have become good friends of mine. The facility needs much upgrading, but I am giving 5 stars for pure service. It's truly worth it to store here.
Mike amp and Angelica was very helpful and friendly
I came into this location for a unit, was very satisfied with the service i received. Had to return for the paperwork, and Eugene informed me he could save me some money on my unit. Long story short he saved me $100, and i am a very happy customer.thank you Eugene and Angelica, and Public Storage,friendly, fast and economical.
Came in yesterday with some questions and was assisted by an extremely helpful employee named Michael. Even though the size I needed wasn't available, I was extremely impressed with his patience and professionalism. He took the time to answer my questions as well as take me on a walk through of the facilities. I highly recommend this location and will definitely use them down the road, as well as recommend them to friends
All I can say is AWESOME!!!!! I've been here so many times I'm now part of the furniture haha!! Seriously regardless of the competition I still come here. Angelica and her crew of merry men are the best.
After another local storage space let me down before I could even sign their contract, I needed somewhere in a hurry and Mike and Iris saved the day, this is the only storage open on a Sunday, when weekends are the days people really need time to move their stuff.
So...I'm not so great at keeping promises. I promised Angelica last time I rented about a year ago I would do a review. Now I'm back and it took me forever to make one. BUT Angelica is great at keeping her promises. She has always been nice, professional and in tune. She is the reason I came back!!!!
Being a college student, I fell behind trying to find a place for my stuff over the summer while I go back home, the team here helped me very easily and I was able to share a unit with my friends, next year I will definitely do this earlier and consider Public Storage as a first option. Thanks Guys!!!
Grate service from Angela & Mike they went out of there way to answer all my questions an were very courteous
So I went to see a storage unit today and was helped by the manager Angelica and she was very attentive and helpful. Her knowledge of the units surpassed any other place that I've been too and she was very kind I wish there were more people like her she made my life a lot easier I didn't have to think to much about what I needed. I don't need the unit right now but I will need the unit in the next three months so I will definitely be back.....thanks a lot Angelica.
The best people and super friendly
As a return customer, me and my friends always store here as we are students nearby at the University of Bridgeport, Angelica and Eugene are always very helpful in making sure I have the right size unit for me and my friends, thanks again!!
Great customer service friendly staff and clean location jerrod helped me with my storage needs.
Awesome first time auction. Pretty fun Definitely gonna do it again.
They where real nice and helpful
I love this location, they are always friendly and courteous. I always choose tongo to the location to pay my bill, Angelica and Eugene always male me smile even on a bad day, keep up the good work!!!!
Angelica is fabulous. Her smile radiates. She represents the whole company hands down!!
Mike A has been extremely helpful and this fall was able to get me an outside unit with great accessibility. My only complaint is the snow removal and the rain gutters. I have brought this to their attention and will provide an update after the next storm. Should these issues be addressed I will give them a "Love It".
I'm a very busy man but I would not pass up the chance to give credit where it is due. Angelica was extraordinary!!! I needed a unit last month fast but temporary. She thoroughly impressed me with her knowledge and natural being. She's definitely a winner. The property was well kept and I can see she works very hard. I highly recommend anyone looking for storage despite the competition to come by.
I have been to a few different storage facilities, and yet never felt the need to write a review until now. I visited the Public Storage in Bridgeport and was more than pleasantly surprised with the customer service there and feel great service should be rewarded. I had the pleasure working with a very attentive employee named Mike. Awesome guy, very engaging, and handled everything I needed. Mike answered all my questions and provided excellent customer service with utmost professionalism. I have already recommended this location to some work colleagues that are moving and need temporary storage. I strongly recommend this place to anyone needing long-term or short-term storage.
I went into this location to inquire about pricing and terms of renting a storage space. The manager Angelica and her assistant Eugene were very knowledgeable, courteous, and friendly. I will not be renting for about another month or so , but I will definitely be returning to this location.
Great!! A wonderful experience with Angelica and Eileen!!! Unit is perfect size and clean. Ladies are very professional and friendly! ! Please rent here!! Tell them I sent you!! Lol
I walked in to ask some questions about how storage works and if it was right for my situation, i met with Mike - he was so helpful and understanding. even tho he was alone with customers he made time to go over things with me. I recommend this store to anyone that needs storage friends and family.
New customer referred by a long time customer. It's everything she says it is. Will refer others myself.
I love this place. I use to be a customer but now im here with a friend who now has a unit. I stored here for 11 years and now referred her. Great storage place!!
I was at Bridgeport Public Storage talking to Angelica about the storage unit and she is very helpful kind and and has good prices. I can't wait to rent a unit here.
Angelica and her crew, I believe his name is Eugene, they are always courteous and friendly. I come for the open auctions and they are always a delight, the property is always clean, I recommend anyone to rent with this property.
Angelica is the person who keeps me from leaving she is an asset to the company
The employees (Mike and Angelica) made me feel very comfortable and at ease. Very professional, courteous and humorous. All the units they showed me were clean and easily assessable. They helped me make the right decision for the unit size I needed and explain the discounts too. I would recommend them to others.
Angelia was incredibly helpful and super friendly!!!! I was having a problem with the door to my storage unit and she was able to quickly find a unit for me to use instead. Wonderful employee!
I always come in to pay my storage fee and Angelica and her team are always pleasant and friendly. I drew them day I ever need to leave this facility. I appreciate them upgrades there company has done, property looks great. Keep up the good work!!!
If you go to this location ask for Angelica, she is friendly, efficient and very helpful!! She answered all my questions with no issue and also have me a tour. The facility is also right off of the exit so it's easy to access!
I am a return customer and will always return. I love this property Angelica and Eugene are Great. Highly recommended!!!
Eugene was very helpful with my unit, I viewed the unit last week as I was not ready to move in, he even remembered my! As a college student in transition he really made the process painless.Thank You!!!!
Wonderful service from Angelica and Eugine. Love coming to this place. Definitely recommend this place
Very Good, Helpful And Caring.
Thanks to Angelica, the manager, we obtained a storage unit. They are really friendly and kind. Good place to come.
Angelica Is superb. She makes me feel so welcome. I was surprised how quick and easy my transaction was. Will be back and will send my friends. Property and office was clean and organized.
Angelica was very helpful. Wish I came sooner to store as I live up the road and needed storage. Thank you will recommend others.
Angelica has a wonderful personality and keeps it real. She helped me out and found me a unit in Fairfield that worked better for me. She went above and beyond.
Angelica and Stephanie are, without question, the best at customer service in virtually any business I've been involved in for quite some time. Worked hard for us in solving our storage problem and did it with a smile.... much appreciated. Highly, highly recommend.....
service was good...Angelica was a great help.
Freakn awesome and angelica was the awesomest
I was very pleased with the quality of service. Jae and Analia were extremely helpful and answered all my questions in a friendly manner.
Angelica is the greatest and always respectful. Also Very Very Very helpful. If I had my own business I would steal her from your company. LOL but truly she is one of your best.
I love this property and have been visiting it for years. My husband and I come to the auctions once a month and on occasion have rented a few units. Angelica treats me like an old friend . Your newest addition Eugene has complimented her as well as the property. I recommend everyone come rent at this location.
I am vacating now and Angelica did my initial rental. She has been perfect from beginning to end. My unit was clean and she showed me the correct way to lock my unit. Also vacating was simple and easy. Property was always clean and tidy. I would come again.
Angelica helped me open my unit today she was very helpful and sweet it was a pleasure working with her
Angelica and her team do a great job. They are lovely. The property is always clean. Someone is always available to assist me.
Angelica and Thomas are awesome. They always remember my name when I walk in the door and have my account up and ready. They always conversate with me and check how my day is going. I wish there were more people like them!!!!
Angelica and Eugene were very helpful.I was unsure of What size I needed.they explained everything clearly and helped me make the right decision for my needs