Public Storage Self-Storage Units at 120 Berlin Turnpike, Berlin, CT
Address
120 Berlin Turnpike Berlin, CT 06037
Property Open
Mon-Sun 6:00 AM - 9:00 PM
Storage Facility Features
Climate Control Storage

Boat Storage

Car Storage

RV Storage

Small, Medium & Large Storage Units

Indoor & Outdoor Storage Units

Property Manager Lives On-site
Property Open
Mon-Sun 6:00 AM - 9:00 PM
Storage Facility Features
Climate Control Storage

Boat Storage

Car Storage

RV Storage

Small, Medium & Large Storage Units

Indoor & Outdoor Storage Units

Property Manager Lives On-site
Close Location Details
View Location Details
---

5'x5'

---

10'x20'

---

5'x10'

---

10'x10'

---

10'x10'

---

10'x15'

Outside unit

Drive-up access

---

20'x10'
Nearby Self-Storage Locations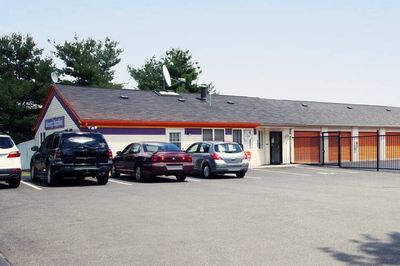 Self Storage Near
100 Spring Street
Southington CT 06489
Resources from the Help Center
See what fits in different storage unit sizes
Berlin Storage Units Near I-91
Storage units in Berlin are just north of Deming Road near Route 9 and I-91. Indoor and outdoor storage units with drive-up access are available in a range of sizes. Just look for our Public Storage Orange rollup doors to find cheap storage.
Berlin Public Storage has indoor and outdoor storage options to fit your needs.
At Public Storage, You'll Always Find...
Keypad Access

Friendly Staff

Month-to-Month Rent

Moving Supplies Available

Free Parking

Well-Lit Facilities
Reviews
( 328)
Hallo ! I went today to get my storage space ! In Berlin Ct. The person i was meeting wtih to get my space was TASHA ! She is verry proffesional with knawledge related to her job was Outstanding ! All get done verry quick and got my Space ! 5 ⭐ no qustion !
Super easy to sign up, no extra conditions needed to worry about. Extremely simple and affordable for first time renters. Perfect service provided:)
The workers are excellent! They go out of their way to help you. The manager needs to step up and get some more trolleys. I pay good money for my space and trolleys are supposed to be INCLUDED IN that price. I understand that selfish patrons lock them inside their storage unit. But it's the responsibility of the Manager to make sure that this doesn't happen. Have people sign out a trolley and sign it back in. If they don't return it and sign it returned, CHARGE the SELFISH person $50 extra per day. Watch how fast the problem is solved. 😎
Great experience! Especially with those 2 brave employees Dan & Sarah.
Tasha has been extremely helpful getting me a better rate for my storage! Highly recommend Tasha at Public Storage
I spent two days looking for a storage facility, went to multiple different places, looked online, called places, etc.... This one was by far the most straight forward and simple. Tasha made the whole experience simplified and was super easy to work with and not to mention helpful.
Tasha is the best!! She helped me out and got my rent lower! Thanks Tasha!
Tasha very professional..Great professional service..Very pleasant and efficient at her job..Property is very well keptwd.
Tasha was Great and she was Very helpful in getting our unit. She answered all the questions we had and she was a true professional. I would recommend Public Storage to my friends.
Price is good hope everything else is good too
This place is careless about the service they provide. I don't usually Comment on anything or waste my time but after I paid my first month toward the middle of the month I went to check my storage and my code would not work , you can't get in contact with them in the middle of the day so very inconvenient . The first day when I was moving in all my stuff all of a sudden the elevator stopped seemingly like it was shut off then I had to literally use the steps to move.
Tasha has amazing customer service! She knows her job well and can explain everything in detail! Property is very clean! She always willing to help customers in any way she can! I appreciate her service!
I have had great experiences using Public Storage Tasha is always eager and willing to go above and beyond for customers! I truly appreciate her hard work and dedication !
My rent was $146 a month and without notification it went up to $285 a month. A bunch of crooks waiting to raise your rent and auction your stuff off. Uhaul and these other storages places are alot cheaper and doesn't raise ur rent out of no where with no notification!
They remodel their lobby then raise your rent huh! My rent went up $50 where they do that at!?
Tasha is the bomb!! She literally made life so easy by getting a unit and truly appreciate her service!! Highly recommend!!
Tasha is the absolute best!!! She save me money when in need!! I appreciate her customer service and her knowledge about her job!! She goes above and beyond for customers!! Highly recommend coming to see Tasha
Tasha Was very I informative and polite...don't really get good customer service these days. Tasha was awesome!!!
Tasha was excellent with her service, answer all questions, had patience, took her time to explain every lil thing. very very great worker
Very helpful staff! Thank you Tasha and Matt for all your help.
The experience with quick and Easy. Tasha was patient while walking me through the entire process and reviewing terms and conditions with me. She was also very efficient with answering any questions that i had. Would recommend to anyone who desires great customer service
Tasha is the best at her job! And i truly appreciate her and everything she did! She has patience and not to much ppl do! I highly recommend her!!
I don't know where to start. I ordered a heated ground floor room, for my early grandmother. Keep in mind on the website if it says first floor it just means their is no steps apparently because we received a second floor. When I call to to correct the error I'm told property management is able to do this so I'm transfered. No answer, called back explain my situation with a gentleman whom was very nice. He then transfers me to another lady named Patricia. Both nothing the change. Both noting the office stated open but not only did they call with me on the line with no answer not to mention me running back in fourth to prove I could knock on the window with no response. We were told they may be around the property. After an hour I was told they noted the change and to also call the office on a Monday as it was Sunday. Monday I call NOTHING. Tue my husband calls as I am working to speak with a Sarah whom I feel bad but is obviously unwilling to take the names of the ppl I spoke to. With her only resolution is that I have to move and that the manager would call. Then she proceeds to mention they don't provide heated storage. I'm confused WEBSITE SAYS HEATED GROUND . If u have a question and call it redirecs you to the app. I live in a different state work all the way to the weekend. How is this possible. I'm floored. In either case it's now Wed 4 days later I'm not sure their really is management. My grandmother precious belongings and antiques are in jeopardy.
Tasha is very unprofessional and rude! I asked for the District Manager# she refused to give it to me and hung up the phone! I was paying $146 a month then all of a sudden the rent went up $50! Now it's $210 and they wonder why people fall behind on rent! They charge a fee for everything!
Tasha is a great help to her customers. Provides helpful information to actual questions that she is asked. Very knowledgeable and willing to do the work to get your storage needs addressed.
Definitely inspect your unit for water damage before moving in. I had a leak in mine and luckily noticed before anything got too wet. District management was however very helpful and offered to give me some tarps for free if I didn't want to change units but I opted to move my unit. The office manager, Alicia, was very helpful and went above and beyond to make sure I was still happy with their service. I would recommend the Berlin Branch to a friend. It's affordable and managed very well.
Tasha helped me out today and I truly appreciate her! She is the best I definitely recommend her!
Tasha helped me out with the app by calling another coworker name Joe with my log in I truly appreciate them! Thank y'all much!!
the guy Dan at the desk was very helpful Gave me a great price too 👍 😀 thanks
Tasha was awesome in helpnig and setting my account up.
Tasha is the best she helped me out!! I appreciate it! highly recommend come seeing her if u need storage
Came in office to replace and Tasha was here and was the best showed me the APP which the best cause it has EVERYTHING! Highly recommended downloading it!!!
Came into location to look at a parking spot for my RV and Tasha was helpful and walked me through online process..thank you so much.
Friendly and knowledgable service (thank you Sarah!)
Tasha was always very helpful and attentive when I was at my storage unit for the duration of my stay. Would high recommend.
The person who was in the office today was very helpful. She helped me to get a cart which I promised to return to her upon leaving. Since she was not there when I left, I returned the cart to where she retrieved it. I took a picture of the cart in front of where I left it in case it wasn't clear where it was. If I could afford it I would still be using my storage space. Inflation is at record highs and I am not sure how I can afford to live next week.
Came to the store and spoke to a lady name Tasha and she helped my cousin out with getting a unit for the best price! Truly recommend her! The facility is so well clean! And Tasha knows her job very well! Thanks again!
Tasha cheerfully helped us out with doing the e-rental and easily walked us through the process! Tasha is very friendly and knows her job! Thank you so much!
Tasha was a wonderful and friendly. Wonderful help. Recommended highly
Tasha is the best and have outstanding service! Definitely recommend!! Very clean property! Thanks
Tasha was very helpful and absolutely amazing! I'd definitely recommend everyone dealing with her. Thanks Tasha!!!
Tasha at public storage on Berlin Tpke is awesome. Very helpful and courteous. Secure and clean storage facility.
Tasha , has been such a huge help to us. She is always kind and willing to do whatever it takes to help us. This young lady is a diamond in the rough. Thank you
Tasha helped me out so much! She took the time and got the late fee waived which is amazing! Thank you so much!
Nice place & Tasha was super friendly and helpful. Thank you 😊
Tasha is a very pleasant person to work with. She is always happy and very helpful. She knows the business and is extremely knowledgeable about the company and storage units. I'm happy I came here.
Came to the property today to check out my unit today and this nice lady name Tasha showed me my unit and took the time to show me the app and how to access the gate! Which is a AWESOME service to have! Thanks Tasha! Truly appreciate it!
Tasha was fantastic, knowledgeable, easy to work with. She answered any and all questions with accuracy from a well of seeming experience. I Highly recommend her for any future dealings.
I am thinking of moving from Oh and I called public storage in Berlin, CT and Spoke to a wonderful person named Tasha. She was very patient and helpful. Tasha went over several sizes of storage units. She gave me prices for all of them. Explained how I can pay for the storage unit when the time is right for me to move to CT. Tasha did not make it seem like I was a bother or a pain. I have dealt with a lot of customer service reps in my day. They have not been as pleasant as Tasha. All the other's can learn something from your Tasha on how to treat people and be as helpful as Tasha was to me. She was very respectful and helpful. It was my pleasure being help by Tasha. I look forward to being helped by her in the future. You need more employees like her.
There's never a cart when you need one. No climate control some of the roofs have holes where water leaks in the units.. The last Weak my stuff was there the elevator broke to the 2nd floor and I had no choice but to use the stairs to bring all of my stuff down not to mention I had do it by myself without a cart
Over the years I've used three different storage facilities, the other were terrible, one in fact was a downright disaster. Public Storage Berlin Turnpike Berlin couldn't be farther from my previous two experiences... nothing but GOOD to say about PS. People, cleanliness, billing, everything was a joy..., Well, everything other than having to actually pay, but Hey jo money no storage :)
Tasha, was very helpful and informative and kind! She helped me set up the app to access the gate via Bluetooth.
Excellent service by Tasha, walked me thru the unit and even help me set up app on the phone. Highly recommended.
Friendly & helpful staff!!
I did not end up storing here. It was too much of a pain in the ***. Have to get out of the car to enter your code. [Why not lower the access input]. Or your other choice is to download the app. [Really?]. Didn't have any first floor availability so I would have to ride the elevator to the dimly lit 2nd floor. Didn't have any carts available to use because they kept getting stolen. Ugh. No thanks. Went somewhere else that has eady, convenient accesssbility.
Tasha has the best personality! Always does her job with a big smile! Tasha is a hard worker! The facility is always well kept and very clean!
Tasha was the greatest!! very helpful, knowledgeable and pleasant... great experience!
Tasha was SO helpful! Would highly recommend !
Tasha is amazing I called about my light and she came out right away to help me fix but she unable to do so but the simple fact she tried her hardest today. I truly appreciate it! I even notice a item in my unit had mold on it and she showed me exactly what to put in my unit now that's customer service! Thank you Tasha!!
Great service ! From tasha
Tasha has awesome customer skills. Great People person.
Tasha is AMAZING! Helped me out finding the right size and a decent price! And Public Storage had all the merchandise I need! Thank you Tasha!!
Great place with great prices
Great Clean please. Very friendly employees.
We have been customers for 2 years and have no complaints. Tasha is awesome! She explains things so well and made sure we got the best deal possible. Public Storage is great and Tasha is the best!
Tasha helped m out with saving money by transferring units! Thanks!
Great customer service! Dan was very helpful at getting us a great rate and especially even after such short notice.
Hands down the best experience I have ever had working with a storage company. Moving is hard enough; and Tasha made the process seamless and easy. A++ highly recommended.
The girl Tasha I felt with was very helpful polite and courteous. She made my experience easy and delightful. Awesome costumer service.
This is the best choice for storage.Stacy is a star. She is always so helpful and extremely polite. ❤️
Great place to store your stuff.
A great place to rent out a storage unit, also the staff that works the front desk might be some of the nicest employees I have met
Always friendly and courtious.
Stored equipment for our business easy, friendly service
I got stuck in the elevator for almost an hour in the freezing cold with my grandchildren! This is more alarming because I had to be moved from the building originally assigned because....the elevator DID NOT WORK! UPDATE!! after writing this review I was contacted by the District Manager Melissa. She was very concerned and very sweet. I was offered a new unit in a different location with a comparable price. I really appreciate all her help.
Dan was great! Very helpful and everything was quick and easy.
Dan was extremely knowledgable kind and caring when I met with him to view storage units. Very patient and accommodating. I'm glad I rented a storage unit from him. Give him a bonus. Thank you Dan
First time purchasing a unit. Thought it would be a difficult process but Mike made it so easy.If your looking for a good storage unit definitely check this place out and definitely recommend to talk to Mike. 10/10 great service!
This was my first experience renting a storage unit and I was a little worried it would be overwhelming for me, but Mike was absolutely wonderful!!! I can't say enough great things about him and the service I received! He went through every single step with me and made it extremely easy to understand and easy to start renting my first unit. He showed me multiple sizes so I could choose the best fit for myself. Mike is very professional, kind and wonderful at his job. As someone who has been in customer service for over 14 years, I was utterly impressed!!! Thank you again Mike and I look forward to being a long term customer thanks to you!
Kate was awesome to work with. Found me the perfect set up. I would recommend her any time storage comes up in conversation. Thank you!
I'm very pleased with Kate in berlintumpike she was such a great help and her customers service was the best a give her a 10 and I was not able to stay there at this location but I rented with Amie was where I finish my reservation and was also a great customer service and took care of guiding me to finish the process im very happy I give her a 10 super great ladies thank you.
one word MICE, MICE and MICE.spent the last three days sorting through everything in my unit because mice had come in through the roof and chewed up a lot of my possessions. Found mouse, and a lot of chewed up papers, clothes, books and tons of mice poop all over everything. Had to throw a lot of items away. People in office are very nice, but nice doesn't help with the time I spent cleaning, and the money I lost on the ruined items.
Kate was absolutely wonderful to work with! She walked us through everything and was able to find us a larger unit that initially wasn't available. She was very responsive and the process was quick and easy.
Kate in the office goes above and beyond for her clients and really delivers truly excellent service. Beyond that, the facility is everything you want in a storage unit: Clean, convenient and affordable.
Set up online and soon after called by Kate. It was confirmed and the next day met her in person. Wonderful person. Gave me a great deal on a unit and explained it all to me. Super patient. Great experience. Thanks
Kate was fantastic checking me in this morning. Thoroughly explained everything and even walked me to the unit. When that unit had a slight issue, Kate quickly found me a different unit and again walked with me to make sure it was acceptable. Great employee with a great attitude
Once i acquire a Unit would i have 24 hour access to it?
Kate was incredibly helpful in helping my wife and I get a storage unit for our move. Explained everything in great detail, was friendly and helpful. Highly recommend!
Sweet and competent. Thanks
Paula was very helpful and professional. She answered any questions I had.
The woman at the front desk was amazing. She worked very well with me and made sure that i got the best possible unit for the best possible price. She also reached out to the managers to make sure I would get the unit i wanted for the price online offered. I would highly recommend public storage of berlin to all my friends and family. P.s she deserves a huge raise!!!!!
This is the WORST experience I ever had. Made 2 reservations for storage. The lady working at the Southington office was so rude I had to walk away without getting the storage. Now I must start all over. Smh. I left in tears because I was so angry and I didnt want to be disrespectful. People dont know what others go through so getting a storage is essential at times. Smh.
Very clean and nice Kate was amazing great customer service would 100% recommended this place to people
Kate was very friendly and helpful.
Kate was so kind and helpful. This was the best priced storage unit I found. The facility is ran very professionally and the unit is great
Very professional! Got the best rate!
Nice friendly people help me with getting stuff out of the storage unit. Would recommend to anyone
Paula was extremely helpful and gave me the storage unit and customer service I needed. Thank you
Mariah was so pleasant and helpful for everything I needed got ne in rite away highly recommend
Amazing employee Paula alot of knowledge recomend 100%
The best experience today Kate assisted me with rental of a storage unit. She was very knowledgeable with the unit size and what it could fit. She showed me the unit explained everything and was quick with setting everything up! Thank you Kate
Paula Was amazing helpful was amazing and great to work with
Very courteous and professional.
Paula was helpful and got us the right space for our needs
Great service thanks to Kate from public storage. They were very helpful
Excellent service , they were super fast and convenient with helping myself find the perfect unit for me . Will definitely do business with them again
My work requires a lot of moving. I have used countless storage facilities in several states. I can honestly say that Kate at this Public Storage stands out. I recommend this Public Storage location for it's professionalism, courtesy, cost efficiency, and storage accessibility for the renter.
Paula was SUPER excellent and helpful..she was getting ready to close shop n took the time n patience to take the time to care for us knowing she wanted to go home...fast n speedy service... Thank u Paula😁
Sheep places to rent storage
Kate was such a great help! Thank you for helping me choose the correct storage unit for the Size and Price. This Storage location is Safe and Secured. They also cleaned out the storage unit I just agreed upon the same day. Such nice people here!
I Give Public Storage 5 stars,, i love how Kate treated me, she was very friendly Polite and explain everything that i could understandd.. i recommend Public storage at Berlin to everyone.price are very good too, thanks Kate for all ur help.. god.bless ypu
Great staff, clean premises and reasonable pricing with varied storage options.
Super pleased with Paula's service. She was extremely helpful!
Sara with the h was awesome. So much help
Easy and convenient - even for a second floor unit.
Kate was wonderful to work with! Made the process supper easy and made sure we were comfortable with the unit and the how to's. Definitely recommend for those searching for a convenient place to store the extra things of life.
The property is well kept and the rates are good.
Paula was helpful and helped get us the right space and answered all our questions.
Location is super clean and Kate knows how to make it easy to get a unit. She hooked us up right. Thanks Kate.
I thought Kate was the *Owner*... She Knows *Everything* and was extremely polite... and humorous... she made the whole strenuous process of moving much more pleasurable... They even had Boxes & Locks & Bubblewrap and everything Right There...!!!
Kate gave me the BEST customer service!!
Great prices. Convenient location for me. Kate was amazing!!!Very helpful, friendly, she answered all my questions. She made the process very smoothly with no hesitations. I felt very comfortable with her and with the storage unit. Very professional, keep up the great work Kate! 👏🏽👍🏽👍🏽
Kate's an awesome person! She's really done a lot for this place.
Krystena was amazing, very friendly, found us a good unit for a good price, good experience
Awesome experience, Kate deserves a promotion
Great customer service and friendly staff. Cant speak to the pricing of the units but so far a good experience.
Dirty smells in the storage units Lights don't work! They attempted to take a payment out and I had enough funds due to there error I got charged with a late fee and I still have to pay it the fees are absolutely insane. Stay far far away most storage units will work with you on payments this one waives one fee a years... And not the additional fee they have! I have yet to speak to One nice person there including customer service!
Good customer service I paid a little more than expected but I'm happy
Kate has been very wonderful service. To us
Kate has amazing customer service all smiles very professional and full of knowledge with products and units.,, I highly recommend this place ,., Kate again thank you for your help
Great safe place for storage and very clean, the workers there are wonderful to work with especially Kate she was very kind and professional she was very patient with all my needs Thank you
Just rented a spot from Kate and Krystena ...they were extremely helpful in finding us the best fit for our needs. I will recommend them to my friends who have storage needs. They truly made the signup experience enjoyable.
Agent hung up on me after rudely telling me that I called during an auction with no explanation of being unavailable or anything. I was calling because I saw an email dated 6/17 stating I had 5 days to pay, or my unit would be auctioned, which is when I became aware that my account wasn't on auto draft like I thought. Called yet again to speak with someone regarding this, and the agent was irate from the second she answered, was completely unhelpful, and hung up on me again. I usually don't ever get attitudes with reps, but her attitude, the poor way she communicated things with me, and her rudely hanging up on me twice are problems that need to be addressed. You could say "I apologize, but could you call back in an hour, because we are busy with an auction" or even offer to call people back if you're going to answer the phone. Simple customer service skills, and de-escalating conflicts that you start go a long way. It'd be different if I were an irate customer from the beginning - that wasn't even the case. I am completely disgusted with the way I was treated
My experience at the public storage on the Berlin Turnpike was exceptional Kate was phenomenal and helping me acquire the best unit for the best price help me with the seasonal promotion and got me in and out in an expeditious manner I would highly recommend this property to anyone relocating to the Hartford area thank you so much
Paula was very helpful! So far so good. We just moved in but we think it's going to work out great!
Just wanted so share my experience at Berlin location .. excellent customer service both employees were so helpful to me answer all my questions especially KATE I'm so great full to her taking the time to listen to me ... that's all the best !! I'm just amazed this experience make my day more easier to me !
Great Customer service! Kate was an absolute gem. Very helpful, explained everything very clearly and was so nice. Not to mention this storage gave me the best pricing anywhere in the area. Glad to be storing with them!
Really easy to get a storage unit. its pretty affordable but just a warning - there is an additional fee per month ($11) for insurance, but Kate was so friendly and made my experience very pleasant!
Krystena was very informative and friendly, and made the move in process very easy for me.
The workers here always make me leave with a smile on my face! Awesome service
Great service! Super friendly and really helpful! Paula was great 😀
Kate was very sweet and had amazing service
Service was great I definitely recommend it's improved a lot!!
Debbi helped me complete the rental. She moved here from Texas and her super nice demeanor shows. She said it was her first day at this location but has been with Public Storage a long time. She really knew her stuff, was knowledgeable, gave great advice, and was very helpful. Thanks Debbi!!! Good luck in Connecticut.
Great place to go very clean and well kept. Felt safe to store some valuble things there
Great experience... Property is clean. The staff Kate is awesome.
Paula was so helpful definitely recomend
Thanks to Kate, not only did we have a good laugh, but she was patient and answered all of my questions. Thanks!
wow great new office staff! Very helpful and courteous. I'm very pleased with the new changes you are making over there. I will recommend!
Amie did a great job showing me the unit and properly helped me with everything.
Good customer swrserv. Amie went the extra mile to ensure I had the unit we needed. Would recommend them to anyone!
Amie the manager was very helpful and supportive. Price of rental space was great. Location well kept and secure. I reccomend highly!
You need storage? Ask for Becky on the Berlin Turnpike. She has a wonderful personality. She was friendly.
Becky was wonderful. I had 5 stars service would highly recommend. She really made my day
Amie and Kate had to show us many units to find just the right one. They were both a pleasure. Looking forward to seeing them each month!
Amie and Kate were very welcoming and nice. Will come again :)
Kate and Amie were amazing to deal with. Super pleasant and super efficient. Whatever they are paid, it should be more! Thank you.!
Very cool staff thanks Amie and Kate
I have been a customer here for years and the staff have been professional throughout. I strongly recommend it.
Amie was very helpful in providing me with the proper size unit for my storage needs.
Paid for out of state unit here. No problems. Nice people.
Krystena was very helpful in getting me the best unit for a good price, good experience
Amie was awesome!!! She helped me through the whole process and it was amazing! Can't wait to start moving in!!!!
Krystena was awesome. Very helpful and very friendly. Thank you!
I just moved my belongings in today. Krystena was very helpful and made the entire process easy. So far I am very pleased. This move was pretty stressful for me and it was nice to not have to worry about this part of it. Thank you!!
I had a great experience with Paula showing me the grounds
Clean property, Professional staff, very welcoming!
Love public storage staff they answer all my questions
Returning customer because of the fast, friendly service. Krystena was very knowledgeable and professional.
So we got a spot and it was clean. We paid a fair price. The people did not try and be nosy. They did not bug us. We kept the storage for about a year... So it was cool.. No issues. We paid every month like normal. Oh the last day we were there moving our stuff out there was a group of people there bidding on a storage space.... It was like that TV show... storage wars... I was glad I was moving my stuff out.
Krystena gave us an awesome experience, very professional, would recommend to others, thank you!
Krytena was awesome and I have a great experience.
Krystena is an awesome employee she went above and beyond!!
Just rented a spot for a year. Extremely clean and manager was very polite., and professional. Could have not been easier. Was there on 9/27/2018. Thanks for all the help.
Krystina was wonderful! very professional and extremely helpful. Exceeded my expectations!
Krystena was awesome, she explained everything clearly, would recommend !
Krystena was very professional courteous and I would highly recommend this place
Krystena was very friendly, was very satisfied and she was a good help
Public Storage worker Krystina? acting management: Thank you very much for all your help, you showed a calmness and professionalism with much knowledge on how the system work with public storage in reference to promotions. My wife a disable veteran and I came to you in a crisis situation as a last resort, after speaking to several storage companies, and you use your management skills to help us. Please don't go anywhere. The Berlin community needs you. Thank You in advance for actively engaging and address our situation. THERE IS ONLY THREE WORDS THAT DESCRIBE YOU AWESOME, GREAT AND WONDERFUL.
Krystena was amazing and super helpful, originally we thought we needed a 5x10 but after she showed us both units we ended up getting the 10x10. Krystena was very nice and personable she got us the best rate and gave us a wonderful tour of the facility and answered every question we had! Moving is awful and Krystena made this step actually enjoyable!!! So happy with our choice of a storage facility!
Great experience, Krystena was super and nice and helpful and explained everything to make my move quick and easy.
Excellent service by Kristen's, so helpful, polite & friendly!! Absolutely recommend!!
Person in office Kristina was very helpful to me and my Husband
Krystena is very kind and helpful! Great employee, best customer service in a long time.
Krystena was awesome showing us our unit and answering all of our questions! Very happy with our experience.
Krystena was great, I had a good experience
Krystyna provided professional and informative with storage. Great personality for this position. I am very comfortable with your units because of her.
Jessica and Renae gave me excellent service. I stored at this location for five months and no problems
are you willing to do a pay for 3 months get 3 months free (or more , such as pay for 6 months get 6 months free) other facilities are
Thank you paula for everything,great person and so friendly,great place to,thanks again!!!
Excellent customer service at this location. Renee was pleasant and helpful.
I had never had customer service like i have never had before. Made my visit. Thanks to ron
Renae was awesome great quick service !!
Would recommend to friends..
Samantha Rocks. Their new billing system had issues, but Samantha helped me navigate the issues I was having.
Samantha is great helping with evrything here on the berlin turnpike storages!
I've been a customer here for nearly 2 years and have been extremely happy with the Property Manager on site, specifically Samantha. She is always extremely courteous and in bright spirits. Very helpful if I have any questions. I've never had to use storage before, but everything seems pretty easy and straight forward here. A wide range of access hours and I always have somewhere I can park my vehicle when I need to access my unit which is all I really need. The facilities could use a little updating, but all things aside the Customer Service is exceptional and the hours of operation are convenient.
The manager Samantha is the best!
The staff are great. Very helpful, professional and curtious. As for the actual building,it would be helpful to have a better elevators that could fit large items in it . Also to be able to leave without having to get out of car again to put in passcode again. .
The manager Samantha is great @ Berlin Public Storage!Samantha is always willing to help. The only negative is if Samantha has a day off we have to wait for her to return to get issues resolved, but Sam gets ⭐️⭐️⭐️⭐️⭐️ from us!
Public storage is a very good place to rent the staff is very helpful and kind I will recommend it to anybody it's very clean and thay take good care of your stuff love it thanks a bunch public storage you get A + 😉
Samantha help us to choose the right unit. Verry helpful person.
The ladies were very helpful in helping us pick out a unit. They let us look at it first to make sure it was the one we wanted. I would recommend this place to anyone.
very satisfied at the berlin facilities. Samantha and staff are friendly and helpful. I highly recommend this site!
Would give 0 stars if I could. If you care about your things, DO NOT LEAVE YOUR STUFF HERE! Staff is nice enough, but units are buggy and gross.
Rene was great to work with!
Samantha was extremely nice; made renting a storage unit extremely easy and headache free. Would recommend family and friends to store their personal belongings here.
Samantha was such an amazing help with this being my first storage rental and all. She explained the process to me and made sure i understood everything to my best ability. Shes just amazing im definalty looking forward to being a member here
Great place good services
Decent rates and pretty clean storage unit is a little run down but for the price was om
So the fact the staff have to go through corporate to take care of any fees etc.. is RIDICULOUS!!! BUT the extremely helpful staff member Samantha was more than willing to assist in helping me take care of a "life happens" mistake. I've had my unit for almost year. Public storage is a nice facility and all but the fact that I have multiple units and they raise the storage cost aggravated the living s**t out me when the letter arrived. ONLY reason they have my business is thanks to staff members like Sam‼️ (End rant/ Review)
Samantha has provided great customer service over the past year. I highly recommend using the Public Storage facility in Berlin, CT for your storage needs.
Clean premises and friendly staff
A very helpful counter worker excellent job 4.9.17 935 am
Samantha Is A Very Caring, Extremely Helpful, Very Kind, And A Wonderful Property (Berlin) Manager And A Dear Friend Of Mine For Several Years Now! In Addition, I Remember Pastor Dean And Pastor Pina Pepin Were Property Managers Here At Berlin Public Storage For Many Years!!!!
The gates are only open from 6 am to 9 pm after that there is an alarm that goes off. They make you get insurance and this insurance covers basically nothing but themselves. The elevator doesn't fit the hand cart they provide to move heavy things. Carts are locked up in far locations and facility closes around 5 or 6 so if you work you will have no access to the hand carts. Terrible set up they need new management and They never answer the phone when you call-- Leave a message wait two days for a response
Great service from Samantha today. Very clean lot. We will be back to rent soon.
I went to cubes mart on the Berlin turnpike and their units are much smaller and more expensive. Also the lady samantha was much nicer than the other storage company. Thank you public storage.
I had such a great experience here on the Berlin turnpike Public Storage. Both employees in the office were super nice and worked well as a team to help me out. Thanks a lot guys you are awesome
Wow, The most difficult and uncooperative manager... wants to know details of items being stored, refused provide ballpark prices, copped an attitude that felt like gender biased against white males.
The service is great samantha the manager is awesome she is very helpful and very understanding as well as the units are clean and the whole experience is wonderful
Samantha's customer service was excellent
Samanta and Cristina were awesome, Outstanding Service, very friendly and helpful :-)
Service was quick and easy. No wait no problem
Samantha was very friendly and very helpful! I had an amazing experience here and I would definitely recommend this location!
Good. Service and very helpful and. Nice worker Thank Samantha.
Samantha is the manager and went the whole nine yards to help me. She gave me a discount. She suggested one great mover as well and on top of all that she gifted me a plastic cover for my mattress . How can I forget this kindess. She is great and professional. This is what you call great place and great people.
Samantha and Desoree were awesome, experience was very pleasant.
Grate customer servise by Samantha for giving me a cart to use for free and she drove her truck to my unit to give to me
samantha was so helpful. she provided me everything need for a good storage. had very great experience at this facility. thank you
Great service! Thank you Samantha and Des!
Great Customer service here with Samantha and Desoree!!
Samantha is a great person, she helps you with any question or help you need.
Taylor D was so helpful when I was going into my storage. I couldn't get in and she helped me get in the door she held it for my family she found us the car and she was very helpful I would highly recommend her for any advancement position
My time there was perfect Samantha was wonderful from start to finish. I would like to say she is a very smart person and does a good job I would send all my family and friends to rent from Samantha's Public storage.
Samantha is great. It is nice to see an efficient multi-tasker! She deserves a raise.
Had a really great experience at this facility. The property felt safe and was very clean. Also shout out to Sam for being so nice and helpful! Definitely suggested this place to friends and co-workers.
Great place with really professional and amazing costumer service. Love the way and the attention provided by Samantha!!! Highly recommended!!! And on top of that, the best prices in CT!!!
Great place really professional and excellent costumer service provided by Samantha!!! And with the best prices in town!!!! Highly recommend this place!!!
Samantha is great!!!! She gave me the best deals on package supplies, for all my belongings. I got mattress covers, boxes and much more. Great service!!!!!
Excelent..!! Nice prices.!! Nice Custumer Services.!!!
My experience at this location was very nice. Samantha was very professional and satisfied our needs. I recommend this location highly.
Samantha was a great help and very nice
Samantha was wonderful. She took her time explaining things and being helpful which was a plus .
Mike Flynn and Samantha are awesome and are truly here to "take care of you". The facility here is clean and safe will be a repeat customer for sure.
Very quick n easy for storage space n Samantha was helpful
This storage company is great!!
Very excellent service very professional quick to answer questions ,Samantha was very professional excellent at her job love it
Very friendly and helpful. Great personality. Very nice units. Got us in last minute, quick and easy.
Property manager stayed an extra hour and half just to help me when I was in dire need of a place to put my stuff
This place is great! Samantha got us a space for the RV at a great price and was very friendly and helpful!
It was a great experience. Simon & Samantha made it quick, easy, and even gave me a fair price all while giving me the best customer service I've received by any company in a long time. I recommend this to anyone who's in need of any of the services they offer here at Public Storage.
Good security, clean property.
To whom it may concerns. This public storage has been good to us from the get go. Nice friendly professional services. They help you out and work with you went situations changes. Happy to have . Samantha in this team.
Very nice place to have a storage unit with. The location is great.
Pam was very helpful and explained everything to me in great detail. made my experience very pleasant!
Great service very polite and helpful
I have been a customer with public storage in Berlin Ct for over year now. Always friendly service and willing to help out. Samantha is a great customer service rep along with the rest of the staff. Def recommend
Good location, clean area and friendly staff.
I am a satisfied customer. I commend you Samantha and other employees who took the time to listen, return my calls, your attention to detail and superb customer care was outstanding at all times. Your services have relieved me of the stress of storing and securing my household items. Thank you.. So much.. Wonderful Place!! 2012-2014
Great helped me set up online account
We have had a wonderful experience at the Berlin Public Storage facility. The woman that helped us is such a sweetheart. Samantha was very patient with us during the move in process. We are happy that we have decided to rent here with Samantha in Berlin.
Very Good prices in this location
Grate price and friendly people
Nice location and rented a few times with no problems
Super clean store!!! I park my car here every winter. Since Carmen has taken over, that property is always clean!!! It always smells so nice in there, and shes always pleasant when I make my payment
I often have to store items as I come home from school. I am always well received at this Public Storage. The office staff is incredibly friendly and helpful and the property is kept immaculate. I will always return to this site and recommend it to fellow students!