Public Storage Self-Storage Units at 2010 N Main St, Layton, UT
Address
2010 N Main St Layton, UT 84041
Office Hours
Mon-Fri 9:30 AM - 6:00 PM
Sat-Sun 9:30 AM - 5:00 PM
Gate Access Hours
Mon-Sun 6:00 AM - 9:00 PM
Storage Facility Features
Climate Control Storage

Car Storage

Small, Medium & Large Storage Units

Indoor & Outdoor Storage Units

Property Manager Lives On-site
Office Hours
Mon-Fri 9:30 AM - 6:00 PM
Sat-Sun 9:30 AM - 5:00 PM
Gate Access Hours
Mon-Sun 6:00 AM - 9:00 PM
Storage Facility Features
Climate Control Storage

Car Storage

Small, Medium & Large Storage Units

Indoor & Outdoor Storage Units

Property Manager Lives On-site
Close Location Details
View Location Details
---

5'x5'

Climate Controlled

Inside unit

1st Floor

---

5'x10'

Climate Controlled

Inside unit

1st Floor

---

5'x15'

Climate Controlled

Inside unit

1st Floor

---

10'x8'

Climate Controlled

Inside unit

1st Floor

---

10'x10'

Climate Controlled

Inside unit

1st Floor

---

10'x15'

Climate Controlled

Inside unit

1st Floor

---

10'x20'

Climate Controlled

Inside unit

1st Floor

---

10'x30'

Climate Controlled

Inside unit

1st Floor
Nearby Self-Storage Locations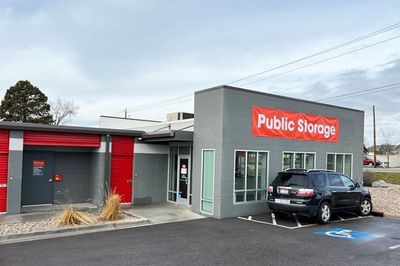 Self Storage Near
184 E Antelope Dr
Layton UT 84041
Resources from the Help Center
See what fits in different storage unit sizes
At Public Storage, You'll Always Find...
Keypad Access

Friendly Staff

Month-to-Month Rent

Moving Supplies Available

Free Parking

Well-Lit Facilities
Reviews
( 782)
Fantastic experience so far! Got everything sorted online but I went in to see the unit ahead of our moving day - it is very clean, uniform and safe. The facility is well laid out and offers a variety of unit sizes for whatever you need. The staff was wonderful - Emily was very knowledgeable, friendly and professional. She took her time to discuss the various property details and made sure that I had everything I needed in time for our move-in. Having worked in customer service for many years, I was very impressed with the service I received and would highly recommend!
Wonderful amazing so helpful move was stressful they made storing easy thank you.Emily is so knowledgeable and helpful thank you .
Emily and Mike have been so helpful. Always willing to go above and beyond for their customers. Emily is so attentive to my needs. She made sure all my questions were answered and the process seamless.
Mike and Emily are always so helpful. They helped me save money on my unit. They are always so nice and patient when I come to the office. The place is always so clean and well taken care of.
So expensive, I have had a unit there since 2019. I was paying $79, now I'm paying $159 for the same unit. You can only go to your unit when they are open, which is dumb, when you have to use a security code...
I have only great interactions with Emily, Michael, and DM Jose'. They all listen, are polite , and go above and beyond to help your situation any way they can, and let you know the outcome may not be what you requested. But what's important is they have GREAT CUSTOMER SERVICE!!!! I wish I could say the same for the person who was at the Support Help Line. ( I won't give her name she knows who she is ) I was vacating my unit on 10/5 asking if I could pay for the days I used the storage I felt that was fair . The only response from her was You have to pay for the whole month you needed to be out by the end of September this is our policy. I explained I was in MN checking on my father who was ill, and could not have done that . Again I was told This is our policy ! A few awkward minutes of silence, I asked if I could speak with Corporate. She replied I am with Corporate. I was amused. There is no way this person represented any Corporation. No,,,,,,sorry to hear about your father, hope he is doing well, No,,,,,,let me see if there is anything we can help you with. No,,,,, I can't make any promises . No,,,,,, thank you for being a loyal customer with us. No,,,,,,,I will get back to you as soon as possible. NOTHING. I will always do the right thing regardless of what I have to pay. Just listening, understanding,, and kindness makes all the difference. Thank you Emily, Michael, and Jose' for the Making the Difference !!!!
(UPDATE!! As of 09/1/23 you raised again by 30%) I've never once been late. You're truly scumbags YOU RAISED MY RENT BY 100% *DOUBLE*. Just spoke with Debbie and she seemed pretty accustomed to these types of complaints and said she is going to "look into it" What kind of company does this? I'm appalled. How can you do that to someone, Especially a student/military. I got no notice. My budget is now in the red. I cannot get my meds now. And Please spare me the "we're sorry we didn't earn 5 stars for you ". Maybe you're allowed by law to perform this abuse, but what does that say about your company? My unit is 1103, please fix this so I can edit this and say you helped me in my crisis.
When management misspoke and failed to do things right. They ask you the customer to make up for it and do the leg work. Poor communication and conflict resolution. Everything talks about convenience. As the DM Jose would say "sucks to suck" thanks for the lack of help.
Emily and Michael were very helpful. We needed an additional unit for storage and they set us up super easy, took like 5 minutes. The place is clean and there are cameras everywhere, as well as an access code requirement for entry. Very reasonably-priced as well.
I have to say THANK YOU! A huge thank you, to Emily, best employee ever! She has help me so much with my unit's rental and save money with the specials! Thank you Emily you go the extra mile and more for your customers, you are the best!!!
Very clean and spacious building. Madison did a great job helping us get an appropriately sized unit and in answering all our questions.
Beware ... I just received an email with a 25% rate increase. I've been there for almost 4 months. The online discount that was utilized is now replaced with a rate increase. No additional services are being provided to justify this increase.
Very clean and secure They're inconsistent with their billing.
Emily is always friendly and great to work with. Thanks!
Awesome job! Easy access and secure, I had all my stuff locked and secured with public storage I will personally choose public storage 100% completely professional staff always willing to provide the service by answering all your questions, convenience payment options and flexible, and affordable thank you guys looking forward to do business with you again in the future if the needs arise!
Horrible customer service. No one is present at the facility and no one answers the phone or returns messages. Prices and fees are not great either. I'll be going elsewhere.
Stacy was very helpful when I called to get information and pricing.
Camree was awesome and so helpful!!
Very clean facility. Camree and Stacie are so sweet and funny.
Stacy was a great. Helped us find the right size unit and was very informative. Very friendly.
Camree was so sweet and helped us download the app and get our storage unit fast'
Staci is amazing! Thanks for the help
Don't rent here. Had my unit for less than a week till everything got ruined from multiple leaks. Been a month and no one will tell me who's responsible. Just go elsewhere
Very Professional Customer Service Helped Me Address My Issue Of Paying On A Unit When I Was Told My Partner Cleared It Out N Took Lock Off But She Lied and Management Let Me Open My Unit Yo Find It Full And Without Permission To Store Additional Items So I Paid Unit Off Signed Over To Storage Unit Which Made Them A Pretty Penny From The Online Auction. THANK YOU I Will Be Recommending Your Company For Storage Purposes To Anyone I Can Send Your Way!
Emily was extremely helpful in dealing with us on a Sunday. She was the best in handling a complicated situation involving my in laws moving from Virginia. Thank you Emily!
The staff here is awesome and friendly. It was snowing really bad the day I got my storage unit and the lady was fast and helpful in getting us in quickly so we could get out of the snow
Great customer service provided by Camree at the Layton Location located off of Main Street in Layton,UT. I really liked everything could be done in such a quick and easy manner.
Always a very nice experience... treated very well
Went in to ask about prices and Ashton was so helpful and walked me through the pricing as well as showing me the different sizes!
Camree and Ashton were so helpful and funny
2+ months after I moved out and received confirmation emails that I was moved out and all settled, they are trying to charge me for a mistake on their end. 3+ weeks later, I'm still waiting for "my" account to be adjusted to zero. They've called me to tell me they know the issue and my account would be credited…still waiting with no additional communication or call back from their local office. Save all emails and communication from this place or they could stick charges to you even months after clearing out.
A lot of confusion with the reservations, and miss communications with the meeting up. But the agents in AZ and CA were amazing and got me taken care of. Great first experience! When and if necessary will likely use them again but also this location. It's clean and in order!
Pitiful! I tried renting from this place today on 11/17/22. After seeing the reviews. I was excited to give it a shot. However after having my card charged to the amount of $51.44. I DID NOT get any gate code access or anything of use at all. Instead of moving my stuff in. I not only don't have a storage unit to store my stuff in. I will have to take them to small claims. If you're thinking of renting from this place online DON'T DO IT. Unless you like being sent to 3 different people who have decent customer service skills, but don't have a clue where your money went. They just know they don't have it. Save yourself the hassell visit the place, and sign contracts in person. Forget this garbage.
Carson was very helpful in shoeing us different units and made sure we got our online stuff done to help us and Shelby was very sweet helped us out by changing our day and got us a closer unit to the door and office made our day and got to show them some pictures of my hand from my finger being cut off they asked and the unit was clean and the building was clean we had a very nice experience thank u
No one at the desk every time I go. Got stuck in the back with the gates and no one around to open them. Code doesn't work. Waited for an hour.
Wayyyyyyyyy too expensive and they force you to get insurance which bumps the price 15+ dollars.. I was paying 80 bucks for 5x5.... No way in hell I should pay more than 20-30 a month. I mean heck just in a year you might as well bought all new stuff after paying all that money...
Clean, courteous attendants and quick to respond to my inquiries. They even lent me a lock until I got my own!
Service was awesome. Brennan helped me and went above and beyond. He even saved me a few bucks by giving me a used lock when unknowingly purchased the wrong one from Amazon. A++++
As of March 2022, they're not Extra Space. Yet the reviews and positive feedback REMAIN?! Public Storage needs to start at ZERO reviews! They don't even offer a military discount! Debbie is awesome. Always rent from her! She'll treat you fairly. LE is equally good.
This place is no good!! We got 2 storages when it was Extra Space Storage when we moved out of our home... We fell behind on our payments because my wife and I got COVID... Yesterday my wife got a phone call and it was Public Storage saying that our stuff was going to auction the very next day... Because of our family helping us we paid what we owed, plus they tacked on an extra $400 in late fees... We're moving out of this place ASAP!!
Can we get access fr later time to exit property
Military friendly! Megan bent over backwards to help me with my changing departure date. Highly recommend, thank you again Megan!
The place hasn't mowed the lawn yet this year, looks abandoned. They purchased this location from Extra Space, but left the Extra Space signage up for two full months, totally misleading. No military discounts. Glad there's another Extra Space down the road.
Meghan at the Layton public storage that used to be extra space storage was so helpful, she had awesome customer service skills and if I needed any storage space again I would definitely be a repeat customer, Thank you again Meghan, your the reason why customers keep coming back!
Great service! I was a little hesitant on staying with this facility, since it changed owners (Extra Space - Public Storage). The staff was very friendly and the facility itself is very clean. Prices are a little high, but it is worth the climate control and cleanliness of the place. Staff as well, make the price worth it. We recently moved out of the unit and the process was easy! We would definitely use this location again.
Not happy with switch from Extra Space to Public Storage.
Great place, friendly people.!!
Great costumer service. Easy access and friendly staff.
Debbie was courteous and efficient, found us the perfect unit for our needs.
Always professional and the space is great.
Online sign up was going well but died on me part way through... Called up and was able to pick up right where I left off. Nice, clean facility, and helpful staff, both on site and on the phone!
Debbie helped me out and was so nice! I will refer others for sure!
Debbie was a great help! Had an amazing experience.
This storage unit place is awesome , affordable and very large outdoor units, easily accessible. 👍
Everybody was super friendly and helpful. The site is super clean and organized, I felt very confident that this was a great place to store my stuff.
Fast and easy experience.
Good customer service very clean facilities.
My husband and I are in the military and lived in a camper. Safe to say, we had a lot of stuff and no where to put it. Extra Space was a life saver!! Great price, great customer service, and peace of mind!!
Excellent customer service and great environment.
Great clean place! Very professional. Staff is nice and polite. Easy to set up a storage! Would highly recommend:)!!
Just needed for a short period of time. Debbie and Josie have been wonderful to work with. The facilities are clean and well kept with reasonable prices. I'd highly recommend Extra Space Storage to any of my friends and family.
Staff was professional and polite. They helped us out so well with what we needed. Place is clean and organized
Website works great and employees in store are very helpful and work quickly
They have great service ,come check them out
We love using Extra Space Storage, the prices are fair and we love that it is climate controlled! Not to mention how amazing Debbi and LE are, thanks for all your help!
I chose Extra Space Storage because of the price, location and cleanliness. The process was quick and easy and the unit was everything you can expect. We had no complaints. We moved in August 18th. We got a notice in the middle of November that rent was being raised over $50!! I went into the office to ask a question about my unit code and Debbie was helping me. I mentioned to her I wasn't happy about the rent raise. That's all I needed to say and she took the initiative to reach out to the DM and request a decrease in the rent raise. Two days later she called to inform me they were only raising it $10! Debbie is AMAZING and she is why I am not giving this review a 1 or 2 star. My only complaint about the Storage Unit itself is that the dolly's are not always at the front. You have to walk down all the halls to find one.. and sometimes you still can't even find one. I like the security, cleanliness, and how easily accessible it is!
Doug was very helpful and professional
Very friendly staff! Great to answer questions and get my unit set up.
Always great to work with! Everyone is very friendly, helpful and very fast to get back to you. Highly recommend!!
I really like the facility, however lost a star due to the bathroom being closed and lost another star for the ever increasing rates. I realize the market changes, but when you budget for the rent offered when you signed the contract and then they raise it by $30 bucks every 3 months, it feels very underhanded and taking advantage of the fact you're stuck. They should honor the rent offered when the contract was signed. In the future should I need a storage unit, I will search for a facility that will guarantee you rent for the duration of your tenancy.
I worked with Asst Manager Simon Rincon today on an additional unit. He was very helpful and courteous. The units are very clean. It's great having an inside unit and the extra security of controlled access.
Highly recommend this place & am pleased to have found them. Customer service (& the staff I interacted with in general) were just an absolute pleasure to deal with (on the phons as well as in person); & everything in this building is spotless! From floor to ceiling, all walls, glass, doors, etc spotless to a "T" & extremely well lit in every area. Very impressed with this place & definitely recommend!
Facility was nice and clean and Debbie was super helpful and friendly!! I'd definitely come back here for future storage needs !!
Super friendly customer service and very helpful
Super nice and easy to work with!
Extra Space Storage is a very clean and easy to access. The staff is super friendly and willing to answer questions. The only reason I am not giving this a 5-star is because I have been here for 3 years and the rates kept going up consistently.
Amazing deal amd space! 1st month was free amd they included a lock. 10/10 would do it again
This place has been treating us amazing. The lady here is super sweet!
great experience to get our tvs in storage!
Awesome experience. Good customer service and information on where to go. 5 star review
Very clean and good service
Wonderful costumer service and prices
Great service and got in quick.
Wonderful customer service from Debbie!
Amazingly friendly staff. Recommend to everyone. 10 out of 5 stars
Very friendly staff. Whole process was quick, easy and took less than 10min
Customer service was super good. Loved how clean everything was.
Debbie was super on top of answering any questions I had, made it a great experience overall!
Polite and reassuring our items will be kept safe during deployment!
Excellent customer service, safety is excellent, work with us very well
Space is easy to access and clean!! Great customer service. Debbie is awesome! She called because my payment did not go through and I found out that my payment was raised in price! Come to find out your rate increases after a certain amount of time and of course I was not happy to find out about this. The increase was almost $70! She was able to get my rate back down to my original rate and although my rate couldn't change for that month and I had to pay that amount she credited it onto my next month.
Its a storage unit... what can I say? It's good I don't know what they could do better but I am satisfied with the service as well as the price.
Great experience with customer support for any and all questions. The web experience was clean and very user friendly.
Quick and easy check in. Super friendly staff
Its my very first time renting a space at a storages facility... Great place and I would definitely recommend it to a friend or family...
Very friendly and helpful
Enjoyed the customer service at this location. Place is clean and secure.
The ladies were very friendly and helped me with my needs and showed me different options and their prices were more affordable then other places i looked at, the storages are clean, well lit up and air climate controlled
Very friendly helpful staff!
Best storage experience I've had, very clean and in an amazing location. Staff is super kind and helpful!
Clean storage unit and easy process of rental, staff helpful with all questions.
I loved having my items stored here! Super clean, the staff is really nice as well. Affordable and I love the self-service with the door code. Very happy.
Friendly great service. Very clean units and building.
Very clean comfortable space. Friendly people
Very well kept storage unit very nice employees all around good place to store your stuff at
I love the staff here. They're super nice and friendly and helpful. Great place to store your stuff!
10/10 recommend this storage facility! Polite and kind staff and clean storage.
They always support you whenever or whatever u need help with.
Very clean, a lot space, very accessible. Nothing less then 5 stars.
Great company great prices and fantastic service! ❤️ 10/10 would recommend
Very safe and secure place. Alex was very helpful and nice. Great store!
This place is not the cheapest but, they work with you on payment they are always very helpful, very professional, they always remind me and call me when I've forgotten to pay but I would recommend them 5000 times over and over again.
Things couldn't have gone better. Nice clean secure facility.
Great service and amazing customer service! Would definitely recommend!!!
Great facilities. Good rates and wonderful friendly help!! My highest recommendation 👍👍
Easy access to our unit, PLUS they have carts to use for hauling your stuff. Love that!
Super easy to rent a unit. Clean facilities. Super happy!
storage unit was extremely nice and clean. 10/10 would recommend
Great service. Chris Henry stephen
Fast, friendly, and so clean. I will always use this storage facility💕👍🏽
I feel my things are safe and secure always here.
Excellent customer service!! Staff was very helpful!
Great place, great customer service
The place is very clean Staff is great Best storage I have ever had
Debbie was great and healpful. Most of all fast! I needed a last minute storage unit and needed to move out Extra Space Storage got me a unit FAST and its not contract base. Love it!
It was a great place to store our things!
Debbi is a great manager, very pleasant to work with.
So quick and easy. Loved it.
Debbie was amazing when I first came in and had to come back to get a storage unit. She made my experience amazing.
Excellent high class establishment.
Friendly staff that helped me when I asked for it and answered all the questions I had
Got me in right away, gave me a promotional discount ,very clean , good lighting this would be highly recomended .ie. Great place!
, Matt helped us out a lot! He held the elevator and quick to offer help. He made what could have been a long pricey process quick! Even help another couple with with lost keys in an elevator. Great service
Easy setup through the NSC process. In and out in 5 minutes
Great service, fast to get going & get your unit! Overall would definitely recommend!
I was able to easily talk with the representatives and they were polite and understanding to my situation, showing me the types of available units and helped me to get one ready to go with little hassle.
Doug was extremely helpful in assisting us in getting some much needed extra space.
Had an awesome experience here, and they were super nice and professional. Got everything in same day I called!
Deb was great. Very easy to work with. Knows her stuff. Thank you.
Doug and Debbie were both very kind and helpful. They were very clear on relaying information and I feel very safe with leaving my items in Extra Space Storage! Alex was also super friendly. I've been here about a year now. The facility is super clean and I definitely have been grateful for the security.
Great place and staff to deal with!!! Easy and friendly!!
The facility is very clean and has friendly staff.
Only place that answered their phone. Very friendly. Good prices. Very clean
Nice clean safe and secure love it
Everyone is so sweet and caring! Helped me out in a time I needed it most!
Debbi is so helpful and amazing. The place was so clean and beautiful. We appreciated every thing she had to help us with.
Very nice and clean storage units!
I have only used ESS a short time but have been impressed with how clean and organized the units are. The whole place seems very secure and easy to access. I would use them again! Thanks
The Assistant manager At the layton extra space off Main Street Was very professional and very fun to talk to great experience all around and I am excited to start storing my Stuff in my new storage unit Thank you Derek
Clean and tidy place. Really friendly staff, Alex and Tay helped me with everything I needed. Overall great experience, would definitely recommend!
Debbie helped me so much and was very professional.
No need to shop around, the friends here at extra space storage are absolutely wonderful. Fast and friendly staff, with a modern clean facility. Debbie and Alex were especially great. I give them 5 stars and recommend them to anyone looking for a safe place to store their things. Thanks guys.
We use these spaces for storing all of our goods at the Layton Crumbl! They are awesome here and always helped me out!
They were great for me. I rented for 1 yr and would gladly recommend them 👍
Cheap clean great access hours 6am to 10 pm quick easy.
Debbie was fantastic with me. Gave me a great breakdown on the units and was able to find one that will work for me. Great sense of humor and easy to work with. Thanks Debbie appreciate you. ☺
Great Storage at a Extra Great Price!! I highly recommend this storage company!
Nice facility a bit pricy and can't access your storage space after 10 pm wich the shift i work makes it very difficult to get time to get in and out of my storage space in the hours that are set but it's a nice place and it was less then a mile from where i was living at the time
A place you will remember for storage needs 😊
Great soft bright LED lights light the storage units nicely with out harsh shadows even when the unit is full.
Great place to store stuff. Very bright automatic LED lights make it the best illuminated storage unit I have ever seen. The building is very secure and always the right temperature. I was at first I was scared of hauling my stuff down the hall, but they have many carts I used to haul things.
This is my second time renting a space from them and i feel secure using them. The facility is clean and i can access my unit easily.
Clean and secure with friendly staff!
Debbie was incredible. What a great storage unit. Indoor facility is well worth it
It's nice. They're really friendly
They have a very clean storage and they are very friendly
Super clean indoor storage with security cameras all around. Don't waste time anywhere else.
Friendly atmosphere and very clean.
Great place to store storage. Only issue I had was that setting up my automatic payment didn't go through. The regional manager ended up contacting me making sure thing a were fixed after the few missed times. They definitely made things right.
These guys have been great. Easy and safe storage. Always professional and kind to work with. I love that its indoors. Highly recommend
Great place for storage, clean, friendly. Would recommend to everyone!
This is probably one of the best storage companies that I've found to date. They have great prices, they have amazing self-help and customer service, and the prices are phenomenal! I would definitely recommend.
Great prices and friendly management
Great serves as always. Incredibly friendly and quick to aid.
Debbie is awesome! Very helpful and was able to get me an amazing rate for my unit. 10/10 recommend!!!
Always clean great units and friendly staff!
Debbi is fantastic to work with! Super efficient and helpful!
Attendant was friendly and helpful.
Derek was extremely professional and efficient.
Super friendly and clean. They're so helpful, if you need help bringing stuff in they will help. I haven't been anywhere that is so willing to help.
Doug and Debby were awesome, super fast super friendly, clean place smells nice,
Very friendly and helpful
Great facility and great service!
Excellent, knowledgeable and friendly staff. Very easy to sign-up. Debbie showed me the space before signing up so I could decide on the correct size.
Ver friendly and great prices! Definitely to here for storage! Amazing amazing!
Friendly, great customer service, quick, and very clean.
Place is super clean and staff is very friendly. So far we just started this experience but so far so good. FYI you do need to get insurance through them :)
The facility is very clean, easy to get into. They have rolling dolly's you can use. It's affordable in my opinion and everyone is super friendly.
It was great to get set up. Debbie helped me get through everything. Got a great deal too!
A great place, to to store my extra things while I moved.
I love the indoor facility! The weather is always good for moving. They provide the carts to bring items from the covered parked to your unit, nice bright led lights inside made the unit easy to manage and the staff are friendly and helpful.
Employees are outstanding folks to work with. Storage is clean, warm, and nice. They treat me very well.
Doug was a great help and accommodated all my needs. Definitely recommend. Great price as well.
I like the person who helped me with my needs of storage at extra space storage
They are super clean, very helpful with any questions and welcoming. The prices are very affordable for the size and quality.
I always store there! They work with you whatever the situation!
The management was very polite and helpful
Extra clean and nice great experience
Great storage experience. Very, very clean. Good management
This held our stuff nicely and isn't too crowded
We LOVE Debbi!! We've been working with Extra Space Storage in Layton Utah for a few months now and I've found it to be such a great secure, clean place to store important pieces or furniture and other keepsakes. Since Debbi has been at the front office it's even more enjoyable. She is so informative and willing to make sure we have everything we need. She's always cheerful (from the way she answers the phone)) to helping you check your updates. Debbi runs a tight ship and we LOVE working with her! My family has been impressed too. Thanks Debbie!! Teresa H
Super clean, very nice people.
Love this storage place they are all so nice!
Best storage facility by far!!!
Office staff are very helpful and friendly and the place is very clean and secure.
Good storage. Friendly faces and cheap prices and always clean
Doug was awesome and extremely helpful.
Lots of space! Super clean, and very nice lady! Highly recommend!
So much for a free month 🙄 okie doked I swear. Lol great employees though. Debby is very friendly n professional. She deserves a raise. Very clean place n tons of availability. Thanks Extra Space Storage!!
Doug was very nice and helpful with me. i'd recommend coming to this storage unit
Love this place!!! Air conditioning and very convenient. Super clean and very nice staff. We will definitely come back. :)
Super clean space, with very nice management! 10/10 recommend to anyone
super nice people clean and well lite
They were easy to work with. And super convenient! No problems with moisture, bugs, heat, or anything.
The staff is awesome! Very helpful! My things were safe and secure!
Wonderful costumer service easy and fast to get a unit! Highly recommend!!!
Amazing customer service! Great first month rate. Highly recommend!
Fast & easy way to get a storage! Great service! Thank you.
This place is by far one of my favorite storage facilities I have ever used. I highly recommend
Wonderful air controlled storage!! Management is good staff is very helpful too!!
Very friendly staff and extremely clean!
Doug rented me my unit. He was friendly, helpful and took the time to explain the operation of the units.
Great customer service! Especially for first-timers like us. The Layton, UT (the old Kmart building) facility is immaculate and well-lit. Plenty of utility carts available. Easy in & out through the main front entrance (haven't tried the ones in back of the building yet). Always a better deal reserving online vs in person, so we took advantage of that as well. Highly recommend. :)
Very clean and staff is awesome. Would be great if you had more carts though.
Debbi was very friendly and answered all my questions
The entire rental application process was online, efficient, and contactless. When we arrived, Debbie was wonderful and showed us exactly where our unit is. It's clean and climate controlled. Thanks so much for the easy experience!
New clean facility. Easy access . Plenty of storage for my entire basement. Helpful staff. Only real issue was restrooms were shut down due to covid. They could have easily provided some cleaning supplies and sanitizing wipes and left the restrooms open like other large retailers and restaurants are doing. When unloading a truckload or household of furniture all day having to go elsewhere to use a restroom is not very convenient. Other than that, great.
Doug was very helpful showed me where my unit would be asked what I would be storing and if it would fit. Was very quick at helping my get everything set up
Great customer service and good prices very clean and well kept highly recommend.
The staff is extremely nice, professional and helpful. Clean.
Safe, clean, well lighted, climate controlled. Easy in and out. What more could you ask for.
Great service, Doug was very helpful and informative!
It's a little tricky to navigate, but it's indoors, very secure and has air conditioning.
Really love extra space storage. Quick Easy. Debbie is very friendly.
Good customer service and affordable.
We really like this storage unit. We've been using them for almost 2 years and have no problems at all. I highly recommend Extra Space Storage!!!
I was taken care of for the short time I had a storage unit & will definitely go back if I need a storage unit again.
They took great care of my things while I had things stored there!
Great facility! Super clean, well lit, and just an overall great experience with our time at the storage facility. Would definitely recommend to anyone needing a great place to store your valuables.
So far so good. Doug called me immediately and was very helpful and nice. It was easy to set up and pretty awesome to get a months free as we are in stressful times. Thank you!
VERY helpful, nice fast and easy!
Debbi is amazing. I feel totally comfortable and excited to store our furniture here!
Doug and Debbi are amazing!!
I talked with katlyn at the Layton location. today about reserving a shortage unit. She was very polite and helpful. She answered all of my questions and made sure I had everything I needed. Great customer service.
Really clean/new. Maybe not the cheapest. Only complaint is that they forgot to take their lock off my unit so I couldn't access that first night. Had to keep my rental truck an extra day—the truck rental company was not happy about that.
Very clean, very friendly, no issues, easy peasy
They are very helpful with getting you into the correct size storage you need. They are very friendly and understanding. Great place to get a storage unit!(:
Customer service was excellent! Kind, courteous, helpful and informative. Facility is clean, and prices are fair and deals are great. No hidden fees, everything is upfront.
They kept asking me to leave a review literally right after I had just signed the paperwork for my unit. Now I understand why. When I set up my reservation online I was promised the price of $65 with the first month "free". I was charged for a special lock, and a bunch of fees amounting to more than the cost of the unit for the first "free" month. My unit was also a LOT more than the online special price. With their mediocre $24 a month insurance tacked onto it I was paying over $100 a month for my unit. After removing the insurance my unit went down to $83 a month which is fine but still not the price I was promised. Im on month 5 and this month my bill went up to $91 but it says a balance of $117 is due and when I asked why , there was zero explanation as to why. They said they would have a manager contact me within "half an hour" and it has been several days now, I havent heard from them. This is now the THIRD time I have reached out with an issue just to be told I would be contacted by a manager. It never happens. I have seen several Facebook reviews about how they up the price without warning every 6 months or so. I get it, these units arent under contract so you can raise the price whenever you please. But thats a shady business tactic, in my opinion. Overall I am pretty unhappy with the lack of proper customer service and all of the hidden gimmicks. Gave an extra star because the facility is very well kept and secure.
They are amazing very helpful in getting what i needed
Why can't we pay on line says error 404 forbidden
Doug was awesome in helping us find a unit!
Easy to set up a rental. Month to mo th. They offer insurance.
Units are clean. Front desk personnel are good to work with.
Needed some space last minute. Debbi was able to answer all of my questions and get me set up in no time. Highly recommend the Layton UT location on Main and Antelope.
So far so good! Super clean! Debbie is super sweet.
Love Extra Space Storage...have been using them for about 12 years now and have never had any problems. The staff are very kind and friendly and willing to help you out with any thing they can... Would definitely recommend to anyone looking for storage long or short term.
New building, service and great customer service:)
Extra Space Storage has been so easy to work with. Everything you need to know is listed on their website and you can pick your unit size and reserve it online. They then call you and get you all set up. Easiest storage unit I have ever rented and the price is very competitive. Keep in mind they do require a cylinder lock which you can purchase from them directly, I got mine on Amazon. Debbie was the one who got me all set up over the phone and she was so friendly! I would recommend them to anyone.
Couple of issues here, (1)Reservations are not real reservations. Even though you reserve a unit for a specific date if someone comes along and wants it sooner (even without a reservation) they will give your reserved unit away and not tell you, and they will not honor the price/deal you reserved it for. They will force you to a smaller unit or a larger one and charge you standard rate. I'm lucky my stuff just fit in a smaller unit thanks to master movers otherwise I would've been in a bind and forced to rent another smaller unit last minute. (2) Only storage place I know that does not have covers atop their climate controlled indoor units. It's a wire mesh with a fire sprinkler head posited right above. I bought a tarp and put it over all my stuff just in case the worse happens. Read the fine print on the lease too, their $11 insurance does not cover floods....(3) In-store customer service at this location is 50-50. Very frustrating getting them to honor what the call center set up. (4) Need to buy a special lock (i.e. not a pad lock). They sell them for $18 not included in the rental price. Exorbitant and silly. (5) My car garage unit was dirty with trash inside. Next time, I'll shop around more.
I didn't realize this was all indoor storage and reserved 2 spots. Day of move had to cancel and find other storage. Extra Space still charged me $100+ for nothing. I will never use extra space storage! Go with a locally owned company! Much more honest.
This is the nicest, cleanest, indoor storage facility I've been to! Nice big carts to load your things on, I really appreciate those being accessible and easy to maneuver. Great customer service and great prices!
No matter who I talk with they are all extremely helpful! Great team!
Really nice,clean! Staff is wonderful!
They are a great facility and care about their customers. They are very professional and were able to answer my questions thoroughly!
Easy and friendly. Needed a fast option and they rocked
Awesome people and so clean inside. Best storage I have ever seen!!!
Awesome experience super helpful and very friendly
Super quick and easy to set up
So far very clean very high security michael was very nice and great
The staff was very friendly! We only needed a unit for a month while we were between houses and this place was perfect for us!
Very friendly and helpful
Service here is absolutely awesome! Thank you so much mike!
Shout out to Mike for making everything quick and easy!
Mike's an awesome dude and it's a nice, clean facility!
Doug was super helpful! He helped us find the right size unit for all of our stuff for the right price!
Excellent facility with climate controlled storage of every size you might need. In and out in 10 minutes.
Very friendly and helpful! Showed me different size spaces and answered all my questions!
Very helpful and very quick. No stress at all. Thanks Mike
Great prices and great customer service. Reserving online was very easy and user friendly.
Awesome ppl to work with and the super clean my unit is close from the door I enjoyed my visit
Great customer service fun and fast
Doug Was a very pleasant and knowledgeable person very clean facility.
Love the fact that it's inside! And there's great security, very trustworthy! Highly recommend.
Amazing customer service super friendly and even stayed open late for me! The facility is clean and well lit and most importantly seemed very secure.
Mike was amazing! So helpful and personable! Really can't wait to move my stuff into my new storage building!
Great service, fast and very continent. Great customer service.
Mike was very kind, quick and helpful. We definitely recommend storing with this location.
Easy quick set up and very clean space. Mike is great to work with and very friendly.
Mike at the front desk took really good care of my family and I, walking us through how our contents are protected and maintained. I wouldn't store my things anywhere else! Highly recommended
Very quick and professional experience. Mike helped me with all my questions n got me exactly what i needed. Would definitely recommend.
Very friendly and answered all our questions and concerns. We recently moved to the area and he even gave us good info about the local area.
Wonderful management and helpful with all of our questions.
Miles was excellent. Very nice building and excellent prices. Highly recommend!
Awesome, brand new storage facility. Climate controlled. Good rates. 10x10 for $86 a month is a deal. Mike was super nice and helpful getting me checked in.
This place is amazing!! Very clean and the security is wonderful. The staff was very helpful and friendly. The price is great as well. I would highly recommend this place !
Awesome staff and very clean would definitely recommend
Awesome place to store your stuff, fast setup, and super convenient!
Michael is a perfect and model employee! Storage here is easy and great!
Very secure place very excited to move in
Makes me feel very confident our belongings will be safe! Super impressed! And it smells nice 😂
Great customer service! The air control is awesome and the units / storage space is all very clean. Definitely recommend this spot if you're looking for an affordable and nice storage space. They even offer a military discount and affordable insurance.
Micheal was very helpful and knew all the answers to our questions, made our decision 100 times easier with his professionalism and respect. Thank you!
Michael was very kind and personable. He answered all of our questions and made sure we happy with everything. The whole facility was also very impressive. It smelled and looked clean and the security is amazing!
This place is awesome!!!! So clean, safe and easy to sign in. They take care of everything and make it the easiest storage experience ever. They are priced lower than anyone else in the area. Great option for climate controlled storage!
Nice facility, easy sign up!
Great clean place and very friendly staff.
So awesome. Mike and Doug are the best around. Store your stuff here.
Mike was super helpful and explained everything effortlessly! Highly recommend.
Everyone who I encountered was extremely nice and very upbeat. The facility is immaculate and smelled good! Mike was so kind when we checked in. Definitely reccomend this storage facility!
I am very happy with this place! Being faced with an unexpected move, everything in my life is upside down! Finding a storage center was the last thing I needed to be bogged down with. But as soon as I contacted Extra Storage, they immediately helped me relax and answered all my questions etc. Now, a few hours later, here I am getting the lock to my unit from Miles. He has been absolutely amazing with his customer service!! Thank you Miles :)
Great place everyone is super nice.
Great clean storage place
Great customer service and facility!
Very easy to work with. Fast and easy.
Mike was very helpful and kind! Excited and happy to store my stuff here!
Clean facility and great customer service!
Very helpful great personality
The manager Mike was amazing! He was knowledgeable and kind and went out of his way to help me and my family.
Quick and easy to get set up. All units are climate controlled too!
really good place to rent a storage unit prices are low they don't have any hidden fees and the management is very nice
Great for my storage needs
Michael was very friendly and helpful! They have a great deal going on right now with your first month free! We just got a second storage unit here & love how close it is to the freeway, easy in & out access to unit, brand new facility, & awesome management!!
Mike the manager was friendly and great to work with
Clean, climate controlled, decent range of sizes and prices, secure and in an accessible location
Mike was an amazing guy...GREAT CUSTOMER SERVICE!!!!!
This place is awesome! They are very relatable, helpful, and kind.
Mike is a ROCKSTAR!!! Great to work with and always willing to help when you are in need I will recommend him 100% to anyone!!
The service was great and there were no hassles.
Doug is very knowledgeable and kind. Was a great experience.
Great service great ppl Mike is awesome
Quick in and out for my unit.
Super awesome, but no Veteran discounts.
Michael was very friendly and helpful in getting our storage unit set up and answered all our questions. We are very happy to be using this storage facility.
Storage units are super clean and they have a bunch of units to choose from. Doug helped us get set up and was super nice and answered all my dumb questions. I came in late after work after making my reservation early in the morning and he stayed late after they had closed to get me set up, show me around, and show me how to work our lock. Would reccomend layton location and this company to everyone!
So many units to choose from. Doug was super helpful and kind. The place has great lighting, security cameras all over, clean bathroom, easy entry points, and I love all the moving carts throughout and that everything is on one floor.
The process was great and from the beginning was very straightforward. Highly recommend extra space and especially the Layton location.
Mike is the best, stayed open late for me! And awesome rates.
This is one of the most awesome storage I've ever used. The manager, Mr. Mike Noorda rocks!!!
Good place to do business with, would highly recommend extra space to anyone!!
New Facility! Very clean with great staff. Military friendly (discounts)
Beautiful, clean & air conditioned!!
Highly recommended! Wonderful customer service
Clean facility and good service.
Great customer service, friendly and very welcoming. Definitely recommend. It's clean and I love that there's cameras at every angle in the building!!! Matt is THE MAN!
Michael was fantastic to work with. Very informative and friendly. The storage units and facility are very well kept and they having lights which is a major plus!!!! I would highly recommend Michael and Extra Space Storage in Layton.
Mike is the nicest man, he was so helpful. I've already referred many to you.
Patrice was awesome! She was very helpful with getting us all set up, and explaining everything that we needed to know. This storage place is very clean and secure!
Great customer service and I love how secure it is.
Customer service. Awesome. Easy to work with. Done in minutes. Recommend for storage needs.
Clean facility and great service! We got an awesome deal and the process was super easy. Quickly accessible and secure.
This is my first storage unit ever and have to say everything has ran very smooth and am very pleased with the cleanliness and amount of room I have in my storage unit. I was able to get a good deal on my 10x10 unit and they have great customer service. Thank you to Mike and his employees for being so helpful and pleasant making my moving my belongings into storage much more pleasant. Keep up the good work.
The store manager was very nice and helpful the units were clean and very nice in side i recommend this place to everyone
Nice and clean. Mike was great. Highly recommend.
Mike and Chloe are great. Signing up was a breeze and I was able to breeze through the sign up and get straight to the moving in. They are both very knowledgeable, able to answer any question I asked immediately.
Mike was absolutely wonderful!!!!! He made it so easy to get the storage needed. He was friendly and helpful! So happy we went with Extra Space!
Quick, friendly customer service. Nice new, clean, climate controlled units that are by far the best I've used for storage!
Quick and affordable, very friendly! Clean and climate-controlled interior with multiple doors for ease.
Very helpful and efficient! Clean and affordable. Very secure location.
Very quick excellent service 👍
Mike was very friendly! Clean building and storage units. Good security. Quick visit. Great customer service.