Public Storage Self-Storage Units at 184 E Antelope Dr, Layton, UT
Address
184 E Antelope Dr Layton, UT 84041
Office Hours
Mon-Fri 9:30 AM - 6:00 PM
Sat-Sun 9:30 AM - 5:00 PM
Gate Access Hours
Mon-Sun 6:00 AM - 9:00 PM
Storage Facility Features
Climate Control Storage

Car Storage

Small, Medium & Large Storage Units

Indoor & Outdoor Storage Units

Property Manager Lives On-site
Office Hours
Mon-Fri 9:30 AM - 6:00 PM
Sat-Sun 9:30 AM - 5:00 PM
Gate Access Hours
Mon-Sun 6:00 AM - 9:00 PM
Storage Facility Features
Climate Control Storage

Car Storage

Small, Medium & Large Storage Units

Indoor & Outdoor Storage Units

Property Manager Lives On-site
Close Location Details
View Location Details
---

5'x5'

Climate Controlled

Inside unit

1st Floor

---

10'x10'

Climate Controlled

Inside unit

1st Floor

---

10'x15'

Outside unit

Drive-up access

---

10'x20'

Outside unit

Drive-up access

---

10'x20'

Climate Controlled

Inside unit

1st Floor

---

10'x25'

Outside unit

Drive-up access

---

15'x45'

Outside unit

Drive-up access
Nearby Self-Storage Locations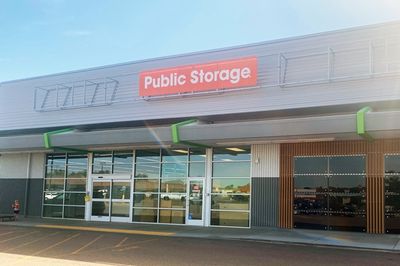 Self Storage Near
2010 N Main St
Layton UT 84041
Resources from the Help Center
See what fits in different storage unit sizes
At Public Storage, You'll Always Find...
Keypad Access

Friendly Staff

Month-to-Month Rent

Moving Supplies Available

Free Parking

Well-Lit Facilities
Reviews
( 100)
Associate was very knowledgeable and helpful. She was with me through the whole process and even o'clock fixing the online issues I was having.
Wonderful and friendly staff. Emily and Mike were extremely informative of how the property operates and how to use the new Public Storage phone app. I was really impressed how nice and clean the property is. Will most definitely recommend to my family and friends.
Emily and Mike were awesome to work with very helpful and professional. Great facility.
Emily has been so good to work with. She is highly professional and always makes us feel welcome and important!
You rent a storage unit here, you get your key code to your unit, and think you'll be able to access it whenever you need to. Turns out if you show up with a truckload of stuff, one minute after 9 PM, too bad doesn't matter what you have you, gotta wait till the next morning to access your unit.
Emily and Madison were such great help. Even with the ease of the online reservation, I had to change unit locations. They were able to find me a better unit with the same great price.
Kind, friendly staff that will help you get the best storage area for you. Did not try to get me to fill an up sell requirement. Very clean and secure. Locked with more video monitoring than any other storage facility that I have been in.
Love the customer service lady.. Emily.. she was so understanding and helpful. Great customer service!!!!
Very friendly and professional!
This is the worst storage place you could possibly go to. they take rent 15 days before it is due from your account and after you move out, they try to charge you for cleaning fees and stuff left. The management lies. Everything needs to be done on their app and their app doesn't work very well nor does it open and close the gate like it is supposed to. They do not remove the snow when it snows and the rain gutters threaten the units. The place just needs to be redone starting with management.
I would like to say that Emily took our customer experience to the next level. I recommend this storage company and in particular this specific location because of her awesome customer service.
Absolutely amazing people. Emily was wonderful. She helped us get the right size unit by showing us several different sizes and explaining about how much would fit in the different sizes. I would definitely recommend renting here. Nice and clean facility with plenty of space for moving trucks.
BEWARE: You can't get off their call list if they get your phone number. I called for information/pricing. Very specifically requested an email quote and very specifically requested that I not be called. They've called four times since, each time a different person from a different area code. I've asked each one politely to stop calling. Hopefully a bad review will help someone to hear my request and remove me from their call list.
I have been a customer of Public Storage for a few months now. I am loyal because Emily has been exceptional to work with; professional, courteous and consistent. She really goes above and beyond to accommodate her customers and acknowledge their concerns/questions. I couldn't be happier with Public Storage.
Went in spur the moment with the wife and Emily was very helpful. Very friendly and got us in a storage shed and out the door very easily and stress free. Highly recommended this location
Amazing customer service! Emily is our absolute favorite!💗
Emily was amazing ! Super friendly and helpful and got my husband and I set up with exactly what we needed! Highly recommended this location ! 👌
I was a customer of the previous facility and when public storage took over it was a little nerve racking but they were extremely helpful and made the transition smooth and easy. Special thank you to Emily for all her efforts to make sure I was comfortable and secure with all my storage needs!
Very helpful and attentive, they answered my questions with detail and pricing is great it also feels safe thank you
Emily is so helpful! She helped make sure everything w our move in went smoothly! Would highly recommend. Very nice and secure space.
This location was great when it was general storage and Jason was GM. Now that it is Public Storage and Jason left because of the new ownership, (changed ownership just a couple months ago)- steer clear. Previous owners salted the black ice. New owners and management couldn't care less. The entire east side drains immediately in front of the storage unit and creates sheets of solid black ice. I took one step in front of my unit and landed on my side with the wind knocked out of me. Bruises on my knee hip and rib. When I was able to make it to the front office, the person on duty caustically said "well I can't do anything about that". I'll be moving my belongings immediately.
Just found out previous storage company became public storage company so only time will tell if it was good business to switch. Ps has been around a long time and have used them in the past so I'm sure they can continue to serve the community
My time managing this place was nothing but a great experience from the Tenants to the management this was overall a great company ro work for!
The staff was great helpful, informative , polite . I felt good about the service an recommend them to anyone
They where very friendly and able to get us into a unit quickly. Jason was very friendly and efficient.
Helpful staff, clean storage
Awesome customer service and easy user friendly website
Jason is so awesome and a lot of fun to work with! He made the experience really fun!
The employees here are so friendly, and patient. They go that extra mile to do what they can. I might be paying a little more than where I am moving units from, but can you put a price on clean, new, big, units that doors open, they are sealed (no gaps when door closed) when it rains there are no leaks, and you actually have someone in person to work with if any questions. great place and staff
Storage General has been so great to work with. They're friendly, knowledgeable and they actually listened to my concerns. The units are clean, lot taken care of. The best thing besides the great rates, is that when you rent, they let you use their moving truck (15 ft) FREE!
If I could give 10 stars I would. The facility is so clean and the property is very well maintained. I think the icing on the cake is the amazing property manager Jason! He definitely went above and beyond to make sure I was taken care of with my move in. I would recommend this facility hands down!
Renting here was super easy! Jason was extremely helpful, knowledgeable and had great suggestions for storage units. Great price, great location. Clean, well kept, wide "streets".
Very good on keeping things clean and updated, very sweet and understanding manager!
These guys are great! Jason is the best to work with. The world needs more people like him.
Since Jason has become manager here it has been a pleasure to just chat with him and find out he just moved here also from the Deep South and if he had found a Church of his Religion here in Utah. He's still Church Hopping so that's always nice to talk religion with someone not from Utah! His first assistant (I believe her name is Shirley, I bet I'm wrong! I'll correct my mistake when I recall it!) but she has always been helpful and courteous with me!
We worked with Jason and he went above and beyond from a customer service standpoint even stayed after his shift to make sure we were take care of.
The staff here were great to work with. They were very accommodating and responsive. The unit we had was in great shape and served our needs perfectly. Depending on the unit you get I think the price is about average or maybe a little better than other storage units in the area.
Walked into this place stressed about moving but as soon as I saw the kind and friendly Jason I felt my worries dissipate. He got me all set up with two units and showed me how the locks work. Units are clean, secure and lots of space.This is the place if you need storage. Go see Jason today!
Great people, Jason was super duper nice and helpful. Great prices!!!
I love this place!! I've used many storage companies and this one is wonderful people,, great prices
Very impressed by the service we received! We were greeted with a friendly smile and fantastic attitude of the manager .I will be sending my friends here for sure.
Jason was awesome to work with. He found me the best deal, and was very professional, yet personable too. Highly recommend
My husband and I just finished renting our unit here for when he's on his deployment and I seriously can't say enough good things about this place! It's clean and VERY well priced, definitely the best in the area. The customer service was the best customer service experience I've ever had in my life. I believe his name was Jason, but he was not only so helpful but also so friendly. By the time we left after signing all the papers we felt like we had made a new friend. We traded life stories and laughed all while he made sure we were all set in our unit and very thoroughly answered all the questions we had. He truly does care about his customers and I can't thank him enough for all of his kind words and all of his help. I would recommend this place to anyone just because of him! But they also offer a military discount which is a huge bonus!
The units are well priced.
The staff was very helpful and friendly. It's clean. And also easy in and out when leaving. Very pleased to have them a try. I will let anyone I know in the future that may need one.
This is a great , clean facility to utilize for storage. The staff is great especially Jason he provides excellent customer service.
I am looking to relocate to Utah for work. I spoke to a person named Jason last week and he was excellent. He was very thorough in the information he gave and answered all of my questions with patience. I look forward to using this company in the near future.
Top-tier customer service!! Thank you Jason for being so extremely helpfully with all my questions. Definitely recommend this place!
Jason is an over the top employee! Brings amazing energy and I want to visit my storage unit just to stop by and have a conversation with him. Great culture!
Great staff! Jason was so knowledgeable and he answered all of my questions. Due to his upbeat tone and great customer service, my husband and I decided to go with this company. I have called around the area and I must say, no one has sound as enthused & Professional as Jason.
Jason was very friendly and knowledgeable! He is the prime example of great customer service.
Staff was friendly and the place was clean.
Feel very comfortable storing my stuff here
Great news clean facility, and the staff member was very helpful.
This place is awesome, it is very clean and well managed if you ever find yourself in need of storage, this is the place to go. They were reasonably priced for what I needed compared to other storage unit places in the area. I was able to get my unit quickly and easily. The staff was super friendly, knowledgeable, and helpful, and moving out was just as quick and easy! I definitely recommend taking your business here for your storage needs, and I will definitely be returning if I need storage again in the future! =)
New, clean facilities. Great security. And friendly staff. They also have a moving truck to help get your stuff out! Great experience all around!
Affordable prices and clean units.
Absolutely great climate controlled storage so far. Very friendly personnel!
The customer service and entire experience was wonderful. I was greeted with nothing but a pleasant attitude and a happy feel from this business from the first time I called through signing my agreement and checking out the unit. I am highly impressed and appreciate it during my time of relocation and high stress. Thank you Kiara for a great start!
I called several storage places to compare prices. Storage General was so helpful and cheerful each time I had a question. They price matched a better offer I found somewhere else and were quick to accommodate the needs we had! I was very impressed with the service! We would recommend them to anyone!!!
Very friendly and nice amenities.
As a whole it was good. I got the storage shed and that's what counts...when I was getting it set up, things seemed a little scattered and unorganized. It could have been completed quicker. But as I said, the job got done, the person who helped me was very nice and friendly. I didn't like having to buy a specialized lock, but I'm sure it will help with security for the sheds. The property had a temporary fence that is not secure, but they do have a good camera system. So far, I would recommend the storage units.
good attention, and a lot of security.
Very nice clean and helpful
amazing. the place smells really good and the price is great. here comes my amazon gift card :)))
The facility looks amazing and safe. The staff was super friendly and helpful.
My family rents a couple of units here. It is clean, secure, well run, and affordable. I highly recommend.
The people that work in the office are awesome very helpful and very friendly. Love my storage unit got one inside and it is great.
KB and Shyenne were very helpful, professional and friendly. They both went out of there way to insure I understood the facility and the requirements to rent a unit. When I returned with the movers, they greeted me and asked if I had any questions. They both provided great customer service.
Absolutely amazing experience, great staff and super helpful!!
Amazing facility with great customer service and security.
Amazing and helpful staff!! Clean facility 😊
Great facility, with great security & amazing staff that's always happy to help!
Great units and great pricing!