Public Storage Self-Storage Units at 580 S Orchard Lane, Beavercreek Township, OH
Address
580 S Orchard Lane Beavercreek Township, OH 45434
Full Service Kiosk Available
Office Hours
Mon-Sun Self Service - online & on-site eRental
Gate Access Hours
Mon-Sun 6:00 AM - 9:00 PM
Storage Facility Features
Climate Control Storage

Boat Storage

Car Storage

RV Storage

Indoor & Outdoor Storage Units

Property Manager Lives On-site
Office Hours
Mon-Sun Self Service - online & on-site eRental
Gate Access Hours
Mon-Sun 6:00 AM - 9:00 PM
Storage Facility Features
Climate Control Storage

Boat Storage

Car Storage

RV Storage

Indoor & Outdoor Storage Units

Property Manager Lives On-site
Close Location Details
View Location Details
Outside unit

Drive-up access

Outside unit

Drive-up access

Outside unit

Drive-up access

Outside unit

Drive-up access

---

10'x20'

Outside unit

Drive-up access

Climate Controlled

Inside unit

1st Floor
Nearby Self-Storage Locations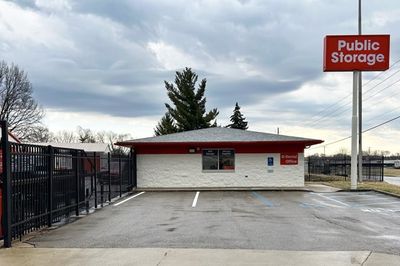 Self Storage Near
2120 Harshman Road
Dayton OH 45424
Self-Storage Near Beavercreek Township
Resources from the Help Center
See what fits in different storage unit sizes
Beavercreek Township Storage Units Near U.S. 35
Beavercreek Township Public Storage has plenty of storage solutions to fit your needs.
At Public Storage, You'll Always Find...
Keypad Access

Friendly Staff

Month-to-Month Rent

Moving Supplies Available

Free Parking

Well-Lit Facilities
Reviews
( 165)
Rob was a god send with all his help!
Andrea has been a delight to be with in the office while I work
I rented a 10x10 unit which paying top dollar for the area of $180 for my first months rent (no deals like most had 2nd month free or 50% off 2nd month & 30% off each month after, even though after the fact of them telling me about the app, I found they offered deals. Just not to me they said because it was the last unit. I am in need of a unit quick due to circumstances.) Anyway I wasn't eligible for any "deals" but after receiving my "gate code" <-----important now for $180 for a 10x10 I at the very least expected a clean, dry, *secure* unit & having received my gate access code I go to unload my stuff into my unit pull up to the place, and get my phone out to access the gate on the app... Gate goes up (kinda nice right) till my uncle & I are inside looking around for my unit. So after a few minutes of tracking my unit # I finally find it... Outside of the gate! So I am fuming not only is it outside the gate it's right up front & when we start to unload into the unit we had to keep moving because we were blocking the gate access for other people to get into their secure units. I'm still upset about this. I was not told that the unit was outside the gate & then to be given a gate access code was like a slap in the face! Why do I need a gate access code when it's located outside of the gate?! Becareful when dealing with these sheisters. I will be looking for a gated, secure, much cheaper unit!
Dennis was wonderful, and super helpful. I hope to see his friendly face whenever I come by or speak with him if I need call.
Dennis the property manager has done a great job helping me out every time I come in he is very professional and kind. I would recommend this property 100%
Great management & staff! Rented for 2 years. However, I canceled my unit due to rising rent. It's a safe, clean storage facility and recommended, if you can afford it. Rob was friendly over the phone, and Dennis was great! Extremely professional in person and helped ease the whole process. Good people!
I dunno about this Ed gentleman, he showed up about a half hour after the business was scheduled to open.
Rob at Beavercreek helped us with getting our storage unit. He was very knowledgeable and professional. Rob took the time to answer our questions without making us feel rushed. Great customer service Rob!! The unit is clean, dry and perfect for what we need. If you are looking for a storage unit I would highly recommend Public Storage Of Beavercreek.
Dennis was extremely helpful and made sure our experience was a good one. He was very nice and genuine. You can tell he cares about his job. 5 stars!
Dennis was honestly amazing and took the time to explain everything to us and took us around the unit.
My wife and I just got our unit today. The facility is very clean and nice looking we managed to get the last climate controlled and it looks great. Gate code, door code and cameras everywhere make it feel very secured. Dennis was great and very profesional. He answered every question we had for him. Very nice guy and very helpful. I have high hopes and good feeling about working with this location.
Stephanie is always friendly and willing to go out of her way to help
Dennis was not only professional he was very friendly and most helpful. Answered most of the questions I had before l even asked. Great customer service!
Stephanie is always friendly and willing to help
I worked with Denis he was above and beyond helpful had a really great time working with him very helpful kind and respectful! Definitely recommend!!!!
Called in to get pricing and Dennis was very helpful! Gave me all my options and was very pleasant to work with!! Thank you!!
Thanks Dennis! Very nice and clean facilities.
When we went in today to rent a storage space, Dennis was super friendly and helpful. He offered us all of the available options and was helpful with easy answers to all of our questions.
Great service at the best price we found in the area! The facilities are clean and well-kept. We were in-and-out with our new storage unit reserved in a matter of minutes! Thanks Rob!
Very clean, great price, and peace-of-mind security! Friendly and excellent service from Rob!
Very clean and Rob is very helpful and friendly.
Dennis gave excellent customer service. Thank you! No waiting for office help, code to get in/out and video cameras all over. I'm especially looking forward to using the app. Dennis was professional, kind and super helpful during entire process.
Dennis is very nice and helpful when helping to decide on what size storage unit I needed.
I like that you need a code to get in or out other storage area.
Dennis was a very great help.
Dennis answered all my questions and was really great to talk with!! Thank you so much!!
Dennis took care of me. He made the process easy, friendly, and painless. I appreciated his patience and quick understanding of all my concerns. Overall, an excellent experience.
Dennis did a great job getting us taken care of. After walking us through the payment process and further physically walking us through the grounds, gate procedure, and showing the unit sizes, we feel fully confident and comfortable with our new storage unit in Beavercreek. Thanks Dennis, you made it all worthwhile.
I love using the app to access the gate to avoid touching the keypad.
Andrea did an excellent job of helping us with a complex problem. She is the kind of person who represents Public Storage in an outstanding way.
Andrea was exceptional with her customer service and very personable!! A true asset to your company
Love this facility great customer service Dennis is awsome very informative and helped me with everything I needed would recommend to anyone keep up the great work
Very personable and knowledgeable attendant.
I will definitely recommend this location! Dennis R. delivered exceptional customer service and what's so knowledgeable.
This was an excellent choice for us to use as our storage. Cant say enough of how much Stephanie has proved to my wife & I her customer service is the most important part of her job!!!! What an easy worry/hassle-free process in getting us into a unit. Need I mention we were interested in possibly getting 2 units at the time of check-in 1 was climate control the 2nd was not we were willing to take it because that was all that was available but when we arrived she had found a prior tenant moved out in the climate control area and we were able to get both climate controlled units which we are both very pleased to say AMAZING ON STEPHANIE PART once again kudos to her for such an incredible experience from our family..
Worked with Ribbin today. Staff is always professional and really take care of customers!
Was told there was someone on site Sunday at 2pm. There was no one there, no carot in the office. Clock saying I'll be back in ?was turned toward the office. So unprofessional to have posted hours and no one on site.
Robbie was amazing at helping me with all of the questions and concerns I had about renting the space here. Also so far the facility is very clean and and well kept.
100% recommend. Property Manger was awesome and easy to work with!
Ms. Britney, was extremely courteous and very helpful. Her professional attitude was refreshing. Great representative for this company. She's so great
I would 100000% recommend this location! The property manager was amazing and extremely helpful! She's so professional and nice to talk to! I used this location that was 30 mins away from me because they were open on Sunday when I needed to move and I'm so glad I did! It was worth the drive.
Britnie was very helpful an professional by explaining an answering questions that I had an walking me through getting me set up online.Thanks again!
Follow from Brittany was excellent !
Amazing service! I would definitely recommend the Beavercreek facility. Staff is great!
Great service, very kind and helpful.
Autumn was wonderful. Very helpful.
Britni went above and beyond to assist me with my needs and help me find the best price options for my needs. Big help during a crazy time. Units are very clean!!!!
I was welcomed by two fantastic young ladies(Autumn & Britnie) and they quickly got me set up and ran over every detail and option expertly. Very clean facility and property. Met my expectations and then some. I'm happy I chose this facility!
Britnie was extremely helpful. Often times my circumstances make operations of this nature difficult. Her technical knowledge enabled me to make the necessary decisions to be able to store my business goods at this location. Thank you Britnie!
Hi, I wanted to share my gratitude to Public Storage and their employees. My husband and I lost our house in January due to my husband's unemployment . Coming up with our monthly rent has been very challenging but, there is the sweetest person there named Britnie. Shes listened to my struggles and worries and has helped in any way possible. Thank you, god bless you, you're amazing. Also Autumn has called me and listened as stories as well thank you.
I will definitely recommend this facility to everyone. Britnie the assistant Property Manager was awesome! She was very polite, respectful and genuinely concerned about what I was looking for in a storage facility. She recommended moisture defense, and was in tune to what I expected. The facility was immaculate as far as cleanliness and maintenance. My unit was exceptionally clean especially the ceiling and floor, unlike the previous Public Storage Unit I rented. The Manager was awesome however my unit had some spongy material in the ceilings that fell all over my belongings.
Atumn was the attendant and she was very courteous and informative person. I will recommend this facility to others because of service and cleanliness of storage space
This location was the most friendly,helpful and knowledgeable staff iv dealt with in a long time. Robbin was very friendly and understanding of my needs of a storage unit. i would strongly suggest using this location for all your storage needs
Very clean. Nice staff esp Britnie.
I recently used this Public Storage facility for roughly six months and truly enjoyed my experience with their business. This was my first time ever using a storage facility, and I have heard mixed reviews about different types. Needless to say, in general, I had a lot of apprehension about leaving my belongings in storage. However, after doing extensive research, I came across this location, and could not have been more pleased and at ease! From the time I first called and walked through the door, until I closed out my account, Britnie made the process effortless. She was very professional and personable. I was also impressed by the grounds of the facility. It is so clean and new. That made me feel more comfortable about leaving my precious belongings. I highly recommend this Public Storage facility.
Lizzie was very courteous and helpful. Great facility to store an RV. Clean. Secure. I recommend it.
Britnie was a wonderful help in seeking out a storage unit for my upcoming move. I was able to visit the property - view the unit (which was kept impeccably clean) - ask a lot of questions (to which she patiently and helpfully answered all of them - and finalize the deal, all in a swift 45-minute period. I enjoy the location as it's well-secured, and you cannot beat the price for a climate-controlled unit with 1st floor entrance. Trust me, I've looked! Bravo to Britnie for being a terrific representative of Public Storage - highly recommend!
We moved across country and I had an emergency need for a unit. I called Public Storage and Jason from the dispatch connected me with the contact Britnie at this Beavercreek location and she called immediately. I went to the location to finish up the rental and though it took a little longer than usual (COVID-19 precautions) Britnie was SUPER helpful and was able to get me in and out in about 15 minutes flat. The whole rental process from start to finish went super smoothly and I couldn't be more thankful. THANK YOU BRITNIE!!
Got a Storage Unit today and the girl names Autumn was great help. she was patient and went through things with my husband and I step by step. she was easy to keep up with and very sweet. Keep up the great work Autumn!
Autumn was such a huge asset and help to us! We had to store our items quickly and Autumn was so clear and helpful. Thank you!!
I came in yesterday and met with an employee named Autumn. She was absolutely FANTASTIC! Moving is a very stressful time!! I'm thankful for Autumn and how she helped make a hectic day go more smoothly. Very thorough when explaining the 'fine print' and I feel confident I have found the perfect storage facility! Highly recommended!
We received a complete analysis of everything we needed to know and were given a total explanation of what to expect while we use the rental unit here at Public Storage in Beavercreek by Autumn. I highly recommend using this facility.
Autumn did a great job explaining the unit and how it works. She was professional, extremely friendly, and knowledgeable. We are looking forward to utilizing our nice clean, safe storage unit.
5 stars for Autumn. She was great!
Autumn was super polite and took me in the golf cart to a storage unit which was super fun and convenient!!!!
Britnie was fantastic! Efficient and timely service and answered all my questions!
Linzie is always so helpful great location
Robbin took care of our storage needs and represented Public Storage exceptional well. Thx Steve & Barbara
Britnie was efficient and knowledgeable. Process went quickly
I inquired about a storage unit because my family is moving. Britnie was able to offer me ballpark prices right off the top of her head for TWO unit sizes I was interested in. She was professional and friendly & I cannot wait to work with her during the length of my purchase :)
I came in, not knowing what I was getting myself into, but Britnie took care of everything! She answered all my questions with a smile and treated me like a friend, not like "just another customer". If you come here, you will not be disappointed.
I would recommend this facility when looking for a place that is clean, well maintained and priced right. If you get to talk to Britnie you will not be disappointed at all. She is funny and personable at the same time.
nice and easy. very happy with the experience.
Britnie was OUTSTANDING! Definitely a 5-star performer! She quickly and efficiently helped us meet the storage needs we had, was very thorough in explaining all of the details, processes, and procedures, and clearly went over all of the contractual obligations, without making us feel rushed. Her attitude is the best: super friendly, enthusiastic, and clearly interested in us as customers. We love the facility: extremely clean and neat, outside and inside. This is an excellent storage facility!
Britnie was amazing. She made sure I got the right size storage and have enough room for all my belongings. I was very impressed with the customer service she provided and she honestly made the whole experience stressfree!!
Linzie was great. She was very helpful. Very informative.
I came in for a rental and linzie was very nice
Britnie has always gone the extra mile to provide helpful and friendly service to get my needs met and make my service convienent. The storage units are very clean, well maintained, and secure. So glad I found this place!
Britnie did a great job helping with storage I would definitely recommend public storage
This place was easy to deal with and provided good and reasonable security for our stuff during our move. Linzie was very helpful and took care of us when we closed our account. It was a very good expierience.
The manager (Britnie) was very professional and definitely knew all the details about her company and her location, she answered all my questions and made the process very quick and easy. There wasn't any high pressure like I experienced at other facilities and she was very upfront and honest. Thanks for a great and kind experience.
Great experience. Britnie has me set up and ready to go in a half hour!
We have been a customer here at public storage since it was American storage. Today we needed to rent a different unit so the we could get our boat in the unit without any problems. We were originally given a different unit after trying to get the boat into this unit and not being able to I decided to go in and talk to Britinie and see if there was any other 10x30 units that may work better. After some research she finally remembered the person that vacated earlier today was a 10x30 and a much easier access that we could just back right into. Britinie saved the day again for us. She is so nice and very helpful all the time. Thank you Britinie!!!
Good Morning, My name is Terrence W. and writing this review because I've been a consumer of this company since it became Public Storage, I was a consumer of the previous storage owner & name. However, since meeting Britnie she has been very kind, helpful, and understanding when it comes to my concerns about my storage and/or bill. Thank You Britnie for always being so understanding.
My name is Greg Keirn and I rented a 10 x 10 unit from Britney today. I called in on a Sunday afternoon and was able to rent the unit the same day . She was very professional gave me all the information I asked for. She even answered some of my questions before I ask them. The units appear to be very clean so do the grounds.
Britnie was great to work with.
Linzie was so sweet on the phone she answered all my questions and was so polite. I will definitely be referring people to go to your BeaverCreek location.
When I called about pricing Lindsey was SO helpful and polite!
Britnee was really friendly. She was out going and pleasant to establish an account with. I will continue to use this storage for future needs.
Amazing friendly fast service and well kept property! Soo happy we found this place to rent our storage unit. Definitely recommend to rent here!
Needing a place to use for a month or so and Brintie was such a big help!!!
Linzie gets two thumbs up from me. She is very knowledgeable at her job. Linzie was very helpful with helping me to decide on what I needed. Thank you
Linzie was terrific at helping me transfer from a 10' x 10' to a 10' x 20'. She explained everything and made it seamless transition. The place is very clean and seems well protected with fencing and 24 hour cameras. I would highly recommend using.
Linzie was both professional and sweet.
Robbin was very friendly, professional and informative.
Outstanding performance and sales pitches by Linzie the desk lady
I barely have a relationship with public storage and I already am pleased, Britnie and Linzie are a great asset to public storage!
Britnie was awesome.. everything was quick and painless.. great customer service!!
Britnie is an excellent company representstive.
Awesome service! Met with Linzie. Very helpful. Thank you guys!
Linzie at Public Storage was so incredibly helpful to me. She went above and beyond to discover exactly what I needed to do for a complex situation I had. She printed instructions, forms, and even highlighted important parts for me. It's rare to find someone who is willing to do that, but Linzie was so sweet and nice throughout, I just felt very taken care of. Thanks Linzie!
Great customer service. Britnie went above and beyound to help me with a storage unit. And the place was spotless . Very clean 100% Remember you get what you pay for.
Linzie was awesome! She helped me find the perfect unit and everything I needed for it. Very nice place!
5 stars! Linzie was very helpful and informative. The place was clean, inside and out. I would highly recommend this place to anyone who has storage needs.
This was my very first storage rental experience. Britnie was so helpful. She took the time to review everything with me including showing me how to use the lock. The facility itself was extremely secure and clean. I'll definately be recommending this facility.
Ms. Britnie went the extra mile to make sure I got the spot I needed and the discount as well as being flexible with my schedule. I will definitely be referring my coworkers to this location!
They dont give your money back when you move out because they dont post rate in or out in Beavercreek township
Britnie was fantastic helping us setup our commercial account. Excellent attitude and 5-Star Customer Service.
Linzie was courteous, very helpful, and friendly. Linzie answered all my question and represented PS in a positive light. She set-up my storage rental quickly and without issue.
Linzie was our first impression of Public Storage and it was a wonderful one! She was courteous, very helpful, friendly and explained everything in an understandable way. Our visit resulted in a rental unit that met our needs and price range. Paperwork was taken care of quickly and when we arrived home all of the pertinent information had already been posted to our inbox. Looking forward to a pleasant business relationship with Public Storage at the Orchard Lane facility. Thank you again Linzie.
Britnie was very friendly and knowledgeable. Helped me to decide what size i needed and get paperwork do with minimal effort. Place is clean and organized. Great job.
Britnie was helpful and answered all my questions. I am happy I stopped in today.
Brittany was very helpful
Linzie was very helpful and informative about everything she knew exactly what size unit i needed and she gave me the best deal while informing me of future deals and everything in between. When the snow storm froze my lock, they walked out there with me and they used de-icer spray on it until every last bit of snow and ice was removed from the lock that wasn't even theirs and she tripled checked everything multiple times. I looked everywhere and this specific location was the best option in all of south west Ohio i promise i drove from west carrollton for this amazing location.
Britnie is so awesome! She's helpful, very friendly and easy to do business with. I would highly recommend renting here.
Britnie and Linzie are very helpful, knowledgeable and friendly. The facility is very clean!
Linzie was extremely helpful and professional . place is well kept , secure and well managed. Recommend to anyone needing storage!
We have been loyal customers at this facility over four years. We realize that prices charged for storage units/spaces occasionally need to be adjusted according to the market. That being said, I called and spoke with the office about how we got notified of an almost triple price hike on our space with only 17 days notice before the new rate would take effect. So when we called to inquire about the drastic hike, not only did we get the run around about how they would need to speak with corporate but also we were verbally told that it would only be an extra $24 from the current rate we were paying. After checking in with the office today, we were told 'no, you will have to pay the new rate hike". We were told one thing in November but the opposite happened today.
Britnie was very kind and helpful. She answered all my questions and suggested the perfect storage unit for me and my family. Thank you public storage!
I recently rented a unit in Beavercreek OH. Facility 26590. The on-site manager Linzie was very helpful and made getting the unit easy all while she was a little under the weather. She is a great asset to your company! I would recommend your services anytime.
Arranging Motorhome Storage
Great place good safe area nice friendly staff Britnie has been really helpful :-) I would definitely recommend this place. We are military in Colorado we have had no issues at all. Only thing we were not happy about was our rent went up, we have 2 units. Other than that everything's been great so far ? We have not moved out yet ? :-)
Staff Britnie and Linzie were super helpful! Units are very clean and dry.
Britnie was very helpful -- attended to details!
Very Professional, Quick service, Convenient. I now have more piece of mind than before I decided to rent a space, knowing my belongings are secure. Thanks Brittnie!
The facility is very nice and their prices are good. I have interacted with two staff members - Linzie and Britnie, both were very pleasant, informative, and helpful.
Very Professional. I was reassured, after what I experienced in customer service and attention to detail, that my stuff would be safe.
Great customer service! Britnie is very professional, kind and resourceful.
Linzie G was very sweet, helpful, knowledgable and pleasant to work with
Britnie is very helpful and professional!
Great Service! One of the cleanest public storages I have used in my six years of moving to various locations across the country. Thank you Linzie & Britnie for being professional, courteous, informative, and very thorough in everything you do.
I came in looking for boxes yesterday and Britnie was extremely helpful. She went over all of the different options she had to pack up my entire house! If I need storage during my move I know where to look!
Britnie was very friendly and professional. She knows how to start-up a new rental unit and cover all of your possible needs. Great first time experience with PS
Great customer service! Ashley was extremely helpful! Thanks!!!
Britnie was helpful and returned our calls promptly. We chose this place over 3 others we viewed because of her.
I called in looking for a unit for my grandmother and spoke to Britnie.Her friendliness was so inviting I decided to come check out the units.Everything was clean and she was informative and did not make me wait which is very important to me because I have a very busy schedule.If I have to put my grandmother's items anywhere it's definately with your company with her .It's very hard to find good people these days but I'm happy I did!
I came in for some boxes and linzie was very helpful and friendly
Linzie helped me with everything this is my first storage unit she took me step by step and explained everything very well to me thank you agian
Linzie was very helpful in assisted us in getting what we needed. 5 stars
Friendly and knowledgeable staff who make the whole process quick and easy. Storage facility is very well maintained, clean and storage lockers in like-new condition.
I came in to view different size spaces a few weeks ago and Teresa provided fantastic Customer Service. Very Happy
Britnie has always been extremely friendly! I used to see her at the office on Harshman too!
Very knowledgeable and helpful staff! Clean. Great prices!
Heidi who is one of the staff was very helpful and informative. Facility is very clean and well-kept management seems to stay on top of things very satisfied with the experience
Brittany helped us find a spot for my sister travel trailer and was very cheerful the whole time. Very knowledgeable and willing to work with you! Thank you!
I came because I needed climate control storage to put my photography equipment in but unfortunately there was none available. Chelsea the gal working however was so sweet and took me out to see a normal space of the same size so I had an idea of what I needed turns out I did not need as much space as I thought I was going to. The property is in a safe area and is very clean and tidy very well kempt. Very helpful staff and professional appearance. Love that they had many surveillance cameras along the property as well. Thanks again !
Very pleasant staff. New computer system has not completely been rolled out to all states, so there may be some delay in making interstate payments.