Public Storage Self-Storage Units at 1300 Southwestern Bl, West Seneca, NY
Address
1300 Southwestern Bl West Seneca, NY 14224
Full Service Kiosk Available
Office Hours
Mon-Sun Self Service - online & on-site eRental
Gate Access Hours
Mon-Sun 6:00 AM - 9:00 PM
Storage Facility Features
Boat Storage

Car Storage

Climate Control Storage

Indoor & Outdoor Storage Units

RV Storage

Small, Medium & Large Storage Units
Office Hours
Mon-Sun Self Service - online & on-site eRental
Gate Access Hours
Mon-Sun 6:00 AM - 9:00 PM
Storage Facility Features
Boat Storage

Car Storage

Climate Control Storage

Indoor & Outdoor Storage Units

RV Storage

Small, Medium & Large Storage Units
Close Location Details
View Location Details
---

5'x10'

Outside unit

Drive-up access

Climate Controlled

Inside unit

1st Floor

Outside unit

Drive-up access

Climate Controlled

Inside unit

1st Floor

---

10'x15'

Outside unit

Drive-up access

Climate Controlled

Inside unit

1st Floor

Outside unit

Drive-up access
Nearby Self-Storage Locations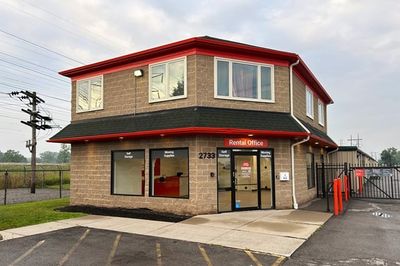 Self Storage Near
2733 William Street
Cheektowaga NY 14227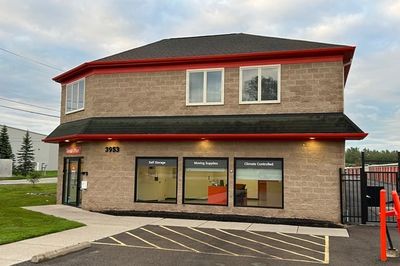 Self Storage Near
3953 Walden Ave
Lancaster NY 14086
Self-Storage Near West Seneca
Resources from the Help Center
See what fits in different storage unit sizes
West Seneca Storage Units Near Route 400
West Seneca is just 14 miles southeast of Buffalo, where you can sample local craft beer, explore architectural treasures or listen to the Buffalo Symphony. Don't miss the revitalized waterfront, which is down river from famous Niagara Falls.
West Seneca Public Storage has a storage solution to meet your needs.
At Public Storage, You'll Always Find...
Keypad Access

Friendly Staff

Month-to-Month Rent

Moving Supplies Available

Free Parking

Well-Lit Facilities
Reviews
( 341)
Skip has been an absolute pleasure to work with during my experience with Public Storage. He is kind and always eager to answer any questions I've had along the way. His attention to customer needs is truly top-notch! A big thank you to him and Ashley for making my move in day go so well.
Skip runs a clean and efficient place!
Skip was extremely helpful with my storage. Phenomenal customer service provided.
The worst place to rent keep raising prices kiosk check in would not have been able to get thru it without customer assistant customer service down the tubs all numbers I contacted no luck twenty dollar fee to pay with a rep when you call keep repeating storage units I know what my units are
The staff especially the young lady is so kind and helpful! My problem is items missing! Very disappointed! I paid for my items with my money, I expected them to be there!!
Unit leaked water all over my belongings. If you don't purchase there insurance you are left with damaged personal belongings. Wouldn't recommend. I would also like to add to not rent unit 418 if the top of the unit still looks to be "fixed" by tape over water leaks.
I just want to thank Skip again. He took the time to explain and help me out. He's the Best!!!
Public storage has always met my needs when it comes to either indoor or out door storage at a great rate. The facilities are secure , clean and maintained nicely. I 10 out of 10 recommend using public storage for your storage needs.
My husband and I had the privilege to be graciously helped by Skip at the West Seneca Public Storage location. We had previously contacted a different storage facility, and thought we arrived at the particular one we had contacted. Skip informed us that we were not in fact at the establishment we contacted, but that we were in the right place. He was 100% right! He led us, step by step to secure a space. We couldn't be happier with the establishment itself, nor more thankful for Skip's kindness, well executed plan, and competence as an employee of Public Storage.
I have been with this location for years. I was there Saturday and Skip stopped by to see if I needed anything. Skip is always professional and courteous. I will not rent anywhere else because of his customer attention.
skip is the man thank you for the great service
Skip was very pleasant and a big help answering my questions.
Highly recommend this location! Needed a temporary space and the process from start to finish was fast, easy and convenient.
Clean facilities and friendly staff. Skip is a great resource to have in the office. A+++++
Always a pleasure seeing Skip! :)
I have to give it to them for having the best staff, I had to run over to grab somethings and i ran into Amanda who was a huge help, she gave me a hand. It really helps knowing this place cares and is willing to go the extra mile.
This place closes at 9 am. Every storage unit give 24/ access to your belongings Move in day we got a nasty msg saying our movers were there 15 min after closing They need to give 24/ access like others do Also rent increased 80% after 2 mos
Tim and Skip are very professional and friendly. Outstanding customer service. The snow removal after this November storm was phenomenal. Access to both my units was easily accessible. Tim and Skip, as always provides great customer service.
I was flying back to Buffalo to move out of my apartment and had some travel delays and Tim was amazing and was very flexible and made sure he was able to accommodate. He was very friendly and helpful and made it a very smooth process
Tim & staff have been fantastic!!
Very happy with this Public Storage location as I was quickly able to get into a unit. Tim at the front desk was very friendly, helpful and knowledgeable about all things at this location. Will recommend to friends & family
Tim, was very helpful with the unit transfer.
Tim the employee here has been awesome during this whole process. He has helped immensely during my move and is a very easy going guy.
Tim was so helpful and made sure I had everything I need. I walked in and got my unit the same day with erental
Tim was extremely helpful with renting a place for my rv
Tim and the team are second to none. Great job!
Tim was extremely helpful with storing my rv
Tim and skip provided great customer service. This is a great place for any storage needs.
Tim always Goes. Above and Beyond
Great service by Tim to get me setup quickly with the best spot available to meet my needs.
Tim and Skip were extremely friendly and informative!!!
We are downsizing and never had a storage unit before. Gary was great. He was so patient with us to learn how their units work. Showed us around the property and how our things would be kept safe. I can't thank him enough. Just leaving public storage. It was a wonderful experience. During our 3 years moved from large temp controlled to smaller temp controlled. They were so helpful with what we needed. Will definitely recommend to friends and family.
Tim and Skip was very helpful and great customer service
Tim was great to work!!! Terrific facility, great service!!!
Tim was extremely helpful when I expressed my situation and Tim went above and beyond to make an extra call to resolve my request. Thanks Tim!
I had an immediate need for a good sized storage space at a reasonable price. Luckily, I dealt with TIM HAYES at this Public Storage facility in West Seneca. He was OUTSTANDING!!!!! I can't emphasize enough HOW EASY Tim made all of the process run, and he answered every one of my questions and concerns in a very cordial and professional manner. On the day of the move of my items into the unit I had rented, he was right on hand and made everything flow smoothly. I have worked in Human Resources for 26 years in a Federal Agency, and Tim Hayes is the type of employee who is an incredible asset to his employer. I will continue to use Public Storage for my needs, and the reason is simple - Tim Hayes!!!!!!
Tim was very helpful with autopsy also with account access
Tim was so helpful, thank you!!
Tim was really helpful in setting up my first-time ever storage unit, he made the transition super quick and seamless, and made me feel comfortable to ask questions. Thanks so much!
Tim was very helpful and explained everything very clearly. Great customer service!!
My man Tim is the best... so helpful and polite.. I would recommend this place to anyone.
I forget if he said Tim/Jim on (sept 6th) was extremely helpful and understanding of the situation we found ourselves. We appreciate all he did to assist and answer our questions very professionally . Thank you!
Tim was very helpful with my Move in
I love the staff they are great. Tim in so personable and helpful. I had a bunch of questions about products that you sell for moving and he was very knowledgeable about them all. I initially came in to let them know I'd be moving out of the unit probably by the end of October and he reviewed what needed to be done. I highly recommend this location and will definitely use again if the need arises. Great job Tim!!
Tim was very helpful with all of our storage needs and vacating the unit .
Tim at the front desk was extremely helpful and friendly as I came in to ask questions on my move in day. Everything about the units themselves is fantastic as well, with locks provided and an app to open and close the gates.
Tim was great, would rent again.
Tim provided great customer service and answered all my questions to get me in the right size unit. Highly recommend to other people.
Tim was extremely helpful in my moving and storage needs! Would definitely recommend
I requested to change my space and Tim was very helpful in making it all happen. Thanks!
Tim was extremely helpful! Made the storage process so much easier
Tim is very helpful and courteous. Tim is a pleasure to work with.
Tim was very helpful and knowledgeable
Tim helped with my lock and getting into the unit after not being there for a few months
Wonderful place! Great people. Manager Tim is awesome and helped out with the rental
Tim and Skip have always been extremely nice and helpful. They have been a pleasure to work with.
Thank You Tim !! These guys have gone above and beyond. I have use this location in the past and have recommended it to family and friends.
Tim was extremely helpful!
Tim was super nice and helped me out when I needed it most! Thanks Tim!
Tim helped me get my rental all set up and ready to go in no time. 5 star rental, 5 star worker! Big thanks to Tim!
The people there are very friendly and helpful, and the prices are much more affordable for those who are on a tight budget.
Tim was helpful, I was super happy with the service here!
Tim was incredibly helpful. Made sure I had everything I need before move in and was diligent and helpful when moving storage in. Highly recommend and am thankful to Tim!
Tim, is a awesome guy. Shut my unit door that I left open. Always looking out for you.
Tim. Great support. Polite and knowledgeable
Tim was very helpful with setting up my rental . He walked me through the setup process .
I have had my storage unit here for the past 10 years. They have been great to work with. Tim has been WONDERFUL . He is very helpful and GREAT to deal with!!!
First time auction buyer tim and Joe were great to work with. Very helpful with the process!!
Tim was great. He was able to help me with a smooth transfer with my out of state storage unit.
Tim was helpful with transferring me to another unit.
Tim was helpful and accommodating. I highly recommend this storage facility.
Tim was very helpful with my storage unit rental. And recommended damp check to protect my belongings!
Did a walk in and Tim was great. He was very attentive and offered the best service!
Tim was very helpful with my gate code
Very great customer service thanks Tim and skip
Tim helped me in the office with auto pay!!
Tim was a great help when I signed up for my unit and very friendly and helpful when I vacated. 5 star
Tim is truly one of the best. He goes out of his way to make sure your needs are met. If you ever need help he is always there for you. Highly recommend this storage facility. 👍
Customer service at this location is the best! Tim and Skip are extremely helpful and always checking to make sure everything is good. Thank you.
Tim is an amazing manager. He walked me through the E rental and made sure everything was easy for me!
TIM took the extra step to help me and answer my questions!!
Tim was very helpful with the move-in!
Tim and Amanda were amazing! Very friendly and helpful! Very easy transfer of units!!
Management is very helpful, and I am very pleased with the service I received from Skip today. What a great guy! Thanks, Skip!
Stop by to visit today TimStop by to visit today Tim did
I stopped by to update my auto pay , tim was very helpful. Thanks
Tim was extremely helpful setting up the unit on very short notice. Would definitely use again.
The management at this facility have always been courteous and professional. Any questions or concerns I've had, have been addressed and answered in a timely manor. Thank you Skip for the extra help you gave me to rectify my problem.
Although management here is great they're not open for access 24 hours like most other storage facilities. They're very quick to assume ownership of your unit the minute payment is late with no remorse for those affected by the Covid Plandemic. The prices are lower than some but is downplayed by the lack of around the clock access. For just a little more money you get a lot more in access and customer service at most of the other local area storage facilities. I will not return.
Tim is great! Had a few acct things to transfer over which was a timely process, and he was so paitent and thorough.
Tim was professional, courteous, and very helpful with the transfer of units. Great experience!
Raise the rent $27 after 6 months.
Courteous and very professional. Tim did an awesome job assisting me. I had to transfer to a bigger storage unit because I needed a larger storage space. Tim was efficient, knowledgeable and assisted with providing me with a smooth transition. Excellent customer service!
Tim was such an amazing help getting us set up for a place to park our truck for a short period of time. His professionalism and willingness to help were outstanding. I would recommend this location. Make sure to ask for Tim!!! Thank you again Public Storage.
Fantastic experience clean and safe . Tim at front desk was super friendly and easy on boarding
Excellent service from tim and skip!
Very helpful and pleasant. Made this very easy
The service here is wonderful. Staff was so helpful and they made the process so easy. Even if you need storage outside business hours you can set up everything online. Would absolutely recommend this place!
Very clean and secure facility, been here a few years, no issues. Great friendly staff.
I had issues with with my lock not closing. Tim found my storage unit unlocked and was kind enough to put a lock on my unit until I could make back for a new lock. Very grateful for Tim for keeping my belongings safe!
Tim was great!! Helped me out with getting the paperwork I needed.
Very easy to use, clean, excellent staff
Tim helped us out immensely during out set up, second time renter, were happy with everything.
Tim was extremely helpful and would totally recommend them…
Great service from Tim! Thanks
Called and made reservation and quickly got a call from Tim the manager. He explained everything and set up an a time for me to come in. Once there he was outstanding, explained everything and made my move so easy. Thank you for having great employees that really care !!
nice company very helpful
Tim, did a great job helping me out today! Thank you for being so nice !
The gentleman was very nice he explained everything and make sure we understood it, he even walked with us to our storage unit to show us how to Lock and unlock the door I would highly recommend public storage to friends and family
Tim was extremely helpful and did an awesome job helping us get everything situated as we are moving back to Buffalo. Thank you so much!
Tim was very helpful and polite when we talked over the phone. He answered all of the questions I had and was very accommodating. If I am ever in need of a storage space again, I will certainly be going to this location.
everyone who works here is amazing!!!
Skip was friendly, knowledgeable, and helpful. The facility was clean, the storage space was clean and very reasonably priced. I am very happy with my experience.
Excellent service. Would highly recommend
And gentlemen working at public storage, I didn't get his name but he was so sweet and so helpful. He helped me load all the boxes I was purchasing into my car because my hands were so full. A mask is required no matter what, so put one on.
Close, convenient, climate controlled. Good price. Tim was very helpful with getting my unit set up and move in ready! 6/12/21 EDIT after being there for 5 months, on the 6th month they increase rent by $16 a month. When I called about why the increase so soon, I was told that they increase on 6 months and 1 year. Then every year after that. I can see every year but twice in one year is a bit much. I definitely won't be keeping my stuff there.
Tim and Skip were extremely helpful with the details of renting storage space.
Terrific employees and very secure storage! You can't go wrong here!
Tim was a tremendous help, great service
my eperience was great tim was great and very helpful.
Tim was very helpful with all of our storage needs.
I highly recommend this facility. It is clean, well maintained, and the staff is extremely helpful and friendly.
Felt like I was ice skating the whole time I was there. A little salt wouldn't break the bank. Or a pair of skates
Tim is a gem , he was so helpful with all the information concerning the unit . So glad I chose public storage to put all my belongings . He is so friendly, and laughed at all my jokes . Good man at the desk . He didn't have a problem with repeating the info so I understood it completely .
First of all, this Public Storage saved me a world of stress when I was making the move from Canada to the US in the middle of the pandemic. It was so simple to book my unit at the last minute, and I was delighted to find the space to be incredibly easy to access, spotless, and secure. Moreover, I recently had to move again on short notice and Tim was a lifesaver in helping me transition out of this storage unit. He was super kind and communicative, and I greatly appreciate him following up with me on the phone so quickly. What a lifesaver! Thank you, Tim!
Tim did a great job helping me get a storage unit. Thanks!
Tim was very helpful with assisting me in moving into my storage locker.
Tim was helpful to delivery to a storage unit.
Tim helped me out thoroughly . Very good customer service
This is a great self storage, the people inside are always so helpful. Tim is excellent at customer service, he was so professional and assisted me with my need today. It is very clean there and very secure. Would use them again in the future should the need arise.
Great experience! Always had access to our unit. Friendly staff, Tim was wonderful, helpful, and polite! If needed will use again
Tim was a great help and very serviceable. Helped make my move so much easier. Very professional! Highly recommended!
Tim has been very helpful as I downsized from a larger unit to a smaller one. He is very patient and willing to go the extra mile. The property is well maintained by Tim and Skip. I also want to complement Gary who retired this summer - he was terrific and set a high level of professionalism for others to emulate. Public Storage is fortunate to have the knowledgeable and excellent staff that they do. I would highly recommend this Public Storage to anyone.
Thank you Tim, Great service and excellent support for transfer from a small unit to a larger one for my move. Great location and up to date.
Staff is extremely friendly and helpful!
I just rented a unit from the Public Storage at 1160 Southwestern Blvd., West Seneca. Tim, the manager was superb in both his customer service skills and his knowledge to assist me while I did everything remotely. I was never under pressure and feel confident with my agreement going forward. Top marks to Public Storage and the quality of their personnel and their training. I have no hesitation in recommending Public Storage and their people.
Tim signed me up for the monthly payment thru my credit card. No one had ever told me about this, so happy he did. Very nice man, thanks Tim.
Tim was very helpful getting me all set up with my storage unit, great customer service. 10/10 would store again haha
The easiest part of my move was getting a storage unit at Public Storage on Southwestern BLVD in West Seneca. I did it all online renting and then moving out of storage. Tim then gave me a call the next day and he was so polite and nice. If i ever need storage again I will be using that location and will be sure to spread the word how great it was.
I had very good experience with this location. Check in process was quick and easy and everything was explained to me in detail. The manager Tim is very nice and helpful
I really needed a space for a camper in a hurry and called the southwest location. Tim was very friendly suggested measuring it and stopping by next day. We stopped by saw a couple spots and said another was opening up where we hoped to park it. Today Tim was awesome told me everything and how it works. If I know anyone needing storage Tim is the man!!!
Tim was polite and super accommodating. Easy to work with. Thank you for the excellent service!
Tim was amazing help! Very professional and very nice
I stopped by for some pricing and information. Tim was very helpful and knowledgeable about the rental units. He also went over security features and your policies regarding rentals.
Tim was great! We were in a bind with our previous storage unit and he was great with explaining things in detail and ensuring of proper care provided at this location.
Tim was such an amazing help! I was stuck at work and my boyfriend was helping figure out a mix up with my storage unit (my fault) and Tim offered to stay late to ensure that I got set up with a unit and got all my stuff moved in. He also called me the next day to ensure everything went smoothly and that I was all set. He told me numerous times if I ever need anything to reach out to him. Tim seriously is amazing.
The Manager Tim was very helpful resolving a payment issue !!!
Great facilities, fair pricing, attentive staff (shoutout to Gary for helping us out with some tools we forgot). If you need some storage in the Southtowns you can't do much better!
Tim did a phenomenal job! He's the best, very helpful
I didn't actually get to use their services the person I was storing a car for decided he didn't want to store the car, the rate is relatively affordable if you book online. But I called them to cancel thinking I would had to pay the next month's fee nope I just had to pay the administration fee and the $1.00 for this month. Service was good and canceled without a hassle.
I dealt with Gary who was awesome & made my experience a very good one & I appreciated him following up to make sure everything went well. Good location & competitive pricing for a nice storage unit.
Very kind and clean place need storage go here.
Excellent service. My property was safe and secure. Thank you !
Gary was extremely helpful and a joy to speak with !
Needed storage last minute and so exited to find a great space! Not only did Gary help explain all the details but he was patient and super helpful! Definitely superior customer service! Thank you so much!
Great customer service! Gary helped me without hesitation today. Highly recommended!
Nice clean place to store stuff.
Gary was wonderful and very helpful!!! Everything was very clean and organized and Gary took his time explaining how everything worked and items I could purchase to help make storing my things safely. Thank you Gary!!!
Gary at public storage is the best manager going I've been with him for the last 3 years and I have absolutely no problem
Very friendly and helpful!!!
The staff is very friendly and very helpful. Gary helped me in the check in process and was very thorough, helpful, and extremely kind. Felt like family. I'd recommend this location if you're in search of storage. I'd give it 6 stars if that were an option.
Gary was absolutely amazing and helpful. Very professional and great customer service. He took us around to see the storage units and answered all of our questions. I have already advised my friends to use Public Storage if they are looking for storage units. Amazing service. Thank you for all that you do Gary! It was really great to meet you!!!!
I was extremely satisfied with the services that were provided by Gary. He helped me get the perfect amount of space at the lowest prices and my 2 units were conveniently located next to each other. Gary was extremely helpful, and I would recommend this location for anyone who is looking for a storage unit that offers the best prices and services.
Wonderful experience! Everything went by smoothly. Thank you so much Gary! You helped a ton.
I highly recommend, dealing with Gary, at the west Seneca, facility, he portrays the utmost professionalism, and makes everything, so much more endurable, storing our belongings!
Great Experience, The process of signing up and acquiring a unit was very efficient and easy. The price point for the unit was one of the best in the area, and very clean. The location is perfect, close to major routes like the 400 and rt 20. Gary was very helpful and kind. No concerns with security. The area is gated and has many cameras.
West Senecas Public storage is a Clean Well kept and impressive storage facility. I cant say enough good things about the manager whose name is Gary. He is one of the most professional, well spoken, helpful, and kindest businessmen I have ever met. The place is Lucky to have a guy like him running it and working directly with customers including Commercial Frieght delivery drivers like me.
Every time I stop by I am always greeted by Gary the manager by name. They also ask how you are and if they can do anything for you. I wanted to downsize my unit from a 10x20 to a 5X10 and I was able to do it same day hassle free with no additional charges or billing issues. Great place and secure!
Phenomenal customer service, super nice guys. Great value, great experience. Recommended!
Great service, clean units! A+
Gary was very informative and very helpful.
Gary was excellent. His service and professionalism made the process easy and enjoyable. His willingness to help answer questions and provide further assistance was above and beyond.
Quick, easy to set up and affordable. They were very helpful and polite.
Very helpful staff. Garry was able to answer all of our questions and give us the information we needed. Reasonable pricing and plenty of space.
I experienced excellent service at this location. The manager, Gary, was very helpful!
Gary was extremely helpful and knowledgeable. Very professional and helpful with selecting the correct unit and accessories
This facility is very well maintained, clean and secure. The manager, Gary, is professional , friendly and helpful, doing more than necessary to make the experience as easy as possible. I recommend him and this storage facility very highly.
Have been very please with this facility and it's management over the last several years!
Great place to do business with.
Great Experience! In the midst of moving and with little time to spare, I needed storage space. Gary was working that day and could not have been more helpful. Not only did he allow me to move between multiple locations (last minute we realized we would overflow the rental unit and needed larger apace), buthe worked late helping me get an additional unit! I usually don't write review . But have to say Gary is the reason why i will recommend Public Storage to anyone in needm. He is excellent!
Great place for a great price! Gary is a great guy and made it hassle free for us. We were able to get a storage unit right away. Highly recommend Public Storage!!
Clean, safe, easy, cheap, friendly and helpful staff
Gary that manages the facilities is a great guy. Very friendly, knowledgeable, and helpful. He keeps a very clean and well organized facility and will give a lending hand keeping a door open for you. Facilities is spotless and easy to get to. Highly recommend.
This is an extremely clean a d well managed facility. I have a unit here. And am over all pretty happy with this company and the location is ideal. Although I wish I had 24 hr access, due to my business's venues and needing to unload later then 9pm, occasionally. And the key pad to enter is next to the road leaving the drive way entrance partially blocked. Me, driving a full size truck and traffic on Southwestern, it could be a dangerous combination.
Skip was excellent to deal with. Took the time to explain the various options, listened to what our needs were and connected us with the right storage option for us. Would highly recommend.
So helpful !!! Thank you for wonderful service.
Friendly service, great units. Very easily accessible.
First experience with storage units. Had to downsize from house to apartment..Public storage was great. Gary made process very easy. Units clean, access easy. Great experience. Highly recommend for any storage needs!!
All great single level units. No carrying your belongings upstairs or jammed into tiny elevators. I'm satisfied with the service and knowledge that both Gary and Skip have. Autopay was easily set up.
I can't say enough good things about my experience with Gary at Public Storage in West Seneca. To find someone who is always cheerful when they are helping you out is a rare find in this day and age. Thank you Gary for all that you including picking up nails.
I rented a space for our camper from this location. It was a relief knowing that we could leave it and know that it was secure and safe. Gary was also great to work with any time I had questions or concerns.
Unbelievable service Went way beyond the call of duty to help me in a situation. couldn't say more, thanks once again!
Very nice employees, very friendly and not just about business. Easy to get set up and store my car.
Excellent experience and convenient for our schedules.
Great place to rent a storage unit from! Gary is beyond helpful and provides great service. Thanks again
The one in Clinton Township MI. SUCK.
Highly recommend. Excellent help from gary
Rent was increased 50% over the course of a year. Corporate was rude and unhelpful.
These guys go above and beyond! Gary and Skip are constantly asking how things are going and if they can do anything for me. I have a FedEx contract through my company called "White Glove Delivery" that require them to unload pallets and remove all packaging...which they sometimes try to get away with not doing. These guys make sure it gets done! Obviously not their responsibility, but they go out of their way to make sure I don't walk into a disaster which saves me time and energy of having to correct a problem when I have zero time to spend on a situation like this. If you're looking for great services at an unbelievable price, you won't be disappointed here!
Kathy was awesome!!! Easy clear check-in!!! Thanks for making it a smooth and fun experience!!
This was my first time renting a storage facility and Gary could not have made it easier. He was great to work with, always pleasant and helpful. The facility was clean, well lit and I felt safe whenever I went to my unit. I would highly recommend this site to anyone.
Very spacious quiet place. Customer service is excellent especially when they helped us out our first time renting a unit.! Gary was very helpful!
Gary is awesome! Thanks for the help.
Everything went well. Quick and easy. Staff was very helpful.
Gary ensured that my paperwork went quickly and move in was a breeze. Update: I've been there about a year and a half now and couldn't ask for better service from Gary and Skip.
Customer service is excellent, Gary was very helpful in fitting my storage needs and the price was right.
Skip helped me get into my unit in less than an hour. I'm set up with automatic payment and a lock. It was a breeze and I dont have to worry about anything.
Nice staff, cheap prices!
I recently moved from out of state and needed storage while setting up the house. I called and spoke with the manager, Gary, who had several size storage units available. Went over and in very short time all paperwork was completed with Gary's assistance. Painless process. He even called several weeks later to check that everything was OK. Strongly recommend this storage facility.
Here's the deal. This facility is absolutely AWFUL. The DM Matt was incredibly rude and cold to me. HOWEVER I am rating them a five ONLY BECAUSE OF GARY. Gary, thank you for always being kind and helpful. You are appreciated, and you deserve better than what you get.
They are very helpful. Any information I need they are able to answer quickly. Always great service and very nice people
Skip is the greatest Rep. Knowledgeable, helpful friendly and yes, he really cares. I'd only stay with pulic storage because of him!!! Prices after years of having to be a customer, are ridiculous. This man deserves a promotion and or a big raise!! God knows he's well worth it!!! Thank you Skip!!
Gary was great very helpful and ensured the paperwork went smoothly and the space was equivalent to our needs.
Gary was very happy to answer all questions I had and made the whole process very smooth - thank you!
Gary answered all my questions Very polite, knowledgeable and friendly. I appreciate the professionalism.
Great experience at this place. Gary was very knowledgeable and friendly. Will highly recommend to friends and family.
Gary was very friendly and helpful. would recommend
I found the facility is well kept, no debris or dented panels visible. The doors of the individual units work as they were designed to do with reasonable effort. The personnel(Gary& Skip) are knowledgeable of the whole process of renting space at this facility and pleasant and easy to talk with.
I had an amazing experience here! Gary helped me through the paperwork and answered all questions patiently. Highly recommended!
hello, to the public storage people, I would like to commend your associate, Gary, at the west Seneca, NY, facility, for his professionalism and guidance, from beginning to end in our storage needs, he is a pleasure to deal with, and I highly recommend, his location to all my family and friends, thank you Gary for your services!
Great location and facility. Greg is outstanding and the service can' be beat. Highly recommend
The staff here is will go beyond whats required of them. Truly rare to find a company that makes sure you have what you need. Salute!
I have had the need for storage of personal property due to moving from a home to an apartment. I found Public Storage on Southwestern Blvd, in West Seneca, which is near my new apartment. The staff is friendly and helpful, and worked out a deal that was cheaper than what I had paid previously at another storage place ..and the one at Public Storage was larger in size. I have a 2017 Camaro that I do not want to drive in the winter time, and inquired about available storage for my car as well. I was provided a great deal on a parking garage for my car that was hard to beat and cheaper than other storage facilities in the area. Plus, the garage is 10'x25' in size. I would recommend Public Storage for storage, be it for personal property or a vehicle.
Very helpful when needed, clean and safe
Gary and Skip were very nice and helpful! Would recommend this place highly
Very helpful will use again
I did some research to find the best prices around, along with something that's convenient for us. The prices were the lowest I found and the location is good too. The unit we are renting was extremely clean and dry when Gary opened the door for us (almost like nobody had ever been in there before). He called me a few days later to see if we had any problems or needed any help with anything. Would recommend!
Great Customer Service and very helpful!
We are moving from texas and my husband and i met with Gary ....he was amazing helped us out so much ....explained every little detail with us. If we ever need storage again we will be using public storage for sure.
Gary was very helpful for finding the most affordable option for me and was very knowledgeable with my unit. The units are clean and just fit exactly what I had inside. I have absolutely no complaints!
Great price excellent service !
Awesome customer service, always friendly and helpful!!!
Gary is absolutely amazing I had a great experience.
Service was fast and friendly. Clean professional environment. Price was extremely reasonable for the unit size which was more than large enough to accommodate my need. Best price comparison that I found. Highly recommend and will do business with this company again. Thank you Gary and the public storage company.
Great storage facility. Easy to work with.
After Life Storage on Langner Rd "forgot to put our reservation" in their system, we had no problems the day before our move getting the right sized unit at Public Storage. It was super easy, the rates are great, and the staff is very friendly and helpful! Easy to move in and your stuff is very protected by codes and locks.
I was very pleased with the customer service. i received by Skip at public storage. He was very patient and kind. He showed me and my husband all my best option for a unit and even walked me all the way over to the unit. He took extra care of us and made us feel appreciated and valued as customers. Even before we were leaving he even came all the way from in the office to open the access gate for us to get let out and wish us a goodbye with a nice smile. Awesome... Just awesome customer service. i would highly recommend this location.
Great customer service from the attendant, Skip.
Gary the manager is a great guy! The storage facility is clean and well kept. Very safe area. Top notch!
It was very easy to get a storage unit. I signed up online, and within minutes was contacted by the location. I moved in the next day, and the location manager was very friendly and thorough. The prices matched the online offers, and the space is clean, easily accessible, and exactly what I hoped for.
The manager, Gary, at this facility is wonderful. He is extremely friendly and knowledgeable. He also made the entire process very easy. The unit we rented, and entire facility, is very clean and well maintained. We felt comfortable leaving our belongings in this facility and our feelings were spot on. This morning we received an email that the unit was left unlocked. When my husband put things in the unit this weekend, he didn't have the latch completely engaged. So the lock was on, but in reality it wasn't secured. Thankfully Gary cares as much about our property and noticed it wasn't latched. He immediately notified us so we could address it. Thanks again and I encourage anyone looking for a great place to store your items to contact Gary at Public Storage on Southwestern in West Seneca. I'm happy we did!
How much do units run monthly??
Overall positive experience at this facility. Gary was very professional, knowledgeable and helpful. Great customer service, would recommend
I wouldn't go anywhere else in the area for storage. The cleanliness, value and ease of access is just not found at other storage facilities. If that wasn't enough to convince you, Gary's helpful, patient and professional manner certainly will. Well done all around.
Property is very clean and well secured. Staff is friendly and very helpful
Great place very helpful!
Gary was very helpful and professional in helping me with renting my storage locker and with my purchase of boxes for my upcoming move.
Great staff secure facility.
The facilities were always well attended, well lit and secure. The staff were professional with a delightful personal touch of kindness. I always felt welcome and appricated! Definitely 5 star treatment at reasonable cost. I highly recommended Public Storage West Seneca NY
I can call this home i love the way they treat me .with respect and they are real profesional and curtious ..i am satisfied with their service thank you
Very accommodating and straightforward. Super nice employees!
This storage facility is the greatest! It is clean and safe and I am so happy to have a place where I can keep everything that does not fit where I live (no basement). I deal with Gary and he is always genuinely friendly and helpful.
Hit it off with illena with a magic card trick!!treated like a friend not a customer..returned next day with a lock,Gary also very laid back,friendly and assisted me with my own gate password,shoveled the snow away from the door and answe d all my questions honestlly n truthfully....way way better than life storage our previous facillity..looking forward to this new storage facility..much newer,cleaner than life storage and less expensive too...thank you illeana and Gary for your help and time in this matter
The manager Gary I dealt with was very helpful with the unit I needed. Friendly and professional and would recommend him.
Love my unit and Gary and Alyssa were super nice with helping me with what I needed.
Gary was great from the initial phone call to the actual move-in and registration.
Was very accommodating in regards to the parking storage. Do to snow buildup I was able to park in a reasonable spot until the snow melted. Very helpful
Looks to be a very well kept, safe place. Gary was absolutely awesome help. Would recommend to anyone that asked about a good storage place to use.
Good pricing and the manager is very nice and helpful.
I have rave reviews storing here. Gary makes this easy. He's curteous and helpful. Took care of my sister in the military as well. Kudos for helping military personnel! Highly recommend!
Simple process, great customer service, and on-site manager goes above and beyond!
Gary is very helpful with any questions or concerns regarding our rental unit. They did a lot of work on the premise since Public Storage took it over. I highly recommend them.
5/5 great service cheapest pricing around. Manager was very friendly. Would recommend
Excellent service, fair price, aside from snow with outdoor storage no complaints but that's buffalo for You.
Gary the manager at public storage is very helpful, curteous and an all around helpful guy.
Awesome!!! Gary walked me through different units to make sure I had the right one for my needs. Gary was on point and very friendly. I actually stayed a few extra minutes and shot the breeze. I would recommend this place to friends and family.
I just previously rented a spot at this place, first I like to say thank you Gary, you did a great job getting me in and out in a timely manner, pleasant, efficient, and honest. You were able to cruise me around on the golf cart instead of walking to show me a few different size spots that you had available. Thanks
Clean, friendly management, everything seems new and safe
very clean the manager was very personable made the rental fast and easy explained everything in easy terms will rent there again 5 star
Gary provided excellent customer service to us as we vacated our units. We were traveling 4 hours back to Pennsylvania and had a complex moving set up with 2 trucks and 2 trailers. Gary was awesome and went above and beyond to accommodate us for the 2 days it took to organize and load! We are very appreciative.
Store my camper there no issues easy in easy out Gary was great to work with when filling out paperwork.
Friendly manager honest reasonable rates calls you in advance reminders you reserved online courtesy cleanliness amazing don't worry they have boxes tape wrapping paper supplies things to get rid of humidity mattress cover you pay for insurance you choose your price of insurance it's well worth it you also get to see the unit before purchase very satisfied with how they go through the paper work with you need somewhere for your Rv no problem or a boat they have outside storage here just for you I feel safe with security gates and cameras around you get awesome locks too Thank you Gary it sure was a pleasure doing business with you.
great service very helpful courteous and kind. highly recomend
Online check in was easy, followed up by a confirmation phone call and email. Andrew was great. Very professional, knowledgeable and explained everything in detail. When I arrived the next day with my daughter and a truckload of totes, Andrew spotted us and quick brought over a small flat bed to help make it easier. I also bought a lock and set up auto pay. Only a few day/trips into it, but very good customer experience so far.
Great staff, Andrew helped us out in a pinch. As a band on tour we needed a place to stash gear for a bit and he was real helpful and easy to work with. Also very accommodating. If you're looking for storage with great customer service, come here!
Very helpful and kind people! Highly recommend working with them.
Good prices and good people had no issues whatsoever.
Wonderful experience, Gary in the west Seneca office is great and Angela in Largo Fla is fabulous
The new mangement all seem to care about the customer . Very friendly.