Public Storage Self-Storage Units at 14900 County Line Rd, Spring Hill, FL
Address
14900 County Line Rd Spring Hill, FL 34610
Office Hours
Mon-Fri 9:30 AM - 6:00 PM
Sat 9:30 AM - 5:00 PM
Sun Self Service - online & on-site eRental
Gate Access Hours
Mon-Sun 6:00 AM - 10:00 PM
Storage Facility Features
Climate Control Storage

Car Storage

Indoor & Outdoor Storage Units

Property Manager Lives On-site
Office Hours
Mon-Fri 9:30 AM - 6:00 PM
Sat 9:30 AM - 5:00 PM
Sun Self Service - online & on-site eRental
Gate Access Hours
Mon-Sun 6:00 AM - 10:00 PM
Storage Facility Features
Climate Control Storage

Car Storage

Indoor & Outdoor Storage Units

Property Manager Lives On-site
Close Location Details
View Location Details
---

5'x10'

---

5'x10'

Climate Controlled

Inside unit

1st Floor

---

15'x20'

---

10'x10'

Climate Controlled

Inside unit

1st Floor

---

10'x12'

Outside unit

Drive-up access

---

10'x15'

---

15'x10'

Climate Controlled

Inside unit

1st Floor

---

10'x20'

Outside unit

Drive-up access

---

10'x30'

Outside unit

Drive-up access
Nearby Self-Storage Locations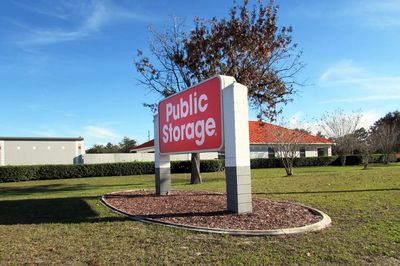 Self Storage Near
4080 Mariner Blvd
Spring Hill FL 34609
Self-Storage Near Spring Hill
Resources from the Help Center
See what fits in different storage unit sizes
At Public Storage, You'll Always Find...
Keypad Access

Friendly Staff

Month-to-Month Rent

Moving Supplies Available

Free Parking

Well-Lit Facilities
Reviews
( 213)
I'm gonna leave two stars for a "as realistic as possible" review. My gf and I came here when this place was simply self-storage as we needed to move from public storage and their "practices". In that sense I mean raising their rates nearly every three/four months due to "inflation". Although I would like to thank them for the 3 month discount (grace period before they hiked up the prices again) I'm beyond done at this point. No amount of inflation can justify you continually increasing rent storage on a 5x10 other than some aspect of greed. Now the headache of moving an entire storage unit again! We would truthfully stay if they'd quit overcharging but "it's a business" so I doubt it's gonna change anytime soon. TLDR: Public storage is a monopoly and is too expensive for mediocre storage facility options.
Raised pricing again. I had outside covered RV storage. They raised the price $25 last Dec and I got a notice the price was going up another $50 in Sept. All I was paying for was shade. Not electricity or A C like inside storage. I have since moved my camper down the street. I now have a site that is 20' longer and $60 a month cheaper.
Dell was very helpful with our check in to get a storage unit!!
Great place! Excellent customer service and I feel comfortable leaving my things here.
Shelby was amazing with helping me find the solutions to fit my needs. Wish the world had more Shelby's!
Clean location and the manager was very professional.
Shelby and Dell were fantastic! Super friendly and helpful. Great renting experience. A+
Shelby was so professional and answered all my questions when I had 2 units last summer. I would highly recommend this facility. Clean and cool at all times. I wouldn't go anywhere else for my storage needs.
Dell helped rent my unit. It was quick and easy. The facilities are clean and well kept. No hassle rental with a decent price.
Wonderful location. Clean and plenty of room to park our RV. Shelby was extremely helpful!
Store 20909/spring hill Great service all around
I am so happy that I chose Simply Storage. Shelby took care of me and couldn't be happier.
Dell and Shelby were awesome. The process was fast and simple. Haha. Like the name. Keep up the good work guys.
Don't try and change your debit card when you debit cards been hacked and you had to get a new one I've called 11 times trying to get through to somebody to get them the correct information so I could make my payment by the 1st and no 1 will return my call no 1 will take my information. Terrible customer service terrible my stuff has been there in storage for almost 10 years and they can't get one person to call me back not 1
The guys here are very knowledgeable about the company and know how to go above and beyond the call of duty to take care of the customer. Kudos to Dell and Shelby
The gentleman at the counter was polite, professional and knowledgeable! He handled my concerns and found the right unit for my needs. Will definitely recommend Simply Self Storage to friends.
I recent rented a storage unit with Simple Store. The gentlemen there were very amiable and engaging. They made the process seamless. Really enjoyed laughing with them. Shelby and the other gentleman were really great.
Great clean units reasonably priced too!!! Thanks to Dell & Shelby for getting us a unit on such short notice and making the whole process so easy!!! Definitely will recommend you guys!!!
Was very helpful and respectful thank you
Shelby was so very helpful. We are very happy with our unit at Simply Self Storage 20909 - Spring Hill location.
I have had a unit here almost a year now,and it was super clean and climate controlled. They do have exterminator come and spray,but I've yet to see any bugs and I've been here alot & got a second unit.Manager Shelby is awesome to deal with and I hear the girls who answer calls are great as well. Highly recommend, affordable, clean, & convenient.
Great Facility and Great Customer Service.
Great service Shelby was amazing and very helpful
Shelby Rainey was very helpful and friendly. I will recommend anyone thats looking for a storage unit here because of how well the customer service was
Great place, good prices and service. Thanks Shelby!
Shelby was kind and very informative and I was really glad to do business with him I'm going to come back and do more business with your company thanks to people like him that work there.
Excellent service. Staff was very helpful and knowledgeable.
Loved renting from here it was always kept up and tidy. We always felt extremely welcome when interacting with a gentleman I believe his name was Shelby I didn't catch his last name. 10/10 would recommend on the staff alone!
Shelby with Simply Storage was incredibly kind and professional and made my experience a very positive one!
Great customer service. Thank you!
Great customer service, personable and informative. Definitely recommend
Clean facility nice staff. Highly recommended.
Well maintained property. The manager was nice and helpful. Would recommend.
Friendly staff, clean facility, process was quick and painless!
Reserved a unit online and inspected on site 20 minutes later. Manager was very friendly and helpful. Paperwork done in 10 minutes and ready to move stuff in. Best value for the storage money in the area. I rented a large 10 x 30 drive up climate controlled unit for over $100 less that two other nearby storage facilities. The roll up door had insulation on the inside to keep it cool. Highly recommend.
Shelby was amazing! Loved my time at this storage facility! Great price, great customer service!
Excellent customer service! I needed to add a second small unit and Shelby was very helpful! Very clean!
Theresa is the absolute best. Great customer service. Storage unit is so clean. Would recommend this place to anyone.
Our service was top notch! Clean facility and easy process. Thanks again!
Service was easy to get online. Payments online are easy to manage. Customer service is superior. Only needed the storage for a short two months, but when I removed my belongings there was no damage or traces of rodents, which is very pleasing. Thanks guys!
Becky is very nice and welcoming! Very clean place!
Rob is the best thing about this store. Don't know why they brought in a new manager when he was great for the job
Have our motorhome stored there. We'll run and maintained.
Rob was awesome. Very helpful in not only the paperwork and such but took the time to give me hints on the best way to organize in my unit. I think I made the right choice!! I must add to my review..... After a horrible experience with my so called professional movers, a migraine, and total frustration, Rob offered his help. With the help of a friend and Rob's advice, I was able to repack my unit to fit all my things with room to spare. Thanks Rob, you truly know your business and how to treat your customers.
This is a great place it was easy to pay online. Rob was very helpful and friendly. Reasonable prices and very clean!!!
The manager was awesome very helpful he went above and beyond helping me figure out everything with the sizing of the units, the place was super clean prices we're more than reasonable
Talked to rob today and he was extremely helpful in my time of need. Rob is one awesome dude. Highly recommend this company. 🙂
They have kept my stuff safe, clean, and bug free
Best in the Spring Hill area! I've stored with them for sometime now, haven't had any issues. Very clean, secure and friendly staff. Rob is the man. 😎He helped me find an affordable ac controlled unit perfect for my things. Definitely would recommend Storing with Simply Storage Spring Hill.
Super friendly and clean place. So happy I chose this place.
Rob and JT were amazing, friendly, and funny! Made the check-in process fun and faster than I expected. Safe and secure storeage at an affordable rate. Thanks guys for a job well done!
Clean and Friendly. JT was great.
The best storage facility I have encountered. Rob is a great asset to your company. I would truly recommend it. Great rates, clean and well kept.
Very clean, staff super friendly and helpful, I highly recommend this place.
I was pleasantly surprised at how helpful and friendly Stephen the property manager was. The property is kept very clean and I feel very confident with their services. Stephen even helped me after hours when I found I needed a second storage unit during my home move. I highly recommend this facility and will continue to use them for all my storage needs.
Boxes are over priced and they don't take back what you don't use!
Love this place! I've had my RV there for almost 9 years!
Great staff! Very clean and good pricing for any storage needs.
It's all right. Just help a friend get her stuff out of there
Just closed out my account. Had a climate controlled unit for a little over 5 yrs. Rates were very reasonable. Staff professional, helpful and very kind. Was late often towards the end, always treated nicely with kind reminder calls. Couldn't have been happier! Highly recommend
Does the storage price include taxes
This is my 4th time storimg my stuff in this place the staff is awesome the place is very clean the deals and prices are great and they treat you like family what more can you ask from a place of business wil recommend to all. thank you very much. A+++++++
Very friendly and helpful staff.
Great place to store all your worldly possessions. Clean and kept up nice. Great prices and I feel my stuff is safe and dry. Manager Stephen is very helpfull and has the best suggestions for your storage solutions. Private gate keeps the undesirables out. They also sell box's and moving supplies to save you time and money.
Our container is inside right nezt to a door. The problem is that the door doesn't want to stay open, so we prop it open with a rock. This is really inconvenient when you need to carry something big and not worry that the door might close on us.
Very convienent and secure. Easy rental process, and final checkout couldn't have been faster. Highly recommend. 10/10 -- will do business with this company again.
We had a climate controlled unit for over a year here. Never had an issue. Staff was friendly, grounds were clean, and there was always a cart available for hauling our stuff. Price was acceptable for the unit. I recommend it.
Excellent service very clean
Jimmy was a extremely professional and very patient
Heather went above and beyond to make my truck rental effortless. Heather's customer care was examplary.
This is a great storage place to go to. They are frequently open and always are able to pick up the phone when you have a problem. They help you when you have a problem with your Storage Unit.
Had a unit for over 3 years while living out of state. They kept raising the rent for "security upgrades" every few months and at times without notice. Their response was that the new increased rate was still cheaper than the other places in the area. Doesnt seem fair to keep raising the rate when people are out of state and cannot just come down and move their items out.
Great prices. The guys in the office are nice and knowledgeable. Great customer service.
Jimmy really helped us out. He and my husband got a perfect size unit for all our things, very convenient 4 wheel dollies that helps us get stuff from our car to the unit so we didn't have to make so many trips! Thank you so much!
Very nice staff, they seem helpful and knowledgeable.
The managers jimmy and Stephen are very helpful and knowledgeable about storage. If I ever need anything in the future I will recommend this location!! Thanks guys!
Would highly recommend. Very nice people, friendly, great service.
Very quick, painless, excellent service. Highly recommend Simply!
Jimmy made the process really easy
Have used them in the past. Great experience. Very clean. Great customer service. Competitive rates.. Friendly knowledgable staff...
Office staff are awesome. Units are clean. Parking lot is well lit. All around great experience and great facility.
Nice experience! Good customer service thank you Amanda and Jimmy for helping us! Great experience and amazing service
Absolutely the best for storage, where you are treated like family and not just another person ask for Amazing Amanda she knows how to treat one like family
Amanda and Jimmy were extremely helpful and provided us with a bigger unit once we realized the one we had originally rented did not have the space needed to store our belongings. They promptly notified us that a bigger unit had just opened up and made a quick transfer. Both of them are very professional and friendly. The unit is very clean and easily accessible. Thank you both for making the storage of my belonging faster and without additional problems.
Amanda and Jimmy are the most amazing helpful people I've ever had for a storage unit place. They have been helpful with my budget rentals and if I had any questions or concerns with any of my needs regarding my units they are quick to answer and take care of issues. Thank you all for your help:))
WELL THIS IS THE BEST PLACE TO GO TO AMANDA IS THE BEST SHE JUST DIDNT HELP US SHE TOOK THE TIME TO TELL US ABOUT EVERYTHING AN SHOWED ALL THE UNITS VERY WELL MANNERED AND POLITE SHE WAS ON TOP OF EVERYTHING.. SO IF YOU WANT A STORAGE PLACE TO GO TO THIS IS IT AN ASK FOR AMANDA
We reserved a 26 ft. Budget truck a week ago at this location to be picked up today at 10:00am. We drove half an hour out of our way to this specific location because no other location had the size truck we wanted and come to find out they rented it out from under our reservation. Their only condolence was they would try to call other locations to try to find a 26 foot truck. I have rented trucks my whole life and they were there when we went to pick them up. Now that we are moving and have to get our stuff out, this happened. Not one phone call to let us know they no longer had it, no contact of any kind to us so we could try to make other arrangements. Has to be the worst place to get a rental truck in the area.
was there just looking at storage units to price and Both manager there were very helpful, friendly, and the lot was nice and clean
I called into Simply Self to find out about the smallest unit possible for an emergency unit. I worked with Heather, and she was BEYOND amazing. She really took the time to go over everything with me, explained everything to me in detail, and was so kind. Heather went above and beyond "just a sales associate". She really made me feel like I mattered and that I wasn't just someone to give the company money each month. Thank you so much!
Thank you Heather for makes our move easier! Customer service above and beyond with a smile the whole time.
Caveat to the review left less than 24 hours ago... these two "women" walk in and the daughter is immediately rude to Amanda. I had a 16' truck reserved, they only had one in service on property, and was treated exceptionally well by staff. The fact she put up with these ladies shows her professionalism, I haven't heard a mouth like that from these two in a while (and I served 8years active military)... when leaving they women were erratic, the older woman roared like a lion outside the building... I understand they were inconvenienced but that is no reason to curse out the employee who has little to nothing to do with reservations... thank you again Amanda and the entire company of simply self storage.
Amanda was very rude, not just once but twice. Not only rude but proceeded to argue and raise her voice to the customer when the customer said you're not going to apologize for this mornings screw up? I have nothing to be sorry for she said and wh-ent on to interrupt and argue further. Here's how it started. Reserved a 16' budget truck yesterday,received a confirmation #, paid for the truck with a credit card. Was at Simply Storage by 9:00am. Upon arriving, the customer told Amanda she was there to ick up a 16' truck. Amanda claimed she didn't have one available because and was giving the only one to someone who was "local". But we have a reservation confirmation. She again said she didn't have one. She offered up a smaller truck (which would have taken 2-3 trips driving 1.15 minutes one way. Or very big truck that would not have fit our location. We made the mistake of leaving because things were getting out of hand and her lack of customer service was apparent. We called corporate office to complain. We had to pack up three cars to start the moving process. While driving we received a call from corporate and They said there's a 16' truck there and was waiting for us a 9am. So we went back to face Amanda yet again. She wrote up the paperwork and as we were finishing, my daughter said the truck was here all along. Rude Amanda said no it it didn't arrive till 9:15. We didn't leave till 9:15 so she lied and proceeded to tell the customer she had nothing to apologize for. Long and short of it, stay away from simply storage or at the very least don't deal with Amanda.
OMG!! Customer service is amazing here! Do not rent from anyone else! See Heather, she's the best!!!
This location was extremely helpful, especially Heather as she made our trip a lot easier by helping us find a auto carrier for our long drive to DC. For any of your moving needs, you can rest assured this location will be able to help you out
Heather was so helpful and super awesome. Thank you so much for all your help, lady! 😊
This place is amazing! Great customer service and the rates are really good. The property manager Amanda is very helpful and cheerful every time I come in.
Heather was so knowledgeable about the details on the units. She is very professional too!!!
Recently rented a unit and Heather was such a great help and offered great customer service. The unit was also super clean!
My niece got a unit here today nice office, clean, Heather greeted us and took care of all our needs. Very personable and professional
Excellent service here at Simply rented a truck last week and got some boxes. Hats off to Heather!
Very clean units for storage. The young lady Heather that assisted us was very personable, super friendly and had great knowledge of the storage units and what size was best for our situation. Highly recommend simply self storage. Ask for Heather, you will be happy you did!
it was awesome experience. Heather was amazing make sure you ask for her. Thanks for everything
Heather was helpful and pleasant. No issues with my return.
The staff at Simply Self Storage were amazing. We had trouble getting a truck online, but was able to go into the location and get the help we needed. Thank You.
The girl working the front desk wad very informative of the area (just moved here a week ago) and gave excellent food recommendations!
Manager was very rude and basically threw my paperwork at me when I called her out on it and then she didn't even inspect my truck or trailer when I returned it, I've even called her corporate office and budget so I'm waiting to hear from them and I will NEVER do business there again
It was clean and nice. Easy to enter and exit. They have a great car wash. It is covered and nice from the heat. They also have a change machine which is super convenient and a car vacuum. Very nice spot to wash your car. I have never rented space but I go all the time to wash my car. It is $2.50 to start and just get easy with $10 if your car if filthy. Also big enough for big trucks and caravans and RVs will fit
Staff really nice and very efficient!
Heather the manager was awesome me and my wife really appreciated her help with everything.. I highly recommend this place if your in Town or moving to town or just need storage in Florida.
This facility met all my needs and then some! The friendly service I received from "Heather" was second to none! I never rented a storage unit, and she explained everything I needed to know. I will recommend her, and Simply Self Storage, to my friends and family.
should have 24 he access for people that work nights. I have just picked my stuff up and mice have eaten some of my photos in the climate controlled unit. Very unhappy!
what is the difference between Drive up storage unit and a Drive up premium storage unit.
Rented one of the larger stalls I believe a 16 x 30 it leaked water and destroyed some dressers and end tables. The boxes I stacked against the walls would all be knocked over by the next stall being loaded and hitting the wall I signed the waiver upon moving in so I didn't bother mentioning it to Tim the property manager. However after renting there for 2 years I no longer needed the unit so I paid current and moved out upon my lease ending. Took my lock I brought with me. Tim called me the next month asking me about the next months rent. due to he did not do his job and lock it up and some one loaded it with garbage. Then he begins to threaten me if I didn't clean the unit for a second time. They are extremely unprofessional
Very disappointed with continuous rate increases, lack of service and condition of the facility. Won't be back.
Clean reasonable price , 1st month free , air conditioned storage.
The very best customer service I've ever had! They gave us discounts on top of our already discounted moving trucks. I will definitely recommend to everyone!
Amanda and Chuck at the facility are amazing, they are so helpful and explain everything perfectly. I couldnt have picked a better place go to. Thank you Amanda and Chuck for all your help!!!
Decent prices. Friendly staff. Took a star off because the climate control is not as cool as other places we looked at which seemed to be due to their air conditioner units being older. We still ended up renting one of their climate controlled units anyway.
Have my storage here for almost a year..everyone in there is so super friendly and nice. If you have to store anything there with nice people working behind the counter this is the place. Super friendly
Had a storage unit here for over five years.
Citizen storage facility Dairy Queen well secured and fairly new.
Excellent place! Great Storage Facility! Clean and very well kept.
Just rented a 12 ft truck this past weekend. Amanda and Chuck were extremely professional, and accommodating. Was in and out in a matter of minutes with making an online reservation. Will definitely be using this location for future truck rental or storage needs.
Originally we had rented a moving truck at a place closer to our home, but after reading all of the horrible reviews online I decided to cancel our rental and try a place with better reviews. Simply Self Storage on County Line Road in Spring Hill had glowing reviews so I decided to give them a try. We were not disappointed. They were super friendly and very helpful and even gave us a great deal on a bigger truck, which we ended up needing to keep an extra day. We rarely leave reviews, but my husband was so impressed with them that he asked me to write myself a reminder note to come back and review them after we got moved in. Thank you for making a stressful event a whole lot less stressful! :-)
Chuck was so very nice and professional. We rented a storage unit and we rented a truck. Chuck helped us with the unit. So friendly and was truly concerned that we were happy with the storage unit. The truck rental went very smooth. Mary was very helpful and it went a smooth.
Awesome place and awesome staff. Highly recommend. Chuck is my favorite, great prices.
Chuck christoffers couldn't have been more helpful. I had some issues arrive and he handled them with courtesy. When the need arises I will certainly use Simply Storage again and highly recommend them
A++++ amazing workers! Very nice! Very helpful.
We traveled all the way from Colorado. (Over 1800 miles). Caring, warm and welcoming people like Chuck and Janice was very much needed after being on the road. Highly recommended. Well kept and freindly storage facility. $ Great Pricing $ Thanks Chuck and Janice!
Very friendly people, although they were not part of Budget, which is what we were using, they were very helpful !
We rented a storage unit and a truck. Chuck was fantastic to deal with. He is very friendly and helpful
We called the Simply Self service center and reserved our units prior to arriving at the location. The service was quick and helpful. Upon arrival at the facility the next day, we were greeted and assisted by Chuck with the property management team. He was courteous and professional, showing us the units we had reserved and our other options. We completed the contract paperwork and are very happy with our units. We will recommend Simply Self to our friends and family without concern.
Excellent. Chuck is the man.
I was in the store inquiring on storage and the gentleman named Chuck was very helpful and he answered all my questions. The facility is very nice.
my experience at your storage was a good one, I found the prices to very competitive to others in the area the place was busy but chuck still took the moment to greet me and and to say he'd be with me shortly, and it was very clean inside and outside. Thank you Chuck
I was very impressed with the help that I received and the information that was given to me. I was also very impressed with how clean the area was, compared to some of the other places I've too in the past. Keep up the good work Chuck your a great asset to your company.
Storage unit and truck rental- Was a pleasure to speak and work with Chuck. Quick process and professional demeanor made renting from here an easy choice.
Great place! I would recommend my friends to use them!
Good customer care service here at simiply storage. Chuck is a good helpful guy. I recommend to friends and fanily
Chuck was very helpfully and knowledgeable and friendly will help recommend friends and family.
Very clean, competitive prices, nice and professional staff. The staff is easy to talk to and quick to find a solution to any questions or needs.
Clean facilities. Extremely helpful and courteous staff.
Heather was so Excellent to us After all the trouble we had with renting our Budget Truck. She was able to make everything better and put a smile on Me and My Wife's face. She made our move so much easier.
Husband and I stopped by County line Rd location to inquire on renting unit. The customer service we received was excellent And the location was very clean. Very impressed.
Super friendly! Very helpful. I would recommend this place to everyone! If you want top notch service look no further.
Heathers was fantastic. Great people skills. Her customer service attitude was professional and extremely helpful. Two thumbs up for simply self storage county line road.
This company is the same in every state i use them when i lived in Detroit and they were super clean the staff were perfect and its the same here in Spring hill or shady hills (county line ) i would like to say i highly appropriate simply storage and all of its staff
I have used storage for years. This location is the nicest by far. Very clean, easily accessible and the staff will go above and beyond to help you. The staff made my stressful moving day a breeze. I would highly recommend this company to anyone. Two thumbs up!!