Public Storage Self-Storage Units at 6 Summit Place, Branford, CT
Address
6 Summit Place Branford, CT 06405
Office Hours
Mon-Fri 9:30 AM - 5:00 PM
Sat-Sun 9:30 AM - 5:00 PM
Gate Access Hours
Mon-Sun 6:00 AM - 9:00 PM
Storage Facility Features
Indoor & Outdoor Storage Units

Property Manager Lives On-site

Small, Medium & Large Storage Units
Office Hours
Mon-Fri 9:30 AM - 5:00 PM
Sat-Sun 9:30 AM - 5:00 PM
Gate Access Hours
Mon-Sun 6:00 AM - 9:00 PM
Storage Facility Features
Indoor & Outdoor Storage Units

Property Manager Lives On-site

Small, Medium & Large Storage Units
Close Location Details
View Location Details
---

5'x5'

---

10'x5'

---

5'x10'

Outside unit

Drive-up access

---

10'x10'

Outside unit

Drive-up access

---

10'x15'

Outside unit

Drive-up access

---

10'x20'

Outside unit

Drive-up access
Nearby Self-Storage Locations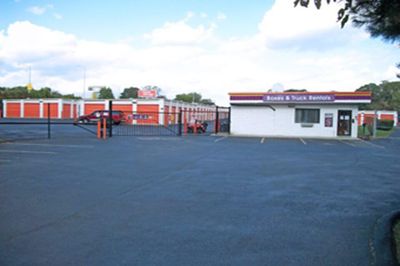 Self Storage Near
125 Railroad Ave
West Haven CT 06516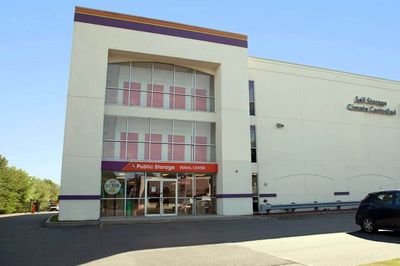 Self Storage Near
168 Bull Hill Lane
West Haven CT 06516
Self-Storage Near Branford
Resources from the Help Center
See what fits in different storage unit sizes
At Public Storage, You'll Always Find...
Keypad Access

Friendly Staff

Month-to-Month Rent

Moving Supplies Available

Free Parking

Well-Lit Facilities
Reviews
( 255)
I rented at Metro Self Storage for a decade so was slow to change companies, but I've really enjoyed this storage facility. Sherry, especially, is such a nice person and always makes communications pleasant. I like the area so much I'm considering renting an apartment nearby in the future. I once saw what I think was a deer skirt across the street.
We needed to rent a storage unit and this one was right down the street from my condo. The facility is clean and well lit. They have good hours to enter/exit your space. Brianna was extremely helpful, polite, knowledgeable and showed us our exact unit. We are very happy with her service.
Salina @ the Branford, CT location was very helpful, and very sweet. She went through everything with us. Thanks Salina!!
Raven went above and beyond to make sure that my unit would be ready in time before closing. She stayed afterhours to resolve all issues.
The people there are great at the Branford location raven the manager was very nice help us out a lot I recommend going there
Great location reasonable prices and Raven the young lady working at the desk could not have been more helpful, professional and efficient!!!
Great customer service!!! Raven was exceedingly helpful in helping me close out my unit. Her wealth of knowledge and fantastic attitude really made this super stressful experience easier and more pleasant.
Customer service here is amazing! Raven was so helpful and informative. She helped me find the perfect space and made my move in 100 times easier. Thank you for your kindness and advice.
My first time ⏲️ using storage recommended! Safe highly recommended quiet, clean, very informative at front desk!!
Raven offers the best advice and service. Your Hard work and dedicación doesnt go unnoticed thank you again!
Raven was super helpful, appreciated her service.
I just have to say this! I came to this location desperately looking for help and staff here immediately solved my solutions. I have received amazing customer service! I recommend everyone here. Raven I wish I could thank you 10 times over for your help and kindness, you have gone over and beyond which is rare nowadays Thank you!!
Raven was extremely helpful. Made the move-in process really easy. No issues with my unit.
I enjoy storing at this facility thank you for everything publicstorage make sure. You get the app
Always great service very professional probably the greatest storage ever
Raven has made my storing process a lot easier. Storing has never been more convenient. If you haven't downloaded the app you're missing out!
Great experience! Very helpful! Super easy access to storage unit! Love using the APP option!
Great customer service, fantastic facilities, the best unit I've had yet and I've had some in the most expensive areas of CT but this is definitely a fantastic place that I wish I had started out with in the beginning, if I had I would have saved a lot of moving around different storage units in different parts of the state.
The people here are great. Raven has been extremely helpful. Made the move-in proceed really easy.
Amazing service!! Raven, Thank you!! You all made me feel complete about my decision and utilizing your storage services. Thank you again!!
clean facility, excellent staff, best storage facility in town.
This site is convenient and works well for me. I have a small unit to store my motorcycle. Being able to come and go easily works great since I live 10 mins away in New Haven. Everyone is friendly and helpful there especially Raven!
Great experience and Raven is a sweetheart thank to her I got the storage.
I was having a terrible long day ! .... Until I Visited public storage in BrandFord where I met Raven ! She's something special ! Very friendly very professional and helpful! I'm glad I came here today! Hope I keep experiencing this treatment going forward.
Krista was so nice and helpful
I recently went to visit this storage facility and I can't say enough good things about them. I spoke with Raven who had a great attitude from start to finish, was helpful, patient and overall just the most pleasant service employee you can meet. Keep up the awesome work!
Raven made everything simple and straightforward with her amazing customer service!
Raven provided me with excellent service today. She toured the property with me and made sure she provided me with merchandise protect my belongings.
Raven was kind and friendly walked me around the different unit sizes; so I can take a closer look at sizing before I finalized my purchased my today. Great experience.
Service was great. I was helped by Raven and she went above and beyond to provide excellent service.
Very helpful customer service and quick transaction
Raven gave me some of the best customer service I've had in a long time. Thanks Raven!!!
Raven was incredible! Her customer service was excellent, her knowledge was incredible, she makes this location a little better than the rest.
Branford is very clean, very secure and I never had any problems with anything wet or damaged. They are very helpful when you forget your code. Like I do. And when I left. Checking out was a breeze. Raven took Care of everything for me!
Caprece is a very welcoming person. Thank you again
Raven was amazing! Shes super personable and extremely pleasant! If only all customer service experiences were like mine with raven, business would be a much happier place!
I reserved a unit weeks prior so when I went into the office to do paperwork for said unit I was a little frustrated that they had none available (I'm very literal so to me, a reservation means reserved for me). Although it took awhile, Caprece was amazing at trying to make sure I got what I reserved to the best of her ability. She was kind and very patient with whomever she was talking with to get the price down to what I reserved. I really appreciated her hard work. Thanks Caprece, you eased what could've been a very stressful situation!
Excellent customer service from Raven!! Highly recommend this storage place.
She is very professional, understanding, and knows what she is doing...
Raven was very helpful and polite friendly easy to carry on a conversation with
Made a reservation online and came in to complete it. Raven was amazing and such great services. Explained everything perfectly and was in and out quickly.
Very plesant experience. Raven is very helpful, friendly and proffesional staff member.
I have been with this facility for a year now and finally donated/threw out enough of my storage items to move down to a smaller unit. I called last night to talk to someone in the office to reassured me they'd be there in the A.M. to grt me setup. Her name is Raven and she is a ROCKSTAR! She went out if her way to walk me to a few different units and find me a trolley to make moving units easier. She made the transfer a breeze and was quick with checkout if my old unit. Ive never had a complaint with public storage, theyre the best prices around and by far the friendliest! Thanks Raven!
Everyone at this location is outstanding g!!! I ave used this service for 6 years. I feel that everyone is courteous and welcoming to all!
I have had my storage unit for about 7 years. It started at around $23 per month and is now about $72 for a 5×5. I noticed some water damage in the ceiling near my unit. Management has been very friendly - no complaints there, but the unit has become unaffordable for me and the integrity of the building is questionable.
Good service...upfront and honest
My experience was so amazing Caprece followed me through everything and explained to me what I did not understand. I would recommend this lovely young lady to anyone. Keep up the great work
Storage units were in great shape when I moved stuff in a couple of years ago, and still great today! Easy to get to and access around each unit was fantastic. I No longer required the space and Kevin was extremely helpful with all my move out questions and concerns! Definitely recommend if you're looking for a place in the Branford area.
Kevin R was my customer service rep,,, I just have to say was wonderful today, I just rented a second unit here in Branford and by far was the best customer service I had ever received there!!!! Awesome job!!
Kapriece was so helpful!! The customer service was amazing!
I came in to get boxes and was helped by Kevin, very professional young man.
Eileen was a pleasure to work with. Very helpful and such a nice and easy experience. Thank you.
We received courteous assistance from Malik when we rented the storage area. He was very helpful with showing the space, explaining the service and getting us started. The space is clean and well lit.
I have been here for awhile and I have always received great service from Eileen.
I brought my daughter in to get a storage unit. Eileen was there to help us. She asked us what we were storing so she could find the best unit for our needs and budget. She also brought us out to the units before purchase to help us with our decision. Eileen is truly an asset to your company. She was very knowledgeable and helpful. Awesome customer service!. Thank you Eileen for making our experience a good one.
Caprese is a great asset to this company! She is super friendly and professional. She is very informative and hands on to show me the unit. She made my experience a breeze. I appreciate her kind customer service.
Eileen, thanks for making my Holiday easy here at Public Storage, Best customer service is here at the Branford Public Storage, Merry Christmas
I came into this facility looking for information Eileen was extremely helpful and knowledgeable... I will definitely be back when I'm ready to store my items .. Thanks Eileen!!!
Wonderful people Eileen is an angel
My family and I always use Public Storage and have always been greeted with a smile. Eileen treats us so well, always remembers us. She is wonderful-David.
Eileen is fantastic will definitely recommend this place
I highly recommend that you come in and see Eileen to rent! My friend Tanya and I rented a unit from Eileen and she was so nice. She took her time while explaining everything to us. Thanks Eileen!!!!!
Great place, everyone friendly an very helpful, Caprece was very helpful walking me through the process. Was very easy. Would recommend this storage place an talking to Caprece
I have been coming here to see Eileen with my payments for a long time. She is an asset to the company and there should be more people like Eileen working here.
Amazing customer service very nice and helpful
Caprese was so helpful, kind. And patient with me!
Are the units climate controlled ?
Great staff, worked quickly to get me my storage space. Would definitely recommend
Terribly run and unprofessional
I was extremely pleased with the customer service I received from Gisette! She was very helpful answering all of my questions and concerns.
Great promotion and easy access for the storage unit. The young women who helped my mother and I was very pleasant. I would definitely recommend another person to come to this location.
Excellent staff, very very helpful. ALWAYS go above and beyond to help me. Property is clean and well maintained. I would definitely recommend to others!
Everytime I have been to this Public Storage I always find the property spotless. Everyone that works here is so professional and personable. They go above and beyond especially Eileen. I definitely recommend this facility.
I went in to the branford location just for general information on renting a unit. I was greeted by Ms. Gissett. I explained my situation and told her for now, I just wanted info.I had a list of questions to ask once I got there, but never took the list out. Gissett took control and explained everything perfectly. I never had to ask not one question. She was so polite and well informed. The place also looked clean which is a plus. Great experience!!!😁👍
Very clean and organized. Thank you Gisette for explaining all the details, excellent customer service.
I personally love how easy it was to secure a space and the efficient way to get in and out. I know that my belongings are in good hands. The staff is super friendly too.. Gisette always has a smile on her face and it's 100% contagious!
Great facility with very knowledgeable staff. I worked with Giselle. She was awesome. Very nice and helpful with setting up my new unit. Top notch service!
Pleasant staff that takes the time to explain all the details and helps to clarify any questions you may have. Storage units are clean and with working lights. I had a problem initially with a mildewy unit but they prompty exchanged the unit for me before we even moved our stuff in. Great hours.
Returning to a great location!
Excellent service recommend use
I moved in today and Eileen made the process so smooth! She was amazingly friendly and very helpful.
Eillen has amazing customer service Highly recommend this place over any other
My unit is leaking from the wet weather , and the manger said it was not. And all my things had mold on them and sting like mold and the brick wall has mold . She had the nerve to tell me it was not mold it was some sort of dust . I know what mold looks like . and she said well it is an outside unit. There is nothing we can do . . But I rent another storage unit somewhere else.. and that one is called prime storage group in east haven .. and my things did not get moldy in that storage unit ….That is also out side . I rented then both at the same time.. Because I was moving .And I was going out of state .. I Dont know why I rented from there against my better judgment . I did not have a positive vibe in the first place. I should have trusted my instincts. now my things are ruined .:( rent at your own risk . she could have changed or switched my unit. But she did not want to help me ms Eileen !
Eileen has wonderful customer skills, she was friendly and very helpful.. Thanks
Eileen was amazing to work with and so patient! I definitely will be using Public Storage for all my storage needs in the future.
Eileen was very helpful and fully knowledgeable about the site and asked me questions to further help with my decision about the unit I needed. This is my second time using this facility
Eileen is always very pleasant. The property is always clean and well kept. Highly recommend!
The area was Very clean ! They're associate Gisette was Very helpful! She thoroughly explained sizes & Prices , as well as answering any questions I had . She made the process very easy for me to understand as I'm planning on moving soon ... I highly recommend ..
I get great service with a smile every time I come in she's a sweetheart
Eileen was very thorough and made the check in process smooth and easy. Was in and out in 10 minutes.
Gisette me brindo Muy buen servicio y muy buena oferta. Excelente trato al cliente.
Gisette the manager changed her lunch time so she could be there when I arrived. She could not have been more friendly, helpful or professional. I would use Public Storage of Branford again in a heartbeat for any future storage needs.
Great staff always ready to help you, clean and secure facility. We were there 2 1/2 years never had an issue Eileen and Staff thank you. A+++++
Eileen was very Kind and patient with me while I looked at different Units and she was very knowledgeable and helpful, she obviously takes much pride in what she does, I never write reviews, but I had to make sure I wrote one about Eileen, good customer service is rare these days, and she made me a believer that it still exists. If I could give her more Stars I would, Thank you for all your help, and the property was very nice and clean
Excellent customer service by Eileen! Property is always clean, I would definitely recommend this company to my friends!
Service is exceptional!!!! The facility has everything you need!!!
Have been with public storage for years! The staff is always helpful and answers my questions no matter what they are. Eileen is always a pleasure to work with I have moved from facilities before just to continue with her. Highly recommended for your moving and storage needs.
I recently needed a storage unit unexpectedly, i reserved a space and the manager Eileen called me, she walked me through the whole process so i knew what to expect before i got there. Once I was there she showed me where my space was and we did the paperwork and I was ready to move in. Thank you Eileen for making a stressful situation so easy
Eileen at the front desk was great! The process was so fast and easy
My experience here at Brandford Public Storage has been very pleasant thanks to Eileen !
Awesome people! Super nice! Been self storing here for over a year. Couldn't ask for better service.
Eileen, the manager, is absolutely fantastic!! Extremely helpful. Definitely would recommend this place!
I recently used this facility as I was in between apartments and Eileen was very patient with me as I was unsure what size space I needed. I will definitely recommend this facility.
I move alot and can't always find a storage place that's clean and has friendly service. Eileen answered all my questions and made me feel comfortable leaving my personal items in a state I was no longer in. She was so friendly and even though I could tell she was busy she walked me back and forth while I tried to decide which unit was best.
I went in to buy merchandise, and I met Eileen and Ashley. They provided great customer service and I would reccommend.
Trying to find a nice,safe, close and clean storage isn't quite easy. We actually thought we were going to have to wait for a 10x30 but gladly Nadine was able to help us out she is great! Very helpful and polite! Everything is great! Thank you!!
I came into storage to rent a space. After having such a long stressful day, I was greeted with such a welcoming smile by Nadine. She was very polite and nice. She did a great job helping me!
Nice staff, very helpful, clean facility, always willing to assist.
Very professional. Explained everything thoroughly. Great value for the space.
Great service all the time, Eileen up front makes everything go smoothly.
The staff was extremely helpful and made it easy to get a storage unit!
This is the second time I have needed to store some items here. Eileen is awesome! Great location - clean and secure.
My experience was great, great customer service great people should have more people like them in other places
Service was excellent! Eileen at the front desk went way above and beyond to help in a very stressful situation and made what was a tough situation into a painless, much easier thing to handle. Prices are beyond fair and units are clean and taken care of. Highly recommend this facility and look forward to continuing my business with this facility and staff
This was my first time using any type of storage facility . I was nervous at first unsure what I was getting myself into but Brian made me feel beyond comfortable . His customer service was beyond great . Not only did he make sure he explained everything to me but he definitely made sure I was at ease as well . Overall great customer service/great personality
Eileen is the best! I wish every place that I did business with had someone like her! Storage unit is great. I fit all of my bulky furniture into it and the price was great as Eileen was able to find a promotional price for me. This is the best storage facility in East Haven, Branford, or Guilford.
When I walked in I was hesitant but once Paul greeted me and answered all of my questions perfectly I felt comfortable and confident in knowing my items will be kept safe during my stay! All thanks to Paul! I would highly recommend to come here!
The service was excellent Arvest very personal would recommend highly
Convenient but crooks. Keeps on raising my rent. Been here for two years. Have doubled my rent.
they raise the price 25 dollars every 6 months ftw extortion....
I have been here for over a year and everyone has gone out of their way for me. They have been very professional and helpful. I would recommend here to all my friends.
This Public Storage is very convenient to I95 CT. The manager,Nell is always very nice and efficient.She's made it easy to keep my things stored safely.
Clean place for extra storage
I recently used PS in Branford, the Office manager Nell was great , she made the process quick and easy . Definitely will be using this facility again.
Service was amazing great prices felt my items were very safe here....thanks Nell and Renae
This facility is excellent
Renae did an excellent job explaining and making the process as simple and quick as possible
Renae was very friendly, informative, and personable. I'm new to storage, and she took the time to answer all of my questions. She showed two 5in by 10 in - one inside, one outside. I chose outside. Very clean facilities and secure. Can't wait to move my stuff in.
Very easy to get situated. Renae explained everything carefully and was really friendly, walked with me to the unit and made sure it was what I needed. First time using a storage unit, and I would definitely come here again if I need to store in the future.
Very friendly service, extremely helpful when we signed up.
The best customer service on Sundays and Mondays. Very polite and caring relief manager.
Very convenient for my location! Nell and renae were extremely helpful, will definitely be back next year.
Excellent service and the location in Branford CT are an absolute pleasure to work with. I came in to sign multiple leases and the relief manager worked with me for nearly 2 hours.
People are great, helpful, and kind. Answered all my questions, secure and completely a friendly environment.
Public storage is ok. The ladies are good with customer service.
The woman Rene was very fast and helpful in explaining everything.
Excellent customer service with Renae. Very Clean uncluttered best storage I looked at all month. I have never needed storage before Renae took her time and explained everything then showed me some units so I could pick the right size. Ran into her today she waved was very friendly asked how it was all going, as she was checking to make sure things were locked and clean. I feel very comfortable with my possession on this property, I will recommend to anyone I know looking for storage.
The service was great and Renae was very nice and very helpful. Great personality.
Public Storage Branford was a great, inexpensive way to protect my things from the summer while I went back home from school! GREAT office staff as well!!!! Thanks Nell and Renae!
Very nice people very courteous never a hassel would recommend this place!!
Renee was very helpful and personable. This is a very nice location i felt my stuff was safe. Nell helped me with the reservation and was very nice. Easy access to building. Loved that there is lighting in the room. Very clean. Great staff
I've had my unit for 3 years. Be aware that they raise the rate every year. No fault of the Branford facility, it's a corporate rent hike. My rent went up 43% since I first moved in. I'm moving my stuff out this month because I found a less expensive one at Route 80 Storage in North Branford, CT. Same size unit.
Great place to do business with. Easy and friendly!
The office staff is TREMENDOUSLY professional and helpful. They are courteous and go the extra mile for you. If it wasn't for these Staffers in particular Nell & Renae not to forget Eileen I would have left ages ago. Thanks to them for their hard work and dedication. Public Storage is lucky to have them.
They were super helpful and great to work with!
Rene handled my rental with great aplomb. I would recommend to anyone.
I just want to say that if your looking for a storage place public storage of Branford is where you want to go. Nell and Renae made it a breeze. They were very helpful and made it as easy as possible. 5 stars all around thank you.
awesome staff, great prices, plenty of room in unit
Very good customer service provided by renae
Friendly outgoing staff, reasonable prices
Wonderful service! Unit was very clean and dry. Made our moving process very smooth.
Public Storage in Branford's customer service is fabulous. I recently lost my key and Renee took care of this problem immediately. I highly recommend them.
I had a great time at public storage. The units were great and the people who worked there were wonderful. Was a pleasure to do business with you guys and this will be the place if I ever need storage again. Thanks again.
went into this location Renae was very friendly and amazing when i walked in i was in look for a space for my father they had amazing prices but i had to wait until my Father came back into the states so he can look at the space himself it was very clean well kept up i would recommend this location ... Thanks you PS ..
Renae was very helpfull and made us feel right at home.
Renae is wonderful and did a great job.
Great customer service!!! Reane was so helpful and kind would recommend them to anyone very affordable!!
Excellent service, pleasant, nice, and extremely helpful!
excellent, clean environment, excellent customer service
Renae was so pleasant, super helpful anytime I needed anything she was a great resource, definitely will come back again ! Great experience !
Great service great big units thanks ladies
Great staff keep up the good work what a great experience storing my goods at public storage Branford thanks Renae and Nell
very good service what the space
Nell and Rena, I can not thank you enough for giving me a custody call to remind me to pay my bill. You guys ROCK!!! =)
Nell and Renae we totally awesome. Wonderful customer service. I would recommend using this facility to all.
Great customer service. Kim was kind, professional and so helpful!! Thank You!
My wife and I relocated from MA to CT and needed to rent a unit. The staff is amazing and made one part of a stressful move incredibly easy. I would certainly recommend this business to my friends and family ! Renae and Nell are amazing people and a pleasure to work with. Many thanks !
Great customer service, Renae is very friendly and helpful.
Nell and Reane are the best!
Renae and Nell are wonderful representatives for Public Storage. They are courteous, friendly, and extremely knowledgeable in all that Public Storage has to offer. Thank you for employing such dedicated, loyal and efficient representatives!!
Their services was really amazing. I guess her name was Rene, she did a really good job and was funny and all the time smiling. She does her job really good
Renae was amazing help. Helped us beyond expected. 1$ a month for rent...cant beat it. Will def recommend this spot to anyone. Def helped with stress. Thank you manager renae. Nic lord!
the women who work here are awesome.
i had a great experience and the hours of operation were convenient for my schedule, thanks so much Nell keep up the good work 👍
Our experience with Public Storage in Branford, CT was perfect! Rene was absolutely great to work with. Even though it was snowy and cold outside when we arrived, Rene was still upbeat and excited to show us the unit that we had reserved online. She was very friendly and very upfront with all of the details of our unit (size, price, hours, access code, etc...). We got a great price and we are very glad that we chose Public Storage!
just wanted to thank the ladies at public storage in Branford my mom was going thru a rough time and she really appreciated the kindness she was given this was the first time we ever used storage and are greatful for public storage and the first month was only a dollar thanks so much to the ladies in the office for the kindness that was shown -Kim C
I recently decided I would like to put my motorcycle in storage for the remainder of the winter. I had never purchased storage so this was something new to me. I did some research and found that Public Storage had the most reasonable price for the unit size I desired. I reserved the unit online Friday night and was contacted by Renae the fallowing day. Renae was very helpful, explaining to me all the information regarding pricing and available unit sizes should the size I reserved not be large enough to fit my motorcycle. On Sunday I rode my motorcycle to the location and was greeted by Renae in the office. I was going to have to physically attempt to fit my motorcycle in the unit I reserved to be sure it would fit (should it not fit Renae had already given me all of the necessary information/pricing for the next size up unit available, I was kept very informed throughout the entire process which was comforting as this was my first time renting storage). Renae brought me out back to show me the unit I had reserved and I began attempting to fit my bike. Fortunately there was enough room in my originally reserved unit and my baby is now happily stored out of the harsh winter weather. Overall I was quite pleased that all went as smoothly as it did and the customer service quality was beyond my expectations. I can only assume that my bike will remain safe and secure for the duration of its stay however I am quite confident as the property security seemed to be on par and there seems to be care taken by the employee(s) to ensure customers units remain secure. I also liked that you have to buy your own lock (either from them for an additional charge or your own as long as it is an approved style) which you take with you at the end of your storage period. I liked this as I don't have to worry about anyone having a copy of the key that accesses my unit. I will be leaving a fallow-up review in a few months or so when I pick my bike back up to inform potential customers of my outcome and overall experience. Hopefully my baby will be just as pretty as when I left her :) I'm sure she will be just fine.
Nell & Renae were very helpful & I was able to get a unit that suited my needs.
Excellent Customer Service! We were greeted with a smile and energy to help us make our move into storage with ease!
Renae and Eileen are the absolute best! I would recommend this place to everyone!!!
I had a very successful experience! The people were very helpful and caring I would use this facility again Brian Wilkinson.
Branford's Public Storage has great, fast customer service and affordable monthly rates on storage units. Renael Nell is the the service represenitive that usually helps us and she is friendly makes paying bills simple and easy. We are greatful for her smiles.
Renae and Nell were so friendly and helpful! Quick and simple!
I originally had a unit on reserve at another location but needed something bigger so the manager referred me to this location. I was very impressed with how these managers worked together to get me the unit I needed at the beat rate in the area. Thank you!!
Rene made renting very understandable. She was a pleasure to work with.
Renae and Nell were so helpful! Great experience with public storage. Thanks!
Every time I walk in, no matter who I see behind that counter there is always a happy smiling face eager to help! I actually love this one employee I see a lot, Renae. She is great! I always get a smile and a ligament, "how are you?" She shows she really cares and really wants to do everything she can to make paying every month easy and now that Im getting ready to move and empty it she is always clear and sweet with the way they do payment and leaving at the end or beginning of the month. And personally she is a great person. See I work at the Dressbarn here in Branford and she is a avid customer so we connect there as well and she is just a great person, I know Nell, the manager picked a great employee. Props Nell!! And thanks for the great service Renae!
Nell is an outstanding person
I want to start off by saying I have had the BEST experience with the people..the atmosphere... The prices... And the most important part the customer service was AMAZING! manager Nell and Renae were absolutely the most helpful people I have came across in a very long time. They went over and beyond to help me. They would walk with me to my unit to make sure I knew exactly where it was and showed me how to use all the codes Etc. They honestly feel more like family lol! I just want to let everyone know that the Branford Public Storage on Summit place in Branford is THE store to go to. I HIGHLY recommend this business. Thanks girls for making my experience and still making it so EASY and CONVENIENT everyday for me, I couldn't have asked for a better place to store my very important items. It's a wonderful feeling knowing I see a smile on their faces everyday to know they love their job and do whatever it takes to make the customer absolutely satisfied. Thanks a million times!!!! - Lauren Constantino
I would like to say that I absolutely would recommend the Public Storage on Branford Hills. The managers Nell and Renae were so thoughtful and helpful ! They are the best!!!
Great Staff: Renee and Nell very friendly and smiling all the time!!! Customer service with genuine smiles... I needed a storage unit when I moved from Meriden to Morris Cove so I visited Public Storage before my move. Nell, who was very friendly and knowledgeable, showed me a unit and offered suggestions on moving supplies. She told me about the special move in...I love that there is a light inside the unit which is unlike most places I have seen. I rented the unit and have been there since keeping my extra stuff that couldn't fit. When the Sandy storm hit I was so grateful that I had my unit to put my belongings in when I moved out of New Haven. Since renting, I have had wonderful experiences with Renee and Nell/. They call to remind me my rent is due and are so sweet. I love them both. They make renting very pleasant.
Met with Renae today and she was great. Very personable and really knew her stuff. Nice to do business with.
I needed somewhere to store my belonging for just the month. I found awesome reviews and everyone is absolutely telling the truth Nell and Renee are an awesome team. My check in was easy the unit was clean and big.
I was so grateful for Renae's kindness and help! She explained everything carefully and was compassionate (we are moving because of a death in the family.) The storage unit was clean and the facility is easily accessible. Highly recommended.
This is the second time my family and I had to use Public Storage and again I can't stop smiling about the service we received there. The first time we met Renae it was at a different location of Public Storage and the service was great. To my surprise, she was as this location. Renae is ABSOLUTELY AWESOME!! She is always patient, pleasant and willing to help. From explaining the paperwork to showing the units, she made it easy for us to choose the right size unit for our storage needs. Nowadays, it is very seldom that you find good customer service, however, when you run across OUTSTANDING customer service, everyone needs to know about it. Renae, you are doing an excellent job. I would highly recommend Public Storage to my family and friends.
Renae has not only been very helpful in the years we've stored there, but makes you feel welcome ! Wish more people who deal with the public had her exuberance! It's contagious!
I was looking for a storage facility close to my home. I placed a reservation online for Cubesmart in Branford and even though all went well online, once there in person, it was one inconvenience after another. Not only was a disappointed and cancelled reservation but it was the best thing that ever happened that day. I immediately went back home searching online for the next closest storage facility when I came upon Public Storage in Branford. Again, I placed reservation online and not only was the online process easy and quick but once in person, I couldn't believe the excellent customer service provided by Renae. I have always dealt with both, bad and good customer service but this was beyond good. Renae was very friendly, understanding, patient, and provided the best customer service I have ever encountered in my life. The check in was fast, accurate, and I am indeed a happy camper here. I highly recommend this storage facility and Renae is the best. They say everything happens for a reason and now I see why it didn't work out with Cubesmart. Public Storage is the best and way to go. Renae, keep up the great work! ~Maria
I've been a first time customer of Public Storage since the beginning of April and am not only satisfied and comfortable but happy to be doing business with them. Prices are reasonable and 1st month's specials are great. Both, reservations online and check in process in person are fast and accurate. The best part of doing business with Public Storage at this location is the excellent customer service that Renae provides. She is very understanding, patient, accurate, friendly, and very knowledgeable. Not only is this storage facility a great place but with Renae in their team, I see a lot of success and more and more customers each and every day. I feel so comfortable and happy here that I highly recommend this facility for all your storage needs. Last but not least, thank you, Renae. You are the best! :)
had a great rental experience! Renae was very personable
I rented a storage bin from Renae and Nell and they were very helpful and pleasant. I was very satisfied with their service and would like to thank them.
Nice easy location i feel my belongings are safely stored at branford . The dollar special was a big help as well as the staff of renae and nell 5 stars....
Was in need of a storage space in the Branford area. Visited it a few weeks ago and my experience with the two lovely ladies Nell & Renae made the choice a no brainer!
Renee and nell are awsome there place is very very clean they will do anything for you and your stay at public storage
Nell and Renee were very nice and helpful and storage unit was perfect for what we needed, would recommend to others!
Nell and Renae provide THE ABSOLUTE BEST customer service experience ON THE PLANET!!! Any issues i have either with billing or something with the unit get addressed quickly and they're always willing to help. I highly recommend their location to anyone on the shoreline who needs a bit of extra space. These two lively ladies are the best team!! Thank you guys so much!!!!!
Absolutely INCREDIBLE service by Nell and Renae they we helpful and courteous
Amazing service and staff. Nell and Renae were wonderful and always here for whatever we need. Safe, secure and convenient.
I came to help my aunt move items out of storage today she does not have an email so asked me to so a review she has been storing at public storage on Branford for a while and was very pleased with the customer service of Nell and Renae thank you so much Priscilla miller
Renae and Nell did a great job with finding what type of storage space I would need. They were very professional and courteous. I would definitely recommended this place!!!
Renae and Nell were very helpful and did a great job working with me to accommodate my storage needs. Thank you very much Renae and Nell.
i went to Branford Public Storage on this past Saturday I have never used storage before and have heard horror stories about storing. However I must say the two women working Renae and Nell put me at ease I won't be storing until the end of the summer but now I know where I will be storing without a doubt with Renae and Nell in Branford they went over everything with me from showing me the space I will need they sell locks right there and they explained the insurance. They sent me home with everything I will need when I want to store and it is very very clean there I had been to 2 other storage companies and I felt like they didn't really care. These to ladies listened to me and took all my fears of storage away. Nell and Renae I will be seeing you in the Fall to store thanks again for being so helpful and kind Charlie
After visiting a few other storage places it was clear that I had finally found the right one! Nell and Renae were kind, courteous and very helpful with every stage of the process. I would highly recommend using them for all of your storage needs. A+ Service
I would like to thank Renae & Nell for there help I was in a serious jam and they both kept in contact with me helped me through the tuff time and stayed late for me to get my paper work taken care of lock and keys they are awesome and definitely there for there customers thank you both again
Nell and Renae have excellent customer service. My check in went good, everything including insurance coverage was explained.There office is very clean and always fully stocked when in need of supplies. Ladies I want to thank you so much for all your hard work making my check in so easy.
This review is for Nell &Renae they have been very helpful with me and my father getting are storage bins GREAT CUSTOMER SEVICE such friendly people Thanx PUBLIC STORAGE...... sincerely KYLE BATTS SR.
I had my things there for two years while i was relocating and contracting. the staff there was nothing but exemplary, very attentive to my needs, and got me the perfect space i needed for my stuff - they even pointed out that i could save money with the first space i got. great people
We needed storage for 1 year and both Nell and Renae made the whole ordeal relatively painless. They were very friendly, efficient, and helpful. With any questions or concerns, we could count on getting a speedy response, with a smile.
So far, so good! Renae made the entire process very easy. She took her time explaining all the options so I could make an informed decision. I have been back to my unit many times and I am pleased with my selection. The facility is clean, dry and easy to access.
Been using this facility for 2 years, i got calls reminding me of my bill payment every month. Once i forgot to lock my unit back and i received a called from Renae informing me a few hours later...thanks a lot
Very helpful staff and great prices, both Renae and Nell were great. Would definitely use this location again!
Review Written for Dan George; I've done business with Nell and Renae and I've always been very satisfied! I look forward to doing more business with your company in the future. Sincerely, Dan George; East Coast Movers
I am the last one to write reviews but the first one to read one. I needed to express my experience recently at Public Storage in Branford. I was ready to pull my hair out with this recent move and had a serious attitude. I didn;t deserve to be treated as well as I was. Nell, the propety manager, was so helpful and kind. She eased my worries and helped me find a clean, clear unit to store my belongings. The building was clean and secure and tucked into a side street. One person tells five, I will recommend Public Storage in Branford to anyone and everyone.
Very friendly staff, clean units, decent rates. Couldn't ask for more out of a storage place.