Public Storage Self-Storage Units at 1011 E March Lane, Stockton, CA
Address
1011 E March Lane Stockton, CA 95210
Rent and pay for your space online – today.

Move in during gate access hours.
Move-In & Access Hours
Mon-Fri 6:00 AM - 6:00 PM
Sat-Sun 6:00 AM - 5:00 PM
Storage Facility Features
Indoor & Outdoor Storage Units

Property Manager Lives On-site

Small, Medium & Large Storage Units
Move-In & Access Hours
Mon-Fri 6:00 AM - 6:00 PM
Sat-Sun 6:00 AM - 5:00 PM
Storage Facility Features
Indoor & Outdoor Storage Units

Property Manager Lives On-site

Small, Medium & Large Storage Units
Close Location Details
View Location Details
---

5'x5'

---

5'x10'

---

6'x10'

---

10'x10'

---

10'x10'

Outside unit

Drive-up access

---

5'x15'

Outside unit

Drive-up access

Outside unit

Drive-up access
Nearby Self-Storage Locations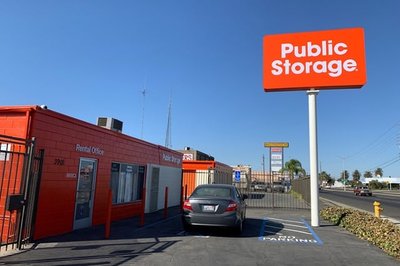 Self Storage Near
3901 West Ln
Stockton CA 95204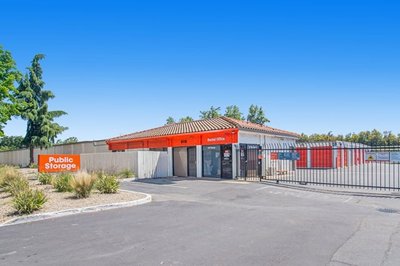 Self Storage Near
8118 Mariners Drive
Stockton CA 95219
Self-Storage Near Stockton
Resources from the Help Center
See what fits in different storage unit sizes
Stockton Storage Units for Rent Near I-5
Our Stockton self storage facility is located on East March Lane between Interstate 5 and Highway 99.
We have several cheap storage options at this location to fit all your storage needs. Our 5x10 storage units give customers a place to store hiking gear for or golf equipment for Oakmoore Golf Course. If you fish the San Joaquin River, these 5 x 10 storage units are also great for storing fishing rods and other gear.
Our 10x10 storage units can hold all of that, plus light furniture, old clothes, books, and documents. These are great storage unit options for Northern California commuters, customers between residences, or anyone running low on space in their home.
Large 10x15 storage units give you the ability to store large, bulky items like couches, beds, dressers, bookshelves, and kitchen appliances. These storage units come in handy when customers need to do major renovation projects and have to store their possessions short-term.
We are open seven days a week, with a courteous staff and an on-site manager to assist you in getting a handle on clutter.
At Public Storage, You'll Always Find...
Keypad Access

Friendly Staff

Month-to-Month Rent

Moving Supplies Available

Free Parking

Well-Lit Facilities
Reviews
( 340)
Linda Bailey provided fantastic customer service. thanks
Jenny was a great help and I am happy w the service she provided.
First and foremost I've been at this location for almost a year now rarely visit the place as we sold our home and moved stuff into storage as we're trying to buy a new house. Upon my visit yesterday I spoke with the property manager to let them know that I would be moving out this week and if there's any way can be credited back as we're only using two days of the month she said we do not give anybody's money back and if you do not pay you will not be able to come in tomorrow to get your stuff. She also went on an acting childish started messing with my application to where she denied me access to the building again I do not owe these peoples any money my payments are on auto pay and there's no reason my access should be denied. No one needs to deserve this childish treatment from property managers that don't know how to conduct themselves. Guarantee this will be pushed to the BBB.
I got very nice friendly service from linda .the manger. She is very helpful person.
I have only been a tenant for a few months and there was a issue with my lock being tampered with. The onsite was not helpful and giving off shady vibes. My main concern was a possible break but I got the run around. Moving out ASAp(if there is even anything in the unit.)
Someone tried to break into my unit along with 10 or 12 other units in "b" building. I got pics of every unit and the door latches. ***Update: The staff at Public Storage has done a great job on fixing my door. She has been most respectful and kind through this whole process. I just want say thanks to her because with out her I don't think this experience would have been very pleasant. Thank You Linda!!!!
I've used their service for a few years, always excellent.
Easy access, has wonderful contactless gate entry with the app and tons of features for easy storage.
Linda was such great help . She was patient and kind overall my experience was great thanks to miss Linda.
Had storages here for years. Was unable to get in the gate with my code. Some sort of coms error. The manager was understanding and let me in straight away. If you need storage it may not be the cheapest. But they do it well with good customer service!
Linda the manager goes above and beyond for customers. Highly recommend using this location for your storage needs.
It's a little pricy but it's clean and secured and no signs of rodents so thats a plus.
This is first time using storage space... I am really happy with my decision. It was the biggest space offered at the cheapest rate, amongst other storage facilities. It is also in a decent location that has security and police surveillance within the shared buisness' parkinglot(s). The site is clean, which is a huge plus. Linda, the site manager is attentive, caring, personable, polite, organized, and thorough. It is always a pleasure working with her. Ive been using my storage space for 3mo now.. I definitely give it 5 stars!
Linda was very pleasant and informative. She was knowledgeable of her position and a pleasure to do business with. I recommend ps storage to any one needing to rent.
It was a True pleasure dealing with the professionalism with Staff very knowledgeable and my needs where met and I would remember anyone looking for storage to make I'll give this location a 5* review
Excellent customer service
I like it very friendly people it's cool
I came too rent a storage today was stressing and Kim the district manager put me at ease and help me through my process kudos too Kim thank u for everything
My experience at public storage on March Lane in Stockton California, has been superb. Any help or guidance that I needed which was promptly met with the upmost respect, "In specific Linda". was and is Great! The security is also Updated and advanced. I recommend anybody to store their personal belongings at this place, with the kindness and helping guidance from Linda. Thank you very much!
I went in just yesterday and Linda was working in the office. She was so polite and helpful. She helped my brother and I (even showed us a unit to make sure it was a good size).
Linda was so nice and made renting a storage so easy would recommend 100%
They continually raise the rent. Too expensive.
Great experience here - Excellent staff (friendly and willing to answer questions). Quick & Easy access to gates. Clean location.
Linda was kind and courteous. She was very helpful and made the process smooth and easy. place is clean and not shady like other storages can be. Price was better than other storage places I went to in the area.
Closed Tuesdays and Wednesdays.
Ive been with public storage for years now and im very happy. Yes id recomend them to friends and family. Only one thing that i could see is that it would be nice if the hallways were cleaner. But they are the best storage place ive ever had.
Havent had a problem with the facility yet but they did increase the rent on certain units am not to pleased about that. I would just like to update my review from a 4 star to a 5 star 👍 They went above and beyond to satisfy me and have great customer service. I spoke with Linda and she is very customer service oriented. Great Job Linda!
Linda was very helpful and friendly! 5 STARS SERVICE!
I was most happy with Linda i had issues with two different things and she took care of them quickly and sufficiently She was very helpful and courteous such a nice and friendly person I am very happy that I picked this facility over the others
Linda was very knowledgeable & professional. She helped my mother and I twice in one day and both times she was great. Will be coming here for any moving needs. Thanks Linda!
I wanted to write this personal note to recognize the exceptional customer service offered to me by the property manager Linda...i have been in the business of training employees in the area of sales as well as customer service for over 15 yrs... The skills and management level of her presentation of important services and money issues impressed me so very much that I had to pause and recognize Linda. To the point of saying that I would personally give this employee a raise and a promotion for her abilities to not only save a public storage customer but most defiantly recommend other to rent space as well... Thank you Daniel Martinez
The Manager Linda is Awesome. Clean grounds, Friendly Staff, easy access, great location.
Storage facility is always clean !
I have visited this place a few times to pay my bill and every time that I did the Caucasian older women She works there she always have a bad attitude smh, and she is so rude and very snobby to certain customers , and I wouldn't have never hired her, bad customer service that's why I gave it no stars
Really nice great customer services Linda I think That's her name sweet lady really respectful
Linda helped me today and was absolutely so helpful! I was in and out within 30 minutes!! Very friendly wonderful customer service!! Would definitely recommend!!
Pooja...she is the best...very nice..helped me on everything...👍👍😎
Wonderful customer service and also very beautiful. Very helpful and definitely recommend pooja manger
Changed my review because Linda was very helpful.
Dont ever get a storage here.. I have my storage broken into and still haven't gotten my money from the insurance.. this happened in May its almost December
Linda was amazing and super sweet! Got me in and out! Thank you!
Great customer service, fast and easy sign up, definitely recommend this storage facility public storage on march ln
My unit was broke into.. After i changed my lock to the one i bought from them.
Kind courteous customers were first
Thanks Linda for all your help
Ahshia is a wonderful sales rep she has been helping me with my storage space even threw covid 19, she is very helpful and great
I've been a long time renter from Public Storage and there has been several Managers throughout the years and I just met Linda who is so KIND, PLEASANT, and CARING. She will be a Great Manager for the E. March Lane location in Stockton. Pubic Storage Management take the time to acknowledge her greatness. Welcome aboard Linda..!!
Linda was very courteous and efficient. I thank her very much.
I would like to give a big kudos to Linda .She is awesome,friendly ,helpful and always answers my questions and makes me feel confident that my things are in good hands😁
On-Site Manager, Linda, is AMAZING! I needed help accessing the indoor storage hallway, and she very quickly, and with an awesome, friendly attitude, put all my information I need on one card, including her information for any questions I might have. I HIGHLY recommend this storage facility. Their prices are great, the facilities are clean and easily accessible, and I cannot praise their staff highly enough. Thanks for making my move less stressful, Linda!!
Linda was super helpful and friendly. Made moving so much easier.
Wonderful staff member "Linda" guided me all the way and was pretty friendly too
Public stored on March lane Very awesome Customer service Pooja and Linda Made sure that I was a satisfied customer 5 Stars to both...
Had a great experience here today and when you go ask for Melissa she is a great help and she can answer any question you have
Ahshia has such great customer service skills
Ahshia helped me during covid 19 she was woderful and very friendly
Ahshia friendly helpful customer service Set me up with a storage And more then willing to help you out if you are having trouble getting to your storage
Ahshia rented me a space during this covid 19 pandemic) ,she made sure I had a mask on and she was very friendly and kind.
Ahshia showed me great customer service when I had trouble getting into my unit. I didn't want to bug her during the the covid-19 pandemic but she went out of her way to make sure I got the help I needed. One of the nicest people I've dealt with in Stockton! Thank you ahshia!!!
Great customer service from Ahshia ! ☺️
Ahshia showed me a really great space, was very friendly and helped through the entire process during a stressful moving time! She alleviated all of the worry for my first time renting process and overall provided a wonderful experience. Will definitely be coming back if I need a storage space again!!!
Don't recommend this place was accused of doing things that I was not even close and revoke my storage unit
Good service took care of me right away.
The day of the 19 I came into to pay my bill and amber the relieved manager was very aggressive with a me a customer. I have necessary footage amber being disrespectful, to me and my daughter, she called us the N. Word racial slurs as black american. I have dealt with Melissa she is very professional,. Very informative as to my storage, I ha w dealt with Ahshia she is always professional. Amber is rude. When u call I call on the phone and when come into the office. As stated on the 19th Wednesday she comforted me about her I professionalism staying I was lying on her he has not talked to me, she started yelling and my daughter was j the car and came in the office to see what was wrong. She aakwd my daughter oh why u came in here to help ur MoMA,. My daughter stated no I wanted to see why it was loud.
Ahshia she was very helpful and had very great customer service ☺️
Ahshia was very helpful when I walked in. She didn't hesitate to assist me with my registration and showing me the storage unit. She was very professional and helpful.
Melissa was FANTASTIC she helped me get the right storage and helped me protect my things as well. Highly recommend coming here to see Melissa she will take great care of you.
Ahshia helped me and she was the best and I'm definitely always coming back
Ahshia has great customer service skills and she showed us a great unit that we are very happy with.
Excellent Management! ⭐⭐⭐⭐⭐ Shout-out to Property Manager Melissa Nicholls! Thank you for your willingness to work with me! You're appreciated girlie-girl!
Everything I expected from public Storage worker's. There very understandable about my situation. Communication skill's was on point. They answer every question i was concern about. Thank you Ahshia you made my 1st experience there FANTASTIC! 😊 I recommend public storage to everyone.
Ahshia. She's been an blessing. Very Helpful!!
Ahshia and melissa showed great customee service for me today..thank you guys
Ahshia was adorable and her customer service was outstanding.Thanks
Melissa and Tatum helped me get my storage set up. Great customer service would recommend to anyone needing a storage go see them.
Melissa and Amber helped me with me unit really nice and professional. Highly recommend this location.
Melissa provided great customer service. Fast and knowledgeable of all services PS provides. Thank you Melissa!
Amber was very helpful, the process was easy and rent is reasonable.
Amber was very helpful in getting my storage and Melissa help me as well they are both kind and helpful and respectful loving people
Great experience here melissa was amazing and a great help
The person in the office was rude to me when trying to ask about something I pay for my storeage not to be made to fill like a dog
Amber was great very helpful facility was clean overall great experience would refer to friends and family for there storage needs
Amber has great customer service.
Amber is great at customer service
Ambers great with customer service
Steph is awesome! Great service reasonable prices just because of her alone I'll be coming back!
They never call back or they never answer the phone and they trie to change me for the moving to a new storage
Steph C was curtious, friendly and professionally helpful in explaining everything this storage facility had to offer. Totally recommend this place.
I had rented with them before and so far I haven't really wanted to go anywhere else the prices are fair and they tell you everything straight instead of trying to persuade you to go for the better deals
Stephanie c was outstanding! She was great help
Just got done with Mary at public storage. Such a quick and easy process. Nice clean unit and way cheaper then every other place i checked. However, they change managers frequently and the units are always getting broken into. They raise their storage rent without notice and if the employees forget to tell you something its somehow everyone else's fault not public storage's fault. Smh. Woll never store here again and I will tell people I know not to either.
They charge way to m much!
Tianna was really helpful and made the process really quick and easy.
Great experience. Amber was very helpful and knowledgeable. Thank you!
I was assisted by Tianna. My appointment was not until Friday. I went in on Tuesday she was able to accommodate me. I was greeted immediately very friendly and professional. She even suggested mattress bag for my mattress. To keep the bugs from infecting my mattress.
Amazing service from Tianna!
Carissa, thank you for all your information, and courtesy. I am happy to be a customer.
I have been meaning to write this review for quite some time. About a year ago, I needed to store my belongings for a short time, but urgently. I came here and Ashley was so kind to calm my nerves and assure me that i can a unit, suitable for my needs. More recently i needed another unit, Carissa helped me out. I was not nervous the second time around, because i knew that Public Storage would take care of me. This location hires very nice and patient people. The facilities are nice and clean. Very high praises to Ashley and Carissa for the guiding words and soft demeanor. Thank you. Will recommend to family and friends
no light inside storage units. very hot in the indoor units. nice people prices are quite high I feel and they requir you buy their insurance. You should be able to opt out or purchase your own insurance elsewhere.
Same rules its just cheaper then bay areas prices
Ariadna and Carissa were very helpful and very nice. A personal touch with lots of smiles
C I had great experience with carissa and was able to get great deal
Carissa was very professional and had great customer service she helped my sister find the right space for a great deal, I recommend you ask for her when looking to rent here.
Wasn't sure about this area because the last time we came by the property was run down. This time we came by and the property was cleaned up and the young woman Carissa was very honest and helpful. These are my belongings and the property feels secure. Thank You for the help.
Carissa and amanda had great customer service and i was able to get a unit for a great deal
Just avoid public storage all together. There are plenty of mom and pop places that will actually appreciate your business with them and are often cheaper and much better kept.
I wish someone had left an honest review like the one I am about to leave. It would have saved me from a loss of thousands of dollars worth of personal belongings. I've only had my storage unit for a month. Before I even moved in, the manager asked me to leave a review for her right while she was standing in front of me and before I even had an actual experience with the facility. Now after a month I'm able to leave an honest review. My unit was broken into despite it having an overlock from the facility. Inside my unit was everything I owned and 90% of it was stolen. It's obvious my stuff was stolen by another tenant since you need a code to enter through the only entrance. There is only a camera in the front by the gate and in the office, and there are no cameras anywhere near the units so there's no way to identify any robbers. Management told my friend that this is a common occurrence at this site yet you don't see that online. Management also did not do anything to help with the aftermath of the robbery and also took no responsibility for lack of security in the facility. I thought I could trust a big name like Public Storage to safely store my belongings in but it had only been a month and I lost almost everything I owned. Highly regret storing my stuff here. Would never recommend this place to anyone
Carissa, it was a great. I had such a great deal. I would suggest you to come here.
The property Manager Melissa is so amazing as well as very professional. The power was out around the time we had to be off the property so we were stuck literally behind the gate. Melissa didn't necessarily have to come out and help us but she did which was really refreshing. Luckily the power came back on after while and we were able to put our code in and exit. I've been renting at this location for quite sometime now and seen it's share of employees come through here needless to say I'm quite happy with the staff they have working here now. The property and other customers storing here been absolutely absurd from garbage to the homeless coming in and out. Melissa and the other staff here have really done an outstanding job getting the property up and running the way it should. Thank you so much for the amazing customer service I will continue to let people know to come in and check out this location for anything anyone needs for storage.
Carissa every one very nice, copprative
Very disappointed to see Ashley leave because this place has been a mess the past 4 1/2 months😕but, Mary & Carissa have worked as a team to get this place back into tip top shape..I wish I could say the whole team but it wouldn't be fair to the two who really did do all the dirty work that needed to be done..Mary & Carissa are always professional in the office and when they are on the property doing their daily routine checks.
Carissa was awesome. She helped me out with a good rate and was very knowledgeable about the site and any other information I needed.
Have been with this outfit for a number of years now. Always treated me right.
Carissa was professional and a pleasure to work with. She walked around and showed me many units until she found what I was looking for.
Melissa was really helpful in getting me set up with my storage needs.
Melissa was great and professional
Mary was very helpful......lots of smiles.....and easy on the eyes......very pleased with mary
Mary was very attentive & always smiling...made our experience fun
Mary was very nice answered all my questions thanks for the help !
A WOUNDERFUL CLEAN STORAGE PLACE TO STORE YOUR STUFF...
Went in to make my payment Melissa was so sweet and very helpful.
Melissa was helping me a lot. I got a very nice expérience at that place. I will recommend to everybody.
Mary get place very helpful and save me money
Mary - Very helpful and knowledgeable. Well maintained and clean!
My mother always makes payments at this location but her units are in Campbell, she is disabled and Mary is very helpful with her she opens the door which is very polite. Thank you for your great service.
Mary was nice. She helped us out a lot.
Ashley was very informative and polite. Great service I would definitely refer family and friends.
Excellent service from Ashley and her follow up is what I needed and appreciate it
Mary Mary very good public relations . Excellent for your company .. She is the reason I chose public storage. .. Thank you ..good job
Mary was very nice and helpful. .very nice personality!
My daughter just rented a storage locker and the place nice and clean ,Mary is so nice well recommend friends and family
Kristina was awsome and polite, Mary was very professional and patient. The best storage around. They need a raise.
Outdoor indoor storage it's worth the price
I am happy to have manager Ashley's help. She is pleasant a helpful. Thank you!
Mary was awesome and a great help best customer services and sales rep. Good choice picking this place out
Ashley was very friendly and helpful!!! Ashley helped me out on selecting the right size storage and offered me a $1 move in special!! Great experience!!!
Yoo are great! Very good people! Nice storage place and im happy i came here. Properrty manager ashley was very helpful!
Ashley went above and beyond...I needed the storage because of a contentious eviction and I was very stressed out. She clearly sensed my distress and was very pleasant as well as accommodating.
Ashley is THE BEST. She is very knowledgeable about what's going on on the property. I had such a great experience with her, will always use Public Storage now
Mary was very helpful with finding the perfect size storage for me. She was also very patient with me being picky and a little crazy. Thanks Mary for making my experience easy and not stressful.
Best one yet, had my stuff in a few other storages but this one is TOPS!
This PUBLIC STORAGE IS HORRIBLE , do not waste your time here , the young lady that work here is very disrespectful she had her family staying in the back I am pregnant & standing outside in the hot heat waiting for her to come to the door , then when I asked her you seen us standing out side you could've just told us something , she said I don't have to tell you guys anything I'm on my break even before the security officer came and told us she was made a run to the bank , but she comes with her friends . Just unprofessional and do not waste your time here , very rude and unprofessional!
Mary Was really respectful and polite and very helpful ☺
Really great customer service was given by mary and Kristina.
Mary did a great job thank
Very helpful w information very clean facilities the manager explained and answered all my questions very nice person does her job well
I received the most professional service from Ashley. She got me the best deal and helped everyone that came into the shop with equality. Great asset to your company!!
Clean and the works are respectful, helpful and great customer service
The front desk clerk Mary was very friendly and informative. This was my first time leasing a storage unit and she did a great job explaining and helping me through the process.
Mary was a great help and explained everything, showed me how to use locks and code thanks sooooo much
Wow two and half years of great service from Ashley & Mary!! Thank you both so much for the security of knowing my belongings were kept safe and secure under your care and all around surveillance. I will miss the occasional chit chat. Again thank you and I will definitely recommend your facility! 💚
The desk clerk, Mary is very friendly and gives great customer service. She did a good job of explaining the price of the space, including fees, cost of purchasing a lock, etc. I"m just glad to have secure place to lock up my stuff as I move to a new place.
Amazing customer service Mary waited for us she knew we were traveling from a distance and were a little late and she waited after hours until we arivived to get us into our unit so we could get our stuff secure and able to get our rental truck back in time.
At this public storage from Mary was such a release from the pressure that I'm going through because of my circumstances it was good to be able to have someone that treated me with respect and honor and not look at my situation and say anything other than good things she was encouraging in fact I'm left feeling good about myself and tomorrow's going to be better and I thank you very much
Your employees are very courteous, informative and respectful, Public. Storage is always clean and presentable. Ashley should never be replaced.
ASHLEY is absolutely fantastic!!! I only wish she was my employee. She deserves a raise...YESTERDAY!!
Ashley and Mary have been great. Every time I come to my unit they are so helpful and sweet. The property is clean an well maintained. Great experience!
My experience with Mary has been nothing short of: efficient, amiable and courteous. I came from Denver, and my material-excesses were stored and locked-away within MINUTES! (<240.) Thank you Mary.
I needed a Public storage that was at least 10X10 but couldn't find one avaible until Ashley and Nicole helped me out they were both: amazing, helpful, efficient and super nice. Thank you Ladies YOU BOTH ROCK!
Conveniently located. The prices are good! They seem to always have what I need. It is well maintained and kept clean. Personnel are friendly and knowledgeable. I would recommend to anyone needing space for storage!
Public storage on march and west lane is a 5 star cause Mary is respectful and understanding and very good customer service I would recommend to everyone
Mary is a great rep for your store and a pleasure to work with.
Mary at public storage is respectful and understanding and very good customer service to you I would recommend to anyone
I had a good experience today when renting a storage room from property manager Ashley. She was extremely helpful and informative which made things a breeze. She got us in and out in no time at all. Also property was very clean and well maintained.
Mary was very helpful and nice while helping us get our storage unit set up.
Excellent service, and the iPad rules
Too good. Kristina and Ashley were awesome. They were able to get me the size I needed when I couldn't find one anywhere else. Great customer service!
Convenient & Friendly employees!
The young lady in front desk by the name of Ashley was a great help n made everything easy to understand. I was in n out pretty quick. The office was cool n the property was clean. I forget the name of the guy who helped me over the phone to register and Reserve my storage place but was a great help and kept it real professional. Thanks PS, DANIEL A.
It's a well kept priority at all times....the staff ASHELY AND MARY AND JOE WENT OVER AND Beyond for me every single month and they keep a smile on there face...I love it!!!! I've rented here for 5 months and I will return if need be...but to others your things Will be safe at this a faciltily
Great customer care,offers renters insurance
Customer service is great! Ashley and Mary are very helpful. I even got a second unit here an I'm very pleased.
Ashley was great love customer service
Ashley was a consummate professional ...... Made my move a success ........... Thank u Ashley
Mary was wonderful in helping me get the packing suppiles i need to move my mother. Excellent customer service
Great service and very helpful!!! Highly recommended.
I like this location because the young lady that works there she's very nice very helpful sincere she goes over and Beyond to assist if she don't know or can't help you she will call another location she's very patient I don't want from this location but I come here from time to time to make payments on my mother's storage space store is always open and available for my use unlike some locations
I strongly recommend public storage to everyone especially those in the moving process. Customer service is great. Mary was very helpful and efficient. 5 stars!!!
Ashley was really helpful. Place was nice and informative. Love the security aspects as well. Very pleased and will continue to use them.
Ashley was very helpful she explain everything to me
Your property manager is competent, kind, and efficient--the perfect combination
Love it... Ashley she has been great help...
Ashley did wonderful she explain everything to use i love the $1 promos
Ashley was very helpful .the storage units and site is very clean .I will let my fiends know to come and rent a unit
Ashley was very helpful and friendly, made sure my storage needs were met and answered any question I had.
The girl Mary from the front desk. She is very sweet really helpful in all way's needed !!
Ashley was awesome! Very helpful, courteous, and patient. She explained everything and I left with no unanswered questions 😆
I came from a previous storage service, because of the lack of customer service.... Joe was amazing with personality as well as customer service... he was very helpful in every possible way.
Mary was very patient and helpful. Made the entire process easy. She is always pleasant and smiling, and has a fun sense of humor.
Great storage facility! Went in to rent a storage and Dee and Ashley were very helpful and knowledgeable. They were able to answer all my questions. Facility was clean and looked well maintained and had a variety of moving supplies. Definitely will be recommending March Lane Public Storage to anybody I know that will be moving! Thank you ladies!
It was great! Mary was super helpful and professional! Great place!
Excellent customer service , very nice , they helped me alot , very organized thank you mary & Dee !
After reading the reviews on this public storage, I wanted to check out the place for myself. I walked in and automatically I was greeted by Krystal. She helped me with finding the right size unit, and security of the place. She made it really easy to get things set up.
Great customer service everytime.
I rented here awhile back. It was a good experience. Mary was very helpful excellent customer service
We rented here awhile back. Had a great experience. The grounds were always clean. The staff was always friendly and helpful, especially Dee, (I think she lives there also) was often out on the property inspecting and cleaning. I even saw her doing repair work on one of the doors in a hall way. We got reminder calls about, "rent is due, don't get the late fee!" For me this was VERY helpful. Prices were pretty much the same as anywhere else, buy add in the personal touch of staff, you have a clean and safe place to keep your belongings. We will definately recommend to all.
Dee is such a delight! She's knowledgeable, kind, courtesy, and as sweet as candy. She is the ONLY reason why I COME here! She's thorough and made me feel welcomed and comfortable. I HIGHLY recommend coming here for her! Make sure to ask for Dee you won't regret it! Perfect example of Excellent customer service
Mary was very helpful and nice the time I need a storage I'm coming to you guys thank you
Mary was a nice young lady. She made sure we knew how to secure our unit. And was helpful with the questions we asked when we moved in.
Mary was so helpful with vacating me out. I sure will come back soon and to rent a storage when needed:)
Cant get no better service anywhere else.. araina is the best and dee is such a sweet heart! I hope they pay them enough because they always go over and beyond...
Awesome storage facility and great factuality both Mary & Dee were very helpful and polite they managed to answer all my questions and gave me very helpful tips. They both seemed very knowledgeable and very informative about their job and what they due do there. The facility is very cleaned and well maintained with the staff on site. I also liked how close it is to my home and its even on my way home from work. definitely will be doing my business with them soon.
great service and prices!😉
Since my last complaint about my damaged storage unit, I was contacted by the district assistant manager in 24 hours. That was satisfactory, also my concern has been met with professional conduct as well.
The staff here are GREAT. Araina Katrina and Dee are so helpful that's why I love storing here. Good customer service and they are always here for me. I highly recommend here because of them
Nice facility with very friendly staff
Dee was very helpful (and nice!) and actually suggested a more suitable unit at a discount promotion rate.
Great place service was fast & easy
My experience was a pleasant one with Araina being helpful and friendly. A true professional. She explained everything in a orderly and clear fashion and, had an answer for all my questions.
araina dee and katrina are the BEST! I didnt know there can be people out there like this. I swear theyre like family. they make me feel at home... they have the answers to everything. if I have a problem they do everything in their power to resolve it to the best of their ablity. if they can they will.. SERIOUSLY public storage it lucky to have them and if they ever lose them, its their lost really.. keep up the good work ladies and ya need a raise for everything ya doo
Araina has great customer service. Shes veru friendly Nd makes me feel comfortable
This is such a good place to get a storage. Especially when there are so many great deals online. All employees are wonderful and very friendly. One in particular is the reddish-orange haired lady. Every time I go to my storage, this lady always has a smile on her face and greets me inside and outside the office.
araina is a very good worker she made me felt very welcoming best service ever (:
araina is a very good kind and helpful worker
Araina dee and katrina good employed and perfect service
Great service. Katrina and Dee are good
My mother has been storing here for years and the employees here are great araina, Katrina and dee are the sweetest lady's ever they do their very best to keep our interest in hand first they always take care of us they deserve a raise ! Keep up the good work girls.
Katrina service was A1 which means very good. She answered all my questions. She was very thorough polite and friendly.
the service at Public Storage was excellent
She was very helpful and very knowledgeable. Polite and professional.
I always receive great customer service. Ariana, Dee and Katrina are very helpful and I'm always greeted with a smile.
Katrina and Dee are GREAT!!!!!
Katrina was very thorough in her presentation and I enjoyed myself she was very efficient courteous and knowledgeable
I recently came to the public storage on march lane, the person who assisted me was araina, she was awesome with helping me find the right storage that fit my needs. I will definitely be coming back to her when I need a storage, thanks araina for the help!
Great Staff. Katrina and Dee are such a nice couple of ladies. They go above and beyond the call of duty. I recommend this facility to everyone. My storage needs were met, I got a small unit for almost 3 weeks. Easy access to the unit and very secure location. Don't forget to check out my music in iTunes, amazon, Google Play, I am Carl Kuhl the greatest classical music composer that ever lived, lol. Just a plain composer. Thank you Katrina and Dee for being so nice to a crippled up truck driver.
Great service(now). The last manager was no good, I was getting ready to leave! Then came Dee. She is very attentive to All customers, I don't have a very big space but the only reason I'm staying here is because of the service I've gotten from her & other 2 employees.If you don't put your lock on right she secures it til you come back.2 thumbs up!
The manager Araina was very knowledgeable about the services needed. She showed us all of the facilities and explained about all of the codes, the importance of each individual putting their own code in so as to keep a record of who was at the facility. She showed us the unit that we had reserved and explained the best way to fit what we were putting into the unit to maximize the space. Araina was quick and exuded confidence in her knowledge. It made the entire process quick and painless.
Was great quick an informative
Araina was awesome!!! Very helpful and knowledgeable about her job. She was very friendly and assisted us with different options and gave us the best deal for our budget. I would most definitely recommend public storage and if you have a chance have Araina help you.
Katrina and Araina are very good, knowlageable managers. They both have excellent customer service. I really enjoy talking to them they are very sweet young ladies..
This is my first experience with renting a storage space with Public Storage. Araina immediately greeted my daughter and I with a friendly and professional welcome. She was thorough with explaining the process, and offered boxes, tape & all other products available that might assist me with my move. I appreciate her answering my questions and making the overall experience very pleasant. Thank you Araina and your customer service is super! :-)
Very pleasant experience renting a storage room from Property Manager Araina. She's very helpful and love the red hair.
05.07.14 Katrina was great! Lots of units, and 5x5 unit is sufficient for our needs.. Facility is clean..
I've been storing my belongings with Public Storage for a year now. I've never had any problems. Dee & Katrina are great! Thanks Public Storage!
Customer service is always great here.
Katrina and araina and D are always helping me and keeping it positive every time I come in:) love it here
My experience it was great Katrina & dee were very helpful and explain all very sufficient.
Great place for storage and great customer service
I love renting from the public storage the customer service is excellent and the storage is afordable. When handling the bill, your in- n-out!!
Dee and Araina are wonderful! They provide excellent customer service every time I visit the property.
Dee & Araina are great. I have had my storage space for barely a month and i am very happy with the customer service I receive here.
Araina was very pleasant and courteous to me when i visited the property to clear the unit i purchased at auction.
Dee and Araina are great! My unit was recently water damaged and Araina went above and beyond to take care of the flood in my unit. She found me another unit right away. Thanks ladies!
Dee is awesome! Araina provided me with excellent customer service today and set me up on auto-pay. Thanks Araina!
I recently rented a unit and was attended to by Araina. Although she was assisting someone else at the time she was courteous enough to acknowledge me by say "I'll be with you in a moment". she was very efficient at processing the necessary paperwork, and always smiled. Now that is customer service. Thank you!
Dee was a great help great customer service definitely recommend to friends .
I rented a storage unit for the first time back in September 2013. I was going through a very difficult trial at the time. When I walked into the office, I was greeted by Dee. She was very pleasant, knowledgeable, and had great customer service skills. I would definitely recommend this Public Storage facility to others because of her. I also really like the location. It was a true blessing to be able to find a individual willing to answer all of my questions and not get an attitude or become frustrated. Dee exemplifies what good customer service is all about. P.S. KEEP UP THE GREAT WORK!!!
I really apreciate Dee she is always helpful and she always knows who i am when i say hi Dee.this is Dawn, im not just the number.
My brother rents at this facility and I find that Araina is always helping me to make payments and informing me of convenient ways to pay
Araina was great calmed my nerves. Answered all my questions and was pleasant to talk with.
my wife and I just moved to nor cal from so cal. We needed a unit to rent we were tired and frustrated after a long drive. When we got here Dee was very helpful and nice. she made our move in easy and stress free. The property was very clean. The staff is friendly and always willing to help us. I would recommend this place to anyone looking for a storage place that is clean with a great staff.
I needed to rent a storage space in a hurry. I called the 800 customer service number and was treated very well and professionally. They sent me an email with specific information to the March Lane location so that I could contact them directly. I decided to stop by to get more information. Dee was ready and willing to answer any and all of my questions. She was very professional and courteous. The facility was clean and organized. It was a simple process and would recommend this location to any one who needed to rent a storage unit.
I just recently rented a 10x10 storage unit. The lady at the desk, I think her name is Dee, was very helpful. She greeted me as I walked in and told me she would be right with me. She was helping a customer. It took maybe 15 minutes to get me set up and I was out the door. Dee thanked me and told me to have a great day. I had been to other storage places and nobody would acknowledge or explain everything thoroughly. It was nice that Dee was friendly. Thanks Dee!
Anyone that needs a storage unit in Stockton should come here. The place is always clean and the manager Dee is very helpfully really nice. I recommend this place.