Public Storage Self-Storage Units at 1781 Industrial Park Ave, Redlands, CA
Address
1781 Industrial Park Ave Redlands, CA 92374
Office Hours
Mon-Fri 9:30 AM - 5:00 PM
Sat-Sun 9:30 AM - 5:00 PM
Gate Access Hours
Mon-Fri 6:00 AM - 5:00 PM
Sat-Sun 6:00 AM - 5:00 PM
Storage Facility Features
Indoor & Outdoor Storage Units

Property Manager Lives On-site

Small, Medium & Large Storage Units
Office Hours
Mon-Fri 9:30 AM - 5:00 PM
Sat-Sun 9:30 AM - 5:00 PM
Gate Access Hours
Mon-Fri 6:00 AM - 5:00 PM
Sat-Sun 6:00 AM - 5:00 PM
Storage Facility Features
Indoor & Outdoor Storage Units

Property Manager Lives On-site

Small, Medium & Large Storage Units
Close Location Details
View Location Details
---

5'x5'

---

5'x10'

Outside unit

Drive-up access

---

10'x10'

Outside unit

Drive-up access

Outside unit

Drive-up access
Nearby Self-Storage Locations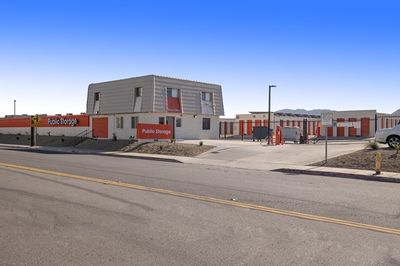 Self Storage Near
1600 Fairway Dr
Colton CA 92324
Self-Storage Near Redlands
Resources from the Help Center
See what fits in different storage unit sizes
Downtown Redlands Storage Units Near the 10 Freeway
Redlands residents need a lot of stuff to survive the hot summers and to adventure up the nearby San Bernardino Mountains for snowy winters. Public Storage on Industrial Park Avenue is an option with plenty of space for locals looking to store their seasonal stuff. It is also an option for students at nearby University of Redlands who need summer storage when classes let out.
It is easy to get to, just a few blocks from the Alabama Street exit of the San Bernardino Freeway, near the 210 Freeway interchange. It is south of the highway.
Rows of the more than 500 outdoor storage units shine bright as a beacon to any drivers on the nearby 10 Freeway looking for a storage solution. And a manager lives on site to help them into spaces as small as 5 feet by 5 feet or as large as 10 feet by 30 feet.
No matter how big or small the family, this facility is ready to help all locals searching for storage in the 92374 zip code. They can visit between adventures in the San Bernardino National Forest and free concerts at the Redlands Bowl.
It is also near Mentone, Valley View, Loma Linda, Marigold, Plymouth Village and Yucaipa.
Amenities
Indoor and outdoor drive-up units
Electric gate with key-code access encloses the property
Manager lives on site to assist customers
Packing materials, including boxes, sold in the office
Close to the 10 Freeway, 210 Freeway and 215 Freeway
Small, medium, large and extra-large storage units are available
Approachable staff on site to assist with storage questions and sales
At Public Storage, You'll Always Find...
Keypad Access

Friendly Staff

Month-to-Month Rent

Moving Supplies Available

Free Parking

Well-Lit Facilities
Reviews
( 411)
Niecy is very helpful and kind thank you. Clean property
Public Storage has the best prices in town. I truly wish they had the indoor air-conditioned buildings. Would be great if they would not raise their prices so quickly for newcomers.
Was so helpful Rosie helped me with finding a locksmith since I was missing my key and helped me figure out a way to get in and was so nice and understanding of my situation
Thank you Fernando for your help with service and questions answered
Niecy has amazing customer service. The support I received was thorough and timely and my issue were addressed with a single interaction. Will recommend to others :)
Emilee and Niecy were helpful for my rental. Thank you ladies
Nice lil place clean, no problems
Niecy and Rosie were great when I stopped by!
Martha is great, her services are the best thank you for all these year .. another place the best.. tha k you all
Thanks Wendy for renting us our unit. Services were great!!! Would recommend.
Thank you Philippe you are phenomal very nice and helpful
I am very happy with my storage space at this location. As a small business owner the security of surroundings and responsiveness of property manager is very important to me. Niecy & Lorie caught a minor billing error and reached out immediately to make sure everything was ok. Much appreciated ladies!
Love this place ❤️ 💕 Jenna and nick are the best ...
Summer and Niecy both are an amazing help! They are both very kind and knowledgeable. I came in on two separate occasions and met both. They were able to help me chose the right storage space that would meet my needs. I thought this would have been more of a complicated process, but thanks to them they made it a fast and easy experience. I'd definitely would recommend this public storage location to my friends and family! Thank you again Summer and Niecy!!!!
Summer and niecy were great ! Very helpful and friendly
This place is a rip off constant fees for this and that administration fee, insurance, despite having 24 hr surveillance and having their mandatory safe locks, a coded gate entry they just want to bleed every little cent from you, I recommend any another place but here
I don't know what the rates are at this place and I don't even know why it's on my Google
Niecy was extremely helpful in answering all my questions and made my experience really good and easy.
Great job done by Summer and Niecy at this location!
I'm really impressed with this location! Not only is it always clean, the manager Niecy is great to work with! Super nice and helpful, I really enjoy working with her 😊
Every visitation is pleasent and the customer service is immaculate. Summer know how to treat a customer. Highly recommend.
Overpriced, but aren't all storage places overpriced these days
Niecy was great, she answered all my questions, was polite, professional and a pleasure doing business with.
I had a reservation. I showed up to the property with the door locked but says they are open it was right before 5pm. They close at 6. There was an employee sitting in a room on her phone when I peeked threw the window. I was standing out there calling an knocking on the door for over 20 mins no one ever came. I decided to call another storage Cube Storage where they were very helpful. This employees called me 5 mins before 6 to ask if I wanted to reschedule. I explained what happen she stated that the window I saw her threw is an apartment an she was on her lunch break. A lunch break an hour till you get of. No that was a lie. It was important to me to get my storage I had to take my U-Haul back. This lady sat there with no respect or customer service to let me know anything. Then had the nerve to call me 5 mins before they close to ask if I want to reschedule. No.! I took my business elsewhere where I was helped immediately and guided threw to do everything online due to them being closed. I will never recommend anyone to come here. Very rude an unprofessional.
Don't bs when you come here. Ms. Niece don't play dat🤣😎💙
Thank you Niecy for your help!
Niece and Ernesto are the best always helpfull
Niece was amazing she needs a raise 🙂great job
I'd give more if I could Niecy is an amazing person, she's helped me with getting my unit taken care of after having to have my lock cut off she went above and beyond as always I never have issues when I call or when I go to the facility definitely clean definitely safe
Niecy is the best manager there!
Me and my girlfriend were considering moving but we had so much stuff to take with us. I decided to come to this facility to get some advice about storage. The worker there Niecy was very friendly and approachable. She answered all my questions throughly and to the point. I am going to recommend this place to all of my friends. (Update) when I came in to take my girlfriend off the lease again Niecy was there and was just as helpful as the last time when I got my storage unit. I don't know who will see this but she has been the most professional associate that worked there since deciding to leave my stuff store at this facility. I'm still going to recommend my friends here!! Great costumer service!!!
THANKS FOR THE GREAT CUSTOMER SERVICE, FRIENDLY ATTITUDE AND MAKING MY STORAGE EXPERIENCE ONE THAT I'LL RETURN FOR. PLEASURE DOING BUSINESS WITH YOU, NEICEY AND YOUR COMPANY. GREAT LOCATION RIGHT OFF THE FREEWAY, CLOSE TO GAS/EATING/RESTING PLACES FOR THOSE ON THE ROAD!!! SEE YOU SOON!!!
Everyone here is very helpful
Been using this business for over 7 years now and have never had a problem Niecy is always kind greeting with a smile and ready to help I wouldn't have my stuff anywhere else
Niecy has been a great help to me. I really appreciate it . Thank you Niecy!
Wanted to give a special shout out to Krista who went well above and beyond the call of duty in assisting me. While my property is actually in North Hollywood, was in the area and stopped in to make a payment. Her dedication to customer service and satisfaction is unmatched. She even managed to reduce my future monthly payments. Def. recommend this property for anyone considering a storage unit!
Great team of associates at this location. Always willing to help in any way possible!
Krista was helpful and informative while the facility was super clean.
Friendly staff, Cary was very helpful and made my experience as easy as possible!
Cary was super helpful and answered all my questions, and made sure that I got a unit that I actually need, not just trying to make me spend like at other places. 5/5, awesome customer service!
I was driving around thinking about getting a storage unit and happened to pull up right as they were opening for the day. Niecy was extremely helpful in going over the units and rates with me, was everything I could have asked for out of a storage rental experience.
Excellent service from Cary and was very professional as well. Will definitely be using this location more often.
Excellent Customer Service! A guy named Carrie,was so helpful and professional. I would definitely recommend them to anyone I know.
Great customer service! That guy cary helped me with everything 👍
cary was very helpful and kind! made my move in experience smooth and easy
Krista was very helpful to me!
Great customer service. Explain everything very knowledgeable
Best service ever for 11 years
Best service. The one experience that is not stressful.
Came in yesterday and spoke with the manager Niecy and today came back and rented with Cary and both gave me great service at a clean facility.
Krista was so helpful. I was able to get what I needed in no time.
Krista is really helpful with everything.
Great Service and Friendly Staff…!!!
Staff is knowledgeable and very helpful the place was soo clean.
Wow!! The people know very knowledgeable the place clean well kept thank you team Redlands
Will gave me a very helpful experience here & is very sweet
Thank you for your help will and Fernando.
The woman who lives on sight with her dogs has a serious attitude problem.
Will gave excellent service... keep it up !!!
Will gave me a 5 star experience would recommend it.
Will was great and very helpful. Thanks Will. Added...property manager Niecy and district manager Fernando were very great and helpful both went out of their way to help me with something they didn't have to.
Very polite!!!!! Will has excellent customer service and there is NUCE, cold AC in the main office
Will was very well informed, helpful and friendly!
Great service from Will really easy and quick to get my storage thank you!!!!
Will has great customer services got it done fast thanks
Great fast and simple. Will was very helpful and patient thank you!
Great experience choosing Public Storage. Nicci is professional, efficient, kind, great managerial skills. Made my move so easy. Thanks!!!
Very helpful at my time of need. Thank you
Very happy with my experience I'm getting a bigger storage at a cheaper price and Niecy was very patient and informative with all my needs
Great place, always clean and manager Niecy is always friendly and helpful. Will continue to rent here as long as she is here. 👍👍👍👍
Niecy is amazing. She is the manager of the Public Storage in Redlands, CA located in Industrial Ave. Niecy always on the lookout for her clients and works quite hard to help everyone. I strongly RECOMMEND this particular location because of people like her. Thank you Niecy for your help and may God continue to richly bless you.
Update 5/5/2021 My husband and I recently needed to get a larger storage unit and this is the only spot I'll return to. Niecy has been the best worker I've had the pleasure to do business with. She is so kind, helpful and hard working. She makes sure everything is taken care of and moving into the unit is such a breeze. She's the main reason I keep coming back to this location because of her exceptional customer service. I'd highly recommend anyone to come here and rent a space. Review from 11 months ago: Niecy was so nice, she was helpful, informative, kind and provided great customer service. Although I was a little hesitant to rent a public space for the first time, she made it so easy for me to understand the rules, guidelines and procedures to rent a space. It's in a nice area too and close to home.
Niecy has been excellent in assisting me with complicated issues for the last four years. She is kind, reliable, knowledgeable, and efficient. Wherever I am in the country or the world, I know my belongings are in good hands. Public Storage is the only storage company I trust to keep my boxes clean (never any bugs or rodents) and safe.
Choose wisely—the gate isn't working so I am stuck waiting for 2 hours until the office opens. I'll lose the cabinet I bought and have to pay movers for their time. It's absurd that they can charge on time but can't use the same email system to alert paying customers about delays etc. and they'll never refund the money I'm about to lose. Look elsewhere.
This place is over priced and closes there gates way to early....you cant access your storage after 6pm
Thank you Niecy for all the information. I'm glad I had the option to complete the rental online and also be able to use the app to get the information I need.
Ari was super helpful and polite! She helped me get everything set up and it was wonderful and easy!
Very respectable know how to treat their customers
Sorry excuse for a storage facility. If I could give a negative zero I would. Rude, unorganized, self centered staff
Don't use this storage place. They have had a problem with their gate and refuse to manually open it to allow folks to drop stuff off and pick stuff up. People had moving trucks full of stuff. No notice was sent to their customers letting them know that they wouldn't be able to take trucks and cars in and out. They were allowing people to walk in, but what good is that if you need to load/unload a truck. Unbelievable and quite ridiculous. If this company costs me more money in moving fees because I have to reschedule my movers, best believe they will be sued.
Niecy Niecy was so lovibgcand understanding that it made feel so loved and thought about.
Miss Neicy is an incredible employee for public storage to have. Great customer service, reaponds to your calls quickly, very professional and compassionate if you ever run into rental problems. She always goes above and beyond for her clients!!
Niecy was incredibly helpful. My wife has rented from this storage facility in redlands two years ago and she won't go anywhere else. Exceptional service. Would highly recommend it to anyone.
Come by to this location if you need a storage the manager Niecy is very knowledgeable and nice
Milan was very helpful and made the whole process quick and easy.
I appreciate all of the help from manager Milana she was patient and helpful with me and my husband
Employees that work at this location obviously hate their jobs lol, they're absolutely miserable, nasty location even though it's in redlands, looks like a storage place that hasn't been updated since 1950
Milan is always so polite and friendly when we come in. Best customer service I've had since covid started.
If you need storage come see Niecy! She keeps the place clean and is super friendly! She's a rockstar
Great service from Niecy. Happy to be doing business with them.
Come see Niecy if you need storage! She's the sweetest
Niecy and Denise are amazing! Even when I've gotten behind they called to remind and were always professional and FAIR! Love Public Storage!
My unit was one of like 10 that were broken into july 2020. Police report notes all cameras are fake. 4mo later still dealing with the insurance trying to low-ball the value of our stolen property. Very disappointed in this facility. UPDATE: Unit was broken into a second time in 4mo. "District manager" seems to be on vacation just like the last time. Beware! This facility is not safe for your belongings. The site management seems sympathetic but sympathy does not replace the family items lost.
I have nothing but good experiences from this storage facility mainly because Niecy is such a kind and helpful presence. She makes it enjoyable every time I visit with her warm personality. Who would think storing your things could be stress free and fun. Also the facilities are always clean and well patrolled. All around a great experience and I'll keep housing my extra goodies here.
If you need storage come see Niecy. She is the best! Super sweet and very helpful
Some of the best customer service I've had in a long time thank you Milan!! Keep up the good work.
Went in to get information and quotes. I was assisted by Milan. She was very polite and courteous. Milan answered all my questions regarding storage. I have to say I was more than satisfied with my customer service experience.
looks ok was calling around for prices
Niecy is always amazing great service and helps you get in and out fast
Fernando was very helpful, nice , and. Respectful
This is a horrible place to store your belongings. We moved a household into a large unit in January of 2020 and by June 22 all our items were stolen. Thieves tunneled in from adjoining units. Probably 10 large 10x20 units had their possessions stolen. This had to take a long time to remove all these items and no one from Public Storage noticed! The amount stolen had to be truckloads! They refused to turn over any video footage to police and now say the video is "damaged". The manager Niecy was rude to us as we tried to obtain answers and even threatened us. Would not recommend this facility if you have anything worth storing. Utter disaster!
Niecy was really helpful!
Had a great experience. Niecy was very kind and professional. Would definitely recommend.
Yesterday I spoke with Niecy and she was extremely professional and helpful with answering all of my questions regarding the size of units and their costs.
I went to visit my unit the other day,had a few concerns,which were all cleared up by Tony, one of the property's management. Thanks a a lot Tony,i appreciate ya man!!!
That guy Tony was a real help...great customer service. Need more like him!
Milan was so polite and kind. She was very knowledgeable and answered all my questions and put me at ease. Great experience.
Very courteous...respectful..convenient..and very professional..
Monica and Niecy are great!! And the property is always very clean and easy to get to.
Check in was super easy and fast. Monica answered all my questions and was very nice. She was also very patient with me !!
Niecy was a sweet knowledgeable person! She knew everything that I needed automatically. I would definitely recommend working with her.
Ive been here for awhile and the property manager Niecy is always vert friendly and helpful. Come see her to get a unit
Nicey helped me and my roommate out today. She was very welcoming and professional. She made getting a storage unit so easy and quick after the long day we've had. I really appreciated her work ethic and her lovely personality. Thank you so much Nicey! You're amazing :)
Elexses has great customer service skills
Alexis provides such great customer service and so friendly and helpful!
Elexses Gives great customer service
Elexses helped us out today. She was absolutely awesome!! Very professional and kind young woman. She is great!
Elexses is AMAZING!!!!! I was shocked at the level of superior customer service. She was so helpful knowledgeable and professional she made the experience enjoyable
I have used this storage facility for 6 months at an agreed month to month contacted amount. I pay my bill on time and have had no issues with this facility - been terrific. This month I had an additional $38 added to my rent. I was told that the facility reserves the right to increase the rent at any time. I never agreed to or receive any correspondence with the change. I will be moving out. I do not hand over my bank account for a company to take out whatever they want.
Staff is very friendly, helpful, and knowledgeable. Answered all my questions and was patient.
Thanks a Bunch... Tony Love great customer service got me all lock in fast an promptly I appreciate it... GREAT JOB!!!
Great fast service. Thank you Niecy!!!
I never have an issue with public Storage just a good place to do business with good people working the counter.
If you need a great storage company this is where to go ... the office people are wonderful and my time there was perfect !!!!!
Niecy was quick, precise, professional and very informative.
Thanks for the help getting boxes Niecy! You are a superstar
The employees show no sympathy nor a spec of care fof others who loos track of timeand need a few min more to lock up and get out.
Being my first time using a storage unit. It was great because Denise gave great customer service and answered all my questions which help me a lot
Philippa was very kind and informative! Thank you!
The special going on when I signed up was stellar! When I arrived, I was greeted by Monica, who greeted me with a smile and very enthusiastic. She showed me the space, taught me how the lock works, and then walked me through the paperwork. She was comfortable in her role and knew her stuff. She even sold me a box for my small books! I'm happy with the location and thrilled with the service so far. Thanks for everything Monica!
I had a great experience renting a unit with these guys. Manager Sadae was very prefessional at the same time very helpful in helping me find the rite unit i needed. I would definately recommend the company to family and friends based on the managers customer service.
Monica was able to answer all my questions and concerns I had about storing.
She was very curious, nice and helpful. Thank you Denise
Today I had issues with my lock, and she was very helpful and Tasty with getting me in contact with Dm to solve issues. Thank you Sadae!!!! Also I just came back for a second time Philippe was very helpful and got me water when was very hot outside five stars
Sadae has excellent customer service attitude, she was very helpful and fast with the leasing process. Also very. Informative about the policy's here at PS.
Love the professionalism Said was a great help definitely recommend this place, Thank You brother for your help.
Rent here is will go up up and way to high for a little closet not good
Thank you Neicy for your help here
That's was a great service thanks Philippa
In looking for a storage unit Phillips was amazingly helpful, she helped me get the unit I needed for the items I need to store!!! Excellent customer service!!!!
Public storage is a trustworthy place to put your belongings very clean and has an courteous staff with members like Sadae
This storage facility is run by they most courteous ladies. They work with you to make sure you are happy with your service. All I can say is awesome.
Philippe greeted me with a smile and gave me a tour of the storage facility. Answered all my questions. She was very professional and pleasant.
SADAE IS AMAZING!!! Reserved a smaller unit online, went in and asked Sadae offhand if they had something bigger - she said they did and showed me! But for some reason the unit wasn't showing online. Sadae got on the phone and sorted it out quick!!! I got a bigger unit at a better price than the smaller one! First time renting a storage unit, and it was the easiest thing in the world all thanks to Sadae's professionalism - with excellent customer service skills and a great attitude to boot! Thanks Sadae!!!
Philippa was great and very helpful.
Niece & Philippa are great to work with! The GREATEST CUSTOMER SERVICE!!! 👍
Philippa was so Awesome with how she accommodating me. I am super happy that she was able to get me my unit. Thank You so much Philippa.
Great customer service from Niecy. Very welcoming office and positive environment. Work is done diligently
Always excellent service from Philippa.. Definitely recommend to friends and family will keep coming back!!!
Neicy is awwome. Kindest person ive met.
Niecy was very helpful and was not in a to get me taken care of. I would highly recommend this Public Storage to family and friends. Thank you Niecy....
I was very pleased with my service and Niecy was very friendly and knowledgeable. I would definitely refer my friends and family here.
Nicey was great and very kind and nice will bring new customer thank you.
Nice clean property. My two concerns are that their phones never get answered when I call and also when I show up, the office is always closed and the reason is there is only one employee working and she is running all around the property taking care of numerous responsibilities. It is not good that customers should wait for long periods of time for the office to reopen.
Came in with my friend to rent to unit and was helped by both Janie and Niecy. Both very professional and friendly with a clean property. Come by if i need a unit.
It is a good idea to call ahead, as sometimes they are showing a unit or on a break. But there is always a sign up in the window saying when they will return. All the people who work there, are polite and handle all transactions with kindness and speed.
Janie was very courtius. Made it painless and fast. Thank you
Great staff very knowledgeable clean units thanks Philippa...
Fernando was very helpful and very nice to me.
What can I say is a storage they were clean. Satisfied
Very professional excellent service... Niecey is super awesome...
I needed a place to put my stuff quickly and Niecy is so friendly and super helpful she answered all my questions because I've never been to a storage place before. Thank you girl for making my experience a great one !
First time renting a storage anywhere and brenda was able to help me out. She was able to answer my questions in a friendly manner. Thank you once again
Horrible! I had a unit with this location for two years. Moved my items in a week after my son was born. I then moved from the area. I did receive a call saying my lock needed to be replaced I asked if there was a break in, they laughed and said no. When I was finally able to make it to my unit to move out I opened my unit and my tv was gone and my unit was ransacked. I spoke to the manager and she said there was not a note of a break in. I called the corporate office they found a note of a break in and notes saying they spoke to me about a payment a couple days later with no mention of a break in! I paid upwards of 2000 for a unit that didn't even contain my valuables. When I reached out to the company they just kept referring me elsewhere, saying I should have filed an insurance claim but I didn't even know about the incident until two years later! The property manager watched me move out of my unit and they are still trying to come after me for payment. Horrible company rude corporate employees. Watch these people carefully. The current manager is very nice and was not there during the time of the incident.
Niecy and Ashlyn are absolutely the best! If you need storage definitely come see one of these girls! They definitely know how to help customers with storage needs.
Nicely was very helpful great customer service very helpful and polite I highly recommend this place
Wow. Drove over an hour and 40 mins to redlands, in 94° to go to my storage caz i HAVE TO PHYSICALLY SIGN a stupid request for them to break my storage lock, i get here and the person is ON BREAK!! AT 350PM!??? AN HOUR B4 CLOSE?!? Like, i drove here to get here b4 close and handle this. And i have to wait 25 mins EXTRA mins! Worst part is we're calling and knocking, and the lady inside is completely ignoring us.
Had a very pleasant experience here Niecy and Ashlyn were so helpful and nice as well as professional. I would recommend anyone looking for a storage place to go here!
Niecy n Ashlyn have been so kind n so very helpful. It's top service like these 2 employee s give that gives a business at large truly shine just like a STAR!! U ROCK NIECY N ASHLYN KEEP UP THE AWESOME JOB!!! THANK U!!!
Extremely great service. Was helped by Niecy and Ashlyn. They were wonderful answered all my questions made me feel like I was safe here. I recommend this place to anyone.
I it $ 1.oo no matter size of unit when you move in? How much per month I's a 14 by 20 Storage? Can we buy insurance? How much is the 10 x 20 per month? How high are the ceiling and can anyone craw over the top of the storage to the next storage?
Anytime I came into the office or call and speak with the manager there "Niecy" she is always very friendly and has a smile on her face and always answers all my questions.
The ladies at the property were very friendly, informative and knowledgeable about the rental process. The way that they broke everything down to me made me feel as if my items would be in great hands. I feel real secure about storage for my belongings at this property. Thank you so much Niecy & Nesha.
Laura B is a great sale person and has great customer service. I would recommend this to my friends and family members
Fast and easy service. Valerie was amazing and did a great job making the process easy and painless!
Every time I go into the office for anything Niecy is always so helpful. It's so nice to see her friendly face! It's not very often you find such kind, caring people at a storage office. She always makes it such a great experience. And I look forward to seeing her when I stop by my storage unit.
It was really easy to get to and the staff here are very friendly and helpful. Niecy was able to answer all of my many questions without getting impatient. I will gladly tell my friends about this place.
Niecy, the property manager, was super helpful! I currently have a smaller storage unit and needed to get a bigger unit for my upcoming move. She was very knowledgeable and walked me through the different options, and she ended up saving me money! Great customer service, very friendly and informative!
One of the best people to go to is Niecy. Hands down,her customer service is A-1. She always answers any questions i have. Easy down to earth and will help with any storage need that she can be able to help with.
Niecy the property manager was very knowledgeable on her property and was very nice and friendly. She made sure she asked if I had everything for my move. I would recommend using this facility to my family and friends. Great job Niecy😃
Service was excellent and all my questions were answered! I was stressed about my move but Niecy made everything better. Thank you!
Laura B was so friendly and nice. Great customer service.
Niecy was awesome!!!! A huge help. Will definatly tell everyone.
Niecy had outstanding customer service. Will definetly recommend.
So professional and genuinely awesome staff! Niecy is the best employee there :) Always helpful and so so sweet!
Niecy was very helpful and efficiently helped me. Good service and very easy.
Great staff with Niecy and Jessica. Super friendly
Niecy and Jessica were very helpful and very friendly. I was curious about renting a storage unit and walked in just to shop around. Niecy was so helpful with answering all of my questions about how to store my things and Jessica was very friendly. I'm very excited to rent soon!
buen trabajo de knformatio de la manager niece
Walked in to make a payment & absolutely loved the customer service that was given! Maritza helped me with such fast courteous service. Definitely recommend this storage facility!
I was having trouble making my payment on my unit, so I decided to call in and have someone help me. I called in and spoke with Maritza she was extremely helpful and processed my payment in just a matter of minutes. I will definitely call in if I need anything else, thank you!
My experience was great. Niecy was awesome and very helpful.
Niecy, and all of her staff have been awesome these last 8 Months! She also became a very good friend to me. Thanks Niecy for everything! I Love Ya!🎁❤️
Neicy is a very Pleasant person to deal with, She has been very helpful. When my account is late she always calls me to remind me of my bill. My account was not allowing me to get in so she texted me the customer service information to get it taken care of.. Thank you NEICY FOR ALL YOUR Help!!! Jeneita
Rats in the units. Items stored are all ruined. Either covered in rodent feces or chewed through. Poor pest vermin control at this location.
Niecy was so amazing... I never been so amazed by the great customer service. I will definitely recommend my friends
Clean n Safe reasonable prices
Came into public storage in Redlands today to price shop. Looking to rent towards the end of the month. Felecia assisted me with finding a good size space that I might need. She was friendly and very helpful. The location is well kept up and I like the easy drive up access to the storage. Though I didn't rent today I will definitely be back to rent!
Upon renting our unit my wife and I was assured that they had video surveillance of anything was to occur on property. False advertisement. Tools became missing the manager claims lighting glared the video and you wouldn't be able to identify anyone. Before she made any attempt in viewing cameras we were given this reason. False sense if security. My wife asked for the district office and denied information. Told to look it up on her own. After theft at a property where dogs run loose and manager lives on site I don't feel comfortable renting storage here. Upon move in we were pro rates but now due to unsafe feeling leaving my dtuff in storage here manager says she wont prorate me for one day whuchbis on the first of month Oct 1 for me to pick my belongings up. I won't pay a full month when I will be moved put on the 1st she refuses now to prorate. My wife has cancer cant make it to move out til Oct 1,2017 which we only have few items left. No gas after doctirs appts til 1st. I won't be liable for another month at a stirage unit I was assured safe with cameras but denied access and told it wasn't viewable due to flare in lights.
Clean,friendly staff very helpful.
Very happy I chose this location and Bertha exceeded my expectations, she is so polite and very informative!
Good place to store your stuff
Friendly staff, and felecia was nice and friendly
Great service and friendly staff. Felecia was a lot of help and answered all my questions.
Perfect storage and spacy
Clean and easy. Good place to store your toy
Laura and Bertha have a nice smile
Laura was helpful and had great service,the is great!!
Laura is the one you want to speak to here she is very helpful in obtaining the right size and whatever you need
Laura has great service. Always. Sweet to her customers. And she keeps her property on point, I always see her working hard !!keep it up laura. Your the best !
Laura: great service experience. Very friendly.
Laura was great! Very good customer service. Thank you so much!!!!
Laura, the service was nice and quick. Very friendly.
Laura, She was very helpful I'm glad I chose to come to this public storage instead of anywhere else! Give this girl a raise her customer service is amazing!!!
Very clean and safe property. Laura, Felicia and staff are very nice.
Laura was a great help. 1st time I've used a storage unit and she was very helpful in every way
Laura very nice. Great!!! Customer skills. Very helpful. Always willing to help never rude.
Laura had great service. This is a very clean friendly storage. Thanks laura !
Laura was very friendly thorough & helpful
Laura good service friendly
Bertha was very friendly and informative. Would highly recommend this place!
Absolutely loved the experience I had today. Lily was very courteous and very respectful. Plus she recommended a great taco place!!
Lily and Bertha are very helpful and wonderful to talk to, excellent customer service.
Lily & Bertha are the best so friendly.
Lily very knowledgeable and very caring towards your needs and very upfront with which a lot of us need no hidden fees
They are helpful and patient they always ccall and remind me about my payments Lily is the best!!!!!! At the Redlands location
I received great service today from Lily today in my visit. I appreciate the help and patience very professional.
Reserved online and got called to confirm promptly. Lily was very helpful and there for any questions or concerns.
Lily great customer service and fast service. Highly recommended
Lily was so awesome. .she help me understand everything. .
I loved the service! Laura and Lilly are super nice! They will help you with what you need!
They were really nice to my friends and myself when I came to help them. And their prices are very reasonable for decent sized units
Bertha was professional and friendly. Made my move in super easy. Storage unit was clean and as described
Lily and Bertha are the best! Great customer service and excellent prices. They made my move easy and I left with a smile!
Lily is amazing! She does what she can to make the customer happy! After several months of stress she made everything less confusing with her storage knowledge and great attitude!
Lily the on-site manager was very helpful, thank you
Lilly really helped me out today and didn't take long time... Very nice and friendly...
Somebody tried to break into a unit in our hallway and they decided to punish everyone. Our hallway is on lock down now and we're only able to get in during office hours. And that means I've had to call off work just to get some things out. Also whenever I go my hallway is locked and I have to walk all the way back to the office to ask her to open it. I think a solution that didn't punish the clients would have been a better option. More cameras? Alarms? I mean public storage should be able to afford those as a company right? Isn't that why we store with a big name? I, at the very least, would have expected a rate reduction if they were going to cut out the benefits and add in inconveniences to our stay with them.
Daisy was awesome. Very helpful. Customer service at its best!
I really like this place and they have friendly staff. I like the hours and how clean it is. Pricing should be a bit more affordable.
lily was very helpful. she was quick and got me exactly what I needed. rent here for great customer service and great prices
I just got a unit and was beyond pleased with the professionalism and thoroughness that Ashley provided. She was so polite, caring, and knowledgeable. Off her help alone I would refer everyone here.
I have had nothing but problems Storing my items until I met Lily. I told her what I need stored and she provided me with options to suit my needs. She was extremely informative and even help me get boxes and other materials I needed in order to keep my stuff as organized as possible.
I've had problems with almost every storage I've had to deal with, BUT not this one. Lily was very helpful and efficient. I was a bit worried when I saw how many people were walking into the office, but everybody was helped in seconds and my check in was a breeze.
Has very friendly and helpful staff😁,!
Lily was absolutely wonderful and so helpful.
Lily was very helpful and polite. Storage uni was at the right price, no hidden fees. Would highly recommend storing her to a friend
My family stores at Public Storage in LA. We come here to make our payments and Lily is always pleasant. My sister and I really appreciate her customer service and friendly deminor.
It's a good place to store your stuff.
Sorry it took so long! I didnt forget about you! Lily made my storage experience a delight! Thank you and Nice job lily!
I rented space from Lily, she knew how to help me and rented the space that was just right for me! She was friendly and helpful, rent here for great customer service and greT deals!
Lily, great custermer service, got me out and out fast.
I ran into a Public Storage employee at the bank, I believe her name was Lillie. I approached her to find out info and prices with storing at her location as I'm currently storing in L.A. She invited me to her at her location down the street where she would be able to further assist me. Unfortunately i was on my way to work. I just wanted to let Public Storage know what a great friendly employee they have. She mentioned a Google review when I asked her if I could call her boss regarding her friendly nature. I will most definitely be bringing my items to the Redlands location if the price is right. Thanks again Lillie
Such gracious service, capable help..Lily...made my day!
The customer service was amazing so warm and friendly made my experience the best!!!! Lily is wonderful with people and such a sweetheart!! A+ from me!!!!
I was in need of a storage facility for my business, so I opted to check out Public Storage in Redlands. Upon my arrival I was greeted by Martin one of their facility managers. Martin was very professional, courteous, and knowledgeable. I exampled my needs and he stated that there were several units available. Martin's knowledge of what units were available showed true.. Martin explained the process on how to obtain the unit and he patiently assisted me with the paperwork. Several days later, I received a follow up call from Martin inquiring how the move into the unit went and offered additional assistance if needed. Martin's work ethic, knowledge and professionalism definitely has made a difference and pretty much sealed the deal as to where I was going to store my items... Thank you Martin !!!!
Easy access, great location, reasonable prices & professional office staff!
Ashley was just visiting the public store in Riverside did such a great job at assisting me . Had a minor issue and she took care of me . VERY VERY PLEASED AND HAPPY WITH MY EXPERIENCE
I just want to give a two thumbs up for Ashley the customer service rep who helped me. She was very curious and helpful.
Very exceptional customer service and was assisted by Ashley, very friendly and customer centric. Thank you for your excellent service.
Ashley and others were great. Very clean and safe place. Dry and not pests.
I have been at this storage facility for about 5 years. I always have had a good experience there and Ashley in the front office has always been there to answer my questions... I love it!
I love this place! Customer service is excellent!!
The other day I forgot to put my lock on my unit and Ashley came to my rescue and called me to let me know of this. She also made sure it was locked until I was able to come back down to the facility. Would recommend this place to someone looking to store. You will know your items are secure and the office staff is very helpful!!
The staff have always been professional. and patients with other clients, I've been able to observe...the grounds are kept very clean...and odd one today, tho - discovered there is no master key retained on the premises, despite I was told with the inception of my account, that I absolutely had to use their lock, due to accessibility issues...even when you can absolutely verify that you are the owner of the unit??? Still doesn't make sense. Regardless, the units have a reputation of being secure and reliable. Thank you Ashley.
Mayra help us very much and got us a great deal. Very friendly and helpful. Today I was at public storage and I got there to find it was closed. All of a sudden I saw a girl that works there coming up with a customer . Yay she unlocked the door and took my payment. Ashley thanks for being there and being very helpful. You Rock ! She gets 5 stars for great service .
Laura was a great host,she took care of every of my questions, was friendly and without a rush.
I had no problems with public storage. The agent Ashley was very nice and helpful!
Loved it ashley was very nice and helpful
Very friendly outgoing staff. The girl working made my day better and helped me out more than she will ever know
Ashley was very helpful, she was very professional. Laura was was nice and helpful as well . thanks ladys.
The facilities are very clean and they re a very good price. Ashley, who works at the front desk, was very helpful and had great customer service. I would definitely recommend renting from this public storage.
Alyscia kept a professional work ethic while also keeping her customers comfortable. Place is very spacious and clean
Alyscia was nice and very helpful would definitely go back to her for some assistance
Setting up a unit with Alyeska was fast and easy. She made sure we got the right size unit for our needs and explained all prices and services up front and with ease. We chose this storage location for there competitive prices and we're very please with the service we received. I would give five stars but I haven't been renting a unit here long enough to fully rate.
Just got my storage unit. Great service from Alyscia. Thanks!
Alyscia was great & friendly!
It is my pleasure to submit this review of Public Storage of Redlands, the representative Lisette has gone above and beyond her customer service let me elaborate... I had a little trouble finding the right size storage and she took very good care of my needs and with a constant smile that made me feel special all in one setting. When i need another storage facility this will be my first and last stop, thank you for your warm and caring spirit. Ms. Lisette
Great customer service! All the ladies who work in the office there are exceptional and are able to multi task. Shout out to Mayra who rented out 3 units simultaneously! If ever I need a place to store belongings Public Storage would be my first choice.
Laura provided such great customer service. I will be doing business here from now on.
Alyscia was extremely polite and courteous! A great asset to the public storage.
Moving from another storage place to this one, we set things up, I already had a load to put in, when I went to lock up found there was a issue with the lock. Lisette suggested rather than move my things once again to another unit as long as it was lockable she would take care of the repairs the next day if I left a key. I did and she followed through. Very friendly courteous service. Thank You!
I really enjoyed the experience I had here.Alyscia was great!
Alyscia was a really big help with my storage shes does a good job also is a good worker and is a life saver! :-) I would refer and recommend this storage facility! :-)
Had a great experience. Alycia was very sweet and helpful. I recommend this public storage.
served me well for years! Thank you Alyscia for your help today!
My mom rents here the girls in the office Lisette and Mayra are very nice and the take good care of her stuff. I would recommend renting here to everyone. Thanks Public Storage
I had the pleasure of dealing with Rachel yesterday when I went in to make a payment. I had actually seen her last month but when I went in to pay at the riverside location, so it was nice to see her here as well. She helped me with getting me my gate code and was just in a great mood. A smiling face is always good to see.
Had a really good customer service experience. Alyscia and Mayra were really helpful and explained everything very well and detailed. They make you feel welcomed.
This place is great! Mayra and Pedro have outstanding customer service and they are extremely helpful.
My experience was very very good everyone especially mayra very professionabove and beyond what I expected!
Mayra and Alyscia where very helpful and magnanimous. Very clean and nice facilities.
Mayra A++++++++++ Suoerstar . Property is outstand as well
This facility is always clean and the staff is always so nice. Mayra and others that have me have great customer service. I would definitely recommend this facility
Current management is great Mayra and team are excellent. The facility is well run
Mayra and team are always helpful and courteous. They always have an answer to my questions. I enjoy storing with Public Storage
If I could Give mayra 10 stars I would
Great service from alyscia. The property is in a safe and clean environment. Everyone including alyscia were very considerate and provided the best information to make the customer feel welcomed.
Had a wonderful experience at this facility. I got a great price online and was helped by the onsite property manager, Mayra. She was very helpful and showed me around the facility and showed me how to open the gate. :)
So I rented a unit from Mayra and thought, ok done right, well Mayra has the type of personality that makes you want to rent more units so I did. Her knowing what each unit entailed is an exceptional quality public storage is lucky to have her...
Overall they were polite to me & the fees are not as high as other competitors. Loved my $1 move in.
I recieved customer service that went above and beyond what most people would do. First of all I showed up five minutes before they closed. I was just told that I had a week to move out of my house and because of my busy schedule this was the only time I would be able to purchase a space. The lady could have easily turned me away but instead she showed me around the facility, explained all the details and filled out all the paperwork with a great attitude.
Mayra did a great job today .very personable with a smile
Property us very clean efficiently ran and management is superb thank you Mayra and staff
Pedro is funny and friendly. Very astute and made the whole process quick and easy.
Awesome service from Alyscia! Thank you sooo much, our stuff fit perfect in the unit❤❤❤❤❤
Public Storage helped me out. Mayra was really helpful Alyscia is also a great help
Thamk you Mayra for such great costomer service....keep it professional as u always do .
My experience here at public storage has been all good. Mayra is always a big help
Helpful and patient and professional
Excellent experience Mayra and Pedro are so helpful they made my move in easy
Alyscia was amazing and very helpful.
Mayra provides Excellent Customer Service always professional always willing to help. It is a pleasure doing business with her
Mayra and Alyscia treated me very well and helped me get the answers I needed
I have had my storage here since last month. The people working are so nice. Rachel got me in to a space that is smaller. Thanks.
I am very happy with the customer service Mayra provides. I am a satisfied customer of public storage. Mayra is always courteous but goes above and beyond for her customers. I would defiantly recommend public storage to family and friends.
Mayra and Pedro are always nice and helpful when i come pay my bill
Awesome help from employee Maya. Great person to deal with, 5 Star Employee Maya. best storage company ever! Clean and Reasonable price for 5 X 9 I will rent again, Thanks for your professionalism Maya
My visit was good here today. Mayra is very nice and the facility is very clean. My mom enjoys a storing with Public Storage
My experience here at public storage has been good. Mayra and staff is always friendly and courteous
Loved it! Always clean, never a problem with my unit, staff, or payments. Staff was friendly every time I needed to interact with them. Did my close out/vacancy yesterday with Alyscia and she was very helpful and nice about everything, answered my questions, completed my close out in a few moments and made me laugh. Good facility, only reason I left was because I got a larger garage at home and no longer needed the storage space. Will come back to Public Storage when I need it again!
Alyscia provided thee best customer service! She is the prime example of how an employee should treat each customer(even though I didn't get the storage unit). Thanks!
Very clean and neat well run storage facility, easy location to reach (just off the freeway at Alabama); Mayra & the staff are very helpful.
Mayra did a fantastic job i think public storage is the best my second time rentin here i will let friends n family know have great service n deals
Mayra is always very polite and kind. Thank you for all your help.
Mayra and Pedro are awesome. Clean, accessible, friendly...good business.
Mayra and pedro are very curteous and friendly happy with the service! Will recomend.
Mayra was very friendly, helpful and provided Excellent service. Waleska
I stopped by today to make a payment and Sofia was very helpful and nice. I liked her customer service.
I have had a Public Storage unit at the Redlands, CA. locations on Industrial Park for a few years now. In the past year I have had some request for changes in unit size and location. Each time I have called or came in to the office to make inquires or pay the monthly rental fee. I have hung up the phone or walked out of the office in a much better mood than I started with. This is all because of your employee, Mayra. She is knowledgeable on all the services. She has saved me money by making sure she knows my needs and makes positive suggestions. I held a management position for almost 20 years and hired many people in that time. Mayra has a great personality and presents herself in a professional comm. manner. I have watched her several times this past year with many customers. Some very upset with some said story. Mayra listens and responds with sympathy and words of encouragement. The clients I witnessed including myself have left a better person. Mayra is a real people person well suit for the job she is doing. I believe you have a diamond in Mayra. Give her opportunity, encouragement and support. You have a winner in Mayra. She will grow your business. Sincerely, Dale Mau
I got a storage unit today . Yay!! Mayra helped me with a smile . Great customer service. Thank you .
Muy feliz con la ayuda de Mayra. Excelente propiedad
I went with my brother-in-law to view a few storage places and tried to find the best deals and decided on Public Storage because of their kindness, great deals, and nearby. Mayra, the manager, was great to work with! She was so nice and gave us all the information we needed; and answered ALL the questions my B.I.L. had with ease and confidence. I would definitely recommend this storage facility to my friends and strangers.
I would highly recommend this place! The location is very convenient. Friendly staff, manager Mayra has been extremely helpful and professional. Even the available customer restroom is clean.