Public Storage Self-Storage Units at 1230 Olive Drive, Davis, CA
Address
1230 Olive Drive Davis, CA 95616
Property Open
Mon-Sun 6:00 AM - 9:00 PM
Storage Facility Features
Indoor & Outdoor Storage Units

Property Manager Lives On-site

Small, Medium & Large Storage Units
Outside unit

Drive-up access

Outside unit

Drive-up access

Outside unit

Drive-up access

Outside unit

Drive-up access
Nearby Self-Storage Locations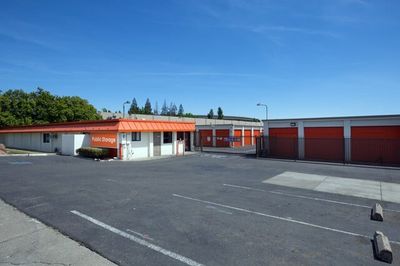 Self Storage Near
3961 W Capitol Ave
West Sacramento CA 95691
Resources from the Help Center
See what fits in different storage unit sizes
Davis Storage Units of Interstate 80
Our Davis facility is located off I-80 and convenient to UC Davis, making it a great option for students and local families alike. We are proud to serve UC Davis students, faculty, and the rest of the Davis community by offering you the best storage units on the market today.
We have over 550 storage units at this location. Our 5x10 storage units are ideal for small items, like baseball bats and bikes for Playfields Park. These units are also great for college students who are looking to maximize dorm space by storing extra clothes, books, and personal belongings out of the way.
We also have medium sized 10x10 storage units for customers between residences, and large 10x15 storage units for homeowners going through major renovations. If you have a big project in store and need to stow couches, beds, desks, dressers, and any other heavy items, try our outdoor storage units with drive-up access.
We even have an on-site manager familiar with the facility.
At Public Storage, You'll Always Find...
Keypad Access

Friendly Staff

Month-to-Month Rent

Moving Supplies Available

Free Parking

Well-Lit Facilities
Reviews
( 322)
Kelly helped me transfer to an outdoor 10' x 10' unit(from an indoor unit)which has much better access. Kelly made notes for the other employees to remind them I was looking and within a week & a 1/2 was able to quickly locate and transfer me into my present outdoor 10'x10'. Nick also helped me on 1/18 by calling me to let me know as soon as the units became available;I came right over to the office and secured the transfer sign-in within a 1/2 hour. I have had difficult storage experiences in the past as I had moved every few years;I'm an 'apartment dweller'.. I've found employees in certain jobs can get stressed; businesses such as UHaul/moving truck rental and storage places are a 'high stress' job with plenty of employee turn-over. Kelly continued to help me on the day of the move;she provided me with a very nice cart that was large enough to carry more of my miscellaneous items that weren't in boxes. I moved/transferred units on 9/19 which was a very busy day for this location because the students had many move-outs as school is beginning now;Kelly was able to handle all this since she arrived,up until 6PM+ when she finally went home. She anticipated what I needed ahead of time and 'made it happen' for me !
Nick was very helpful and friendly. I recommend this location for storage in Davis.
Naomi was super helpful and kind. Made the process easy ! 10/10 recommend.
Naomi was very helpful, kind and positive. She was a gem to work with met Al my concerns and need's immediately
Great service ! Friendly and knowledgeable Naomi.
Naomi was amazing! Nicest person to interact with!
Naomi is great and helps me a lot.
Naomi was helpful and consistent. She contacted me about any available unit I could get. I came in and she was super sweet and overall had a good experience. Thank You Naomi ☺️
Naomi and her staff were great, they were way more helpful than the other storage places I contacted and getting my stuff in was really easy.
5/5 due to the incredible help I received from Nick. I was able to get a unit I needed to store my light camper trailer all in one day due to his efforts. It was POURING rain and the trailer was a TIGHT fit. I absolutely could not have done it without the help of Nick, who volunteered to wrestle the trailer into the unit with me despite the onslaught of weather. Can't thank him enough. Give this man a raise.
Niecey was so helpful in getting me into my unit the same day I stopped in. She was kind and knowledgeable. I checked out several storage units in Davis and this was by far the best place for storage! Highly recommend.
A very good performance on Niecey . I'll give her five star thank you
Niecey was great. Excellent service.
Niecy was the best RM. Very helping and pleasant. Thank you for all your help.👍
We rented a unit for a little over a month when we had to move a relative. This public storage was a great price and the staff were above and beyond helpful. We had a problem with a lock and the attendant helped us out until we were able to get into the unit and the day that we moved out they contacted me before I was even home to let me know that they noticed our unit was cleared out and the lock removed. I appreciated that they were so on top of it. I would use them again without hesitation.
Paz was terrific!!! He explained everything thoroughly and completely!!! Appreciate the help!
Paz was incredibly friendly and accommodating with my reservation. He was swift in response, answered all my questions and helped with my unit:) definitely recommend
Paz was super helpful and patient!
Paz was the best manager that one could ask for! When I lost my reservation because of the heavy demand Paz gave me a free upgrade from a 5 x 5 unit to a 10 x 10 unit at no additional cost. I rented out the storage space for three months when I went back home during the summer break and it was the best experience I have ever had with a storage unit. Paz was amazing, he was kind and helpful at all times. From everything related to orientation to payments, everything was smooth and secure. The facility is super safe and reliable. Super happy with this one.
Paz did everything really fast and answered to all my questions.
Thanks Paz for the quick and easy account setup and all
wonderful experience,Denenia is so nice:)
Nancy was very friendly. Great service. Would come here again.
Paz was such a kind and professional manager. It was my first time using a public storage unit and he took me through ever step thoroughly. Highly recommended!
Paz was very nice and attentive! He helped me rent a storage unit for my move. Highly recommend this place
Paz was very kind and professional. Great, fast service!
Great working with Paz! Thank you
It's really a convenient process and really nice service for storage. Highly recommend!
Paz was a huge help and made the process very easy and informational, can't wait to store here.
Paz is great! Very knowledgeable and friendly. He answered all my questions with a positive and helpful attitude! Thanks!
Naomi was fantastic! Gave us five star service!
I want to personally thank Naomi who was working at the Davis Public Storage on 4-15-22 and again on 4-19-22. She was delightful, professional and went over and beyond to assist us with our needs. She was an awesome representative of the Public Storage business. Thank you Naomi you are a gift.
Nissi was amazing! Thank you!
Naomi is fantastic! She made this whole process was easy and the e-rental was smooth as can be! Thanks for both wonderful service!
Well the hours were shortened last year when the COVID was raging. "We'll go back to full hours once we have an on-site manager again…" lies. Nothing against you Paz. But besides the restrictive hours there staff are great. Niecey has been super helpful and Paz has helped me figure out how I could save some money. So, they're good people who will do what they can to help and that's really all I ask of them. Not that I'd expect you to understand customer service Kody(he's the general manager). It's not like you would understand what it's like to only have 15-20 minutes to access your storage because your can't leave work. Oh and I'll grant you it's nice being able to open the gate with our phones… but fix your app to stop sending me 3 identical texts reminding me when the gate closes! I swear, and could you tell me why they are always sent after I have already left?? Just wondering
Paz was extremely helpful in moving me to a larger unit that was near my old smaller unit. Great job!
Paz was super helpful with getting a unit set up today! Thank you!
Niecey was amazing and helpful! Best storage in town!!!
Great service from Paz getting set up with a storage unit! Facility is secure and clean.
Niecey was a great help thank you very much. I would come here again
Paz was a great help. I got there and he was quick to help me out and show me where to go. Stand up guy😁👍
Niecey was very knowledgeable, great costumer service, made my visit very easy.
Very nice people. Very helpful when I rented the place. I accessed my unit for the first time a couple of days ago and everything was clean. The app was very convenient and easy to use.
Customer service is wonderful and location is clean and easy to find. Paz was particularly helpful and cordial.
Paz was helpful from start to finish. He called me to give updates on my unit's availability and made the move-in process easy.
We were renting a storage unit from Davis public storage , while we relocated to New Zealand. During the time of packing our unit up before we left the country, we observed a number of suspect looking renters. It looked liked they could have been living in some of the units. Within 8 months of storing our belongings, we received a call in NZ telling us one of the units caught fire because someone left a candle burning...hmmm, wonder why ? This resulted in them telling us to remove our belongings at our cost, without offering any other facility, compensation or even an apology for the inconvenience. They then continued to bill us for the storage facility even though we were forced to move out. Forget the financial loss of our belongings, moving expenses or any other cost and hassle. This is a classic case of big business renting to ANYONE without any due diligence or care for any other renters. You will be taking a chance leaving your belongings there. Would NOT recommend this facility.
OMG Naomi was soooo helpful. I came from Sac to pay my bill and she was professional and sweet. She took out time and patiently helped me download the App so now I can pay from home.
Great storage facility. Paz was awesome and extremely helpful.
DON'T RENT HERE. As a long-time, loyal customer I got a call today that 1) they had a fire break out in their building, 2) they flooded the building, possibly damaging all our stuff, and 3) that they were threatening to throw all of our stuff away (!) if we weren't able to move it out within four weeks, and 4) all tenants affected are banned from any Public Storage facility for 6 months since they believe they have contaminated our belongings. I have a storage unit in Davis BECAUSE I DON'T LIVE IN DAVIS. There is no way for me to travel back within that time frame to move my things, and Public Storage has so far offered no solutions such as arranging movers or alternative storage space. This is frankly the worst customer service I have ever seen.
great place to store things between the summers. much less of a hassle than moving every year
Excellent customer service! Niecey personally walked me to my unit and patiently walked me through all of the steps required to to access it.
Naomi's customer service is unmatched🌹she assisted us in upgrading to a 10×15. We're dealing with two deaths within a week apart and needed a bigger unit for his moms and sisters belongings🥰 thank you for your kindness ❤️
Niecy is very nice and personable. She was recommended the exact unit that fit our needs.
Super professional and efficient. Much appreciated.
Wonderful service, appreciate Niecey for her great help! ;)
Miss Josie was very helpful when I was selecting packing equipment. She offered advice and even helped me to the car with the big boxes! Will visit again!
Stopped in today to buy boxes and moving essentials lady at the desk, Vaneesha was pleasant and helpful.
Paz's enthusiasm is infectious - it's tempting to drop into the office every morning just to take a hit off his buzz. He is professional, thorough, and when it comes to solving an issue, he's all over it....no stone left un-turned. Kudos to the person that hired him. The only challenge left to Public Storage now is to figure out how to keep him. As far as customer service goes, he's tops.
Awesome location, super friendly staff!
Amazing experience, 5 star customer service! Mr. Paz was super helpful, friendly and has delivered clear explanation. Thank you!
I got a storage unit in Davis this morning. Naomi was so great, my move in was smooth and it couldn't have been easier. Thanks so much!
Naomi :) She took the time to tell me about the app, so I can open the gate without leaving my car. Thanks! Love it!! It's really clean here too. Staff are always friendly.
The representative there (Diamond) is AWESOME!! She is very smart, friendly, helpful and thorough! Best service I have ever had at a storage unit. REALLY!!
Raises rent during the pandemic.
What to take away is the fact that she represents the companies best interests and goes the extra distance to secure payments and serve the public storage procedures and policies currently in place. I know you can well compensate these skills.
Went to Davis location to request lock cut in Citrus Heights where my unit is. Yvette was so helpful and scanned my paperwork in so I didn't have to drive all the way there. THANK YOU Yvetre great customer service.
Quiet and safe. Cathy the fill in manager is really on top of issues concerning clients belongings.
I came in the Davis Location to get information about renting a space . I just want to say Ashley was very hopeful and answered all my questions. She asked about my items that needed to be stored and I realized I will need a size bigger that anticipated . The price is right and I felt like this is a good and safe place to be . She also told me about the mobile app and rental so when I decided to rent , it will be an easy transition
Great experience here! I met with Diamond and between her incredibly kind demeanor and her very helpful ability to answer my abundance of questions, I would recommend this place to anyone I know who was looking for storage options in Davis. Amazing customer service
Only down side they close at 5 now which is inconvenient
Very patient and kind service this morning renting a storage unit.
Change the hours of operation so we can't access the storage after 6 p.m. any day makes it very hard for people who work ever to go drop stuff off or get things out there is no exceptions and you can't even be in there after the 6 p.m. cut off. That with the rates going up every month just about my rights have almost doubled in the last year-and-a-half I have my storage there it's a hassle to get a new storage facility so I stayed but I definitely feel they could be more customer conscious
This comment is left here for Josie Josie has been the most wonderful person to work with at Public Storage on Olive Drive she's always friendly and helpful unlike some of the people they've had their she is good about enforcing the rules which makes me feel like my belongings are which makes me feel like my belongings are safe thanks Josie for the hard work since they never seem to be able to have a manager there and the one girl I spoke to you she said she was a manager had only been there for 2 months.
Great staff great service, very helpful, had no problems walk in mad at my situation for the reason I needed a storage. Walk out with a smile on my face. I believe her name was josie, if work places can have customer service like her the world would be a better place.Thanks again Josie!!! You are the best!!!! P.s. service like that shouldn't go unrecognized 😊
Nice, clean and safe. Josie was courteous, helpful and professional. She went above and beyond. Thank you.
Great units at a great price. Josie is an angel and was so helpful in showing me all the options. Definitely the best place to store in davis!
Compleately satisfied with the service at this facility. I feel well treated, and i know that my opinion is valued. I also have become good Acquaintances with the other tenants who rent space, which helps lock in a sense of safety, and bring peace of mind over my personal belongings. And a special yhanks to Josie, who has gone above, and beyond the service description by taking the time to get to know me personally so that i can make a clear decision on what the approriate storage space i should be renting.
People who are actually people and they really try to understand anything that you are having problems with or something you asking about.
Great service, excellent and clean space. They just painted and everything looks fantastic!
Excellent customer service. Joy is a very nice lady! 12/18 edit - Also Melanie too! Very pleasant and helpful!
Really good service. Awesome front desk help and great experience. Melanie was very helpful and knowledgeable.
I was assisted over the phone and in person at the facility by Josie, who was friendly, efficient, and helpful throughout the entire process. She made the experience very easy and pleasant, and all instructions were very clear. The storage unit is easy to access and seems very safe.
I reserved a small unit for extra storage to help declutter our home. Public Storages website had a promotion for $1.00 for your first month so even though they weren't the cheapest option I figured location and the promotion made up for it. When I went to check in I found that the promotional value was not applied. The manager though helpful wasn't able to make the change but suggested I called the service line before checking out. Their customer service line was atrocious! The woman who helped me told me that the promotion ended. When I told her I'd reserved only hours ago she cut me off and said well it must have ended. Then hung up on me. I was ready to say screw it and go else where but Josie the property manager said hold on, got on the phone with a colleague and fixed the pricing manually (which apparently is not an easy feat being mainly online based these days). She was extremely helpful and understanding. Many other properties off free first months or a waive of the admin fees but they aren't as close as Public Storage so being able to have Josie make the effort made the experience all the more worth it. Thanks for taking care of us Josie!
A nice clean place and Josie was great.
Josie was great to work with. She gave us a tour of the different size options and got us going quickly!
Oh how I love Public Storage the facilities are so wonderful. The management and loving the coworkers are lovely they're so helpful is the best places I've been thank you so much Josie for your help today. Timell Brown aka Nikki Wood aka Tanisha
Clean spaces, fair prices, and Friendly Staff!
We used this storage unit for several months after moving from out of state. The storage unit was always accessible and the front office was communicative and helpful with questions and updates. We would absolutely recommend them.
The property was clean and the manager was very professional..
Chanda gave me great customer service!
There pretty good about keeping your stuff safe as long as you pay your bill
Kind of a dingy little place compared to most other Public Storage's, but it has kind of a little personality to it. It is one of the old, really sturdy facilities with concrete pillars and 1 inch plywood construction. There's no cameras except at the gate. Inside there are motion detectors with a perimeter alarm system that works and the Davis PD is very quick to respond to. Other than those few words, there's not much to say. If recommend it to a friend.
Chanda's service was absolutely terrific. She personally helped us in preparing for Public Storage's painting now underway, lending us tools for cleaning and protecting our our storage items. Then she worked with us to consolidate the contents of 4 storage units into one, saving us a lot of expense. She is strongly motivated to help customers and proactive in doing so.
I'm disappointed in the facility's state of condition given that it's highly recommended on google reviews. I only decided to rent unit here due to the fact that Life Storage's two locations are in Woodland and a ways out drive. Though the price is cheaper at Public Storage, the condition of units kinda negates that fact. Doors to the units don't properly shut when you close them, so a lot ash and debris covered the entryway and a little bit got inside the units. I'm not sure why there's was a bag of rat poison left in my unit.
Great service. The storage units are very well kept and easy to access.
Secure storage facility with management and owners who care about their clients. Very easy access in an out of the facility and quick access to the freeway, which is great for my business storage needs.
Chanda saves the day! I had not visited my storage unit in about a year and the lock had become difficult. I ended up breaking off the key inside the lock. I went to the office and explained the problem. Chanda said "let me see what I can do" and grabbed a paper clip. Within 30 seconds she had the broken key out and was able to open the lock with my spare key. She went back to the office and returned with a new lock and added "sorry for our lock" That is great customer service. If you are looking for a great storage place, look no further.
The person who rented the unit to me, Chanda, was so nice and helpful!
The customer service is amazing! Chandra helped me decide which moving supplies I needed, and spent extra time calculating the prices so I could get the best deal. Very friendly, very caring, and better than any other storage service I have seen in Davis.
Kudos to the manager, Chanda. She's super helpful and diligent. She makes me happy every time I visit my storage unit. The facility is also very good.
Marcos was very helpful, professional, and friendly during my visit to rent a unit. He asked questions to see which unit would be the best for my situation, and gave good recommendations. He was very personable, too. Two thumbs up!
Great service, lovely people!
In and out fast, efficient and very knowledgeable. Be sure and ask for Kaye, she is a badass!! Great place to leave your stuff!
Tried to meet to talk with someone and both times I arrived, no one was there even though it was business hours.
Makayla was super helpful and made the whole process easy and quick.
Makayla was super friendly! So easy to set up!
Office and property is cleaned Chanda has been very kind showing us around the property knowing it's secured
Cathy was very helpful and friendly! The storage facilities are clean and come at a good rate. I would definitely recommend this Public Storage location.
Chanda has been very friendly and helpful with all questions I was concerned about thank you
Nice and clean facilty. Property manager chanda is sweet and great to talk to. Keep up the good work.
Chanda has been very helpful from beginning to the end i really enjoy her service she provided to me and my family😁 will difinetly recommend this storage place to anyone that's looking to store.
Chanda provided excellent customer service
Chanda is by far one of the best people to work with. Not only was her customer service A+ but she was able to accommodate my last minute request of changing a unit. I appreciated that she made my moving experience so awesome and it makes me really happy to do business with Public Storage.
Chanda is amazing and super helpful! Always willing to answer questions and offer proper information when I'm needing clarification. I like having someone so reliable here!
Such good service from the representive named Chanda! I would definitely recommend this place to all my family and friends
Chanda was excellent, helpful, friendly and nice. Understanding. Need more people like her giving service.
The lady at the desk is courteous and professional, the small storage unit I got is perfectly priced for the size. There aren't any catches. A great place to rent space at.
Property manager Chanda was very friendly and welcoming. Move to n was fast and efficient no hassles or lengthy process.
Thank you Chanda for all the help very professional!
Great place to rent a storage.
Chanda has an amazing customer service😊
I came to this facility to inquire about the parking space Chanda is very helpful to place me on the waitlist since the space was not available she is very friendly I would definitely come back to this property.
Chanda was exceptional she has such amazing customer service and was extremely helpful
I'm Jorge Galo. I was attended by Chanda. She gave me an outstanding customer service that really, made me so impressed and I want to share with all of you my experience with this 5 Gold Stars worker ( Chanda ). She gave me a very friendly welcome to the this facility in Davis, CA. I explained to her my personals needs to find the proper unit. She started reviewing with patience all the possible alternatives that will keep great for me. Chanda, asked me questions about the items I have to keep in the storage. She gave me enough time to answer my questions. That was fantastic. In few minutes and with an amicable smile, Chanda started moving little by little; until she found the right unit for me and the best location in this facility. With great knowledge in her job, she resolved my issue in a few minutes. Boy, I'm so impressed for the great skills, knowledge, friendly manner to approach the customer, and professional performance in her job. Chanda is a great asset in this facility and Public Storage Company. For the great job she does with customers, I strongly recommend Chanda to be recognized for her outstanding customer service skills. In my humble opinion, she deserves a promotion and raise her wages. Thank you so much Chanda for your amazing and wonderful customer service. God bless you.
Chanda has been very helpful with all the question we have thanks for your knowledge and being patient with us.
Clean and friendly service
Chanda was very helpful and understanding. Great first experience at the storage unit! I'll definitely recommend this place!
Lady behind desk is very nice
It was my first time renting a storage unit and it was a very nice experience. Lea helped me out with every question I had. I would recommend using their services.
Ron is simply the "BEST." Considerate and Proffesional which is rare these days!
The service here is bueno i'm glad to meet a funny with a sense of humor and knowledgeable young lady Chanda keep up the amazing work with the company.
It's an decent place to store stuff if you need it. They did raise the rent on me a few months before I got back, and they said they'd sent me an email about it, and "resent it" but I'm not sure that is the case. There are also a lot of hidden fees that aren't included in their advertised price as well (they require you to get their insurance, buy a lock, etc).
Chanda is always a pleasure. I will recommend this property because of the great service she provides.
I started at this location in Feb 2019. When I went to look at the initial reserved storage, door was faulty and there was only one other available. The manager whom is Chanda, made a phone call and she was able to rent the other unit available. So far, all has been great. Chanda has been totally awesome and customer service orientated. She's friendly, social & great conversations.
Outstanding service Chanda has been very pleasant to deal with understanding and very nice.
Great service. Awesome property manager. Clean facility, she deserves a raise.
Chanda has been patient and kind service is outstanding.
I have been there for just less than 6 months, automatic payment generates each 1st of the month, never late. And for thank you they sent me an email to inform me that they made changed on the price and $20 will be added on my bills . What is the reason? Their answer: Higher demand, coorporate had decided so. This is so disrespectful. Is it how you treat your customers? It's called stealing and abusing modest people.
Come in this place a few days ago and it was very clean and Carrie was extremely nice and helpful would definitely recommend this place!
I came in to make a payment and Carrie was very kind and helpful she also gave positive energy.....
Incredibly friendly staff, clean amenities, and great rates. Have been renting for a few months now, and don't plan on changing to another facility.
I came in to make a payment and Carrie was nice and helpful as always. You guys did a great job hiring that gem! See you next time Carrie !
Chanda has been very helpful with all questions I had Thank you for your service
The Pm Chanda is wonderful. She is attentive, full of useful information and very helpful by addressing my needs. I highly reccomend renting here.
Chanda is amazing, she is very customer centric and always ready to help with storage needs!
Merlinda was really helpful during move-in process. She went out of her way to make sure all of my questions were answered completely. Thanks so much!
Merlinda was very friendly and helpful getting me signed up for my new storage unit. She also suggested some extra boxes that came in handy when storing odds and ends.
Chanda was fantastic: Highly helpful, attentive and persistent.
The manager at this location Always goes out of his way to make sure you're more than happy with all your storage needs as well as common pleasantries to everyone who stores here as well as perspective customers. Always 5 star service at this location! I have had a few encounters with the old lady that lives there. She does not have a good temper.
Chanda has been great she knew the size I wanted to fit my belongings very welcoming she made my move in go as easy as possible when everyone stress out about there move thank you so much I will recommend family and friends always to this location.
The manager here was great and very informative. She helped me get the best size for my bucks . The manager also helped me with information about the surrounding city which greatly helped my transition from moving from Florida. Thank you
Spacious storage units kind staff safe environment
Good service nice location clean space chanda your the best
Chanda was really helpful and super friendly,she made my experience very pleasant i would definitely recommend this place
What makes this public storage different from other places is that the manager is extremely nice. I think so far she has been the nicest person I've ever met in California. She offered a thorough review of all the possibilities and also how I can save some money as well. Her name is Chanda and if you happened to come across her you are lucky because she will get you the best possible deal. She is caring and heartwarming person! Overall the facility is very well organized and the storage units are all so clean. You can live inside if you wanted to but you can't. Thank you Chanda once again!
I reserved a 5x5 but it wasn't available which was disappointing. When talking to the operators they don't explain that reserving a space doesn't guarantee you the unit. Other than that Chanda was very helpful and accommodating. She was very personable and I enjoyed talking to her! Thank you Chanda!!!
Tessa is awesome and the manager is friendly!
Looking for a job customer service is excellent thank you Chanda
I I'm glad to see davis public storage is so helpful when I was in need a few extra boxes recently. Chanda was very helpful and knew her box promo
Maggie was very accommodating despite some reservation issues, great customer service! Will definitely be using public storage again in the future!
MAGGIE IS GREAT. She went overtime WITHOUT pay. Who does that? No one. Bless her soul. She fought for these dumb freshman
Cooling and out of the weather.
Awesome place Chanda and Maggie give great customer service. I recently vacated my unit due to renting a home 2hrs away and they were a great help. I would recommend this place to anyone looking for some extra storage enjoyed the 2 year stay.
PS at this location has a good history of helpful, courteous staff. Many thanks to Maggie for her help. For auto-pay, I'd been told a necessary merging of accounts was to be done at the district management level, but it didn't happen. With just one visit to the PS office Maggie got me set up with auto-pay for each of several units.
Margaret was very kind and helpful. Pleasantly surprised and would recommend this business to a friend
Awesome customer service, very helpful in all aspects of company. Nice clean property and great location very professional
Chanda is a really solid employee and went above and beyond the service I was looking for.
Great place, Maggie was super kind and helpful! Have been here for a bit and I will be staying.
great customer service. thank you chanda for your amazing help. defenitly recommend this place. first come first served. im glad i stopped by.
Service is good when they are in the office, but they are raising prices again and my stuff now smells of rat urine. I'm looking for a new place to store my gear.
My friend have a unit at this location thanks to Chanda for helping us get the right size unit by saving money. customer service is worth more than 5 stars 😁
Was helped by Chanda today to transfer from a unit in Sac to this unit in Davis. She was extremely helpful and friendly and went out of her way to make it as stress-free and convenient for me as possible. I am very happy with how I was treated and how everything turned out. Thanks Chanda!
Merlinda is the best! Everything worked out very easily, move-in and out. I would recommend this service to others.
When I came here first thing in the mornin I was tired and not looking forward to this move day but thus lady (chanda) behind the desk at public storage Really put a smile on my face just a preview of how nice people are here thank u so much hope to see u around Davis...
Pretty good for Davis, Ca. I don't have much experience with public storage units but a few things about this one. The staff is very friendly and helpful. There are plenty of units on the property because it's very big. Jessica one of the workers here does a very good job maintaining the facilities, and helping customers as wells as guests. She is a very hard and diligent worker. The units can be fairly expensive per month if you don't have money, but with the added security gate feature it's a definite positive. The office also provides boxes as well as security locks for sale, which is good. I recommend this storage to anyone who needs a safe place, to store their things, also the drive to Olive street is pleasant and always lively. Keep it up.
Jessica was so helpful. Great service!
I had a fantastic experience with Merlinda in renting a 10'x20' storage unit. We had experienced a few problems with the online reservation system but Merlinda worked hard to solve everything quickly, enabling me to rent the unit while also connecting me to special promotional offers (e.g., for first month's rent). I would highly recommend this storage facility.
Fantastic service by Merlinda. Everything was completely explained.
The manager that lives on the property is rude don't want to help anyone in addition she has an obese cat!!
I came to rent a unit the employee Jessica was very knowledgeable and helpful. She recommended a good size very satisfy with her customer service and my new unit. Thank you.
I had an extremely rewarding experience with Ms. Jessica who was swift and thorough with renting a unit that accommodated my storage needs. Jessica even went the distant in finding my storage unsecured and took he proper actions to cover by securing my storage until I could get there to correct my mistake in not turning the lock all the way. This augh to make anyone more comfortable to go to Public Storage Davis n Olive Drive with Ms. Jessica on board managing and overseeing. Thank you for your hard work!
The lady at the desk was so helpful i believe her name was joy i will definitely recommend this place
Excellent service. Funny staff
The guy working behind the counter gave great customer service and he was very helpful when I had to ask any questions.
This is my fourth time renting a unit at Public Storage in Davis. I live 200 feet from another storage place, but I would rather come here. The facility is nice, clean, secure, and in an easy to access area. Joy has always been very helpful, provides excellent service, and I enjoy chatting with her whenever I come. A courtesy call is also made, before payment is due and you have not signed onto auto pay yet. I definitely recommend this place for the Davis community and those leaving or moving into Davis. Thanks for reading!
The manager was so helpful on the phone and in person.
Great customer service. Would recommend this place to anybody.
Like any other chain storage
Thank you Joy, for helping me with the unit!
Very helpful and friendly
Joy I can't say enough about how helpful you were in my moving process. Thank You
Thx for Joy to get this unit ASAP!
I have had an unit here for years and have always been treated fairly.
Joy, the property manager, is absolutely amazing. She cares about every customer and helped me get a unit that is right for me - affordable and a good fit. She went out of her way to call me and update me on another unit that became available which was more affordable. She is definitely an amazing property manager and is helpful towards all customers. She is Public Storage's best employee
Loved the place was easy to use and needed it for storage for a quarter off school Was cost efficient and the employees were great
I have rented at this public storage for almost two years now, and have had no problems at all, it is always clean and well maintained. The property manager Joy, always waves as I drive in or out of the gate, and is so friendly. I have a habit of forgetting my gate code from time to time and Joy is always happy to help me out. My only complaint would be the rent increase last year.
Been here forever Awsome people great place.
Joy is super amazing and was so sweet and was so helpful this entire process, it was a joy (haha!) to work with her and it helped make my moving experience significantly less stressful. I highly recommend coming to her for your storage needs!
I was moving to an apartment Chanda recommend the deal on the boxes with the quick pack verses 10 boxes with a discount of 10% off I did not have much stuff to pack she's very knowledgeable about the merchandise and a best seller very talk active and friendly also funny but professional about her job Thank you for helping me decide on what's best with the stuff I'm packing😊
Thank you for you kind help!!!
JOY! KINDEST AND MOST HELPING PERSON!!! THANK YOU SO MUCH!
Joy, the manager, is amazing. I drove over 3 hours and was running behind because of traffic. She stayed late on a Friday to check me in. She was so helpful and welcoming. The facility is clean, well secured and conveniently located. I would highly recommend this Public Storage to anyone.
Great place to store!! Love Bill and Joy, they are awesome!
Great customer service, will definitely return with more stuff to store!
Joy and Bill were really friendly and helpful. Definitely helps me a lot when my apartment is under refurbishment.
Customer service was great and Bill was very helpful. The storage units are very nice and convenient (a good chunk of them being outdoors) and they are air conditioned. Highly recommend this for a Davis storage center. Prices are competitive as well.
The manager we worked with was Bill and he was very respectful and assisted with multiple aspects. We also got a great deal and he took a lot of time to help us. Highly recommend
amazing place and amazing managers
Very helpful, honestly some of the best customer service ive had.
Very easy and safe. Also very clean. Joy is a joy at the front desk. Definitely recommend to anyone.
Joy is a living rendition of her namesake. Excellent service and prompt attention
Maria is very friendly, patient and helpful. Perfect service. I recommend people try this storage.
Public Storage was plain and simple. Joy helped me about 10 months ago get my unit and answered all my questions. Every time I went to my unit Joy always smiled and waved. Great service from her. I recently left my unit and Joy once again made it simple.
The manager is a real Joy.
I had Chuck help me with my storage unit and he was extremely helpful! He made sure to thoroughly explain every aspect of the contract and how the storage unit works. Overall, great experience and would definitely recommend!
Awesome customer service and storage clean and well maintained.
I am a return customer because of your exemplary employee Joy. She has been helpful and works hard to help customers in every way. Your establishment is lucky to have her!!!
Wonderful service! I enjoyed speaking with Joy! Helpful and always on top of things!
Joy is a joy to rent from.
Great place to store your goods, whether long term or short. Great customer service great staff. Easy to work with, very quick and efficient. Will rent from them again and recommend them to everyone.
Joy was fantastic and extremely helpful and accommodating. She made the process painless and easy.
AWESOME. Merlinda was an incredible help.
Melinda was super nice and so is joy. Glad to rent here the staff is really helpful.
I dropped in for some help and was amazed by how helpful Merlinda was. I will always think of this Public Storage when I need a hand.
Merlinda and Joy have both been incredibly helpful. Property is secure and well maintained.
Merlinda helped me rent out a unit today. She was very kind and well informed. I feel that this property is a safe place to leave my belongings. It's easy to access and rentals are fairly priced.
I have used Public Storage in Olive Drive, Davis for the last two years and have been very happy with the service. Joy is amazing and always extremely friendly and helpful. She is a great person and it is always a pleasure to deal with her and know she will go the extra mile for her clients. She treats everyone with friendliness and courtesy and I appreciate her being there.
Its fantastic joy is awesome all friendly service helpful would recommend to friends
Great experience, clean and tidy
Excellent service & helpful staff. The space was perfect as I made the transfer between apartments and needed a place to keep my things in the interim.
Excellent customer service! Joy is a delight! Would definitely use again.
Joy was amazing. Found me a unit and was super helpful throughout the entire process! Best customer service ive ever had with a storage unit!
Joy and Merlinda are the two most helpful, caring, kind, and trustworthy business people I have ever met in all of my experiences as a customer. If you are a UCD student, incoming student, alumni, Davis resident, or just a nearby person with storage needs, Public Storage in Davis is by far the best choice you could make as a consumer. I highly recommend Public Storage in Davis. P.S They also have a really good selection of packing materials.
Staff are always very professional and helpful with any needs for self storage. We usually work with Joy.
joi was just wonderful and extremely helpful!!! Treat this lady with respect and she'll do good by you!!!
Awesome service, secure and best price in Davis, Joy is a sweet heart. and extremely knowledgable
Had a great experience renting here. Joy and Bill were very friendly and helpful
Joy was a very helpful manager . I will recommend to any body!!
I was helped by Joy and Reggie and they were very quick and friendly in to getting me started into storing my things over the summer.
Very helpful and nice lady
Wonderful people, great service and clean safe storage. Really enjoyed working with Joy.
Joy is so sweet. Always so helpful and smiling.
Understanding faculty. Kind from before check in till after check out
Joy was BEYOND helpful! My situation was complicated and Joy stuck with me every step of the way. She was so pleasant and helpful and I fully recommend this Public Storage.
Manager was very understanding of my circumstances. He helped me every step of the way through the rental process. Happy face :3
Quick and friendly service that makes you feel good about renting from them. Bill's a real homie.
Joy is cheerful, helpful and welcoming. I would rent here again.
Joy was great she made us feel really comfortable and our rental experience was most great would recommend public storage to all my friends and family
pleasurable and friendly service
Hassle free, fast, and friendly!
Fantastic service! I've rented twice from Joy and each time she's been absolutely and amazingly helpful. Would absolutely recommend!
Great service bill was very helpful
This is a wonderful storage facility! We can't rate it highly enough! We have rented here for the past 18 months and have had nothing but compliments for Joy, the Manager, and the facility itself. The facility is easy to access,very clean and our furniture came out of the unit in exactly the tip-top shape as when it was put into the unit. Joy is a terrific manager! She is extremely knowledgeable and her customer service is incredible. From beginning to end, her professionalism and desire to truly make the customer's needs a priority has made our experience what it is: the best you can get. We will rent here again and will definitely recommend this facility to anyone. Thank you, Joy, for all of your dedicated hard work! Public Storage is very fortunate to have you at the helm!
Great place to store your stuff, short or long term. Good prices, safe environment, and Joy at the front desk is wonderful and extremely helpful. Thanks Joy!
I love this public storage. The customer service is unbeatable. The prices is the best in town, the storage is clean, and very secure. If you're looking for a storage unit, this is the place to go. I have never had any problems. I totally recommend this place to anyone looking for a storage unit.!! Ps I absolutely love Joy. !!!!I hope whoever receives a storage unit here, gets the pleasure of meeting Joy!
I have had THE BEST experience with this facility. Joy is not only helpful and knowledgable, she's an absolute delight. The spaces I rented were clean and secure. I can't say enough good things about this storage facility. Joy serves her name well and beyond!
Joy is a star. Great customer service
Joy the attendant is awesome she will walk you through every step of the process very patient and kind. This particular facility provides the type of customer service that makes you want to come back.
I came in last minute to remove my furniture from storage to find out that I lost my keys to my lock. Joy immediately gave me advice to help open the locks but didn't have any luck so she called her boss to come break the lock. I would highly recommend coming here 110%, qualify service and great attitude with a smile. It will be your pleasure to deal with joy and the owner of public storage.
This property was very well kept. Neat and clean. The service was wonderful. Thank you!
Public Storage is a fantastic option for your storage needs. Great security, professional and polite employees and very clean units. I highly recommend them to anyone in need of a little more room in the home! Morgan was especially helpful to me when I went to rent a unit, she's awesome!
Joy has ALWAYS treated me with the utmost respect and the BEST CUSTOMER...EVER. I RECOMMEND DAVIS PUBLIC STORAGE AND JOY THE MANAGER
I've been with public storage for two years and joy has been very helpful and customer friendly she's very nice
Always great customer service. Joy was extremely helpful.
Joy gave me such a great experience! I rather come here for that satisfaction of customer service! I would recommend going here.
Amber is a quite good manager!
After a big move, I had my stuff here for 10 months, and the lady at the front desk, Joy, was very friendly and helpful. I looked everywhere in town for a storage space and they were the only ones available, AND they're centrally located. Plus Plus Plus. Good stuff.
I needed a place to store all of my stuff from my apartment and found this place right near my home. I had never rented a storage unit before but with the help of Orlando it was an easy transition. He was able to find me a storage unit and made me feel comfortable leaving my personal belongings in their facility. I would definitely recommend this place to other college students who are looking to store their things until the new school year!
Great experience at Davis Public Storage! Joy does an awesome job of managing this location. Quick and very responsive to questions. Thank you!
I previously wrote a pretty scathing review of Davis Public Storage due to the fact they messed up a reservation we had. After posting the review, my husband was contacted by the District Manager who made everything right. I hereby retract my first review. The unit they secured for my daughter is clean, safe and reasonably priced. So glad to see a company that follows through!
Joy is awesome! She made it super easy to move my stuff in and go through the payment process. She made it a professional pleasant experience. When it came time to move out, she made the process seamless. Moving is tough enough as it is and she made it that much easier.
Can't say enough about how great they are! Joy was incredibly helpful and continues to be while I store my things with them. Moving is probably the most stressful thing to have to do and working with the Olive Public Storage & Joy made it just a little bit brighter! Thanks Again!
Joy was super friendly & very knowledgeable. She was able to answer all of my questions and the facility was very clean. I would highly recommend this place to anyone looking to rent space.
joy has been and is the best management there!!! what could you ask for in a property manager??? every time i go to my unit, she makes sure i'm a happy with my service, keeps things updated, chit chats with me and bonds with her regular's, making sure they have the best customer service available. THE best C.S.R. for you guys!! works super hard. i always come and leave with a secure feeling, thanks to joy. Guys... seriously..... give her a raise or a promotion!!!! she deserves D.M.!!!
I recently rented a storage unit from this facility. The property is clean and Joy, the associate who helped me, was professional and a joy (haha) to work with. I would recommend this Public Storage to anyone!
Great Customer service. I came into see about storing my car and met Cristal. She was very friendly and welcoming. She showed me the storage but unfortunately they didn't have any available that were suitable for me. Still really great customer service. Would definitely recommend.
so far this place was fatastic, i shopped around all day and there was nothing for rent really in davis, i was then referred to public storage mostly because of their dollar first mont rent, i called the service line and was helped by a very friendly, their deals had me sold before she even finished seaking then had my reservations and unit reserved for me by the time i got there as i was 0n the side of the road looking for a place on the phone,,,, the attendant in the office Orlando was fantastic, he was curtious and knoweladgable, dont know why he is not in upper management because he should be, he explained to me my agreemant and showed me how to get in ad out and all that fun stuff, he was very friendly, they also had great deals on movig boxes and locks and all that, i bought 30 boxes ,, just an all around great experience and if you need storage in davis there i no other place i would recommend , great fcility
Very thankful that you have the older lady with the horse voice working for you. I believe her name might be Joy. That would be fitting anyways. It is her kind and genuinely caring manner that makes me want to store with you again!
Great storage facility that I've used for close to a year. Very clean and management was nice to work with. Joy was very personable and helped me out with any questions or concerns I had. Thanks!
Easiest storage facility I have ever dealt with. The manager, Joy, was so helpful! Always kind and ready to help. I couldn't have been treated any better. Highly recommended for clean, safe, and secure storage.
I recently rented a storage space at Public Storage in Davis. The person at the desk, Merlinda, was friendly, courteous, and efficient. The facility is clean and easy to access. Security is very good. I especially appreciate the convenient hours (6AM-9PM, every day of the year, including holidays).