Public Storage Self-Storage Units at 2815 Caribou Ct, Carlsbad, CA
Address
2815 Caribou Ct Carlsbad, CA 92010
Property Open
Mon-Sun 6:00 AM - 9:00 PM
Storage Facility Features
---

5'x5'

Climate Controlled

Upstairs/elevator

---

5'x10'

Climate Controlled

Upstairs/elevator

---

10'x5'

Climate Controlled

Inside unit

1st Floor

---

10'x10'

Climate Controlled

Upstairs/elevator

---

10'x15'

Climate Controlled

Upstairs/elevator

---

10'x15'

Climate Controlled

Inside unit

1st Floor

---

10'x20'

Climate Controlled

Inside unit

1st Floor

Outside unit

Drive-up access

---

10'x30'

Outside unit

Drive-up access

---

10'x30'

Climate Controlled

Inside unit

1st Floor
Nearby Self-Storage Locations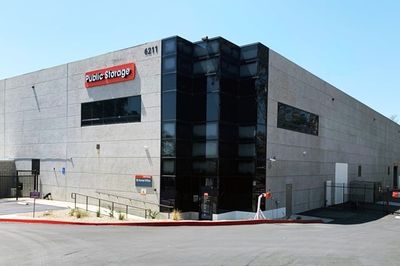 Self Storage Near
6211 Corte Del Abeto
Carlsbad CA 92011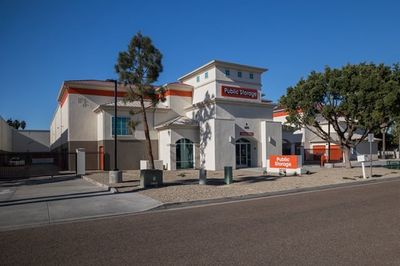 Self Storage Near
3235 Tyler Street
Carlsbad CA 92008
Self-Storage Near Carlsbad
Resources from the Help Center
See what fits in different storage unit sizes
Carlsbad Climate Controlled Storage Between I-5 and State Route 78
The storage facility is just 7 miles from Carlsbad Village, the town's charming downtown area near the beach. And if you have children in the family they will be happy to know LEGOLAND is just 5 miles away.
Carlsbad Public Storage has storage solutions to solve a range of needs.
At Public Storage, You'll Always Find...
Keypad Access

Friendly Staff

Month-to-Month Rent

Moving Supplies Available

Free Parking

Well-Lit Facilities
Reviews
( 96)
Andra is very professional and helpful. This facility is always clean.
I am a renter at this location for more than a year. Andra is so friendly and helpful. I needed to reset my gate code and had a few questions. So helpful. Thank you.
Andra is very professional. She was a great help! Great customer service, clean facility
Andra is awesome. Very professional. Process is super fast. Clean facility
Andra tremendous help to me for all I am going through. Very nice and helpful
Andra was awesome and a great representative for the company 10stars
Andra was incredible!!!! Very clean location!
Great service. Andra was very friendly and kind.
Andra was very professional. Property is always clean. Great customer service!
I had been needing a small storage unit for a while. I found public storage online after seeing the first month was for 1 dollar. Initial cost was higher than expected. I forgot about insurance and my lock. However, the app for easy access and multiple secured areas made me feel good about storing my belongings there. The sign up process was easy and straightforward. I did get a little lost when I first went to use the unit. Once I did find my storage unit, it was actually easy to find, and I got a good location. The building itself is out of the way, which I don't mind. To me, that makes the building more secure. In summary, it was a good deal. The building is secure, and it is in a quiet location.
Andra was super nice and answered all my questions. Made me laugh and feel better under the stress of moving all my stuff. Highly Recommend this location!
Andra is amazing, she made my move in seamless and when I need help she is always so helpful and professional!
Andra was extremely helpful, kind and professional. Thank you for Andra✌️
Andra was fantastic !! Helped me get settled in my unit !! Clean facility!!
Andra knows what she's doing! Helps you get in and super fast and efficient. Great facility and staff!!!
Had great service. Highly recommend it here. Staff was fast and friendly. Location was also very clean
Andra was WONDERFUL, she is extremely helpful and knowledgeable! She also does a GREAT job keeping the facility/property maintained and clean! I am a happy camper, thank you Andra!!!!💐
They never,ever answer the phone or return voice-mail. Manager needs to be accessible for issues!!!! That's bad business! Is anyone ever there!?
This place often doesn't have any carts available on the first floor. Everyone on the second floor takes them up and doesn't bring them back... and the elevators won't work unless you have a space access code for the second floor. So BEWARE -- this place charges extra for first floor storage spaces but then often doesn't provide any carts on the first floor which is a MAJOR hassle when you are trying to move a lot of things.
Rental process was quick & easy. I was helped by the manager Andra. She was sweet & kind, very welcoming, great customer service. Place was clean & cameras on every isle! So glad she was able to help me with a reservation!!
Very easy, very clean. Helpful staff!
Thank you Andra for your great customer service. Place was clean. And she was very patient and helpful with all the questions I had.
Andra , was a outstanding worker , her personality reminds me so much of my grand daughters . This was the best experience i have ever had coming to any public storage locations . I can tell she takes pride in her work and treats everyone with the upmost respect . Definitely giving this location 5 stars . If possible ask for Andra and she will hands down take care of you any way possible .
California has gotten so expensive, inflation at its all time high. I packed up & moved to Mississippi were the cost of living is affordable. I put some of my things into storage Andra professional & got me a unit at an affordable price(which is rare in CA).
Andra is amazing and very helpful. High recommended!!!!!!!!!!!!!!!!!
Tammy is awesome! She was very kind and helpful. Had a great experience with her help. Definitely recommend coming here , the customer service was great thanks to Tammy.
Extremely nice staff as well kept, virtually new! I believe I was the first renter of my unit, it was that clean! It's a Smart Storage which codes aren't needed, just your Smart Phone!
Excellent service, great staff perfect unit just what I needed at fair price
I've been looking for an affordable secure storage for a month now and this public storage was perfect. I went in to sign my forms and the front desk lady was so helpful and efficient. Place is very clean and secure. Definitely recommend.
Clean, wonderful storage facility! Well maintained and pleasant to use too. And the owner/operator is the sweetest lady ever!
There's literally nobody here
Had a good experience renting a storage unit at this location. Staff was communicative and common areas were clean. Newer building. Lots of storage units on site. I would recommend this location to someone looking for self-storage.
I didn't like anything about them very tricky and rude
Super clean and the manager Donna is THE BEST!! She's always smiling and helpful. She gets things done….and fast! This place also has better gate technologies than all of the other storage places in the area so it is really convenient. Literally an upgrade to my last stage place and it was cheaper. Score!
I just rented a 10x15 unit and Donna and Marlene were amazing helping me get through the process to make sure my elderly mom was successfully in securing the exact unit she wanted! The facility is extremely clean and well maintained. Highly recommend!
Just got a unit here today, and I can't say enough about the staff and facility! Donna was super friendly and helpful, and took plenty of time to answer all my questions. The facility is spotless, and easy to get in and out! I have a feeling my stuff will be there for a while! Ha!
We really like this storage facility. It is clean and nice and the staff is awesome! Donna is so helpful and kind. I feel like she went above and beyond to help us. It's so nice to with someone who is genuinely interested in helping her customers. We are so grateful!
Can someone please tell me how to get the office to answer the phone?
Is this place open on Sundays ?Because I came all the way here and there's nobody in there and I also don't have access to the gate for some reason.
Came by to check out the place as I am already a Public Storage customer but planning on moving my items to a more convenient location. Donna provided great customer service and assured me that this location is well serviced and a safe place to keep my items.
janelle is a amazing worker she was very upbeat and helpful and answered all my questions and was a very happy woman thank you janelle!!!
I visited this public storage facility on Saturday September 10th. I was met by a Friendly staff. The girls showed me around the facility, it was very clean and organized. They were able to answer all my questions regarding spaces available, sizes and costs. It was a pleasure dealing with very Professional and knowledgeable Gal's. I will be storing my Household items at this location. Keep up the nice work. Jim Jarvis
Nice and clean location with fair pricing. It was easy to reserve a unit online and to cancel in person when I needed to. It would have been nice to have more flat beds, but overall a great experience.
Clean, easy to access and a very helpful staff. Thank you Scott and Marlene!
Marlene was so helpful! Walked in and she showed us all the different unit options and was super sweet! So happy we picked this location!
Marlene made the experience great. Happy to chance chosen Public Storage in Carlsbad. Thank you 5Stars
Marlene was extremely helpful. We needed a larger unit than the one I booked and she handled everything. It is so nice to have great customer service!
Super clean, nice, with strong AC! Scott was incredibly helpful when we were checking in. Super good experience.
Just rented a 10x10 and moved our stuff in Monday. Very impressed with the service and communication here. Very clean site. Loved everything about our experience and the price was right.
Scott was super helpful and informative with everything. He showed us the unit and answered all of our questions.
Scott was great in answering all of my questions, very knowledgeable and easy to work with. Very much would do business with again!
Scott is very nice and helpful, thank you! :)
Getting set up was super smooth and easy! Loved the friendly service.
The service here was amazing and professional. Scott answered all the questions that I had and was very polite. Prices were pretty decent for what I was looking for. The facility looked clean and well organized as well
I can't say enough nice things about SCOTT - he is so professional, efficient and effective at his job. But most importantly he treats people with respect and courtesy. TWO THUMBS WAY UP!
Scott was phenomenal, punctual and knowledgeable. Got me the right size storage unit and made my entire experience stress free. The property is very clean and in a really nice location.
Great check in today. Scott was awesome friendly and helpful.
Scott helped me out immensely with getting me into a storage on short notice. Walked me around the property which was spotless. Very happy with my experience.
Huge facility,clean and security cameras everywhere.
I stopped in to Public Storage and spoke with Richard who was an A+ in answering all of my many questions and showing me some units. He was patient and thorough in answering the questions I had which made the experience a pleasant one. The facility is clean and well-maintained and in a good location. You can't go wrong by renting a storage spot here especially if Richard is on duty when you stop in!
Very clean facility and helpful staff.
Great customer service at sign up, clean facilities and good rate, but suddenly my bill increased $60/month and nothing they can do about it unless I downsize or move my things. No late payments or anything, just in section 2 of the agreement that they can change rates at any time. Would recommend if you only need storage for a month or two
Richard went above and beyond in helping my dad and I figure out how to ship my bike once retrieved from storage . Excellent facility and excellent customer service!
Thanks Richard for the kind treatment of an impromptu customer and if anyone wondering if I would return to this Public Storage facility, I would gladly say yes, to the property where you were serving up your positive, uplifting attitude. Thanks for making my hour travel, a pleasant one!!!! Daniel
Scott was super helpful and helped me figure out just what I needed. Very friendly and communicative!
Richard was awesome and very helpful! One of the best public storages in Carlsbad bad..super clean!
Enjoy my visit here very helpful Scott was very helpful
Goodnpeople, great place, need to die a better job monitor carts
Always great service and well-maintained.
I was stressing over trying to figure out how to get a storage unit and I was doing it on line and gave up. I decided to call and I spoke with Brenda and she was super helpful and knowledgeable. She broke things down to make it easy to understand and was also very patient. Thank you Brenda!
Very clean place and Amazing customer service I received by Brenda.
I had the best experience at the Carlsbad location. Brenda is amazing and has exceptional customer service!! It was closing time and she was so helpful and did not rush me at all. She is truly an asset! Thank you Brenda!!
Very nice facility brand new quietest place I've ever been to as far as storage places go. Staff was really helpful to me as soon as i arrived
Easy access, clean, friendly staff
The staff was very helpful, Brenda even rescheduled a call so she could show me around and answer my questions. The property is clean, secure and a great location, helped take some of the stress out of moving!
I'm giving my experience and the place five stars for safety, cleanliness, ease of move/process and management customer service. I rented a 10x12 unit a few weeks ago online (I was pleasantly surprised how big the space was/how tall the ceiling). When I arrived to sign agreement/pay, I received nothing but professional service, a helpful walking tour of the space and logistics were all easy. Brenda at the front desk was great. When I returned with movers to move in my things, everything went smoothly. As this site newly opened, I would suggest some interior directional signage indicating where to turn for unit numbers and outdoor signage indicating location of gate keypad (is not near gate as one would expect, but rather closer to office entrance before rounding corner for gate). Thank you folks for the positive experience!
Ya'll know how stressful moving can be..... Today, as I finalized my storage unit, Brenda went above and beyond to see that everything was taken care of. She personally showed us to our new rental unit ( first time can be confusing/overwhelming ) showing up how to use our access code, where my driver can park and unload, a map of the easiest/shortest way to access the building. She was thorough but quick because she understood my movers were being paid by the hour. Who ever hired Brenda was smart. She is an asset to the company. Thank you Brenda for all your help from the mom/daughter & We like to move it movers you so graciously helped! You're the best!
My experience here has been nothing but stellar so far. Brenda has been super helpful with getting the right storage unit i needed. Facilities is very clean and looks brand new. Would highly recommend to friends
I would have rated this place 5 stars purely for the customer service of Brenda she was an amazing help! And expertly guided us to our storage unit. The reason why I give it four stars is due to the horrible placement of the gate opener on the outside side, it's awkwardly placed a distance from the gate and on the inside side by the building. I would recommend at least putting a sign showing its there so people don't pass by it. My group noticed we weren't the only ones who did pass it by and look around the gate area frantically like where is it?
Our experience here was great! We received EXCELLENT service! We found the facility to be well situated, the halls and units were bright & clean, with high ceilings. 🙂
Brenda was great and friendly. Her customer service was outstanding, very informative and helpful. I am a very satisfied customer.
Thank you Brenda for your friendly service. You rock!