Public Storage Self-Storage Units at 6211 Corte Del Abeto, Carlsbad, CA
Address
6211 Corte Del Abeto Carlsbad, CA 92011
Property Open
Mon-Sun 6:00 AM - 9:00 PM
Storage Facility Features
Indoor & Outdoor Storage Units

Small, Medium & Large Storage Units
---

5'x5'

---

5'x10'

---

8'x16'

---

10'x10'

---

10'x15'

---

10'x30'
Nearby Self-Storage Locations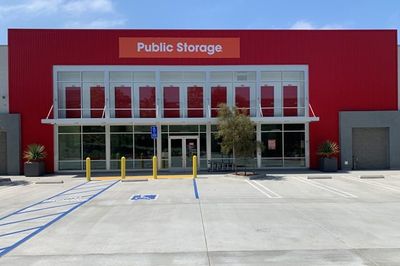 Self Storage Near
2815 Caribou Ct
Carlsbad CA 92010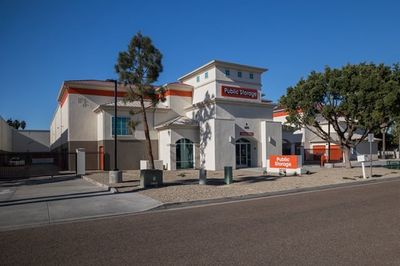 Self Storage Near
3235 Tyler Street
Carlsbad CA 92008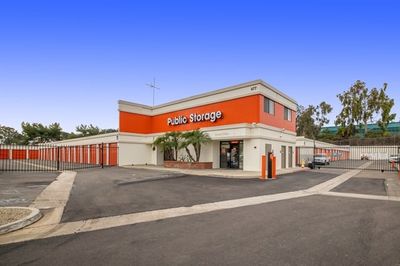 Self Storage Near
477 Stevens Ave
Solana Beach CA 92075
Self-Storage Near Carlsbad
Resources from the Help Center
See what fits in different storage unit sizes
Carlsbad Storage Units Near Palomar Airport Road
At Carlsbad Public Storage, we take pride in helping you find the self storage space needed to stay organized around the house or in the office.
Conveniently located just south of Palomar Airport Road between El Camino Real and Aviara Parkway, we are open 7 days a week and offer a large selection of indoor storage units, as well as the option of outdoor storage units, giving you plenty of choices when looking for cheap storage units.
Right across the street from McClellan-Palomar Airport, a 5x10 storage unit is the perfect place to keep travel gear and flight essentials just minutes from the runway, while a 10x15 storage unit is great for holding surfboards, paddleboards, kayaks and other recreational gear so you can grab it any day of the week on your way to the shore.
With so many global brands using Carlsbad as their corporate headquarters, including Callaway Golf, ViaSat and Jenny Craig, business is always booming in Carlsbad, and we know that sometimes a little extra office storage space can go a long way. Local companies, big and small, can use one of our 10x30 storage units to keep extra office furniture, equipment and supplies all packed up and out of the way.
A steady wave of new residents has contributed to our city's growth year after year, as more and more folks discover what makes Carlsbad such a wonderful place to call home.
When the time comes to find some extra storage space for residential or commercial storage needs in San Diego's North County, don't hesitate to call on our friendly staff at Public Storage in Carlsbad.
At Public Storage, You'll Always Find...
Keypad Access

Friendly Staff

Month-to-Month Rent

Moving Supplies Available

Free Parking

Well-Lit Facilities
Reviews
( 391)
I recently had the pleasure of renting a storage unit at this Public Storage location, and I couldn't be happier with my experience. Tucked away at the end of a quiet cul-de-sac, the facility itself is in a great, secure area. The property is clean and well-maintained, which immediately caught my eye. However, what really sets this place apart is the incredible staff. Tammy, in particular, is an absolute gem. She's not just someone who's doing her job; she genuinely loves what she does, and it shows. From her infectious smile to her color-coordinated Public Storage orange nails, she makes sure to walk you through the entire rental process, ensuring that you're comfortable every step of the way. But it's not just Tammy; Desiree also stands out for her remarkable customer service. When I was concerned about a rent increase, she addressed my concerns promptly and efficiently, adjusting the rate back to something much more reasonable—all within a matter of minutes during our phone call. And let's not forget Andra, whose warmth and friendliness make you feel like you're more than just a customer. In an era where great customer service is becoming increasingly rare, Andra and the team here are a breath of fresh air. From the facilities to the impeccable customer service, this Public Storage location is truly a 5-star experience. If you're looking for storage solutions, look no further. I'll be recommending this place to everyone I know.
Tammy is exceptional. She warmly welcomes you into the office and efficiently helps you find the perfect unit. She's proactive in managing the property and quickly addresses any concerns.
Desiree was very helpful. The place is clean with a huge cart and elevator to make move-in easy.
Tammy was very helpful with everything I needed to get in and out of the storage facility.
Both elevators are out of order and the door at the top of the stairway is locked so I can't access my unit.
Tammy is great! She is professional and thorough. She suggests much needed accessories. Facilities are clean.
This location is very nice and at end of a cul-de-sac. Then you have Tammy who loves her job and has a great smile and makes sure she walks you through the process with her color coordinated public storage orange nails
Desiree is good to work with, I was upset they jacked the rent $80 in one go so I called in. In less than 5 minutes we spoke and she was able to reverse the charge and get it back to more reasonable rate. Watch the prices when you are on autopay, you might get a nasty surprise if you aren't watching. If yon't say anything then the charges stay. I don't agree with this tactic, but they are in the business of making money and will ding your card with increasing rates over time. CHECK YOUR BILL OFTEN!!
Tammy and Yadira are great employees! They are patient and understanding. They listened to all my concerns and questions and never made me feel rushed or pressured.
Horrible !!!!! Beware Bait & switch scam here ! Go in at affordable & rent goes Up every few months !!!!!!! I would NEVER recommend this Ever ! Their friends must have written the Few Good Reviews , really . Checking a lawyer to find My legal rights !!!!!!!!
2nd review. After a great move-in experience, I became disillusioned because the rent kept going up. Starting at $180 per month, it was at $280 when we left. Over the very wet spring the roof leaked, resulting in damaged photos, books, and furniture. When we first moved in we were told that insurance was mandatory, so we paid for that at $10/month. We moved our stuff out, terminated the rental agreement. When we called the Public Storage insurance affiliate, we were told that we had terminated our insurance. I said we had not terminated it. They said we had to prove it. When I went to access the account, they had deleted it and I had no access to those. Sound like a scam?
I have had a unit here for over 7 years and then downsized and met Desiree who was super amazing and helpful with everything I needed and more! Highly recommend!
If you're planning to stay with this place more than a year plan for multiple increase of rates every year. within the 3 years I used this place the price increased $135. They know it's hard to move out all your stuff into another place.
Tammy was so helpful and amazing!! Very clean and easy and simple.
Tammy is awesome. She makes you feel welcome when you come into the office and she is eager to help you find the right unit that will fit your needs. She stays on top of things at the property and addresses all concerns that may arise.
Very well kept & clean. Manager Andra is amazing! Im glad she was here to help.
Great storage, clean and professional. Staff helpful and responsive. Christian and Tammy rock!
Thank you so much Andra for all your help. I had a great experience with y'all. I will definitely send people your way. Keep up the great customer service because that's not a thing nowadays people are rude but you were amazing thank you.
Great place & the service is outstanding! Thank you to the young women in the office for making this experience easy & efficient.
Huge shoutout to Tammy and Emma! I refer my Marines here when they need help with storage. Whether you need boxes, damp checks for moisture, locks, or a space to store some things….they've got everything covered! Thank you both for always taking care of the Marines and having such a great attitude. Semper Fidelis!
Tammy is amazing! Had a great experience, Tammy was very kind and helpful. Definitely recommending this Public Storage to all my friends and family.
I wish a 0 star rating was an option honestly. Tammy (site manager) is the most unprofessional individual I have ever encountered. My father rented units and unfortunately passed away. All I have tried to do since he died in February is cooperate and pay the contracted amount of money to get my fathers personal belongings. I have never once refused to pay and I have been in constant contact attempting to close the accounts and take possession of my father's belongings. I continue to be put off - never ending unreturned calls, double booked and last minute canceled appointments. All I want to do is to give the facility what they are owed and take what is legally now mine, but Tammy continues to put me off until we roll into another month, which racks up more money owed. I'm not stupid and I know why they don't want to close the accounts in a timely manner - obviously they make more money that way.. This is not only extremely unprofessional and unethical behavior, but also just plain nasty. I will absolutely spread word that Public Storage employs a wildly unprofessional individual.
The big selling point about this Public Storage location is the assistance and personal help I received from the facility manager Kevin. The rates were satisfactory for me; however, it was the personal service I received from Kevin that made it a pleasant transaction. I am a satisfied customer! Thank you Kevin!
Kevin Provided excellent customer service and help me with all of my storage needs
I want to personally thank Anthony & Bill for providing such great service. Public Storage is air conditioned & they provide security. The facility is the very best which I highly recommend !
Janelle, Tammy and zorina was so helpful and very friendly
Came in today to check on their availability and sizes. Three women working there. It's Saturday! They all looked happy, very busy and nobody is there but me to assist. They are wonderful and so knowledgeable. Zerena, Tammi and Jenelle (i hope i got their names right) keep up the positive attitude. Thank you!
This was so easy and Bill gave me wonderful service!!!
Fatima. was so great to me
Tammy and the crew is the most amazing and highly professional crew I have ever dealt with in my 20+ years of traveling our beautiful country and renting at a multitude of storage facilities for my business items. I actually feel blessed to have rented here with the beyond exceptional customer service that this highly qualified team offers. It is like a spa for storage units really. I was amazed at the perfection in cleanliness the team effects. My unit was perfect and highly secure. Having been broken into before ao really appreciate the reinforcement. Thank you for a remarkable and memorable experience😊🙏🏽
Marlene was awesome and professional.
Awesome experience and simple process. Friendly service from Tammy and Marlene! Fantastic service.
Amazing personal willing to help and assist you. Marlene and Tammy, you are the best. Please keep up the great work. Thanks for being so human.
Thank you Tammy for the wonderful service! Always cheerful and helpful. Come see her for your storage needs.
Thank you so much! Dominique, one of the employees was really nice and helpful! 💓 Update: one year ago I rented here and now I'm doing it again with professional people Tammy is super helpful and the best!!!
Do NOT rent from this place. They are shady and will bait and switch you. I moved into this facility from another one that I had used in the area which had only raised my rent by a total of about $25 in 12 years. This place raised my rent by $50 within 3 months and then at just over a year they jacked it up almost another $100. Almost $150 increase within just over a year. Don't fall for whatever initial price they offer you because its merely a mirage. FTR, This is my first ever google review as I typically don't bother complaining, but this one had to be done.
Staff is friendly, helpful, and professional. Storage units are clean and well kept. Business is run efficiently.
The management is great! The place is clean, has great temperature control, and nice parking.
Scott really helped me out , I was changing from one unit to another. He took care of everything so that I was able to get it done.
I recently had a wonderful experience with Tammy, the property manager at this location. If you appreciate dealing with a human being who genuinely cares, instead of the commonplace otherwise, I suggest you come in and talk to Tammy. She's wonderful and she will take care of you.
Scott and Tammy were great! Super helpful and friendly.😊
Helpful and friendly staff!
Clean facility and always great, friendly service.
People live in the storage units .. shady people and trashy
So originally I was looking to move across the coast and I wasn't sure if I should down size or just get a unit to accommodate everything. Luckily I called and Scott was ready to answer all of my questions in terms of pricing and sizes. Very friendly and understanding of my situation. 6/5 stars if I could. Hours of accessibility are widely available. Looking forward to my travels and a piece of mind!
Scott was a big help during my time at this location. He is very polite and knowledgeable. I wish there were more people like him.
Super helpful. Safe area for car storage. App is super convenient and easy to use.
Tammy and staff have always been very pleasant and helpful. Been there for years and will stay!
Prices go up too high and too soon after you move in. Really like thier hands free app that allows you to enter/ leave without touching the keypad or getting out of the car BUT do not like all the parking spaces that have turned into rental slots next to the south side entrance. Leave some spaces for tenants to park in by the doors.
Very friendly and helpful staff. Clean and climate controlled.
Personnel very kind and helpful
Thanks to the great staff at Public Storage in Carlsbad, CA. They were really great helping close out an account that had been left open because locks hadn't been taken off. They called and walked us through the process and didn't charge for the month even though we were four days late given access back to them. Excellent customer service.
I stopped in to pay my bill. I had a concern about my bill. The service to resolve my question was superb. These 3 staffers are the best & deserve a 10 instead of only 5 stars available. The hours are far better than anywhere else. Thank You Tammy for the best service
Came in to get info and price today. And was helped out with great service. Thanks guys
Dylan was a great worker and gave helpful service when going to public storage.
Trisha was a great worker.
Dylan was great helped us at the end of his day and didn't complain or have an attitude
I've been renting for over a year and I cannot say enough about this storage unit. The access hours are great and I can come and go when I please. Those looking for short term or long term, this is the place to go.
Excellent service and courteous staff Tammy is the best.
The staff here is very friendly and helpful. Tammy is wonderful and was so friendly
We have stored our things here for about 9 months while we tried to find a permanent residence after moving from the East Coast. We had a good experience - the staff was always helpful and attentive. One time we forgot to lock our unit back up, and they called us to let us know. It was always easy to get in and out if we needed something, and the pricing was reasonable. Would definitely recommend this facility to anyone who has storage needs.
Amazing customer service and a very clean, spacious property. They're willing to work with you in order to ensure customer satisfaction. Tammy, an employee, was very accommodating and informative.
Very professional and detailed
Tammy took well care of me even when I had issues providing her with the info needed. And by far this was the best price I found and well kept clean
Tammy is great person helped me to get my unit
This review is for Tammy J. I must say she offers exceptional customer service. She is friendly at all times. When you call on the phone she is polite, eager to help with your needs and is great with reminders also. She is an asset to Public Storage. I appreciate the great customer service. Thank you for your help, Tammy! Keep up the positive attitude.
Great property! Dominique was awesome
Tammy and Dominique are amazing this is a very safe an high tech property its very clean as well
As we are doing the remodel the lady's working here have been wonderful and very helpful I recommend this location for all your storage needs they are fast, respectful and very very very polite you couldn't ask for better
Great location, safe and clean. Tammy went above and beyond for me. I was looking for a place to park a dump trailer, and she let me know about the option to use a parking spot. She let me know there would be some newly painted spots in the upcoming week or so. She took down my contact information, and sure enough she called me when they were made available! She was friendly, smart, educated about her business, and took pride in helping out the customer. Great place to do business!
Very friendly and helpful
So today I was helped by Tammy and Domi. They both were a great help, and I have been a storage unit holder for a little over a year. They knew just how to help and listened when I have some concerns.
Tammy is superb and gorgeous to boot plus her amazing ability to guide me through the storage world and Domi is wonderful.
What can I say about Domi she's awesome, makes sure property looks good and keeps my things safe , she's my go to person for any storage needs. 🙂🙂🙂
Awesome customer service. It was early Saturday morning and I needed help with my storage unit in Tempe, AZ. I needed to have a lock cut off. An unusual issue when accomplished remotely and my request was less then "perfectly clear". Domi & Tammy know what forms I needed and were quick to contact my rep in Arizona with a couple of questions that I couldn't answer. They we're very polite and seemed to enjoy helping me. I was back in business and on my way. Thank Public Storage
TAMMY IS THE BEST She cares about the customer and helps find the best deal.
Have a storage unit here along with their other location in Carlsbad. Again, their units are newer, clean, easily accessible. They have an App which allows easy access, bill pay, reminders etc... Tammy is fabulous. Super friendly and helpful.
My name is tuukament I'm useing my uncles phone to tell you the experience I had when I went in there Dominique answered any of my questions that I had she told me what bases are opening tricks on me what you look like and everything and so I'm just trying to look around to see who has the best storage so I can put my stuff in there
Excellent customer service and a great storage place!
Seamless service. Tammy guided us through the process. It was so easy.
Love this location. Clean, safe and easy access. Vida is the best!
Great rates but go knowing that you have to purchase their insurance which adds $11 per month to rate listed. The website is great I suggest setting up your account right away and setting autopay.
Vida gave me good customer service very helpful I recommend every one to come see vida
Tammy and Domi were so helpful! Tammy checked me in when we first got here and Domi helped check me out, along with Tammy. Such a great experience! If you need storage, I recommend Public Storage on Corte Del Abto.
Tammy was lovely here, always helpful. Thanks for your help!
Clean, efficient, affordable, friendly
Secure and Clean Facilities, easy access,.... Was affordable..,, Stayed almost (5) years.
I had 2 storage units while moving out of state. Through Covid especially, this Public Storage FAR succeeded the other company in my customer satisfaction in ALL areas! They are always friendly, available and/or get back to you promptly. Facility is clean and bright. Does not feel dark or dismal like other storages. I'm grateful for their service, recommend it and would use it again if needed!
Setup was easy and straight forward. Place looks good, feels secure, clean! Thank you Domi!
Great customer service, thanks Tami, Dom, District Manager and the entire team for being so great!
Vida is super helpful and the property is clean. Great place to rent.
This public storage is great! Very accessible, and a great location. Vida and Domi were great at helping me out whenever I came to them with a question or a concern. I'd definitely recommend and give an overall 5 star rating( if I could give more stars I would). Ask for Vida and Domi to help y'all out. You won't regret it!
My experience there was was really good I had a lot of questions about the rental and in the rules and all the questions that I had to ask Dominique Betancourt help me out a lot she has really good personality and I might come back and rent a unit from you guys
Domi and Tammy couldn't have been more helpful and professional. The facility is clean, neat and modern.
First, the basics. Good location, off the beaten path if you want that. Even the indoor spaces are very accessible (though they do lock the carts away at night... a good to know thing.) But storage lockers are all about the same, so reviews come down to customer service. The five stars here are for Tammy. I won't go into the boring details, but I was in a situation and Tammy used a lot of common sense to help me out of it. Rather than just being the person behind the counter who just wanted to get the transaction done and over, she showed genuine empathy and understanding and I SO APPRECIATED THAT. Especially after two 11 hour days helping a friend move in 95 degree heat and humidity. You know after two days of that, you need an understanding ear and not one more thing that's not going right. :-) Anyway, I recommended Public Storage to my friend because I pass one every day on my way to the gym and always thought they looked great. Please note ANY storage facility is going to have storage for you as well as a healthy share of red tape so it can protect you and your space. But not every storage facility has real people ready to actually help you. Not everyplace has a Tammy. THANK YOU AGAIN!
Great location and staff. I had a lot of questions about vacating my storage unit and Tammy was very helpful and took the time to thoroughly answer all of my questions.
Natalie was super helpful
Tammy is always happy to help anyone who walks through the front door. We get our damp checks here to keep moisture out of the house.
The staff are helpful and friendly (Tammy in particular). The office and facilities are clean. The property is well kept, and rates are competitive. 5 starts for public storage!
I was a short time customer but had a great experience. Thanks to the PUBLIC STORAGE team and those who helped me.
Lied to by the staff there and now being made to pay 3 weeks storage that is not needed. Very dissatisfied with the service.
Vida and domi are awesome u need storage come here.
Amazing customer service!! Was helped by Tammy! 100% recommend
Meh... another large storage place. Wouldnt let public use public restroom.
The two ladies that work here are very dedicated and professional . You would think they own stock in the company . I get a phone call every month reminding me to make my payment before a late fee gets tacked on. They probably don't realize how much I appreciate that. I should let them know THANK YOU!!
The lights need to be fixed. It gets real dark at my storage. I told the staff but nothing got done. This was in January. Now it's going to be June. Hope this issue can be resolved soon.
Domi is very dedicated to her job. She memorize the terms and conditions on the contract that made me impressed and she tour me out of my storage space and point out instruction and directions very well. She's very friendly and you wont get intimidated asking her questions about the business. I give her 5stars for her dedication in her job.
We went to rent a storage place. The woman working in the office was rude to my wife and I because we wanted to understand where the available units were. We went elsewhere that turned out to be less expensive and the people were much nicer.
To help other great price and great location. Friendly staff and Vida and Tammy helpful
Very bad service dont recommend it at all The lady their is rude
Tammy and Domi are very nice and willing to help you with anything :)
Vida was awesome clean facility.
Tammy and Vida were very helpful and friendly. The price was very reasonable and set up was quick. Would recommend if you need storage.
Tammy was very helpful and very professional. Thank you for everything and being patience with me.
Nice and clean, decently priced storage and good hours. Vida was very helpful.
Clean facility and helpful staff, especially big thanks to Tammy, who helped me on the process.
Tammyta and Vida were very helpful with my sign up, tour of facilities, and choosing the right size of space and boxes for my move in!!!
Tammy was amazing. She made things so pleasant. THANK YOU
Dominique and vida are great they helped me with all my storage needs if you need expertes to help u plan and get the right unit there your go to people thank you for all your wonderful service i look forward to storing with public storage
The local office is fantastic (Tammy). They know how to work within the system (corporate isn't so great and as the review from before at the bottom of this explains they don't communicate). The local office has great customer service (they explain things clearly and work with you). (Great improvements since I wrote the following and gave only two stars seven months ago - it's still very clean): The security gate has been broken often. The light switch has never been fixed and I have to use a wrench to turn it on (3 months in). There is no way to talk to a person if the office is closed (just a voice tree). Calls are not returned. It is clean.
Come see Tammy! She is so wonderful and SUPER helpful. Love this place already!
Great customer service, Tammy is really nice!
Tammy and Whitley helped us with everything. Great prices
Whitley and Tammy were fantastic
They take my drivers license to borrow a cart and everytime they just leave the office without giving my license back. It is ridiculous to leave while you are still holding someones only form of identification!
Staff is very friendly, and helpful
I'd totally recommend this place to friends and family because of the service I get when I go in. But I only work with one lady whitley, is her name. 😊🥰 shes so sweet and caring. I love how she helps with out hesitation.
vida is great. i would for sure be coming back and asking for her
Dominique was extremely knowledgeable and very helpful! Made the process easy! Thank you!
Natalie was great. Definitely come rent here
Vida and domi are great. Clean and professional. Friendly courteous always smiling funny and helpful couldn't ask for a better team
The ladies were lovely. Gave us a tour and were friendly and kind in answering all questions my mother had on the unit!!! Very clean inside and out
I don't like how they increase prices ever so often for no apparent reason, every visit there was something else wrong with the place: there was a lady that worked the front desk whom was very nice and friendly, i wish I could recall her name to give her a shout out!
Dominique and the staff at this Public Storage rock! They are always professional, helpful and willing to help out. I'd recommend them to anyone seeking storage.
I would give more stars but I've done business here for over 3 years and the bathroom handle has been broken for almost as long.
Super friendly staff (Vida and Whitley) easy to talk to and really helped me out! Never worried about my things not being safe once from March - oct
Wonderful staff, clean facility. Recommend 100%!
Excellent facility, friendly staff, and perfect place in Carlsbad to store your items!
Had great service and Dominic was a lot of help at public storage very nice people and very helpful and a very clean facility highly recommended to store here
In over a year that I been here I only got to borrow the flat card about 3 times. You typically find the sign that says will be back at certain time. It doesn't matter if it's in the afternoon or evening you hardly find someone available. They should always have someone available to assist costumers.
Raised my rent 30% after 4 months!!! This place is a complete scam! Beware they will give you a good rate, wait for you to fill your unit for a few months then immediately increase your unit rental. I am sure this is good business for them, but its terrible for the customer, and they could not....care...less. You have been warned :(
Dominique is a sweetheart and is so helpful!
Awesome staff great accommodation!!! Dominique is great!!!
The staff is great. The facility is clean, quiet, safe and secure. The prices are decent and it stays open everyday from 6:00am - 9:00pm, which is longer than most of the other facilities I've looked at.
Dominique was extremely knowledgeable and kind, she answered all my questions. This was my first time renting from a storage company and I'm glad I chose this one.
I had great such great service from Stacy she was so informative and listened to my needs made the process so easy great service
Stacy, Whitley & Vida were very helpful getting me set up with my storage unit.
I went into public storage and I had the best experience. Dominique and Vida were so sweet and helpful, I recomend them to help you!
Awesome helpful workers, Very clean facility,
The best place I've ever been to! The manager is so friendly and it's super clean ! I'll make sure to come back 👍🏻😁
The best Facility friendly very clean location
Excellent service friendly staff
No carts for moving heavy objects.
Stacy was a great help with a great personality ❤️.
Thank u vida for such an amazing job luv my unit
Vida was awesome. She made the process very easy! Location was nice, safe, and clean.
Dominique and Vida are wonderful!!! Very professional, friendly and helpful.
Vida is a treasure! Great customer service !!
Wonderful staff, thank you Mercedes! Clean building.
Thanks to Vida for providing great customer service I will recommend to family and friends I'm really satisfied with my storage unit
OMG I love this public storage ! Always show good customer service, Vida is always helpful and respectful, putting the customers first. THIS PUBLIC STORAGE WONT LET YOU DOWN. Make sure If you come to public storage look for Vida to help you out.
Quick and easy rental; professional and friendly staff. There's also plenty of room for moving trucks, unlike other facilities. Thank you PS!
Great property, clean, wonderful staff...So happy I rented here!
My vote goes to VIDA for President!!!!!!!! She's helpful n wonderful. Love Vids
Vida and Domi are so completely helpful! They are the best I would've been lost without them. If you have any public storage needs or questions I would absolutely contact them, full of information and great advice
The girls Dominique and vida were amazing and have done a wonderful job helping me with my storage
Mercedes was very nice, helpful and professional. Storage unit was clean and the holiday sale price came at the perfect time.
Perfect service . Vida was very kindly and made everything simple and easy!
Vida is a storage expert! She helped us with all our storage needs and packing supplies!
Outstanding service and facility! Vida has exceeded my expectations to the moon and back! I highly recommend this facility for anyone in need of storage!
I am giving 5 stars because I like to watch horror movies, and tonight I was inside one...I got there around 825pm, is my second time there. I got on the elevator then walk to my unit wich is a few aisles down and almost around the middle of the long aisle. It took me less then a minute to put some stuff in and take some other stuff out, I placed the lock and I took a few steps and all the sudden I heard the sound of one single key hitting the ground. I got a bit concern and I felt the scary chills which is fine, I am pretty brave about that. But I kind of rush to the elevator in case there was someone looking for trouble, you never know. I rushed again and drove around the parking lot....I was hopping I will see other cars in the parking lot on my way out...but of course not... I was there alone! I wonder if I should have gone and try to find where the key sound came from, as I am writting this I am feeling the chills again. But I really do not want to find a ghost or something worst...forget that...I am calling tomorrow to ask them to review the cameras...If no one was there but myself. I am sure something spooky is happening at night. Especially when you are there alone. The place is actually perfect for a horror movie.
Great service! Mercedes was awesome 😎
Very friendly and helpful staff.
Vida was a great help when we rented our space! The location of the unit worked well for us and we purchased all the boxes we need. Thanks again!!
I secured the rate and size of my unit online and was able to come into the facility for a tour then finalize the specific space and contract at my convenience. The facility is well maintained, secure and has great access hours. With this being my first experience with a storage unit, I have been very pleased with the process.
De todos los Storage que visite es el mejor y con muy buenos precios, La Srta. Vida nos ayudo con todas las preguntas que teniamos, siempre muy amable y atenta a nuestras preguntas. Gracias por el gran servicio que nos brindaron !!!
If you ever think about wanting to use public storage ... DONT!!!!!!! My unit was under a roof leak and they didn't do ANYTHING to help. They wouldn't even give me a dry unit to move my stuff into unless i paid for BOTH UNITS!!! I still have to pay for my broken unit that my stuff is still in and the roof damage is still unfixed! It's suppose to rain tomorrow and next week and they won't do anything to protect my stuff or help me move it! I was basically told i just have to figure it all out myself! This is my whole house, this is my life!!! This is the worse company I've ever had to deal with!!!!!!
I have been using this location for almost 4 years. Vida has been TREMENDOUS in all aspects during my time here. She has assisted me during times of hardship, and resolved any situation before it became a mess. I live 3 hours away and she ensures the property, and the 2 units that I have are well maintained and secure. If it wasn't for Vida, I would seek another storage location elsewhere. Very helpful and professional at her job.
Dominique and vida did a great job helping me with a couple questions I had the other day. They were very happy to help and answered everything I needed to know. Dominque's customer service was fantastic and if I needed to rent a storage unit I would go to her.
I've been a customer here for 10 years and have always received excellent friendly service
Vida was great she made my looking for storage as easy as can be. Had many questions that she answered and showed me the space that worked perfect for me. Do recommend this location.
Professional, helpful, and friendly. Thanks Vida and Stacy
Have not had very good experiences with storage companies before however came in to this location Vida helped me knew what I needed just by hearing what I was storing got right size with $1 first month she took her time made sure I was taken care of . I highly recommend this location she is kind and helpful. You need storage ask for Vida....
It is a very clean storage facility. Hours are nice. Vida and Dominique are very friendly and knowable. I would recommend this establishment to anyone who asks.
Vida was great! She's super friendly and helpful. I've never had someone help me that was as kind and friendly as she is. Thank You!
Visa was Amazing today!!! Very helpful and knowledgeable. Thank you for your assistance.
Natalie and Regina were great
I love this storage facility it's always so clean every time I go in and the staff is always super friendly and help with my needs I hope to store with you guys for a long time thank you for being such an amazing place
I would like to make a comment concerning Aaron. He was not only the kindest employee I've run into lately and knowing his job well, he made me feel completely relaxed and made the moving process easier. I hope you find more like him.
Jill and Regina were great and helped me out A lot. Big storage facility that was so clean and well kept. THANKS A BUNCH
Gina, jr, and natalia rocks
Natalie and Gina were great
Jill and Regina are absolutely amazing. They were so accommodating during my crazy move. I would HIGHLY recommend this storage facility!!
Only 4 carts for 1200 units so if you don't have your own be prepared to wait. Two all gender restrooms neither of which lock. One out of soap the other out of tissue. Not the best kept place
Good service and clean spaces. There were plenty of dollies and carts to be loaned at no charge. We've had our items here for an extended time with no worries because they have great security and the personnel go above and beyond to help. Twice now they've received shipments for us although they didnt have to. I highly recommend this storage place.
Natalie JR and Gina were Great
Kit and JR were very helpful !
Regina was great. Very pleasant and happy
Natalie And Gina We're Fantastic
I don't normally take the time to review places, but the service here was so good I had too! Kit and Regina are fantastic, very sweet and helpful! Helped me with all my needs. Place is clean and safe. Would definitely recommend.
Regina Rocks this place. Thank you
Regina was Magical. great service
J.R. is definitely the best dude for this job at this site. The back stairwells is clean because of J.R.
Full of rats... move your storage if it's here. We walked out. Great customer service, he did tell us as we were looking at all the droppings EVERYWHERE!!
Kelly is amazing! Helped my mom out greatly and patiently. Really appreciate all her help
Regina was very friendly and helpful! Great customer service!
JR is awesome! Took care of me 100%. Need Storage? Try Public Storage on Corte Del Abeto in Csbad!
Awesome service!! Thank u Kit, Kelly, JR n the crew!
Kit and JR got me out a recent jam as they helped me with car trouble . Can say enough about the help I got. Thx guys .
KIT &JR. WERE VERY HELPFUL.
JR Was very helpful! Great service.
I stored my household belongings and boarded a plan to Hawai'i for 2 months, upon my return I find my 50" TV has been stolen from my unit. I was told by the staff another tenant had been evicted recently and had stolen property in his unit . I cannot imagine how it must feel to have your home broken into, because I had only my TV stolen and I feel so violated. The Manager on duty's response was pretty much "well at least you have insurance". I'm only home (SD) for 4 days, Not enough time to find a different storage and move my things, which would cost me even more to move. I do not feel safe at all leaving my things here. Yes you can put a nice strong lock on the door, you could put two locks on the door, however anybody can walk across the top of these units and look in and see what you have and break in to what is basically chicken wire covering the top of the units . Which is not even bolted down, I pushed up on this and several places and it came up. The chicken wire type cover seems to only be attached on the corners and one or two spots in the middle of the unit wall. The top of the units should be secure along each wall of your unit, not just corners. I have to take my high dollar items and store them at a friends home. While paying for "secure storage"!!! I'm so upset, this is taking up my short amount of time home (police report, filing loss claim with insurance company). Oh and read the small print, it doesn't cover much (standard $11mo insurance coverage $3,000). 0 stars!!! Can't wait to get back home and get my things out of storage, if it's still there when I get back. Flying off to another state with stomache ache and stress, thanks Public Storage!
Kit, thank you for your great customer service.
Very clean, friendly enough staff, really big so you may have to park far from your unit. JR was extremely helpful as I had really large bulky heavy items. He is the epitome of customer service which is hard to find these days.
J.R and Natalie are great here they answered all my questions and are super nice!! Thank you so much for all the help
Natalie and Vida are super Stars! I'm here getting a second unit. Prices are great and so is the service. I always go to Public storage first when I need storage. Thanks Natalie and Vida
Vida was very helpful and gave great service!
Vida And Natalie were very helpful! They had great Deals. Thank you
Clean storage facility. Staff is ok. Prices are ok.
DOUG AND CAMILLE ROCK AT PUBLIC STORAGE..on Tyler @ Public Storage!
Vida is a pleasure to deal with, I love her personality and professionalism.
I called just to get a quote and of-course they wanted to give me their sales pitch which is fine, whatever. After I got the quote, they kept trying to sell me but I got the info I needed and was ready to move on. I tried to politely end the call and wasn't permitted so I hung up. Then they called me back and I explained that I got what I needed and didn't want to talk anymore. Instead of understanding they kept trying to sell me so I hung up again. They kept calling me back repeatedly and I finally answered and yelled at them to stop calling me, then hung up. They called again..... I was actually seriously considering using them but with this kind of harassment I will never use them, ever.
Vida is awesome! This is my 2nd time using this place so needless to say I would highly recommend this facility
Great customer service and always professional. Vida and Jonette.
Doug provided me the best customer experience I've had in over a year at any business. I got stuck in traffic on my way from LA and was running late for my appointment which was scheduled for the latest possible time slot. I called Doug and explained my situation. He was so understanding and I told him I'd call him if I wasn't going to make it in time. As my appointment time approached, I went to call Doug to tell him I would be late and my phone died! I was worried I would have to pay a whole extra day for my U-Haul, meaning another $200!! I arrived 25 minutes late to my appointment; 5 minutes before Doug was supposed to go home. He stayed late and assisted me with the most positive attitude imaginable even after he had to restart the whole registration process to ensure I received my first month for $1. Doug also runs the Carlsbad Village location so I'm sure it deserves a 5 star rating as well. Thanks Doug! I will be recommend Doug's Public Storage locations to all my friends and family. World class service.
Natalie and vida were awesome great service
Vida gave me good customer service I recommend this public storage
I recently rented a storage facility at this location and i was very very impressed with property manager Vida. She was polite and very helpful she took her time to explain the process while handling some rude ignorant customer who was being disrespectful to her(i was about to call the cops on that guy). But she handled it excellently and by the books that showed me i can have my wife stop by herself without me being around knowing vida could take care of idiots like that one rude customer she had to face. Bottom line i have always did my business with public storage they are an amazing company and now that i did my business with vida being the face of the company i would recommend y friends and family to do business with public storage only. Good job vida it took a while for me to write the review but you did an amazing job helping me and my wife during the moving process.
I would give this facility 5 stars if it was cleaned at least once every 6 months. I have gone there for the past 4 years and the stairs we use have always been disgusting. Human hair as well as debris all over the stairway. The carpet is always dirty. Im tired of the back access door being broken..for at least a year and no fix. Other than that it's a safe place for storage. The gentleman in the office is always informative, helpful, & professional.
Myriam was very helpful and so was Doug
Bushra was very helpful and answered all my concerns and questions. Very happy with the service.
I loath storage facilities this one no exception, sure they rent me a 10 x 10 but no where in any of their marketing material do they advertise nor disclose the fact that there is a large I beam column in the corner of the unit shaving off an approximate 3 square feet. I took the unit only because they claimed they had no other 10 x 10's at that time. Yeah what ever. I'm an executive facilities manager and this place is poorly maintained. I've been in this unit since 12/16 and there are still un-repaired items and filth. To boot add the BS forced insurance which they profit on, and their mafioso rent collecting tactics. Pay the vig! Fugetaboutit
Natalie ,Stephen and Kelly have Great customer service Thanks
A great experience with Vida she had the answers to our questions and provided great customer service.
Natalie and vida were great. Good deals
The service is average. Cost goes up after a some months. They don;t have enough dollies to carry stuff for the amount they charge, but specially they have really bad costumer service at Camino del Abeto.
Nice, clean facility. Staff is friendly and helpful. Having a safe place for my stuff is a load off my mind. I've been a customer here for more than three years. My only complaint is that the stairwells and bathroom need to be cleaner.
Outstanding customer service very polite and helpful
Great place: accommodating staff, consistent climate control, and easily accessible. They have moving equipment on site if needed.
Natalie and Donna were amazing
Five stars is not enough, had my stuff here for months and months and never had a worry for its safety. The staff (especially Britney) were courteous, knowledgeable in the check ins and outs. They could be blindfolded and still find your unit! Location off main street a nice bonus. Would rent again with them
This place is awesome! Brittney and Cynthia are great customer service and down to earth. They have helped me with my unit and provided the right information I needed to know. I really recommend this place! Go Team!
After a long day packing I was greeted with a friendly smile. Brittney had great customer service, knowledgeable and was so kind and helpful in finding the right space for all my stuff. I wouldn't go anywhere else.
My husband and I are relocating and we needed to store our furniture so I called various storages places and got very frustrated then I called Public Storage in Carlsbad Ca and got a very very friendly young lady on the line she answered the phone very professional so I knew she could help me out! To make a long story short furniture is in storage she I'm happy thanks alot ms. Cynthia Guinn your a awesome lady keep up the good work we need more employees like you!!
Robert has been amazing, kind, and he listens. Give him a raise!! He has been very helpful even with the vacating process. Thank you so much for all of your help and I will refer public storage to my friends.
Cynthia was great, funny and very helpful.
Great customer service, thank you trainee tom, cynthia, and brittney. Staying to help right up to the last minute. Public stirage, your team is amazing!!!
Rob helped me find a unit that was was lit and clean. Rob answered all my questions and made the process easy to understand. Thank you
I Love Public Storage The Manager Vida Is A Cool Person She Made Me Feel At Home With Her Kindness... She Gets A A+ From Me Best Customer Service
I like this storage facility better than the one in pa rob&vida were extra helpful. Love it
Very friendly & helpful & courteous! Thank you!
Josh is great and provides a high level of customer service. Very friendly!!!
Great customer service. Easy and smooth sign up for new customers.
I hd a really great experience with renting from public storage in carlsbad. Joshua eric and stephen are great employees and very knowlegable. They gave me all the supplies I needed to protect my stuff in storage!
Great rates friendly staff and awesome location.
Best customer service I've seen in a while from a business and genuinely nice people. I'm glad we could do business :)
Eric and Josh had great customer service and were very understanding to my storage needs they were also very nice and pleasant to talk to.
Josh was very helpful, gave me several options and was very courteous and professional. Would recommend to others if looking for a place to store your belongings.
I have had other storage units in various locations, but I would have to say that this is the absolute best. The employee, I believe his name is also Andrew was great. He answered all the questions I had and was able to help me tremendously. I would recommend anyone!
I went in not knowing what exactly I wanted and how big I would need and I felt very please with the service I received, thanks Josh :) - Khy Lee
Josh was very helpful and friendly.i would recommend this place ..Excellent service !!
Cinnamon was very very helpful with customizing a storage unit to fit our direct needs! Her expertise and professionalism greatly enhanced and eased my stresses associated with moving! Highly recommend to anyone who needs temporary or permanent storage!
Cinnamon is what makes this location worthwhile! Besides the excellent customer service, this location is always very clean, secure, and easy to access (low traffic volume in surrounding area).
Cinnamon was extremely polite, courteous and very professional. Without her complete attention to detail and flawless energy, I would not have been so comfortable with the unit she had rented me. She was a complete Joy to work with.
I recently rented a storage unit from Public Storage. The price of the unit was reasonable and the customer service was very good. Cinnamon and Ivan did a great job!
Great service - w/ Ivan and Ellis. Recommended.
Doug and Cinnamon were very efficient and caring today. I could not open my unit and they fixed it quickly. Cinnamon even had a bottle of water for me once we finished. Thanks for taking the stress out of this very stressful situation!
Cinnamon(great name) was extremely helpful with my move-in and helped me make sense of the things I was storing. She is definitely a huge asset to his property!! Cheers.
Cinnamon was friendly, helpful, and efficient. Customer service was 5 star. I came in at closing, and she still provided the best customer service. She was concerned about my needs, and she actually helped me realize that I only needed a smaller unit than I thought, and it saved me money!
Cinnamon was very patient with me today. i really appreciate het help and services. thank you so much
Cinnamon was great I was in and out with no Hassel. She answered all of the questions that I had. even dealt with my 3 year old son. And was great with him as well. 5 stars all the way. Thanks so much cinnamon for the fast help.
Camille worked with me even though i was late for my appointment. Thank you very much!!
Service is very helpful and they have met my needs. I was able to transfer to a smaller unit from a larger unit without any problems. I reommend this facility.
First time customer. Staff is courteous and professional and doing a reservation online before hand made the whole process simple and easy. Very nice facility and well maintained. Highly recommend this location.,
Vida was great! She was very friendly and helpful. They make sure you are getting the right unit size for your needs.
Awesome. They made sure I knew the layout so I wouldn't get lost.
Vida and JR took good care of me while I was here. Thanks guys!
Vida has been very helpful in our experience. She worked with a positive attitude and a smile to make sure our move went as smooth as possible. We have really enjoyed our experience with Public Storage and the staff. Thanks again Vida! Keep up the good work.
great customer service. natalie was very hepful. would recommend for storage.
The floor manager JR is awesome and has a true sense of customer service. I appreciate his enthusiasm and friendliness. I had very good experience at this place.
Went in to see how much it would cost to rent a somewhat small space because I moved into a smaller home. The manager JR helped me and very courteous and very informative. Also I liked how clean and organized the lot looked. Been to several other places around North County San Diego and they were either run down looking or had staff who didn't seem interested in my business. Very glad I chose this storage facility.
Natalie was awesome. Rent here
Zack was awesome to work with. Great service and handled my needs quickly and efficiently.
Searching for a storage unit that has friendly staff & reasonable prices is hard to find. JR assisted me on the phone and was extremely friendly & knowledgeable. Definitely bypassed my expectations!
JR was fabulous saved me money and was very friendly. He has great customer service skills and spent time helping me. He's the MAN!!!
The staff at this property is very professional, courteous and did everything they could do to solve my problem with a lighting issues.
Josh was amazing, kind, helpful, and just overall the best. Made everything SUPER easy and simple. No hassle or complicated stuff. Explained everything CLEAR and SIMPLE. He makes me feel that my things will be taken care of there. Thank you Josh and the Public Storage team!
I have been using your storage facility for 7 years. Over the years the facility has always been available to me when I desired and has been clean and safe. At first the cost of my unit only increased a little bit. It started at $100 per month and now it is $198 per month, up from $180 per month. I think you should be discounting long term tenants, not increasing the rates. You pushed me out with your large increases in monthly fees. Even though the home I live in is too small for all my stuff, I am pleased to no longer be paying this monthly fee. Since your industry is experiencing record growth and profits, you don't need me. I'm sure your business model prefers a new tenant with incentive discounts over a long term tenant. Hated how it ended.
This Carlsbad, CA office was great and friendly. J-R couldn't be more professional and also personable. The facility is clean, sky lights through out, and easy to get my job done. I would recommend this facility
I have had such a great experience with Public Storage. I made a reservation online and JR promptly called me to set up an appointment. Once I arrived Josh was awesome and gave me a tour of the facility. He was so personable and made the experience very enjoyable! The facility is clean, secure and a great value. I highly recommend this location!
Excellent! J.R.found the perfect unit for me at a reasonable price. It was painless and J.R. made it enjoyable.
Pretty friendly experience. Rates are low and customer service was pretty awesome. Thank you Bernice'
Josh did an excellent job; three times. My mover thought one size would be OK but changed his mind twice after we had done all of the paperwork. Josh was understanding and efficient and seemed like he had been doing this kind or work for most of his adult life. I later found out that he had just been promoted to Location Manager. A real asset for his employer.
Josh was excellent at explaining the facility and options. Personable, well-spoken, well-informed. It is an impressively clean and secure center.
Bernice and Josh were awesome, answered all questions and made the experience at this Public Storage facility very easy.
Josh was a pleasure to deal with. Extremely professional and personable.
Josh was a pleasure and setup auto pay for me so I don't have to worry about being late
This facility is spotless and exceptionally well-run. JR and Josh helped me and my son transfer our things to smaller storage units and they were efficient, friendly and went out of their way to help. I have been using this facility for a couple of years and my belongings inside the unit have stayed clean and dust free, compared to another facility I use in another part of town where my belongings are caked in dirt and getting ruined. While we were moving, JR came upstairs to check on us, while picking up and sweeping trash. I will transfer all my storage needs here both because of the high standards of Josh and JR and the cleanliness of the facility.
Loved storing my stuff here. Moving this weekend so Josh is helping me check out today. I will miss the convenience of this location! Right next to K1.
I have 2 storage spaces I rent at Public Storage Carlsbad for a long time now. I've been very happy with the whole set up and staff, JR the manager was very helpful in explaining things. Patrick B.
Great customer service, very clean, and organize. Friendly staff like Josh.
Awesome service from Josh!
The location for me is great. The facility is always clean and the personal always friendly. I just delt with josh and jr, they've been great!
Clean, safe and friendly. Josh was very helpful
Josh was professional and courteous!
This has been an easy process. I chose PS because of their hours and their friendly and helpful staff. I would recommend them ... Price is the best I could find.
Got a great monthly rate, service was good, and Joshua in the office was very helpful. Thanks PS.
This place is AWESOME!!! J.R'S such a great guy! Very patient and honest. Never to busy to give a helping hand. They keep this place so clean and free of bugs or debris.. If you're looking for a safe, affordable storage, you found it.!! Thanks again J.R and the rest of the team. GREAT JOB!
John Beech has been extremely helpful from the time I rented my units at Public Storage to house all of my parents belongings until the present. We have used your facility for 2 years and I see John on almost a monthly basis. He is always friendly, informative and supportive. Public Storage is lucky to have him as an employee.