Public Storage Self-Storage Units at 22394 W FM-1097, Montgomery, TX
Address
22394 W FM-1097 Montgomery, TX 77356
Office Hours
Mon-Fri 9:30 AM - 6:00 PM
Sat-Sun 9:30 AM - 5:00 PM
Gate Access Hours
Mon-Sun 6:00 AM - 9:00 PM
Storage Facility Features
Climate Control Storage

Car Storage

Small, Medium & Large Storage Units

Indoor & Outdoor Storage Units

Property Manager Lives On-site
Office Hours
Mon-Fri 9:30 AM - 6:00 PM
Sat-Sun 9:30 AM - 5:00 PM
Gate Access Hours
Mon-Sun 6:00 AM - 9:00 PM
Storage Facility Features
Climate Control Storage

Car Storage

Small, Medium & Large Storage Units

Indoor & Outdoor Storage Units

Property Manager Lives On-site
Close Location Details
View Location Details
---

10'x5'

Climate Controlled

Inside unit

1st Floor

---

10'x7.5'

Climate Controlled

Inside unit

1st Floor

---

10'x10'

Climate Controlled

Inside unit

1st Floor

---

10'x15'

Climate Controlled

Inside unit

1st Floor

---

10'x30'

Outside unit

Drive-up access

---

10'x20'

Outside unit

Drive-up access

---

10'x20'

Climate Controlled

Inside unit

1st Floor
Nearby Self-Storage Locations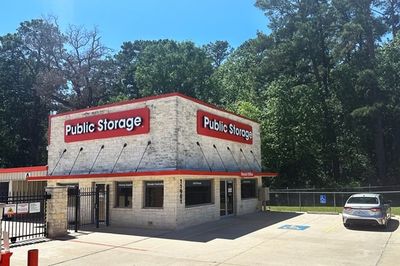 Self Storage Near
11901 FM 1097 Rd W
Willis TX 77318
Resources from the Help Center
See what fits in different storage unit sizes
Montgomery Climate Controlled Storage Near Lake Conroe
Cheap self storage in Montgomery is easy to find between Atkins Creek and Buffalo Springs Drive. Outdoor storage units with easy drive-up access or climate controlled storage inside the facility are available in a range of sizes.
Folks with students at nearby Lincoln Elementary School can use 5x10 storage units to store recreational gear of every kind for use at Lake Conroe Park. Also stash holiday decor and off-season clothes behind the toys you use all the time.
Residents of Montgomery Trace Apartments may need a 10x10 storage unit to store duplicate furniture, such as couches, coffee tables and dining sets. These storage rentals can also be useful for family members downsizing at Heritage Senior Apartments.
An outdoor 10x15 storage unit is ideal for stowing canoes and kayaks when not in use at Lake Conroe Park or Scott's Ridge Swim Area and Boat Launch. Drive-up access makes loading and unloading extra easy.
Households around Montgomery High School who are moving or planning a renovation can use 10x20 storage units to store up to five rooms of belongings.
Montgomery Public Storage has plenty of storage solutions for your needs.
At Public Storage, You'll Always Find...
Keypad Access

Friendly Staff

Month-to-Month Rent

Moving Supplies Available

Free Parking

Well-Lit Facilities
Reviews
( 105)
Sheryl has been amazing in my experiences at this location. She has always been so customer oriented when interacting with myself & any other customers. I appreciate your helpfulness and honesty, Sheryl. Thank you so much, Karla Bussell
Public Storage purchase the storage facility and I would love to give it 0 Stars - Gate access doesn't work, can only access your unit 6:40am to 9pm! So beware of using this facility, all excuses not answers - and no prorating of fees.
Recently I transferred from one unit to another unit. Sharol, the Property Manager, is so empathetic and helpful. She made the transition much less painful, providing assistance far beyond what I could have expected. Thank you Sharol!
THANK YOU, SHAROL for the most awesome customer service! You go the extra mile to help make this unpleasant thing of having to store items not so bad!! Thanks for all your kindness and smiles!
Did the hours change? I came by to pay for my unit today but the front office was dark and locked up. Funny thing is, it was only 5:40. I thought you closed at 6 pm?.
We needed storage for a move. Sharol helped us not only at move in but went beyond on making sure all of our needs were met. She always took the time to help answer any questions and to follow up to make sure everything was correct. When we needed to move out, Sharol was extremely helpful making sure our units were closed out on time. Public storage was not only clean but the atmosphere was secure. I also liked how they had moving carts on site to help with loading and unloading. I would definitely use Public Storage again. Highly recommend the one off of 22394 FM 1097 in Montgomery, TX.
Sharol works with you to provide the best storage experience during a tedious and stressful process.
Stopped by this location to check prices, availability and unit sizes. The lady named Sharol was very patient with my questions and was very knowledgeable also. In my opinion she went above and beyond and in today's world that is definitely hard to find! 👍🏻
So helpful...our helper Jerrica did all she could to make it easy and right for us. Thank you Jerrica!!
Jerrica was very helpful and made sure my space was exactly what I needed. A1 service!
Jennifer was freaking awesome. She made sure my bad day got better. She went out of her way and even got me a chair to sit down on while she was processing my unit. She just took the time to make sure I was OK and my needs met. Also, the units were clean and well maintained. Jennifer even walked by while moving in to make sure everything was up to my expectation. I really hope the company keeps this one!
Well maintained and decently priced. Manager went above and beyond to help us and make sure we got exactly what we needed at a great price
Walking into the office, we were welcomed by Jennifer. She was the sweetest person and very knowledgeable. Thank you Jennifer!
I've been a customer here for a few years and other than rate hikes, I'm very satisfied. The latest rate increase was the straw that broke the camels back until I was able to speak with Jennifer. She went above and beyond to not only get the rate increase removed, but was able to get the rate lowered from what I currently pay. Thank you Jennifer, I appreciate you and your customer service!
Shortly after I signed up for a unit here I was not only impressed by the pricing offered, I was welcomed by the property manager herself, Jerrica. I had made a plan to come in at 1, I showed up at 3! I was treated like she's known me her entire life. Authenticity cannot be learned, faked, or misconstrued. They have a real gem in the office here!! Showing others kindness from the heart is everything! If you are looking for authenticity, it's here!!! Ask for her before arriving, you will not regret it! Each unit is beyond clean and flexible as well if the size is incorrect! Go see em!
Rhonda was fantastic, she went over everything very well and helped out a lot with my questions.
Big thanks to Rhonda - getting us into a last minute storage unit prior to move. Great descriptions and quick response made it possible to coordinate everything for a successful day. This storage facility is clean and secure. Would recommend to anyone storing a little or a houseful. Thanks again Rhonda!
Thank you Public Storage Montgomery and specifically Rhonda in the front office. :) Excellent customer service! Rhonda is extremely kind and helpful, while also being efficient and quick. We have been using them for over 6 months now and are very impressed with the cleanliness and professionalism. While there are many, many options out there when renting storage units, you won't go wrong using this one! We recently had a private matter cause some issues for us and our unit and Rhonda helped us work through it. You don't find people that are this kind and helpful very often so when you do....you really appreciate them. Save yourself some time and just rent here. With employees like Rhonda, you can't go wrong.
When I got there I was welcomed with a friendly smile by Jennifer. She was absolutely the best facility manager I had ever had the pleasure to communicate with. She helped me find the best unit for me and within my budget. Thank you so much Jennifer!
Rhonda is a very helpful dedicated employee. I was very satified with the service.
I want to thank Rhonda for all her help and knowledge and outstanding customer service and would recommend to others
Rhonda was very friendly and helpful great service
I stopped in to get prices. And Rhonda went above and beyond and asked if I would like to see a unit I said yes I needed a visual to really be able to tell what size I would need. Thank you Rhonda I also was just looking around and I'll be back Rhonda not only bc of the good treatment but the cleanliness there is very good ! Way to go Rhonda and Public Storage!!! Appreciate it!
Morgan helped me out immensely! Great customer service!
I came in to buy boxes and Mary was there with a tape measure to help. Great customer service
Mary was very helpful in assisting me to get another storage unit. I've had a storage unit here for over a year and needed to get another one and she was able to get me a great rate with a unit very close to my original unit. Mary is great at answering and returning phone calls and taking care of business quickly.
Mary helped me and answered all my questions
Absolutely the easiest storage unit I've had to rent! I did 99% of the process online & Mary was so helpful with any questions I had once I arrived. If you're looking to rent a storage unit, save yourself the time & just go by here first!
Clean and well cared for! Mary is amazing and so helpful.
Mary was so helpful to us. We had just rented a 10x10 unit when a 10x15 opened up—which was what we really needed. She quickly transferred us from the 10x10 to the 10x15. She was friendly and personable. Very pleased!
Mary is awesome!! Great customer service and friendly!!! Very clean facility!!!
Mrs. MARY was very very helpful, insightful, and polite best service I've had yet!!!@ highly recommended
Mary was friendly and so great to work with!
Mary was a life saver for me. I'm not going to use any other storage company from now on. So friendly and caring. Thank you Mary for making a bad day good!
When this facility was CubeSmart never had a problem but now it's public storage they change the due date they took away the truck that was once available and their employees have zero power to do anything and even tell you that they are a process driven company and don't care about the customer, even their so-called escalation department is unable to do anything and is rude, condescending, and refuses to let you talk to anybody who can do anything because nobody can do anything, also if you look at the other reviews most of the positive reviews are for when this facility was CubeSmart
Super friendly manager! So quick and affordable! Plus opening gate from phone makes it so much easier!
Never informed me when it became Public Storage, that my auto pay needed to be re-established. Therefore, we got behind on payments. We are not entirely blaming Public Storage. A lot of the fault is mine. Our bank statements is emailed to my husband's work email and due to illness my husband was out of work for several months. So, we weren't really keeping up with them. When we found out we were behind, we caught up on our payments. The issue, that I have, is that I was informed that my lock was cut and there was installed on several weeks after, we caught up on our payments . I feel that I should of been notified as soon as, I caught up on my payments not weeks after. I don't understand why they have such a hard time communicating with their customers.
Rachel is the best! She is very outgoing and helpful. Answered all my questions and was professional.
Clean easily accessible facility with reasonable pricing. This place has changed ownership 3x since we started renting with them. I wish they were still a small locally owned private business but that does not detract from the fact that they are very clean And convenient.
The employee was very helpful And friendly and very knowledgeable about what we needed help with Would recommend this place of business 👌
Very friendly staff had everything in order soon as I got there thank you Jerrica for all your help five stars
From being a non customer to putting my belongings into the storage was a very easy, smooth process. Facility was very clean. The little welcome bag was inviting and kind. Thank you.
Super sweet lady in the front who was extremely helpful! Nice units as well!
Not real helpful woman at counter amazing but they wouldn't let me rent one cause of same last name not like u not gettn your money
Very nice, polite, and efficient service.👍
Great customer service,clean,climate controlled, and easy access! Recommended to my brother,John Lyons and Derik Millar.
Quick professional service.
Ease of access & courteous staff. Also, cart for moving things was available for my use.
Helpful staff, the application process was quick and easy, the property is well maintained and the online payment option is a huge bonus for us
Above and beyond customer service! Thank you!! 😊
Simple, easy online reservation with no-contact sign up. Everything needed was available in unit day of reservation. They had best price I could find for inside climate control.
Super clean, pretty easy to get in and out. Need a ' you are here' map for sure
Amazing facility clean, fast check-in and great pricing!! Our church now has 5 units here and couldn't be happier with the experience, that's why we keep coming back.
Professionalism of staff, cleanliness and upkeep of facilities.
Storage was clean and always a good temperature for the climate control. No issues with bugs or rodents and staff was friendly. Prices were reasonable as well
They worked with us to get the size unit we needed when we needed it. Saved us a unit near our other unit for three weeks. Helped us solve multiple problems with our space with a cheerful attitude.
Very organized and friendly. Quick check-in with a very nice facility. Everything is gated and locked for safety. The temperature controlled unit I used was a comfortable temperature and MUCH cooler than it was outside. They also have large moving carts you can use to move your things which was very helpful.
Not well cared for, units are full of bugs and spiders. The rent is increased every year.
How much does it cost to use the moving truck
Kelsey is Awesome!!! I recently purchased another unit at this location & needed to upgrade, she explained how it would work great. I rushed up there because I'm moving & had a lot to transfer & she waited for me to get there as I was a few minutes late. This was a HUGE life saver. I can't thank her enough & the professionalism & cleanliness of this location is amazing! Any price of a unit here is well worth it!
Signed up 3 months ago for 2 units. 10x20 and 5x10 for $182 which included insurance on both. Then after only 3 months the rent was going to up over $50 a month! The staff is really sweet but CORPORATE is the one who is doing this ridiculous rate increase. I have moved out ASAP. Also the cylinder locks that you have to buy are unusable for anything else and they won't buy them back. The locks are not in a package so you only get 2 keys. NEVER EVER USE THIS STORAGE! BAIT AND SWITCH!!!!
Christina & Curtis BEST CUSTOMER SERVICE EVER!! I have always used this company always been pleased!! Very clean!!!! Highly recommend👍👍👍👍👍
It's a very clean storage area. Customer service is very nice and friendly. Christina was nice. I had one huge problem but time was spent to fix it in a timely manner.
Very personable staff. The staff was very helpful. Really made sure we know about storage sizing.
This place is great! Curtis and Cristina helped us and you would think they own this place with the way they treat you. We used the moving van, they helped us and treated us like family. Really enjoyed talking with them, and the facilities are clean and cool, very happy we found this place:)
Great price to work with, clean and tidy
Went by in person to check out Cube Smart. Had found it and several other places online. These folks were great! Curtis, the General Manager, spent a lot of time going over everything with me. He showed me some different size units to I could pick the one that was just the right size for my stuff. The pricing was right and there were a few specials going on that I was able to take advantage of as well! No question, rented on the spot! Yes, VERY clean and efficient area. Thanks!!
From the time I walked in I was handled with the utmost in customer service and professionalism. I would recommend cube smart to anyone!
The storage area is extremely clean and well-kept. The customer service is second to none! I really appreciate Curtis for his professionalism and for all of his help!
What I like best about the location I'm renting at its very clean, the staff was very pleasant, helpful and knowledgeable, the unit is a fantastic size for the price and they even loan you a moving truck.
Kim is always so helpful and accommodating!
Used Prestige for the past couple of years. Always clean easy to access (if you have the code and key of course) Special thanks to Kim who helped me with the vacate paperwork in time to help me avoid an extra month rent.
Helped a family member move some things today- very clean, professional, and friendly storage facility! Kim was very accommodating and took her time showing us the ropes. They also have water and coffee available for customers. Thanks again Kim!
Great staff, Kim is very helpful!! Explain the rental process and helps finds best storage fit for you. The man who works with Kim, I am sorry I forgot his name. He sent me a map that helped my movers to go though the best entrance. Very helpful!!
Great storage facility, Kimberly is very helpful and easy to work with. Facility is kept clean and has great access. Is also on high ground!!
Safe, secure with very helpful staff.
Clean and well kept storage units. Friendly and professional staff. Went above and beyond what I would have expected, when we ran into some issues during our move. Can't thank the staff there at Prestige enough, they are wonderful!