Public Storage Self-Storage Units at 2977 MacArthur Road, Whitehall, PA
Address
2977 MacArthur Road Whitehall, PA 18052
Office Hours
Mon-Fri 9:30 AM - 5:00 PM
Sat-Sun 9:30 AM - 5:00 PM
Gate Access Hours
Mon-Sun 6:00 AM - 9:00 PM
Storage Facility Features
Indoor & Outdoor Storage Units

Property Manager Lives On-site

Small, Medium & Large Storage Units
Office Hours
Mon-Fri 9:30 AM - 5:00 PM
Sat-Sun 9:30 AM - 5:00 PM
Gate Access Hours
Mon-Sun 6:00 AM - 9:00 PM
Storage Facility Features
Indoor & Outdoor Storage Units

Property Manager Lives On-site

Small, Medium & Large Storage Units
Close Location Details
View Location Details
---

5'x5'

Outside unit

Drive-up access

---

10'x15'

Outside unit

Drive-up access

---

10'x20'

Outside unit

Drive-up access
Nearby Self-Storage Locations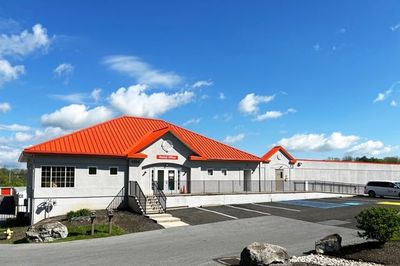 Self Storage Near
1925 PA Route 309
Allentown PA 18104
Self-Storage Near Whitehall
Resources from the Help Center
See what fits in different storage unit sizes
Whitehall Storage Units Near Route 145
Located just a couple of blocks from Route 145, our Whitehall storage units are convenient to the Arlington Knolls and Hokendauqua neighborhoods. Our Whitehall location is right in the center of it all, so you can store your stuff, grab lunch nearby at a local diner, and get your errands taken care of with ease.
With over 500 storage units at this location, we're confident we can find the right one for you and our team will make choosing a space easy and fast. With roller rinks, batting cages, ice skating and Hokendauqua Park & Playground nearby, you can use the extra time you have after finishing your storage move in to enjoy time with family and friends nearby. Our location is also near the Lehigh River.
These Whitehall storage units are the perfect place to store your sporting equipment in the offseason or whenever you don't need it at hand. Our 5 x 5 storage units can hold a large closet's worth of skates, bats, mitts, and more. We know that families often have outsized storage needs, so we also offer larger 10 x 10 storage units (which hold three rooms of stuff) and 10 x 20 storage units (that's five rooms of storage we can take off your hands).
With both indoor storage units and outdoor storage units with drive up access, you can unload easily and stop stressing about storage. A manager lives on site at this location, so when you store here, you get the best care and attention in self storage around. Take advantage of our free parking and packing center today and see how easy self storage can be.
At Public Storage, You'll Always Find...
Keypad Access

Friendly Staff

Month-to-Month Rent

Moving Supplies Available

Free Parking

Well-Lit Facilities
Reviews
( 260)
I never used to trust public storage facilities but after visiting this one I'm happy to do so. Everyone was super helpful especially Jack who was able to answer all of my questions and give me the whole rundown. Great service! Thank you!
Needed storage quick and Jack was a big help. He made everything seamless for me.
Phenomenal customer service from Jack. Very helpful with all questions I had. I'd recommend this location to a friend.
Our unit had trash in it but it's the size we needed. So far so goodb
You can't get a straight answer, no way can you contact the property manager. Expect an increase every six months minimum and at least 30% it's all about the money they don't care who you are. I have emails promising me three months decrease in rent never happened bad business people they need to be reported to the Better Business Bureau.Way-over priced.They bate you in with the promotion then after six months you're paying 250 horrible.
at this public storage location the employees/manager are very friendly and understanding of your situation and will work with you if you just ask them and let them know for example, in my situation, I got a storage unit there and I had to move stuff out of 1 storage into my storage unit and I had to do it all alone I'm 36 male and I'm still going threw the stuff from the other storage and I had some stuff that could not be fit in my storage unit at that time so I had to put it in a empty unit until I came back bc I had a asthma attack and I didn't have my inhaler and so they let me put stuff in a empty unit unti I came back the next day but then I was hospitalized for my asthma and they we're understanding and as long as you keep them in the loop and not do something that you know u should not do they are more then willing to help you out any way they can
My unit was robbed and they did nothing. Said their cameras don't work. Whoever robbed it literally drove in because they cleaned out the entire storage unit. Jack who works there told me he opened it and said nothing looked "rooted thru" meanwhile I went there- and it was trashed. They didn't bother to call cops or meet me there or anything. Def inside job. They also said it's happened before but always have there cameras off and did nothing to resolve this issue. My entire life is gone through this robbery.
Los muchachos muy amables
Horrible place, bait and switch prices, force you to purchase a $3 lock for $20. An anti trust law attorney would have a field day with these people. You will NEVER get their advertised price nor their discounts they "offer". Steer clear!!!
The latch on my unit was broken and falling off when I moved in the first day. Multiple calls and in-person requests have been made with maintenance to fix the issue, but nothing is ever done. I called again today and told that I should come in person so they can LOOK FOR PARTS and TRY to fix it...but that I need to be there the whole time! They recently repainted the unit doors with the cheapest looking paint they could find. The power washing they did to remove the previous coat of paint soaked my items with water and left an inch of paint chips on every surface in the unit. If you can, avoid this place at all costs!
Great location, respectful staff , Jack at the front desk is always nice and a great help.
Very friendly staff. Brittany and Jack are great. Property is clean and would recommend renting at this location.
Never used a public storage at all . It was my first time and I must say Jack and Brittany made it a good experience. Thank you guys for the help .
This place is a RIP OFF You fill out the form to move out, they completely ignore it and then send emails saying you need to move out - You respond they IGNORE EVERY EMAIL then send you to COLLECTIONS! DO NOT trust them My items were damaged with water because of leaks, I didn't complain, they accidentally took my lock off once- let the unit stay unlocked until they realized they cut the wrong one then call me to replace the lock!! Unorganized and will look to over charge you GO anywhere else - they raise the rent every few months as well basically ANYPLACE ELSE is better.
Hey let me just tell yall if you ever need a storage and its available to rent..make sure you speak with Brittany..the hospitality is 5 🌟 any questions i asked she answered..public storage you have a great employee right here
Brittany is a great person to work with. Very friendly and helpful.
Property is awesome! Recent renovations have made the facility and area look so much better outstanding customer service from Britney and Jack. Area is secure and top notch!
I have traveled across the United States and live many different locations and I must say that this is by far the best public storage I have ever been to. Absolutely love this location. The facility is great and the units are top-notch and clean. Brittany is amazing. She is knowledgeable, caring and helpful. She's always smiling and goes above and beyond what an employee should do to help customers. If you need a place to store your stuff you've come to the right location.
The person there was so nice and helpful!
I have been having such trouble finding the right place to store my belongings until I came to this location I walked in and was immediatly greeted with a warm smile by your worker Alyssa she assisted me with figuring out what size unit I needed and even showed me herself the unit I am very happy with my experience thank you!
I am beyond satisfied with the amazing customer service I received from the young lady Alyssa at the front desk! I arrived as soon as the doors opened and was welcomed with such a huge smile and positive attitude which is rare to runb into so early in the morning! I was very satisfied with the price on my unit for its size. The whole process overall was fairly quick, had no problems with my code and was able to finish unloading all my belongings by 10:45! Payments are so easy to make and I'd highly recommend this location to everyone who's having trouble anywhere else. Its very well maintaned and the current staff member Alyssa keeps a professional attitude but also shows she actually cares about helping find the best fit for you! Best customer service ive ever received !
Best workers everrrrrrrrrrrr so helpful so polite so clean my belongings have never been stored better
This place is great! Especially Britney! She made my rental process very easy and enjoyable! I would definitely recommend this location to anyone that is looking for a place to Store some stuff..
If you like being nickeled and dimed. This is the place for you. If you like being called and talked down to by a very rude employee. This is the place for you. Im glad that i stopped using this place. Ill save a bunch of money. Good riddance to bad rubbish.
Very helpful and nice! Process took less then 15 mins! Thank you for your help and getting me in sooner then the original time.
They are amazing here at this storage facility, when I walked in i was greeted accordingly, and brittney was so eager to help me with my storage needs. Very friendly respectful and nice I would recommend this place to friends and family. Keep up the good work.
I recently visited this location, after calling a few other locations where they were so awful , rude, and rushed me off the phone. I decided to stop at this location, and glad I hadn't given up, because Brittany was able to give me all the information I was looking for, without the hassle or the attitude the other locations had given me. I had plenty of questions and she was able to answer them all with a smile. I really appreciate the service I received, and so happy Brittany was there to help. Thank you!
Teresa's customer service is great she provided me with great knowledge regarding my questions about renting this storage space for my items. I appreciate her, thank you Teresa!
I went here to look into renting a storage unit for next month or so.. I have never done this myself before and I had a lot of questions.. Brittany was great and patient with me and answered all of my questions and explained everything to me. This was the best customer service experience I have experienced this year with all of this covid-19 stuff going on. Brittany was very respectful and the property is very well kept. I definitely will be coming here to rent that storage unit from Brittany. I highly recommend this storage place and Brittany!
Went here recently with my mother and was so appreciative of the help we got from Theresa. Great customer service. Highly recommend!
Great service and very helpful
easy to work with, got me in and out quick after leaving another storage lot that was nothing but a hassle trying to store my brothers college stuff while they moved into their dorms again
My storage unit was broken into and the customer service was horrid. They said that they hadn't had any other break-ins but the police officer who responded laughed and said he'd taken reports there before. Renters beware. The locks they sell are cheap junk at a huge mark-up.
I honestly love this place. My transition from moving went smooth . Very clean and great space for price!
This place is so clean and the customer service a A1.
Brittany was very helpful and friendly. Definitely would recommend this place for your storage needs.
The two young women who helped me were very friendly and courteous.
Teresa was friendly and very informative. I would really recommend public storage in Whitehall to anyone in need of storage.
Teresa was extremely great. She was patient and very friendly. She even disinfected after the customer before me. I would recommend the property based off of my great experience
Best public storage I have been too. The ladies in the office were friendly and knowledgeable.
Chris, he helped me spoke clearly and was very helpful. Public Storage Whitehall PA.
Looking to store my 16 ft env=losed trailer on ur lot, is there space and whats the monthly rental
Staff made it seamless to transfer to a larger unit. Unfortunately there are not many units available. I was lucky to get a larger unit.
Courteous and great customer service..explained every detail of what you r buying.. thank you guys..
Secured location and meet all needs
You will not get a straight answer from anyone at this place. You will get conflicting information from different people who work there. The units are in disrepair with parts of the ceilings missing making the units unsecure. People work on their cars in the isles. I would not recommend this place
Try to get a straight answer from these people and you won't. Conflicting information from everyone you speak with. The units themselves are in poor condition with holes in the ceiling. People work on their cars in the isles. I would not recommend this facility
I don't understand every time u come here to make a payment there no one here always have to wait this is crazy u guys say u be back at 3 and don't get here into 4 like this is crazy been here 3 times today
Clean, inexpensive, respectful
Staff was friendly, and very helpful. Thank you Maria Figueroa for making the process quick and easy.
This place has dedicated workers that provide amazing customer service. I want to thank Maria Figueroa for delivering excellent customer service to my father, who doesn't speak English. She helped him with everything he needed and spoke to him in fluent Spanish which made his visit quick and easy. It's also saved me the trouble of getting on the phone and explaining everything he was asking. Thanks Maria!
The storage itself was in good service but dealing with customers service was horrible and nasty attitude dealing with me been stuck in the place when the gate wasn't operating ( me and two other customers was stuck)
Came in and asked about pricing and they was more than helpful ! The staff is awesome and very people friendly. Definitely recommended!
I had a wonderful experience at this location. The staff was amazing !. Quick & polite. I am very happy with the service provided. Well deserved Five star !!
Called in and spoke to Justin. He was very helpful and answered all of my questions regarding pricing, sizing, and climate control options. The interaction was quite positive, and I was given some good suggestions to work for my budget and timeline.
I stopped in to ask about pricing and spoke to Justin. He was so helpful and knowledgeable and I got all of my questions answered! Thanks so much for your help!
This place is great very nice people to work with and they know their job nice to talk to a person who knows their job get all the facts and not the run around thanks for all the help
Justin was amazing. He went above and beyond to help get me set up in a storage unit. A very professional person who puts you right at ease in the rental process. I highly recommend this place for all your rental needs.
Till what time can do you have to enter with a vehicle
Christine was the three P's. Polite, pleasant and most of all patient. I would reccomend Public Storage! Thank you for your help and sorry for the late response😉
Christine was awesome! Walked me through the process and had me ready to move in quickly. Very personable and a delight to speak to.
Christine was absolutely fantastic, friendly and made the entire process a breeze. I called the property a day prior to inquire on a 10x10 unit or larger. To my surprise and excitement I was told there was an amazing deal on a slightly larger unit and but it was only available upon request on site. I'm moving from New York and trying to get on site immediately for the promotional deal was a bit difficult. I was extremely pleased with the constant communication in which Christine provided and keeping me informed each day that the units and deal were still valid. After a few days I was able to make it on site and begin the process of renting a unit. Much to my surprise it was quick and easy with the help from Christine. She was great. We had viewed the unit and filled all the paperwork out within 20 minutes and I was on my way. I can't stop raving about how courteous and friendly Christine was and most importantly helpful in the entire process. I would definitely recommend this Public Storage site to anyone of my family or friends and you should too!
Rented a unit quick and simple! Christine was phenomenal! Thanks :)
The reason for my review is simple. When first choosing to look at public storage I made an appointment online for a 10X10 unit which said was available. Moments after doing this online I got a call from Jessica confining a 10X10 was available. The day before my appointment I got another call from Jessica confirming my appointment for a 10X10 unit. Upon arrival we were told their may not be a unit available for rent that didn't seem to have any vacant units. Mind you my 17' rental box truck was parked out front full of all our belongings. So you can see this was stressful. She then somehow found a unit but had to vacate someone from that unit since they didn't believe he person had items in there but was paid up until the end of the month. Because she had to vacate someone From that unit she was unable to give us a promotion that was online. So we had to dish out extra money upfront then wait to get reimbursed a credit towards next months rent. This was very disappointing because we made an appointment that was confined not once but twice within the the two weeks prior to our actual appointment. Jessica with a nice smiley but a bit snippy attitude didn't seem to care much more because she New we needed the unit and that's that. I asked her to please have the district manager call me. This was about three months ago and to this day never got a call. Also we paid up to the end of the month left today on 5/11 and was told it's in our lease that they do not pro rate any difference back to you. I just feel that things are unpeefessional here and truly don't care about customer service. Unit was okay but the ceiling looked like it was going to fall any minute didn't seem to care again when we brought this to Jessica's attention upon looking at unit before anything was moved in and was told that's why we pay for the renters insurance Incase damages happened during our rental of the unit.
Christine's pro activeness and follow thru repeatedly was by bar none the best during my move from California back to PA with all its intricacies Christine was great and Jessica jumped in with the larger unit I ended up needing in the end. Stellar job ladies!
Great place! Christine was very friendly and helpful!
Christine and Jessica were very helpful and understanding. This is my 3rd time using this place.
My whole sign up experience was very simple and easy to understand thanks to Jessica. A nice and knowledgeable representative, she covered every portion of the process with a positive attitude that made me feel comfortable that I was doing business with the right company. Thank you.
Works well with you when you have a problem. Friendly upper management.
Jessica was fantastic! She greeted me with a smile and helped walk me through the entire rental process with ease. The facility was clean and well maintained. She was very knowledgeable on the products and had great suggestions for making my move easier! Overall really great experience, all customer service people could learn a lot from Jessica's excellent service
Just got back from tennessee an stacy was a wonderful help an got me the perfect unit. Nice an easy!!!!
Stacey was Very kind and helpful. Definitely would recommend to others.
I was very satisfied with the service I received from the young lady who helped me stacy she was very helpful and very people friendly
Well when I came in to rent a unit and met with Jessica she was wonderful as you can see by all the other reviews. The girls is good. But I was rented a unit that has an area that does not have any hall lighting and I contacted the District Manager Kate Allen, two months ago when I rented the unit and was told that the issue with the lighting in the hallway would be taken care of soon. I went this week to retrieve some of the property and had still no lighting in the hallway. Why is that in two months time this District Manager which totally lied to me about needing a contractor to address this matter a sufficient time has lapsed and still no lighting in the hallway. I am so disappointed in this happening after being reassured she was on top of this matter.
Thank you Jessica and Stacy for excellent customer service and communication. I had a very pleasant experience.
Very nice and wonderful place...manager and stuff very helpful nice professional...my experience is one of the best on storage place I had been I recommend to any one 100% Stacy and Jessica very nice worked very respectful helpful.. lady's thank you for your help and time..
I had a really good experience with public storage! Stacy Finken offered me lots of help, advice and answered all of my questions to the best of her knowledge! Very kind, respectful and polite lady!
Best in service ,safety and cleanest place in Pennsylvania. The staff is amazing there I WOULDN'T go elsewhere.
Stacy was great! She was very helpful and understanding of my predicament. The move in procedure was fast and easy. I haven't met the other woman that works here but I've seen her a few times coming and going and she always smiles and waves. Seems safe and I trust my belongings here.
i deal with this property at least ten times a year as an auction buyer and recently as a short term tenant..........Jess, Stacy and the other staff have been more than kind making sure i understand the auction rules and were very helpful when i had to rent a unit (and saved me some money as well)....nice to see the lighting improvements in most buildings.......property is clean and everyone is very helpful, no hesitation whatsoever to rent at this public storage in the future........stosh
When signing the paper work staff was nice and they were very nice until a problem came about we started out in a smaller unit and everything was perfect then we needed a bigger until and after moving our stuff into the bigger unit we came back a few days later for clothes and saw roaches we told the staff and it took forever to even acknowledge there was a problem and nothing was done about it and ended up moving our stuff out and taking time off of work to go through every item one by one and was asked by staff not to discuss the problem infront of any customers this is a horrible place to do business with shady place and kate from the 1800 number was also very rude and likes to yell at you when you try to discuss the issue with her
Facilities are clean, staff is friendly and professional, However the company's practices are deceitful in that nothing is disclosed on their website about the requirement for insurance on your rented space. This adds another (minimum) $11.00 plus Sales tax (questionable). All my research finds that there is no tax unless a service or sale of tangible property is conveyed.
Wonderful experience IMMEDIATLY with Jessica. I was literally 2 seconds away from booking at Budget Storage but my spirit told me not to and to look around for better customer service and pricing. Jessica contacted me immediately after filling out my information online for a quote. I am also self employed and a manager at another business and Jessica for sure exceeded expectations. She was up front with everything and truly seemed to care about her customers and job. Thank you so much for making this experience easy!
The girls at this location are very helpful and make you feel welcome they really do a good job at explaining everything in detail and the property is very clean I highly recommend this location and will spread the word
The girls in the office were so helpful. Nice location as well.
Good for keeping all your personal belongings when you move little expensive
Jessica was fantastic! She greeted me with a smile and helped walk me through the entire rental process with ease. The facility was clean and well maintained. This facility offers personalized gate codes for each customer to gain access to the property with extended hours. Jessica helped me protect the items I was placing inside the unit. She was very knowledgeable on the products and had great suggestions for making my move easier! Overall really great experience, would recommend!!!!!
I have never used a storage unit before and I needed one desperately. I came to Public Storage to find out what to do, and the Property Manager, Jessica, was extremely nice and helpful. She went above and beyond to help me get set up with a storage unit. Excellent customer service was provided and I can't recommend this place enough! And if you go, ask for Jessica!
Excellent customer service
I am having a great experience during an incredibly hectic last minute storage situation. Service is above and beyond. Definitely happy I went to Public Storage.
We stored our whole house-worth of stuff here while in between places. The prices were comparable to other storage facilities. Our stuff wasn't damaged, and it was close to work, so we could swing by if needed. Our unit was missing part of the ceiling when we moved our stuff in, so that was a bit concerning, but it didn't cause us any issues. We could pay online, which was convenient.
Stacy was very helpful even though her shift was ending. Prices are so much better than the competitor right up the street..you know, that big corporation that rents moving trucks...yup that one..
I've had a lot of bad experiences with customer service lately but Stacy has made up for all of them ! From the moment she answered the phone until the minute I was ready to move my things into the storage unit she was helpful and quick, no extra wait time to be helped or to be shown the unit ! One of the experiences I've had in a while! If ever I need storage again public storage is my only option!
Expensive place to store your belongings.they love tacking on the late fees. I think every 15 days more fees are added on. Most of the employees are nice. The manager is the best, brad. He is very helpful and really listens to you. Sometimes it is hard to rent the right sized truck because they say they don't have that size but will try to rent a much larger one to you. So call first and inquire about what sizes are available.
This rating is only five stars because of JESSICA!!! She is very professional and informative and FUN!!!! She made my move very enjoyable this morning, thanks. 😎
Carolina and Jessica helped me and did so greatly. They where very detailed and answered all my questions and concerns. Giving me more than one option to help me in my situation. I couldnt of ask for better assistance. Thank you ladies!
Carolina and Jessica We're very polite very helpful show me my Unit explain to me everything very satisfied with their service and I'm glad I picked this place
From the time i walked in the door the staff was nothing but helpful. They were professional and courteous, they go the extra to help you. Hardworking, educated, understanding people, they helped size the unit i needed, helping me to operate the main gate with my code. This property is very safe and secure. Walking me onto the property i couldn't help but notice how clean everything was. When they rolled open the door the unit was perfect. I would strongly recommend this facility for all your storage needs. Public storage should be proud to have employees like this!
Too hot in rooms, no insulation in ceiling.
The girls at this location were very helpful and friendly. Thanks for the great service!
The Ladies are absolutely helpful and soooooooo sweet!!! They know who they are... I def had a wonderful experience and in a timely manner!!!
ONE OF THE BEST PLACES. PLUS THE MANAGER JESSICA IS SUPER SWEET AND WILLING 2 HELP ANYWAY SHE CAN. PLUS SHE WILL ANSWER QUESTIONS 2 THE BEST OF HER KNOWLEDGE.
Stacy hooked me up with everything I needed. She made the process simple easy and smooth. She has great customer service qualities, very polite and professional.
Dead serious i love Jessica from the first time i met her not only is she is professional but her spirit is so beautiful uplifting helpful and understanding its not easy meeting into people who care about other people we all love Jessica if you dont like Jessica or complain on her u stupid and is a straight hater word up nobody better not mess with her because we NY and Philly Got her back love You Jessy
I wish I could give no stars. The security gate to this storage faculty has been broken for more then a month. I have called corporate and emailed them, and still no repair. It's is supposed to be "secure" it is not. ****As of May 25, 2018 the gate has been fixed....I updated my stars. Hopefully people will be more patient and careful so it stays functional and secured.
Justin was very kind and helpful
Jessica was a great help! She answered all questions! Enjoyed the service and conversation.
Jessica Is amazing!! Excellent customer service!!!
Amazing, quick fast, easy!
Fast and friendly service! Great first experience!
Jassica was so much help a raise wood not b a bad idea
Jessica was very professional. She set me up with an account, explained how to access the storage unit with use of the gate code and walked me out to inspect my assigned storage unit. She also explained tractor trailers can only gain access through a second gate which public storage keeps locked. Advance notice for gate to be unlocked is recommended.
I was greeted immediately, customer service was awesome. I would recommend this location to friends and family
Very great customer service.. second to none... just ask for Jessica.. Great Smile and personality.
My experience at public storage was excellent, great customer service and very professional!!!
Water in my unit...miss a payment by day, over $4 for late and additional $40 plus for a lien fee....it's terrible and it starts adding up ...the people that work there are very nice though.
I needed to store my truck and jessica and crina were very helpful and knowledgeable. They were friendly and really helpful. Definitely a great experience and would recommend public storage to anyone!
The ladies here at public storage are beyond amazing and helpful.
Jessica and Corina were awesome, great customer service!
I've had nothing but great customer service from this location! Rachel and Jessica have been an enormous help and have exceeded levels of great customer service!
Worst storage place around Ceiling caved in on my property, damages on many peices, property manager said "oh well, its happening at a lot of our properties" not even an "im sorry" Go somewhere else for your storage needs.
Nice storage facility. Units could be a little better kept but sensibly priced for the sizes.
Shawn was really nice and helpful
Rachel the onsite manger was a great help
Amazing customer service.
Shawn was amazing at accommodating my needs for storage. He offered many extras that at the time I could not afford but will keep in mind for the future and suggest to friends and family.
Shawn was a big help!! Thank you!
I rented a space here last month and have had a good experience so far. The price is very reasonable and property is well maintained. I don't intend to keep the space much longer but if I ever need to rent again I will come back.
I had a unit rented at a different location and when I got there to move in they told me that I could not bring a tractor trailer in the property. I had to find another location in a hurry! Shawn and Luis found me a unit big enough for all my stuff, they were efficient and professional, and extremely helpful. I would recommend this facility to anyone looking for a storage unit. Thanks guys, you're the best!
Started a unit in August last year. Took an hour to do all the paperwork because their system was down. At the time, their gate was also broken. I had a good price on my rental, which is why I chose them, but beware: All their unit's prices go up about 20% after 5 months. I just ran into this and PS customer service said it covers their expansion nationwide. Why would I have to pay so much for them to start new storage locations? Further, I learned that they had put a Florida drivers license on file for me when doing initial paperwork, but I have had a PA license for over 5 years when I opened the account!? This is really more trouble than it's worth.
Wonderful Experience with Shawn very nice young man !!!
Shawn was very helpful and very friendly answered all my questions
Shawn was very helpful today. He went over everything and was very thorough, professional and polite.
My experience was super fast and easy!!!!! Excellent service!!! Got to use my unit immediately and have had a fast, easy and pleasant experience!! Luis and Shawn were both EXCELLENT !!! Highly recommended!!!! :)
Super friendly and great rate
Shawn helped me with everything and very fast didn't have to wait. very helpful
After so many stressful hours of looking for the right storage facility I finally walked into the perfect one. I highly recommend this place for two reason excellent customer service all due to Luis and safe environment for your personal belongings. Luis explain everything with great detail and made it so easy and relaxing by far one of the best customer service representative i have ever seen great job Luis. Public Storage should be very proud to have a employee like you.
Shawn was very helpful and well mannered. He is very gd at his job. Thank you Shawn for everything
Shawn was very helpful and courteous, I had a choice between here or another vendor and chose public storage. Great customer service.
Shawn has been a great help to me
Shawn was very helpful and efficient.
Louis did a great job explaining all the details about my rental space. He took me out to see the space unlike uhaul when I was shopping around. I was super impressed by his attention to detail; since we walked to space, he was picking up small debris along the way and calling others on the property by first name. Awesome
Employee was very informative and thorough. Thank you.
This is a great facility. Awesome customer service- Shawn was very knowledgeable about the storage options, asking good questions to make certain that I chose the right unit. He was so helpful and courteous. I would recommend to anyone!
Would like to thank the onsite manager for assisting me on the property when my car battery died. He came down after hrs without any hesitation and was able to help me out. Besides being very helpful the location is in a great location and everything was explained clearly.
The manager at this location is very professional and i would definetly recommended this property to my friends and family
Luis provided me excellent customer service and will use this facility again next semester
Luis and Shawn explained everything so well, showed me the unit, and answered my questions. They were very professional and helpful. It was a great experience!
I want to thank Luis over the past couple of years for all of his help. What was suppose to be a one month rental turned into 2 years plus and the service i received was excellent. This kid goes above and beyond for anyone who ask for help, ive seen him countless times in office and on property sovling issues. Location is away from center city and is well maintain. Luis thank you again for all you have done my friend, my wife and i really appreciate it. God bless.
Excellent service. Luis and Shawn were extremely helpful in answering all my questions and didn't pressure me into buying anything I didn't need. Would definitely recommend
From start to finish Luis did everything possible to help me, superb customer service!
Awesome experience!!! Really appreciate quick courteous service!!!
Great service! Shawn, one of the employees, was great. I was having trouble opening my father's unit and he was incredibly helpful, as well as friendly and polite.
Customer service is outstanding! Luis is very professional and friendly.
Luis provided exceptional customer service! My Mom was moving from Jermyn, Pa and couldn't make it to the storage facility before they closed which Luis graciously stayed after hours just for my Mom to check in. Luis even kept in contact to confirm he was still there waiting for her. This experience defines top koch customer service!! Thank you Luis!
I loved the customer service , everything was explained for my understanding. Tiara was such an outgoing , sweet hearted worker , I would definitely recommend many people to have service with your company .
Went into your location today and was helped by a young lady name Tiara and she was great she help with with everything I came in stressed and left with a smile great great customer service.... I will pass on the good word about your store THANKS SO MUCH!
Tiara was very helpful and friendly. She helped me very good job!!!
Tiara was very helpful I was very satisfied with the service and prices.
My experience with public storage was great very good customer service skills Luis was excellent thank you for your help
Just had an awesome experience getting our storage unit. Tiara was professional and efficient. Would definitely recommend them:)
Tiara was very helpful getting everything sorted out and helping me understand the process behind getting the unit. I would recommend this place and her help highly!
Great customer service.. Thank you Tiara!
Great host in the front Office (Tiara). Courteous and friendly. Nice first expirience for me renting a storage.
Big thanks to Tiara for helping me with all of my moving needs. The customer service here is the best I've seen. Every question I had was answered. I also can't forget to mention how neat and clean everything was!! I would recommend this Public Storage to anyone 😊😊
Tiara was super helpful and very kind! Couldn't have asked for a better person to help with my situation. Very understanding.
I would like to say that I had an excellent customer service support by Luis everytime who is so professional and patient when it comes to me making a payment.
Okay not only was the one lady who worked there super pretty but the customer service was amazing. They were very courteous and took care of my father with the utmost care! Thumbs up big time! Wish I could rate it more than 5 stars!
I just wanted to take time to thank Luis for helping me after hours with my gate code issue, he was nice enough to come down stairs and help me with my problem. I would highly recommend this property because of Luis. -Thanks
Tiara was very helpful and pleasant. We were able to find the storage options that best suits our needs for a great price. I recommend coming and having her assist you.
Great service from tiara took her time to get me the right unit and explained service to last detail! Ive never rented a storage space before, Thank you tiara for your great help!
I personally would like to thank the manager for the service I received at his location. I was traveling from upstate NY, relocating to PA with a truck packed with my entire apartment. Feeling overwhelmed because of issues I had with my movers and traffic I was going to arrive a few minutes after they closed. I called this property and Luis was kind enough to wait for me and held my unit on reserve until I got there. What a LIFESAVER! Seriously he helped me avoid so many fees and issues I would of had with uhaul since I had to return the truck at an specific time. He was extremely professional, friendly and obviously patient. He went on to ask questions about the items I was storing and actually showed me a different unit than what I reserve to save some money. I've never stored before so I'm glad he was knowledgable and everything worked out perfectly. I will recommend any friends and family strictly based on my experience with Luis. As a recruiter myself, I would hire Luis in a heartbeat. THANK YOU SOO MUCH!
Excellent staff!! Very friendly, helpful and very generous.. They even gave my daughter a bottle of water without asking.
Friendly and very helpful employees... Had lock seized and they were able to free lock up for me...
I stopped by the office with my mother to purchase moving supplies. The young lady there, Tiara, was very helpful. The supplies are on the pricey side. I waited until I actually used the boxes to write this review and I can honestly say they are worth it. Big thanks to tiara for convincing us that their quick pak was more convenient. I definitely recommend it if you're like me and don't know exactly what to buy to pack. this place is awesome, customer service seems to be their top priority. If I'd ever need storage I'd know where to go.
very helpful and courteous
Service was very Good, Tiara treated us like family. she is a good investment to your company.
I have been a customer for almost 2 years and the Customer service that I have been given every time is absolutely phenomenal. I want to thank Louis, Lynn & last but definitely not the least Tiara. When I first opened up my storage unit which was a 5X5 an opened that up with Louis he made me feel at ease along with Lynn when I would come an pay my bill or just stop to get things out of storage. I just recently had to upgrade too another unit and the person I that did that upgrade was none other than Tiara who I had the pleasure talking to over the phone when she reserved the bigger unit for me and then to actually get the opportunity too meet her was fantastic. Tiara is a pleasant woman who just came on board not that long ago and I had some skepticism first but when she started answering my questions then I felt at ease once again. Thank You So Much Louis, Lynn & Tiara.
Tiara is awesome!!!! Very helpful, with a clean facility. I always feel welcome when i come here. Very respectful staff. Would recommend public storage to all family and friends
We had a wonderful experience at the public storage in whitehall, staff was knowledgeable and pleasant. Made for an overall great experience. Would definately recommend them to others.
Tiara was very kind and helpful...explained everything that I needed to know...I would recommend this place to anyone...
I really love the customer service at this storage facility. One of the best things is that they are bilingual. My mom only speaks Spanish and she had a sense of relief and security when she found out that the young lady there speaks Spanish. Tiara always makes sure she helps my mom out if she's confused on anything, and that gives me peace of mind. She has a very "people" oriented attitude. The prices might seem a little high but in reality those few extra dollars you spend are worth it. We know for sure that our belongings are safe, and the customer service is honestly some of the best customer service we've ever gotten. Good job Public Storage!
Great phone & follow-up & customer service. Met all my needs. Thanks.
I would like to comment & say that I received excellent customer service from the general manager who attended to me last week. I believe his name is Luis. I was very frustrated & thought I wouldn't get any help to help me figure how to handle all this unwanted stuff my parents left me. He was very understanding & explained to me al the options I had & even suggested what would best suit me for my situation. Even though I told him, I wasn't sure if I even wanted to use a storage facility yet, he still have me a tour of the grounds & was very pleasant about everything. He was very informative unlike the Uhaul facility I also visited.
Outstanding customer support provided by Luis, nothing is too much trouble for him. From day 1, I was very happy that my belongings were in a safe and clean environment. I would highly recommend using this branch of Public Storage, Best Regards, Eamon Williams,
The young lady was very pleasant. she was very helpful in helping me choose the correct size and type of unit with a few wisely asked questions. Thank you Tiara!😊
Excellent customer service from both Luis & Tiara. Both were extremely informative and suggested a better fit unit for our needs. I was very pleased with my overall experience and would highly recommend this facility to anyone!
Mi experiencia aqui fue muy buena. Tiara me ayudo y me dio su atencion en su totalidad. Es una joven muy cordial y profesional, que hizo todo lo que pudo para ayudarme. Muy humilde, hizo Un excelente trabajo. Yo Le recomiendo este storage, pregunten por esta joven que ella los ayudara.
i went in with my friend who just rented a pace there, the office was really clean and Luis and Tiara were very helpful!. they greeted us right away, and thankfully asked my friend questions on what she was storing, otherwise we would have rented a unit that was too big. my friend had a complicated situation but they worked with her and got her the space she needed. I wanted to write the review not only because they said they would appreciate it, but because the way they treated us was very respectful, honest, and caring. just before we went in we had gone to the UHAUL up the street and I told my friend Public Storage was also around the corner and that they would probably provide better service than those rude people at UHAUL. High five for Luis and Tiara who proved me right!
I stopped in unexpectedly to purchase a few moving supplies and I was pleasantly surprised by the customer service given to my and my daughter by your manager Luis. I came in close to closing time and he still was patient and super helpful. Even when my 5 yr old started to get fussy, he not only continued to help but even went above and beyond to accommodate us. I know people are quick to complain when something bad happens, so I wanted to make sure to take the time to compliment this employee. Luis is an absolute asset to your company and employees like him are extremely rare. I will make sure to always return to give this location my business as well as refer my friends and family as well. Thank you!!
Luis the store manager is very pleasant great customer service skills,very knowledgeable in all aspects.
I was in to buy merchandise and the property manager Luis greeted me and offered me merchandise that was appropriate for what I was buying. Very helpful!
Needed moving supplies and stopped in this location...greeted by Luis and he went on to ask me what I was packing and told me what I needed to pack accordingly. Great customer service and was very knowledgable
Excellent service will recommend for everybody. Thanks
I used this storage location for 3 months. The staff was awesome and always helpful.
1st experience with getting a storage unit and SUPER friendly and helpful staff Lynn and Luis. Kevin
Excellent customer service from the manager who is very helpful. I recently went in to make a payment for my son and was very pleased. I am considering using a storage facility for my antiques and this place has my business in the near future. I felt very comfortable with this location. Thank You
My mom sent me to move her things out of storage and since I never did anything I like this before I wasn't sure of the process. Luis was really cool and walked me thru the process, he even got on his golf cart to show me exactly where the box was since I never been on the property. He was really friendly and professional. My mom Angela sends her thanks!
Great experience! !!... manager Luis made everything run smoothly and answered all of my questions! !...definitely would go to them again! !
As a customer off and on for 15 years to this establishment. I do recommend this Public Storage to anyone who is in need of a storage facility. Louis and Lynn have worked exceptionally hard to accommodate my needs of the different units I have used. They treated my friends who I had come in for rentals with all the professionalism and courtesy you could ask for. So if you are in need of a storage unit, look no further, you found it here at this Public Storage. Stop in and get yours today. They will help you as they have helped me all these years. "GREAT PEOPLE" There is just "ONE" thing I am not happy to about and that is how corporate treats their employees and expects them to constantly be forced to have these posts like this posted. Then if the employees do not have posts, posted, they hold that against the employees who work at any of the facilities. This is OUTRAGEOUS, some people do not do postings, some people just don't care to post. Others may not know how or do not have Google accounts. I hope others who read this WILL follow me on this. You cannot force people to write a review. This is America not a 3rd world county. I hope someone from corporate reads this and gets the hint it is "NOT" your employees fault you do not have all the postings you want to see.
The manager at this location is very professional and knowledgable. He has been a big help with moving into Public Storage. I was even able to down size to a smaller unit within 2 days. They are very personal there and always offer assistance when needed. I would recommend this location to anyone in need of a storage unit. The location is very clean and easy to access. It is very convienent to all major highways and getting in and out is quick and easy.
Clean, reasonably priced, and well secured site. Excellent customer service -- the staff is courteous, friendly and helpful.
I am new still moving things into the storage locker. I went online reserved my storage, stated move-in date and received a call from the main office. The service I found to be suburb, very friendly employees detailed with though explanation for everyone to understand and be satisfied. I worked in customer service 30 years and find the employees at this public storage facility are a complete asset to the company. Keep up the good work!
Very good customer service. Everything clearly explained
From the moment I walked in the service was amazing. Everything was explained to me down to the t all with a smile. Lynn was amazing and very considerate of all ny needs. I will definitely be returning to this location.
I needed a small storage area close to my home. I went on line to review availability and found exactly what I needed. I did the necessary reservation info on line within minutes I got a conformation, the an E-Mail response, about 1 hr a phone call from the mgr., Lynn, and made arrangements to sign a contract all went exactly as online info said it would. I went to sign the contract met Lynn, who was very nice. I couldn't have asked for anything better. Everything went exact and could not asked for more courtesy. It was great and THANK YOU Tony Male
My mom rents and says the staff is very friendly and helpful. They're on a first name basis with customers. Excellent location site.