Public Storage Self-Storage Units at 500 American Way, Wexford, PA
Address
500 American Way Wexford, PA 15090
Office Hours
Mon-Fri 9:30 AM - 5:00 PM
Sat-Sun 9:30 AM - 5:00 PM
Gate Access Hours
Mon-Sun 6:00 AM - 9:00 PM
Storage Facility Features
---

10'x5'

Climate Controlled

Inside unit

1st Floor

---

10'x10'

Climate Controlled

Inside unit

1st Floor

---

10'x15'

---

10'x20'

---

10'x25'

---

10'x15'

Climate Controlled

Inside unit

1st Floor

---

10'x20'

Climate Controlled

Inside unit

1st Floor

---

10'x20'

Outside unit

Drive-up access
Nearby Self-Storage Locations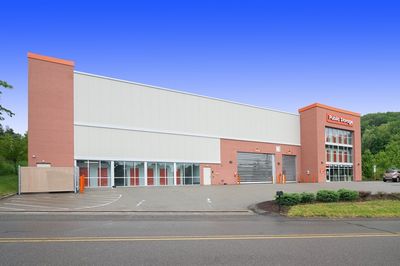 Self Storage Near
7204 Old McKnight Rd
Pittsburgh PA 15237
Self-Storage Near Wexford
Resources from the Help Center
See what fits in different storage unit sizes
Wexford Storage Units Near I-79
Just 18 miles north of Pittsburgh, Wexford residents and visitors can easily spend a day at the Carnegie museums or see the Pirates and Steelers play pro sports.
Wexford Public Storage has a host of storage units to fit your needs.
At Public Storage, You'll Always Find...
Keypad Access

Friendly Staff

Month-to-Month Rent

Moving Supplies Available

Free Parking

Well-Lit Facilities
Reviews
( 24)
Love this place some lady named Karly was the best I had got a unit it ended up being entirely too small karly then went above an beyond to make sure I got a bigger unit if it wasn't for her I would have been screwed she's a great asset to this company keep her !!!!!!!
Carly is amazing to work with...she is exceptional with customer service. Being out of state, I've had several issues & she has been so helpful throughout all the chaos! Not to mention, I know that I unit is safe & secure. Thank you so much for all of your help, Carly!
Karly was amazing I had some troubles she helped me we got it situated together, also idk Jeff but that's a good dude he called made me sure I was also set up as well!!!
Karly Was very helpful she assisted me . On renting a storage unit.patient answered all my questions.very knowledgeable .thank you again karly
So far the service we have received from Carly has been amazing. Very friendly and accommodating. Happy we found Public Storage!
So happy to have found Public Storage Wexford. Close to home. Clean and secure. Karly is great. Very sweet and helpful. So nice to work with. Highly recommend!
Karly was amazing! She made the entire sign up and access process seamless. She had a great attitude and repoir with customers.
I ended up having a personal emergency and needed a unit, and throughout the chaos, they helped me get everything sorted out for my unusual situation. Thank you Karley, for listening, for the relief, and for your patience.
Spoke with Karly about renting a storage unit she was very knowledgeable answered all my questions and easy to talk
Needed a storage unit of the sudden passing of a family member. Karly was a big help finding me a unit that was the right size and answered all my questions in my stressful time.
They provide decent storage and there's always someone watching to make sure people aren't trying to jack you!
Since Public Storage took over from American Storage, I have had several issues with billing. Apparently, the due dates were changed even though I was always paying weeks in advance. The only one who was able to help me resolve these issues was Kat (26985). I met with her on several occasions and she took my documents and was finally able to resolve the problem. She is a valued employee and made the extra effort to reach a resolution.
Thank you Ken! You were very helpful and supportive! Great Job Public Storage, everything is all spruced up and clean, with friendly customer service!!
I would recommend this place to anyone who needs storage. I dealt with Ken and he was incredibly kind and helpful. I needed to put my stuff in storage for a few weeks and he found an incredibly great deal for me and was very understanding. This place is awesome!
The woman at front desk refused to let me return my trailer I rented. Had to drive to different u haul dealership to do it.
Unfortunately, my family and I did not have the best experience with Advanced Self Storage. We were looking for a place that had temperature controlled storage as we had furniture that we did not want to grow mold/ mildew. When we visited the storage unit in the summer, it was incredibly hot and humid, and as we feared, our furniture grew TONS of mildew on it, so we had to move our furniture to a different storage unit in the fall. Of course, we were upset at the situation, and when it was brought to the "manager", we were only met with a rude attitude and no remorse for the situation. A well established, apologetic company would have offered a minor refund at least. This company is clearly not that. As a side note, we called the place multiple times between discovering the mildew and actually moving, with no return call from the company. Mouse droppings were also discovered in the unit. Again, very unprofessional and unclean. I would strongly consider searching elsewhere for self storage.
Great, easily accessible facility with very professional staff!
Easy Access. Polite Staff.