Public Storage Self-Storage Units at 11057 S Highway 51, Broken Arrow, OK
Address
11057 S Highway 51 Broken Arrow, OK 74014
Office Hours
Mon-Fri 9:30 AM - 6:00 PM
Sat-Sun 9:30 AM - 5:00 PM
Gate Access Hours
Mon-Sun 6:00 AM - 9:00 PM
Storage Facility Features
Outside unit

Drive-up access

Outside unit

Drive-up access

Outside unit

Drive-up access

Climate Controlled

Inside unit

1st Floor

---

10'x20'

Outside unit

Drive-up access
Nearby Self-Storage Locations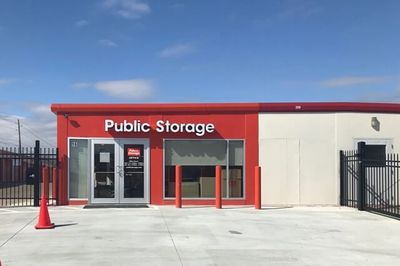 Self Storage Near
1650 N 9th St
Broken Arrow OK 74012
Self-Storage Near Broken Arrow
Resources from the Help Center
See what fits in different storage unit sizes
Broken Arrow Storage Units Near Muskogee Turnpike
This Broken Arrow storage near Muskogee Turnpike offers mostly outdoor units with easy drive-up accessibility as well as covered RV and boat parking.
Broken Arrow Public Storage employees are happy to accommodate your storage needs. Move into a storage unit contact-free through our
our eRental program
.
At Public Storage, You'll Always Find...
Keypad Access

Friendly Staff

Month-to-Month Rent

Moving Supplies Available

Free Parking

Well-Lit Facilities
Reviews
( 111)
There are no carts and I had paid a lot of money to have an air conditioned unit and it was in the middle of the building. We went up there to put more stuff in the unit, and the AC was not even working! Plus, there was not even a person to tell them because their front door is always locked.
Bad experience (notable bathroom was disgusting).
Had a good experience thanks to Jarvis for being professional and very helpful. I rented a unit online which turned out to be to small for my needs. He helped me transfer to a larger unit with no problem. Pretty easy process all together. Thanks!
it good clean and safe lot of storage
Jarvis was very helpful and informative, I will recommend this property to family and friends
I was 100% pleased with the service provided by Jarvis! He was professional, courtesy and knowledgeable. I have and will r recommend this property to family and friends!
I spoke with the district manager to help resolve my situation and she was very thorough and professional. Thank you Mae for your understanding and great customer service
Jarvis has always been a excellent customer service associate especially when offering his expertise on my storage move. He is very professional everytime I have entered the office. He is very helpful to me anytime I have needed him. He always goes above and beyond to meet my needs. He deserves to be recognized. Thank you Jarvis for your excellent support and service that you provide.
Jarvis was a big help, recently, when my automatic payment didn't go through. He walked me through how to fix it, and I certainly appreciate that he took the time! Thanks, sir!
Always helpful employees. They go above and beyond to resolve issues and to keep the customers aided. There have been some issues where I could not get in to fix a tire on a vehicle b/c the gate would not open on a Saturday morning. It was disappointing b/c I had a mechanic with me to fix the tire. Also the door got hung up and was off track at the top. We had to call the Police after 3 hours on an over 100° Summer day. The telephone Staff let me down saying someone would help me. No one showed up. Finally some customers brought a ladder and between them and the Police they kindly fixed the problem. The 5 star rating is b/c of the good Staff that work there but I would monitor the people who are on the phones who say someone will be there and no one shows up.
Jarvis was the employee who helped me get setup. He was friendly, helpful, knowledgeable, and an absolute pleasure to work with. I would recommend using Public Storage and definitely recommend working with Jarvis!
If you're going to be out of town DO NOT STORE ITEMS HERE. I am shocked that I got a call from PS saying my locks are missing off my storage. Be careful because obviously the units are being broken into. Oh, and PS doesn't call the police or check cameras (even after they know a crime of B&E has been committed on their premises). I had to call local police from out of town to file a report and have them go to PS so that camera footage is viewed but PS will not cooperate. Still have to wait to verify everything that is missing with local police, yet they are aware that this is the new way for criminals to operate under an umbrella of PS. DO NOT LEAVE YOUR VALUABLES HERE ... I AM WARNING ⚠️ YOU ALL.
We have rented a storage unit from these people for 10 years. When it was Tiger Mini Storage everything was fine.Since Public Storage has taken over the gates have been locked early despite the hours posted and they randomly charge exorbitant late fees if you're even a day late. My recommendation would be to stay away from this place or any other Public Storage site. There are too many other mini storage locations to choose from!!!!
I have rented here for nearly six years and have always been very pleased with the facility as well as customer care and service. The current site manager, Jarvis, has consistently continued the tradition of stellar customer service and care for his facility tenants. He has a rare combination of excellent professionalism, customer care skills and personable customer service. He has consistently treated his facility tenants with the upmost respect and consideration. He takes the time to answer all your questions and provide explanations on company policies and procedures. Just a genuinely nice person who provides stellar management of this storage facility.
Jarvis was friendly, knowledgeable, very professional and explained everything in precise detail. It was a pleasure doing business with him and he presents himself and Public Storage as a safe and secure facility with constant personal oversight!
The gentleman behind the counter is always so helpful and knowledgeable. Job well done Jarvis!!
Just spoke with Jarvis in regards to renting a unit! He was extremely thorough in explaining everything to me! Thanks for all your help Jarvis!
place was great until public storage took it over. Now it's very difficult to get out of the facility. They're beyond rude. We moved everything out after three years of storage. Gave them notice, and there's still trying to get us to pay next month. Still getting emails & text threatening me with glare fees. We even paid a year in advance. The joys of corporate ownership . The customer no longer matters. There are other storage options in coweta. you should use them, unless you like harassment. .
Very helpful staff and nice storage units.
Very impressed with the folks at this location! Especially Jarvis, who was very helpful in all the questions I had for him. The place is kept very clean and throughout the time of doing business with them, they were helpful to anything I needed along the way!
DO NOT RENT HERE! I was required to get insurance but the insurance is a complete joke. Almost all of my items were molded. They will only pay up to $250 after my $100 deposit is paid. In order to make a claim I have to have receipts and detailed information for all damaged items.
I can never get ahold of anybody when I call. I heard alot of storage buildings were broke into. I would like to know if mine and my dad's was broken into?
Horrible service no one ever in office to pay in person property look abandoned weeds everywhere gates don't work and unit flooded and wasn't notified.
Very friendly! Super easy!
Spoke with Linda M about services you have. She explained importance of damp check. She was extremely helpful and courteous. A+ rating for her. Thank you again for you assistance Linda. Be blessed!
Linda M. was very friendly and helpful! Awesome experience!
Great service, Linda M. Was extremely helpful and super pleasant! I will be sending my friends your way.
Linda M. Was Super Helpful and cheerful!!
After the corporation took it over it sucked. No customer service i was nothing more than unit#473 It was nearly impossible to talk to a human. I will never go back there.
Great facility, very helpful and knowledgeable staff.
The Insulation in my storage unit fell in and I called and left a message never got a call back my husband went up to the office and the woman there was rude and said that they couldn't help at the moment and couldn't schedule a time for us to come up there to clear stuff out so they could fix it. I'm not happy the the change of ownership at all the people who owned it before were amazing and friendly people. Looking for a new storage facility and soon
Deanna was amazing she went above and beyond to go over everything with me and tell me where my unit was thank you deanna
The Property Manager is Extremely Rude and Unprofessional. This was a nice storage facility (Tiger Mini Storage) until Public Storage took ownership. I moved out before it got worse Attention Public Storage you need a new manager at this location
Deanna was very friendly and super helpful!
Diana with Cowets Public Storage was very friendly and courteous. Also very efficient.
Awesome experience, the office lady with the dark hair was super helpful.
Pam and Deanna are amazing! It's nice to see smiles especially right now with the times we are currently in! I would definitely recommend this place for your storage needs!
Great storage place! Very Safe!
We have used Tiger Mini-Storage a couple times over the years and always had a great experience. The people are friendly and helpful, units are clean, and the grounds are very secure. We are in the process of moving my Mother-in-law and used Tiger Mine Storage again. Want to give Chris a special shout-out. He went above and beyond to help us out. Thank you!
The customer service at Tiger Mini-Storage is unlike anywhere else. The owners truly go out of their way to help out in any way they can. This business should truly stand as an example of how things should be done.
My trailer was stolen. Not a secure place.
Amazing people!!! Amazing service!!!
Chris is super friendly and helpful. Down to earth feel and welcoming environment.
I'm giving their website 5 stars! I was able to navigate through their website easily and reserve my preferred unit without a fuss!
Do you have U-haul truck rental?
Wonderful staff. Climate controlled units.
Great facility and the owner went above and beyond for my family to help us.
Only real 5 star storage unit in the Area. Top notch amenities that all storage units need. Not only that, but the most helpful and respectable owners I have met of any institution. You feel very important and know all is being done to meet your needs. I am glad I chose Tiger Mini Storage.
Good safe storage place awesome people n a ton of security cameras
Can I store my boat or RV?
Do you provide dollies, push carts and moving equipment?
What are your gate hours?
What is the benefit of climate controlled storage?
How do I pay my storage bill?
What is a drive-up storage unit?
Do you offer moving trucks?
Can I rent storage online?
Is a deposit required when reserving a storage space?
Wow! What a great, safe, well lit and clean place. Winner winner chicken diner!
This place has an honest owner with good old fashioned small town integrity. Long story made short, he did a great thing helping out my mother-in-law recently.
We have had units at Tiger Mini-Storage for many years. The units have always been clean, convenient and dry. The security gate, lighting, cameras make you feel safe and you KNOW that your belonging are safe. The staff has always been GREAT!
Fantastic custermer service! Thank you for all your help.
Affordable and the manager is awesome. They also have climate controled units.
We rented this place for about 2 months while we were in the process of moving to the area. The staff was very pleasant when we walked in and he was able to get us a great unit for our stuff. The actual units themselves were very neat and tidy when we got them and had no issues for the duration of our stay. On the topic of security I saw plenty of cameras around the premises and the whole area was well lit. I noticed that one light was knocked out by someone during one of my visits to get some things and by the next week the light had already been fixed. Great place to rent from.
I have a storage here, cheap and reliable service
The owner are totally sweet ; affordable prices and it's a safe and accessable !!!
Its clean and very secure
Best car wash in Oklahoma!!!
The best car wash around has alot of pressure.
Very friendly and accomadating
Best car wash around, great climate controlled storage. Great ownership, friendly and accommodating.
Good, honest people and management!