Public Storage Self-Storage Units at 3990 Pearl Rd, Medina, OH
Address
3990 Pearl Rd Medina, OH 44256
Full Service Kiosk Available
Office Hours
Mon-Sun Self Service - online & on-site eRental
Gate Access Hours
Mon-Sun 6:00 AM - 9:00 PM
Storage Facility Features
Outdoor Storage Units

Property Manager Lives On-site

Small, Medium & Large Storage Units

Climate Control Storage
Office Hours
Mon-Sun Self Service - online & on-site eRental
Gate Access Hours
Mon-Sun 6:00 AM - 9:00 PM
Storage Facility Features
Outdoor Storage Units

Property Manager Lives On-site

Small, Medium & Large Storage Units

Climate Control Storage
Close Location Details
View Location Details
Outside unit

Drive-up access
Nearby Self-Storage Locations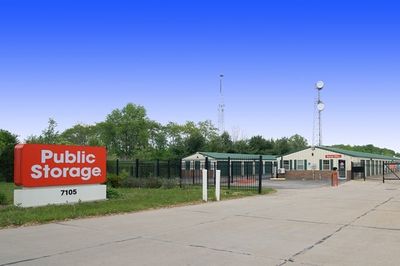 Self Storage Near
7105 Wooster Pike
Medina OH 44256
Resources from the Help Center
See what fits in different storage unit sizes
At Public Storage, You'll Always Find...
Keypad Access

Friendly Staff

Month-to-Month Rent

Moving Supplies Available

Free Parking

Well-Lit Facilities
Reviews
( 138)
Very clean. Very nice property manger. Managed to loose my lock keys and they were very helpful with cutting and replacing my lock.
Very helpful an very friendly
I am very dissatisfied with the rude behavior from staff at this location. The district manager said to remove the bad reviews, or he would charge us a 250 dollar clean-up fee. It doesn't work that way, Max. We finally spoke to the regional manager, who quickly solved the issue. I'm not sure why your response is thank you again. It's my only review on this matter.
They raise prices by half every 6 months. They locked my unit as I was removing everything from it without authorization. Never again. Rude people.
This is my second storage unit with public storage and getting a new storage and having the other storage has always been a very, very pleasant experience! Anna who I dealt with both times always went above and beyond to make sure I got and I have what I need! I would recommend her location to my friends and family anytime! I am so happy with this storage facility! It's very convenient, but most of all, Anna is the absolute best employee you could ever ask for!! She is always there for me and my son because it's his unit on Pearl road! She's always there to help in whatever we need. She finds us the storage unit we need. She is just the best person ever!! So friendly! So helpful and I love love love her!! Thank you for having her as one of your employees!!
I accidentally over paid on my storage unit and a very helpful woman named Terry was able to help me out so efficiently. One of the best places I've rented from
I felt very comfortable renting my space from Public Storage in Medina. Very Very clean and organized. The prices are right in line where they need to be.
This is a nice secured location for all your household storage needs, nice and clean units with security and insurance options.
Anna was extremely nice and helpful! Explained everything nicely as well as options. Showed us what we thought we wanted and eventually purchased. Five stars for Anna!
We found a bigger unit was available and called about switching. The manager facilitated the change , making it very easy to switch units. Can't thank you enough for your assistance.
Anna was great and helped make a smooth and quick rental
I believe her name is Anne. She is soo helpful and so kind. Super nice very helpful everytime I talk with her.
Anna has been very helpful in transferring units, explaining how to bid on auctions as well
Thank you Anna, you made it quick and easy to rent my unit. 🙂
We had to wait for the property manager to come to the place from somewhere for at least 40 minutes to assist us.
Anna was absolutely the best in helping me. She is friendly, knowledgeable and a great problem solver. The rental process is painless with Anna.
Anna was a pleasure to work with. She set up my account quickly and was thorough with all instructions. Many thanks Anna!
Unit clean and doors newer.
Anna was super helpful with helping me get a storage unit. She's very personable and a pleasure to work with. I would definitely recommend this facility and Anna.
How much for storage????? Trying to move out my stuff to a storage unit. Trying to see has the lowest cost until we find a place to move to
So far so good, just rented a 5×10 storage. Sign up & directions for getting in and out through the gate have been simple. Staff have been very professional, helpful and nice.
Hands down extremely clean and friendly warm welcoming environment.
I like this place, have 3 units there. It's still the same as before.
Anna is wonderful give her a call she'll help you out wonderful🙂🙂
Anna has been so helpful and is a pleasure to work with! Highly recommend!
The lady that runs it Is so polite! Elaborates very well on all things explained.. clean places no bugs really.. second time using the place. I do recommend people here and have had about 3 people go there!
Thank you Anna for being so kind and compassionate when I started renting my space. Also appreciate your commitment to providing Great customer service.
Anna is the best bar none
I have been a customer for a few years now and had been notified that rates were going up. I contacted Sue and she was able to work out a discounted rate for me. Thanks again Sue for the great customer service experience!
Highly recommended! The Manager Anna is amazing with everything I've needed … hard to find customer service like hers now a days. Been there over a Year and some months now and live my space. Very Accessible as well. Along with cleanliness being 100%
Anna at public Storage Medina location is awesome! Super sweet and so helpful! she goes above and beyond every single time i call her or come to the office! Have already recommended to multiple people
Way to expensive and they make you buy their lock. Lots of hidden charges I would look elsewhere.
What a delight! Anna was fast, organized and professional.
Anna was super helpful and sweet. Thank you for all of your help.
Thank you.. Anna, for your help in renting my unit.. your personality is exceptional, and your knowledge is very helpful in getting me started.. Keep up the great work that you do..
Anna is awesome!! Made us feel welcome and comfortable !! She knows her job well!
I cannot say enough about Anna at this site. Both Public storage in Medina are great and Anna is an amazing manager of both sites!! I have been working with Anna for the past 2 years. I have 7 units in both public storage facilities and Anna has gone above and beyond to assist me with finding, renting and facilitating my storage in between moves. Anna deserves a raise!! Both Anna and Public Storage receive a 100++++ rating!! Thank you so much for making my crazy moves go smoothly!!!!!
I'm so glad I chose to store my items here! Great space, location and amazing customer service!
Great location and very friendly. Pat was very thorough with information on the units, prices, etc. We went and looked at our rented units and very clean and easy to access. Would recommend them.
Have a unit here the only thing that sucks is you can't access the entrance gate after 9:00 p.m. or you get in trouble. You have to be in and out by 9:00 p.m.
Love this place affordable prices, the property manager was extremely nice and helpful.
Anna at the (Wooster Pike) Medina, OH location is great! She has helped me for the past month or so adjust to our move and storage units. Anna follows through, and definitely has customer service and satisfaction at the top of her list. Nice job Anna and Public Storage!
Anna, the property manager, was very friendly! She explained everything I needed to know and made the process very smooth and easy!
Information that you should be informed about when you reserve a unit. Had it reserved and then when I went to get unit, couldn't get it. Left me totally hanging at the last minute.
The property is always very clean, well kept and has excellent security. Anna is very friendly, and helpful! I highly recommend this facility!
We were looking for a storage unit on the larger side, we stopped at Public storage on a Friday, and spoke to Anna. She said she would have some coming open, & took our information. She called us back a couple of days later, & we were able to reserve a unit. Anna was amazing!
It's a place to store extra junk. Security gate and insured
Anna at the Medina OH store was fabulous and renting a unit was quick and easy. 😊😊😊
I came into the Medina, OH branch, very stressed out and unsure of what I was doing. Anna was absolutely wonderful. Right away,she put My worries to rest, and made the whole process Smooth and painless. I can't tell you how much I appreciate it, because all I was having all day long for problems and confusion with other companies. I appreciate the cleanliness of the facility, the sincere Concern for your customers, And the continued five star service you provide day in, day out. Thank you Anna!! You are a wonderful help and an exemplary representative of the company!!
Anna at Medina, OH Public Storage was a professional and courteous manager! She walked me through the entire process and was warm and friendly. The Covid precautions made me feel really comfortable within the lobby. She was patient and answered all of my questions in a timely manner and her demeanor left me feeling like I could call her at any time with questions or concerns. She made sure I understood everything to my satisfaction and I am sure I'll have a very happy experience with Public Storage because of her.
I have been with Public Storage for almost a year now and I love it! I had to go in and make some changes with my unit and Anna was wonderful with all her help!
Anna did a good job fast and efficient. Made it very easy.
Got my unit today and Anna was extremely helpful! From the point of reservation with the immediate follow-up phone call all the way to the same-day move in. Everything was laid out for me and what I could expect from Public Storage and how things operate. Made the process so pleasant and easy. Thanks!
Anna at the Medina Store has been AMAZING! She has worked with us every month. She makes sure to give me reminder calls about when my payment is due, is always so sweet Everytime I come in, and she knows me by name. She makes me and my family always feel welcome when we stop by, and we make it a point to go in to say hi Everytime we stop by our units! Thank you Anna!
anna was so helpful and they are so kind to work with you on anything you need !
Great and fast service, Anna was so nice and helpful!
Quick and easy sign up and registration. Anna was very helpful and answered all of my questions. Storage location is very clean and secure.
Anna in Medina Store#26655
My service was AMAZING. Anna was more then kind, incredibly knowledge, passionate. Overall make me feel my items are safe in her watch and with this company thank you Anna !! Property #26655
Great customer service, very friendly and helpful. 👍👍👍
Sign up was quick and easy. Staff was wonderful in explaining how everything worked. Thanks!
So thankful for the incredible Manager Anna at Medina Public Storage! Anna is outstanding in all aspects of customer service remaining kind and professional at all times. Having been a customer for years prior to this Storage Facility becoming Public Storage, I can honestly say that Anna is a true asset to the company and raises the bar in customer care. Thank you, Anna! It is a pleasure.
Anna is friendly and awesome to get a storage place from.
Anna, was vary nice. Very personable, professional, and a joy to talk to. Thank you vary much for the experience.
Anna was super helpful and prompt. The whole process took less than 15 minutes. The office was clean and Anna was well organized. Unit was clean and location is safe. Would highly recommend.
We needed a fast solution for storage due to a family emergency, and Anna was extremely helpful! She answered all questions, including those I didn't know I needed to ask. The storage facility is clean and secure. Highly recommend.
I had come in to get information on units, for when I move next month, the lady at the desk was dealing with an irate customer, who she calmed down and that customer left in a better mood. I will be renting from this facility when I move. Anna has great customer service skills
are 5X10 units temperature controlled
Called to get sizes and rates for when I move up there and Annamarie was very helpful. I plan to rent from her if some are available once I get there. Thanks for the great service :)
I was very impressed with this facility, it is clean and the staff is Amazing. Anna helped with finding the right size for my needs. I signed up for auto pay which I can't stress enough! (I have a terrible memory) I can't recomend public Storage enough!!
Anna was very attentive and helped us find the right size space for us. Showed us the unit and made sure we could open and close it. Got us to sign up for autopay as I tend to be forgetful. I would highly recommend this facility, super clean and pleasent to work with.
SUPER HELPFUL... We sold our house faster then we thought so we had to upgrade our storage unit, Anna was super helpful to make sure we found the right one that we needed, She even went out of her way to show us the unit size before we decided on the size. I would recommend public storage to anyone.
Pat was very help full the Ben's were clean
Great location very friendly staff
Very helpful, was able to get a unit one day in advance, and offers protection products like mattress covers which was extremely helpful.
Public storage Medina Ohio was great in assisting me in getting a unit quickly. When I found that what I had rented would too small the staff was quick to help me get into a larger unit. The online be check in n also saved me money and time. I was called about my initial within minutes of completion of process. Thanks so much for your help Vanessa.
The place was nice and clean. Geoff was very friendly and helpful.
Very helpful..needed size upgrade upon reassessing our preload needs..replacement unit had door track issue...prompt swapout by representative who worked through her lunch break to get me going... no complaints!
Space was clean and dry, Geoff who assisted me was very thorough and professional. Helped me get set up and on my way in no time at all. Thank you Geoff for your assistance. I've been moving and have limited time and he was very efficient!
place was very neat and clean. Staff very friendly and customer oriented. Problem with corporate billing was handled quickly, efficiently, and very professionally by both Pat D. and Felecia. Will definitely use this facility again.
Felicia was great it was very fast and easy. Thank you for making thia process so effortless. Will recommend this place to others.
Felicia is amazing. She knows her information and was very helpful. I enjoyed doing business with her. You need to hire more people like her.
Great experience with Pat. Wonderful sense of humor, and was very friendly during the process.
Great place with great people
What the Hale$ said you guys were great so it must be true!!
I was told to come here and provide a great rating(What The Hales), little did I know about the great service that I got! I am so happy with the satisfaction of being give this great praise and opportunity to do this, thank you what a great place to be right now.
this place is awesome ... clean well managed
Very impressed with my experience at this facility. The staff has been nothing but helpful, and the place is always kept very clean. More than happy that I chose this location to store my belongings. Highly recommend.
If Jeremy Hales says they are the best ! You better believe it!!! Check out "What the Hales" storage auctions
Do you good Folks at public storage in Medina Ohio, Jeremy Hales of What the Hale$, on YouTube, asked me to check you guys out and to give you five star review. Because if Jeremy says you guys are top-notch and you guys are really cool. Then in my book you were five stars + 100 just to let you know
Amazing customer service! Jaid is very knowledgeable and friendly.
Very clean property and nice staff
The people that worked there were friendly but we just finished unloading our large unit and found mice nests in many of our tubs, boxes, and even a couch. It seemed clean but by the amount of mice nests and droppings they must have a pretty good infestation. I would avoid renting a unit here.
Jaid was fantastic! Very clean and professional.
they raise my storage rates ever 2 months.. I am on fixed income. went from $140. >>> $207 in 3 months
Amber was lovely she took extremely good care of me and gave me all the information I needed to know. I will definitely be using this place in the future.
Jaid and amber who work in the office are AMAZING!
Jaid Sand is beautiful, kind, and has a great personality!
Jaid helped us to quickly verify a unit that worked for us.
Extraordinary establishment! Immaculate upkeep! The young lady who got us all set up, Jaid, was very knowledgeable in "everything" about Public Storage & that facility that you would need to know. Very professional & courteous too. I highly recommend anyone needing a place to store your belongings consider this location. It's A-1 :-)
I have nothing but good things to say about this facility and Jaid was super helpful with everything! Highly recommended to anyone needing some space 👍👍
Jaid was an amazing help!
I just vacated my space but I had a wonderful experience with this facility and Jaid the young woman who manages this location. Will recommend.
My wife's boyfriend recommended this place to me and I could not be happier that he did! Jaid was very helpful and a pleasure to work with.
This place is trash the whole corporation sucks I called district manager about payment problems last month a whole month later still no return phone call now I said I was moving out by the first and they took my 24 hr access I would NOT recommend this place to anyone that is why they have move in special all the time because they have a bunch of empty lockers because there operations suck
Christina was very helpful and pleasant to deal with.
Before Public Storage took over this location...we were mailed a monthly statement. Not anymore. My 78 yr. old mother initially rented the unit for us to share. She does not do computers and could not "just access her account on line". The staff was less than helpful in coming up with an alternative payment/statement option. And they proceeded to increase our rent by 13+ dollars. I tried...unsuccessfully...3 times in one day to pay my storage payment. Office hours were posted...and they should have been opened...but they were not there. I ended up just moving my stuff out and taking MY lock...that Public Storage repeatedly defaced by applying their hideous stickers on it. I left a note in the drop box, and left a message...on some voicemail...not sure who or where as you cannot reach a real person there. The following day someone from there called me...only to not leave a message...so I still don't know what they wanted. Oh and another thing...you have to get out of your vehicle and walk around to use a keypad and enter your code to get out! Oh...and there are no indications or instructions for you to do so. Not a good set up. Not a good place.
I have been having a rough time since my wife left me but Jaid was very pleasant and made my day. Also helped me find the perfect unit for the stuff my ex wife left behind. 10/10 would recommend!!!
Lakin was very helpful with all of my questions. She has a beautiful smile too!!
Lakin and Jaid are always sweet and eager to help.