Public Storage Self-Storage Units at 2250 W 117th Street, Cleveland, OH
Address
2250 W 117th Street Cleveland, OH 44111
Office Hours
Mon-Fri 9:30 AM - 5:00 PM
Sat-Sun 9:30 AM - 5:00 PM
Gate Access Hours
Mon-Sun 6:00 AM - 9:00 PM
Storage Facility Features
Boat Storage

Car Storage

Climate Control Storage

Indoor & Outdoor Storage Units

Property Manager Lives On-site

RV Storage

Small, Medium & Large Storage Units
Office Hours
Mon-Fri 9:30 AM - 5:00 PM
Sat-Sun 9:30 AM - 5:00 PM
Gate Access Hours
Mon-Sun 6:00 AM - 9:00 PM
Storage Facility Features
Boat Storage

Car Storage

Climate Control Storage

Indoor & Outdoor Storage Units

Property Manager Lives On-site

RV Storage

Small, Medium & Large Storage Units
Close Location Details
View Location Details
Climate Controlled

Inside unit

1st Floor

Climate Controlled

Inside unit

1st Floor

---

10'x10'

Climate Controlled

Inside unit

1st Floor

Outside unit

Drive-up access

Climate Controlled

Inside unit

1st Floor

Outside unit

Drive-up access

Climate Controlled

Inside unit

1st Floor
Nearby Self-Storage Locations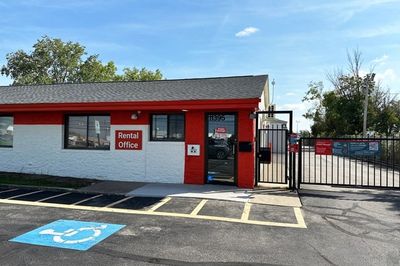 Self Storage Near
11395 Brookpark Road
Parma OH 44130
Self-Storage Near Cleveland
Resources from the Help Center
See what fits in different storage unit sizes
Cleveland Storage Units Near I-90
Cleveland storage units are available just off I-90, near the Lakewood section of town.
Fall in love with your city again by enjoying attractions like the Museum of Contemporary Art, West Side Market, and Edgewater Beach. There's a whole other Cleveland to enjoy once you cross storage off your to-do list.
At Public Storage, You'll Always Find...
Keypad Access

Friendly Staff

Month-to-Month Rent

Moving Supplies Available

Free Parking

Well-Lit Facilities
Reviews
( 426)
She's a wonderful person and she did an excellent job in helping me
Ariana was the best service provider that you have!!!
Russ was AWESOME; he was so kind and helpful! He answered every question that I had with a smile, and believe me, I had a lot of questions! He is the reason that I will continue to be a Public Storage customer!
Russ was amazing and help so much, 100 percent recommend!
The employee was friendly, courteous, and professional.
Employees are nice and very helpful
Clean, convenient, easily accessible. GREAT customer service from Russ. He is knowledgeable, friendly and a great problem solver.
Russ new his job and was very helpful.
Ronald could not have been more helpful or easier to work with. Highly recommend working with these folks!
Russ absolutely the best help me with absolutely all my needs of storing public storage
It was a good time The guy that helped us Russ, was very helpful and very thorough and it seems like it's going to be a good deal!
Russ was a huge help and great to deal with. Give this man a raise!
Russ is the best he's kind nice and so respectful storage with them for good results
Nice and friendly staff and pretty good deals on units .
Simple Professional Clean... A + if I need storage I would do it all again. Thank you!
Although my plans to rent had changed. Russ was not only helpful from signing up to rent he also was a pleasure to work with and understanding of my reason to term my contract. Thank You Russ I appreciate your help.
these storage units hold condensation - so if you have things you can't get wet then don't store them here - no ventilation - and nothing but excuses from the management - now i know why there not called dry storage
This place is amazing and very helpful. Russ was wonderful though the whole process.
Was dreading going to this storage place as I've had issues with other storage companies. I shouldn't have worried as Russ assured I was very comfortable with all the processes needed to get into and out of the facility and to my unit. Was very happy with his service and our storage unit! Also worked with Dawn at another visit and she is also very pleasant.
Russ at public storage is an awesome help thank you so much!! Defiantly would use this storage place again.
So grateful to have had the privilege of having Dawn help me with my move into a storage unit. Dawn was professional, patient and extremely helpful. She listened to my questions and concerns with compassion and empathy and gently guided me to make the best decision for my situation.I would definitely recommend this facility to anyone looking for storage.
GREAT SERVICE!!!! Russ kindly waited a few extra mins for me close to closing time and with a great deal of patience showed me to my unit and properly set me up to make my storage process as easy n smooth as possible. He didn't have to but he did and that's quality customer service. Highly appreciate you Russ, you're the man
Russ helped me out so great
This place is a dump. Nobody calls you back. Two (maybe) carts for the inside of the warehouse. Chicken wire for a roof on your indoor unit. Dimly lit. Avoid this place. Not worth the cheap rates.
Russ demonstrated outstanding customer service, professionalism and very knowledgeable in different storage unit. I would definitely recommend people to use Public storage at W117th..
Russ was extremely helpful showing me my unit and making renting one extremely easy
Russ took care of me,very great service
Russ was able to take care of everything quickly and professionally
Very professional great staff. Russ took care of all my needs and answered any questions or concerns I had. Highly recommend this location.
So grateful for Elizabeth. She was super helpful and made my experience so much better!
Elizabeth was great so helpful
The gentleman Russ that works there is awesome and has been a big help during this move!!
Let's Just say that Russ provided the best customer service ever! I was very impressed!
Love it. They will remind you and give courtesy call if you forgot to pay rent. I went there on my last day to get all my stuff. It was a weekend plus after hours. I got all my stuff and then left worried about how to cancel or stop my subscription. I was so busy I didn't go back until after two weeks. When I went there the guy tells me they already stopped billing me and that my subscription ended when my unit went empty. When I asked him how? he said they are aware of everything and also look out for everybody renting space there. I was like, "cool, thank you". I was relieved for the fact that I didn't had to pay for another month's rent that I did not use.
Russ is always so helpful and friendly!!
R Us on 117th Save the Day for me very, very customer service we need that everywhere
Awesome storage and helpful employees
Would recommend, Russ is very upfront about pricing. He communicates in Advance if there are any issues & looks out for the customers. Facility is clean and conveniently located. Thanks
Awesome customer service from Rus long time customer would rent from again
Is a little expensive and it looks old building
Clean somewhat nice and helpful employees. Reasonable.
Russ was very personable and helpful. He made renting a storage unit very easy for me.
Good Clean Storage Facility with New LED Sensor Lighting.Max and Russ is some awesome people that takes good care of your needs.
Bought a locker here on auction and it being my first time doing this I didn't really know what to expect. Russ was an amazing gentleman who explained and helped us with anything we needed. He honestly went above and beyond!!
Russ was amazing! I reserved unit that was way too small,Russ was able to acomedate me with a bigger unti! Awesome customer service!!
Russ went above and beyond to help me organize a move of my unit when I wasn't able to make it back in state. Really top notch service. Thanks again!
Great staff. Russ and Jeff are super friendly and helpful.
Yes Russ was very helpful
Russ was so helpful! He was very patient with me and answered all of my questions. He walked me through the process and I never felt rushed or pressured. Highly recommend!
Wonderful location with excellent staff. Russell was a great help through the whole process, addressed any questions and concerns we had. Would definitely recommend:)
Terrible customer service.
My company has used this location for several years and it's finally coming down to having to switch to another storage facility. Everything inside our unit has an awful mildew smell to it. The smell is so strong that when I took a box of paper files to our office, the smell was so overpowering that I had to move the box to another room just to air it out. Also, the inside of this location is VERY intimidating and looks like something straight out of a horror movie (I'm not exaggerating). I'm not giving 1 star since nothing has ever happened to me while there BUT I am on high alert anytime I do stop in.
Russ is a nice person and works hard to settle conflicts and problems.
Great customer service at store location # 22001 in Cleveland Ohio. The lease agent Kat was great with helping me with my frustrations over the first location where I made prior reservations. They really messed me up in last minute saying they had no more units while thier online system found one for me. So I went to the Public Storage on 117th.Street and got an even better and less price for same size I needed. The main Manager Russ also makes sure that you get what you ask for. You drive inside the hugh building to park and off load and use carts ti load your stuff. So when winter comes no snow to worry about. They also told me that their locking gates use a special lock that's impossible to break, so you have to buy their specific locks.
Update: I was contacted by corporate regarding my review. It seems that the company takes pride in their service. The issue that I experienced was addressed and I am satisfied with the outcome. Updated to 3 stars. 1 star by force. I received the worst customer service that I've experienced in this city. The "property manager" with the green ombré hair(Ms. Bank for the purpose of this review) needed to go to the bank during my time spent here. Just my luck right? WRONG. Because of this bad experience I canceled my reservation and found another location right around the corner for less money. So fasten your seatbelts while I write this review. I reserved this unit online early Saturday morning. A young lady called to confirm, discussed entry to the storage facility and asked what time I would be coming in and mentioned that she wanted to make sure she was in the office in case I needed anything. 2 hours later I arrived....LET'S GO! The words excuse me had to be repeated and practically yelled because Ms. Bank was in a bad mood and did not want to deal. ID/DL was held in the office in order to use the carts to transport belongings to your unit(bummer). I went and placed my items in the unit. I returned the cart and went to retrieve the ID and Ms. Bank was nowhere to be found. She was at the bank! Several other customers were waiting. One guy left & said he would get his license later. When she returned she still had an attitude and when I asked her a question she became extremely rude. It was at that moment I knew that I would need to cancel. The admin fee is non refundable so choose wisely. The business is a little outdated but who cares because you just need the unit for a short time. Garage door to the unit was a little raggedy. Lighting malfunctions and you may have to store your items in the extreme darkness like I did(or provide your own flashlight).
Russ is so helpful. Living out of town and being able to pay my bill online made things Super Easy. When it was time to bring the contents of the unit home, everything was a breeze. We would definitely use Public Storage again. Thank you again to Russ and Jeff.
My first experience renting a storage locker. Expected the worst - was I wrong! Don is very professional and courteous. Makes you feel as though you are his one and only customer. The Unit was spic and span, and very secure. Climate controlled and dry, easy to access. Would recommend for sure and will use again if the need arises.
The manager Russ made everything so easy and understandable. Excellent customer service.
Russ offered awesome customer service; he was helpful, knowledgeable, and prompt with his assistance for my need. Thank you so much Russ!
Ross was great and great doing business with him
Russ is a stellar employee! We ran into some snafus and Russ went above and beyond in every way! I am a Public Storage customer for evah!!!!!!!
Good evening I've had my belongings here for almost a year and Russ at the front desk is wonderful please give him more money:)
Fiona help me get the app and was very kind and patience.
Very good service from operator Russ Helped me secure a unit after an issue at another location. Helpful staff.
Russ was awesome. Very helpful thank you.
Russ, from the reviews I saw before going to the facility, fit these reviews nicely. He was very thoughtful and explained things thoroughly and thoughtfully. Pointed out considerations to think about which I found very helpful.
Way to expensive.i didnt think twice about walking away
Russ was very helpful. Quick setup and an awesome experience
They have hidden fees and they charged me 2 times in one month and didn't give me my money back
My name is Bianca and I been with public storage for 3 years the property manager Russ is always very helpful and nice always there to figure out a solution today I accidentally broke my key to my unit his boss max was literally there In 30mins to let me in best place ever thank you 🙏🏾 guys so much!!!
Friendly Manager and employees, easy access and plenty of room to handle your business. I highly recommend this place.
I've always had a terrific experience here! Russ is a first-rate manager and he always works hard for customers. We recently closed our account, but we've been so pleased with the service here that we recommended this location to several friends.
We are making a move cross-country from Southern California, and Russ was incredibly helpful in getting us set-up with exactly what we need. Excellent customer service!!
Russ was awesome! He was thorough and my move in experience was seamless.
W. 117th location! Russ has been AMAZING! He has literally gone above & beyond to ensure I have everything I need, including the right size unit! He is patient, genuine, & pleasant, all of which are in very short supply now-a-days! Russ explained everything I needed to know in a clear, non-condescending manner that left me confident in the decision I was making about my unit. There was even an issue where my original request could not be fully honored. Russ was READY with MULTIPLE courses of actions for me to choose from! He was thoughtful when he needed to remove his mask for any reason, & conversational without it feeling forced. Listen, if you need storage, THIS is the spot, full stop!!
Russ was very helpful and professional. 10/10 recommend
Don't have any complaints
Will definitely utilize this location again, due in large part to the service of Russ. He was polite, helpful, and informative, allowing us to clean out our unit quickly and efficiently. Well done.
Russ was a great help and most definitely good customer service
Include all fees and taxes before you have people committ to a unit
Samantha was amazing took 6 minutes to explain the leaving/vacating process to me. Told me how to bd out effectively. She was kind and courtious very professional and helpful.
I thank the the Coustmer Service rep in the place to say late just to allow me to get a storage unit for the month to month and I loved how I can activate the door to the facility and that I thank him
If I could give less than a zero star i would. The general manager's attitude was demeaning and dismissive. Russ really tries to be a customer centric professional but apparently must mimic his leadership. The company itself, in my opinion has predatory billing practices that violate Ohio code 5322.05, during a pandemic no less.
Do you have someone that can cut a lock off? I lost my keys! If so what days and time are they available?
I need to rent a small size storage room in door size of a small bed room give me a price I may need a 10 by 10 can you give me a price for Westside storage West 117th zip code 44111
SCOTT WAS AWESOME AND HE WAS VERY CLIENT ORIENTATED AND GOT ME IN AND OUT WITH A STORAGE SPACE QUICKLY. GREAT CUSTOMER SERVICE .....
Clean. Friendly staff. Temperature was good in storage area.
Booked an e-rental and Russ called me up on the day of the move it and was kind enough to show me the way to my unit as well as Demonstrate how to use the lock, was a very smooth move it thanks to him.
Russ was very helpful, professional and friendly. Unit is clean enough with wooden floor. I like that you can pull into garage for inclement weather.
Russ was awesome! I would recommend this place
Russ is an amazing person and so kind. Who would have thought you'd meet someone so great at your local storage unit service!? Highly recommend.
Zack was great!!!! helped me out. knows a lot about the storage company.
Great facility, also, the gentleman there Zach was great at answering any questions I had and was very nice at that!
Ross is the best he's helped me and my wife with questions we had....... Excellent service from him.
Russ was great! He informed me of all the information I needed to bring for my next day's appointment, showed me the unit, made sure I understood the legalities, and addressed all my questions and concerns. He's both pleasant and professional to work with.
Geoff was great such a great help.
Just moved out of this unit. Russ was extremely helpful and I am grateful for his support!!! Great job!!!!!
I very recently moved back home from Florida. I needed to place some items in storage. I talked to Russ on the phone who was very friendly. Once I made it into the office Russ went above and beyond while walking me through the entire process. He explained everything in great detail and was very knowledgeable. Russ was a pleasure to work with and made my move back home so much easier for my daughter and I. If your in the area and are looking for a place to store some belongings ask for Russ at Public Storage. You will be happy you did!
I've had to use Public Storage in Lakewood 3 times over the past 10 years and each time, the staff has been courteous and professional while assisting me with my storage needs. Once, Russ even worked with me when my moving truck was running late. Another time, I was torn between my moving options and he helped me save $200 with a small approval of a request. I appreciate and trust Public Storage for keeping my belongings safe and dry and will definitely return as a customer if ever needed.
My move was such a disaster from beginning to end with the only exception being the storage facility process. My movers and truck rental were all a nightmare so it was a relief to see that I was moving my belongings to a safe, clean facility with Russ, the fantastic property manager. It's my first time renting a storage unit and Russ could not have been more helpful with getting me setup and answering my questions while still getting through the check-in in a timely manner (and he was definitely busy!).
Jeff and the store manager (Rus) are awesome to work with in getting units here, their customer service and care goes beyond a storage unit rental! I highly recommend this location!!!
Russ was super efficient and helpful.
Carlina was very accommodating.
Easy to get everything set up, Russ was very helpful.
Geoff was great to work with.
Russ was awesome and was very helpful in every way possible. Thank you Russ and excellent customer service.
Russ was the bees knees. Cool and polite will recommend to friends and family
Russ is the best guy ever,always willing to make my experience better. It's been over a year and I'm still a customer thank u Russ. U ROCK!!!
I highly recommend this storage facility. The facility is clean, well-maintained, very secure, with easy in and out access and automatic lights. Russ and his staff, were always extremely kind and understanding. They went above and beyond in ensuring my experience with them was a positive one. Highly recommend!
We are a new heating vendor for this location. Very impressed with Russ. Very organized and efficient. Made our job easier
RUSS, you are the man! Thank you THANK YOU!!! The property manager Russ at the public storage on west 117th is so friendly, courteous. He makes sure you understand everything before you sign up for your storage space. This location has flat carts for you to use free of charge but make sure you have your ID for carts. The inside units are all I have seen here but it's pretty decent inside climate controlled too. One thing I will say is I always find nails inside by the loading ramps. Overall this is a pretty safe secure facility which is conveniently located right off of I90 has a friendly courteous staff. I would definitely recommend this place to all my friends and family members. I am more than happy with the facility and the staff at Public Storage on west 117th. Thank you public storage!
The customer service provided by Russ was excellent. The process was quick and moving in was super easy. However there is one issue I have, which definitely would've impacted my decision. The issue is the price you're given when you make an initial reservation is not at all upfront or transparent, which is a terrible business practice I absolutely hate and I wish companies would be more honest. The price I was given after making a reservation was $25 ($1 1st month rent special + $24 administration fee). When you arrive and are halfway through the registration process is when the fees start getting added on. The fees (which were not disclosed at any point prior to midway through registration process) took the total from $25 up to $61.67 (so thats 36.67 in undisclosed fees). The fees (which are in the pictures posted) include Rent Tax 0.08+REQUIRED insurance with no choice of coverage level $15+ storage lock $19.99+ sales tax on the lock $1.60. Please understand, my issue isn't necessarily with the amount, although I was not pleased. My issue is the price I paid was quite a but higher than the price I was given. If all of the charges were disclosed PRIOR to arriving my rating would've been 4/5 stars. I wouldn't discourage anyone from choosing this company, if you're considering using this company ask about any charges not disclosed in the quote and be prepared to pay more than the price you're quoted.
Awesome people, and very secure facility.. I definitely recommend it. Russ, pretty much runs it all, and he is absolutely wonderful, an amazing guy and a true pleasure to work with!! If I am ever back in town and need a place to store my goods, I wouldn't think twice about coming back here.
Carlina was the best, she helped and explained everything so that my understanding of the process was clear.
Scam! I noticed a charge on our bank account when the unit was already paid for by another account. I called the manager to get the money back and he refused. Then I called the bank to file a claim for unauthorized charge. Now the bank says that this charge was indeed authorized and we will not be getting our money back. I asked the manager for corporate headquarters, he doesn't have it. I attempted to contact corporate and all I got was an automated machine for bill payment, balance, move in/out dates, etc and that was the end of it. Going to file a claim with the Better Business Bureau and the Attorney General's office.
Just closed out another unit with Russ. This is the only place I will ever go for my storage needs. Until next time, thank you Russ! Awesome as always
We just rented a large storage unit from Russ. Great guy. Very knowledgeable and friendly. Clean facility. Very happy with the service!!! More people need to learn customer service from Russ!
I was moving rough my least dimes all I wanted was an accurate quote. I was ecstatic when they weighed me $97 out the door... it wasn't till I got thr that I was informed it was $143 because "they can't say certain things over the phone(locks, administrate fees, etc)". Be prepared and educated before you go.
Great customer experience with Russ
Russ was very kind and explaing everything detailed
Russ was a very big help in moving in to my unit! Very polite and professional. Answered all my questions and was very patient with me.
Russ was awesome! Walked us through each step. Made the process easy! Thanks Russ!
These people know how to treat you. They are always pleasant and friendly. Ask for Russ.
I like this place cause they're secure
Always good service and they always work with me thanx Russ for all ur help and understanding
Russ the manager, was exceptionally kind. This was my first experience and he was helpful and led me to a large clean unit. He was helpful in every way. Thank you, Russ.
Russ Rocks! He helped me with picking the storage that was best for me and made sure I had everything I needed to complete my move. Also, the location is ideal.
Russ was a great help in getting us a unit and even staying a little over his shift to let us use the dolly to help make the move a little easier. Great prices as well when making the reservation online.
Units are filthy and the old grumpy guy in the office was very rude and sarcastic I will NEVER use this company again HORRIBLE SERVICE
Perfect attendance love the comfort, love the attention. Thank you Russ
Russ I like to say you did a fabulous job today. I have rented one of your units before and the only reason I rented the unit today from him. The one I wanted and reserve was too small. I went with the larger unit because of his outstanding customer service. Great job and thank
Why does anyone have to wait 2-3 weeks for em to change a lock? Because i lost my keys That's just ridiculous
Russ is awesome. Man down crowded day. And he killed the customer service experience. Bob
Russ was fantastic help !!👍🏽
Jeremy and George say to "Restorage the Love!
My experience at Public Storage was excellent. I needed a another unit so I was helped by Ashley, she was very professional and knowledgeable. The reservation process was smooth and speedy. Overall I can say that I left the facility very satisfied. I would definitely ask for her over anyone else from my prior experiences at this place.
Ashley was very helpful today
The male manager there has great attitude,(forgot his name), but he was very fast with getting us a unit to store our items and straight to the point. Helpful with answering all of our questions as Well!
Y'all better give my girl ashley a raise and a promotion something damn
I was very please with the service I received by Ashley. I was very informed upon my reservation. I couldn't be more happier with my choice in using Public storage and it being my first time too. If I could give my experience 10 stars I would.
Staff is very polite. It was clean and easily accessible. Would deffinetly use again if needed.
Thank you for us for all your help and your professionalism I will see you again and again.
Ashley was very nice and quick with giving me my tour and setting me up with my storage unit and keys. It's very affordable ! She had great customer service skills and explained everything very well. Thank you defientoy will refer others.
Which size it can fit suv for storage
Ashley is always helpful and wonderful in helping us through our problems and headache in our moving needs. Thank you Ashley. We greatly appreciate your help and assistance
I was dreading the task of finding a storage space for My Mom's upcoming move, but Public Storage made the day Far Better than I could have Ever Expected. I made a call to Public Storage based on iPhone Siri recommendation, and within 20 minutes, the friendly and helpful associate on the phone (Ashley) had me setup with a reservation to come in to look at the property. It was A Very Pleasant surprise to find out that Public had a 10x20' space available at discounted rate within 8 miles of My House. Public is running A summer kickoff special that basically got me a larger space than I expected at 50% off regular rate.! After getting off the phone with Ashley, I immediately received an informational email and text message from Public that contained All the information about my upcoming reservation meeting at the property. It just so happened that I got a flat tire two hours before my scheduled meeting, so I called the number provided and was talking with Russ (property manager), and he easily accommodated a time change for me to a little later in the day. I arrived at the property and was immediately impressed with the location just off the expressway (I90). I went in the office and meet Russ and Geoff. They went over general information, then took me to the space that was reserved for Me. I was totally sold on the space, security, and location of the property; and then went back into the office where they went through the administrative processes of signing me up. This process was highly automated and fast; I was out the door with keys and All the information I would ever need to get into my space. I went home, jumped online to the Public Storage website and was able to easily manage Everything related to my new storage space. I found the entire process from beginning to end to be Excellent. The stress of moving just got reduced because of Public Storage, and the friendly and informative staff members truly made this experience As good as it could be! Now I have a space for Mom's stuff for as long as we need it, and I don't feel like I am getting raked over the coals. I HIGHLY recommend Public Storage. Easy 5 Stars.
Great customer service very friendly
Ashley is AWESOME!!!! Great customer service!! She is definitely good at what she does!!! Russ was also very helpful and nice Clean storage ....I recommend
Loved the way the receptionist Ashley treated me and help me find the right storage unit I needed.
I would like to share the happiness i received ...i was greeted by Ashley...such a pleasent person...answered all my questions and was so helpful...i was able to buy the equipment i needed and storage was very clean....GREAT JOB ASHLEY!!!!!very happy customer..
Russ was awesome thanks again bro
Russ is the best! Very helpful and great customer service. The units are clean and everything is well managed. Thank you for the great storage experience!
Extremely excellent communication and customer service. Ashley was very friendly.
Ashley helped us today. We experienced excellent customer service with everyone we spoke with. When we met Ashley in-person today, she was extremely knowledgeable. Ashley was very informative and answered all of our questions. We will continue to tell anyone we know who needs storage to go to 2250 West 117th Street in Cleveland, Ohio!!! (I was a customer here for my own unit several years ago!)
The staff at this facility makes this Public Storage facility one of the best! Ashley was very professional, helpful, knowledgeable and so very pleasant. She really helped my mother when she needed to downsize units She offered helpful tips and made the transition from one unit to another seamless. She should receive employee recognition of she has not already. She is an asset!
Ashley was amazing always so pleasant and friendly I love coming here
Public Storage is awesome! There's a woman by the name of Ashley that was so helpful and curtious she made sure everything was taken care of and went above and beyond the call of duty ty! Russ was very knowledgeable and thrill!
Ashley was awesome today gave me great information great customer service
Great customer service and Russ was extremely knowledgeable about everything. He went above and beyond the call of duty assisting me. We also had a great conversation. I am very satisfied and happy with our interaction! Keep up the excellent work!!!
Ashley & Russ were efficient & professional. All of my concerns & questions were answered. The office was clean and the staff was very friendly.
They usually call you before they auction off your stuff. It's almost been a year since my things have been there but people keep moving their stuff tenants and stuff and stuff and stuff I Used to Know adjectives people keep moving their belongings into my property and so I have no room to move my storage space belongings into my own I think I'm going to live in my storage space until they find me out. Ask for April or Russell there they're very merciful and don't trust their website because they'll screw up your credit card payments it's a national company but this location is a really really nice David have an old school answering machine. I just wish there were 24 hours to access your space especially when I move in there with my 17 cats add perhaps also a medium sized battery operated work light because if I don't get it out of there this month it's going to come to that.
Ashley was great and wonderful I will definitely recommend!
I needed storage for our moving and contacted the call center. I was told that someone would be calling from the site, then a cheery voice contacted me. It was Ashley and she told me that the call center sent my info and she'd asked was I coming in. I told her I was already in route. I showed up and she immediately took care of me in less than 10 minutes. She was on cue, asked me questions about the size of the unit I needed, showed me where to the truck, explained about the lock usage, and went over the rental agreement very professionally. I would highly recommend this company if anyone needed to rent storage place. Kudos Ashley and thanks for making me and my fiancé happy customers! 🤗 Teddi W.
Have used this storage twice now and have nothing but good things to say. The people here a are amazing. I was attended by a young lady named Ashley who was polite and being that it has been a while since I was last here, I had many questions that she took her time to answer. She was very helpful. Good fare prices with incredible service.
Ashley helped me today to rent out a last minute spaces for a couch I need to store. She was happy, helpful, and just all around nice! She explained everything to me and answered all my questions. Cheap prices too! Thanks guys!
Russ and Ashley were very helpful and dealt with my brother and I while caffeinated. It was quite pleasant.
Thanks Ashley u was a great help today
Russ and Ashley are awesome!
Russ was great excellent customer service
Just moved into our storage unit for storing work stuff and Ashley was awesome. She had all of our information prepared when we walked in, is very friendly and had us set up and moving in within 15 minutes. Made for a great experience and will definitely recommend to friends and family. The units are clean and very accessible, as well.
Ashley is one of the most pleasant person I've encountered in a long time. She deserves a huge raise she is an asset to your company irreplaceable!
Thanks Russ!!! Great service very helpful.
Good customer service,had everything i needed
Russ was very thorough and helpful
All these reviews are made up maybe from friends or families. Do no let be fooled like me. I rented a storage unit from them just for couple months all my stuffs WERE stolen by people working there. They have the same keys they make you paid for. When I realized that my stuffs were missed the guy at the front desk told me without shame that the storage has been vandalized all I have to do is to call the insurance company, which I did but the insurance will ask you for every single purchase receipt in matter for them to pay you for missing items. You will keep receipt for household items you keep from house to house? PLEASE DO NOT LET GOOD APPEARANCE FOOL YOU GO SOMEPLACE ELSE All your stuffs will be stolen by the same people working there. DO NOT USE THIS STORAGE.
Thank You Ashley For All your Help 😃😃😃😃
Had excellent customer service at arrival, Russ was, and still is very friendly, and helpful when i come in.
The owner is a very nice guy. A little dirty.
Ashley is the best!! She needs more reviews!!
First of all Ashley was extremely amazing helped me with everything she knows exactly what to say and how to say it very polite and about her business showing me everything I need to know best experience I ever had from a storage company much recommendable!
If you miss placed your code to enter the storage would you be able to look it up
Service was fantastic and more than satisfactory.
This is a filthy unsecure facility. They lost the front gate months ago and offer no increased security measures. In fact, the property manager stated that the facility never offered any expectation of security. Contacting corporate is a joke on their website and when I do get a response, it is to contact the property manager. Had to move to another unit in the facility when my first unit was broken into. No help was offered, not even a dolly. Only response I ever got from them was to raise the rates constantly. Avoid this facility, avoid Public Storage altogether.
I was treated very well and felt very welcome. Ashley C. is an absolute doll. She was extremely knowledgeable and answered any question I had. It was a great experience and I will refer them to anybody. Thanks again Ashley C. u were nothing but helpful!!!😊😊😊
Russ is great. Had a SNAFU with a place around the corner and needed a place the same day. Russ helped me figure out a complex problem requiring a loading dock and a ltl shipment set to be here in a couple days. Thanks man!
Personality - Yep! Ashley is great & somehow my phone was ringing - before I even completed the reservation, on my end... They should have ya on a billboard (ashley) right off the e-way!!! -Thanks- ps: t/middle name is a No_No - save face📌
DO NOT PUT YOUR BELONGINGS HERE AT THIS FACILITY..THE ROOF CAVED IN DURING HURRICANE IRMA..ON TOP OF MY UNIT..AND WAS FORCED TO REMOVE MY THINGS THEY GAVE ME TWO DAYS NOTICE! I LOST ALL OF MY FURNITURE, I PAID THE INSURANCE MONTHLY..NOTHING WAS COVERED!!!! MOST EVERYTHING WAS COVERED IN MOLD..THESE PEOPLE WERE RIDICULOUS!
I just want to say that I had the best experience at this location. Im new to the area and the employee was so helpful. Ashley helped me with my storage and let me know what was around the area. Thank you again Ashley! Your the best!
Quick and easy to sign-up. Love the option for indoor and outdoor storage. The office manager Russ was very polite and helpful. Definitely would recommend if you need a storage unit.
Cool place for you to store your house hold goods. Very nice and clean. The prices are the best in Cleveland.
Having never been inside before, I was not prepared for the heat, no ac, no fans even for flow of air. Chicken wire on top of units...how secure is that? Never getting a unit there again.
Got my storage with Russell excellent customer service this guy knows what he's doing excellent customer communication skills....💪💪💪💪
Best customer service I had in a long time!!! RUSS was awesome.. Very helpful to the end Thanks!!
Back again 3 years later that's how much I trust this storage was helped by Ashley what a kind blessing she was 5 stars for you Ashley and 5 stars for public storage units were clean Janet Hickok
I have had at least one locker, sometimes two at this location for 15 years or so. They offer indoor and outdoor storage units to fit your needs. I have always been indoor because of the delicate items I store. Seen a lot of property managers come and go in that time, and I have to say Russ, who is the current proper manager is top notch! So helpful. Just one quick example, my lock would not accept the key. I knew it was the right key, but it just would not go in. Russ came down to the locker to try it, could not get it, discovered the key somehow had an ever so slight bend in it. Went back and forth from the office to my unit 2-3 times. Finally got me in to my locker. The man is amazing. Thank you Russ, and thank you Public Storage for a First Class operation.
Russ and Ashley are very hopeful when i come in and over the phone for any questions i have.
We went in today and we had Ashley. She was very very nice and she wasn't rude she was very kind . She was very patient with us!!
Very accommodating and customer friendly! I will definitely recommend public storage to anyone
Lakin was extremely helpful! It was a quick set up and she was very accommodating when I needed to change my original plan. She also answered all of my questions as they came up throughout the set up process.
Russ was awesome as always! 3rd time I've gotten a unit over the last 5 years. I won't go anywhere else just because the customer service and the welcoming atmosphere Russ provides is top notch! Thank you again Russ!
Russ made this process quick and efficient! Thanks for all the help and making this situation go smoothly.
Ashley was,great,keep her.
Friendly Staff! Facility is very clean. Real pleasant experience. Thanks!
Russ and Ashley are awesome and keep a very clean place to store your belongings! Thanks for all your help and patience!
Is there a dumpster on site
I love the customer service at W.117th Ashley is the best! Thank you for starting off my day the right way with that smile.
We came in on a busy day and Russ was super helpful. He was thorough in explaining things to us, he reached out to the other Public Storage to see if they had something that could better serve us, and he entertained all our questions.
Ashley was so helpful! I was shown my storage unit, provided every detail needed, they have trolleys to make moving easier, everything you need to pack, and your storage unit is high up off the ground. The storage unit was clean and secure, and reasonably priced. Will use this company again!
Very good customer service Ashley was Great help.
Ashley was really helpful. i got a nice storage unit thanks
Ashley was great! She was beyond helpful & relieved the anxiety of a rushed move. Left us feeling confident& relieved. Thanks Ashley!!!
AMAZING EXPERIENCE with the staff at this location. I needed lots of packing materials for a big move 4 hours away. Ashley greeted me with the warmest smile and really took the time to understand my goals and without trying to over sale me provided me with the highest level of customer service imaginable. I visited the location a few additional times and also met Russell who provided that same level of service experienced from Ashley. THANKS SO MUCH GUYS FOR MAKING A STRESSFUL SITUATION MORE PLEASENT!!!!!!!
Getting set up into my storage unit was quick and easy. I got a call from Ashley as soon as I reserved my unit online and within 10 minutes I was scheduled to come look at my unit. Ashley was so personable and really helpful with all my questions. Really the staff there is the best. Ashley and Russ are a dynamic duo and they remember who you are, which is really great! The storage facility is clean and easily accessible. Great place!
Ashley was very friendly and helpful
Had a great experience at Public Storage from day 1! Ashley was a great help in making sure I had everything I needed for my move as well as making sure I had the proper size unit for my needs! She ensured I received a unit that had been cleaned out before my use, which I thought was such a kind gesture of her. Thank you Public Storage for not only getting me an excellent deal on my storage unit but also having professional, kind employees to make it an overall great experience!
We needed storage options as we were expecting our first child. The second bedroom was being converted into a nursery and needed a place to put everything. I did my due diligence for all options nearby, but nothing matched the services provided by Russ and his team. From the initial contact with Russ, I knew we were in good hands. Then the tour of the facility and the storage unit made the decision much easier. The controlled climate unit was great and kept our items out of the elements. We recently moved to a new home and no longer needed the unit. The closing process was seamless and Russ took care of everything on move day to not hold us up. I would recommend this place to everyone looking for storage in a convenient location not far from I-90. The inside of the building was always well maintained and never had a worry about our items being damaged. Russ is the man and give him a call for your storage needs!
Ashley and Russ were awesome..Their customer service made my move in as smoothe as it could be!
Russ and Ashley were awesome!!!!
Ashley was Great! Very helpful and nice.
Seems like a good deal, but after the first month, prices get jacked up. And ur not allowed in from 9pm-6am...... I should be allowed in whenever i want. And theres only 2 dollys that you have to share with other ppl. No thanks. Moving to another storage spot.
Wen is the auction sade me the date
Was exactly what I needed. The customer service went extra to make sure that I was satisfied.
Russ Cooper has provided me with everything that I need to get my storage unit. I thank him for everything he helped me with and answered all the questions I needed answered. I really recommend him to anyone else that is trying to get a storage unit.
I was at the Public Storage on w117. The Manager Ashley and the. Co-worker name Russ were very cordial and professional. I appreciate my experience with them. Thankyou.
Russ n Ashley have been a hoot they are always so friendly ...
We got robbed. They only contacted us 2 times and 5 mins prior to closing. Their workers are unprofessional and very ghetto, once I pull my stuff out I will never go back and never refer anybody to them ever.
I really enjoyed Ashley and Russ they are the nicest workers and they really care alot about there customers and they are very hard working im so proud to have rented from them
WELL I WENT INTO THE STORE AND WAS GREETED BYE A VERY NICE LADY.HER NAME WAS ASHLEY ...SHE WAS VERY PLEASANT, WAS VERY HELPFUL AND VERY ,VERY FRIENDLY..WE ARE NOW RENTING AT PUBLIC STORAGE AND I AM LOOKING TO BUILD A VERY LONG RELATIONSHIP WITH THIS STORAGE STORE ...NOT TO MENTION IT WAS VERY CLEAN...I DO HAVE A FEW FRIENDS WHO ARE NEEDING STORAGE SO IM GOING TO PASS ON THE GREAT PLACE...😇😇😇KEEP UP THE GREAT JOB ASHLEY...
They get broken into and offer no help or customer service
Fast service convienent payment
I had an amazing experience at the 117th location. I had an appointment originally at the brookpark location. I waited at the brookpark location for 45 minutes with my stuff in a uhual and nobody ever showed up. So I drive to the 117th location and Russ was able to move my reservation over and get me a a bigger unit around the same price. They made a horrible situation a way smoother one! Thanks Russ!!!
Ashley was very helpful and informative. Super nice.
CHRISTINA WAS VERY PLEASANT, PATIENT AND HELPFUL DURING THIS HARD DIFFICULT TIME. I FELT VERY AT EASE AND COMFORTABLE WITH HER. THANK YOU CHRISTINA FOR ALL YOUR HELP. YOU DESERVE A RAISE......
Ashley made my time here feel like i was in a place of excellence. She was very good at describing my options on the various units. A very professional woman. Keep her at this store.... I know she will be a very valuable asset to your company.......
Do yours have car storage too?
I really like the workers Russ and Ashley helped out alot the car wouldnt start and Russ went out of his way to help us thanks guys keep up yhe great work
Russ was great! Smooth move in and out process. Only wish the gate was open later in the evening to better accomidate my schedule, outside of that no issues.
My customer service person was Ashley she was awesome very friendly very thorough about the the rental agreement and just so pleasing personality I really enjoyed her taking care of me
I came to the storage on west 117th and i met a very helpful young lady named Ashley.im handycape and she took her time with me and explained everything to me .i was very pleased with how she treated me ..its hard to find good workers these days.keep up the great job Ashley i hope to come see you again...very satitfied customer.
This is my first time ever needing a storage unit. I was running late for my reservation so I called in advance to make sure that was okay. It was fortunately not something I had to worry about. Russ was was absolutely AMAZING!!! He answered all my questions before I could even ask them. Excellent customer service with great attention to detail. I definitely recommend this place!!
Ashley took us around and showed us all we needed to know about Public Storage and our storage unit. She was very professional, and friendly. Russ was also helpful. I would recommend Public Storage to others.
I have done business with public storage for many years and I've been very lucky to have also done business with Russ for over twenty years he has also been very polite and kind to me every time me and my sister came thru the door. He makes sure that you understand all of your paperwork because he explains your contract to the tee he also walks you to your storage unit to see before you decide to purchase that unit. Personally Russ has truly been a friend to me and my sister because he truly one time saved my two units from being auctioned off because of financial reasons he worked with me on more time to come up with the money to save my belongings and for that alone for going out of his way he deserves all five stars. We appreciate you Russ keep the good work
Miya was very helpful getting me set up with the storage unit I needed for my move.
Russ and his team were helpful. Positive experience overall. Would recommend.
Russ was great, wonderful customer service
Too expensive. And hard to get to the units.
Russ was a huge help. Stayed extra time so we could finish our move!! 5 stars..
Audrey was professional and spoke with confidence even though she was a trainee.. I left there worry free thanks to Audrey .
Russ was fantastic. His help greatly appreciated. Always courteous and willing to take the time to explain the ins and outs of using the services of Public Storage. I will recommend this facility to friends and anyone in need to your service because of Russ. He deserves a raise!
Excellent customer service!! Always courteous and helpful. Russ and his team are exceptional. I left my unit unlocked the first day and Russ called me to notify me immediately. His concern was as it was his own unit. I really appreciated that!! Would rent here again and definitely would recommend!!!!!!!
Always clean. Manager is friendly. Good customer service!
Excellent Job. Thankyou very much
Russ makes the whole process as simple and easy as possible. I would HIGHLY recommend him and his store to EVERYONE I know
Russ was very very helpful. Even though he was busy he took time to come help me with my lock. Also while moving an important letter was found by him and he called me to let me know. Great service!!
Russ makes the move in/move out process at Public Storage effortless and easy. The heated storage, security, and exceptional customer service can't be matched. If I ever have to store anything in the future, I hope my experience is similar to the one I had with Russ and Public Storage.
I was driving around looking for boxes came into the store and Delon was multitasking helping a customer and answering the phone plus was able to take care of me with my boxes. Very helpful even tho he was busy.
reserved on line at 8:00 am on a busy saturday for the same day. russ called and set up an appt. for 1:30 pm. it was very busy when i got there but russ and emily got me out of ther is less than 30 minutes. great people and a great experience.
Quick setup, a variety of options, no unnecessary complications.
Extremely consistent and pleasant customer service - always very detailed and helpful. Great job - employees should be rewarded for their great service!
They're very helpful, Amanda is very nice, polite and has a great personality.. The storage is spacious which makes it great!
Great job to Russ Cooper and for his help and professionalism. The price for rental is very reasonable
These guys are great. Russ and his new help Carmen were fantastic. Always friendly and accommodating. If you need a storage spot in the Cleveland area, look no further.
The workers were so nice respectful and helpful
Nice place safe to store stuff
My visit today was enjoyable Amanda was very energetic and helpful and courteous and Russia is also helpful to.
Great customer service with Amanda and Russ was pleasant as well. But I will have to say that I don't like the cart rule. Because their are times when you come there at normal business hours and they are not there. It's bad enough that after 6p.m. you can't use the cart at all.
The problem I have with them is their price. I am paying close to $300 for a 10 by 15 storage unit which is not even inside the building. It's one of the outside units. To me that is high priced. And for the past few years my cost has gone up on a yearly basis by around $20 or so each time. I will be moving my things out of there in the near future is why I am not moving to another storage place now. The people that run the place are good people. It's just their high prices!!!
Since the previous review my update is that the rental cost has been raised, by $10, TWICE. Worse, I received a mailer stating that the price hike would not go into effect - until August of 2016. However I have an invoice showing that new pricing due for July 2016. Greedy and Liars, nice. On the other hand, If you're made of money and don't care about price increases; the facility and the customer service are still wonderful. PREVIOUS REVIEW: I have been here for a year and I have no complaints. The facilities are clean and appear secure. Access is secure but easy. Customer service is always excellent. Annoyed that the price jumped nearly $10.00, after on year (and at once, not gradually) but I feel that my belongings are safe. Now, if there is another price hike ... #PublicStorage
I rented a storage unit for a little over two years with multiple trips in and out of the unit, and always had a good experience. Russ was extremely helpful and efficient as I opened and closed the unit and answering questions in between. There was always plenty of space to park and I always felt safe. The only issue was that there were not enough carts because stupid customers broke or stole them, and Russ was trying to get approval to buy new ones (which he got!). I would definitely recommend this location!
This is an initial review as I am a new tenant as of today. My first impression is a good one. Friendly, knowledgeable staff that were not trying to sell me space or stuff I did not need. Clean facility, decent access hours. I am happy thus far.
Who knew finding vehicle storage would be this easy. I was a walk in customer and Russ was super helpful in explaining to me what was available and what would fit my needs. The renting process was simple and the policies were clear. Russ followed up with me to make sure everything was set and that I didn't have any other questions. I would recommend this space to anyone needing extra storage.
Great! Facility is clean and safe. Amanda is friendly and knowledgeable. I recommend PS on 117th for all things needing stored.
My experience was awesome thanks to russ. He made the process seem so easy than I thought it would be. A big stress relief.
Russ is very helpful friendly and has excellent customer service i am so glad i chose public storage
Tatiana did soooooo well the other mam just need to let her just do it n not be all on her but she did great
Had a great experiance. Russ was very down to earth and helpful during the interview and even during my moving process. The facility is well kept and clean. I recommend this place.
Excellent customer service. Kim and Russ made my experience very easy and painless with the renting of my storage unit.
RUST IS so awesome and intelligent and have very great integrity
Great service from Russ and Kim. They were very helpful in explanation the appropriate storage size that I need. I am fully satisfied with the service there. Thanks Russ for the help.
Hi, i have a storage unit and im a auction bidder. Russ and Kim are very nice and very helpful people its great to work with them. thank you Monica Silva
Russ & Kim are the best!!! 😊 from start to finish they were patient, made sure i understood everything about their services & what they can provide for me i am thankful & your services is greatly appreciated!!! Thanks Russ and Kim.. (Dashi)
You have great employees especially kim and russ. They are very polite and have great personality. I ask for them when i need help. Thanks Kim and Russ gor all your hard work.
Kim was amazing and explained everything clearly. The appointment went quickly and efficiently. I recommend Kim to anyone that plans on going here.
All I can say is, see Russ and he'll take excellent care of you!
I am a public storage renter from Georgia & Russ has been extremely professional explaining my storage situation while i am in Cleveland, OH. Recently I was running late to pay my storage, called Russ and he waited until I arrived paid my storage unit and I was extremely grateful for him staying over. Excellent customer service. Highly satisfied
Russ and Delon both very helpful
Russ Cooper is a consummate professional as well as a thoughtful and helpful person. The facility was clean, well lit and secure, and my dealings with all the staff were friendly and easy. I would definitely rent here again whenever the need arises.
I have a property in Akron but I'll stop by here to make a payment and the staff were very helpful thank you Russ and Rachel Rachel
Great service from Delon. He was such a big help when I visited my unit after a few years. Just to note: my stuff was in IMPECCABLE shape. Not one spider web, no dust layer... It was unbelievable. I am really impressed with the whole experience.
love this place@! great job guys. keep it up , will come back again. very easy to load and unload into my unit. good prices compard to the other places in town.
delon and ruus are fantastic! keep up the great work, will be back to rent again! great clean place to use for stuff.
Had my storage units for many years at this location. Russ was always very professional and friendly when dealing with me. If I ever need a storage unit again I would use this one and would recommend them to anyone.
great job at the storage unit thought they did s great job' keep it up
used this for my aunt and my uncle in cleveland oh. helped move their stuff inside the storage unit.The guys were very nice and helpful, Russ and Delon is the names of the workers. Only criticize is that i wish they would have boxes and supplies available to use for free to help and then return the items to the office afterwards.
Excellant customer service from Russ! He went above and beyond to make sure we were happy. We are very pleased with our experience at Public Storage and would use them again!
I had a great experience with this Public Storage location. Tina from the office was exceptionally helpful, and ensured that I found the perfect type of storage unit for my needs. She even helped me navigate the U haul I had rented into the facility. I would definitely recommend this location.
Russ has the best customer service I have ever seen... He made moving in and out of the storage unit as easy as possible! If I ever need to store my things I know where I'll be going back to if he's there. Nice and clean and secure.
One of the nicest storage areas around! Close and convenient, secure, professional and courteous staff.
Russ the manager was very helpful in helping me decide which storage unit would best fit my needs. Also it's in a very convenient location! !!
sell storage units here.d o not but a lot but come into town for the sales. nice place to get lockers if you want.
Great very good very satisfied Russian is great
Our agency has been renting a unit at Public Storage for the past few years and I would highly recommend this place! The staff at this location are so nice & friendly and the units are clean and taken care of. No need to search or go anywhere else!
I have been with public storage for 10 years now; I will always use this facility. I've used others, and non compare to the excellent service.
Great expirience! !! I definaly recommend this place. When I rent my storage unit Alison was friendly and very helpful and explain everything. The service was great!!!!
Russ gave me Excellent Service And had made my time with Public Storage very comfortable and enjoyable. Thank you again Russ! I have recommended this place to several of my friends!
great customer service, always clean. i had a great experience here. Most of my dealings were with Russ. He was always pleasant!!
Very good customer service, least painful experience I've ever had!
I've had nothing but good experiences at this location of Public Storage, and nothing but great experiences with Public Storage staff. I deal mostly with Russ, and he has displayed only top-notch customer service on many different levels; Russ often goes above and beyond helping me, regardless of how trivial my issue might be. He, along with other staff, is very knowledgeable, courteous, efficient and personable. Simply put, a good location and great staff --- Russ will take care of you.
I moved here in 2011 and needed a storage locker and my fiance introduced me to Russ, the manager at this location. Russ was very courteous, and helpful finding the right sized locker for me. I'm very pleased with the facility, because it's clean and very secure. I would recommend this location to anyone needing somewhere to keep their prized possessions.
My expirience with public storage, and staff, has been excellent.. The units are very accomidating for your storage needs.. so, keep up the good work, u guys..
I recently rented my second storage unit at this Public Storage location. I worked with Russ, who was very professional and helpful in assisting me in figuring out my storage needs. The facility is always clean and well maintained, and their automatic monthly bill-pay is fabulous! I found that I had the need for a third storage unit, and, once again, Russ was right there to help me with every courtesy. Again, I found him very helpful and professional. The facility is very clean, and when there was an actual facility problem that was way beyond Russ's control, he did everything he could to help me access my storage unit!
Great punctual reliable service
I was from out of town, moving to the big city! The folks like Russ & Andie were VERY professional and sympathetic and even helped expedite my paperwork while i was driving up to meet the 5pm saturday deadline. My locker was clean and after a couple of months and i finally settled in somewhere, moving out was a breeze. The location should be noted..making a LEFT turn into the facility with a truck is a bother..go past and turn around in the Home Depot lot just up ahead. ALL outside access lots are the larger storage. Smaller lockers are located inside. They did a great job for me. :) Hope it's good for you. BTW> Home Depot has same size boxes for ALLOT less than what ANY storage place would sell them for. So would Lowes.