Public Storage Self-Storage Units at 1730 Jake Alexander Blvd W, Salisbury, NC
Address
1730 Jake Alexander Blvd W Salisbury, NC 28147
Property Open
Mon-Sun 6:00 AM - 9:00 PM
Storage Facility Features
Car Storage

Climate Control Storage

Indoor & Outdoor Storage Units

Small, Medium & Large Storage Units
Outside unit

Drive-up access

Outside unit

Drive-up access
Nearby Self-Storage Locations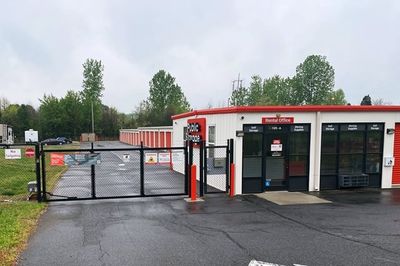 Self Storage Near
125 Grace Church Rd
Salisbury NC 28147
Self-Storage Near Salisbury
Resources from the Help Center
See what fits in different storage unit sizes
Salisbury Storage Units On Route 601
Public Storage in Salisbury provides customers with a convenient self storage option near the junction of U.S. Route 601 and Interstate 85, roughly halfway between Charlotte and Greensboro.
Easily accessible coming off of Statesville Boulevard or Main Street, this is an ideal storage spot for customers in Woodbridge Run, Westcliff and Franklin too.
Use a 5x10 storage unit to keep golf clubs cozy year-round for those outings to Corbin Hills Golf Course or the Country Club of Salisbury; or take advantage of the space in a 10x15 storage unit to store fishing gear and camping equipment for those trips out to High Rock Lake.
Folks living near the Milford Knoll neighborhood can grab a 10x30 storage unit when the time comes to pack up the whole house ahead of a major move across town. After all, it's always nice to have everything in one place.
Between indoor storage units and outdoor storage units in all different sizes, plus rental parking spaces for vehicle storage, it's hard to find a storage load this facility can't handle.
While on site, swing by the rental office to purchase any necessary moving supplies, including moving boxes, tape and bags to help protect mattresses.
A progressive community with a strong sense of history that boasts plenty of great shopping, dining and an appreciation for the arts to boot, it's no secret what makes Salisbury such a wonderful place to settle down. When the time comes to find some extra space, look to this Public Storage for cheap storage units year-round.
At Public Storage, You'll Always Find...
Keypad Access

Friendly Staff

Month-to-Month Rent

Moving Supplies Available

Free Parking

Well-Lit Facilities
Reviews
( 386)
The only problem I had was when we got to our storage unit the lock was cut off and their lock was put on which was okay but when we got it open I was missing two chairs I still have my rocking chair and my little table
Every time I go in to public storage always get a great welcome from mrs Melissa She showed great attitude towards me great work this one deserves a pay raise for great work
Melissa is very friendly and helpful and goes above and beyond in providing excellent customer service. I would highly recommend this company to anyone who nedds a storage unit.
I love Melissa. She is very nice to me and my wife and of the friendliest associates you could ever meet
Cheese, was very professional even thought I was the last customer. So, after 3 years of renting from this robbery site, the rent just keeps going up and up. The buildings and grounds have zero improvements. The owner is simply jacking customers year after year. Getting out soon and would NEVER rent from these thieves again!
They are the best. Never a problem, always very helpful and friendly. Melissa was great 👍
Great customer service! Melissa was very helpful and understanding! 10/10 hospitality. Give this woman a raise!
Small storage but adequate space
Quanna was very helpful and got me in a unit quick. Defiantly if you need a storage building unit come see her...
We love Melissa, very helpful with positive energy.
They are absolutely amazing. They customer service is great and storage place management went out of their way to make sure that I was taken care of. Everyone made sure I satisfied before leaving the storage unit.
Carla was wonderful help I will rent from her anytime...thanks alot
Worked with very courteous and professional, prompt and polite personage. Would guarantee a pleasant experience to everybody!
Great service from Carla and Michelle
Carla was a great help. She made everything work out smoothly.
Carla the manager helped me with renting a storage for my winter break. She explained everything thoroughly and took her time with helping me. She was great and very helpful.
Very greatful for this storage facility, great people that I believe really care about ur stuff. Thanks for answering all my questions, Melissa, and Carla were great. I feel confident my stuff is in the right place.
Ms Carla was an absolute help to us in our time of need, and I am very thankful for her assistance
Carla was very polite and helpful especially for new timers. She deserves a raise!
Ms. Carla was fantastic with our service. She helped us in a timely manner and was very warming and helpful!
Carla was very knowledgeable, she explained to me in detail what I needed to know. She has a very calm spirit. So she get five stars for me, and the facility.
Melissa has excellent customer service and is very helpful.
Carla was extremely helpful and very pleasant to work with.
Both ladies at this location are great and took great care of me during our move. Thanks
Excellent service Very great smiles. Come see Ms.Carla and Ms. Ashley they will get u stored away🤗
Melissa is awesome! Great customer service!
Marissa was very nice and helpful
I was looking for storage & sent over by another Public Storage and the staff for this Public Storage tried fully to find a solution. They were so helpful. Thanks.
Everything went smoothly. Melissa was very courteous and helpful throughout the entire process of closing out my smaller unit.
High rates & not moisture proof units!! Most of my things are ruined... *New update below August 5th Rates per unit usually change around the end of or the beginning of the new year. Walked in last month to pay the storage rent, which is & has been $146.00! Now she tells me it's gone up from the usual $146.00 to $182.00!!! And the explanation she tried to hand me didn't make any since at all! Non!!!! Was that extra pocket money, humm 🤔 So with no prior arrangements nor notice, I had no choice.. So now I've made arrangements to move my stuff for only $50.00 a month no security deposit required!! You'll not get anymore money from me.. Don't be they're next victim of prey....
Wonderful service and friendly people. Great place to keep your stuff. They are amazing to work with.
Very nice staff, helped me with my unit by locking it and making sure it was safe and secure
Was in a hurry and the lady working made everything easy and we got everything done fairly quickly. Enjoyed the customer service
Susan & Teresa were awesome!!! So helpful!
Harvell Movers all your moving needs give us a call or look us up
Excellent service, the associates are courteous, kind and friendly. Made my reservation online, completed the paperwork once there. Answered all my questions to a "T". I highly recommend this establishment.
Friend of guy had rented to him
Miss Theresa helped me what I needed today hope this customer service will continue for satisfaction.
Theresa and Susan are so friendly and helpful. Our company is happy with our unit and the service we receive. Great place to work with!
Melissa helped me in a professional and timely manner i will recommend anytime
Very helpful and gave me the information about the rules and regulations of renting a unit and she spoke very clear and asked did I have any questions.
Wonderful awesome customer service
Great customer service. Easy in and out process.
It's a good place to store your stuff. They are friendly and helpful.
Melissa was really great to work with while I was out visiting her site
Hello I would just like to give one giant hug to Melissa at the Public Storage on Jack Alexander Blvd for going up, Over & beyond helping me in my serious time of need. Ive added you to my list of earthly Angels. Thank you so much from the bottom of my ❤️.
Melissa was a great help. Very friendly.
Good service and honest people.
The manager Melissa was great, she helped with my situation and everything went great. Clean units, easy access. Will be recommending.
Little to rich for my blood
Melissa was very helpful and its decently priced
Melissa was very helpful!
Good place, nice staff and good prices.
Melissa and Tashanna were great to deal with!
What can I say 🤠 It's a storage facility 🏪 We have had great service here 😊 No contact available 😷
Mellisa was great and professional. She walked me through everything step by step. I felt like a valued customer. Thank you so much.
Dad rented here today and the ladies in the office were amazing. Thank you for your patience, and all the questions you answered for him. You guys made our day so much better than it was before hand.
Left unit with 14bdays to spare and they would not prorated and return the unused portion if the rental fee
Came in today to see about renting a smaller unit spoke to a woman named Sharon she was very helpful on showing me everything and explaining what was required very satisfied w coming in today
Melissa is the best! She ia such a friendly person. I would recommend this location.
Good place storage you love it
Staff was very helpful and courteous. Would recommend them to anyone wanting to rent a storage unit.
Sharon was so wonderful and sweet. Thank you for going out of you way to make this move easier for us! The kindness was greatly appreciated!
New lady in the office is great. She not like all the other ones been there forever they mean. She actually talked to me like I was a person not a $ bill. About time public storage.
Melissa was very professional, knowledgeable, and helpful to me. Also all services were given promptly and sufficiently. I will definitely recommend this storage unit to anyone who may ask or need a storage unit. Keep up the good service!!
Friendly service, good pricing and she was extremely helpful.
Very helpful love the service
Destiny keeps this property clean!
Destiny and Melissa have great customer service! Clean property!
DESTINY and MELISSA have the best customer service!!
Destiny always take care of me!
Thanks so much for awesome customer service!
after the roof fell in on my unit I was told I was responsible for cleaning it
Cherese was great. She handles the ugly customer with professional help. She handles her with cdc guildlines at this location. Ill always ask for cherese when im at this location. Thank you so much for all your help cherese.
Cherese was really professional in going through my vacate process
I appreciate cherese helping me with my space at this location professional customer service I'll be asking for her again at this location
Allot of drama took me over a yr to get my stuff
Destiny was wonderful and helpful
Cherese is the best thing that happened to public storage
Great service by Cherese!
Love this location with cherese and Christine enjoyed there convocation and will tell everyone about this location
I had a good visit at this location with Cherese. She was very helpful and respectful. She deserves 5 stars
Muy buenos almacenes y económicos
Melissa was great. Recommend u shop here 😁
Today I needed a 20/20 unit in a desperate way and Destiny from Salisbury provided me with the best customer service and experience. She made us feel like family and was very appreciative. She definitely deserves some sort of recognition and appreciation for her service
Great place to deal with if you need storage for anything. Destiny was awesome and very kind if you need anything give her a call.
What an amazing crew we have here!!!! Just wanted to let everyone know.... Destiny ROCKS
this is a great place to store your things/
This is an amazing storage company, they listen and show a genuine concern for the people that come through the door. Thank you public storage
The team here is amazing, the property manager destiny was very helpful, so glad I decided to store here!
Destiny did an awesome job!!
Great experience very helpful
They will RIP you off. Don't trust them
A lot of add on fees they tell you nothing about prior to purchase. Had the unit for 2 weeks and ended up paying 2 months for it.
Had my unit for well over a year, was a good experience. I wasn't always on time with my payments and they worked with me the best they could. It was super easy to get a unit, and also super easy when I decided not to keep it. Property was always clean and clear is trash so it was easy to drive through. Thanks so much for all your help.
Destiny is so helpful! Clean property!
Destiny and Tashanna are wonderful!
The staff is great and property is clean
Destiny was very helpful and answered all questions I had. Wonderful experience!
great customer service! destiny and tashanna are great!
I've used this place numerous times at different times and I love it. The staff are friendly and helpful, especially Tashanna Fleming. She's the bomb.
Destiny and Tashanna are great! The property is so clean!
They gave me more for my money
The property manager Destiny is wonderful! We will be storing with you guys when we move! Clean property!
It is top notch in service. Christine helped me. She was very helpful and knowledgeable. It was a wonderful experience.
Destiny was very helpful when my wife and I were looking for a unit. She gave us plenty of information and helped us make the best decision for what we needed. She took the time to answer all of our questions and show us all of our options. She was very patient with us even when we were being indecisive. Our overall experience was wonderful and it was all because of her. All the units looked very well maintained and clean. Thank you Destiny for all the help.
Cristina helped me process a payment and was very helpful. This is overall nice facility.
Tashana and Judy made my move in experience wonderful. Thank you
Sharon was very helpful showing us various unit size options. The unit was clean and had a light. They check to make sure units are securely locked and inform you of any issues. We have only used them for 2 weeks now, but so far I am completely satisfied.
Very helpful office staff...great advice on boxes and other materials. Very efficient, in and out quickly with everything I needed. Thank You!! E.
Felicia was great!! Thank you for all your help!!
Felicia was a great help today she was extremely knowledgeable about everything and very friendly she answered all my questions plus more! Usually storage workers are so blah but she literally made my day! Thank you soooo much Felicia
I had a great experience here! Customer service was amazing! I would definitely recommend to my family and friends!
Brett was awesome!! Nice location and very clean unit. So glad I selected them for my storage needs.
Wonderful Service by Tashamma
Very friendly and great prices.
Sheidi did her thing today I'm so happy for her help today she was put through a lot it was crazy she stayed clam an did her thing thanks again sheidi she get much love from me
As a new customer who had never rented a storage unit before, Sheidi and Dave made my experience fast, easy, and enjoyable. They were both friendly and informative and made me feel very comfortable. Their customer service was outstanding and appreciated.
I was very pleased with this site the price was right compared to other places I would recommend this location to anyone thanks for your hospitality great customer service.
Good people to do business with
Would not recommend. Public Storage is TRASH!! Period!!
Clean …secure … easy in and out
I would definitely recommend this storage facility to anyone needing storage. The staff are easy to work with. Tashanna is especially fantastic. We had 3 pieces of furniture that we couldn't move and Goodwill would not pick-up. She offered a solution by suggesting that the storage facility could dispose of the pieces for a fee. She is so friendly and personable and she made the clean out process a lot easier.
Had a WONDERFUL experience! Melissa was well informed, got business handled quickly and efficiently. Very friendly! Thank you very much Melissa!
Efficient and easy to get along with thanks ladies
Sheidi and melissa were great. Helped me out with everything and answered all my questions
Brett was very courteous a d professional. I was very pleased with the service he provided.
David was very nice and was very helpful to us and went out of his way to helping us out
SHEIDI was the greatest help ever her love for people is amazing I think she should get a raise thanks for all your help sheidi you are the greatest God bless you and your family
The staff was very help in a quick . Judy walked me through the process in a quick and efficient manner. The summer specials are great.
Had a great experience today. Went in to check on a unit for our local business as we need more storage room. Judith and Tashana were very helpful. Will return if we decide to rent a unit
Easy, quick and clean. Each unit has a light.
Horrible customer service. Terrible pricing. Paid through end of March and was moving my stuff to a different facility. Not only would they not prorate me, but because I had already paid but took my stuff out they cancelled my gate code and I couldn't use the unit for the remaining 29 days even though I paid for it. Horrible rip off. Avoid.
I came in yesterday to purchase a storage and my reservation hadn't been confirmed , it was about to put a damper on my day until Melissa fixed me up quickly and without a problem and assured me that I could get one still ASAP . Thank you for you great customer service and hospitality ! Keep up the good work .
Nice and easy process ! 👍🏼 pleasurable customer service.
Choosing public Storage was the best part of my long moving day ' with Melissa's wonderful personality , professionalisms and customer service. Her welcoming service was over exceptional and very much appreciated ! Thank you for making for my day better and being patient with me . Really turned a frown upside down 🙂
Tashana and Judy was such a help today. They are both lovely people
Very large place plenty of options
They gave us a gate code that didn't work. Can't rent storage without obtaining insurance which we did but they said we didn't then charged us for insurance again. Really?!
Storage unit is great as well as the hours of access and the staff. HOWEVER, GO ONLINE AND READ ABOUT RENTING A UNIT! There are ALOT OF HIDDEN FEES that you are NOT made aware of when you get seduced by the $1.00 first month rent.
Wonderful Experience w Melissa. She was so friendly and helpful.
The staff is very nice and will work with you.
Brett was amazing and super helpful. He actually saved me from having to make two moves due to my UHaul getting in so late.
Overpriced and customer service that couldn't care less.
I wish they had inside storage but the for what is available so far so good.
Storage facility is great. I took advantage of the $1.00 month free rental BUT read about the REQUIRED $11.00 a month insurance. Also PURCHASE your OWN LOCK for your unit because theirs costs $19.00. Forewarned IS forearmed! ✌️
Melissa was very helpful and gave very useful information today. She was able to help me with all my questions. Great experience today.
Very friendly as always. I don't like that you are forced to purchase renter's insurance and the lock they issue is three times the price you would get it anywhere else.
A good place to store your belongings.
David, had great customer service. He was very knowledgeable and educated well on the facility policies and procedures! It was a pleasure to work with him!
Great Staff, help you out, make ways!
Public Storage is b******* my rent more than doubled in 6 months plus they required me to have renter's insurance which made my rent unaffordable and ridiculous
Terrible service, disgusting place. We had moved from VT to NC and used the storage for 8 days, we paid for a full month($228 and change) for the first month. Which by the way is beyond expensive. They have a trash can in the fenced in property of Public Storage that had a sign that read not for public use-since we were renting a storage unit we thought it was for customer use, as in no one can just come dump their trash, and were then told we had to pay a $75 fee for dumping in it, freaking ridiculous. There were rats, frogs(yes frogs) and roaches in the storage unit-I mean seriously at those prices that's just outrageous. So my husband went into the office to close out our account with them and asked to have it prorated since we were only there 8 days(they prorated it for coming in early so obviously they prorate days) and since we also had to pay a $75 dumping fee because there sign is vague but we were told they don't do that yet they prorated for us coming in early, so they can, they didn't want to. The woman then told my husband that it was possible for them to give him some money back if it's rented before the end of month is done and so he closed it out and said "Ok so you'll call me when it gets rented?" and she said "Why would we do that?" and he said "Because you just said I may be able to get some of my money back if it gets rented" and she said "I didn't say that." that's not including the fact that they asked if he would be paying that in cash and that's not normal, most people say cash or card, so yeah definitely sketchy, so all around this company is just awful. We now have to deal with getting rid of roaches in our belongings, we were charged a total of $303 for a gross storage unit for literally 8 days. Just all around terrible and sketchy. I highly recommend looking for another place for storage.
Melissa was a huge help & made the rental process easy
Darius was an extreme help to us. He answered all our questions and made a stressful situation go smooth and was very patient with me as I had to change my reservation several times. He has a warn and friendly personality that made us feel welcome and right at home. Thanks Darius & Public Storage
Melissa was very helpful and professional in showing us a storage location. We found the location to be very clean. She also recommended that we purchase products to help remove dampness and odors.
Fantastic service from Tashanna and Melissa!
Tashanna and Melissa are a couple of cool cats
Красивая девушка там работает
Darius is the best of the best when I say polite and knowledgeable of the products and process very fast in and out no hassles and discounts applied overall he's great and I recommend this storage to everyone
Darius and Tashanna were professional, helpful, and friendly. I really appreciated their positive attitudes and energy, they made me smile! They walked me through the process to rent a unit, and made it easy. The facility is well maintained. They were kind to help us find just the right unit for our storage needs. They even recommended some great places to get breakfast!
Good location and security the grounds are always clean
Markeisha did a great job handling our needs. She is the definition of excellent customer service. She was very pleasant and patient. Thank you Markeisha for making my experience a memorable one.
Storage unit was clean and succludded. The district manager Matt was very helpful and was quick to help and correct my issue. Definitely recommend Very understanding and great customer service.
Not a good place to put your things very expensive
Extremely nice and helpful tashanna an radius where very friendly and helpful. I would recommend this place for anyone needing storage space
Have storage but opened another bin, come to find out they had put a lock on my building that had been paid.
Tashanna did an amazing job best customer service I've gotten from anywhere keep up the great work
Always have a great experience when I visit this location. Staff very friendly & respectful.
Do not go there Tashanna fleming the property manager will auction your storage without notifying you..
Love this place!! Staff are warm, welcoming and very knowledgeable about prices and different size units to best accommodate your needs. Dealt with a lady with cute natural twist and she was more than helpful with me purchasing a unit.
Darius was such a great person. He helped me with everything I needed. Got the right storage I was looking for and even some boxes at a great price. If you ever needed storage in Salisbury make sure you go see Darius at Public Storage
Great customer service. Tashanna was extremely helpful, pleasant and very knowledgeable . It was a pleasure working with Tashanna.
They are always friendly & very nice.
Not impressed. We went with Public Storage because while a little more expensive it seemed like a secure area. First, we were told a completely different price (we're talking $100 difference) on the phone, than in person. We stupidly continued on. The guy rushed through the documents, which let me go ahead and tell you—you literally (not an exaggeration I promise you) sign as much paperwork for this unit, as you do a house. Good luck parking in a manner so that you're not on a ridiculous incline one way or the other as well. It's really frustrating when they paved it, so it's basically a "v" shape". I'm sure it's great for water drainage. Horrible for parking and getting stuff out of your vehicle/moving truck. They apparently do not do maintenance/reinvest in the property. You can tell. The bollards they have up to protect the pin pads, are in the way, so unless you have exceptionally long arms, you'll be getting out of your car any and every time you use it. Pin pad is very loose/not bolted down properly so when you touch buttons the whole things literally moves. The contract tells you that you need to provide thirty days notice, when canceling your use for the unit. THEN, my wife goes to cancel, and they tell her if you cancel after the 6th, that you have to pay for the entire month. We won't ever be using an Public Storage again. Nothing but problems beginning to end.
Tashanna and Darius are very good at their job need more people like them. Great job guys.
Great customer service. Never an issue they cannot solve quickly and efficiently. Friendly staff. Organized, clean, secure. Excellent management.
Friendly and clean staff is awesome
I love everything about my experience with Darius he showed me the unit that worked for me and I even got some great deals on boxes thanks Darius
This property needs improvement. Not easy to see from this photo, but large concrete blocks are not marked so that the driver can see them and while backing up, my car got damaged. From the looks of the concrete, I'm not the first to hit it...a pole that should have been marking it had been knocked down by someone else. The staff here are nice, but the roll up doors on units need work, the bathroom had no light bulb and is now out of order, and they don't have any idea about when maintenance might be around to make repairs.
I moved out on the 6th. I had auto pay set up and they wouldn't refund any amount back.
Had an amazing time, was able to quickly find the storage building we had ordered on line and was able to get products to help with the building, tashanna was amazingly friendly and funny plus they take you on a golf cart
They raise their rent every year. Rent now over twice what I signed up for just to park a vehicle. Keypads are always broken.
Because the people are very nice &helpful
Melissa is super friendly and helpful. We made a lot of jokes during our visit. Very pleasant experience all around. She walked us through the entire process and answered all our questions even though some of them were just us being silly and she knew that.
Love the location. Convenient. Get all my boxes here
Been at this location for over 2 1/2 years... Everyone here is friendly and professional for the most part... Sometimes too by the book, but I do understand it's not their personal business so rules are rules... Best experiences were with Melissa... Goes out of her way to help... Even stayed late once when I was having debit card issues so I could go by an ATM to get my account current and back in standing... She will make a great upper management team member... Thanks for all the help... James
Melissa is always very helpful and pleasant. Great place if you need storage or packing supplies.
Tashanna had such great customer service! It was something so small to handle during my day and she made it very pleasant. I can tell she really cares about her job and making sure that it is done right. She was so kind she even talked me into buying protectant materials when I had no intention of purchasing.
Judy was absolutely amazing, friendly and answered every question, it was just like talking to a friend and we loved it!
Melissa was super helpful. I've never used public storage before and she made the experience super easy. Thank you!
Excellent service from Tashama. Very helpful in determining my needs.
Melissa was very helpful and courteous. She made sure everything was the what I needed and gave helpful suggestions on how to pack oversized items. I'm happy I chose Public Storage in Salisbury, NC.
Tee was very helpful in finding tha unit that fit my needs. Very kind & polite & recommended the furniture covers that I needed. Over all a pleasant start to getting a unit to store my belongings.. Thank U Tee
Great service reasonable prices secure clean facility Tee was very helpful with my storage needs and all my questions highly recommend
I had a great experience with Melissa. She was able to get me the unit I needed with in a day. The service was nice, kind, great manners and very detail on all questions. Melissa, was the real reason I put my items in Public Storage. I can not wait to tell my friends about this place.
Tee was awesome and friendly. Helped me get set up and moved in in no time at all! The storage unit is good and the faculty seems well kept.
I had a great experience at public storage! I was able to purchase a unit as well as get the things I needed to protect my stuff. Tee was very helpful and she made sure I got the best service. Public Storage is a great place to rent!!
Tee is awesome!! We has a issue with a unit that we had originally rented and she corrected the problem instantly. Great people to deal with.
Tee helped me get a storage unit big enough for my move. I explained what I needed and she helped me through the process. Awesome help! Thanks Tee!
Very helpful and quick helped me get my new unit in order and moved in.
This place was hands down the best public storage I've rented from. A big thank you to Kelsey , you were a extremely a hudge help today . Very nice , lovely young lady. I WILL definitely be using this public storage for now on and recommend everyone to come here !! Big Thanks.
Kelsey and judy are really sweet and offer a warm smile! Will recommended this location to anyone.
Kelsey & Tee are the best! Always smiling and offer friendly service! Will recommend this store to anyone!
I received EXCELLENT customer service from Tee! She made sure I was aware of the different sized units and various packing and storage supplies. After I selected a unit and realized it was too small (even though I'd been shown the unit) she gladly helped me move into a bigger unit and made sure I was satisfied, even giving me a follow up call a few days after move in. To top it all off, when my balance was do she gave me a courtesy call, reminding me so I wouldn't aquire late fees!! All while being pleasant and professional!!! This woman single handedly made public storage my forever choice for personal storage, whether it be long term, or short term, big moves or small. Thank you miss Tee!!!!
Tee and Melissa where very great with customer service. I was extremely satisfied.
I was recently in this location looking for a storage building and Tee helped me. She was very knowledgeable about the services that are offered. Once it was time for me to move my things in I realized that the building that I selected was too big and she happily helped me into a different size building. I would recommend this company to everyone. Thanks for all of your help Tee!!!
Tee and Kelsey are excellent. Nicest ladies in customer service.
I received really great customer service from Tee!! She answered all of my questions and I feel like I came at the right moment and got the best deal on my unit. Enjoy doing business with you guys!!
Great no problems, excellent service. TEE AND KELSEY WERE AWESOME SALES REPRESENTATIVES, GREAT YOUNG LAD
Tee was very friendly. I enjoyed my experience with her. Well organized and very professional. Explained everything perfect. Thanks. Keep up good work. I'm happy.
Stopped by for some information on renting a unit and the staff were very friendly and hopefully.
Judy and Tee gave excellent customer service
Ms.Judy was awesome! Even though she was tired she took good care of me and got me out speedy quick!
Judy and Kelsey was outstanding.. Overwhelming performance. Mind blowing experience. My visit was awesome. Thanks
Me and my aunt have used public storage for quite sometime now, and one thing I'm always happy with is the service! I feel great knowing our stuff is safe! The girls Morgan, Melissa, and Kelsey that work there are great! I will continue to use them every time I need storage!
Kelsey and Melissa are great with customer service, they helped me to choose the right storage and products for what I needed.
Melissa was absolutely amazing.she helped me with all my issues and even directed traffic when I was backing out. (I drive 18 wheelers)
Great storage place to visit
Destiny has the best customer service! Nice location! Clean store!
I was very impressed with how well Melissa worked with me. She was very sweet and helpful. I feel much better having my things in this storage unit.
Great working with kelsey... Great people skills.. Keep it up!!!
Kelsey was wonderful! Answered all my questions!
I have used public storage at several locations in the past for my company. This particular branch has been the best! Morgan and Melissa are always helpful when I come in to pay my bill. I wouldn't use any other facility!
Kelsey was a great help and she gives excellent customer service.
Kelsey and Melissa did a great job helping me find the correct unit to fit my needs. Great experience!
Kelsey and melissa offer great customer service. They are always friendly!
She was the best helped me out with everything on point and very nice hospitality. I would recommended anyone to come here..
Melissa and Kelsey were very pleasant to work with. I went to check out a small unit for my dad and they quoted me, let me know about deals and insurance and showed me a 5x10 unit. The area was very clean and fairly easy to navigate around. I was very pleased at how friendly they were. However, my dad decided not to rent a unit but any time I hear of someone needing some extra storage space I always recommend them to call and speak with either of the two ladies. Wonderful property and great customer service!
Angelica gave 5 star customer service thanks for your help
Kelsey is a Great Property Manager. She helped me decide what size storage locker that I needed, drove me to the locker (she needs golf cart driving lessons tho), (just kidding, she did great), and thoroughly explained everything to me. I would HIGHLY reccommend this facility to my friends and family. Keep up the good work.
I called this store to get information on units and pricing this morning and was very pleased with the lady that I spoke to, so I went to look at the property. The girls there, Kelsey and Alexandra, we're so polite and helpful. Great experience. Will definitely use them when I move!
Morgan was very helpful! answered all my questions and then some. Will definitely be back to store my items.
It was a pleasure doing business with Morgan down at Public Storage. She was very professional.
I've been to a few storages but I must say this public storage was the best. The lady in the office I think her name was Lakeisha was amazing and very helpful!!!!! THANK YOU
Came by looking for affordable storage. The manager on duty, Melissa was very helpful and friendly. She showed me the exact storage sizes in person to better help me choose the size needed best for me. She was very polite and courteous. They even had all the supplies that I needed to safely store and protect my belongings while I'm out of town. I just want to thank Melissa for all the help and making my trip easy.
Judy and Melissa were the most friendly to work with very positive attitudes feels like i just gained 2 new friends!!
I love public storage... Melissa is a great manager. She is very helpful and knowledgeable about all matters involving storage. I highly recommend public storage for anyone needing storage.
Awesome staff, great location and the prices are right where they need to be! If you need storage and are in the area you should come to Public Storage.
Judy and Ashley were very helpful. They made the process quick and easy for my wife and I. They had wonderful customer service!
Ashley is awesome hooked me up in no time
I've used public storage before and came back because of great customer service. Judy was the representative that helped me out and she was very friendly and helpful. She helped me choose a unit that will work out for me perfectly. I recommend this site for anybody who needs a unit. Judy was great.
Judy and Kim was very professional and very helpful with a smile in their face. I will tell a friend.
Very good experience! ! Judy was the lady that helped me and she was great and very helpful!! I will definitely be back when in town next time.
Judy and Kim were very helpful and informative. Best customer service ever!
Judy was awesome. E erything. Explained calmly service was outstanding!!!!!!!!!! ;)))))))
Ms Judy was very professional greeted me with a smile, she was awesome ,
I am not very happy with my visit. I came to get a 20x20 and they were putting new roofs in that section of buildings so i settled for a 10x20 and was told to come back and rent the second one when that one was full.They did not offer me any thing for my troubles and didn't even give me the advertised $1 for the first month and to top it off i will have all the activation fees and REQUIRED (which the paperwork says not required) insurance for the second unit. i was desperate so i took the storage unit. but beware of advertised prices and what you will actually pay!!!!!!!
Very helpful and friendly!! Got exactly what I needed for a great price!!
Ashley was a great help :)
Kim gave excellent service. Very knowledgeable.
Kim has outstanding customer service skills. She always ensures that we are satisfied with our accommodations and always receives us with a very professional attitude.
Ashley was very pleasant to deal with and had excellent customer service!
ashley was the best... great place to store anything
My Experience was good I came in 10 minutes before It was time to close and Judy the lady that helped me was very nice and patient and I appreciate her time.
Kim gave good customer service
OUTSTANDING CUSTOMER SERVICE! THANKS ASHLEY!
Kim gave great customer service
Kim is the best the company is the best
Kim and Ashley great customer service
Kim and Ashley provided exceptional customer service and assistance to determine the best suited storage for my first storage assistance
Ashley and Kim were most pleasant very professional fast and easy loved it
Great customer service from Kim and ashley . Friendly and helpful very professional
The ladies were very helpful and friendly..
I had Ashley show us the storage unit. She was fantastic! She told us the process would take a few minutes and made sure we had enough time, even though she was very thorough and quick about signing me up. She went through all the procedures and was very direct so nothing was misinterpreted. She made this a very friendly experience and I would definitely recommend this storage facility just based on her customer service. [:
Great Customer Service, Britni and Melissa are wonderful! I will definitely use them again!!!
Judy is very helpful and good with customers
Judy gave me good customer service
Customer service was very friendly and helpful in helping me decide which unit was best.
Kim and Brittany are rock star
Kim and judy gave me great customer service and recommend them
Great servíce, very friendly employees
Kim is very helpful and gives good customer service
Kim and Tracy had excellent customer service skills. I will tell all my family and colleagues about this location.
Was searching for storage for a relative who needed to move. The month was running out and so was our time to clear out the previous residence. I went to two other facilities because they were nearer to my home. Both were full, but after finding space in Public Storage, I was glad. Both of the other facilities had NO ON SITE REPRESENTATIVES. You had to drive by, get the number off the building and call. Two wasted trips. When I went to Public, they had on site representatives and available space. The staff was friendly, helpful, courteous and understanding of our circumstances. They explained our options and made sure we chose the best space for our needs. I would definitely drive the extra distance to go to Public Storage.
Visited Public Storage in Salisbury NC today and was assisted by Kim and Melisa, They were both extremely prompt, polite and professional. I appreciate the promptness and the quality of their work. I can sense they have pride in their work. Thank you for having such knowledgeable employees!
PUBLIC STORAGE WAS RECOMMEDED TO BE MY A FRIEND. I FOUND THE SERVICE TO BE EXCELLENT AND THE EMPLOYEES TO BE VERY COURTEOUS AND PROFESSIONAL. I HAVE TWO UNITS WITH PUBLIC STORAGE. KIM HELP ME WITH THE FIRST ONE AND TRACEY WITH THE SECOND ONE. BOTH LADIES EXEMFIES WHAT TRUE PROFESSIONALISM MEANS AND PUBLIC STOARGE SHOULD BE GLAD TO HAVE THESE TWO AS PART OF THEIR TEAM. JAMES DAWKINS