Public Storage Self-Storage Units at 114 Joann Lane, Mooresville, NC
Address
114 Joann Lane Mooresville, NC 28117
Property Open
Mon-Sun 6:00 AM - 9:00 PM
Storage Facility Features
Climate Control Storage

Indoor & Outdoor Storage Units

Small, Medium & Large Storage Units
Climate Controlled

Reduced height

Upstairs/elevator

Climate Controlled

Inside unit

Locker

Climate Controlled

Locker

Upstairs/elevator

Climate Controlled

Upstairs/elevator

Climate Controlled

Upstairs/elevator

Climate Controlled

Upstairs/elevator

Climate Controlled

Inside unit

1st Floor

Climate Controlled

Upstairs/elevator

Outside unit

24 Hour access
Nearby Self-Storage Locations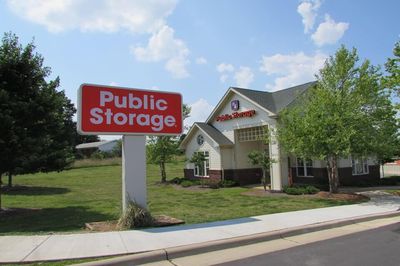 Self Storage Near
522 Brawley School Rd
Mooresville NC 28117
Resources from the Help Center
See what fits in different storage unit sizes
Mooresville Storage Units Near I-77
Public Storage in Mooresville offers affordable self storage to customers looking for storage rentals near Lake Norman.
Roughly 30 miles north from Charlotte, this Mooresville Public Storage is right off of Interstate 77 and just west of Route 21, making it a quick storage stop for folks throughout southern Iredell County.
Storage lockers are available to rent for small items, including important paperwork, documents or small electronics.
A 5x10 storage unit helps the outdoor enthusiasts keep all of their gear in one place, whether it's portable chairs, blankets and toys for casual days at Hope Park or everything needed for weekend excursions out to Lake Norman for fishing, water skiing, boating or kayaking.
Businesses along River Highway and Plaza Drive can use a 10x30 storage unit to pack up the entire workplace when the time comes to relocate to a larger storefront, while families near Lake Norman High School can use a 10x15 storage unit to hold everything from dining room tables and chairs to instruments, kitchen appliances and boxes of old clothes.
With a large selection of cheap storage units, this facility offers indoor storage units, outdoor storage units and climate controlled storage units. Need moving boxes, bubble wrap or furniture bags? Moving supplies are sold inside the rental office 7 days a week.
It's no secret that the town called "Race City USA" is booming. With more and more folks moving here year after year, call on this Mooresville Public Storage to provide a little extra space at reasonable prices whenever things get a little tight.
At Public Storage, You'll Always Find...
Keypad Access

Friendly Staff

Month-to-Month Rent

Moving Supplies Available

Free Parking

Well-Lit Facilities
Reviews
( 279)
Diana was very helpful on my service today.
Diana was very helpful and did a wonderful job helping us get our storage spot, recommend this place to any one for their storage needs
SCAM WARNING. These people will up the rent on you after five months. We went from paying 170 to 310 without any warning. There is no person in the physical building ever so you can't cancel. Scheduled a meeting with the property manager through customer service and they never showed up. Woke up early on a Sunday just to meet them there and altered my entire weekend plans. Either the property manager didn't care, or customer service lied to get us off the phone. I don't ever write reviews, but this was such a horrific experience and We are still trying to get out, but can't get in touch with anybody, only AI's. Filing a complaint with the Better Business Bureau to have resolved. GO SOMEWHERE ELSE.
Deanna at this location was awesome she helped resolve all my problems I had with public storage...She made a bad experience into a great experience.. Because of her professionalism and great communications skills I would recommend this public storage
Mickey was super friendly and helpful! Place seems very clean and well-run.
I was optimistic about renting at Public Storage after reading all the reviews. I have been trying to rent a unit for a few days, when you call No one ever answers the phone. Left several messages, and I tried going to both local facilities to find no one in the office. Have run into others trying to get a hold of someone to pay their bill, no one is available. I found a place elsewhere.
Went just to try and find some information on a storage unit and the young lady Deanna was very helpful! Would highly recommend checking them out for your storage needs!!
I was in a rush to move out of my apartment before moving all the way to Texas. Luckily public storage had plenty of available units and one that could easily fit all my stuff last minute. Deanna at the front desk was super helpful and incredibly friendly through the whole process. Super easy and simple process!
Deanna was a ao helpful ans kind. I am older lady and she made the process smooth and pleasant. Nancy Blumberg
Both Deana and Mickey were so helpful. Mackey took me to the unit and explained everything with lots of detail. I was very pleased with all my interactions with both ladies.
Yesterday I rented a storage unit from this place and when I arrived I was upset when I found out that I had been misinformed by a lady name Sheila but two wonderful employees name Mickey And Deanna top-notch employees and explaining that and helping me get my storage needs taken care of noodles to these two employees I look forward to continuous business with these ladies
When I went to rent my storage unit I found the service exemplary MICKEY AND DEANNA are the bomb great experience all around.
You have a young lady working here Deanna is extremely helpful, very pleasant to deal with, has a great personality and always has me leaving laughing! She has very big shoes to fill and I think she's doing a great job at it!!
Deanna was awesome and helped out with great humor and efficiency. Highly recommend.
Deanna was polite, efficient and thorough. Very good experience.
Jen was and excellent help with all my questions and provided me with outstanding customer service!! Her pleasant attitude and great service is why I highly recommend this place to my Sister and other family members to use if they needed a storage space.
Jennifer is so awesome. She helped with everything. Great job!!
Great staff, especially Jen! She was very nice & helpful
Jennifer...I tell u as long as I been purchasing storages Mrs. Jennifer is byfar the best all the way around if all my storage purchasing can come from her I would be pls.
Deanna and mickey were very great at giving me the service I was looking for as in finding the right storage unit to best suits my needs.. Thank you ladies
Seen cherese work in action this morning she is pretty good at what she does here and properly is pretty clean
Cherese awesome service!!
Cherese is so awesome she is attacking all the spiders near my unit makes me feel so much more comfortable to come to my unit every day thank you so much .
Stopped in to get info and the customer service was awesome!
Debbie was very friendly, accommodating, and helpful!
These Ladies are amazing for us moving from another state on short notice they helped in everyway to make things go as smoothly as possible! When needed they worked with us to help us get a bigger unit and save some money! All around A+ service
Very friendly clean and great faculty
Nice customer service and very clean facility
I absolutely love the new app function when you just push the button and the door opens. This is my second time coming back to Public Storage and as always they were incredible and wonderful. Everything was taken care of very quickly and easily. The price wasn't too expensive. Everything is just great exactly the way I remember it.😊
Debbie has excellent customer service. She really cares and goes above and beyond.
Debbie was amazing! Thank you so much for helping so fast and saved us some money! Come see us soon at the beach! Thank you Ms. Debbie!
I always have a wonderful experience with the staff at this public storage. Both ladies are professional and very helpful. They made my transfer from a smaller unit to a bigger unit quick, efficient and effortlessly. Thanks for being exceptional with your rapport and customer service.
Very good experience! Costumer service was great!
Brie and Deb were awesome to deal with. Very quick and efficient. Our unit was clean and free of debris. I'd highly recommend this location.
Buyer beware. I'd recommend a smaller boutique storage unit. These guys rent month to month which allow them to raise their rent with a 30 day notice. Our rent just went up $30 a month. They also slap you with an insurance fee that you have to sign whether you want it or not.
Good help, and they try to help as much as they can. No lies, just honest help
Was very nice and help two people at once vary grateful for having pick this storage place
I've always had good customer service, but recently, .one of their employees took customer service to the next level. It was after hours on a Saturday evening and she was getting in her car to go home. I was having trouble with my code and she unlocked the office and took the time to help me. This location has always been friendly and helpful- but working on a Saturday night and not getting paid for it- shows how much they really care.
It's been great working with Debbie! She went out of her way to accommodate our needs. She is professional and friendly and helpful!
100% recommended very organized and taken care of well here. The front desk lady is very nice!
FANTASIC customer service! Debbie went waaaay ABOVE and BEYOND to help me resolve an issue with my account. She worked closely with another Public Storage location, and really did a tremendous job!
Provided fast and good customer service and detailed explanation of all terms and conditions 10/10 would recommend
Debbie was great. Extremely helpful and personable!
is your site tractor trailer accessible? can a 54 foot trailer be able to pull in and out with any issues???
Best Service very Friendly and Helpful!
Amazing customer service. She went far and beyond to help me to get my refund.
Deb was soooo helpful and so knowledgeable. Thank you for your help!
So it's been pretty tough trying to find a storage unit but let me tell you Deb has been AMAZING!! She is the most kindest person and went above and beyond her job!! She could tell I was stressed out and she did absolutely everything she could to make it a little easier finding the perfect unit that fits our family. Thank You again!!
Great price, super clean facility.
Finding a storage facility can be a hassle! From my first contact with her on the phone, Deb, the manager, answered all my questions in a professional, friendly manner. She walked me through the whole process, and suggested I come in anytime to take a tour. Although she was by herself that afternoon, she took the time to show me units that were available to suit MY needs. They were very clean, with easy access. Back in the office, we discussed pricing and she answered a few more questions. I never felt rushed or hurried along. I'm giving this location 5 stars, because along with everything you'd expect in a good storage facility, great customer service is rare these days and good management equals a good experience for the customer. Toni K.
Deb is the best !!! Helped us a ton for our first move !
Excellent service and very affordable.
Deb is AWESOME!!!!!! She went above and beyond to help me when I went into the office and she has such a wonderful personality to boot! She made me feel as if I had known her for years......I really enjoyed the customer service she provided me along with the pleasant and witty conversation. Thanks, Deb, for making me feel like family🙂
Deb is by far the best storage staff I have had the pleasure of meeting. She has been flexible and understanding in what's going on.she doesn't try to upsell you like other storage places and will have a nice conversation if you would like.
There's so many positive things I want to say about the property manager Ms.Deb. She goes 199% for her customers, I worried about leaving my storage belongings but, she has kept me updated from day one. She's is a true Public Storage blessing. Customer Service at this location is A-1. Her staff is just as polite and well trained (Coty). I appreciate all of you!
Deb is very helpful and extremely friendly. The process to get a storage unit was easy and the units are spotless. We would highly recommend this facility.
I was moving across the country and needed space to store my household until I can secure a home. Debbie was great to work with ! She was so reassuring and helpful in setting me up with what I needed that my stress level went down many points. I'd highly recommend this facility and Deb. She is the best !!
Elevators are always clean. Carts are available to help move things in and out. The employees don't really hassle you either. Great rates as well
Deb was such a great help with my storage needs. I loved the conversation that we had. I would definitely recommend this location just for the experience I had.
Deb was a breath of fresh air. After dealing with some substandard customer service folks at other storage facilities we truly appreciated how responsive, professional and helpful was to us. We chose a larger unit than planned due to the competitive pricing and great location of both facility and unit. Deb obviously knows the temporary storage business and good customer service as well.
I came in to make a payment and Deb was nice and had great customer service. Thanks Deb!!!
Great service very knowledgable of their business. Thanks Debbie and Kody.
Deb was amazing. She was very professional and very detail oriented. The facility was spotless which made comfortable with leaving my personal belongings here. Can't wait to tell all my friends and anyone looking for a place to store their things. Thank you.
Deb at the front office was great and very helpful! Had just the perfect storage unit we needed at a fair price. We received 1/2 off first month's rent which made for a nice bonus. Great service and a convenient location! Look no further if you need a storage unit and friendly people to help!
I went in to confirm my reservation and get my unit number. I had the pleasure of working with Deb. She was very helpful and friendly. Thanks Deb!
Debbie is sucha sweet and kind Lady she helped us out when we got in a tough spot her Son Kody also has Public Storage around the corner on Brawley she didnt have one open so she directed us there and helped us get the online discount! The storage Buildings are also well tended and the Climate Control is really helpful. they are wonderful people absolutely recommend!
Deb is awesome. She always has a wonderful disposition and always smiles and goes up and above to help the customers with everything you need. I would recommend this facility to everyone who needs to have a safe place to store your things. Kody also is very accommodating. If Deb is not in please ask for Kody.
Manager Ms. DEBBIE IS AWESOME. She was able to answer all our questions and was patient showing us all the available units and guiding us to the proper size unit for our storage needs. She is an asset to your company.
Debbie the office manager was a pleasure to work with. All our questions were answered for our storage needs and we're so happy to have made such a quick move to this fabulous facility.
very clean, great location, welcoming & helpful
We came in today and Deb and Brie were awesome. We had an appointment for 5 but we got into town sooner and though Deb was showing someone already, she called Brie (who was at a totally different location and she drove right over) and Brie showed us around and had us with a unit within 30 mins. Very accommodating and friendly. We are extremely happy with our choice.
Deb and Brie were great. Very accommodating and helpful, Brie even drove over from another location just to help us out. We went with an indoor unit and are very happy with our choice. Exceptional customer service.
Debbie, the manager, is awesome!!!! Top-notch customer service!
Nice place, Kodi was very helpful!
Debbie was very helpful and courteous. Facility is clean and secure. Recommended
Deb is awesome! She was a great help with getting our storage unit! She's very professional and knowledgeable about her job.
I just love Deb!!! We have just moved to Mooresville. Deb was the first person we had an opportunity to get acquainted with in the area. What a great and friendly introduction to Mooresville she was! She told us where to find good amenities in the area. And she was so professional about helping us get a storage unit that we never questioned the safety of our treasures! Deb is the bomb!
Our move here was extremely Stressful but Thanks to Deb renting a storage unit wasn't . She is extremely friendly In a southern kind of way . Meeting her was uplifting to say the least . After a few months here we meet her son Kody , who like his mom is our going knowledgeable and also extremely helpful .
Ms.Debbie is amazing, very knowledgeable and friendly 💯
Deb was so helpful today with getting us exactly what we needed. She worked with us and was so patient and handled out situation with great professionalism and it was a pleasure working with her ! also special thanks to kody for also helping us finalize our unit !
Facility was clean, well lit and great customer service.
Great experience coming here from NY . Talking to Deb over the phone in NY was a big help and coming here she has helped me and my family out . Deb is very kind and helpful definitely recommend this storage place if you are moving to NC . Make sure you ask for Deb great person so nice and sweet thank you Deb for making my move easy
They are always so nice and it's very clean. Just wish they would have the lights fixed down the hall where our unit is.
Deb is so friendly and helpful. I would recommend this place to any one. Thank you for being so kind and helpful!
Deb is awsome takes care of you
This location has been outstanding! if you're looking for great rates and exceptional customer service, then you should definitely stop in. Deb is an awesome property manager. Her friendly staff keeps the property clean, and well stocked with higher quality packing supplies than most competitors.
Kody made it very easy to rent a unit and was very professional and friendly!
Deb (property manager) is phenomenal! I would recommend 114 Joann Ln for any public storage needs. The customer service at this location is exceptional and I found Deb to be extremely helpful. Awesome job Deb! Thanks again!
Kody was very nice and helpful. Great place for storage.
I dealt with both Deb and Kody as I was a big PIA over two different days just trying to make sure I got it right. They were both just so helpful and patient. Great folks...………...
New to the area and this facility. My Debbie was great! She made the check-in process go smoothly. The unit we got is very clean & adequate for our needs & at a great price. Definitely recommend this Public Storage location with Debbie at the helm.
Deb was awesome! She was extremely informational and very helpful. she handled all my needs and made the process very simple. I definitely recommend her and this establishment.
Deb was extremely funny and helpful. Makes sure you come here 😁
SHOUT OUT to DEB at 114 JOANN LN If you need storage, this is the place to go! ALL of the Customer Service Reps are helpful, polite and patient (spoke with 3 by phone, in the week prior to moving from out of state and when I arrived). I've dealt with Deb, the Property Manager, in person and by phone. She is fast, thorough and knowledgeable, but also kind and VERY patient. My friends came to help me unload the truck and we were all super impressed with the security and my storage unit.
Public Storage was outstanding. Deb did an outstanding job . I highly recommend Public Storage for Temporary or Long term storage.
Deb is extremely friendly
Kody was a great help and super nice! Thank you so much!
Kody was very helpful and patient with me. Great representative for your company!
WOW so pleased we found this place! Deb is fantastic-professional, knowledgeable and super friendly! Highly recommend!!
Great service at a reasonable price. Deb was very accommodating and extremely helpful in locating the appropriate sized storage space. I would certainly recommend using this Public Storage site.
Cheap storage with the option to provide your own storage insurance which can save you more money. Facilities are always clean and staff is always friendly.
Deb is amazing. She is always helpful. When we first got the unit, she even stayed after to ensure we were pleased. I was so impressed that I helped one of her clients put together a box they purchased. Please come here if you want friendly and great service.
Deb is absolutely wonderful. So glad I had her to assist me with getting my storage.
Deb at this facility is fantastic. We were potentially going to arrive after hours and she was willing to stay there for us. We luckily arrived ahead of schedule and she was efficient in showing us our storage unit which was above our expectations. Highly recommend this Public Storage.
Deb was very accommodating to what I needed. She gave me a tour of the facility and showed me the storage unit that would fit my needs the best. I highly recommend Public storage. A friend of mine recommend them and I a so happy they did.
Deb is an excellent representative, and helped me out greatly. Helped with any questions I had. Definitely recommend coming in to see her when needing anything from a storage unit to buying boxes and other moving supplies.
Debbie and her son Kody were extremely helpful in helping us choose the right size storage unit for our home contents. The premises are very well maintained. They were both so friendly and Debbie was also so nice to help us with information about the area we'd be moving to. We highly recommend their facility.
Does this facility have a loading dock
My girlfriend and her roommate stopped by the other day to get a 5x10 unit. Kody was absolutely awesome, fantastic communication, answered every question, and made everything easier than he needed to.
Deb was absolutely wonderful! So friendly and helpful! She was quick to help us find what we were looking for. Highly recommend this storage facility.
Deb had great customer service, I had exceptional help! I would highly recommend renting from here!
Debbie was especially both patient and professional, and informational!
Excellent experience! Deb was very helpful and friendly! Clean and convenient location. By far the best experience we have had at any storage facility, thanks to Deb!! Would recommend to others for sure!
They lure you in with less rates and then increase price without any notice at all. The district manager and the customer service were each blaming each other for the rate increase and none of them was able to keep the same rates for at least the next 3 months. They don't care about customers and are trying to make more money somehow even if it means showing utter apathy to the customers.
I've used other storage facilitates in the past and have never encountered any facility manager who takes care of their clients like Deb. She was prompt with her follow ups, listened/understood my needs and provided me with an appropriate storage solution. If you are looking for Ritz Carlton level service for your storage facilitates needs, Deb is s a super star in providing a white glove customer experience.
Deb was so wonderful and so pleasant! She was very warm and personable! She made sure I got the right unit size, walked me through the process, and made sure all my needs were met & exceeded. The storage unit was very clean and well kept. I'd recommend this location to anyone.
Polite efficient excellent in every aspect answered all questions before they were Asked couldn't have. Needed more! DOUGLAS BENEDICT ps. obviously a great recommend see Deb.
The staff was very helpful getting set up, and also on move-in day. Brie was very patient with all my questions and walked me through the process.
Outstanding service from Kody! Thank you so much! The process was pleasant and easy. Great prices, great location, and very helpful staff! Thank you!
Deb was awesome and made the whole process really easy for moving in from out of state
Debbie was very courteous and was very helpful in deciding the size of the units we would require. Looked out for our interest in a stressful time having relocated from California.
Kody was very professional and helpful in obtaining my storage unit. The only issue I had was during the rental process, I was informed that it was manditory that I have insurance and had to choose between 3 plans of theirs or obtain my own. I was disappointed in that extra monthly amount. I asked prior to seeing unit how much the monthly amount was and I feel a though the mandatory insurance policy should have been discussed at that time.
Front desk super friendly I was nervous about my first unit not that she knew but this has been very helpful for me in my stressful time thank you!!!
Love the place. Great ppl working there also.
My father used this as his storage facility and had a great experience there! Always clean, in order, and easy to access and use, they treated him very well and were extremely helpful. Thank you!
This Public Storage location is the best to choose from! The staff there is wonderful, especially Kody! He made everything stress free which is important since moving can be so stressful. At this location they treat you like family and I am so happy to have picked them. Great prices and even better service!
Deb was friendly and had us all set up quickly. The facility is clean, well-lit, and easy to get to. Just be aware that the pad-lock is extra. Bring your own, or purchase their high-quality lock for $20.
She was very friendly.. Answered my questions with a smile.. it was a great experience.
DEB was awesome and extremely helpful!
Deb was very pleasant and helpful today..the experience was easy and quick!
Very friendly staff and the location is clean and well managed. The location is a big set off the road but it's easily spotted from Williamson. We like that it's close to food places so you can do other errands while grabbing stuff or dropping stuff off into storage. There are other public storage in the area but this location is highly recommended.
Deb at public storage in Mooresville was very helpful and knowledgeable for our needs. But the most important part was her personality and her customer service which is outstanding. I hope that we have made new friends.
Deb was so helpful!! She really helped us out!
Outstanding service and setting. Thanks !
Best place to store things ever wonderful staff
I am so glad that my boyfriend and I chose this storage company. Deb is so sweet and is always greeting me by name when she sees me. My mom has 5 units and brother has some as well. My family and I definitely supports this company and have nothing but good things to say about them!
Debbie and Brie are outstanding and was able to take care of my needs!! Thanks again!!
Wonderful service great price and very clean. Would definitely rent here again and again.
Had a wonderful costumer experience today, Deb was awesome and showed me around very nice place can't wait to do business here
I really appreciate Debbie and Kody at my public storage here. Their smiles and professional courtesy is great. Thankyou. And highly recommend .
Nice , friendly, sweet and awesome
Had a great experience. Deb was most helpful and delightful to work with.
Deb was the best person I met in a very long time. I love her!!! She deserves a promo. Best options and prices!
Excellent service.!!!!!!!
i went to purchase some boxes with my mom for our move and Deb was great on giving me ideas on which boxes would work best for my books and vases. i would definitely recommend buying your supplies and renting units. Deb has very good customer service :)
Deb and Kody are hardworking, friendly and go out of the way to give you the best customer service possible.
Prices are too high, I called AAA Storage on HWY 150 in Mooresville they gave me a great price on a 10x20. Very happy with their facility and pricing.
Great customer service by Deb! Love it! Can't go wrong with this location!
Kody called my son(Xavier Daniel) who is the renter for this space as soon as he went online with an an inquiry( I advised my son that PS was running an online special and they had a climate controlled unit at a reasonable rate) We ran down (literally it was close to closing on Sunday) and looked at the space and my son rented it on the spot. Clean space and Kody is personable, courteous and professional. Looks like we came to the right place.
Deb is super friendly and always helpful in every way
Got online deal very nice price for unit size
This is the cleanest facility and the most accommodating and friendly place you could want. Not only was Debbie super helpful with suggestions, she kept me laughing the whole time. She has ideas for packing that made my move so much easier. It is a pleasure doing business with her. If you're looking for storage, this is the place to go!
Deb and Brie did a great job of making this process painless...Very efficient... I would recommend this facility to my friends and family...
Clean, climate controlled facility
Debbie is the best. Such great service!!
Friendly staff, great facility!
Deb and Brie are awesomely wonderful. Deb is my new sister. Love this place.
Deb and Brie were awesome! Deb went above and beyond to help us get a lower price on our 5x10. We had so much fun chatting with her about all kinds of stuff. She is a great person, friendly and funny! I highly recommend this place to anyone!
Super clean. Easy access. Great staff.
This is a great storage facility, and I've always had a pleasant experience working with its manager, Debbie, who is very friendly and helpful! Your belongings are kept in a clean, safe, climate-controlled environment, and you can access them at your leisure.
So impressed with the service provided by Debbie. She is very friendly, very professional and goes the extra mile to assure your needs are met. I was very surprised on my second visit to the facility which was a few weeks later, that she remembered my name. That's real Customer Care and why she deserves this rating!
I have two units at this storage area and Debbie is awesome at the jo Ann ln
Deb is very awesome!! Very helpful and friendly!! Great location and great service!!
So far a great experience! Deb has been extremely nice and I absolutely commend her customer service skills!
Very good service very helpful knew what she was talking about great location Very friendly and always very helpful
Always a clean environment, I feel good about my things being stored there. Very attentive service by Debbie and the others there at the Joann Lane location in Mooresville. I have done business exclusively with them for several years now.
Great experience and great customer service from Ded and Brie..would definitely recommend this place
We currently have a 10x30 unit here and we're in need of another large unit. We had made a reservation for a 10x10 and when we arrived and explained our situation, Debbie was able to find us a larger unit just right down the road at the Brawley road location and was able to keep us the same dollar special and discounted rate. Thank you Debbie.
Deb and Diana were super helpful. Great service!
Debbie was extremely helpful in helping us rent our space. She went the extra mile to make sure we understood everything and had exactly what we needed. It was a great help getting a better rate by signing up online. We highly recommend this location!
Debbie went above and beyond ! Face it.. no one likes to move... but she was a great help and made my day a bit easier.
I made my reservation online and w/in a hour Deb was calling to discuss my request. A week later I signed my contract and began moving my things in 2 hours later. The property is really clean and so are the storage units. Public Storage needs a tag team like Deb and Diana at every one of their locations!
Moved down to Mooresville for school at NTI and needed a storage unit for all of my personal items. The manager was more than helpful with the whole process, very friendly and professional. Being the "new guy" in town I was nervous about getting public storage in an area I wasn't familiar with but would highly recommend this to anyone.
The front desk lady Deb is awesome. She will help you find the right storage space for you for the right price, regardless if it's at this location or others near-by. The facility is clean, and I felt that my belongings were kept safe, secure, and pest-free. I would recommend this place to anybody in need of a storage space. 🤗
Deb was great look forward for giving you guys more business
Deb was wonderful and had great customer service. She showed us our rental unit before we made our purchase, to make sure it was what we wanted. She explained the insurance policies very well and made us feel very comfortable with everything. I would highly recommend this place if you need a storage unit.
Deb is fantastic. She is very awesome and so helpful. I'm glad I came here because of her
Diana is a very helpful friendly customer service person.
The process of renting a storage unit was made very easy by signing up online. Once at the location the two ladies at the front, Diana and Deb, were amazing. You could really tell they enjoyed their job and helping customers. Diana was very thorough in explaining the options, showed me my unit, and quickly went through paperwork while answering all of my questions.
Deb and Diane were wonderful! We told them our need and they helped us get exactly what we needed. They didn't treat us as just another customer, instead, they got to know us (and entertained us) in the short time we were getting our unit. We originally came to them because they were cheaper than the local competition but because of their kindness and professionalism we will remain customers! Public Storage- you've got two very special employees working for you!
Deb and Diana were very helpful and got us a great deal on a unit. I highly recommend Public Storage .
The ladies were great and took the time to help me
Moved in on 09-30-2016, Diane was very helpful, the place is clean and well stocked with supplies. The use of the rolling carts were a big help. as our unit is on the second floor. Check in was quick, Made reservations on line from out of state, got a call the next day to confirm and Diane followed up with us two additional time, until we had our move details ironed out.
The girls Diana and Debbie in this location are a pleasure to work with. They made our move such a pleasure. Thank you ladies!!!
Diana and deb are amazing and very helpful
Diana and deb are wonder ladies and they are wonder people to put your storage in if you ever need it the name of the storage is public storage
I so enjoyed the staff - super friendly! Great service!
Deb and Cody are awesome!! They make the process painless and entertaining!!
Deb and Diana are awesome! It is a very clean and friendly place. I highly recommend this location to anyone looking for a storage unit! I have been there for years and will only use this place!
Deb and Diana provide great customer service!
Cody is a great representative and the property manager as well.they both were very helpful..i absolutely love this location
This is my second unit at this facility. Debbie has helped me both times and she is a treat to work with. She is very professional in representing her company and has a great sense of humor. I have one 10' x 15' controlled environment unit which is within a very clean facility including the restrooms. I just rented a 10' x 20' outdoor unit which is very clean. The interior units have controlled access and this would be a great enhancement for the outside units as well since they are open to the general public. The overall facility is well managed and presents a quality image to the customer. I am sure Debbie plays a major role in maintaining these high standards. I highly recommend this storage facility.
Fantastic experience here! Deb was so friendly and accommodating to us! Storage unit is always clean and is kept a secure location. Deb is the best!!
Moving from Florida, we underestimated the size of our move and did not have enough storage. Deb at public storage took ownership of my problem and helped me solve it. She called the other public storage location and found another unit. I recommend public storage to anyone with storage needs.
Miss Diane and Miss Deb were absolutely wonderful! Diane took the time to ensure us of security and show us the unit, and Deb carried out the paperwork with such pleasant conversation! These ladies take their job very seriously and devote so much energy to pleasing their customers. Very pleased with the service!
Amazing and friendly service! Incredibly accommodating and found us exactly what we needed in a fast manner. Would recommend for anyone needing storage. Deb was fantastic and provided great customer service
Deb was extremely helpful, you have a great employee here that want to help. Thank you for having such a great employee!
Ms. Deb is amazing and such a pleasure to work with. Super clean place and would highly recommend to anyone.
Thanks deb for information great place but went to other location as they had what I needed.
I had a great experience working with Deb and am glad we choose this location. Suer friendly, helpful, and clean.
Deb is the greatest Public Storage Manger my wife and I have ever met. People skills exceptional, always willing to go the extra mile and has a great personality. Every Public Storage should have a Manager like Deb.
The customer service is great. Manager was great. Great place to go to store your stuff. Recommend it to everyone.
Lovely place. Staff is nice and good customer service. Made purchasing my first unit an easily any enjoyable experience.
If you're headed over to this location, ask for Debbie. She made interacting with this location a true pleasure. She has a wonderful sense of Southern hospitality but won't waste your time. She knows the business and truly seems to enjoy helping others.
Fantastic staff, Debbie did a great job of helping me out.
What impressed us about Public Storage was the courteous, friendly reception we got from Deb. She showed us the clean, accessible, well-equipped building and guided us thru our moving in. Eight months later, the moving out was easy and convenient due to help from the staff. I would highly recommend this facility!
we are new to the area and our visits are always made pleasant by your employee deb, she is just over the top in customer caring, which to us is unusual considering the experiences we have had on long island, n.y. with public storage--deb has made us feel wanted and is always there with answers to our questions---today deb introduced us to tyler who also welcomed us with a smile
When needing to move my mother to Mooresville on short notice I needed help knowing what size storage unit to rent and most bang for my buck. Ms. Deb was absolutely the best! She was so kind, patient and very helpful! We will definitely be back if we ever need storage again!!
I have to say this has been one of the best experiences in in having to store my house furnishings. As anyone knows, moving one self from one place to another can be stressing, to say the least. Moving your stuff into storage at a secure location can ease some of that stress. Debbie, the manager of this location was very helpful for showing me that their are still good people that are willing to work with you. Thank you!!
Deb is fantastic and so helpful...i definitely recommend this location!
Very well maintained property. Deb is always friendly and extends herself to customers.I've had a storage units her for awhile.
The staff could not be more welcoming or make me feel more confident in the security and safety of my belongings While on their premises Debbie could not have been more helpful I have stored my belongings and other storage facilities and have not felt as comfortable as I have here not only with security issues but just the personnel and staff Knowing that any and all questions could end would be answered without feeling like I was a burden I am being treated as a customer not just somebody making a phone call
Deb & Company at Public Storage are a treasure! They are amazingly helpful - particularly wonderful when customers are stressed out, moving, etc. We feel like we've made a good friend, and that we can always rely on them for support. Nothing but good!
What a great place. So convenient to buy boxes.
Ms. Deb really helped me out today. I live 30 mins away from my public storage unit and she let me pay for my concord unit at the Mooresville location
Deb is great. Customer service second to none!
We moved from a small unit to a larger one in the same building and consolidated from a competitors storage unit. Deb helped us find the ideal unit and helped with the paperwork. Deb made sure the transition was very efficient, professional and pleasant. Since we moved in she has checked with us frequently to be sure everything is OK and we are satisfied with the unit. We would highly recommend this location over the others we have rented from in this area.
Deb is awesome. She was very helpful
Deb was really nice. Great property.
My visit to this public storage was fantastic thanks to Keisha. I absolutely loved the wonderful help I recieved while at this facility.
Deb was fantastic! She was really helpful and gave us the information we needed to get a unit that fit our budget and needs.
Deb did a great job in assisting us. She was very helpful and the facility is very clean. Deb made our first experience using a storage unit much easier to complete.
Deb the manager was awesome to deal with and will highly recommend this location to everyone. Thank you
Deb helped me find the moving supplies I needed. Nice place.
Deb is awesome, very helpful and knowledgeable. She went over and beyond to make sure my move and experience was an easy transition.
Fantastic service and clean facilities. Couldn't ask for more. Deb actually even called me one time when I had forgotten to pay my bill on time. I highly recommend!
Deb was awesome. She was really helpful with finding the right boxes for my needs. Thanks Deb.
Deb has been great everytime i come to property.
Tierra was very helpful getting me information on storing my personal items. This will be my first time storing at a storage facility and I had a few concerns but she was able to answer all of my questions. Great customer service and location.
We just moved in from out of state. Debbie was very, very helpful. Not just with the unit, but sharing her knowledge of the area as well. She was very friendly and welcoming. We look forward to working with her while our things are in storage.
This is a nice location. Very convenient for supplies. Deb helped me with all my needs.
Deb really helped me find the supplies I needed to move.
Large, modern, clean, well equipped and maintained climate controlled facility. The manager Deb was professional, very helpful and friendly. I feel very confident storing my household goods there.
Jessica was very helpful! She helped with all the questions I had about my future storage options.
My girlfriend and I came to see about pricing. Kara was so welcoming and we ended up renting the space. I highly recommend this location.
Really glad PS took this over. Great updates.
Deb is really great to deal with
Facility was nice and clean. Debbie was pleasant and very helpful.
Deb was fantastic this morning as we arrived at the location with 3 trucks full of household goods. Deb identified an available unit that was larger than the one I had previously reserved, showed us the location of the unit and worked all the paperwork for the upgrade. Deb was very pleasant and extremely helpful with this transaction.
Nice clean place staff is fantastic