Public Storage Self-Storage Units at 16230 Truman Road, Ellisville, MO
Address
16230 Truman Road Ellisville, MO 63011
Property Open
Mon-Sun 6:00 AM - 9:00 PM
Storage Facility Features
Climate Control Storage

Car Storage

Small, Medium & Large Storage Units

Indoor & Outdoor Storage Units
---

5'x5'

Climate Controlled

Upstairs/elevator

---

5'x5'

Climate Controlled

Inside unit

1st Floor

---

5'x10'

Climate Controlled

Upstairs/elevator

---

7.5'x10'

Climate Controlled

Upstairs/elevator

---

10'x10'

Climate Controlled

Upstairs/elevator

---

10'x10'

Outside unit

Drive-up access

---

10'x15'

Climate Controlled

Upstairs/elevator

---

10'x10'

Climate Controlled

Inside unit

1st Floor

---

10'x20'

Climate Controlled

Upstairs/elevator

---

10'x20'

Outside unit

Drive-up access

---

10'x25'

Climate Controlled

Inside unit

1st Floor

---

10'x20'

Climate Controlled

Inside unit

1st Floor

---

10'x30'

Outside unit

Drive-up access

---

10'x30'

Climate Controlled

Inside unit

1st Floor
Nearby Self-Storage Locations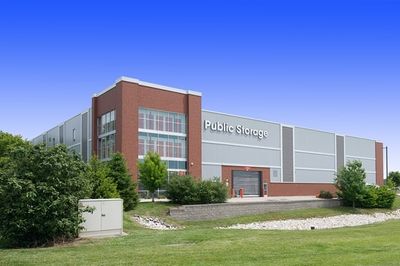 Self Storage Near
17481 North Outer 40 Rd
Chesterfield MO 63005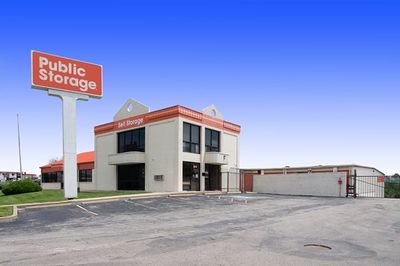 Self Storage Near
831 Meramec Station Road
Valley Park MO 63088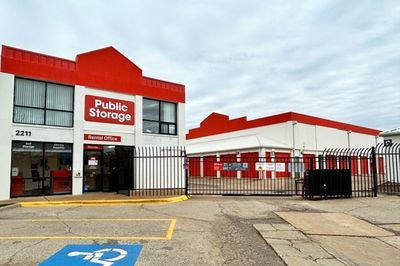 Self Storage Near
2211 Barrett Station Road
Ballwin MO 63021
Self-Storage Near Ellisville
Resources from the Help Center
See what fits in different storage unit sizes
At Public Storage, You'll Always Find...
Keypad Access

Friendly Staff

Month-to-Month Rent

Moving Supplies Available

Free Parking

Well-Lit Facilities
Reviews
( 350)
If a 0 star review were possible, that's what I'd give. I have had a unit at the Ellisville, MO location for more than a year now. In that time the app that is supposed to open the gate has worked probably 3 times. There are now no lights over my unit or any of the units along the wall where my unit is. I have left multiple messages for the District Manager to call me that have gone unreturned. Would i recommend...ABSOLUTELY NOT!
Clean. But price has increased $10 in 6 months for no reason.
Wonderful customer service! Candi is very helpful and friendly!
Sam did a fantastic job showing us the unit, explaining the process and getting us the unit we reserved. Job well done.
Couldn't be easier to use. Access from the app, easy online payments, they do it right.
Thank you, Sam, for keeping it easy to rent.
Sam was so nice and super helpful!
Candy is fantastic. She is very helpful, very nice and is a real asset to Public Storage. If it wasn't for her, I would have moved my stuff to a different company's facility.
Shannon at Ellisville did an upstanding job helping me with my billing concern. She was polite, courteous, friendly and went above and beyond! Kristina M
The woman who was working when I came in to return my lock was super nice and helpful even when I called on the phone. I also was able to reserve my unit and go in without ever speaking to anyone or going into an office. I did it all online and I use my phone to get in and use the elevators. Super easy and convenient!!
Candy was extremely patient and understanding. I highly recommend her!
Very clean facility. Nice and friendly staff, highly recommended!!!
Sam was great, received my move out receipt on the same day I moved everything out. Terrific service
Good security. Wide open space inside for rolling carts. Great lighting. Public bathroom inside. What more could you ask for?
Working with Candy was the best part of my experience using PS!! She was incredibly helpful and kind. The facility is clean accessible in West County.
I have been renting for over a year and just added a 2nd unit. This location is very clean and the employees are very helpful. Sam was very patient and accommodating and gave great advise as I asked lots of questions and tried to determine what size to get as the second unit. I'm willing to drive 30 min to get to this location rather than the one closer to my home. Thanks guys!!
Candi has been a big help The two times I have either called up to or gone to that location! Very helpful. Location is very clean and organized as well!
Candi was truly an asset to me yesterday after winning a storage locker the day before. I wasnt able to show up when she was fully staffed for that occasion as i live 40 minutes away. She has a "can do" attitude and was very friendly while being understaffed yesterday. Candi allowed me to clean out the unit with minimal effort and time. I was also given a code to the gate to clear it out at my convenience. (I state this to say, not all storage companies will do this for auction winners). If I could give Candi more than 5 stars, I would!!!!
Candy was absolutely wonderful she stayed to get my unit set up and helped me set up the app on my phone.
Solid place. It's not cheap, but they have good service, good storage, and great features. I would definitely use them again if I needed to.
Public storage teases you with low move in rates and then regularly raises your rate. My rate started at $32 a month and within 13 months they raised it to $54! I moved out today...
Super helpful and looking out for their customers!
Candy was extremely helpful!! She made my visit so nice. She is friendly and was well spoken. I hope you recognize her for help wonderful professional attitude and attention to detail. She was a joy to work with and I can assure you that I'll be referring her location at the Truman to friends and family. Thank you so much!!
Great/seamless service from move in to move out. Would recommend.
Andrea has been wonderful with our experience with 3 units. She always helpful with extras we need like boxes and tape. Units are always clean and I feel safe when in the unit.
I've stored my furniture at Public Storage for 3 years. They've increased their rate per month every year. This time they increased it by 25%. They have leverage over you and will take advantage. Other storage facilities probably do the same thing. But it's not right. I'm moving my stuff out. I don't recommend storing there for over a year. If you do, try to get a flat rate that won't increase.
Public storage has great service and was very accommodable. Andrea was a rockstar and went above and beyond for a great experience. She gave us a great storage unit perfect for our needs.
Andrea was great. She helped me out a lot with rental
Update. Andrea reached out to me the very next day and walked me through everything. I was very impressed that she took the initiative. She is absolutely wonderful and went above and beyond to help me!!! I reserved a unit online. Later that day someone called and asked if I wanted to pay over the phone or online, I replied online and the person sent me a link. After maaany attempts to complete the registration I called the location I am trying to rent from, only to be told that this particular location does not have the system to allow me to pay online and that I have to go in the place to pay. I went in to the location today and worked with Andrea who couldn't have been more kind. She was very patient and thoroughly explained everything. She even took the time to explain it to me again and answer all oh my questions. Since I am not renting the unit until closer to my move date she suggested I get it all set up online and I opted for automatic withdrawal payments. I went home to put in my bank info and it did not work. They have the zip code for my new address so it rejected my set up. I tried to get help online to help me correct the zip code to no avail. I can't change my address on my banking info until I move in a couple of days.. so now. I am going to call them tomorrow to find out if someone can help me. I really hope that Andrea is there and can help.
Thank you Dan and associates for paying attention to your customers concerns. It was refreshing to feel like my voice was heard. Upon facing some financial challenges they took the time to hear me out and the little peace of mind that my things are safe is huge. Most can imagine. I still cant fathom how some people treat other people... Andrea you should not work in customer service. And I would give them a five after resolving my issue, yet .... I did measure my 5×5 upon move in..... And it falls many inches short both ways.... Good thing it is decent height... And I played TETRIS in the 90's. . view a unit before committing 💙
Very accommodating. We needed to move to a bigger unit and the process was seamless and quick. Very happy with the great service. Both units were very clean and easy to get into to.
Renting a unit here couldn't have been easier! Andrea was knowledgeable and helpful in answering all my questions, and kindly took the time to provide a tour of the space. Reserving a unit online was a quick process, and I had no trouble finding the right space. Glad that I chose Public Storage!
Amazing, clean, well taken care of storage place. Nice staff, great service, great prices!
So organized and efficient beautiful space
Very professional. The gentleman that assisted us in renting the unit was very polite and helpful. Storage itself was very easy to use once we figured out how everything worked. Our belongings in the outdoor unit stayed safe and dry throughout a lot bad weather too.
Ken was super helpful, as was Andrea! Great place to rent, super safe and secure!
Kenny was always making sure I was taken care of, and even ended my subscription for me! He saved me about $80 by calling me over the phone and telling me I didn't have to pay for another month's rent. Super helpful and looking out for their customers!
KEN IS VERY HELPFUL ALWAYS. HE HAS CHECKED ON ME TO BE SURE I WAS DOING OKAY WITH MOVING THINGS IN AND ASSISTED.
Great service and Ken was very helpful!
Do NOT pick this place unless you like to be overly charged with ridiculous hidden fees. I suggest finding a smaller, individually owned company.
Kenny was so helpful today changing my check in date!!
Great facility. The lot is always clean and secured. The manager Ken was awesome, great communication, very nice and helped out with everything. I rented both an indoor and outdoor unit for few months, no issues with either of them at all.
Excellent customer service was in and out in a jiffy worker named Kenny helped me out very professional individual and the building is well maintained
Kenny was extremely helpful and made my first storage rental a breeze!
Great to work with staff very helpful will rent again
Kenny was super helpful on getting us the space we needed. Always a pleasure to talk with too! Definitely recommend!
Outstanding service! Very clean facility!
Kenny, was exceptional. Made us feel at home, was customer service oriented, friendly , and made us feel comfortable in our home away from home. During an extremely stressful time following a move from Florida with lots of moving parts, Kenny offered a nice and calming experience and instilled great confidence in us.
Great service and helped me find the right solution right away!
I ran into issues fitting into my unit and Kenny was very helpful with transferring me into a more appropriate unit affordable.
Easy online rental experience. Great Follow-Up by staff. Recommend highly
Kenny was very helpful and efficient in getting our new unit set up for us.
So helpful!!! Was patient and kind above and beyond!!!! Thank you!!!!
It was very easy - Ken was excellent! He made it seamless and provided me with all the information I needed. I have since stored all my things. It's a very clean and a perfect place to store your belongings. Thanks Ken.
Website was easy to navigate, good prices and no bait-and-switch like other nearby locations. Kenny was extremely helpful in getting me set up with two lockers that met my needs and gave some great trips on how to prep my furniture and boxes for longer term storage.
Ken was very informative and the facility is exceptionally clean.
Ken is so helpful! The place is so nice, easy to get to, clean, and safe. Highly recommend getting a unit.
Kenny was great explaining everything & made it easy!!
Bought a unit online super quickly & was moved in the next day. Clean, secure & would recommend!!
Andrea was very helpful getting things set up for us! Much appreciated!!
Great customer service, ken was excellent to work with. Highly recommend this place.
Kenny was wonderful - very friendly and thorough! Would 10/10 recommend!
Kenny was more than helpful
Kenny was great and helpful. Thanks!
Kenny was wonderful! Highly recommended
Ken was great and the customer service was excellent. I would definitely recommend.
Kenny made the prcoess easy.
Kenny helped a bunch. Thanks
Thank you Ken for your amazing customer service.
Ken was awesome! Very helpful and very clean!
Ken was amazing to work with. Friendly attitude and very helpful. He went above and beyond to help me get a unit secured quickly.
The service was amazing. The staff is so friendly and helpful. The location is also very clean and secure. Ase T.
Incredibly easy move in. Every staff member I talked to was helpful, and they have a contactless move in for those who want to stay as safe as possible during the pandemic.
Excellent and supporting customer service. Very friendly and easy to set up.
Ken was fantastic! I mistakenly had reserved a 5x5 storage unit that was too small. When I arrived to request an upgrade, Ken kindly asked me what I planned to store in the unit to help me select the best space. I thought a 5x10 would suffice, but Ken stated it wouldn't be large enough and suggested I go with the 10x10. Boy was he right! I would have had a very hard time with a 5x10 space. Thank you for your excellent care and great suggestion to upgrade.
Ken was excellent! Easy rental process, very helpful with tips for navigating the building and the Ap
Ken and Mary Ann made move in day a breeze!
Easy to get register , every thing seems clean and safe
Glen was very friendly and the place was clean.
Awesome customer service. I had to get a rental unit quickly and the person at the front desk was fast, considerate, and professional. From getting the paperwork completed to giving me a map of where the storage unit was located, I was in and out in less than 20 minutes. Would definitely recommend.
Used this storage facility for a few years. Facilities were clean, never had pest issues in the unit. There has always been security code requirements to enter and leave the property, but I really like the new key pad to access the elevators for an extra security. Met Kenny the manager today, very friendly and helpful.
We signed up electronically...and everything was in order. But the manager still came out to help us upon arrival. The facility is first-rate...and I can understand why after talking with the manager. Glad we picked Public Storage.
I have two storage units at Public Storage Ellisville. Both units are large units climate controlled. First time I have climate control units and they are so much better than the outside units. My first unit Glen helped me and walked me thru the process and checkout was fairly quick. My second storage unit Andrea and Ken helped me and the process was quick and easy. Everything was explained thoroughly. Ken even went to the unit and opened it for me while I was checking out. I was lucky enough to get two units opposite one another which is very convenient on the first floor close to the door. As a new customer I am pleased with how things have gone.
Ken was great! Very helpful in explaining everything and getting our rental done quickly!
I recently spoke with Andrea about some unit issues I'm having. She was very professional, helpful, and really seemed to care about the tenants. You've got an excellent employee in her —give her a raise!
Was helping friends move out needed moving pads Brittany helped me get me what I needed and answered all the questions I had.
Have had 3 units at this location. Mary Ann has been extremely helpful, friendly and conscientious as the location manager. When we rented the 1st 2 units in January 2020, a part-time employee conducted the rental. She made several mistakes which were caught the next day. Mary Ann was very quick to correct the errors. The location is clean and always appears in good shape. When the locker roll up doors did not stay up in 2 of the units Mary Ann stayed on top of maintenance personnel to get the doors repaired so the units would be usable. Public storage is fortunate to have a manager like Mary Ann.
Great location! Clean well kept. Friendly knowledgeable staff! Thanks Mary Ann!
Mary Ann goes out of her way to help. She has great customer service skills!
We had never used a storage facility before, but Mary Ann helped us through the whole process. It has been a terrific experience. Highly recommend this facility!
Outstanding service Maryanne was outstanding, she helped us with all out questions, went over the procedures, helped us checkout , helped us get moving , Dave us great outstanding ideas on how to pack.,.. she rocked
I reserved a unit and get a call a week later saying my unit is no longer available. No one told me I need to pay ahead or I would lose the unit. When I reserve something, just like a hotel or even a dinner, I've never had to pay upfront or else it's not mine. There was no communication that I was going to lose the unit if I didn't pay. It was simply a call after it happened. Horrible way to treat your customers! Update: The district manager called me to apologize and let me know that I will have my unit on the date that I reserved. He understood the scare that it caused me and was very sympathetic. It's nice to know that if a mistake happens within a company, they will go out of their way to make it right.
MaryAnn was extremely helpful before we rented our storage space and wonderful as questions arose. always had answers to our questions
The company does not pro-rate you leaving on the first of the month vs the last day of the month and this is my fault for not reading the terms more closely. Our unit was vacated but the lock was not removed (again my fault). Instead of showing any empathy the lady at the desk repeatedly stated it will be $177. I had a final follow up question on the phone and was in the middle of asking before she hung up. The same lady was very cordial when I first opened the account and used her storage unit but upon trying to close it seems all she cared about was the money. We used this unit which is the same as any other unit for roughly 10-11 months and will likely never use there units again. EDIT: This addition is long overdue. After my initial phone call I decided to file a formal complaint via the company website and within days the general manager of the area called and apologized. Not only did he apologize but he listened to my concerns and was able to help me find a solution. Based off the GMs attitude and willingness to provide a great service this areas Public Storage business is in good hands and while I likely won't use this location again I won't hold this against any other public storage locations in the area. This is still 4/5 because of the interaction with the women on the phone otherwise 5/5.
Clean, and plenty of carts, Wich is an grrreat at those places
Mary Ann is customer focused, has a great attitude and communicates well
Mary Ann was very hospitable and helpful. I appreciate her work and professional manner.
Maryann was so nice and helpful! Great place for your storage needs!
been a customer since 2004, in Dec 2011 rented indoor 10x10 for $99/mo, rent went up routinely, July 2020 would have been $271/mo which is a 12% per yr increase, though clean and friendly, comes at a long term price.
Mary ann is super helpful and and polite
Great experience. From the front desk help to the cleanliness of the property.
Been in Storage for 3 years,it been working very well for my business. Working Staff is Great, Mary is one nice person to get to know,works well with us and our needs.
Rented a unit here while I had a condo that didn't have much space. It was Fantastic great location and friendly staff . Would definitely recommend if your looking for a place to store your stuff.
Mary Ann was very helpful. Easy move in!!!!
I love Mary ann, she always says on top of things and knows who you are when you walk in the door. Totally amazing and friendly. Definitely the best Public Storage Ive ever had.
Excellent customer service!!!
Wow, was I surprised how convenient and friendly your employee, MaryAnn was a peach!!
Mary was very helpful in getting me squared away. She was friendly and had answers to all my questions. Great place for storage!
Mary Ann was so helpful. This place is great. Its our preferred storage facility.
Dani and Mary Ann in front had us set up in minutes. Clean friendly safe storage.
It is a great place to store stuff!!
Great facility. Awesome service
Very poor customer service!! I reserved this storage unit online with the price of $94 a month 1st month $1 when I got there all the sudden I got an email update that my price went up to $118 a month. So I showed the lady behind the counter my email but told me she does not get paid enough to care about that! See pictures below of my reservation.
I missed my reservation check in time and Dani was nice enough to reschedule me at my convenience. They no longer had a storage unit in the size I reserved and upgraded me to the next largest size at no additional cost. Pleasantly surprised and staff is very kind and understanding.
Mary Ann was very helpful with getting us what we needed. The online prices were great! I recommend checking prices online and reserving that way. There appears to be online only deals :)
Very helpful and they go over and beyond to make sure their customers are satisfied with there unit. #REALGOODPEOPLE
Dani was very helpful and pleasant to work with when we rented a storage unit.
I highly recommend using this storage facility! They have been amazing to use the past 4 months. The staff is courteous and very professional - the rates are great too! At one point my husband left a racing tire out and the staff noticed and called us immediately to alert us. Definitely will use and recommend to everyone needing the storage!
Great check-in process, very friendly. Best place for storage
Mary Ann was awesome to work with. Great facility and easy to grt in and out.
Rented a unit today with Mary Ann and Danny they were both very knowledgeable amd helpful absolutely recommend
The lady at the Ellisville Missouri store was very helpful. The store and storage units were clean.
Dani renter me a unit and did a great job .👍🏽👍🏽👍🏽
Great customer service and very clean facility.
When we rented a space, it was originally $215 a month. Now we have to pay $277 a month...buh by!!!
Just rented a unit. Dani was very helpful
Mary Ann was awesome! She was so helpful and made the process very easy. She was also able to answer all of my questions and give me some advice about the amount of space I would need.
Dani sold me a great unit!
Customer Service is wonderful
Bring your own lock, they charge kinda high for one. Otherwise clean as. Casey was efficient and friendly.
Amazing customer service! Mary Ann went above and beyond in service. She was a tremendous help with my move and took great care of me. Highly recommend this facility!!
Great customer service from Mary Ann, love the air conditioning and cleanliness. Definitely would use again and recommend to anyone in the area needing storage.
Simple and easy rental experience, request Mary Ann for exceptional service
Dani rented me a unit today and she was awesome! Definitely coming back here every time I need a storage unit.
This place is my go-to storage building! This is now my second time leasing here. Dani went above and beyond to make sure that I got just what I needed today.. She was such a big help and so nice! :)
Marianne is amazing and so sweet and knowledgeable! My dad and I love her and she was so helpful and kind to us!
Mary Ann does a FANTASTIC job!!
Great service. Easy to set up a rental.
Great service. Very helpful.
Mary Ann was awesome! Very friendly and helpful
We had great service with Dani. She was there to help with all our issues!
Great price , easy process, nice people. MaryAnn was great!
Mary Ann was wonderful and very helpful with my rental needs. She was extremely accommodating!
Quick and efficient rental process. Dani was very helpful!
Mary Ann turned our stressful situation into a positive experience. She made me laugh which I needed, but was professional. We have never had to use storage before and she took the time to explain everything as well as answer all of my questions. Thank you Mary Ann!!
Great service br Maryann!
Mary Ann helped me choose the perfect unit for my needs. Very clean.
dani rented me the perfect unit. she was efficient and courteous. thanks!
Mary Ann is a true asset as a representative for Public Storage. She is very hardworking, professional, personable and takes the to address an individual's needs seamlessly.
Maryann very helpful and courteous. Made the process so easy for us.
Great service. The manager, Mary, was very helpful with set up and provided excellent service.
Very helpful. Great experience so far. Maryanne was a joy to work with.
Mary Ann is awsome!!!! Cheap rates and great service!!!
Mary Ann made my renting experience wonderful!
Very easy to work with. Clean facility. The manager was very helpful.
Surprised at all the love here. Mary Ann didn't let me know about the $11 insurance charge until signing. She also charged me for a Lock when I had my own. Of course, they took it off the bill. The service was bad. I didn't know they had 4 wheelers to pull your goods upstairs. It was my 1st storage. Then there was a discrepancy with my pro rate that they were incorrect with. I couldn't have been more disappointed in the attitude by Mary Ann. She must've been going through some stress because the reviews would say I was an anomaly but it was bad. I moved my stuff out and into another facility.
Mary Ann was very help. Courteous, knowledgeable and efficient. Signing contract was very easy and she even made herself available 1 hour before our scheduled appointment. Great service! Great facility!
Great service. Mary Ann was awesome to work with. She was very efficient and explained every detail. Highly recommend.
Stephanie was very professional
Mary Ann was SO helpful and extra friendly! Great, safe, affordable facility. Happy to recommend it to anyone else!
great location great service mary ann was great and went out of her way to help me get the right storage thanks for your help
Mary Ann (manager) met me at agreed up time, found me unit exactly as I wanted, was polite, knowledgeable and outstanding service. 5 stars!
Reservation was quick and easy. Staff helped us save on our needs for a quick move.
Great storage solutions for a good price. Mary Ann handled everything great for us.
Unfortunate customer relations bungle on the part of PS Management" Yesterday, after 35 months of renting three large lockers & after spending over $25,000.00 to this company, I asked the on-site manager if she could give us a 2 day cushion in emptying the third locker as I am disabled and had logistics issues in getting a couple of strong youngsters to finish the job till the weekend. She noted that their company policy would not allow her to do that but because I had been such a valued customer for so long, she volunteered to call her district manager, Dan Frohock, to see if he would authorize an exception. I was filled with optimism for the five whole minutes it took her to return my call. He said no. I then spent three hours trying to speak with anyone in CA at their corporate office in an attempt to find a real person who valued good customer relationships. It is unfortunate that there is an absolute inability of any management personnel to recognize that not only can exceptions be made, but that there are times when it would just be the right thing to do. Now instead, Public Storage has a long time customer who will not endorse them to friends, will not sing their praises and will never do business with them again. But I will devote myself to making sure that EVERYONE I know understands that they should never give any business to Public Storage. It's simply a shame. (It should be noted that the on-site management, Maryann, cannot be faulted here. It is the completely tone-deaf corporate management who doesn't care about good customer relationships and cannot see the benefit of "word of mouth", even in today's world. It's no longer just the guy on the corner, but we each now have a platform by which to convey thoughts and ideas to others instantly and en mass.) ******** Late development (22 hrs after original post): An amended review is likely in the next few days as Corporate Management has reached out. Stay tuned... ******** Well, as a result of this review, Dist. Mgr. Dan Frohock reached out to me. After reviewing the circumstances, he generously agreed that his initial decision was made hastily and without any such review. As such, he rescinded his decision in order to give us the extra two days. Fortunately, we were able to empty the locker in just one day and I had already decided to post an ammended review when another call was received from Mr. Frohock. Unfortunately, it was not just a follow-up to confirm the account was closed but rather, another ill-advised managerial decision making any good will they had previously fostered completely moot. It seems that in spite of his decision to provide this one day cushion to a long term customer, because the account was closed on the 1st of the month instead of the 31st, they now require a check for the full month rent only to facilitate the cutting of a refund check that they could then mail back to me. How in the world did this clearly illogical step sound like a good idea to anyone??? After having apologized for the considerable inconvenience this company instigated, a decision that imposes further inconvenience can only be viewed as a bad idea. They've managed to put the chain back on the bike, only to come back and flatten one of the tires. It's truly disappointing that such blatantly poor customer relations decisions keep coming from those tasked with preventing & resolving such issues. So now, I am awaiting a call back from the Senior District Manager, James DeMarco to address yet another self inflicted wound to this company's reputation. ******* After an unnecessarily contentious call from Mr DeMarco, I am even less certain of the fate of this account than before. Clearly not wanting to concede any fault in the logic of this issue, he advised me that this payment on my part would prevent them from sending my account to collections - IN SPITE OF his own admission that I owe them nothing. This review was to be deservedly ammended until they "stepped in it" again. Now I must monitor my credit to assure PS is acting appropriately.
Fast, easy to set up. Mary Ann was great to work with.
Best storage experience. Mary Ann was very helpful and a pleasure to work with. Everything was a breeze.
Excellent facility and staff. Bryan was knowledgeable, helpful, and friendly. He is an asset to your organization. I am very happy.
Easy check-in and super helpful staff
Was pleasantly surprised to find that this location had Sunday hours! Reserving my unit online was super quick and simple and I received a confirmation call back in less than 30 minutes! Bryan was super helpful! After he showed us through the facility to our drive up unit, he walked us through all of the digital paperwork efficiently and without delay. 10/10 as far as client experience!
As a retiree from the military, I have had to use countless storages units. I must say, Mary Ann is an absolute pleasure to work with at all times. More companies need employees like her!! Thank you!!!
I recently moved cross country to MO where I didn't know anyone and was feeling completely stressed out. Mary Ann was my first real contact in this new state. She not only helped me with my storage needs, she made me feel welcome comfortable and safe in my new environment. She has been my guiding light in truly an angel!! I AM EXTREMELY GRATEFUL!!! Thank you sooo much Mary Ann.
Mary Ann was very helpful throughout my six month stay at the Ellisville facility. From picking the correct unit size at the beginning to closing out my account she was always a friendly face with the correct information on all of my account questions.
Easy to check in. Great service.
Maryann is always very helpful and friendly! Great customer service!
Efficient, knowledgeable and friendly service from Mary Ann!
Fantastic service and units. Super clean. Maryann is incredible friendly and organized. Storage masters for sure!
Great service! Very thorough with the walk through. Maryann was very friendly and helpful.
Mary Ann was super helpful when we were deciding on the right size unit and throughout the move in process. Great facility with several options, both inside and out. Highly recommend this location.
I stopped in a few months ago when I got my space and Stacy and Maryann were very helpful with my move in process. Very friendly ladies! Great customer service.
Great and polite customer service, thank you Mary Ann. Good facility, recommended.
Great place to store my things. They were stored for 18 months and it was all in good order when we pulled it all out.
The service was absolutely great. I met with a lady named Mary Ann, and she couldn't have been nicer! She was extremely helpful and answered all of my questions. The facility was very clean. I would definitely recommend to friends!
Very helpful and efficient manager MaryAnn. Able to rent just what we needed in about 15 minutes.
Good service staff, and the lockers in and out are kept in great condition. I've rented 3 times, and never once have had a single problem.
Great Service, excellent attention to detail Mary Ann is great to work with!!!
Mary Ann was very helpful getting everything set up for me. Great job!
Manager Cindy K. went out of her way to help me select the right supplies to facilitate my move.
Excellent customer service from Mary Ann. Clean and secure buildings. Best I've found.
Ridiculously overpriced and no longer provides the flexibility to allow FedEx to drop off items to my unit. I have rented here for six years and in this time, my rate has more than doubled. Recently, Public Storage instituted a new policy where they will no longer provide a key for the FedEx driver, nor will they open the gate to allow the driver to deliver items directly to my unit. Not acceptable and I will be looking for a new unit. Unfortunately, they will not care, since as soon as my unit is vacated, it will be rented to someone else.
Very clean and secure storage center. Large carts were always available when we needed them and the whole setup was very convenient! The Manager, Mary Ann, was also very nice to deal with as well. We will definitely use them again when needed.
I called several place, none had $1 move in rate. I Rented 2 units because Mary Ann helped me out. Go online and reserve unit then call Mary Ann she can see what the best deal is...you'll save money this way or get a large unit for less.
Customer service was excellent! Mary Ann was such a great help and very knowledgeable! Highly recommend!
Mary Ann was such a sweetheart and huge help in my time of need. She went out of her way to call around her competitors to find me the best price for the unit I was needing. After everything was said and done I decided to stay with Public Storage because for one I appreciated everything Mary Ann did to help make a decision during such a stressful time, and two they were cheaper, and three my unit was clean abbr so was the office and grounds. IF I ever need a storage unit in the near future I would definitely come back to public storage and I'd definitely recommend the storage!!!!!
A great place to have a storage unit! The lady at the front is really nice and always willing to help
Very helpful, Mary Ann was great
MaryAnn in the office was very helpful, friendly, and professional. The facility was clean, well maintained, and has good security.
Great customer service! Mary Ann was awesome and very helpful!
We worked with Mary Ann, who was very knowledgeable about the units, and was able to answer all of our questions. I would highly recommend using Public Storage and ask for Mary Ann!
MARY ANN was a huge help in choosing a new smaller unit close to my existing old unit for my downsizing move. She also recommended veteran movers who did an excellent job for me. I've been using this facility for about 7 years and Mary Ann is THE nicest, most pleasant, personable & helpful employee you have had there in all this time. Thank you MARY ANN for making my move easier!!! I look forward to continue working with you during my visits to your facility.
Mary anne whas great and friendly to work with and I loved the storage
Mary Ann very helpful great customer service. Thanks!
I was in the other day helping my roommate move in. Mary Ann was very kind and helpful. I recommend this location to everyone!
Great customer service. Was in with my mom last week. Mary Ann was great!
Mary Ann at Truman location went above and beyond for me today. Their computer system was down but she picked up the phone call another store to have them do my transaction over the phone. Made my day cause I needed more supplies!! She was sooo helpful and was doing it all with a smile. Lovely lady!
Mary Ann was very helpful and personable. Service with a smile for sure!!!
Mary Ann was very professional and super helpful in getting my mom set up with a storage unit. I would highly recommend this location. Very clean
Chris attended to my concern immediately! Great service! Clean facilities.
Tabitha did a great job getting us all set up!
Tabitha was great in helping me with the exact size of storage I needed!!
Thanks to Tabatha and Glen for all your hard work!
Tabitha was a great help very knowledgeable and keeps a clean facility.
Very clean. Bob and Tabitha were very helpful and friendly
Tabitha runs a tight ship, clean hallways and units. Always has a smile!
Tabitha and Bob made things easy to get in and get going. Great service!
My mother used this facility and the staff was great.! The facility was very clean and organized and Tabitha always had the biggest smile on her face. We will be back.
MaryAnn, the lady I worked with on the paperwork and inspection of the unit, was very helpful, thorough and very nice to work with. The facility seems very nice and secure. We haven't yet stored anything because the move is scheduled in a couple of days.
Mary Anne was very professional and helpful. She also found the customer service number to use to hopefully, remove a 20 percent late fee I paid do to the fact I wasn't aware of the payment slot that isn't clearly marked as such. Being a 100% customer service satisfaction company I have no doubt the issue will be resolved in my favor!
Tabitha is the best property was clean and best price in town Tabitha is making America great again
Tabitha was great. Facility was clean and well takeñ care of. Would reccomend to anyone needing storage.
Tabitha did a fabulous job in assisting me. Very informative and went above and beyond. Thank you, will come back for sure!!!
Tabitha was great to work with at public storage and helped me figure out the size of locker needed. Second time using this location and would recommend it to anyone in the west county area.
Great people. Excellent atmosphere. Awesome! !!!!
Tabitha and Bob are the best public storage employees that we have dealt with always very nice with customers wish you had more employees like these two great!!!!
My five stars for this place are owed directly to Debra. My father had a unit at Public Storage, and passed away in June. Before today, I had been there 2 or 3 times, and was told I'd have to continue paying until I could get them a couple of forms, which wouldn't be doable until the estate was through probate, which will take a few months. Today I learned I'm signed on as an occupant of the storage unit, and should have had access the first time I came in. Debra was so friendly and helpful and did everything she could to make it a smooth process for me, even though you could tell it had been a long day for her and I came in at the end of her shift. She was an absolute pleasure to deal with.
Tabitha was very helpful and explained everything very well. Property was clean, unit was clean. Everything went extremely smooth.
Tabitha was amazing and very thorough in explaining the process and making sure that i had everything that i needed. Made the experience feel very comforting. Great place so far! Thanks Tabitha and public storage! I will definitely use public storage in the future.
My rental experience at Ellisville with Tabitha was nothing short of amazing. The property is always clean and well lit. The times I would be needing the most access was in the evening so this was important to me. It dosent hurt that Tabitha is a joy to work with. If you have a question, concern or needing to update your account she is always eager to assist you and always with a smile. If I ever need to store in the future I know right where I'm going and you should too. Tabitha is making America Great again one customer at a time!!!
Well maintained location. Tabitha is exceptional!
Tabitha was very helpful and worked with us through a tough situation. I greatly appreciate her professional attitude and assistance.
This is one of the best Public storage facilities that I have done business with. The property manager was very helpful. She was able to effectively listen to my needs and find the best rental units for me.
Unit worked out great. Tabitha was very helpful.
Great place for extra storage! The staff is very thorough especially Tabitha and Chris. They will guide you the right direction. Very clean too!
Clean and well maintained. Tabitha was a great help. Good experience, would recommend to anyone looking for storage
Awesome efficient assistance! Thanks Tabitha!
Tabitha was extremely helpful in helping us pick out the right unit for us. Sign up process was super easy. Units are very clean
My first time ever getting a storage unit and it was made easy by Chris whom was extremely kind and very informative. Also a shout out to Tabitha who made the experience all the more memorable by striking up good conversation and having an awesome vibe ! Great work Chris and Tabitha!!!!
Tabitha was great! Very friendly
Tabatha was great. Had great customer service!! Good company to do business with
Great service, easy access, and clean units! We were helped by Tabitha
Great experience with Tabitha.
Tabitha helped me find the most cost effective temporary storage solution for my wife and I's move. Would definitely recommend.
Tabitha was very nice and helped me With a billing problem.
Tabitha and Bob was very professional and so nice. She is a very complimentary to your company.
Evelyn was a great help to my family and I while getting some storage space! We loved how professional she was and the patience she showed with us. The facility is clean and love the fact there are carts as well. I'll most definitely will keep my business with this location!
Getting moved in and squared away took all of 20 minutes. Thanks, Tabitha! Looking forward to using this for a big move.
Tabitha was very helping and extremely polite! Plan on using public storage for all my storage needs.
Facility is clean, cool, and very convenient. I love the push carts that are available for loading and unloading things in the units. There are also restrooms and water fountains available inside. Evelyn, the manager was very helpful and friendly. She offered boxes, furniture covers, and everything else I needed to store my items. I have now used all 3 of the storage facilities within a 1/2 mile radius of this location, and this one is superb!
Tabitha was really good to us and took very good care of us . very friendly
Tabitha was awesome and super professional, showed me all the sizes of units and checkout we fast.
Evelyn was awesome. I only had a few questions about the area and she was more than willing to help out. I look forward to using this facility in the future.
Evelyn was very nice and helpful.
Stacy and Evelyn were great with my storage needs today
Evelyn was great! Thank you for my packing supplies.
My storage space was clean and smelled good. I'm very comfortable to store my valuables there! Thanks Evlyn!
She had a great smile and was very helpful
The facility is always clean and everyone is helpful and pleasant
The customer service was amazing! The Property Manager, Evelyn, was very friendly and answered our questions. The facility was very clean and we were happy with the size of our indoor unit.
Evelyn is awesome she helped us so much. great facility great people
The clerk Evelyn was just amazing very friendly and helpful.
I went to this location with a friend of mine and I was very impressed with the customer service that the manager gave if I ever need storage I know where to come
Evelyn at public storage in Ellisville was very helpful to me greeted me with a smile which made me feel very comfortable and my needs where met in an orderly and timely fashion i definitely would refer more customers to go this location great service.
The service was extremely helpful. Evelyn was such a patient help on helping me out with what I needed.
Had a good experience renting a unit. AJ, the manager, was knowledgeable, professional, and helpful. The indoor facility is clean and well-maintained.
This place is great, they have a bunch of different sizes and AJ was a fantastic help and truly knows the best way to store my stuff. I will definitely be back closer to the end of the year when I'll be moving!
Taylor has given the best customer service I have had! She had answers to all of my questions immediately.. Two thumbs up!
I have used PS for many years and always felt they took good care of the property but recently I have noticed that the floors, inside elevators, and in general does not look like it is ever cleaned. They had the rolling carts chained to the wall which was a total shock when I went to put items in my unit. It was very difficulty hauling all the things up by hand. People have left mattresses and all kinds of rotten furniture outside which is really disheartening and is an easy way for them to get rid of their junk without having to pay for hauling it away etc. I am hoping this is just a temporary glitch and that I won't have to start looking around for another storage facility.
I went in last week to look at boxes for my daughter-in-law and was impressed at the quality, various sizes and versatility of the boxes available at the Ellisville Public Storage. I liked that the office and property looked clean and the merchandise well displayed. There had been a storm which knocked out the building's power, but Taylor was very professional, friendly and knowledgeable. She even made suggestions regarding other uses for the boxes. When my daughter-in-law's relocation gets finalized, we will definitely be back to see Taylor for the boxes and moving supplies.
The Ellisville location was the cleanest, nicest overall public storage I've use to date. The indoor units we exactly what I needed, customer service was spectacular. AJ helped me with everything I needed and guided me through figuring out which unit would work for me
Aj was great to work with. We appreciate the help.
AJ was very helpful with the whole process
The person there that day, AJ, made the move-in process quick and efficient.
Had a GREAT experience AJ was very helpful and friendly.
Service was very good and thorough. AJ was kind, helpful, & knowledgeable. Storage unit was clean, climate controlled, and easy to access. Would definitely recommend!
Great experience, easy to work with and fast. Thanks, AJ!
No problems with renting the unit. Close to home and easily accessible.
Excellent experience with AJ
AJ was excellent and very helpful!! Highly recommend Public Storage.
I just rented from aj. It was a great experience
Been doing business with this storage facility for many years and the facility is very nice and the staff always helpful!
Very helpful service that covered a wide array of topics I asked about. A.J. was very knowledgeable about the company and its policies and helped me make the best choices on what to do about moving to a new house.
very helpful and personable staff aj helped me decide what size boxes and how many i needed.
i have been doing business with them for years. Very friendly and helpful! Awesome customer service!
I came in to get some prices from A.J. a few days ago and he was super helpful and knowledgeable about what size locker I might need for my apartment. A+!!
Great service. Nice peps. Keeps your info private. Very clean.
The staff was very helpful and the process was efficient.
A.J. at Public Storage Ellisville provided me with great customer service this past weekend with my questions and inquiries. Very knowledgeable in Publis Storage processess, policies and procedures.
Great experience all around. Manager worked with us on holding the reservation since we were delayed getting to town and offered to sweep the unit for us before move in. Brad was super helpful and very efficient.
Brad was exceptionally helpful when I went to rent a unit from him. He could not have been friendlier. The property is very clean, and very easy to navigate.
Taylor was awesome made the process quick and easy! Definitely recommend this place!
I contacted Brad at Public Storage who walked me through the process of finding the optimal size of storage I would need, all the details of renting a unit including all the payment options, and got me signed up to rent. Brad was very professional, clearly explained each detail, and made sure all my needs were met. I highly recommend this facility and Brad! Thanks, Marc Olivetti
Brad was very helpful and quickly got our storage unit ready to go. We were able to get our unit and drop off our first load of items within 30 minutes. Very friendly and great service.
The staff at the Public Storage facility in Ellisville is outstanding. Each time I went in there they were always extremely helpful and always had an answer to my questions. They are very knowledgeable and I will use them for any future needs without hesitation.