Public Storage Self-Storage Units at 7022 Highway 311, Sellersburg, IN
Address
7022 Highway 311 Sellersburg, IN 47172
Office Hours
Mon-Fri 9:30 AM - 5:00 PM
Sat-Sun 9:30 AM - 5:00 PM
Gate Access Hours
Mon-Sun 6:00 AM - 9:00 PM
Storage Facility Features
Boat Storage

Car Storage

Climate Control Storage

Indoor & Outdoor Storage Units

RV Storage

Small, Medium & Large Storage Units
Office Hours
Mon-Fri 9:30 AM - 5:00 PM
Sat-Sun 9:30 AM - 5:00 PM
Gate Access Hours
Mon-Sun 6:00 AM - 9:00 PM
Storage Facility Features
Boat Storage

Car Storage

Climate Control Storage

Indoor & Outdoor Storage Units

RV Storage

Small, Medium & Large Storage Units
Close Location Details
View Location Details
---

5'x5'

---

5'x5'

Climate Controlled

Inside unit

1st Floor

---

5'x5'

Outside unit

Drive-up access

---

10'x5'

---

8'x5'

Climate Controlled

Inside unit

1st Floor

Outside unit

Drive-up access

---

5'x10'

Climate Controlled

Inside unit

1st Floor

---

10'x7.5'

Climate Controlled

Inside unit

1st Floor

---

10'x25'

---

10'x10'

Climate Controlled

Inside unit

1st Floor

Outside unit

Drive-up access

---

10'x15'

Climate Controlled

Inside unit

1st Floor

---

10'x22'

Outside unit

Drive-up access

---

10'x20'

Outside unit

Drive-up access

Outside unit

Drive-up access
Nearby Self-Storage Locations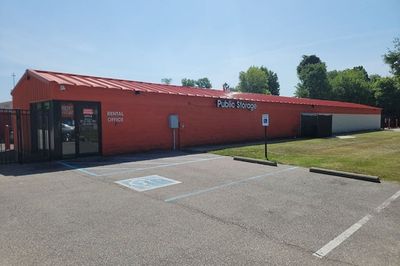 Self Storage Near
1012 Applegate Lane
Clarksville IN 47129
Self-Storage Near Sellersburg
Resources from the Help Center
See what fits in different storage unit sizes
At Public Storage, You'll Always Find...
Keypad Access

Friendly Staff

Month-to-Month Rent

Moving Supplies Available

Free Parking

Well-Lit Facilities
Reviews
( 254)
I was contacted by the district manager after I had left this review wanting to know what they could do to make it better. At the time I could not remember why I had left a 3 star review we went today to visit our 2 storage units there and remembered why. The reason for only 3 stars is because of the fact that we have 2 storage units but there is no way to reach them both once inside the fence. On days like today when we need stuff out of them both we have to go in the gate to the left then leave that gate and go through the one on the right to get to out other unit. It should be just 1 gate for the entire facility and it's really frustrating to have to do 2 especially when the app is constantly opening the opposite gate than the one we are in front of. Other that that things have been fine its just frustrating.
Rebecca does an excellent job. Great customer service!
Rebecca was awesome thank you very much
Laura was helpful today. Helped us get on app and now we don't have to remember code
Laura is awesome! She always makes sure this facility is clean and ready for move In and always keeping the ground picked up and tidy! Thank you Laura!!!!
Laura was great help today with helping me decide which size space I might need. Very friendly and knowledgeable
Laura was a delight and very helpful
The service here is great!! Ask for Laura. :)
Rebecca was very helpful and awesome at her job!
Laura.She was excellent she actually deserved a six star rating
Laura was very helpful helping me complete my online registration.
Quick, easy and the desk attendant was very friendly and helpful with any questions.
Rebecca was most helpful and informative. Good customer service.
Laura great personality & got it done
Laura was the best help today!! Paying my bill on line and having it rejected! I stopped by office and she patiently took care of me!!
Rebecca provided stellar customer service and was very helpful in getting me setup with a storage unit.
Rebecca was so helpful with my situation
Laura was great on top of her stuff she needs a raise !!
We had trouble getting in the gate. Laura was on the way out when we asked her about it. She took care of the issue. Very good staff that puts customers first. Thanks laura for the help!
Laura was absolutely wonderful helping me out in the process of getting my storage unit! Absolutely recommend
Laura was EXTREMELY helpful with my service issue today! Thanks again for your help!
Laura did a fantastic job helping me today she was very nice and considerate to me and listen to what I needed and got everything done the right way. She is amazing ☺️
Great service from Rebecca!
Friend of mine has tried and tried and tried to call them to cancel his lease with them and no answer
Patrick did an awesome job
Patrick, the gentleman working in the office, was friendly and incredibly helpful. Location is clean & rent is affordable.
There nice Storages nice people but I got stuff in Storage there have never missed a payment been on time Every month pass 5 to 6 months and they Raise the price on me by like $10 dollars never got a Notifications saying they were going to do that
The lot has been dirty consistently for the past couple weeks, and does not appear to be even touched. TWICE we have had problems with individuals using the fire extinguishers and having the aftermath mess of that all over our belongings. Now if there was a fire that's understandable, however if there was, why was I not alerted??? This place changes the payment of your unit every month most of the time raising it a significant amount. We have also had problems with random individuals entering the gates and running around messing with stuff they shouldn't due to the man gates never being locked and the large gates being broken a majority of the time. Not to mention almost non-existent customer service.
The manager on site was so very helpful on the phone and definitely on site. In Sellersburg Indiana. I am very happy with the choice I made going with this company
They raised the price on your storage without telling you And they charge a 20 dollar late fee on day 7.
Jackie and John were awesome. Thanks so much
Was getting granddaughter s stuff
Jackie was very sweet and gave us wonderful service!
Sara was awesome again. We have movers here and needed more room. She took care of our needs and kept us from a panic. Thankyou so much for having such great employees!
Jesse is the best manager I've ever had the pleasure of dealing with. I've rented from lots of different places and I'm sticking to this location as long as she's here. The lot is always very clean. Employees do a daily walk-through of the ground and warehouse (I've rented from a few that don't, eek!). Employees are always friendly, help you with your questions, help you as your storage needs increase, out just say hi as you pass.
Jessica is amazing!!! During all this Covid nonsense, times are tough and she went above and beyond to help save my units. So very much appreciated and she deserves a raise!!!!
Rebecca was very helpful thank you. I go there by my self and I feel perfectly safe, any time of day or evening.
Rebecca was very helpful and awesome
Rebecca was very helpful and awesome to work with.
Great service. Rebecca was very helpful & friendly.
Rebecca was awesome and very helpful.
Vanetta was wonderful to work with. We rented storage in Sellersburg, Indiana.
Vanetta is great! Tremendous experience storing in Sellersburg!
Venatta was filling in from the Clarksville store. EXTREMELY hopeful great to talk to and help you anyway she can a true asset to the company. Great prices and great facilities
Teresa's customer service was exceptional. She was friendly, knowledgeable, and speedy. She brought a smile to my face and I highly recommend you ask for her when you visit this location!
Teresa was outstanding she was vary helpful in renting my storage unit. Easy to talk to and friendly it only took a few minutes and she had me all signed up. Thank you Teresa for being so kind.
Teresa was amazeing thanks for her kindness an smile
Teresa was very helpful and kind! Thanks for the customer service five stars for her!!
Jessa was amazing and extremely helpful and friendly.. I 100% recommend coming here
Jessa was kind and understanding. She made my experience quick and easy!
Had a great experience at Public Storage! Jessica was awesome and made getting set up and closed out a breeze!
Great service! Jessica was wonderful to work with and very helpful.
Great service and very nice storage Jessica is always very efficient and professional and was very helpful each time we would come in. Definitely give them 5 stars!
Jesus very hospitable and helpfull.
Jessa is always willing to help and creates a very professional fast move in and move out process! Best I've worked with in this category
Jessa, Did a very thorough explanation of every aspect about the storage units. Appreciate her attitude and helpfulness
I absolutely love this storage place & would personally not go anywhere else for my storage needs. The staff there is amazing and always friendly. If I'm late on a payment, I always recieve a very polite call from Jessica making sure that I am ok and always asks me what she can do to help me & if she can, she definitely does and has helped me. In my opinion, Public Storage in Sellersburg deserves more than 5 stars. Thanks so much Jessica for all you've done for me and my family. We will never use another storage company. You all are truly amazing!!
I have had storage units at this location for years and can tell you that the staff is really helpful, the property is clean and safe. I will use them again if the need for storage arises!
We rented for almost 2 years.employees ok but maintenance was poor. Paid for heated unit and at least 3 winter months we had no heat and one of those months the double door was stuck open so washer froze and busted.wall weeped water so 3 bags of clothes and towels molded.but insurance doesn't cover that.go figure
Jessica was so friendly and helpful with my search for a storage unit!... Glad she was showed me different options. Give that girl a raise !!!
Lisa was excellent! I came in and got the wrong size unit and so when I came back she was great with getting me into what I needed! Very professional and friendly! Thank you Lisa!!
Vanetta provided excellent customer service and she was very kind, patient and courteous. She is truly the kind of person who serves customers well and make sure they are pleased before they leave the facility. If I could give her more stars as a customer service rep, it would definitely be 10+ stars. Thank you, Brenda Jones
Jessa is amazing at customer service! She greeted us with a friendly smile and amazing pink hair…and was lovely and helpful! She engaged us with friendly conversation and answered all our questions! She also labeled all our keys!!! Going above and beyond appears to be her forte! I highly recommend PS!
Jessa is an amazing person! She was very knowledgeable and personable.
Jessa was super helpful, I called her for 3 days asking about units. She was patient and helped me find the right one! Thanks Jessa!
It was such a pleasure working with Jessa she is at another location and I'm in Clarksville and she was able to fix my issue without being here need more Jessa in the world today you rock
Thanks Ted, for all of your help with my space😁
Tessa was amazing in sellersburg, Indiana. She was very knowledgeable and thorough!! She took the time to show me my space and everything about it to make my experience the best!! Thanks again!
Jessa was very helpful with setting up my new storage unit!
Nice, Clean & Affordable Storage Units
Jessa is super helpful, positive, and awesome in general!
Professional, and super helpful!!
I would just like say how appreciative I am to Jessica in Sellersburg for going the extra mile, above and beyond to help me. Giving me options and doing all that she could to help me to get things straightened out. She's a very kind person and handles her job in a professional manner! Thank you Jessica for all your help
Jessica was outstanding, she went above and beyond to assist us. Highly recommend Public Storage in Sellersburg, IN. Thank you!
Super well kept! Jessica was a great help!
Nice place! Jessica was very helpful and kind
We recently moved and needed short term storage…Jessica was fabulous to work with start to finish! Her friendly attitude and excellent client service skills were greatly appreciated!
The staff was incredibly helpful and knowledgeable. Very pleasant experience. I highly recommend this place if you are in need of storage.
Friendly service. Good facilities.
We rented unit this week at Public Storage in Sellersburg. Jessica the manager walked us through everything. Viewing unit, getting locks, how to store everything safely, and using gates. Everything was very clean. She made a hard job easy for us!! Thank you Jessica!!
Jessica is amazing! Since renting the blacktop space for our Camper in Feb, our rate has already seen a rate increase. She went to bat for us and got it lowered back to where it was. Security and customer service is what I am after and have been very pleased thus far. Thanks again!
Great place. Helpful, friendly, and knowledgeable. Great price too. Very close to our house. Having the phone app open the gate instead of remembering ANOTHER code is a huge plus. Really happy.
Great staff, clean facility, easy access
Great prices, great customer service (S/O Jessica, I believe?) All around, I'm very glad I chose this place to store my stuff for a few months!
Jessica was super helpful getting my storage set up! Thanks for your help!
I would recommend this public storage location to anyone needing to rent one. It's simple and easy. The location is clean and quite. The property manager is very helpful and nice.
Just started renting a unit and there was a computer glitch for the pricing. Jessica did a fabulous job getting it sorted out quickly. Very well kept facility.
We moved into the area from El Paso. Our residence here was undergoing renovations so we needed a temporary holding location. I found Jessica and her staff to be simply amazingly professional. The facility is in a great location and is meticulously maintained. It is semi-truck friendly and has many storage unit sizes to choose from. I give this facility, management, and staff my top recommendation.
Jessica is the best! Her customer service is amazing!!❤❤
Great help from Jessica. She rocks! Very helpful and informative during the whole process. Highly recommend!
Jessica was super helpful and was able to accommodate our needs for storing our new pop up camper! Thank you for great customer service!
A convenient location. Great staff and service. And a very valuable asset is Jessica!! Jessica is customer service and satisfaction oriented, knowledgeable and always helpful. She takes this location from good, to outstanding!! Keep her happy, Public Storage management, because she keeps a lot of customers happy :)
Clean facility and super friendly staff! Highly recommend!
Clean facilities and Jessica was very polite and answered ALL my questions. I would definitely recommend this place.
Jessica is amazing and very helpful
Jessica was super helpful and amazing to work with. This place was amazing and stress free!!!
Have had a good experience using Public Storage Sellersburg. Recently, Jessica was very helpful with an issue that I had inquired about. She got information to me in a speedy fashion and resolved the issue for me. Plus, she was cheerful as well as helpful. Greatly, appreciated!
Jessica was very helpful and knowledgeable
Why isn't there 24hr access
I got the best Christmas present from the ladies at my public storage site. I had been trying so hard to get my balance caught up and then they were able to waive some fees and now I don't have to worry about losing mine or my kids precious things. Thank you all so much!! Hope you have a blessed and Merry Christmas!
Jessica has been extremely helpful with any and all issues and this has been a great place to rent from.
I had the pleasure of dealing with Jessa and she was very friendly and helped me so much. Highly recommend to everyone
Went in with some questions on storage, Jessica and Suzanne were helpful, informative and very friendly. Thanks so much.
I had a problem with my account recent and Suzanne knocked it out of the park by her diligence and concern to make it right. She is great.
Jessica was fantastic and helpful
I had such a very pleasing experience signing up for 2 new spaces at this facility. The manager was extremely helpful and easy to talk to. I will be singing up for more space in the near future!
Clean safe facility! Jessica and Suzanne are great to work with!! Would Refer Everyone!!!
I've recently been told there's a possibility of a relocation to the Sellersburg, IN market with my job. I also know that with the size house I have, finding what I'm looking for will take time. I reached out to the Public Storage office in Sellersburg to find out quotes and availability in case this move should take place and I must say, I was very impressed with the company, their concern for their current and prospective customers, and the team member that took care of me. This is all very new to me and a very sudden thing, so I had MANY questions, but Jessica was amazing! She never got aggravated with me, she was very patient, she explained the "ins and outs" of the process, and made me feel at ease. She even explained that safety wouldn't be an issue as they're located near the Police Department, which put me at ease as I'd be traveling alone. I want you to know that if this transition with my position happens, based on my conversation with Jessica, I'll definitely be using your facility!
Jessica and Suzanne were great and knew their stuff!
my wife went here with my son and she couldn't stop telling me how great Suzanne and Jessica were. Said they were super friendly and provided great service!
Was treated very well by Jessica and Suzanne.Had an issue but the ladies resolved it quickly and professionally. Thank you 26550
Went to Public Storage yesterday for storage of some personal property. Met with Suzanna and Jessica. Both were extremely helpful and very informative. I rented a unit and they walked me through the entire process to assure I knew how to enter and exit the storage location. They made the process very easy.
Jessica and Susan were really awesome. I got there and couldn't find my space. They came out and help me. It was such an amazing experience that I might rent a bigger unit later on.
Great front desk ladys really helpful
Suzanne is the best! We have been so behind with Covid and the late fees and rent just kept adding up. We were finally able to make our payment , but it was up to $500 including late fees!!! So she had us pay the rent, and was able to get our late fees removed, and called this morning to assure us that it is all taken care of. They are persistent, but very understanding and try to help as much as they can. Mind you, everything in our unit was my husband's sisters items, as she passed away while we were all living together. And he was sure that we were going to lose it all, but thanks to Suzanne's help we are all payed up!
Sellersburg has been great in working with me. They have all been very courteous and nice
Public Storage of Sellersburg hits it out of the park with customer service among their kind, courteous, and helpful staff! It is a pleasure dealing with them. Jessica is an exceptional employee, and I have appreciated her assistance tremendously! Thank you again, PS!
I am so pleased with the folks at this Public Storage Location. They get an A+ from me. I appreciate their patience and helpfulness. Again, A+
I've had a unit here for almost three years now and it's very convenient because I live close by. I needed to purchase a Bigger Unit I have a 10/10 now. Suzanne and Jessica were the ones that took care of us and they were Great!! Very Nice and Helpful on getting us the best price. I Recommend Public Storage for all Your Storage needs not only is it the best place to store your personal belongings But it's Very Clean and the Staff there is Very Nice!! They will take care of you and help you get the Best Deal.
Staff is friendly and easy to work with
5 stars for Suzanna and her trainee. They were engaging, respectful, and easy to work with. If I could give 3 stars for the organization I would simply for the misleading information of $1 for the first month.
Called for information. Very helpful & friendly. Great customer service.
Suzanne was very helpful and knowledgeable. She had everything ready for me to move in. Great experience.
Suzanne was very helpful and friendly, everytime I visit the store she handles thing quickly and professionaly. Will not deal with anyone at that location anymore after the great experience she has provided many times
Great service, very clean and we appreciate that the prices has not increased! Thanks!
Great place with good rates, clean!
Suzanne gave me imediate help and great service at this location
Ted was VERY attentive, answered all of our questions and was extremely pleasant to work with. He made the extra effort (while it was snowing, no less) to personally show us the unit we were renting to make sure that it would fit our needs. The process was quick and the price we received was very competitive. Thanks Ted... you were AMAZING!
Suzanne was very helpful. Listened to my needs and showed me everything she had available. Great place. Clean and well maintained property.
Went there with a complaint and to pay my rent on my unit. There was a new employee there that listened to my complaint about another employee that was there. Suzanne was attentive helped me with my payment and did everything to apologize for the treatment I received by another employee I was very impressed with her attentive nature she helped make my payment go smoothly and quick. She was what everyone wants of a I guess public service person. I was very happy with the service I received and hope to pay my account only through her in the future. I would highly recommend this storage facility. M. Johnson
Great people to work with, very helpful, and a big thumbs up for Suzanne, thank you
Suzane, IS Awesome. Thank you Public Storage for your awesome employees. She was so helpful in getting the right rates for this area. Thanks again Suzane, and Public Storage
The location is great, right off Charlestown Rd. Ease of access is good. However, to get out, there is no key pad on the inside, you have to go under the gate and use the key pad for entry, then get back in your vehicle and exit. Not cool.
Nice employees, great storage units
Ted did a great job helping me out and getting me set up for my storage rental.very nice and clean facility.
staff was very friendly & helpful
Ted was super helpful. Great prices
Very clean facility-I feel comfortable having 2 units there. The staff is friendly and helpful. I definitely give this location a 5 star rating.
Scott did an awesome job and was very helpful with everything made everything very easy and gave us all the information we need a excellent job
Amazing customer service! I showed up right at closing and Nathaniel didn't rush me away. Instead he took the time to walk me through and show me a few different sized units to ensure I could find one in my price range. He was very detailed while going over the contract and there was no hidden fees or surprises at the end. The units are nice and secure, the staff is very polite and professional and they have just about anything you could possibly need to meet your moving and storage needs. I highly recommend giving them a call if you find yourself in need of an affordable storage unit
The person at the desk was helpful in providing me with a high quality lock. Assistant gave me ride to and from unit to install new lock
Place is great and super clean! I'd recommend this place to anyone.
I came in today to see if I could a get a storage space nate was a great help.and showed what was available it was out of my price range but the customer service was great
Been here only a couple months but so far it's been GREAT!! They listened to my needs and worked with me when I was ready to down size and they gave me an awesome deal. Highly recommend!!
Super clean, climate controlled storage. Staff is very personable and went the extra mile to make sure our boxes were secure while we moved into a new house. Would use them again!
I was given the greatest help a person could have. He showed me the unit before I rented. He let me contact my insurance so I wouldn't have to purchase extra ins. Also he was very pleasant and sociable.
Scott who helped us was very helpful and friendly. We weren't sure exactly what size we needed and he took us to look for reference. He answered every question we had and talked with us about our 2 children we had with us. The property seems very nice and accessible.
This property is always super clean. The layout is fantastic and units are easily accessible regardless of how many people may be visiting at any given time. The staff is super friendly and helpful, whether in person or over the phone. Scott does an exceptional job of managing the property. He is very thorough in helping with any issue that arises. He does a great job a comprehensive Lee addressing and explaining any issue or any service that they provide. I learned that he is a former service member and you can tell that he feels a sense of duty to do a fantastic job I truly appreciate that.
Was very helpful in solving my problem thank you very much. Scott I really appreciate it
Rob asked me to review. He's a nice guy.
Very friendly place, amazing and very helpful with sudden moves!!! Ted helped me at the sellersburg location and he was sure to answer all my questions and showed me my clean unit!
I would give it a big fat F to day no stars!!!!
Very clean and prices are good.
DO NOT RENT HERE!!! I had my things in storage for just a little over ONE MONTH and my furniture was COVERED in mildew. I bought the "moisture control" stuff they have there and it did NOTHING. When I initially rented the unit, it looked as though it had recently been wet. I was told by their employee that there was nothing to worry about - all the units look this way. If I purchased the anti-moisture stuff it would be fine. I was told this REPEATEDLY. There were also bugs in the unit EVERYWHERE and my furniture was covered in spider webs and there were spider nests under the large pieces. There were ants crawling on my mattresses. There was NO FOOD in my unit whatsoever. When I went into the office to complain - and I showed them pictures - I was given an apology. That's it. And was told that I could file a claim with my insurance - and pay my deductible - due to THEIR NEGLIGENCE and DISHONESTY!! The manager told me it was "no different than an unfinished basement". Seriously???? You don't PAY to put your stuff in YOUR OWN unfinished basement!!! They BEG people when you initially rent to post positive reviews on Google and tell them they will be entered into a drawing for a free month if they do it. Just run away from this place. FAST!!!
Amazing service! Very happy with my new unit and the accessibility! Best prices in a 40 mile radius
Good service and good units
Ted is awesome is very personable and experienced and very sweet to my mother was really needed thank you so much Ted!
I would just like to tasker a moment to THANK public storage for making my terrible day SO MICH BETTER❤, and my moving experience less stressful! I am VERY APPRECIATIVE, AND GRATEFUL! The location itself was secure,and clean. Specifically your employee 'MOLLY" was AWESOME, polite, and EXTREMELY HELPFUL!!
Very friendly atmosphere. Took the time to show me around to different units. Very clean and reasonably priced. Highly recommend:)
great customer service with Ted ,he was quick and friendly to get me in my unit ,very satisfied customer .... facility is well maintained and clean will be a repeat customer if I ever need storage again
Great location and service, staff knowledgeable
Very friendly! Super helpful, take you to your storage, show you around! Also make sure the storage is gonna work for us, and size. He is easily helpful to switch which one is gonna work best with his opinion! And reasonably priced!!
This place is AMAZING! Ted and Rebecca are great! Rebecca went above and beyond to help us set everything up! Ted is very nice, in the few months we have rented here he has went above and beyond to help us many times . This is our first time ever renting a unit and we have absolutely no regrets choosing this place! Public Storage is GREAT!
Prices were great online but it doesn't tell you that you have to carry insurance and buy a $12 special lock.
Awesome. Clean, prices great.
Poor service, not understanding with unexpected crisis
Can someone from upper management please resolve the door issue on the Temperature Controlled Building.? It remains broken, always in the open position, and the unit is not temperature maintained. This is very frustrating.
Service is outstanding. Ted and Rebecca were so courteous and helpful. Storage unit is clean and well lit. Good value and location. Update, Lease Temperature Control storage unit. The sliding doors to access the Temperature Controlled building is always out of order with the doors wide open and the entire building is exposed to the current outside temperature. I have brought this to the staff attention numerous times and always get the same answer that a repair order has been dispatched. I am not pleased as I have items in this storage unit that need to be temperature maintained and paying for this service. Can someone please correct this issue????
Rebecca was very attentive, thorough and went above and beyond several times for me I thought I was going to go in and have a 45-minute ordeal and said it was quick and painless and she was very very sweet having worked in customer service for the past 15 years has taught me what it's really like to deal with clients of all kinds on a daily basis and I'm here to tell you that she is somebody you definitely do not want to lose because she handles herself very well and she's got a great personality everything you want in an employee and more. Thank you Rebecca !
Rebecca was very nice helpful and professional. She explained everything perfectly I'm glad she was in the office to help me.
I think it's time for me to move my storage several units have been broken into in the past year-and-a-half because security gate does not close their security system hooks up to nothing we're paying high prices for a place to take a Gamble when Public Storage took this over it has gone downhill since it's a shame you have to pack all of your stuff up to find another secure location but yet they say they're not responsible if something happens to your equipment or your storage but if you have storage in this place in their security system is not working they are liable caution of getting a unit at this place hopefully maybe this way with me putting app for the public they will return my calls or my emails I have not yet in the past year received nothing from them but a bill
Ted is very responsive and easy to work with. He helped me navigate which unit to rent, and answered all my questions along the way. Would definitely recommend!
Ted is awesome! Very knowledgeable and very friendly! The units are clean and spacious!!
Online Special says first month $1.00! I click to reserve..then there's a one time "administration fee" for 24.99. I say whatever and reserve my unit. I come in and now there is a lock fee of $20.00 and I can only purchase this lock from them!! I'm not going to do business with a company that has a bunch of hidden fees! They lady working there was rude and apethetic as well.
Safe and sound place to store my stuff
For the past several years I have had a storage unit at this facility. Always paid on time and never made any waves about raising my rent every year. Back in July 2018, the springs on the door of my unit broke making it extremely hard for me to have access to the contents of my unit. I immediately told the new "district mgr", and she assured me it would be fixed right away. Today is Oct. 8, 2018 and the door still isn't fixed. I have paid every month since reporting the incident. This past Friday I was finally called to say I would receive a 1/2 month credit for my trouble. REALLY? Almost three months not being able to have access, and they give me 1/2 month rent. I went in today to pay and cancel and they imposed late fees on me for paying after the deadline. I wasn't informed until after the deadline. I would never encourage anyone to rent from these crooks. I was able to find the same size unit for 1/2 the price. You would be better off going anyplace else. If it were possible, I would give this company zero stars.
Good secure place to store your stuff. Helpful friendly people to o
Great service. Quick and easy access to things on the web. Quick and easy to rent spaces for understandable cost.
My brother lost my keys. I asked to have the lock removed. "Is it one of ours?". Yes. Then there is no fee to remove it, however it will take the supervisor over one week to come down and remove it and by then you will owe another months rent because we drug our asses and we won't prorate the 2 extra days. Stay away from this rotten place. They will gouge you. UPDATE: now they auto hangup their phones. I was told the district manager quit and the lady working there basically doesn't even know how to charge anyone let alone get the lock off my locker. I guess my stuff is lost.
The price was very reasonable and the service was great. Ted helped me out with getting me all set up and was excellent! I will use this location for all my future storage needs!
When I arrived the, Ted welcomed me with a friendly greeting. The place is kept very clean. I feel secure that my storage space will be just what I need during my transition. The first month had a $1.00 special which is one of the many reasons I chose this facility. Great work Ted and staff!!!
I was so impressed after my visit today. I have two units there already but was getting a parking spot. The price was unbeatable and Ted the customer service representative that assisted was so polite and professionally. I had an excellent experience!
This is a company that does changes on lease agreements without giving notice and then expects tenants to know when they move out about it. I had also rented a unit prior to them purchasing this location that was never re-signed by them and still they are going against the lease agreement that was in place prior to them. They can not come up with proof of me signing the agreement and instead of doing the right thing they immediately send you to Collections for bad debt instead of calling you after I wrote a letter explaining why I felt they were incorrect in charging me the fees they were. Would not do business with them ever again.
Ted was very helpful, even when we showed up an hour before closing time. Space was clean and climate controlled, exactly what we needed.
There was an issue with incorrect pricing as Rebecca took care of the issue quickly! Very clean facility and my unit is perfect. Outstanding customer service
I rented a unit on January 27, 2018 with the assistance of Ted. Although I was very impressed with the cleanliness of the property and units, i was blown away by the amazing, compassionate service I received from Ted. I am two days away from giving birth to my first child, so money is a bit tight at the moment; knowing I needed a unit to relieve some stress he went above and beyond his job duties to work with me and get me a deposit price and monthly rental price that I could afford. I didn't receive any sort of judgment or hatefulness when I told him i just couldn't afford the first price given to me. I received compassion and understanding. Ted was also very kind and very professional when showing me the unit and how to properly use the gate. He kindly answered all the questions i had thoroughly and was very knowledgeable. I do believe because of his excellent service I will be storing with Public Storage anytime I need some extra space. I cannot describe how appreciated his kindness and hard work is. He even took the time to wish me luck with my baby girl! Thank you, Ted & thank you Public Storage for having such wonderful service and facility! Definitely suggesting your property to anyone looking for a storage unit! Ted is amazing!!!
I've been using this facility for a while now, great management and great customer service! Highly recommend!
Ted was very helpful in getting us set up with the perfect size storage unit for our needs. We appreciated him being so kind and patient with us and all our questions! Thank you Ted!
Ted helped us get the perfect storage unit, and gave helpful tips on keeping our furniture clean while there! Awesome customer service,and great deals. Biggest unit is also less than $100!
This place is awesome! Property manager was extremely helpful and courteous. 10/10 would recommend!
The customer service is excellent and the buildings are very nice!
Update 07/27/17 My door broke last week. It came out of the tracks and will not open. Reported it to the office and the 1-800 number on the gate and it has yet to be fixed after a week. Unfortunately, the main gate to the units that is supposed to keep the area secure has been broken and left open for at least the last two weeks. These people don't give a hoot about you or the safety of your items, once they have your money they could care less. I asked for the phone number of the district manager so that I could voice my concerns with him and the person behind the desk gave me the number of a non-english speaking person in LA. I'm sure he thought that was funny. Public Storage bought the storage unit we had been using for almost 20 years at Novas Landing in Hamburg IN. After receiving an email that the transition would be seamless and our autopay would continue without interruption, we felt comfortable staying with them. After about two weeks we get a notice from them that we are past due. I take copies of the emails I received from them to the office to inquire what the problem might be. Gone is the sweet lady we had interacted with for all those years and her warm office and caring personality, replaced by bare walls and cardboard boxes. When I inquired as to why I was now considered past due, she told me that my credit card had been declined. We had used the same card for over 10 years and it had never been declined, no one else has ever declined our card. I asked her if it was possible that they declined it because it was a new payee, and she proceeded to blame the previous owner for the problem. I ended up having to give her the same card and sign a new auto withdraw form, (doesn't seem very seamless). This week I receive another email from them, Public Storage, that I'm further past due. I go to my credit card website to find out that payment was processed the same day I visited last week. Do they even check before they send these out? After reading all of the other negative reviews on this company, I believe we will find another locally owned business to give our business to. This place already has the feel of the cable company. Don't get me started on them! Update 07/27/17 My door broke last week. It came out of the tracks and will not open. Reported it to the office and the 1-800 number on the gate and it has yet to be fixed after a week. Unfortunately, the main gate to the units that is supposed to keep the area secure has been broken and left open for at least the last two weeks. These people don't give a hoot about you or the safety of your items, once they have your money they could care less. I asked for the phone number of the district manager so that I could voice my concerns with him and the person behind the desk gave me the number of a non-english speaking person in LA. I'm sure he thought that was funny.
Service was great...the property manager was very helpful and informative. I would recommend this facility
Ted was very helpful! The storage facility is convenient, and clean. The price was right!
Ted provided excellent service, facility was clean and secure, rates were very attractive compared to competitors.
Make sure you have INSURANCE..i have rented from this place for years but my RV was stolen from there and it's just a horrible place since public storage took over..i have also rented a storage unit for years from there...the new manager Steve is charging different amounts for the same size unit when I ask him about it he said he can do whatever he wants..i am just at the point where I need an attorney to fight such a horrible company.. the one dollar intro fee is just to get you to store everything inside the unit then they will raise your rate...good luck to everyone who comes in contact with them
Very friendly and professional. Thanks
This place shouldn't even get one star after public storage took over my payment went from 49.00 to 79.00 needless to say that suck and I will be moving my stuff asap!
No one is ever in the office.
I have a unit here and was very satisfied until it was sold to Public Storage. Since the new owners took over I had no personal interaction with them. The previous owners had employed a very nice woman named Denise and I always felt appreciated as a customer. Not now. I went ahead and referred this place to my sister as she was moving here from out of town. Big Mistake! ! She went there and signed papers and paid for her unit and was informed that when she came back with her truck and her lock then they would remove their lock so she could get into her unit. She agreed and said she would be back soon. We returned with the truck and people to help, only to find the office closed. Mind you, it was only two o'clock and the office is open until six. We thought that she would be back so we went to the unit and started unloading. To make a long story short, the office never opened and we had to reload the truck. We made numerous phone càlls and were told we could not be helped because there was nothing they could do at their level and they were in California. The truck was due back the next day so we called first thing in the morning. The office was not open. More phone calls were made and we were told that the regional manager would meet us there so we went back, truck and helpers in tow. We sat there and once again..no one showed. More phone calls and we have still not had one person return our calls. I am livid!! I will be calling the BBB and I will be moving my belongings elsewhere! No business should be ran so unprofessionally!!!
It is a clean secure place where everyone is so helpful
Hidden fees, poor customer service, forces you to buy their lock.
The facility was clean and convenient. Dash was great and took the time to answer all of my questions. I visited the facility on two different occasions and she was friendly, courteous and patient on both occasions.
Dash was very informative.